For Immediate Release
June, 22 2015, 03:15pm EDT
Fast Food Workers Converge at Final Wage board Hearing iwth Emotional Testimony About Why Their Families Need $15 to Survive
Galvanizing Support for Governor Cuomo's Historic Wage Board, Fast Food Workers Deliver Stacks of 160,000 Petition Signatures in Support of $15
ALBANY, New York
In their final opportunity to testify publicly about what it's like trying to support a family in New York on $8.75, hundreds of cooks and cashiers from McDonald's, Burger King, and KFC converged on the last fast food wage board held in Albany on Monday. Saying that having extra money in their pockets would not only be beneficial to their families but to the economy as well, fast food workers made their case for $15.
"I can't stand to think that my children will grow up worrying about whether there's going to be a roof over their heads or food in their lunchboxes," saidJareema Vanison, who works at an Albany McDonald's. "I want what every parent wants-- for my kids to grow up feeling safe and secure, with a bright future-- and I just can't promise that making as little as I do. That's why I urge the wage board to recommend $15. It's not just for me, it's for my family, and it's for our future."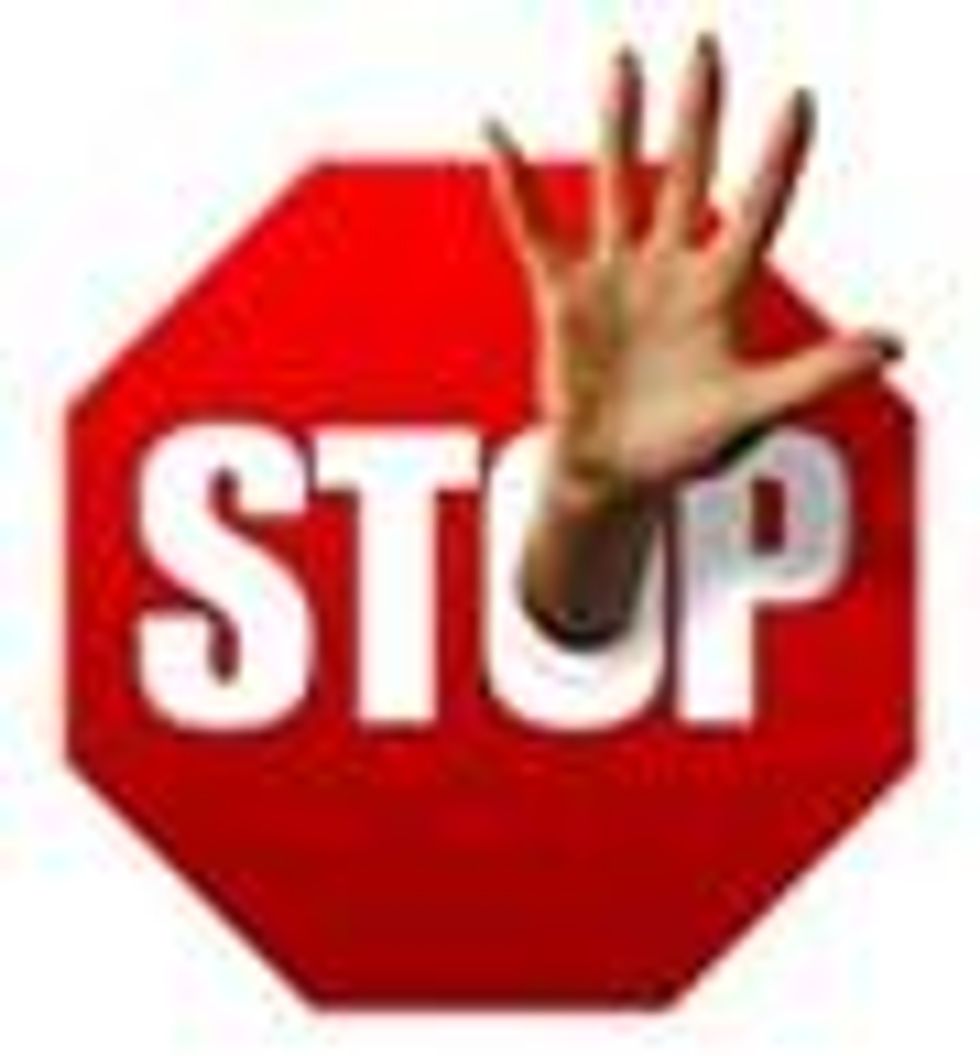 We Interrupt This Article with an Urgent Message!
Common Dreams is a not-for-profit news service. All of our content is free to you - no subscriptions; no ads. We are funded by donations from our readers.
Our critical Mid-Year fundraiser is going very slowly - only 902 readers have contributed so far. We must meet our goal before we can end this fundraising campaign and get back to focusing on what we do best.
If you support Common Dreams and you want us to survive, we need you now.
Please make a tax-deductible gift to our Mid-Year Fundraiser now!
The workers delivered stacks of 160,000 petition signatures in support of a $15 fast food minimum wage, gathered over the course of the past month -- concretely demonstrating support for their cause.
The worker's call for $15 also had support of a wide range of powerful progressive organizations including New York Communities for Change, Make the Road, the Working Families Party, MoveOn, Brigade, CREDO Action, Democracy for America, Citizen Action of New York, Strong Economy for All Coalition and Ultraviolet.
"By sticking together and speaking out, New Yorkers are leading the way to a new standard for fast-food workers and our families across the country,"said Ashona Osborne, an Arby's worker from Pittsburgh and a member of the National Organizing Committee of the Fight for $15, who traveled all the way to Albany to support fast food workers in New York State. "Workers from Pittsburgh to Pasadena urge Gov. Cuomo's Wage Board to recommend $15 an hour for New York's fast-food workers. When workers in New York--where our movement started in 2012--win $15, workers everywhere win."
Just before the doors opened for the last of four wage board hearings scheduled in New York State, fast food workers and their allies in clergy, labor and government gathered outside to voice their support for $15--rallying around the idea that a meaningful wage hike would stimulate local economies from Long Island to Rochester, and free workers from dependence on food stamps and other government services.
"It makes no sense that employees of some of the richest corporations in the United States should have to rely on our local property taxpayer's dollars for subsidies just to survive," said Ulster County Executive Mike Hein. "We are pleased that a state wage board has been empanelled and urge the board to do the right thing and recommend a $15 minimum wage for fast-food workers of national chains. It's the right thing to do for the workers, their children and for the local property taxpayers too."
"At my small business, I start my employees at $15 an hour and believe that every employee in every industry in New York should be paid a living wage. That's why I'm here today calling on the Wage Board to act to ensure all workers are paid a wage that allows them to pay their bills," said Amy Collins, owner of New Shelves Publishing Services. "If I can afford it, so can McDonald's."
Fast food workers have brought the Fight for $15 to national prominence. After expanding the fight to more than 230 US cities and across the globe, and winning $15 minimum wage in Seattle, Los Angeles, and San Francisco, the campaign is turning its sights back on New York State--looking to make it the first with a statewide $15 minimum.
"I applaud fast food workers in the State of New York and across the country who have been holding the line for the last three years advocating for themselves and their families," said Albany Common Council Member Dorcey Applyrs. "The time is now to stop talking about income inequality and start giving a hand-up to our fast food workers. Let's raise the wage to $15."
According to a recently released report by the National Employment Law Project, fast food jobs have taken an outsized role in the economy in recent years, growing 57 percent between 2000 and 2014. Private sector jobs overall grew only 7 percent during the same period.
The more than 182,000 fast food workers in New York State are among the lowest paid workers not only in New York but in the country. Full-time employment in a fast food job still leaves a worker under the poverty line, and requires supplementing with food stamps, Medicaid, and other social services.
Fifty-two percent of fast food workers nationally - higher than any other industry--have at least one family member on food stamps, Medicaid or other social services, costing taxpayers $7 billion in public assistance nationwide. New York taxpayers subsidize fast food corporations to the tune of $700 million a year in public assistance to fast food workers.
The fast food industry can afford to do better. While workers struggle to meet basic quality of life thresholds like shelter and food security, the fast food industry is booming amid increased sales and worker productivity: it posted $551 billion in global profits in 2014, a number which is projected to grow to $645 billion by 2018.
Elected leaders, community activists and economic experts spoke about the effect that a $15 fast food minimum wage would have for workers, and for struggling communities all over the State.
"New York's Wage Board hearings have been democracy in action," said Bill Lipton, State Director of the New York Working Families Party. "The members of the board have now heard from fast food workers all across this state why they and their families need a living wage-- $15 an hour--and why they need it now. They have an opportunity to fundamentally transform the lives of fast food workers, and should not let it pass by. The Working Families Party strongly urges all three members of the Wage Board to raise the fast food minimum wage to $15 an hour."
"Most New Yorkers are working harder than ever before, while wages have been stuck in place for decades. If corporations like McDonald's had shared our nation's economic progress fairly with employees, the minimum wage would be more than $18 an hour," said Karen Scharff, Executive Director of Citizen Action of New York. "That's why it's critical that the Wage Board take action to boost pay in the fast-food industry to $15 and make the Empire State a leader again for working families and the middle class."
"Economists say that slow wage growth is the biggest problem in the American economy right now: Governor Cuomo and the Wage Board should attack the problem head-on by boosting the minimum wage for fast-food workers to $15 an hour," said Michael Kink, Executive Director of the StrongEconomy for All Coalition. "It will help workers, it will help families and it will help power the New York economy from the bottom up."
"A lack of good paying jobs forces people who are working hard every day to turn to social services as a means to bridge the gap between their low pay and the actual cost of living and raising a family. It's time to close that gap," said Shana Davis,President of the Capital District Chapter Coalition of Black Trade Unionists. "The wage board can do it by backing $15. Without an increase to the minimum wage, hundreds of thousands of workers will continue to fall behind."
"The wage board can be moral trail-blazers by doing do the right thing and backing a $15 an hour fair wage for fast-food workers," said Reverend Valerie Faust, Pastor of Rhema Power Ministries.
"I work at Taco Bell, and my sister works at McDonald's. We're supporting our mother and my son. We cannot make it on minimum wage anymore. We need $15 an hour and we need it now. Without it, my son will be one child in another whole generation of children in Rochester growing up in poverty,"said Joscline Harvey, a Taco Bell employee from Rochester.
LATEST NEWS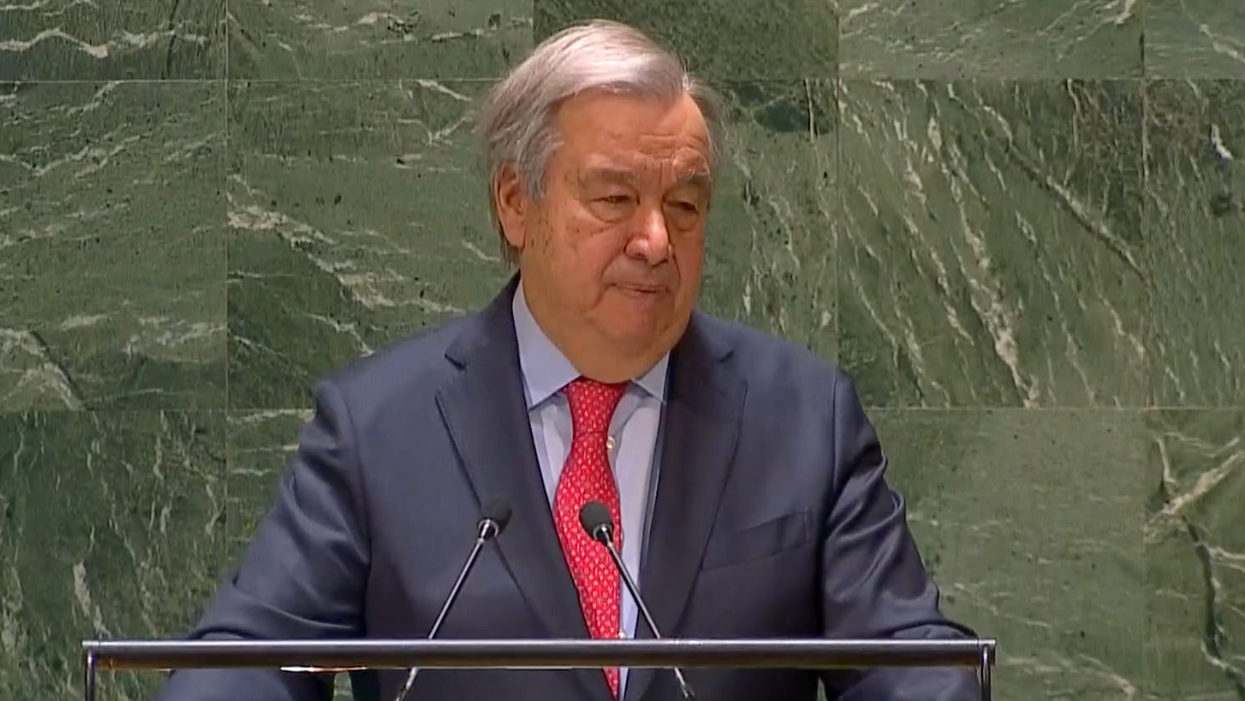 "No more baby steps. No more excuses. No more greenwashing," said U.N. Secretary-General António Guterres. "No more bottomless greed of the fossil fuel industry and its enablers."
United Nations Secretary-General António Guterres made clear Monday that securing a livable planet depends on stopping the "bottomless greed of the fossil fuel industry and its enablers."
In a speech to the General Assembly, Guterres called for an end to "the merciless, relentless, senseless war on nature" that "is putting our world at immediate risk of hurtling past the 1.5°C temperature increase limit and now still moving towards a deadly 2.8°C."
2023 must be "a year of reckoning," the U.N. chief said as he outlined his priorities for the months ahead. "It must be a year of game-changing climate action. We need disruption to end the destruction. No more baby steps. No more excuses. No more greenwashing."
Scientists have warned repeatedly that scaling up the extraction and burning of coal, oil, and gas is incompatible with averting the most catastrophic consequences of the climate emergency. Nevertheless, hundreds of corporations—bolstered by trillions of dollars in annual public subsidies—are still planning to ramp up planet-heating pollution in the years ahead, prioritizing profits over the lives of those who will be harmed by the ensuing chaos.
"I have a special message for fossil fuel producers and their enablers scrambling to expand production and raking in monster profits: If you cannot set a credible course for net-zero, with 2025 and 2030 targets covering all your operations, you should not be in business," said Guterres. "Your core product is our core problem."
"We need a renewables revolution, not a self-destructive fossil fuel resurgence," he added.
In order to halve global greenhouse gas emissions this decade, the U.N. chief said, the world needs "far more ambitious action to cut carbon pollution by speeding up the shift from fossil fuels to renewable energy—especially in G20 countries—and de-carbonizing highest emitting industrial sectors—steel, cement, shipping, and aviation.
In addition, he continued, the world needs "a Climate Solidarity Pact in which all big emitters make an extra effort to cut emissions, and wealthier countries mobilize financial and technical resources to support emerging economies in a common effort to keep 1.5°C alive."
"We need a renewables revolution, not a self-destructive fossil fuel resurgence."
"Climate action is impossible without adequate finance," Guterres noted. "Developed countries know what they must do: At minimum, deliver on commitments made at the latest COP. Make good on the $100 billion promise to developing countries. Finish the job and deliver on the Loss and Damage Fund agreed in Sharm El-Sheikh. Double adaptation funding. Replenish the Green Climate Fund by COP28. Advance plans for early warning systems to protect every person on earth within five years. And stop subsidizing fossil fuels and pivot investments to renewables."
Like the 26 annual U.N. climate meetings that preceded it, COP27 ended last November with no commitment to a swift and just global phase-out of coal, oil, and gas.
In an effort to avoid a repeat performance at COP28 in the United Arab Emirates this December, Guterres intends to convene a "Climate Ambition Summit" in September.
"The invitation is open to any leader—in government, business, or civil society," Guterres said Monday. "But it comes with a condition: Show us accelerated action in this decade and renewed ambitious net-zero plans—or please don't show up."
"COP28 in December will set the stage for the first-ever Global Stocktake—a collective moment of truth—to assess where we are, and where we need to go in the next five years to reach the Paris goals," he continued.
Guterres added that "humanity is taking a sledgehammer to our world's rich biodiversity—with brutal and even irreversible consequences for people and planet. Our ocean is choked by pollution, plastics, and chemicals. And vampiric overconsumption is draining the lifeblood of our planet—water."
In 2023, the world "must also bring the Global Biodiversity Framework to life and establish a clear pathway to mobilize sufficient resources," said the U.N. chief. "And governments must develop concrete plans to repurpose subsidies that are harming nature into incentives for conservation and sustainability."
"Climate action is the 21st century's greatest opportunity to drive forward all the Sustainable Development Goals," Guterres stressed. "A clean, healthy, and sustainable environment is a right we must make real for all."
Guterres' speech was not limited to the climate and biodiversity crises. He also emphasized the need for a "course correction" on devastating wars and raging inequality, calling for a new global economic architecture that foregrounds the needs of the poor instead of allowing the richest 1% to capture nearly half of all newly created wealth.
"This is not a time for tinkering," said the U.N. chief. "It is a time for transformation."
News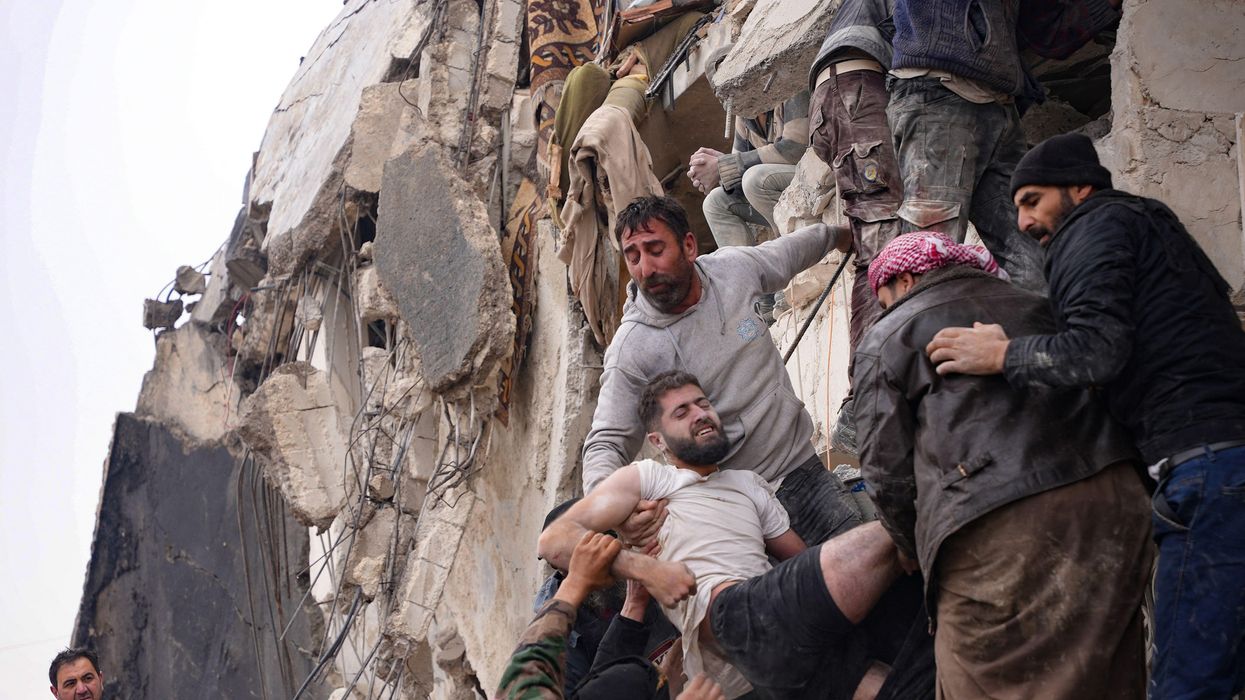 Thousands of buildings flattened with the death toll certain to rise as rescue crews attempt to reach those trapped in the rubble.
Thousands of collapsed buildings, widespread destruction, and deep anguish were reported alongside over 2,300 dead and thousands more injured after a pair of earthquakes—an initial 7.8 tremor on the Richter scale in the early morning and another that measured 7.5—devastated Syria and Turkey on Monday.
Amid dozens of aftershocks—and the quakes being also felt in Cyprus, Israel, Lebanon, Egypt, and the Occupied Palestinian Territories—the full scale of the destruction and the ultimate death toll remains unknown, though early estimates of the dead and wounded were rising by the hour.
According to Turkey's Hurriyet Daily, President Recep Tayyip Erdoğan described the quakes as the most severe in the nation since 1939.
The first quake occurred just after 4:00 am local time in Kahramanmaras province, north of Gaziantep, near the Syrian border, while the second took place in the southeastern Turkey.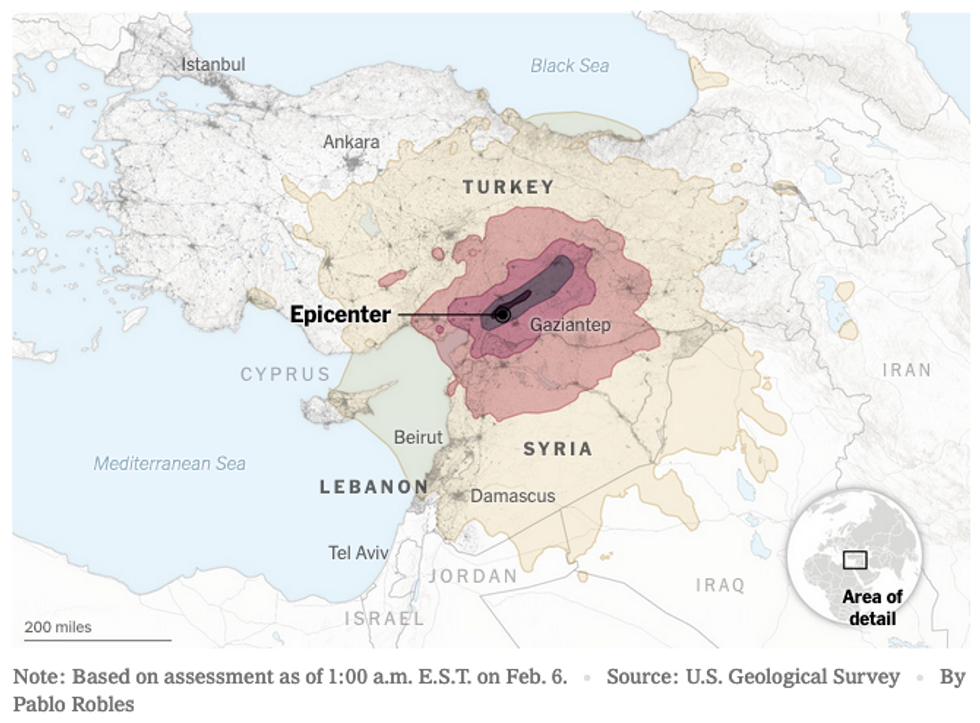 One television crew was reporting on the first quake in the city of Malatya, when the second one hit:
\u201cThis TV crew was broadcasting live when a second magnitude 7.5 earthquake hit Turkey \u2935\ufe0f\u201d

— Al Jazeera English (@Al Jazeera English) 1675678564
According to Al-Jazeera:
Rescuers were digging through the rubble of levelled buildings in the city of Kahramanmaras and neighbouring Gaziantep. Crumbled buildings were also reported in Adiyaman, Malatya and Diyarbakir.

The death toll in government-held areas of Syria climbed to 339, according to Syrian state media, with deaths reported in the cities of Aleppo, Hama, Latakia and Tartous.
Around the globe, human rights champions and political leaders offered sympathy to those impacted by the disaster and vowed emergency assistance to both Turkey and Syria.
\u201cThinking about all who will be impacted by this devastating earthquake.\u201d

— Rashida Tlaib (@Rashida Tlaib) 1675650440
Agnes Callamard, head of Amnesty International, said her organization was "in deep sorrow" following news of the disaster.
"We extend our deepest condolences to all those who have lost loved ones, and call for the Governments and international community to provide speedy search and relief," Callamard said.
Filippo Grandi, High Commissioner for Refugees at the United Nations, said, "We at UNHCR stand in solidarity with the people of Türkiye and Syria affected by today's devastating earthquake and are ready to help provide urgent relief to the survivors through our field teams wherever possible."

News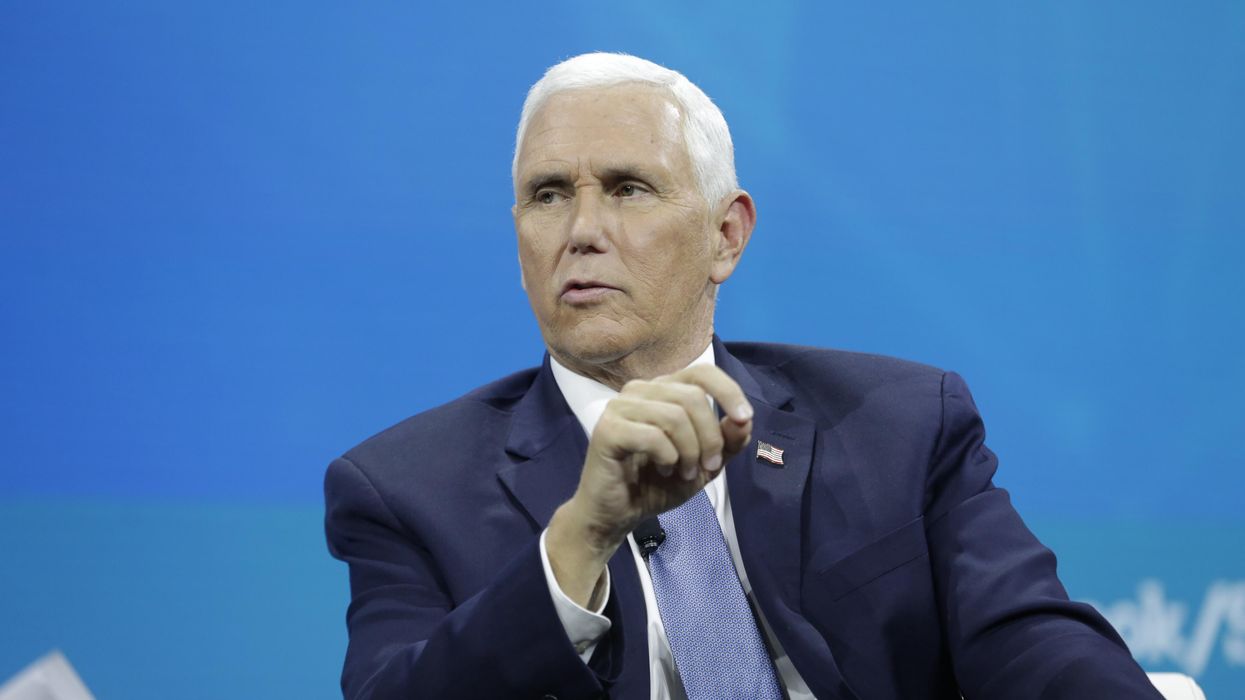 "They want to cut and privatize Social Security and take away our young people's futures," said Democratic Rep. Pramila Jayapal.
Former Vice President Mike Pence, a possible 2024 presidential candidate, has voiced support for a Social Security privatization scheme that the George W. Bush administration unsuccessfully pushed nearly two decades ago.
In a closed-door event Thursday hosted by the National Association of Wholesale-Distributors, a corporate trade group, Pence said he believes that "the day could come when we can replace the New Deal with a better deal, literally give younger Americans the ability to take a portion of their Social Security withholdings and put that into a private savings account that the government would oversee."

"I mean, a very simple fund that could generate 2% would give the average American twice what they're going to get back on their Social Security today. And it could save the government money doing it," Pence said, according to video footage obtained by the Democratic-aligned group American Bridge 21st Century.
Watch:

\u201cMike Pence calls for privatizing Social Security for young people as a way to cut spending on public benefits. "We could replace the New Deal with a better deal," he told a conference of business executives.\u201d

— More Perfect Union (@More Perfect Union) 1675466552
Experts have forcefully rejected the notion that private savings accounts of the kind Pence endorsed—which would allow workers to divert a portion of their payroll tax contributions into private investment accounts—would be more beneficial than Social Security's guaranteed benefits, as the former vice president suggested.
"The popular argument that Social Security privatization would provide higher returns for all current and future workers is misleading, because it ignores transition costs and differences across programs in the allocation of aggregate and household risk," Olivia Mitchell, John Geanakopolos, and Stephen Zeldes—economists sympathetic to the idea of privatization—wrote in a 2000 paper.
Experts have also said private accounts would not, as Pence put it, "save the government money."

In 2005, analysts with the Center on Budget and Policy Priorities (CBPP) estimated that a privatization plan put forth by former Sen. John Sununu (R-N.H.) and former Rep. Paul Ryan (R-Wis.) would "create $85.8 trillion in additional debt (equal to 93.7% of GDP) by 2050" while not boosting Social Security's long-term solvency—something Republicans claim they want to do.

"Creation of a system of private accounts would not change the amount of revenue coming into the federal government, but it would increase government spending, because the federal government would be making regular payments into the private accounts," the CBPP analysts explained. "These payments would represent new government spending. This increase in spending, unaccompanied by an increase in revenues, would widen annual deficits."
Despite the myriad drawbacks of private accounts as a partial or full-scale alternative to Social Security, Republicans have continued to promote them.
Last year, the Republican Study Committee—a panel that Pence chaired during the Bush administration—released a budget proposal that urged lawmakers to "consider legislative options that allow employers and employees to reduce their payroll tax liability and use those savings to invest in private retirement options."
Pence's remarks Thursday came as the White House and House Republicans are locked in a high-stakes standoff over the debt ceiling, which the GOP does not want to raise without also inflicting steep cuts to federal spending.
As part of their sweeping austerity push, House Republicans have suggested raising the retirement age, which would cut Social Security benefits across the board.

"Republicans keeping saying the quiet part out loud: They want to cut and privatize Social Security and take away our young people's futures," Rep. Pramila Jayapal (D-Wash.), chair of the Congressional Progressive Caucus, tweeted late Saturday. "Democrats will never let this happen."
News
SUPPORT OUR WORK.
We are independent, non-profit, advertising-free and 100%
reader supported.