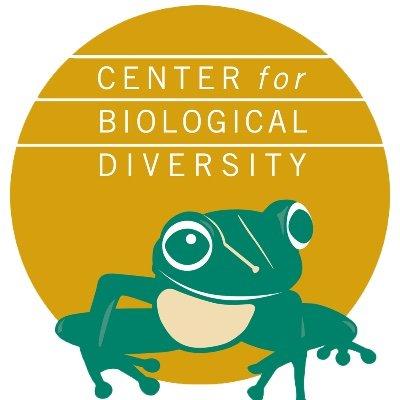 Leaked Document: Scientists Ordered to Scrap Plan to Protect Wolverines
Despite Extinction Threat From Global Warming, Obama Administration Caves to Pressure From States, Overrules Federal Scientists
WASHINGTON
According to a leaked memo obtained by the Center for Biological Diversity, scientists with the U.S. Fish and Wildlife Service have been ordered to reverse their own conclusions and withdraw last year's proposal to protect American wolverines under the Endangered Species Act.
Photo by Steve Kroschel, USFWS. Photos are available for media use.
Fewer than 300 wolverines remain in the lower 48 states, and global warming over the next 75 years is predicted to wipe out 63 percent of the snowy habitat they need to survive, government scientists have said. In fact changes due to climate warming are "threatening the species with extinction," the Fish and Wildlife Service said in last year's announcement of its protection proposal.
Now the memo -- signed by Noreen Walsh, director of the Rocky Mountain Region of the Fish and Wildlife Service -- tells federal scientists to set aside those conclusions, even though there has been no new science casting doubt on those findings.
"The Obama administration's own scientists have said for years that global warming is pushing wolverines toward extinction, and now those conclusions are being cast aside for political convenience," said Noah Greenwald, endangered species director at the Center. "This is a bizarre and disturbing turn, especially for an administration that's vowed to let science rule the day when it comes to decisions about the survival of our most endangered wildlife."
Fish and Wildlife Service scientists proposed Endangered Species Act protection for the wolverine in February 2013. Subsequently state officials in Montana, Idaho and Wyoming raised questions about the degree to which wolverines are dependent on persistent snow and about the degree to which warming will impact their habitat. In response Fish and Wildlife convened a panel of scientists to review the science behind the proposal, resulting in a report in which "nine out of nine panelists expressed pessimism for the long-term (roughly end-of-century) future of wolverines in the contiguous U.S. because of the effects of climate change on habitat."
Based on the conclusions of the panel, scientists from the Montana field office of the Fish and Wildlife Service recommended that protection be finalized, but, as shown in the leaked memo, were overruled by agency bureaucrats.
"The decision to overrule agency scientists and deny protection to the wolverine is deeply disappointing and shows that political interference in what should be a scientific decision continues to be a problem under the Obama administration, just as it was under George W. Bush," said Greenwald. "Wolverines and the winter habitats they depend on are severely threatened by our warming world. Only serious action to reduce fossil fuels can save the wolverine, tens of thousands of other species, and our very way of life."
Background

On Feb. 4, 2013, the Fish and Wildlife Service found that wolverines warrant protection as a threatened species, concluding based on the "best scientific and commercial information available" that "the contiguous United States wolverine DPS presently meets the definition of a threatened species due to the likelihood of habitat loss caused by climate change resulting in population decline leading to breakdown of metapopulation dynamics." This conclusion was based on the fact that "(w)olverines require habitats with near-arctic conditions wherever they occur," that they "exist as small and semi-isolated subpopulations in a larger metapopulation that requires regular dispersal of wolverines between habitat patches to maintain itself" and that "(c)limate changes are predicted to reduce wolverine habitat and range by 31 percent over the next 30 years and 63 percent over the next 75 years, rendering remaining wolverine habitat significantly smaller and more fragmented."
In response to the proposed rule, the states of Montana, Idaho and Wyoming all submitted comments opposing protection of wolverines, questioning the science behind the conclusion that they were threatened by climate change. To address these concerns, the Fish and Wildlife Service delayed final protection for six months and convened an expert scientific panel to evaluate the science. The panel issued a report in April 2014 concluding that "there are three primary climate related factors that are correlated with wolverines: persistent deep snow, contiguous snow, and temperature," a finding that led to the panel's unanimous statement of concern for the long-term survival of wolverines in the contiguous United States. These conclusions support the conclusion of the proposed rule that the wolverine is threatened with extinction.
On May 17, 2014, the assistant regional director of ecological services at the Fish and Wildlife Service sent a memo to the regional director in Denver transmitting the recommendation of the Montana field office that "the wolverine listing be finalized as threatened." The memo further concludes that, "In our review we have been unable to obtain or evaluate any other peer reviewed literature or other bodies of evidence that would lead us to a different conclusion."
In contrast, the recently leaked memo overrules and ignores the substantial evidence and conclusions of the proposed rule, the independent science panel report, and the strong conclusions of the Montana field office, which is staffed with the agency scientists who have the greatest knowledge of wolverines.
At the Center for Biological Diversity, we believe that the welfare of human beings is deeply linked to nature — to the existence in our world of a vast diversity of wild animals and plants. Because diversity has intrinsic value, and because its loss impoverishes society, we work to secure a future for all species, great and small, hovering on the brink of extinction. We do so through science, law and creative media, with a focus on protecting the lands, waters and climate that species need to survive.
(520) 623-5252
LATEST NEWS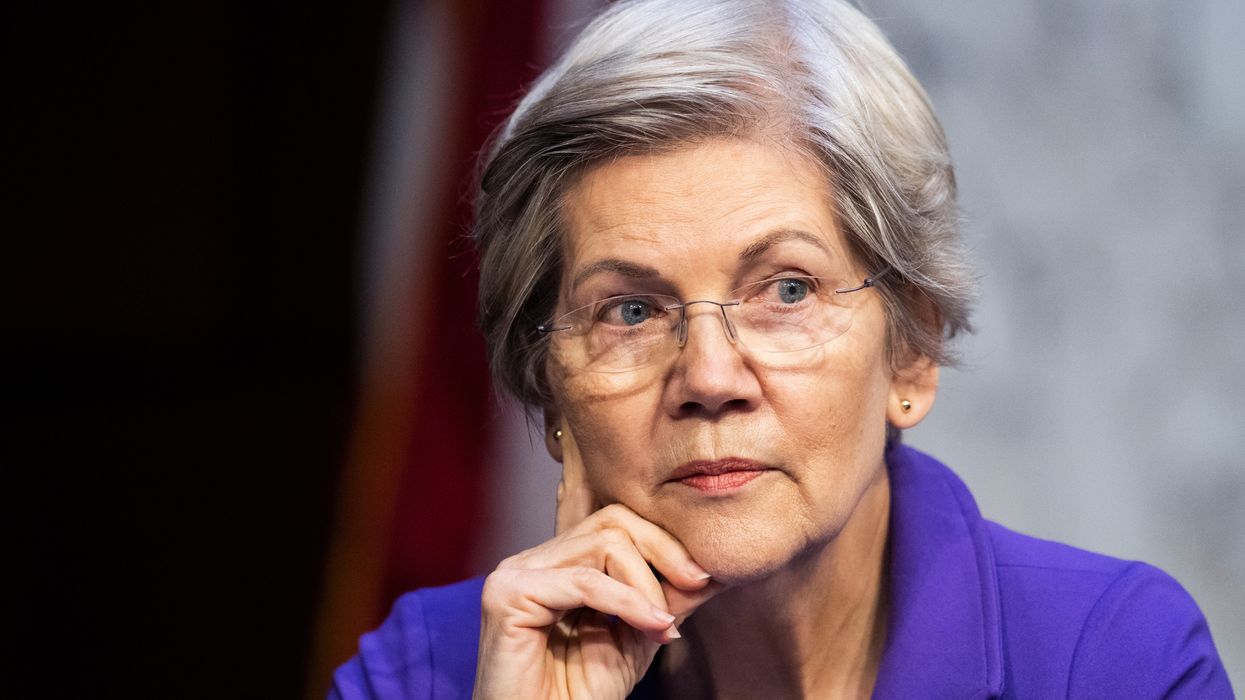 The senator also demanded a federal investigation into potential insider trading by executives.
U.S. Sen. Elizabeth Warren on Monday weighed in on the collapse of Silicon Valley Bank, taking to The New York Times' opinion section to offer her view on how the financial institution failed, while also looking ahead and detailing "what Washington must do—quickly—to prevent the next crisis."
Namely, the Massachusetts Democrat wrote, the federal government must ensure the bank's risky behavior isn't rewarded with bonuses and generous compensation for executives, and must determine whether insider trading tipped off Silicon Valley Bank (SVB) executives regarding their firm's impending failure last Friday.

Joining other progressives including Sen. Bernie Sanders (I-Vt.) and former Labor Secretary Robert Reich in noting that Republican lawmakers' push to roll back oversight and liquidity requirements allowed SVB to "load up on risk" and made it more vulnerable to failure, Warren pointed to the conduct of bank executives just before the Federal Deposit Insurance Corporation (FDIC) was forced to save the institution.
Just hours before the California-based firm collapsed on Friday, Warren wrote, "SVB executives were busy paying out congratulatory bonuses," estimated to be as high as $140,000 for managing directors, according toCNBC.
"If we are to deter this kind of risky behavior from happening again, it's critical that those responsible not be rewarded."
The bonuses were for work performed in 2022, when SVB was largely serving a small, wealthy subset of the U.S. population—"a concentrated group of tech companies with big deposits, driving an abnormally large ratio of uninsured deposits," Warren wrote.
Securities and Exchange Commission (SEC) filings also show that SVB CEO Greg Becker sold $2.27 million in bank stocks in late February and $1.1 million in stocks in January.

The bank took a risk by heavily concentrating its assets in a single industry, and then by investing a large share of the funds into long-term Treasury bonds "that promised good returns when interest rates were low," wrote Reich at Substack on Monday. When interest rates rose, the value of the bonds fell and "the gusher of venture capital funding to startup and tech companies slowed, because venture funds had to pay more to borrow money."

"As a result, these startup and tech companies had to withdraw more of their money from the bank to meet their payrolls and other expenses," Reich continued. "But the bank didn't have enough money on hand."

The business model used by SVB executives including Becker "was great for SVB's short-term profits, which shot up by nearly 40% over the last three years," wrote Warren. But with regulators forced to take over SVB and then on Sunday to dissolve Signature Bank—a New York-based institution also heavily tied to tech—to mitigate the damage done, she added, "now we know its cost."

As SVB executives were celebrating their bonuses Friday, "businesses and nonprofits with accounts at the bank [were left] alarmed that they wouldn't be able to pay their bills and employees," the senator wrote.

"SVB and Signature shareholders will be wiped out, but their executives must also be held accountable," she added. "Mr. Becker of SVB took home $9.9 million in compensation last year, including a $1.5 million bonus for boosting bank profitability—and its riskiness. Joseph DePaolo of Signature got $8.6 million. We should claw all of that back, along with bonuses for other executives at these banks. Where needed, Congress should empower regulators to recover pay and bonuses."

Morris Pearl, former BlackRock managing director and chair of the economic justice group Patriotic Millionaires, added that Becker and other executives should not be rewarded for failing "to foresee the consequences of the current market and the Federal Reserve interest rate hikes" as they "put tens of billions of dollars of risk on the shoulders of businesses and workers."

"SVB's incompetence in running their financial institution has led to a crisis impacting regular Americans," said Pearl. "Bankers always say that regulators get in the way of doing their jobs and making profits, but this is what happens when Congress takes them at their word and loosens regulations. Bank managers have an inherent conflict of interest regarding government oversight; they get the credit if things go well, and the FDIC takes the hit if things go south."
In addition to clawing back bonuses and exorbitant executive pay to ensure there are material consequences for SVB's mismanagement, Warren wrote at the Times, prosecutors should also "investigate whether any executives engaged in insider trading or broke other civil or criminal laws."
Rep. Ruben Gallego (D-Ariz.), who is running for Sen. Kyrsten Sinema's (I-Ariz.) Senate seat, echoed Warren's call.
"If we are to deter this kind of risky behavior from happening again," said Warren, "it's critical that those responsible not be rewarded."

News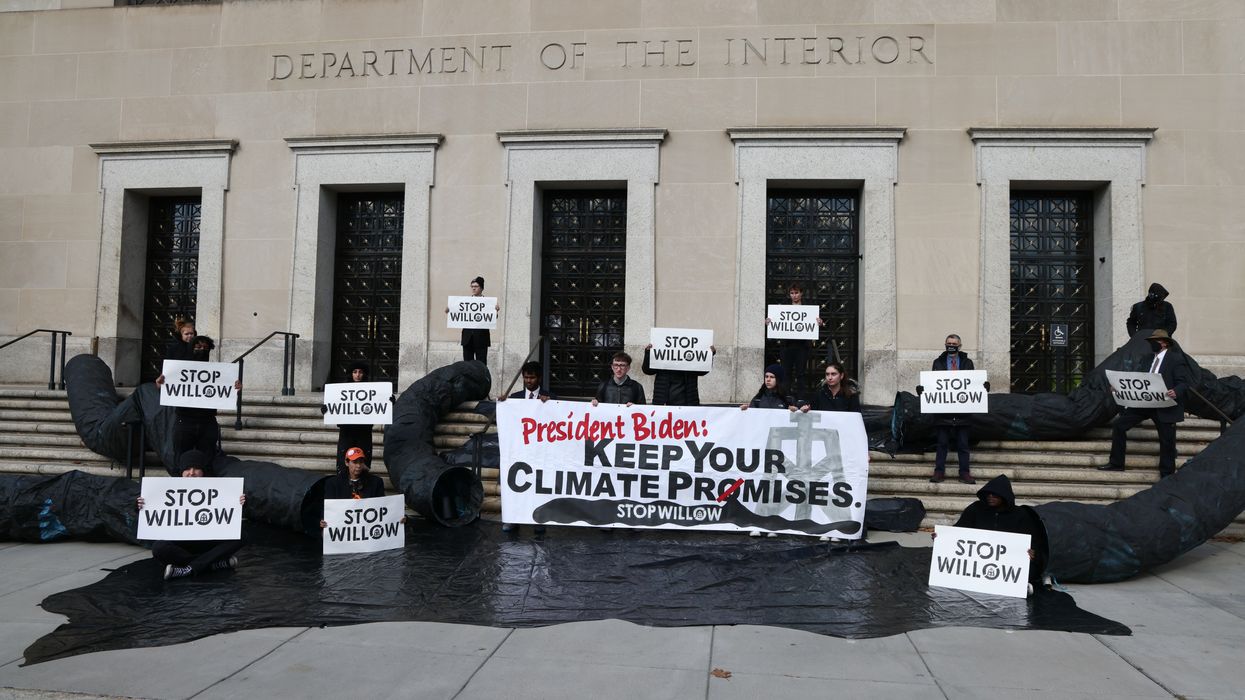 "We will consider every appropriate tool in our continuing fight to stop the Willow climate bomb," said one advocate.
Following his administration's Monday morning approval of the Willow oil drilling project, environmental justice advocates slammed U.S. President Joe Biden for betraying the voters who sent him to the White House and vowed to do everything in their power to stop ConocoPhillips from proceeding with its climate-wrecking venture on federal land in Alaska's North Slope.
"President Biden's decision to move forward with the Willow project abandons the millions of young people who overwhelmingly came together to demand he stop the project and protect our futures," Sunrise Movement executive director Varshini Prakash said in a statement. Young voters, overwhelmingly opposed to expanding fossil fuel extraction, played a key role in securing Biden's 2020 victory and in minimizing the Democratic Party's losses in the 2022 midterms.
On the campaign trail in 2020, then-candidate Biden "committed to end new oil and gas drilling on public lands and waters," said Prakash. "Today's announcement flies in the face of that promise. Instead of sticking to his own goals and listening to the millions of young people who carried the party for the last three cycles, President Biden is letting the fossil fuel industry have their way."
Dorothy Slater, director of climate research at the Revolving Door Project, also condemned Biden for once again reneging on his unfulfilled pledge to halt drilling on federal lands.
"The Willow project in Alaska is the largest oil extraction project ever proposed on federal lands," Slater pointed out. "Biden's green light for this drilling project, which his own Interior Department had 'substantial concerns' about, is political and cowardly. And last-minute half-measures to conserve other areas of Alaska and the Arctic Ocean are insulting in the face of a betrayal of this magnitude."
"Biden and the fossil fuel-friendly advisers who have his ear are choosing to actively perpetuate massive harm to Alaska ecosystems and our shared atmosphere," said Slater. "ConocoPhillips, faced with the reality of melting permafrost, plans to artificially cool the ground so it can drill for oil that will further heat the planet. The infrastructure needed for the project will fragment delicate Alaska Arctic ecosystems. People living nearby will be made victims of the inevitable human health hazards associated with leaks and transportation emissions."
Noting that residents of the Alaska Native village of Nuiqsut "suffered from headaches, breathing problems, and nausea... in the wake of last year's North Slope gas leak," Allie Rosenbluth, U.S. program manager at Oil Change International, called the White House's move "a tremendous strike against President Biden's legacy on both climate and environmental justice."
"Biden has again broken his campaign promise to stop oil and gas drilling on federal lands and is approving new drilling at a faster rate than the Trump administration," said Rosenbluth. "The Willow project would be a colossal source of climate pollution, emitting a whopping 278 million metric tons over the next three decades—equivalent to the annual emissions of one-third of all remaining U.S. coal plants."
"The United States has no claim to international climate leadership if it's approving deadly new fossil fuel projects that could operate for decades," Rosenbluth asserted. "It's time for the Biden administration to stop investing in disaster and instead invest in a just transition to reliable, affordable, and renewable energy for all."
As Slater observed, "News media has repeatedly cited support from Alaska Natives... who have expressed that the jobs and revenue from the project are necessary to fund basic services for residents."
"But there is serious resistance from at least 38 Indigenous-led organizations and the neighboring Native village of Nuiqsut, who say the process for public input has been inadequate and that the project threatens their way of life," she noted. "A functioning country with a visionary president would realize alternative paths to fund basic services that didn't rely on a poisonous fossil fuel project with huge anticipated costs to people and planet."
"While the administration sides with Big Oil and exploitation of our public lands, we will keep fighting until this project is stopped dead in its tracks."
Sonia Ahkivgak, social outreach coordinator for Sovereign Iñupiat for a Living Arctic—which organized a letter of opposition to the Willow project signed by more than three dozen Indigenous-led groups—said in a statement that "the Biden administration's approval makes it clear that its call for climate action and the protection of biodiversity is talk, not action."
"The only reasonable solution to the climate emergency is to deny new fossil fuel projects like Willow," said Ahkivgak. "Our fight has been long and also it has only begun. We will continue to call for a stop to Willow because the lives of local people and future generations depend on it."
Sovereign Iñupiat for a Living Arctic was not alone in declaring that the struggle against the Willow project is far from over.
"President Biden's approval of the Willow project is a colossal and reprehensible stain on his environmental legacy," said Friends of the Earth campaigner Raena Garcia. "Forcing a massive climate disaster project onto a region already plagued by climate change is nothing short of tragic for the planet and Alaska's communities."
"While the administration sides with Big Oil and exploitation of our public lands, we will keep fighting until this project is stopped dead in its tracks," Garcia added.
350.org's North America director, Jeff Ordower, echoed that message.
"President Biden claims to prioritize climate justice, yet today's decision reveals that he is quick to cater to pressure from Big Oil over the needs of the people," said Ordower. "Biden absolutely has the power to reject ALL new fossil fuel projects, declare a climate emergency, and truly fight for both our people and our planet. Frontline communities and scientists have been clear that that is the only way forward unless we want to exacerbate climate harm and drive our world further into climate chaos."
Rubber-stamping more oil extraction in the fragile, rapidly warming Arctic "betrays Biden's own climate promises," Ordower continued. "The fight to halt all new fossil fuel projects, including Willow, isn't over. Our movement is only growing—and we'll continue to fight for people and planet over profit."
Christy Goldfuss, chief policy impact officer at the Natural Resources Defense Council, described the Biden administration's decision as "a grievous mistake," stressing that "it greenlights a carbon bomb, sets back the climate fight, and emboldens an industry hell-bent on destroying the planet."
"Willow is a project out of time," Goldfuss continued. "With science demanding an end to fossil fuels, this locks in decades more dependence on oil. With the climate crisis worsening by the day, this has the same yearly carbon footprint of roughly 1.1 million homes—more than are in Chicago. With clean energy investment driving a heartland manufacturing renaissance, this stakes our future on the fuels of the past."
"We will consider every appropriate tool in our continuing fight to stop the Willow climate bomb," she added.
News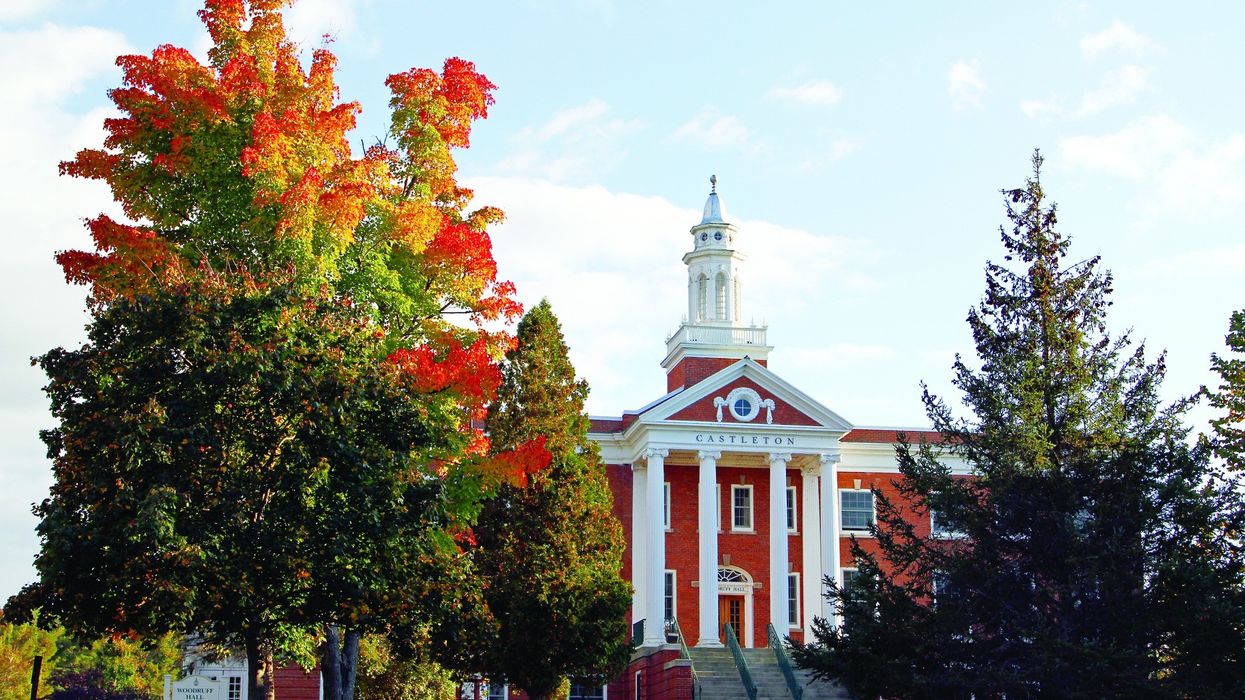 "How can you defend a higher education institution without books?" said a biology professor at Castleton University. "It's an embarrassing decision."
Students, staff, alumni, and bibliophiles remain outraged that libraries at Vermont's public college are set to lose vast portions of their book collections, despite a new "refined plan" to potentially retain volumes that "have been deemed academically valuable."
Faced with intense backlash to the all-digital plan unveiled last month, the Vermont State Colleges System (VSCS) said Thursday that academic department chairs and the provost may now be allowed to decide which books survive the purge.
Along with the selection of works that are determined to be academically vital to students, schools may maintain a "collection of popular, casual, reading books, as well as children's books in the library with a 'take-a-book, leave a book' honor system."

The plan to make the libraries mostly digital for the upcoming fall semester is part of a broader transition underway: With the help and support of the state Legislature, Castleton University, Northern Vermont University, and Vermont Technical College will soon become Vermont State University (VTSU) and share a chancellor and board of trustees with the Community College of Vermont.
As VTDiggerreported:
The system plans to keep roughly 30,000 books across five campus libraries, according to Sylvia Plumb, a spokesperson for Vermont State University. That figure is roughly 10% of the approximately 300,000 items in the current collections.

"The refined plan expands upon the original concepts to address the concerns identified by faculty, staff, and students," Plumb said. "This is a natural and expected part of the input and operational process."

[...]

The campuses will also keep a part-time library assistant at Castleton, Johnson, Lyndon, and Randolph, and will hire student workers. The move would still eliminate seven full-time positions, as administrators said earlier, but "several new part-time jobs will be available," Plumb said.

It's unclear how much the "refined plan" differs from the original plan. Plumb said in an email that the savings from the updated plan would be an estimated $500,000, "consistent with the original plan."
Speaking to a crowd that gathered at the Vermont Statehouse in Montpelier last month—before the refined plan was announced—Devon Harding declared that as a Castleton student with learning disabilities, "the physical library is not a privilege, it's my right."
"My disabilities cannot be accommodated digitally. Eye strain, difficulty tracking lines, blue light effects on ocular health, struggles to focus. These are not problems a screen can help with," she said. "Furthermore, I can't afford all my textbooks without the library."
"How can you defend a higher education institution without books?" Preston Garcia, a Castleton biology professor who serves as the faculty assembly president, toldThe Boston Globe. "It's an embarrassing decision. Once you get rid of materials, they are gone."
The newspaper noted Monday that on one recent weekday at Castleton, signs at the library entrance read: "Save the books," "Books save lives," and "Books are history." Garcia said that despite the revised plan, "people are as upset as they have been."
While "the Vermont systemmay be one of the first in the nation to take such a dramatic step, higher education watchers say campus libraries are increasingly being targeted for dramatic changes," the Globe highlighted, pointing to similar moves by decision-makers at the University of California, Berkeley in 2017 and Florida Polytechnic University in 2014.
Although the changes in Vermont are ostensibly informed by usage and intended to save money, the developments come amid efforts by right-wing politicians and activists to restrict books and lessons available at educational institutions and libraries nationwide.
Those book-banning campaigns and other censorship efforts are opposed by many students, parents, educators, and librarians as well as groups including the American Library Association, American Federation of Teachers, and PEN America.
Battles to outlaw certain books and lessons in the U.S. are part of a worldwide trend documented in "not only autocracies but even liberal democracies," according to an annual report published earlier this month by the Varieties of Democracy Institute in Sweden. "The global retreat in academic freedom affects more than 50% of the world's population or 4 billion people."

News
SUPPORT OUR WORK.
We are independent, non-profit, advertising-free and 100%
reader supported.