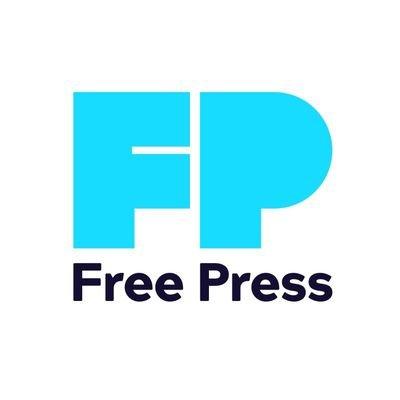 For Immediate Release
Contact:
Timothy Karr, 201-533-8838
Matsui and Leahy Introduce Bill to Stop the Payola Internet
To protect real Net Neutrality, the FCC must reclassify Internet service providers as common carriers
WASHINGTON
On Tuesday, Rep. Doris Matsui and Sen. Patrick Leahy introduced the Online Competition and Consumer Choice Act, which would prohibit paid prioritization of Internet traffic. Last month, the Federal Communications Commission voted to consider new rules that would let Internet service providers charge content companies for priority treatment, relegating the rest of the Internet to a slower tier of service.
Free Press Action Fund Associate Policy Director Chancellar Williams made the following statement:
"The best way to stop paid prioritization and protect real Net Neutrality is for the FCC to reclassify broadband service providers as common carriers, and they should move swiftly to do so. But we're pleased that members of Congress are speaking out against the dangerous practice of paid prioritization. Representative Matsui and Senator Leahy are trying to solve the serious problems posed by FCC Chairman Tom Wheeler's current proposal, which would pave the way to a pay-to-play Internet."
Free Press was created to give people a voice in the crucial decisions that shape our media. We believe that positive social change, racial justice and meaningful engagement in public life require equitable access to technology, diverse and independent ownership of media platforms, and journalism that holds leaders accountable and tells people what's actually happening in their communities.
(202) 265-1490
LATEST NEWS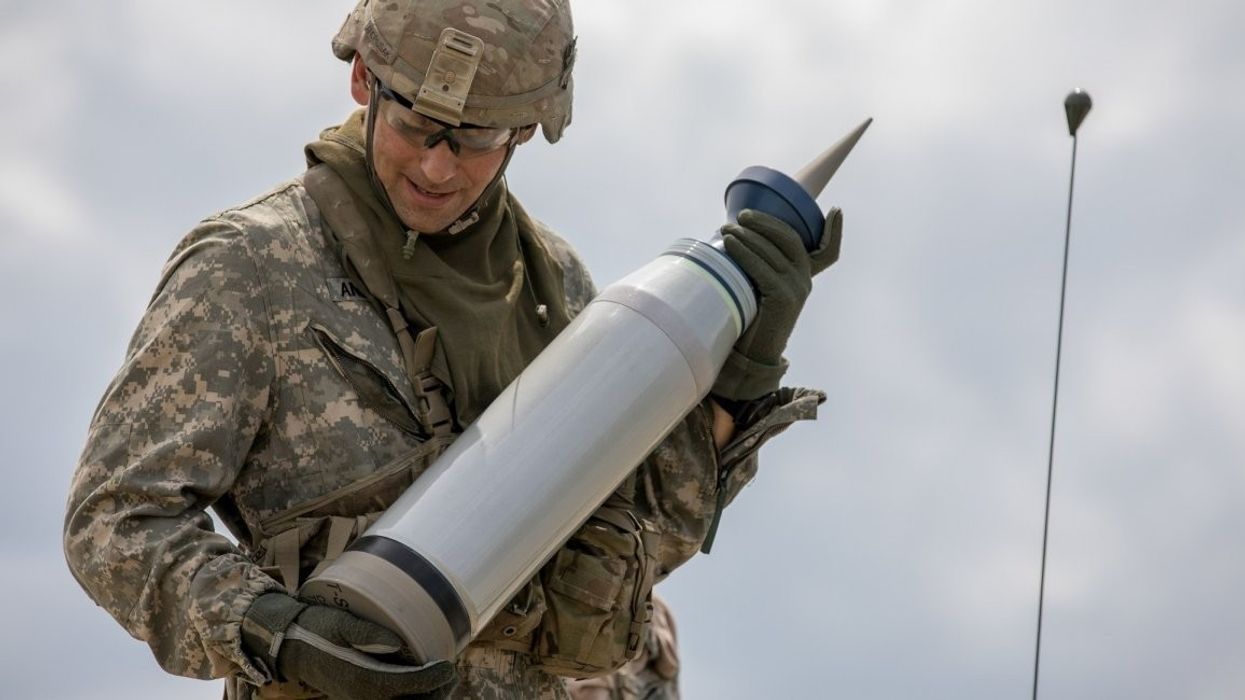 Peace groups have long campaigned for a ban on DU munitions
The Biden administration will, for the first time, send controversial armor-piercing munitions containing depleted uranium to Ukraine, according to Reuters.
The munition can be fired from US Abrams tanks, which are expected to arrive in Ukraine in the coming weeks.

The shells, which will come from US excess inventory, would be funded by the Presidential Drawdown Authority, which lets the president make transfers from US stocks without Congress' approval in the case of an emergency.
This follows an earlier decision by the Biden administration to provide cluster munitions to Ukraine despite concerns over the dangers such weapons pose to civilians.
If the US deploys depleted uranium shells to Ukraine, Russian President Vladimir Putin has threatened to retaliate with DU rounds—which are linked to birth defects, miscarriages, and cancer.
Depleted uranium is a byproduct of the production of fuel used in nuclear power stations. Its extreme density gives rounds the ability to penetrate armor-plating easily.
The use of depleted uranium munitions has been fiercely debated, with opponents like the International Coalition to Ban Uranium Weapons saying there are dangerous health risks from ingesting or inhaling depleted uranium dust, including cancers and birth defects.
Common Dreams has reported:
The U.S.-led NATO coalition that waged the 1999 air war against Yugoslavia also used DU munitions, which experts believe are responsible for a surge in leukemia in the region, both among the local population and foreign troops deployed in the war zone.
Peace groups have long campaigned for a ban on DU munitions. Last September, the United Nations General Assembly approved an Indonesian draft resolution urging further research of the "health risks and environmental impact" of DU weapons and calling for a "cautionary approach" to their use.
The resolution was approved by 147 nations. The U.S., U.K., France, and Israel voted against the proposal.
News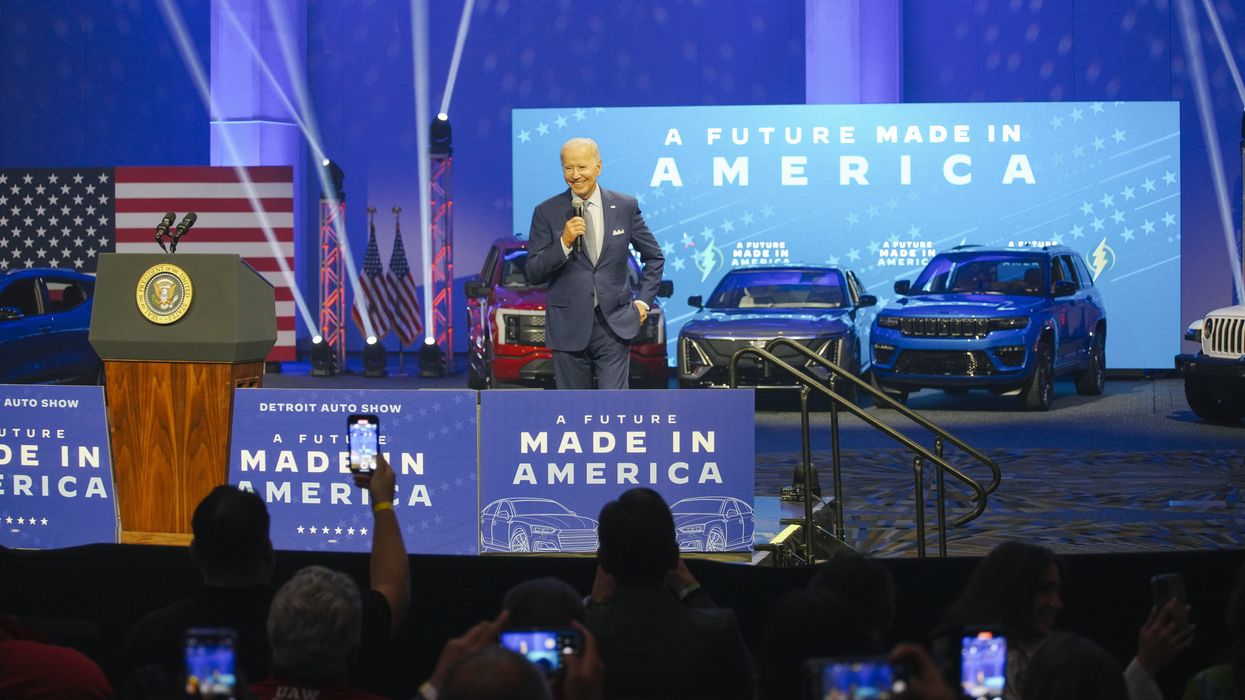 "We are glad to see the Biden administration doing its part to reject the false choice between a good job and a green job," said the United Auto Workers president.
In a move welcomed by progressives in Congress and a top union leader, U.S. President Joe Biden's administration on Friday announced a $15.5 billion package "primarily focused on retooling existing factories for the transition to electric vehicles" and stressed the importance of "supporting good jobs and a just transition to EVs."
The Biden administration is making available $2 billion in grants and up to $10 billion in loans for conversion projects that keep jobs in communities already home to automaker facilities, according to a statement about the package. The Department of Energy (DOE) is also planning for $3.5 billion in funding to expand domestic manufacturing of batteries and related materials for EVs and the U.S. electric grid.
"President Biden is investing in the workforce and factories that made our country a global manufacturing powerhouse," said U.S. Secretary of Energy Jennifer Granholm. "Today's announcements show that President Biden understands that building the cars of the future also necessitates helping the communities challenged by the transition away from the internal combustion engine."
The package follows the United Auto Workers (UAW) revealing last week that 97% of participating members at "Big Three" vehicle manufacturers Ford, General Motors, and Stellantis—whose brands include Chrysler, Dodge, Fiat, Jeep, Maserati, and RAM—voted to authorize a strike if a contract deal with management isn't reached by mid-September.
It also comes after the UAW on Thursday filed unfair labor practice charges against General Motors and Stellantis, accusing them of illegally refusing to negotiate in good faith and dragging out talks "with the goal of forcing the union to swallow a milquetoast contract at the last minute," in the words of UAW president Shawn Fain.
Fain on Friday celebrated the DOE package, saying that "the UAW supports and is ready for the transition to a clean auto industry. But the EV transition must be a just transition that ensures auto workers have a place in the new economy. Today's announcement from the Department of Energy echoes the UAW's call for strong labor standards tied to all taxpayer funding that goes to auto and manufacturing companies."

The UAW leader—whose union has pressured the president to use his power to help ensure a just transition to EVs—continued:

We are glad to see the Biden administration doing its part to reject the false choice between a good job and a green job. This new policy makes clear to employers that the EV transition must include strong union partnerships with the high pay and safety standards that generations of UAW members have fought for and won.

The Big Three have closed or spun off 65 plants in the last 20 years. The automakers have not yet promised job security in our ongoing negotiations. I have traveled across the country, meeting displaced workers who've had to pick up and move their families when plants shut down recently in Belvidere, Illinois, Lordstown, Ohio, and Romeo, Michigan. These new grants and loans will give plants like these a chance for federal support to ensure those jobs and communities are protected.

Granholm noted Fain's remarks on social media, saying she "couldn't agree more" that the shift to EVs must be a just transition.
Members of Congress, including Rep. Ro Khanna (D-Calif.), similarly took to social media to highlight the UAW leader's comments.
Along with also pointing to Fain's statement, Sen. Bernie Sanders (I-Vt.) said that "President Biden is right. When the federal government provides billions to the auto industry for the production of electric vehicles, the jobs that are created must be good-paying union jobs and the cars must be produced in the U.S. This new policy is an important step forward."
News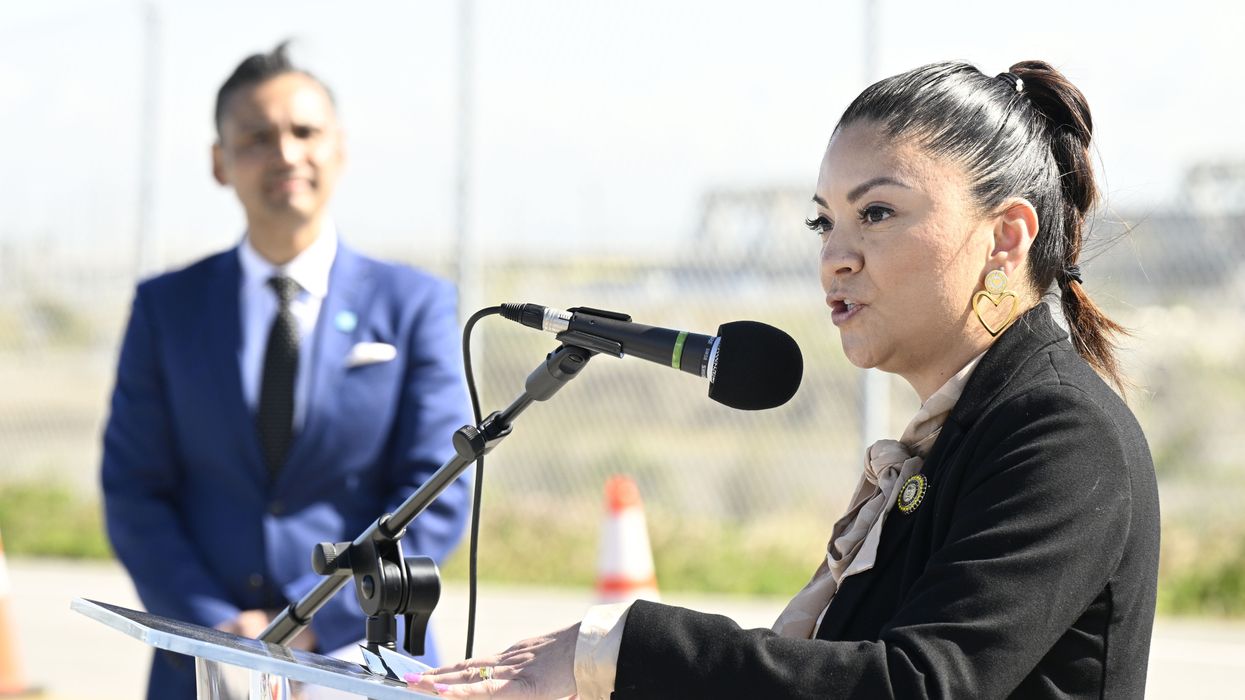 "We hope this move locks in real action on ending the era of fossil fuels in California, and spurs other regions, states, and countries to join forces in tackling the root cause of the climate crisis," said one activist.
Climate campaigners in California and beyond celebrated on Friday after the state Legislature affirmed its support for a resolution that urges the U.S. government to join a worldwide effort to develop "a fossil fuel nonproliferation treaty as an international mechanism to manage a global transition away from coal, oil, and gas."
Senate Joint Resolution 2 also endorses what advocates call a "just transition," stating that "California affirms the need for a plan to phase out existing fossil fuel production that prioritizes the most impacted workers and local government services with short- and long-term investments that include enforceable labor standards, such as prevailing wages, apprenticeship opportunities, and project labor agreements, to protect workers and communities."
California Senate Majority Whip Lena Gonzalez (D-33), who spearheaded SJR 2, declared Friday that "it is essential that we commit once and for all to ending our reliance on fossil fuels. People around the world, especially low-income people of color, are suffering the adverse health impacts of fossil fuel pollution, from asthma to cancer. The recent devastating fires and hurricanes emphasize the urgency of taking action, to prevent further extreme weather changes."
"The science has been clear for decades—fossil fuels are responsible for the climate crisis," she added. "We can prevent further harm to our communities, and that is why I am proud that California has now been added to the growing list of governments endorsing the fossil fuel nonproliferation treaty. It is time for our nation to be a part of the solution, to forge strong unity and commitment to phasing out the use of fossil fuels."
According to its text, SJR 2 will be sent to Democratic U.S. President Joe Biden and Vice President Kamala Harris—who are seeking reelection next year—as well as the top Democrats and Republicans in Congress, California's congressional delegation, Democratic Gov. Gavin Newsom, every mayor in the state, the United Nations secretary-general, and the U.N. high commissioner for human rights.
The resolution was sponsored by the Stand.earth initiative Stand Against Fossil Fuel Expansion (SAFE) Cities and the Indigenous Environmental Network, whose executive director, Tom Goldtooth, said in a statement Friday that "this decision of the state of California is a commitment to take down the single biggest contributor to the climate crisis: the fossil fuel industry."
"California joins the millions of voices across Turtle Island and Mother Earth calling on Biden to follow in the footsteps of our Pacific Island brothers and sisters from the small island states and negotiate a mandate for a fossil fuel nonproliferation treaty," he noted. "As the state with the highest population of Indigenous peoples in the country, it is important to pass legislation that would put a halt to the devastation and destruction of the compounding effects of climate change caused by fossil fuels."
"This decision of the state of California is a commitment to take down the single biggest contributor to the climate crisis: the fossil fuel industry."
Along with other local, regional, and national governments, the demand for such a treaty is backed by the European Parliament, the World Health Organization, faith and civil society groups, and individuals across the globe, including Nobel laureates, scientists, and youth leaders.
If California were a country, it would be the fifth-largest economy in the world in terms of gross domestic product, after the full United States, China, Japan, and Germany. The U.S. state is the largest economy to embrace the treaty call so far, according to Alex Rafalowicz, executive director of the Fossil Fuel Nonproliferation Treaty Initiative.
Rafalowicz said in a statement Friday that by supporting the treaty proposal, "California sets a powerful example to the international community, underscoring the urgency of fast-tracking an equitable transition away from oil, gas, and coal. This move will catalyze a ripple effect that reaches far beyond state borders."
"By aligning its immense economic and cultural influence with the fossil fuel treaty proposal, California can accelerate its own energy transition, inspiring global cooperation to safeguard our planet and communities," the campaigner continued. "We hope this move locks in real action on ending the era of fossil fuels in California, and spurs other regions, states, and countries to join forces in tackling the root cause of the climate crisis: the production of coal, oil, and gas."
Last December, California regulators approved a blueprint to cut planet-heating emissions by 85% and get the state to carbon neutrality by 2045. Newsom said at the time that "California is leading the world's most significant economic transformation since the Industrial Revolution—we're cutting pollution, turning the page on fossil fuels, and creating millions of new jobs." However, activists have called on him and other state leaders to go further.
Nathan Taft, a California resident and senior digital campaigner for SAFE Cities, said Friday that "Los Angeles was one of the first cities in the world to endorse the fossil fuel treaty, and it's great to see California following its lead by becoming one of the first subnational governments joining this movement to address the climate crisis with the scale and urgency required."
"At the same time, California must follow this historic resolution with concrete policies that protect its residents and the climate from fossil fuels," Taft asserted. "At a bare minimum, California should stop issuing new fossil fuel permits, divest its massive pensions from fossil fuels, and implement all-electric building codes."
Central California Environmental Justice Network oil and gas director Cesar Aguirre similarly argued that the state's support for the treaty "only holds weight if we see meaningful protections come from it" and "no new neighborhood drilling should be the first priority."
The vote in California comes as much of the Northern Hemisphere has endured a summer of extreme heat connected to human-caused global warming and as parties to the 2015 Paris agreement prepare for COP28, a U.N. climate summit hosted by the United Arab Emirates in November.
As Common Dreamsreported last November, during COP27 in Egypt, Kausea Natano, prime minister of the Pacific nation Tuvalu, proposed a fossil fuel nonproliferation treaty, telling those gathered that "we all know that the leading cause of climate crisis is fossil fuels."
News
Independent, nonprofit journalism needs your help.
Please Pitch In
Today!