For Immediate Release
Contact:
IPCC Press Office, Email:,ipcc-media@wmo.int,Jonathan Lynn, + 41 22 730 8066 or Werani Zabula, + 41 22 730 8120,IPCC Working Group I Media Contact, Email:,media@ipcc.unibe.ch,Pauline Midgley, +41 31 631 5620
Human Influence on Climate Clear, IPCC Report Says
STOCKHOLM
Human influence on the climate system is clear. This is evident in most regions of the globe, a new assessment by the Intergovernmental Panel on Climate Change (IPCC) concludes.
It is extremely likely that human influence has been the dominant cause of the observed warming since the mid-20th century. The evidence for this has grown, thanks to more and better observations, an improved understanding of the climate system response and improved climate models.
Warming in the climate system is unequivocal and since 1950 many changes have been observed throughout the climate system that are unprecedented over decades to millennia. Each of the last three decades has been successively warmer at the Earth's surface than any preceding decade since 1850, reports the Summary for Policymakers of the IPCC Working Group I assessment report, Climate Change 2013: the Physical Science Basis, approved on Friday by member governments of the IPCC in Stockholm, Sweden.
"Observations of changes in the climate system are based on multiple lines of independent evidence. Our assessment of the science finds that the atmosphere and ocean have warmed, the amount of snow and ice has diminished, the global mean sea level has risen and the concentrations of greenhouse gases have increased," said Qin Dahe, Co-Chair of IPCC Working Group I.
Thomas Stocker, the other Co-Chair of Working Group I said: "Continued emissions of greenhouse gases will cause further warming and changes in all components of the climate system. Limiting climate change will require substantial and sustained reductions of greenhouse gas emissions."
"Global surface temperature change for the end of the 21st century is projected to be likely to exceed 1.5degC relative to 1850 to 1900 in all but the lowest scenario considered, and likely to exceed 2degC for the two high scenarios," said Co-Chair Thomas Stocker. "Heat waves are very likely to occur more frequently and last longer. As the Earth warms, we expect to see currently wet regions receiving more rainfall, and dry regions receiving less, although there will be exceptions," he added.
Projections of climate change are based on a new set of four scenarios of future greenhouse gas concentrations and aerosols, spanning a wide range of possible futures. The Working Group I report assessed global and regional-scale climate change for the early, mid-, and later 21st century.
"As the ocean warms, and glaciers and ice sheets reduce, global mean sea level will continue to rise, but at a faster rate than we have experienced over the past 40 years," said Co-Chair Qin Dahe. The report finds with high confidence that ocean warming dominates the increase in energy stored in the climate system, accounting for more than 90% of the energy accumulated between 1971 and 2010.
Co-Chair Thomas Stocker concluded: "As a result of our past, present and expected future emissions of CO2, we are committed to climate change, and effects will persist for many centuries even if emissions of CO2 stop."
Rajendra Pachauri, Chair of the IPCC, said: "This Working Group I Summary for Policymakers provides important insights into the scientific basis of climate change. It provides a firm foundation for considerations of the impacts of climate change on human and natural systems and ways to meet the challenge of climate change." These are among the aspects assessed in the contributions of Working Group II and Working Group III to be released in March and April 2014. The IPCC Fifth Assessment Report cycle concludes with the publication of its Synthesis Report in October 2014.
"I would like to thank the Co-Chairs of Working Group I and the hundreds of scientists and experts who served as authors and review editors for producing a comprehensive and scientifically robust summary. I also express my thanks to the more than one thousand expert reviewers worldwide for contributing their expertise in preparation of this assessment," said IPCC Chair Pachauri.
The Summary for Policymakers of the Working Group I contribution to the IPCC Fifth Assessment Report (WGI AR5) is available at www.climatechange2013.org or www.ipcc.ch.
Key Findings
See separate Fact Sheet of Headline Statements from the WGI AR5 Summary for Policymakers, available at www.climatechange2013.org.
Background
Working Group I is co-chaired by Qin Dahe of the China Meteorological Administration, Beijing, China, and Thomas Stocker of the University of Bern, Switzerland. The Technical Support Unit of Working Group I is hosted by the University of Bern and funded by the Government of Switzerland.
At the 28th Session of the IPCC held in April 2008, the members of the IPCC decided to prepare a Fifth Assessment Report (AR5). A Scoping Meeting was convened in July 2009 to develop the scope and outline of the AR5. The resulting outlines for the three Working Group contributions to the AR5 were approved at the 31st Session of the IPCC in October 2009.
The Summary for Policymakers of the IPCC WGI AR5 was approved at the Twelfth Session of IPCC Working Group I meeting in Stockholm, Sweden, 23 to 26 September 2013 and was released on 27 September.
The Final Draft of the Working Group I report (version distributed to governments on 7 June 2013), including the Technical Summary, 14 chapters and an Atlas of Global and Regional Climate Projections, will be released online in unedited form on Monday 30 September. Following copy- editing, layout, final checks for errors, and adjustments for changes in the Summary for Policymakers, the full report of Working Group I will be published online in January 2014 and in book form by Cambridge University Press a few months later.
The Working Group I assessment comprises some 2,500 pages of text and draws on millions of observations and over 2 million gigabytes of numerical data from climate model simulations. Over 9,200 scientific publications are cited, more than three quarters of which have been published since the last IPCC assessment in 2007.
In this IPCC assessment report, specific terms are used to indicate the assessed likelihood of an outcome or a result. For those terms used above: virtually certain means 99-100% probability, extremely likely: 95-100%, very likely: 90-100%, likely: 66-100%. For more information see the
IPCC uncertainty guidance note: https://www.ipcc-wg1.unibe.ch/guidancepaper/ar5_uncertainty- guidance-note.pdf
The Intergovernmental Panel on Climate Change is an intergovernmental body of the United Nations. Its job is to advance scientific knowledge about climate change caused by human activities. The World Meteorological Organization and the United Nations Environment Programme established the IPCC in 1988.
LATEST NEWS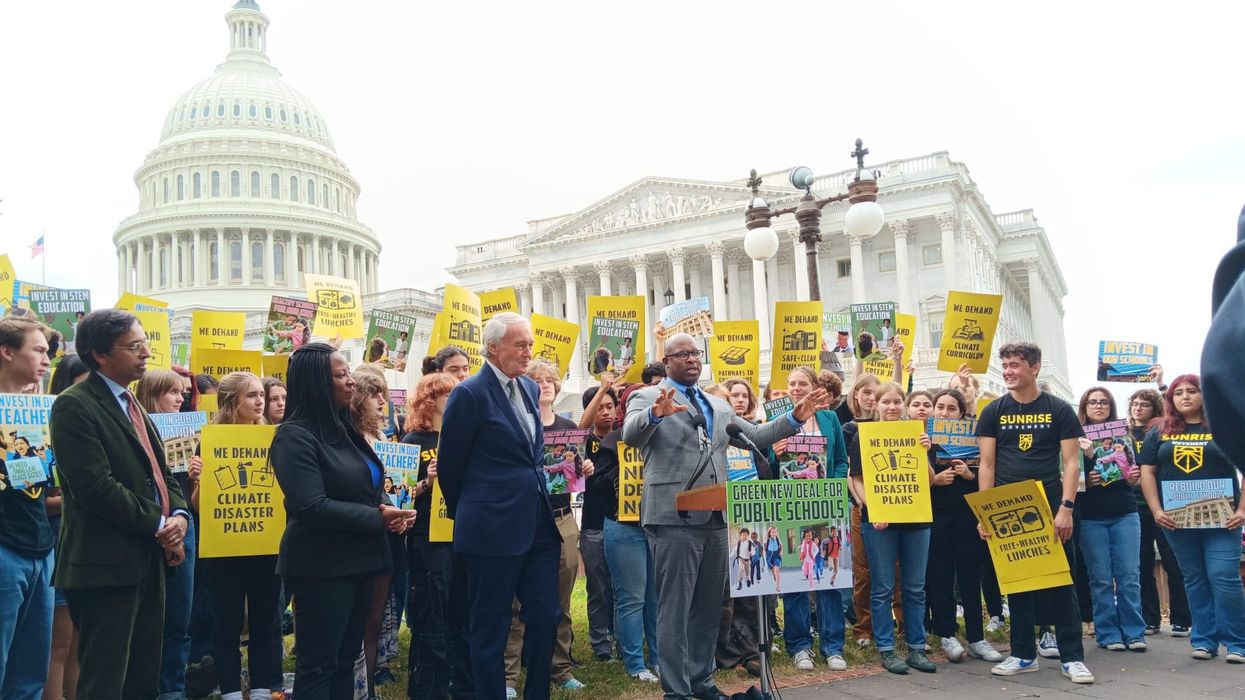 "Let's build a green future where every student can learn and thrive," said Sen. Ed Markey while introducing the proposed legislation.
Climate and education advocates on Thursday cheered the introduction in the U.S. Congress by Sen. Ed Markey and Rep. Jamaal Bowman of the Green New Deal for Public Schools Act, which the lawmakers said would invest $1.6 trillion to transform the nation's education system while "creating 1.3 million jobs and eliminating 78 million metric tons of carbon emissions over 10 years."
A statement promoting the proposed legislation says it would "fund green upgrades that remove all health harms and carbon pollution fromevery public school in the nation while taking on environmental and racial inequities."
"It will unleash the potential of safe and inspiring public education for 50 million K-12 students in every neighborhood across the country," the statement added. "And, it willadd essential staff to vulnerable schools, create 1.3 million good-paying jobs annually, and reduce carbon emissions by 78 millionmetric tons each year—that's the same as taking 17 million gas-powered cars off the road!"
The measure is currently co-sponsored by 74 House lawmakers and is endorsed by advocacy groups including the Sunrise Movement; American Federation of Teachers; Gen Z for Change; Working Families Party; Sierra Club; Institute for Policy Studies; GreenLatinos; March for Our Lives; Progressive Democrats of America; and the American Federation of State, County, and Municipal Employees.
"The United States of America should have the best public education system in the world—our students, parents, teachers, staff, and administrators are doing their part, but Congress is failing them at every turn," Markey (D-Mass.) said in a statement. "School buildings are falling apart, educators and staff are creating makeshift air conditioners from window units, aging infrastructure is making our kids and our planet sick—it's a disgrace."

"The Green New Deal for Public Schools Act delivers climate justice, health justice, social justice, economic justice, and racial justice so that students—no matter their zip code—can learn in a safe and healthy environment, and one that is contributing to a healthier planet for the next generation," Markey added. "It is long past due for the United States to invest in schools what schools invest in us."
Bowman (D-N.Y.)—the founder and former principal of the Cornerstone Academy for Social Action, a public middle school in the Bronx—said that "it's time to revolutionize our public schools."
"As we face the devastating impacts of the climate crisis and confront the harms of underinvestment in redlined communities and inequities in our education system, we must center our kids and their futures," he asserted. "Education can change the world."
Bowman continued:

Schools should be the centers of our communities, places of joy and self-discovery where students feel safe to grow, thrive, and explore their passions and curiosity. Right now, they're crumbling, leaving our students, educators, and communities behind. We must take advantage of this moment by putting them first and facing the climate crisis head-on with bold investments in our schools focused on environmental, educational, economic, and racial equity.
"It's time for us to provide our kids with the resources they need to unlock their brilliance and have a livable planet by passing the Green New Deal for Public Schools Act and making urgent and necessary investments to revitalize our public education system," Bowman added.
The proposed legislation comes three days after students at more than 50 high schools across the U.S.—led by the Sunrise Movement—launched the Green New Deals for Schools campaign. The campaign is demanding that education officials provide school buildings powered by renewable energy; free, healthy, local, and sustainable meals; support for finding well-paying, unionized green careers; plans for extreme weather events; and instruction about the climate crisis.
News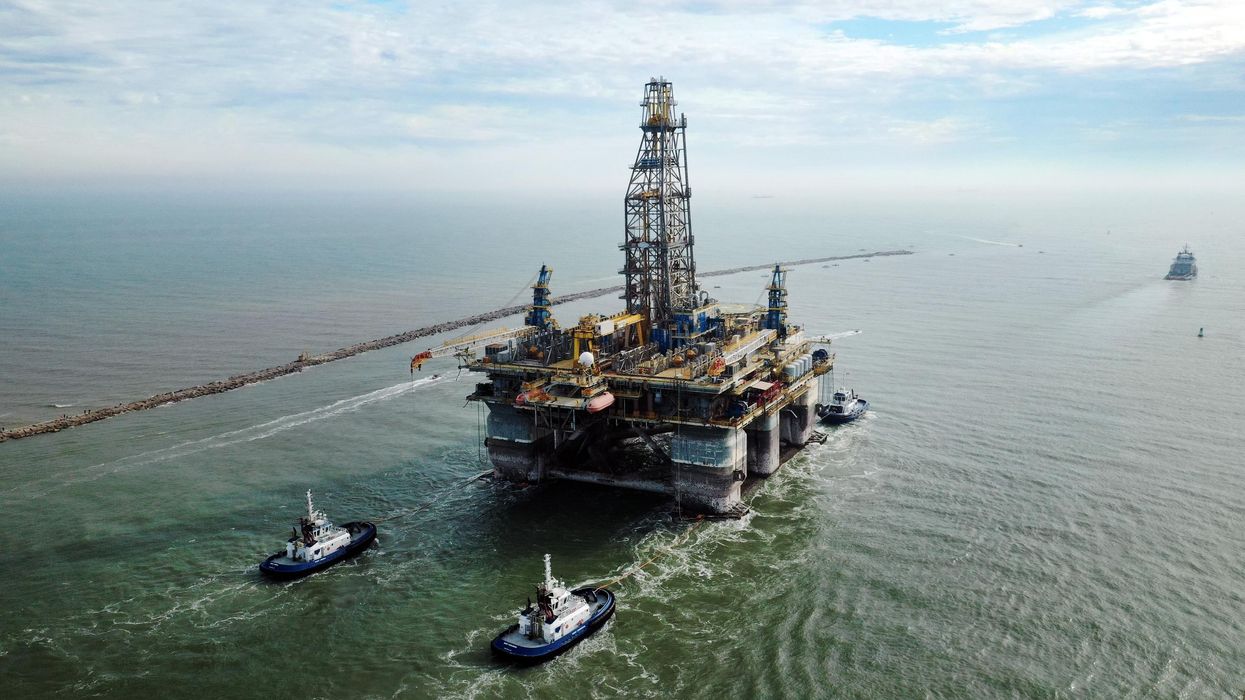 "President Biden says that climate change is an existential threat," said one campaigner. "Unfortunately, this decision is yet another sign that his administration is not willing to take actions that would match that rhetoric."
Climate and environmental defenders on Thursday condemned the Biden administration's imminent plan to sell offshore oil and gas drilling rights in the Gulf of Mexico over the next five years.
Bloombergreported Deputy Interior Secretary Tommy Beaudreau told a Senate panel on Thursday that the Biden administration's five-year offshore drilling rights plan will be released on Friday. Beaudreau said the plan was "definitely informed" by the Inflation Reduction Actction Act, which–while allocating hundreds of billions of dollars in clean energy investments—mandates fossil fuel drilling, a move made to gain the support of corporate Democrats including Sen. Joe Manchin of West Virginia.
"The only way to avert the worst impacts of the climate crisis is by stopping new fossil fuel projects."
The previous drilling plan expired last year. The new one will include details regarding drilling rights in Alaska and the Gulf of Mexico. Congress will have 60 days to review the proposal.
"The only way to avert the worst impacts of the climate crisis is by stopping new fossil fuel projects. The Biden administration knows this, and yet is making the outlandish and irresponsible decision to increase oil production for decades to come," Wenonah Hauter, executive director of the advocacy group Food & Water Watch—which warned the drilling plan would be a "climate nightmare"—said in a statement.
"This decision is yet another reminder that thanks to Sen. Joe Manchin, the Inflation Reduction Act requires oil and gas drilling on public lands in order to develop clean energy sources like wind and solar," she added. "This short-sighted political dealmaking will continue to have grave consequences."
Biden was praised by green campaigners earlier this month for canceling existing oil and gas drilling leases in the Arctic National Wildlife Refuge in Alaska and for banning drilling on 13 million acres of the National Petroleum Reserve.
However, the president—who campaigned on a pledge to phase out fossil fuel extraction on public lands and waters—has been criticized for approving new drilling permits ata faster rate than his predecessor, former President Donald Trump, and for approving major fossil fuel infrastructure including the Willow Project in Alaska, the Mountain Valley Pipeline in West Virginia, and for green-lighting liquefied natural gas export terminals in Alaska and along the Gulf of Mexico.
Numerous green groups also sued the U.S. Interior Department earlier this year over its plan to offer more than 73 million acres in the Gulf of Mexico in a lease sale.
"Approving new offshore drilling is an unconscionable betrayal of future generations who will be forced to live through an intensifying planetary emergency, and will pose direct and severe threats to healthy oceans and marine life," said Hauter.
"President Biden says that climate change is an existential threat," she added. "Unfortunately, this decision is yet another sign that his administration is not willing to take actions that would match that rhetoric."
Last week, the Biden administration and green groups said they would appeal a Louisiana federal judge's ruling blocking the administration from exempting 6 million acres in the Gulf of Mexico from a drilling lease sale initially scheduled for Wednesday but postponed by the Interior Department's Bureau of Ocean Energy Management after the judge's decision.
News
"We commend the Ojai City Council for standing up for what is necessary and just," said an advocate.
Animal rights advocates are applauding this week following a historic vote in the city of Ojai, California, where local lawmakers on Tuesday night adopted an ordinance to recognize the bodily rights of elephants, making it the first U.S. city to recognize the legal rights of nonhuman animal.
The Nonhuman Rights Project (NhRP) helped develop and lobbied for the new ordinance, which was introduced by Councilmember Leslie Rule and passed in a 4-1 vote.
Under the ordinance, it is now illegal in Ojai to subject an elephant to the lack of freedom endured by an elephant named Tarra, who was held in captivity in Ojai Valley and exploited for entertainment—including a rollerskating act—in the early 1980s before becoming the first resident of the nation's largest elephant sanctuary in 1995.
"This legislation is historic," said Courtney Fern, director of government relations and campaigns for NhRP. "It's indisputable that elephants suffer when deprived of their freedom and that animal welfare laws can't end their suffering. For elephants and the nonhuman animal rights movement, we are proud to support this first-of-its-kind ordinance, and we commend the Ojai City Council for standing up for what is necessary and just."
"We have known for some time that elephants have strong empathetic responses to one another's condition."
The new law stems from researchers' findings that "elephants are similarly situated to humans, as they have long-term memories, learning abilities, empathy, and self-awareness," according to the city council.
"We have known for some time that elephants have strong empathetic responses to one another's condition," Mark Scott, interim Ojai city manager, toldKTLA. "I am glad that we are able to make this statement supporting the place of these noble creatures in our world."

NhRP expressed hope that the ordinance "will be the first of many such laws: introduced by elected officials who understand that a sustainable and just future for all life on Earth means extending compassion to and establishing legal rights for nonhuman animals."
"In legislatures, in courtrooms, and beyond, that's what this movement is about," said the group.
Josh Jowitt, senior lecturer on natural and animal rights at Newcastle Law School in the United Kingdom, said the ordinance should not be dismissed as pertaining to "just one city."
"It may not seem much," said Jowitt, "but this decision means that U.S. courts can no longer claim there is no precedent in the country for explicitly recognizing an elephant's right to bodily liberty."
News
Independent, nonprofit journalism needs your help.
Please Pitch In
Today!