WASHINGTON
MARJORIE COHN, marjorielegal at gmail.com, www.marjoriecohn.com
Professor at Thomas Jefferson School of Law and former president of the National Lawyers Guild, Cohn is also the author of The United States and Torture and Rules of Disengagement: The Politics and Honor of Military Dissent. She said today: "Since the United States is charging Edward Snowden under the Espionage Act, he has a well-founded fear of prosecution if he is returned to the U.S. Given the torture of Bradley Manning, who was kept in solitary confinement for nine months in Virginia, Snowden would also have a well-founded fear of persecution in the U.S. Thus Snowden can probably make a good case for political asylum in Ecuador. Ironically, the antagonistic policies the U.S. government maintains against Cuba and Venezuela will make those countries unsympathetic to a U.S. request for extradition of Snowden if he stops there on his way to Ecuador."

NORMAN SOLOMON, solomonprogressive at gmail.com, normansolomon.com
Solomon is the founding director of the Institute for Public Accuracy and author of many books including War Made Easy: How Presidents and Pundits Keep Spinning Us to Death. His is the co-founder of RootsAction.org, whose petition titled, "Mr. President, Hands Off Edward Snowden," has garnered over 20,000 signatures since last night. He spoke with RT yesterday about Snowden's political asylum process. Solomon wrote a column today for the independent progressive news site Common Dreams titled, "The Pursuit of Edward Snowden: Washington in a Rage, Striving to Run the World."
Said Solomon: "The same government that continues to expand its invasive dragnet of surveillance, all over the United States and the rest of the world, is now asserting its prerogative to drag Snowden back to the USA from anywhere on the planet. It's not only about punishing him and discouraging other potential whistleblowers. Top U.S. officials are also determined to--quite literally--silence Snowden's voice, as Bradley Manning's voice has been nearly silenced behind prison walls. ...
"Those at the top of the U.S. government insist that Edward Snowden and Bradley Manning have betrayed it. But that's backward. Putting its money on vast secrecy and military violence instead of democracy, the government has betrayed Snowden and Manning and the rest of us."
MARK WEISBROT, via Dan Beeton, beeton at cepr.net
Weisbrot is co-director of the Center for Economic and Policy Research, which just released a statement titled, "Ecuador or Another Country Should Grant Asylum to Snowden, CEPR Co-Director Says." He has written extensively on Ecuador.
Weisbrot said: "It is important that everyone who believes in freedom to defend Ecuador from Washington's threats, which are very likely if the Ecuadorean government grants asylum to Snowden. Other governments around the world - whose citizens' rights have been violated by NSA surveillance overreach - should stand behind Ecuador if it chooses to grant Snowden asylum, as should NGO's. To charge Snowden with espionage is a severe form of political persecution.
"There is good reason for other Latin American countries especially to express solidarity with Ecuador, since so many of them have been subject to U.S. government interference and hostility merely for pursuing alternative paths of economic development, governance and diplomacy than those desired by Washington.
"The Obama administration has prosecuted more than twice as many people under the Espionage Act than all previous presidents combined. This demonstrates - as do many of the details of these cases themselves - that the administration is applying the law arbitrarily in order to silence people who are exposing what are sometimes criminal and dangerous abuses. Ecuador would be right to see such actions as political persecution and therefore approve this request for asylum."
See also: "U.S. Seemingly Unaware of Irony in Accusing Snowden of Spying" from the New Yorker, and "Obama's crackdown views leaks as aiding enemies of U.S." from McClatchy's Washington Bureau.
A nationwide consortium, the Institute for Public Accuracy (IPA) represents an unprecedented effort to bring other voices to the mass-media table often dominated by a few major think tanks. IPA works to broaden public discourse in mainstream media, while building communication with alternative media outlets and grassroots activists.
LATEST NEWS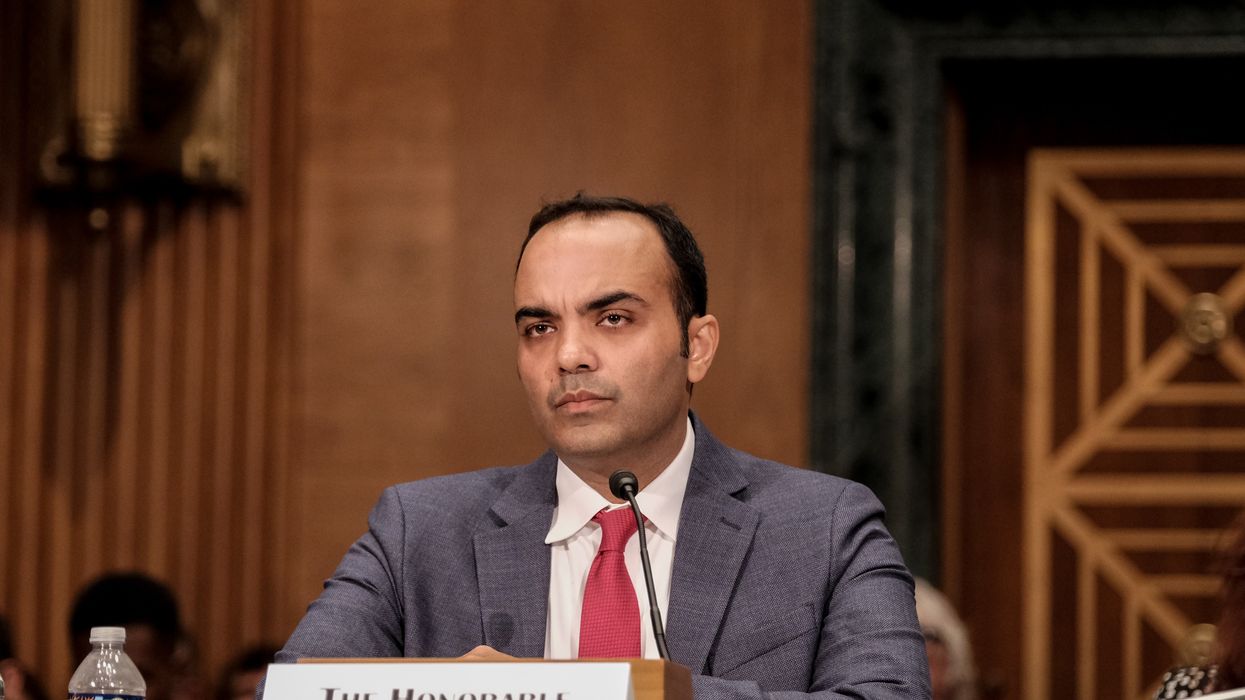 "How the court rules, and the relief it orders, will have enormous implications for the future of the agency, the validity of its past rules and enforcement actions, and its ability to continue protecting consumers."
The corporate forces that have been gunning for the Consumer Financial Protection Bureau since its creation more than a decade ago are set to have their moment before the U.S. Supreme Court on Tuesday, with the justices poised to hear a predatory payday lending group's challenge to the agency's funding mechanism on the second day of their new term.
The case—Consumer Financial Protection Bureau v. Community Financial Services Association of America, Limited—poses an existential threat to the CFPB, which has aggressively pursued corporate criminals under the leadership of director Rohit Chopra, who has been dubbed "Wall Street's most hated regulator."
Depending on the scope of the Supreme Court's decision, the outcome of the case could have consequences that reach far beyond the consumer agency's budget, potentially throwing the U.S. mortgage market into chaos and undermining other regulatory agencies and federal programs—including Medicare and Social Security.
"How the court rules, and the relief it orders, will have enormous implications for the future of the agency, the validity of its past rules and enforcement actions, and its ability to continue protecting consumers against fraud and abuse in the sale of a broad range of financial products and services, from payday loans to mortgages and credit cards," Stephen Hall, legal director and securities specialist at Better Markets, said Monday.
"The case also threatens the viability of other critically important agencies that have essentially the same funding structure that fuels the CFPB, including the Federal Reserve and the other banking regulators," Hall added.
Last year, 5th Circuit Court of Appeals—a federal panel composed entirely of judges appointed by former President Donald Trump—ruled that the CFPB's funding structure is unconstitutional. Unlike other federal agencies, the CFPB's funding comes from the Federal Reserve system, not congressional appropriations, making it less subject to annual political fights and right-wing austerity sprees.
The CFPB appealed the ruling, which was authored by a judge who received donations from the banking industry when he was a Mississippi state lawmaker.

As The New York Timesobserved Sunday, the 5th Circuit didn't just take aim at the CFPB's funding mechanism.
"It concluded that all actions taken by the bureau in its 12-year existence should be 'rewound,'" the newspaper reported. "If the Supreme Court agrees that the bureau's funding is improper, it could, at minimum, force the agency to rely on congressional appropriations. Or the court could follow the 5th Circuit's suggestion and obliterate everything the agency has done to date."
The plaintiffs in the case, which brought their challenge in response to a CFPB rule targeting the abusive activities of payday lenders, contend that the bureau's funding structure violates the Constitution's appropriations clause because it falls outside the annual congressional appropriations process—a claim that legal experts say is both "wrong" and "incredibly dangerous."
Such reasoning, if accepted by the U.S. Supreme Court, "would invite challenges to a host of other federal financial regulators and could wreak havoc on the nation's economy," Brianne Gorod, Brian Frazelle, and Alex Rowell of the Constitutional Accountability Center argued last year.
"And nothing in the law requires this result: The decision is at odds with constitutional text and history, Supreme Court precedent, and long-standing historical practice," they added.
Last week, the watchdog group Americans for Financial Reform (AFR) stressed that "all bank regulators and numerous other agencies and programs likewise rely on funding outside annual appropriations, such as Social Security and Medicare."
"If the Supreme Court does not turn back this unprecedented interpretation of the Constitution, it will put all of these government agencies at the mercy of the increasingly unpredictable annual appropriations process," said Elyse Hicks, consumer policy counsel at AFR. "The gears behind important financial regulatory and rulemaking work would grind to halt any time Congress reached a budgetary impasse. The judiciary too could find itself unable to meet its financial obligations during a government shutdown."
"Justices Thomas and Alito are shamelessly thumbing their noses at judicial ethics, living the high life on GOP billionaires' dime."
The Supreme Court is set to hear the case in the midst of a corruption crisis largely stemming from the activities of two right-wing justices: Samuel Alito and Clarence Thomas.
Throughout 2023, ProPublica and other outlets have published a number of bombshell stories detailing the undisclosed gifts the two judges have received from billionaires who have had business before the Supreme Court.

Vishal Shankar, a senior researcher at the Revolving Door Project, noted in The American Prospect on Monday that "hedge fund billionaire Paul Singer—who took Alito on a luxury Alaska fishing trip—holds at least $90 million in financial companies overseen by the CFPB."
Shankar also pointed to Thomas' ties to the Horatio Alger Association, an elite circle that the justice has granted extraordinary access to the Supreme Court.

"According to a review of the Alger Association's members conducted by the Revolving Door Project, at least 18 Alger members have either previously expressed an interest in weakening the CFPB or stand to gain from the court gutting the bureau," Shankar wrote, specifically naming Chamber of Commerce CEO Tom Donohue, Berkshire Hathaway executive Gregory Abel, and John Canning, co-founder of the private equity firm Madison Dearborn Partners.
CFPB v. CFSA is one of a number of cases before the Supreme Court that pose major threats to democracy, fundamental freedoms, and basic government functions, advocates say.

"The court is set to rule on a series of issues critical to our rights and our democracy, from gun violence prevention to the rights of Americans with disabilities, from racist gerrymandering to the ability of the government to protect consumers and enact the will of democratically elected representatives," the Just Majority coalition said in a statement Monday.
"While we do not know how any individual case will be decided," the coalition added, "we know we urgently need structural court reform, including a binding code of ethics and Supreme Court expansion, to make sure the court considers the rights of all Americans, not just billionaires who can buy special access."
One of the pending cases, Loper Bright Enterprises v. Raimondo, threatens to gut the federal government's ability to constrain the destructive activities of fossil fuel companies and other corporations. The plaintiffs in the case have seen vocal support from right-wing, industry-backed groups, including the Cato Institute—which was co-founded by the billionaire oil tycoon Charles Koch.

Last month, ProPublicarevealed that Thomas has attended at least two Koch network donor events during his tenure on the Supreme Court.

"The Roberts court is unchecked and unbalanced," Brett Edkins, managing director of policy and political affairs at Stand Up America, said Monday. "Justices Thomas and Alito are shamelessly thumbing their noses at judicial ethics, living the high life on GOP billionaires' dime. While they bask in luxury, the court's conservative supermajority is ruthlessly stacking the deck in favor of the wealthy and powerful, while chipping away at the freedoms of everyday Americans."
"As this term begins," said Edkins, "it's clear that it's time for a shake-up."
News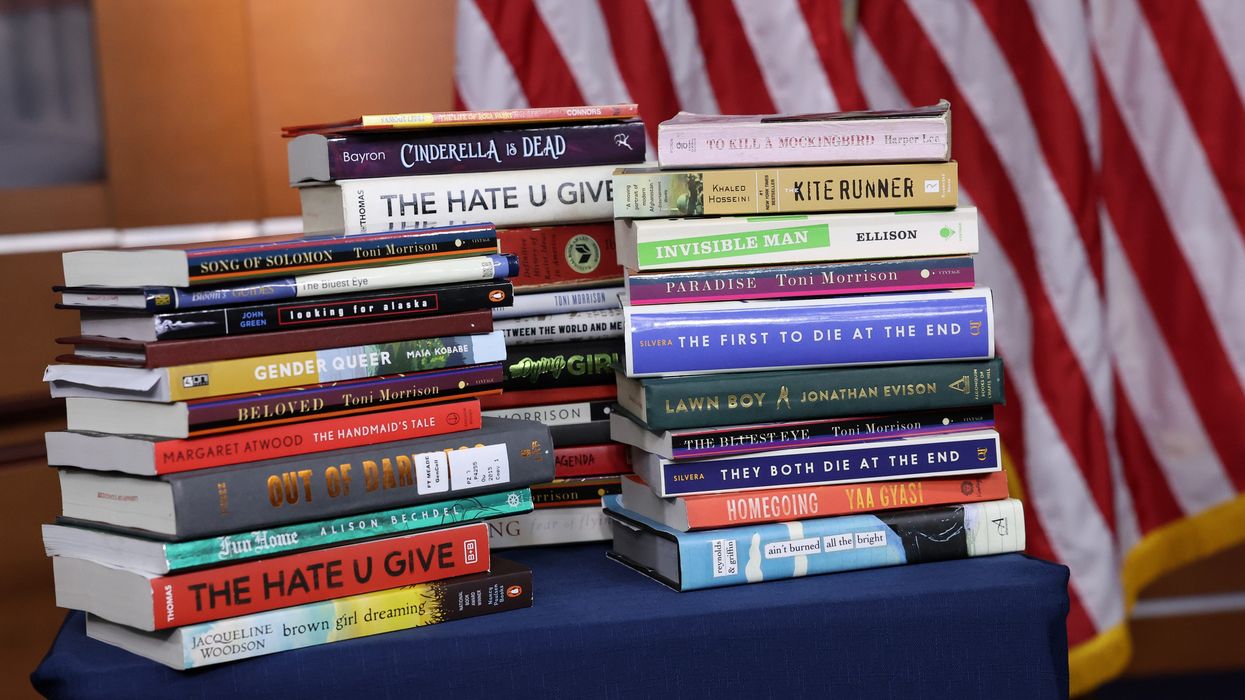 "When we ban books, we're closing off readers to people, places, and perspectives," said the American Library Association. "But when we stand up for stories, we unleash the power that lies inside every book."
A coalition of publishers, teacher and librarian groups, and other advocates on Sunday kicked off this year's Banned Books Week by rallying behind the freedom to read amid an alarming surge in right-wing book bans across the United States.
For over 40 years, the annual Banned Books Week—whose theme this year is Let Freedom Read—has united writers, publishers, booksellers, educators, librarians, and readers "in shared support of the freedom to seek and to express ideas, even those some consider unorthodox or unpopular," as the American Library Association (ALA) put it.
"When we ban books, we're closing off readers to people, places, and perspectives. But when we stand up for stories, we unleash the power that lies inside every book," the ALA said. "We liberate the array of voices that need to be heard and the scenes that need to be seen. Let freedom read!"
As of August 31, the ALA's Office for Intellectual Freedom has documented 695 attempts this year to remove a total of 1,915 titles from public and school libraries. Last year, the group counted 1,269 attempts to censor library books and other resources—the highest number of ban efforts since the ALA started tracking them over 20 years ago and nearly double the previous year's tally.
ALA said that of the record 2,571 unique titles targeted for censorship, most were by or about LGBTQ+ people and Black, Indigenous, and people of color.
"This is a dangerous time for readers and the public servants who provide access to reading materials," ALA Office for Intellectual Freedom director Deborah Caldwell-Stone said in a statement. "Readers, particularly students, are losing access to critical information, and librarians and teachers are under attack for doing their jobs."
For this year's Banned Books Week, PEN America and We Believe led a joint statement signed by more than three dozen publishers and advocacy groups.
The statement begins: "We believe in the freedom to read. Schools and libraries are critical places to kindle imaginations and spark a lifelong love of learning. Students deserve classrooms and school libraries that help them be successful. We believe stories matter. Books can be powerful, compelling, insightful, and enjoyable. Literature has endless value and should be publicly accessible to all."
"We believe in the freedom to learn," the signers continued. "Students need access to accurate history. Students deserve the chance to understand their world and everyone in it. Growing up is hard enough. Classrooms and school libraries should be spaces where all students feel they belong."
"We believe teachers and librarians deserve respect," the statement continues. "Schools and libraries are staffed by trained professionals who make informed decisions about educational materials. Their assessments should be respected and not subject to political pressure, threats, or intimidation."
"We believe parents are partners in education," the publication asserts. "Parents have long had a voice in schools. When a parent, student, or teacher requests or objects to a book, they should have their concerns heard and considered. However, one parent's views or one group of parents' views should not restrict access to books for all."
"We believe in clear, consistent, transparent policies around reviewing books," the advocates added. "Books must not be removed from shelves just because they are challenged. Evaluations of books must be based on facts and the merits, considered by decision-makers who have read the book in its entirety."
PEN America recorded a 33% surge in book bans at U.S. K-12 public schools during the 2022-23 academic year over the previous school year. The group noted 3,362 incidents involving 1,557 unique titles. Over 40% of these bans happened in Florida, where Republican Gov. Ron DeSantis—a 2024 presidential candidate—is waging a war on public education.
According to PEN America, the single-most censored title during the last school year was Maia Kobabe's Gender Queer, a graphic memoir recounting the transgender author's journey from adolescence to adulthood. The book has been banned in dozens of school districts, often following pressure from far-right activists like Florida-based Moms for Liberty.

"If I'd had a book to read like this, specifically, when I was like a freshman in high school, it would have saved me years of questioning and confusion about my identity," Kobabe said in defense of the award-winning work.
A survey published last week by EveryLibrary Institute and Book Riot found that nearly three-quarters of U.S. parents agree or somewhat agree that book bans by public libraries infringe on their right to make choices for their children.

This week, PEN America and We Believe are also leading a letter for concerned citizens to sign and send to state governors and lawmakers to urge them to "fight back against book bans."
The letter begins, "Did you know that 4 in 5 Americans say they would be less likely to support a candidate in 2024 who is in favor of implementing book bans, according to a new poll from Ipsos and We Believe?"
"America's children are our future. Preparing them to lead and succeed in our increasingly diverse and complicated world starts with protecting their freedom to read, learn, and grow," the letter states. "Our nation's strength has always come from the free flow of speech and ideas. We should be modeling these ideals for our kids—not ripping books from their shelves."
The popular anti-censorship campaign has sparked at least one effort to ban Banned Books Week. However, the growing censorship threat has also spurred action to protect the freedom to read. Earlier this year, Illinois became the first state to prohibit public libraries from banning books.
"I refuse to let a dangerous strain of white nationalism determine whose histories are told in Illinois," Democratic Gov. JB Pritzker said after signing the legislation. "Because what these book bans in libraries really are about is censorship—marginalizing people, ideas, and facts."
At the national level, Rep. Jamie Raskin (D-Md.) and Sen. Brian Schatz (D-Hi.) last week reintroduced a resolution recognizing Banned Books Week and condemning "the escalating attacks on books and freedom of expression in the United States."
"The escalating crisis of book bans across our country in recent years is a direct attack on First Amendment rights and should concern everyone who believes freedom of expression and the freedom to read are essential for a strong democracy," Raskin said. "The sinister efforts to remove books from our schools and libraries are a hallmark of authoritarian regimes."
News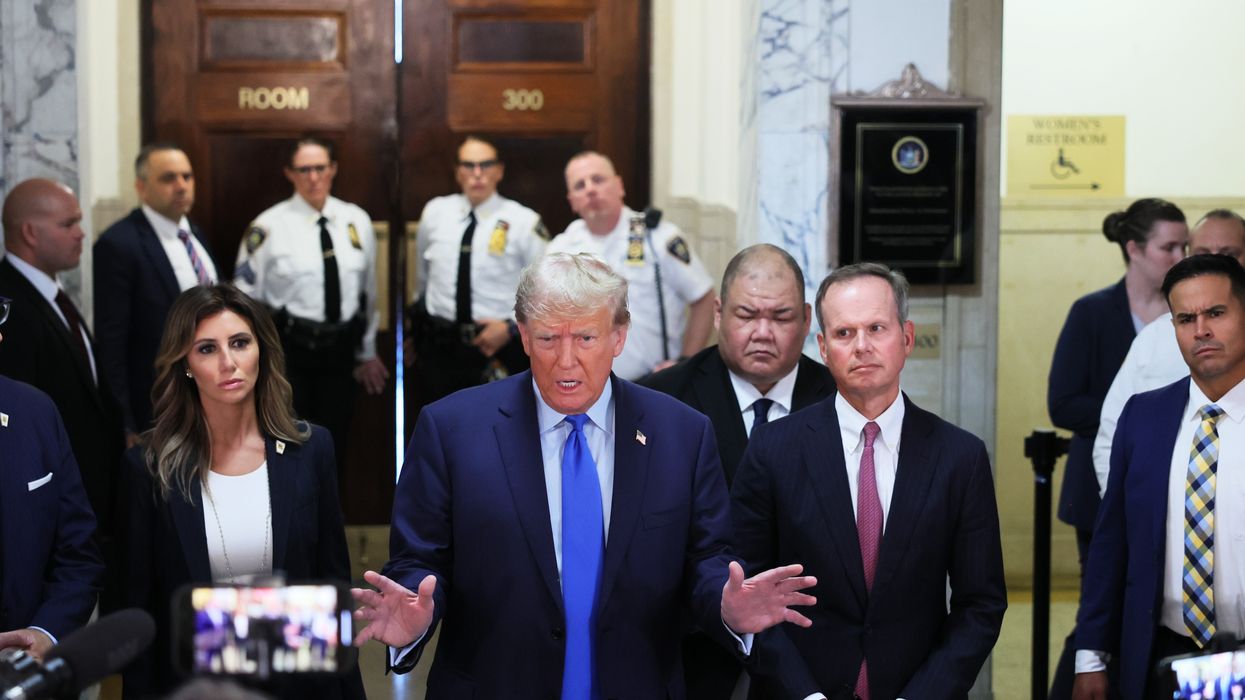 "Self-serving assaults on institutions and individuals are what Trump and his enablers do."
"Jurors—past, present, and future—are under attack from Donald Trump and those who do his bidding," states the groups' letter, which came just hours after the 2024 Republican front-runner's social media tirade about the civil case that will be decided by a judge.
"Self-serving assaults on institutions and individuals are what Trump and his enablers do," the letter argues. "These attacks threaten centuries-old American institutions designed by the Framers to hold to account any leader who would be king."
The letter highlights that in early August, after a Washington, D.C. grand jury indicted Trump, he wrote on social media, "If you go after me, I will come after you."
A few days later, he said, "No way I can get a fair trial, or even close to a fair trial, in Washington, D.C." The letter says that "it's hard to miss the import of this message in a jurisdiction that draws its jury pool from a population of which 45% are Black Americans."
As The Atlanta Journal-Constitution—which exclusively reported on the new letter—noted:

Fulton County District Attorney Fani Willis has sought increased protections after Trump supporters posted personal details about the grand jury that indicted the former president, leading to angry threats and harassment.

And Willis, herself, said she's been targeted by threats and racial slurs, forcing her to take steps to protect her daughters, father, and ex-husband.

Superior Court Judge Scott McAfee recently banned reporters and the public from identifying jurors in the trial against Trump and 18 co-defendants or disclosing other personal details about them. He also required lawyers to refer to them only as their numbers in court.
In addition to detailing examples of the ex-president and his allies' recent attacks on juries, the letter points out that Trump claimed the 2016 and 2020 elections would be "rigged" against him, and after his loss last cycle, he spread the "Big Lie" that he won and "successfully eroded faith in democracy and elections among his followers."
"Trump is now deploying the same, pre-judgment playbook upon the jurors and system of justice positioned to decide his fate in criminal court," asserts the letter. "His attacks are designed to eviscerate an institution of justice inherited from English law and in existence in America before the Constitution that enshrined it. Juries protect individual freedom."
"Trump, by undermining institutions that check both government power and lawless individuals, aims to release himself from all constraints. For this reason, his vicious attacks on juries are sure to escalate," the letter warns, concluding with a call for all "who believe in the rule of law and the jury system" to "speak up and defend such institutions under attack."
The letter was organized by the Not Above the Law coalition. Signatories include Citizens for Responsibility and Ethics in Washington (CREW), Common Cause, Free Speech for People, Government Accountability Project, Indivisible, People for the American Way, Public Citizen, Sierra Club, and Stand Up America.
News
Independent, nonprofit journalism needs your help.
Please Pitch In
Today!