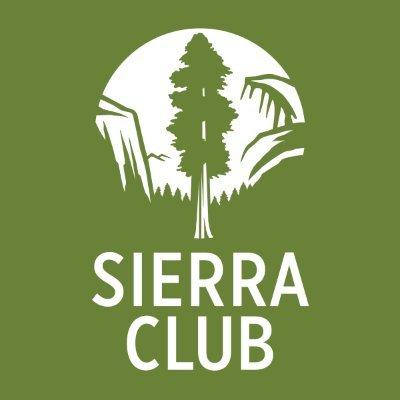 For Immediate Release
Contact:
Sean Sarah, Sierra Club, 202 548 4985, sean.sarah@sierraclub.org
Jim Sconyers, Sierra Club, 304 698-9628, jimscon@gmail.com
Cindy Rank, WV Highlands Conservancy, 304-924-5802, clrank2@gmail.com
Dianne Bady, Ohio Valley Environmental Coalition, 304 360-2072, dbady.ovec@gmail.com
Groups Take Action to Protect Waterways in Multiple Coal Mining Pollution Cases
Coalition Files Litigation Against 3 Mining Companies
WEST VIRGINIA
Today, the Sierra Club, West Virginia Highlands Conservancy and Ohio Valley Environmental Coalition filed a series of actions to protect West Virginia waterways from mountaintop removal mining based water pollution. The first two actions allege that mine runoff from mines operated by Alex Energy, Inc. (Alex) and Fola Coal Company, LLC (Fola) has contaminated the water in two tributaries of Twentymile Creek--Spruce Run and Stillhouse Branch respectively - with sulfate and other dissolved solids that are harmful to aquatic life. The third action alleges that Consol of Kentucky's Peg Fork mountaintop removal mine violates Clean Water Act protections against selenium. The Alex, Fola and Consol lawsuits will be filed in the United States District Court for the Southern District of West Virginia.
The claims against Alex and Fola are based on the same legal theory that the two groups used to obtain a 2012 settlement against Fola, requiring it to cleanup another biologically-impaired tributary--Boardtree Branch--in the Twentymile Creek watershed. In both cases, the groups contend that the mining companies have violated West Virginia's "narrative" water quality standards, which set general criteria for water quality, rather than "numeric" water quality standards, which set limits on the concentration of specific pollutants in water.
"Amazingly, at the same time that data show more and more streams impaired by coal mining, WVDEP is seeking to reduce the number of streams on the state's impaired streams list," said Jim Sconyers, Chapter Chair of the West Virginia Sierra Club. "Rather than forcing the mining companies to clean up the impaired streams, WVDEP is trying to redefine the meaning of impairment administratively so that it no longer exists while the EPA is taking a "cross your fingers and hope" approach to mining pollution. So groups like ours have to do WVDEP's job. We can't allow these companies to keep poisoning our streams."
Selenium, the pollutant at question in the Consol case, is a toxic element that causes reproductive failure and deformities in fish and other forms of aquatic life, and is discharged from many surface coal mining operations across Appalachia. Selenium accumulates in the tissues of aquatic organisms over time, and experts predict that waterways across Appalachia could be on the brink of collapse due to increasing levels of the pollutant.
"If mining in these areas is to continue it must be done in a manner that doesn't further degrade the water in these streams" said Cindy Rank of the West Virginia Highlands Conservancy. "It is important for people who live by and enjoy these streams and for the future of the state of West Virginia that greater care must be afforded to the waters we leave for our children and our children's children."
"It's really sad that so many waterways are being polluted by illegal levels of mining pollution," said Dianne Bady of Ohio Valley Environmental Coalition. "We hope that citizen suits like ours will put more pressure on government agencies and coal companies to stop the widespread degradation of West Virginia streams."
The U.S. Environmental Protection Agency has estimated that nine out of 10 streams downstream from valley fills associated with coal mines are biologically impaired. But neither the state of West Virginia nor the EPA has taken action to require compliance and cleanup of the impaired streams. In fact, the EPA let the valley fill at Consol's Peg Fork mine happen with the understanding that if safeguards were not met, they would tackle the issue at that point. Thankfully, Congress authorized citizen suits under the Clean Water Act to enforce the law directly against permit violators like Alex, Fola & Consol.
Counsel in the Alex & Fola cases is Jim Hecker at Public Justice in Washington, DC and Joe Lovett and Derek Teaney of Appalachian Mountain Advocates in Lewisburg, WV. Mr. Lovett and Mr. Teaney also represent the Sierra Club, WVHC and OVEC in the Consol case.
The Sierra Club is the most enduring and influential grassroots environmental organization in the United States. We amplify the power of our 3.8 million members and supporters to defend everyone's right to a healthy world.
(415) 977-5500
LATEST NEWS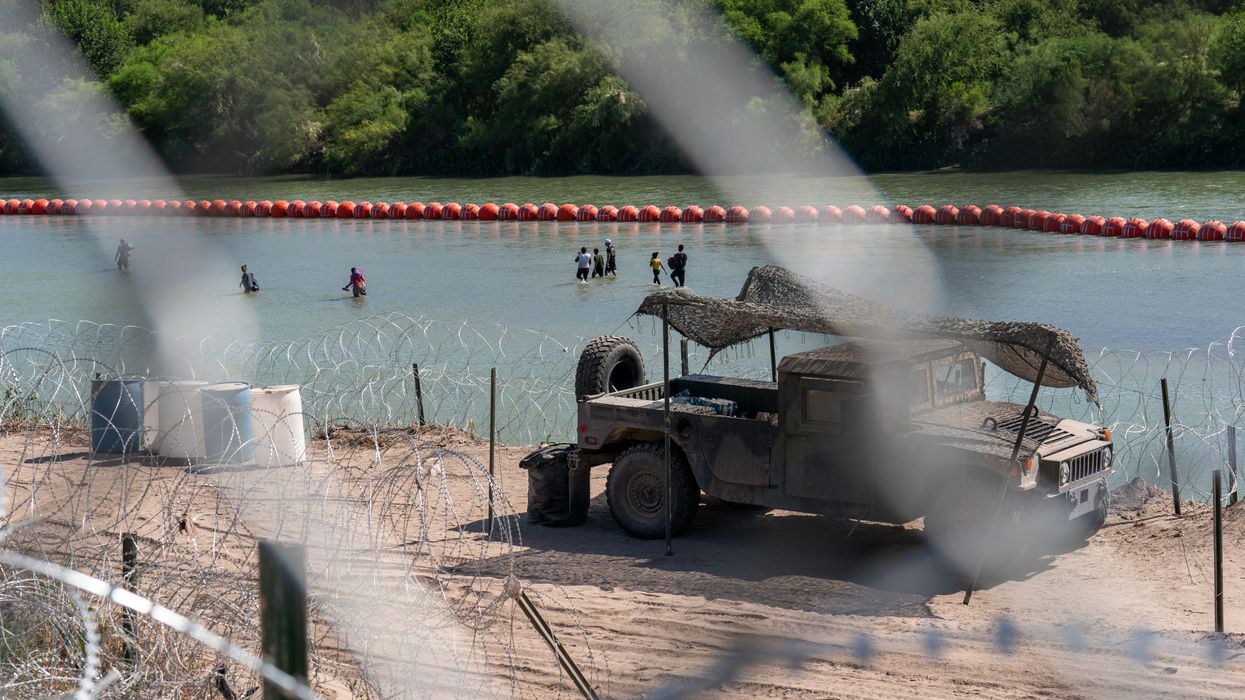 "These inhumane traps were placed by Greg Abbott to harm and kill people who were just looking to move to survive and thrive," said one rights group.
Migrant rights groups and Texas Democrats on Wednesday welcomed a federal judge's order that the state remove from the Rio Grande about 1,000 feet of orange buoys fastened together with metal cables and anchored with concrete blocks.
The federal Department of Justice sued Texas and Republican Gov. Greg Abbott over the buoys in July. Judge David A. Ezra of the Western District of Texas—an appointee of former President Ronald Reagan—ordered the state to remove the barrier by September 15 and prohibited "building new or placing additional buoys, blockades, or structure" in the river along the U.S.-Mexico border.
"Gov. Abbott announced that he was not 'asking for permission' for Operation Lone Star, the anti-immigration program under which Texas constructed the floating barrier," Ezra wrote. "Unfortunately for Texas, permission is exactly what federal law requires before installing obstructions in the nation's navigable waters."
Democratic Texas Congressman Joaquin Castro said that "Abbott knows his actions are illegal. I'm glad the court is forcing him to remove his death traps from the Rio Grande. He has endangered lives, damaged Texas' working relationship with our largest trading partner, and let politics rather than sensible policy dictate his actions."
U.S. Rep. Greg Casar, another Texas Democrat, also praised the preliminary injunction on X, formerly Twitter, and charged that "Greg Abbott's Operation Lone Star is abusive, illegal, wasteful, and inhumane."
Activists and advocacy groups also celebrated the development on social media. Antonio Arellano of NextGen America called the decision a "major win" for the Biden-Harris administration and human rights.
United We Dream Action declared that "these inhumane traps were placed by Greg Abbott to harm and kill people who were just looking to move to survive and thrive."
Krish O'Mara Vignarajah, president and CEO of Lutheran Immigration and Refugee Service, said in a statement that "from the onset, Gov. Abbott's improvised buoy wall was an inhumane response to a humanitarian emergency, but this ruling makes crystal clear its underlying illegality. This 1,000-foot barrier diverted $1,000,000 of Texas taxpayer funds for a political stunt that was designed to secure media coverage, not the border."

"The Abbott administration's buoy wall is just one deeply problematic example of its disregard for the core values of Americans who are eager to welcome and embrace asylum-seeking families," she continued. "It is far less costly, both financially and morally, to treat asylum-seekers with basic human dignity."
Aaron Reichlin-Melnick, policy director at the American Immigration Council, wrote of the ruling: "All in all, a resounding defeat for Gov. Abbott—one they likely knew was coming, despite his puffery about Texas' alleged right to install the barrier. Federal law is quite clear on this issue; if you want to install a structure in a river, get a permit. And Texas didn't."
Reichlin-Melnick added it is "no surprise" Abbott has already pledged that "Texas will appeal." In his statement, the governor also said the state "is prepared to take this fight all the way to the U.S. Supreme Court."
Meanwhile, U.S. Associate Attorney General Vanita Gupta said that the Justice Department is "pleased that the court ruled that the barrier was unlawful and irreparably harms diplomatic relations, public safety, navigation, and the operations of federal agency officials in and around the Rio Grande."

News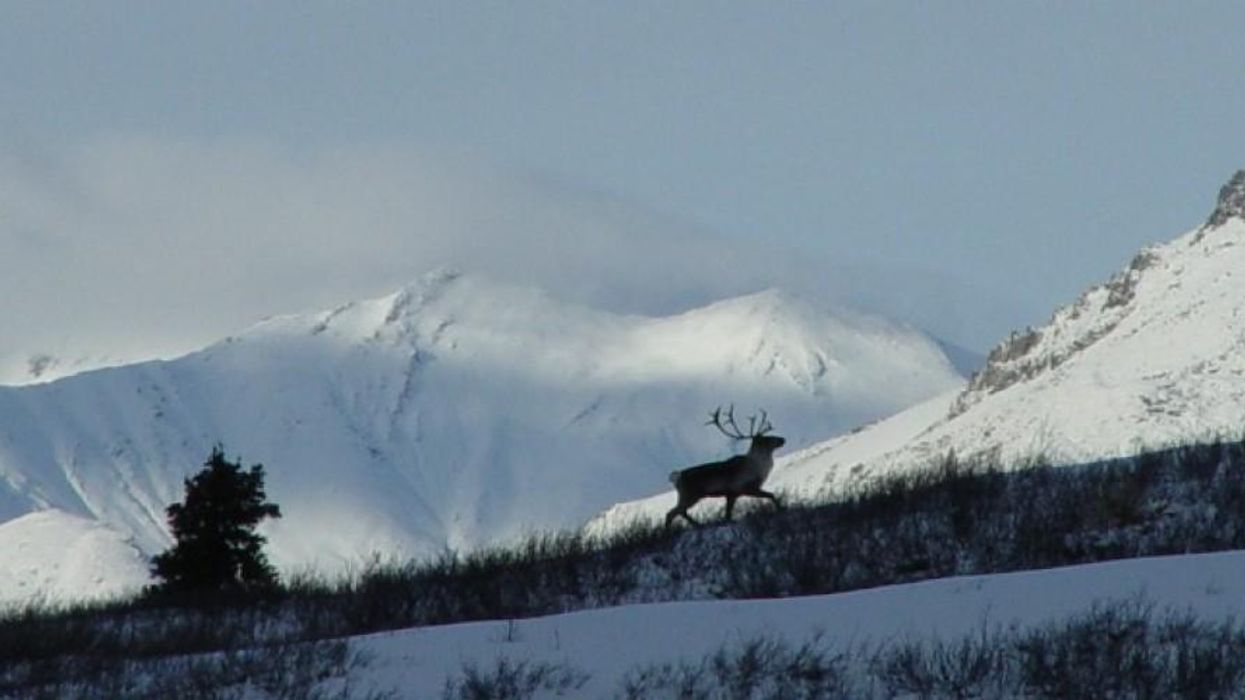 "Our sacred land is only temporarily safe from oil and gas development," said one First Nations leader, urging Congress and the White House to "permanently protect the Arctic Refuge."

Indigenous tribes and climate campaigners applauded the Biden administration's announcement Wednesday that it will cancel all existing oil and gas drilling leases in the Arctic National Wildlife Refuge in Alaska and ban drilling across 13 million acres of the National Petroleum Reserve, while hundreds of groups also called on the U.S. Interior Department to go further on fossil fuel leasing.
Biden's move in Alaska will reverse former Republican President Donald Trump's approval of a 2017 law that required leasing in the Arctic Refuge, the nation's largest area of pristine wilderness which is home to vulnerable species including polar bears, migratory birds, and caribou.
The Alaska Industrial Development and Export Authority (AIDEA) holds the last remaining leases in the refuge, after two other lessees canceled drilling plans. AIDEA's leases would have allowed it to drill in 365,000 acres in the Arctic Refuge's coastal plain.
The Biden administration conducted an environmental analysis of the lease sale which found "multiple legal deficiencies."

Jamie Williams, president of the Wilderness Society, said that following the Biden administration's announcement, "our climate is a bit safer and there is renewed hope for permanently protecting one of the last great wild landscapes in America" as Indigenous communities can continue to depend on the porcupine caribou herd, which uses the refuge as its calving ground.

"We are profoundly grateful to the Biden administration for taking this step to protect what the Gwich'in [First Nations people] know as Iizhik Gwats'an Gwandaii Goodlit—The Sacred Place Where Life Begins—and we call on Congress to repeal the Arctic Refuge oil and gas leasing provision in the 2017 Tax Cuts and Jobs Act and take action to permanently protect the coastal plain for future generations," said Williams.
Bernadette Dementieff, executive director of the Gwich'in Steering Committee, added that the tribe knows "that our sacred land is only temporarily safe from oil and gas development."
"AIDEA's leases were economically infeasible, unlawful, and threatened the porcupine caribou herd and the Gwich'in way of life. We thank the Biden administration and Secretary of Interior Deb Haaland for taking this step," said Dementieff. "We urge the administration and our leaders in Congress to repeal the oil and gas program and permanently protect the Arctic Refuge."
U.S. Sen. Ed Markey (D-Mass.) also said Congress should make the protections permanent.
The protections announced Wednesday will not stop the Willow oil drilling project that Biden approved in March, allowing ConocoPhillips to potentially extract more than 600 million barrels of crude oil over 30 years, leading to roughly 280 million metric tons of heat-trapping carbon dioxide emissions.
"The only way to meaningfully combat the climate crisis is by stopping new fossil fuel projects," said Wenonah Hauter, executive director of Food & Water Watch. "The Biden administration is right to stop these egregious drilling plans—and they must apply the same standard to all other oil drilling and fracking operations in the country."

"Today's action is a reminder that the White House has considerable authority to rein in fossil fuels," she added. "It's time for the president to act on those powers."
Earthjustice expressed hope that the announcement will be "the tip of the iceberg" for protections in Alaska.
The protections will also not stop the Biden administration from allowing drilling elsewhere, including in the National Outer Continental Shelf, where the Interior Department is expected to announce a five-year leasing plan this month which could include as many as 11 offshore oil and gas leases with the potential to emit up to 3.5 billion tons of carbon pollution.
Groups including Earthjustice, Defenders of Wildlife, and Oil Change International were among more than 200 groups that wrote to the Interior Department on Wednesday calling for the plan to include no new leases.
"Today's youth should not have to grow up in and inherit a world plagued by oil spills," wrote the groups. "We implore you, please end offshore drilling leasing in the Gulf of Mexico and all U.S. oceans, so we can start to undo the damage from decades of leaks and spills, protect our shores forever from a catastrophic oil spill, and enjoy a livable future."
Raena Garcia, a senior campaigner with Friends of the Earth, said Wednesday's announcements by the Interior Department, while laudable and important, do not wipe away the shortcomings of Biden's overall climate policy and "simply don't go far enough."

"Lease sales like those in the ANWR that were put forth by the Trump Administration should have never happened in the first place," said Garcia. "Small measures like the ones the Department of Interior put forward won't erase President Biden's incredibly disappointing climate record with respect to oil and gas leasing. If the Administration is truly committed to protecting our people and the planet, they will halt climate-destroying projects like Willow altogether."
News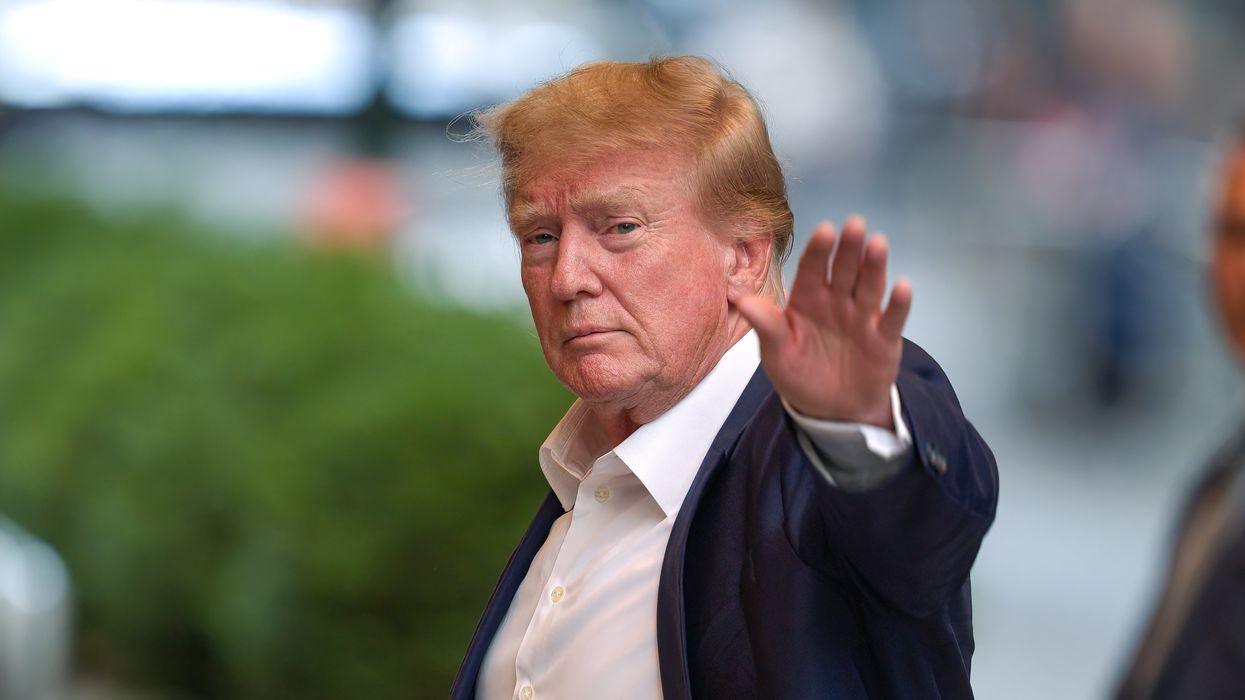 "As a longtime Republican who voted for him, I believe Donald Trump disqualified himself from running in 2024 by spreading lies, vilifying election workers, and fomenting an attack on the Capitol," said one plaintiff.
A government watchdog and lawyers for six Republican and unaffiliated Colorado voters on Wednesday filed a lawsuit to ban former President Donald Trump as a candidate on the state's 2024 GOP presidential primary election ballot and any future ballot, based on the January 6, 2021 insurrection and the 14th Amendment to the U.S. Constitution.
As advocacy groups and legal scholars across the political spectrum have highlighted since the embattled ex-president and GOP front-runner confirmed his candidacy last year, Section 3 of the 14th Amendment bars anyone who has taken an oath to the Constitution and then "engaged in insurrection or rebellion" from holding any civil or military office.
Citizens for Responsibility and Ethics in Washington (CREW) and firms representing the voters—Tierney Lawrence Stiles LLC, KBN Law LLC, and Olson Grimsley Kawanabe Hinchcliff & Murray LLC—argue that "Trump is constitutionally ineligible to assume the office of the president" because he "knowingly and voluntarily aided and incited the insurrection" before and on January 6.
"As a longtime Republican who voted for him, I believe Donald Trump disqualified himself from running in 2024 by spreading lies, vilifying election workers, and fomenting an attack on the Capitol," plaintiff Krista Kafer, a Denver Post columnist and GOP activist, said in a statement. "Those who by force and by falsehood subvert democracy are unfit to participate in it."
Other plaintiffs include ex-elected officials who live in the state. Among them is former Colorado House and Senate Majority Leader Norma Anderson, who left the GOP to become an Independent in 2021.

"Spending 19 years as a state legislator and serving in leadership gave me the opportunity to work across the aisle and to always work to protect the freedoms our Constitution has given us as citizens," she said. "I am proud to continue that work by bringing this lawsuit and ensuring the eligibility of candidates on Colorado ballots."
The other four plaintiffs are former GOP Congresswoman Claudine (Cmarada) Schneider; Kathi Wright, a previous member of the Loveland City Council; Christopher Castilian, an ex-deputy chief of staff for the state's last GOP governor; and Michelle Priola, "who has been active in Republican politics and is also married to Republican-turned-Democratic state Sen. Kevin Priola," according toThe Denver Post.
"In my decade of service in the House of Representatives, I certified multiple presidential elections and saw firsthand the importance of ethics, the rule of law, and the peaceful transfer of power in our democracy," said Schneider. "This lawsuit is crucial to protecting and fortifying those fundamental democratic values, and I'm honored to be a part of it."
"If the very fabric of our democracy is to hold, we must ensure that the Constitution is enforced and the same people who attacked our democratic system not be put in charge of it."
While there have not been many applications of Section 3 of the 14th Amendment throughout U.S. history, CREW has previously documented some and last year was involved with a successful legal battle in New Mexico to remove Otero County Commissioner Couy Griffin from office for participating in the January 6 insurrection.
"If the very fabric of our democracy is to hold, we must ensure that the Constitution is enforced and the same people who attacked our democratic system not be put in charge of it," CREW president Noah Bookbinder declared Wednesday. "We aren't bringing this case to make a point, we're bringing it because it is necessary to defend our republic both today and in the future."

"While it is unprecedented to bring this type of case against a former president, January 6th was an unprecedented attack that is exactly the kind of event the framers of the 14th Amendment wanted to build protections in case of," Bookbinder added. "You don't break the glass unless there's an emergency."
The Colorado lawsuit was filed a day after Proud Boys leader Enrique Tarrio was sentenced to 22 years in prison—the longest insurrection-related sentence so far, followed by 18 years for Oath Keepers leader Stewart Rhodes. They were both convicted of seditious conspiracy.
The suit also comes as Trump has been indicted this year due to two federal investigations led by Special Counsel Jack Smith as well as probes in Georgia and New York. The Georgia case and one of the federal cases involve his efforts to overturn the 2020 election results.
So far, polling has indicated Trump's legal issues have not dissuaded many GOP voters, and the candidate has used the 91 felony charges against him to rally supporters—as a campaign representative did in response to the new suit. As NBC Newsreported:
Trump campaign spokesperson Steven Cheung slammed the voters behind the lawsuit, saying in a statement that they're "people who are pursuing this absurd conspiracy theory and political attack on President Trump."

They "are stretching the law beyond recognition much like the political prosecutors in New York, Georgia, and D.C.," Cheung added. "There is no legal basis for this effort except in the minds of those who are pushing it."

Democratic Colorado Secretary of State Jena Griswold—named as the defendant in the lawsuit because of her position—said in a statement that "I look forward to the Colorado Court's substantive resolution of the issues, and am hopeful that this case will provide guidance to election officials on Trump's eligibility as a candidate for office."
Griswold is among election officials in several key states who have recently received letters from Free Speech for People and Mi Familia Vota Education Fund urging them to keep Trump off the ballot because of the 14th Amendment.
News
Independent, nonprofit journalism needs your help.
Please Pitch In
Today!