For Immediate Release
Contact:
Tel: +1-212-216-1832,Email:,hrwpress@hrw.org
US: Torture and Rendition to Gaddafi's Libya
New Accounts of Waterboarding, Other Water Torture, Abuses in Secret Prisons
WASHINGTON
The United States government during the Bush administration tortured opponents of Muammar Gaddafi, then transferred them to mistreatment in Libya, according to accounts by former detainees and recently uncovered CIA and UK Secret Service documents, Human Rights Watch said in a report released today. One former detainee alleged he was waterboarded and another described a similar form of water torture, contradicting claims by Bush administration officials that only three men in US custody had been waterboarded.
The 154-page report, "Delivered into Enemy Hands: US-Led Abuse and Rendition of Opponents to Gaddafi's Libya," is based on interviews conducted in Libya with 14 former detainees, most of whom belonged to an armed Islamist group that had worked to overthrow Gaddafi for 20 years. Many members of the group, the Libyan Islamic Fighting Group (LIFG), joined the NATO-backed anti-Gaddafi rebels in the 2011 conflict. Some of those who were rendered and allegedly tortured in US custody now hold key leadership and political positions in the country.
"Not only did the US deliver Gaddafi his enemies on a silver platter but it seems the CIA tortured many of them first," said Laura Pitter, counterterrorism advisor at Human Rights Watch and author of the report. "The scope of Bush administration abuse appears far broader than previously acknowledged and underscores the importance of opening up a full-scale inquiry into what happened."
The report is also based on documents - some of which are being made public for the first time - that Human Rights Watch found abandoned, on September 3, 2011, in the offices of former Libyan intelligence chief Musa Kusa after Tripoli fell to rebel forces.
The interviews and documents establish that, following the September 11, 2001 attacks, the US, with aid from the United Kingdom (UK) and countries in the Middle East, Africa, and Asia, arrested and held without charge a number of LIFG members living outside Libya, and eventually rendered them to the Libyan government.
The report also describes serious abuses that five of the former LIFG members said they experienced at two US-run detention facilities in Afghanistan, most likely operated by the CIA. They include new allegations of waterboarding and other water torture. The details are consistent with the few other first-hand accounts about the same US-run facilities.
Other abuses reported by these former detainees include being chained to walls naked -sometimes while diapered - in pitch black, windowless cells, for weeks or months; restrained in painful stress positions for long periods, forced into cramped spaces; beaten and slammed into walls; kept indoors for nearly five months without the ability to bathe; and denied sleep by continuous, very loud Western music.
"I spent three months getting interrogated heavily during the first period and they gave me a different type of torture every day. Sometimes they used water, sometimes not.... Sometimes they stripped me naked and sometimes they left me clothed," said Khalid al-Sharif, who asserted he was held for two years in two different US-run detention centers believed to be operated by the CIA in Afghanistan. Al-Sharif is now head of the Libyan National Guard. One of his responsibilities is providing security for facilities holding Libya's high-value detainees.
The Libyan detainee accounts in the Human Rights Watch report had previously gone largely undocumented because most of those returned to Libya were locked up in Libyan prisons until last year, when Libya's civil unrest led to their release. And the US government has been unwilling to make public the details about its secret CIA detention facilities. The accounts of former detainees, the CIA documents found in Libya, and some declassified US government memos have shed new light on US detention practices under the Bush administration but also highlighted the vast amount of information that still remains secret.
Despite overwhelming evidence of numerous and systematic abuses of detainees in US custody since the September 11 attacks, the US has yet to hold a single senior official accountable. Only a few low-ranking enlisted military personnel have been punished.
On August 30, 2012, US Attorney General Eric Holder announced that the only criminal investigation the Department of Justice had undertaken into alleged abuses in CIA custody, headed by special prosecutor John Durham, would be closed without anyone being criminally charged. Holder had already narrowed the scope of Durham's investigation on June 30, 2011, limiting it from the original investigation into the 101 people believed to have been in CIA custody to the cases of only two individuals.
In both cases, the detainees had died, one in Afghanistan and another in Iraq. The inquiry was also limited in that it looked only into abuses that went beyond what the Bush administration had authorized. It could not cover acts of torture, such as waterboarding, and other ill-treatment that Bush administration lawyers had approved, even if the acts violated domestic and international law.
"The stories of the Libyans held by the US and then sent to Libya make clear that detainee abuse, including mistreatment not necessarily specifically authorized by Bush administration officials, was far-reaching," Pitter said. "The closure of the Durham investigation, without any charges, sends a message that abuse like that suffered by the Libyan detainees will continue to be tolerated."
The Senate Select Committee on Intelligence (SSCI) has spent three years researching the CIA's detention and interrogation program and reportedly has completed a report. Human Rights Watch called on the SSCI to promptly release its report with as few redactions as possible, and to recommend that an independent, non-partisan commission investigate all aspects of US policy relating to detainee treatment.
"The US government continues to demand, and rightly so, that countries from Libya to Syria to Bahrain hold accountable officials responsible for serious human rights abuses, including torture," Pitter said. "Those calls would carry a lot more weight if it wasn't simultaneously shielding former US officials who authorized torture from any form of accountability."
Since the fall of the Gaddafi government, US diplomats and members of Congress have met with some of the former CIA prisoners now in Libya, and the US has supported efforts by the Libyan government and civil society to overcome the legacy of their country's authoritarian past. Human Rights Watch urged the US government to acknowledge its own past role in abuses and in helping Gaddafi round up his exiled opponents, to provide redress to the victims, and to prosecute those responsible for their alleged torture in US custody.
One previously reported case for which Human Rights Watch uncovered some new information is that of Ibn al-Sheikh al-Libi. The Bush administration had helped to justify the 2003 Iraq invasion by relying on statements that al-Libi made during his abuse and mistreatment in CIA custody. The CIA has acknowledged that these statements were unreliable. Years later, the US rendered al-Libi to Libya, where he died in prison in May 2009. Accounts from al-Libi's fellow detainees in Afghanistan and Libya, information from his family, and photos seen by Human Rights Watch apparently taken of him the day he died, provide insight into his treatment and death, which Libyan authorities claim was a suicide.
Scores of the documents that Human Rights Watch uncovered in Libya also show a high level of cooperation between the Gaddafi government in Libya and US and the UK in the renditions discussed in the report.
The US played the most extensive role in the renditions back to Libya. But other countries, notably the UK, were also involved, even though these governments knew and recognized that torture was common during Gaddafi's rule. Countries linked to the accounts about renditions include: Afghanistan, Chad, China and Hong Kong, Malaysia, Mali, Mauritania, Morocco, the Netherlands, Pakistan, Sudan, Thailand, and the UK. Interviewees alleged that personnel in some of these countries also abused them prior to transferring them back to Libya.
International law binding on the US and other countries prohibits torture and other ill-treatment in all circumstances, and forbids transferring people to countries in which they face a serious risk of torture or persecution.
"The involvement of many countries in the abuse of Gaddafi's enemies suggests that the tentacles of the US detention and interrogation program reached far beyond what was previously known," Pitter said. "The US and other governments that assisted in detainee abuse should offer a full accounting of their role."
Human Rights Watch is one of the world's leading independent organizations dedicated to defending and protecting human rights. By focusing international attention where human rights are violated, we give voice to the oppressed and hold oppressors accountable for their crimes. Our rigorous, objective investigations and strategic, targeted advocacy build intense pressure for action and raise the cost of human rights abuse. For 30 years, Human Rights Watch has worked tenaciously to lay the legal and moral groundwork for deep-rooted change and has fought to bring greater justice and security to people around the world.
LATEST NEWS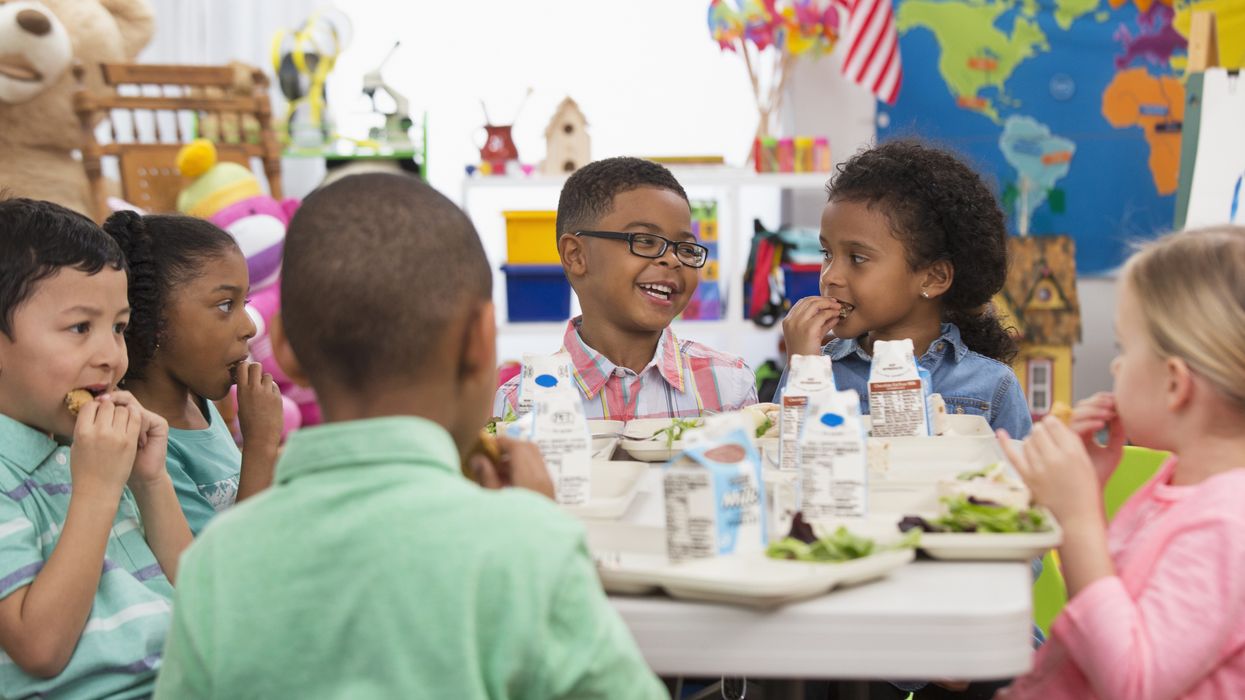 "Hiving off a tiny part of the public school bundle and charging a means-tested fee for it is extremely stupid," argues Matt Bruenig.

Minnesota last week became just the fourth U.S. state to guarantee universal free school meals, triggering a fresh wave of demands and arguments for a similar federal policy to feed kids.
"Universal school meals is now law in Minnesota!" Democratic U.S. Rep. Ilhan Omar, who represents the state, tweeted Monday. "Now, we need to pass our Universal School Meals Program Act to guarantee free school meals to every child across the country."
Omar's proposal, spearheaded in the upper chamber by Sen. Bernie Sanders (I-Vt.), "would permanently provide free breakfast, lunch, dinner, and a snack to all school children regardless of income, eliminate school meal debt, and strengthen local economies by incentivizing local food procurement," the lawmakers' offices explained in 2021.
Congressional Republicans last year blocked the continuation of a Covid-19 policy enabling public schools to provide free breakfast and lunch to all 50 million children, and now, many families face rising debt over childrens' cafeteria charges.
"The school bus service doesn't charge fares. Neither should the school lunch service."
Matt Bruenig, founder of the People's Policy Project, highlighted Monday that while children who attend public schools generally have not only free education but also free access to bathrooms, textbooks, computer equipment, playgrounds, gyms, and sports gear, "around the middle of each school day, the free schooling service is briefly suspended for lunch."
"How much each kid is charged is based on their family income except that, if a kid lives in a school or school district where 40% or more of the kids are eligible for free lunch, then they are also eligible for free lunch even if their family income would otherwise be too high," he detailed. "Before Covid, in 2019, 68.1% of the kids were charged $0, 5.8% were charged $0.40, and 26.1% were charged the full $4.33... The total cost of the 4.9 billion meals is around $21 billion per year. In 2019, user fees covered $5.6 billion of this cost."
Bruenig—whose own child has access to free school meals because of the community eligibility program—continued:
The approximately $5.6 billion of school lunch fees collected in 2019 were equal to 0.7% of the total cost of K-12 schooling. In order to collect these fees, each school district has to set up a school lunch payments system, often by contracting with third-party providers like Global Payments. They also have to set up a system for dealing with kids who are not enrolled in the free lunch program but who show up to school with no money in their school lunch account or in their pockets. In this scenario, schools will either have to make the kid go without lunch, give them a free lunch for the day (but not too many times), or give them a lunch while assigning their lunch account a debt.

Eligibility for the $0 and $0.40 lunches is based on income, but this does not mean that everyone with an eligible income successfully signs up for the program. As with all means-tested programs, the application of the means test not only excludes people with ineligible incomes, but also people with eligible incomes who fail to successfully navigate the red tape of the welfare bureaucracy.
The think tank leader tore into arguments against universal free meals for kids, declaring that "hiving off a tiny part of the public school bundle and charging a means-tested fee for it is extremely stupid."
Bruenig pointed out that socializing the cost of child benefits like school meals helps "equalize the conditions of similarly-situated families with different numbers of children" and "smooths incomes across the lifecycle by ensuring that, when people have kids, their household financial situation remains mostly the same."
"Indeed, this is actually the case for the welfare state as whole, not just child benefits," the expert emphasized, explaining that like older adults and those with disabilities, children cannot and should not work, which "makes it impossible to receive personal labor income, meaning that some other non-labor income system is required."
Conservative opponents of free school lunches often claim that "fees serve an important pedagogical function in society to get people to understand personal responsibility" and because they "are means-tested, they serve an important income-redistributive function in society," he noted. "Both arguments are hard to take seriously."
Pushing back against the first claim, Bruenig stressed that right-wingers don't apply it to other aspects of free schooling such as bus services. He also wrote that the means-testing claim "is both untrue and at odds with their general attitudes on, not just redistribution, but on how child benefit programs specifically should be structured."
A tax for everyone with a certain income intended to make up the $5.6 billion in school meal fees, he argued, "would have a larger base and thus represent a smaller share of the income of each person taxed and such a tax would smooth incomes over time," while also eliminating means-testing—which would allow schools to feed all kids and ditch costly payment systems.
As Nora De La Cour reported Sunday for Jacobin: "The fight for school meals traces its roots all the way back to maternalist Progressive Era efforts to shield children and workers from the ravages of unregulated capitalism. In her bookThe Labor of Lunch: Why We Need Real Food and Real Jobs in American Public Schools, Jennifer Gaddis describes how early school lunch crusaders envisioned meal programs that would be integral to schools' educational missions, immersing students in hands-on learning about nutrition, gardening, food preparation, and home economics. Staffed by duly compensated professionals, these programs would collectivize and elevate care work, making it possible for mothers of all economic classes to efficiently nourish their young."
Now, families who experienced the positive impact of the pandemic-era program want more from the federal government.
"When schools adopt universal meals through community eligibility or another program, we see improvements in students' academic performance, behavior, attendance, and psychosocial functioning," wrote De La Cour, whose reporting also includes parent and cafeteria worker perspectives. "Above all, the implementation of universal meals causes meal participation to shoot up, demonstrating that the need far exceeds the number of kids who are able to get certified."
Crystal FitzSimons, director of school-based programs at the Food Research and Action Center (FRAC), told Jacobin, "There is a feeling that we can't go back."

News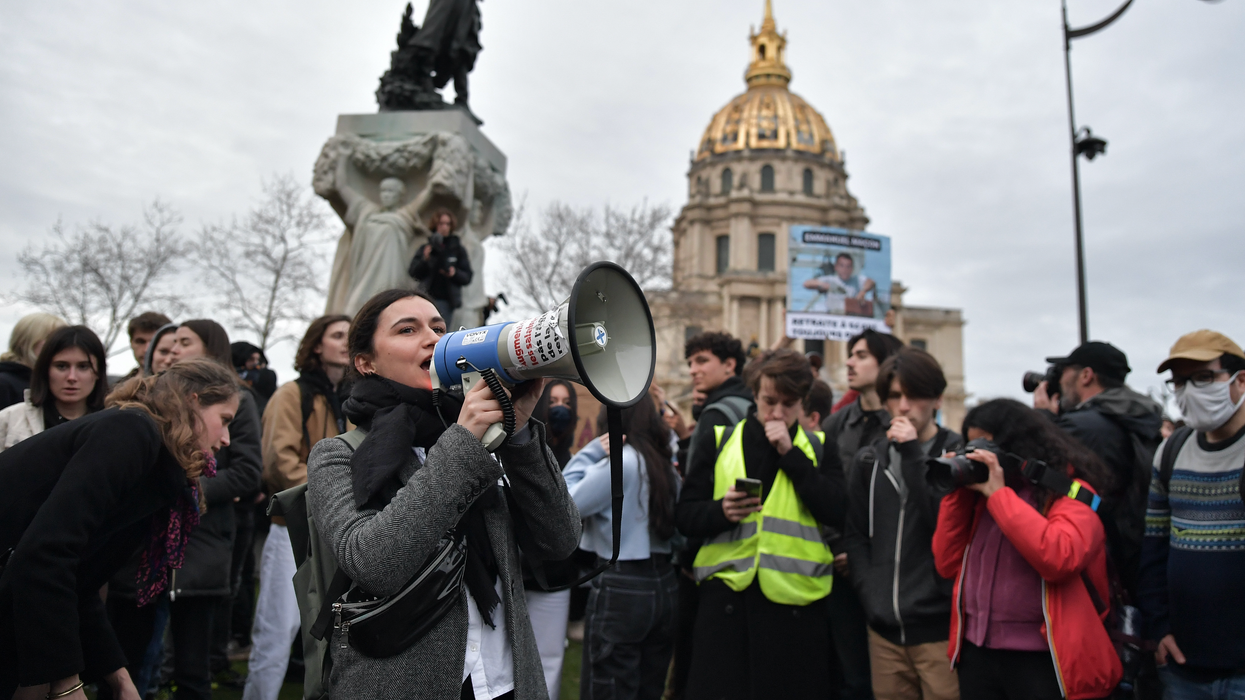 Protests—some of them violently repressed by police—broke out in Paris and cities across the nation after a parliamentary vote following the government's deeply unpopular move to raise the retirement age by two years.

Fresh protests erupted in Paris and other French cities on Monday after President Emmanuel Macron's government narrowly survived a pair of parliamentary no-confidence votes over bypassing the lower house of Parliament to raise the retirement age from 62 to 64.
The first parliamentary vote of no confidence, called by a small group of centrist lawmakers, fell nine votes short of the 278 needed to pass, Agence France-Presse reports. A second no-confidence vote, brought forward by the far-right National Rally, was also rejected.
The French Senate, which is dominated by right-wing parties, approved the higher retirement age last week. However, faced with the prospect of a vote shortfall in the National Assembly, Macron's government then invoked special constitutional powers to push through the retirement age hike.
The deeply unpopular policy has sparked widespread protests, some of which have drawn hundreds of thousands of people into the streets despite government bans on gatherings in locations including Place de la Concorde and the area of Avenue des Champs-Elysées in Paris.
Protests renewed following Monday's votes, with thousands of demonstrators marching in Paris alone. Videos posted on social media showed police charging protesters, spraying them with pepper spray, and beating them. One video showed officers brutalizing a person who appeared to be a photojournalist while an onlooker repeatedly shouted "it's the press!"

"We are not resigned," the Aubervilliers parliamentary group of the left-wing populist party La France Insoumise (LFI), or France Unbowed, tweeted Monday. "The fight against retirement reforms continues. All together in the street until the retirement of this unjust and illegitimate reform!"
LFI's parliamentary group in Haute-Garonne—which includes the southern city of Tolouse—tweeted that "Macron is more isolated than ever."
"The fight continues tonight," the party group said, previewing a Monday evening demonstration.
French unions are calling for a nationwide general strike on Thursday.
News
"How do we properly service our students when we are being overworked and underpaid and disrespected?" asked one special education assistant.

Demanding "respect and dignity" for tens of thousands of school support workers who help the Los Angeles Unified School District run, the union that represents 35,000 teachers in the city has called on its members to join a three-day strike starting Tuesday as school support staffers fight for a living wage.
Members of the Service Employees International Union (SEIU) Local 99 "work so hard for our students," said United Teachers of Los Angeles (UTLA) on Monday. "They deserve respect and dignity at work. We will be out in force tomorrow to make sure they get it."
Roughly 65,000 teachers and support professionals including bus drivers, cafeteria workers, teaching aides, and grounds workers are expected to walk out from Tuesday through Thursday this week, nearly a year after SEIU Local 99 entered contract negotiations with LAUSD, the second-largest school district in the United States.
The union is calling for a 30% pay increase for its members, who earn an average of $25,000 per year, or roughly $12 per hour. According to the MIT Living Wage Calculator, a living wage in the Los Angeles area is more than $21 per hour for a single person with no children and far more for people with children.
"I am a single mother and for the past 20 years I have worked two and sometimes three jobs just to support my family," Janette Verbera, a special education assistant, told In These Times Monday. "How do we properly service our students when we are being overworked and underpaid and disrespected?"
The school district offered a 20% overall pay increase spread over several years on Friday, along with a one-time 5% bonus.
Liz Shuler, president of the AFL-CIO, noted that LAUSD has a $4.9 billion surplus and said the district must use those funds to "invest in staff, students, and educators."
SEIU Local 99 members voted to authorize a strike in February, and said the limited three-day action is a protest against the district's negotiating tactics.
LAUSD has claimed the strike is unlawful and that workers are actually staging the walkout over pay without having exhausted all bargaining avenues. A state board over the weekend denied the district's request to block the strike.
As In These Timesreported, negotiations between the district and SEIU Local 99—as well as separate ongoing talks with the teachers' union about educators' contracts—are being led by Superintendent Alberto M. Carvalho, "whose $440,000 salary is nearly 10 times that of a starting salary for a LAUSD teacher."

"LAUSD won't get away with underfunding our schools," tweeted UTLA last week. "This is for our students, for our communities and for our lives."
News
SUPPORT OUR WORK.
We are independent, non-profit, advertising-free and 100%
reader supported.