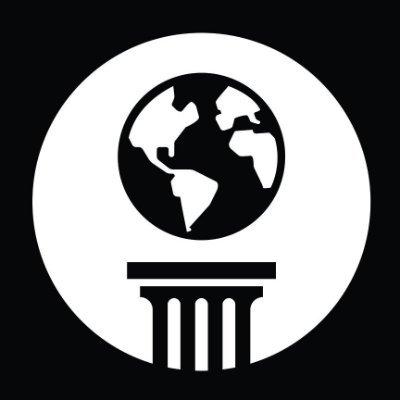 For Immediate Release
June, 18 2012, 03:34pm EDT
Contact:
Email:,info@earthjustice.org
EPA Rule Leaves Gulf Coast Communities Burdened With More Toxic Pollution
Community groups' lawsuit challenges EPA's weakened protections against toxic air pollution from polyvinyl chloride facilities
WASHINGTON
When Dorothy Felix of Mossville, Louisiana, learned that the U.S. Environmental Protection Agency was going to finally cut toxic pollution from the polyvinyl chloride (PVC) plant nearby, she rejoiced. But after EPA reversed its plan to protect the community in the final rule, she and others in the Mossville community who breathe in the plant's toxic fumes must restart a decade-long effort to get these basic limits on toxic air pollution.
Represented by the public interest law firm Earthjustice, Mossville Environmental Action Now (MEAN), Louisiana Environmental Action Network (LEAN), Air Alliance Houston, and Sierra Club have filed a lawsuit today to challenge the weaker protections as unlawful and arbitrary. The groups also filed a petition asking EPA administrator Lisa Jackson to reconsider her decision voluntarily.
"After years of work to obtain the stronger air protection we need in Mossville, Louisiana, it was a shock to our community when EPA suddenly changed course and singled us out for weaker standards as compared to the rest of the nation," said Dorothy Felix of MEAN. "EPA should stay true to its commitment to environmental justice and correct this unfairness by setting stronger air pollution limits that will protect our health as we and all Americans deserve."
According to the EPA, there are 17 plants in the United States that manufacture polyvinyl chloride (PVC) resin, and they emit more than 1400 tons of hazardous air pollutants every year. These emissions include more than 270 tons per year of vinyl chloride, a known human carcinogen. They also include benzene, 1,3-butadiene, and dioxins, all of which also are known human carcinogens, as well as probable human carcinogens such as acetaldehyde and formaldehyde.
The EPA's emission standards for the plants in Mossville, Louisiana and Deer Park, Texas are especially weak, allowing these plants to emit toxic pollutants at far greater concentrations than other PVC facilities. In an about-face, the EPA decided without warning to create special categories for these two sources, even though the agency recognized that the pollution is similar to and could use the same types of pollution control technologies that are generally available and in use by other PVC facilities.
"Just across the highway from the local PVC facility are neighborhoods, two high schools, an elementary school, youth sports fields and churches but no air monitors to help protect the health of the people who live there," said Matthew Tejada, of Air Alliance Houston. "For the EPA to fail to set strong regulations for such facilities which emit cancer-causing pollution is stupefying."
"For far too long, the vinyl plastics industry has released staggering levels of vinyl chloride, dioxin and other toxic pollutants into surrounding communities," said Mike Schade, Campaign Coordinator with the Center for Health, Environment & Justice (CHEJ). "Mossville is surrounded by more vinyl manufacturers than anywhere else in the country. This community should receive the greatest, not the weakest, protection. Shame on EPA for issuing weaker standards for this community, which has been overburdened with toxic pollution for much too long."
Although the agency claimed legal authority to issue weaker standards for these two plants, it did not address the need for stronger public health protection in its decision. Notably, the owners of both plants have billions of dollars in revenue each year, according to the EPA, and could afford to clean up their toxic emissions at least to the same level as the rest of the industry.
"EPA's decision to allow so much more toxic pollution into American communities is disturbing," said Earthjustice attorney Jim Pew. "It is hard to see how this rule honors the agency's longstanding commitments to protect community health and provide environmental justice, particularly in the Gulf region. We hope Administrator Jackson will consider the consequences of her decision on the residents of Mossville, Deer Park, and other American communities and set the protective standards they need."
Here is a map showing the locations of PVC plants nationwide.
Earthjustice is a non-profit public interest law firm dedicated to protecting the magnificent places, natural resources, and wildlife of this earth, and to defending the right of all people to a healthy environment. We bring about far-reaching change by enforcing and strengthening environmental laws on behalf of hundreds of organizations, coalitions and communities.
800-584-6460
LATEST NEWS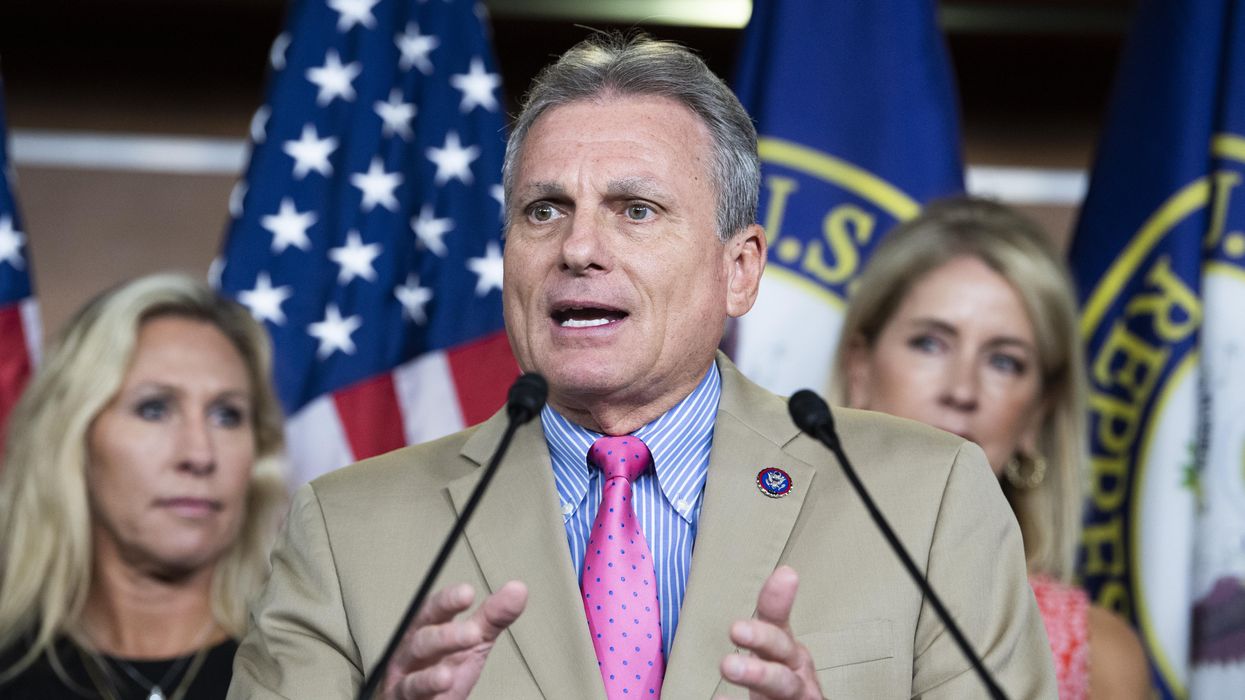 A bill introduced by House Republicans would eliminate corporate income taxes, abolish the IRS, and impose a regressive national sales tax of 30%.
A House GOP proposal to repeal all federal income taxes—including levies on corporations and the rich—and replace them with a whopping 30% national sales tax is drawing increasingly vocal backlash from economists, tax policy experts, and Democratic lawmakers who say the plan is yet another Republican ploy to reward the wealthy at everyone else's expense
Unveiled earlier this month by Rep. Buddy Carter (R-Ga.), the Fair Tax Act is hardly a novel piece of legislation. As Steve Wamhoff of the Institute on Taxation and Economic Policy noted in a recent blog post, the bill has its origins in a proposal "initially pitched by an organization created by the Church of Scientology during its dispute with the IRS over whether it constituted a church and was thus tax-exempt."
"The Church of Scientology's only goal in the matter was to eliminate the agency causing it trouble, and lost interest once the IRS threw in the towel and allowed it to present itself as a church," Wamhoff explained. "But by then several politicians had bought into the idea and introduced it as legislation, which has been reintroduced in each Congress since as the Fair Tax."
Carter's legislation, which currently has nearly two dozen House GOP co-sponsors, would abolish the IRS—a major gift to wealthy tax cheats—and eliminate the payroll taxes that finance Medicare and Social Security. The bill would also nix the individual income tax, the corporate income tax, the estate tax, and other taxes, establishing in their place a sales tax of 30% for calendar year 2023.
"The GOP's so-called 'Fair Tax' proposal is one of the most regressive proposals in a generation, imposing a 30% federal sales tax on everything Americans buy from gas to food," said former U.S. Labor Secretary Robert Reich. "There's nothing 'fair' about it. It would punish the poor and middle class while helping the rich."
"There's nothing 'fair' about it. It would punish the poor and middle class while helping the rich."
In an attempt to offset the inherent regressivity of the sales tax, Carter's bill would send most U.S. households a monthly "prebate" to help families cover the costs of basic necessities—effectively replacing the Earned Income Tax Credit, the Child Tax Credit, and other existing tax benefits that the measure would eliminate.
But Wamhoff argued the prebates would not be "nearly enough to offset the financial hit most Americans would face from the new national sales tax."
"Back in 2004, ITEP estimated that if the Fair Tax was enacted and the national sales tax rate was set at 45%, the poorest 80% of Americans would face net tax hikes from the proposal while most of those among the richest 20% would enjoy net tax cuts," Wamhoff wrote. "ITEP plans to re-estimate the proposal because a great deal has changed since 2004."
In a detailed video analysis of the "Fair Tax" plan, Matt Bruenig of the People's Policy Project estimated that the poorest 20% of the U.S. public would pay roughly 70% of their income in taxes as a result of the bill's levy on consumption.

This 30% National Sales Tax Plan Is a Jokeyoutu.be
Democratic lawmakers and President Joe Biden have wasted no time seizing on the tax proposal as further evidence of the Republican Party's commitment to delivering huge windfalls to the rich.
"The GOP wants to scrap the income tax and replace it with a 30% sales tax," tweeted Rep. Pramila Jayapal (D-Wash.), the chair of the Congressional Progressive Caucus. "In WA State, where we have no income tax and rely on sales and excise taxes, the poorest families spend 17% of their income on taxes. The wealthiest spend 3%. This effort is a tax cut for the rich, period."
Sen. Jeff Merkley (D-Ore.) quipped on Wednesday that "it really must be Opposite Day if Republicans are claiming that a national 30% sales tax is 'fair.'"
"In what world is it fair to slam working families with huge tax increases, while giving tax breaks to the mega-rich?" Merkley asked.
On Thursday afternoon, Biden is expected to attack the GOP tax proposal as well as the Republican push to cut Social Security and Medicare in a speech at a steamfitters union hall in Springfield, Virginia.
"The president will outline the biggest threat to our economic progress: House Republicans' MAGA economic plan," an unnamed White House official toldReuters ahead of the address.
"When MAGA extremists openly threaten to push the economy off the cliff unless they can further enrich billionaires and big corporations at the expense of everyone else, believe them."
With Democrats in control of the Senate and the White House, the Fair Tax Act has no chance of becoming law, and Rep. Kevin McCarthy (R-Calif.) only agreed to allow hearings on the legislation as part of the speakership deal he struck with far-right GOP holdouts.
But progressives argued the proposal offers a telling glimpse into the Republican Party's extreme economic priorities at a time of skyrocketing inequality, large-scale corporate tax avoidance, and economic hardship for poor and middle-class households.
"MAGA extremists are testing the waters to see how far they can go in their backwards economic agenda written by and for wealthy special interests—starting with a staggering 30% tax hike on the middle class with a national sales tax that would immediately make necessities unaffordable while letting greedy corporations off scot-free from any tax responsibility," Liz Zelnick, director of the Economic Security and Corporate Power program at Accountable.US, said in a statement Thursday.
"That's only the beginning," Zelnick continued. "A growing chorus in the Republican House caucus is scheming to sabotage the economy and the U.S. government's full faith and credit unless they get deep cuts to Social Security and Medicare benefits that keep millions of Americans out of poverty and in better health."
"When MAGA extremists openly threaten to push the economy off the cliff unless they can further enrich billionaires and big corporations at the expense of everyone else," she added, "believe them."
News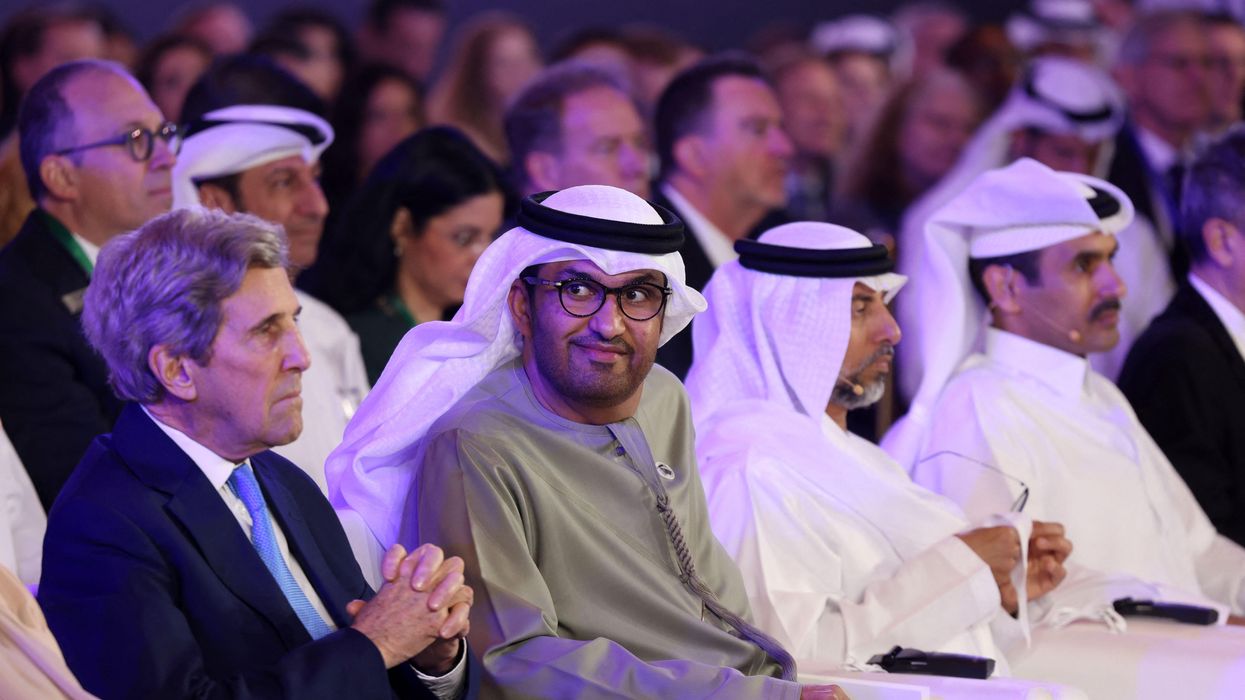 "Appointing a petrol company executive as president of COP28 is an effrontery several orders of magnitude beyond anything that happened before in the history of the U.N. climate process."
A global network of more than 450 climate justice organizations said Thursday that the upcoming COP28 talks in United Arab Emirates will—like the United Nations climate conferences before it—end in failure as long as the fossil fuel industry is allowed to influence and dictate the terms of the event.
The Kick Big Polluters Out network raised particular concern over the UAE's recent appointment of Sultan Al Jaber, head of the country's state-owned Abu Dhabi National Oil Company (ADNOC), to preside over the end-of-year talks—a decision that climate campaigners said throws the integrity and seriousness of COP28 into further question.

"There is no honor in appointing a fossil fuel executive who profits immensely off of fueling the climate crisis to oversee the global response to climate change," the network wrote in a letter to U.N. Secretary-General António Guterres, U.N. Framework Convention on Climate Change (UNFCCC) executive secretary Simon Stiell, and all parties to the UNFCCC.
"That such a move could ever be seen to be legitimate amidst an intensifying climate crisis where millions of lives and ecosystems are on the line exemplifies just how insidious Big Polluters' stranglehold over climate policy is," continued the letter, which was spearheaded by four UNFCCC constituencies representing millions of people. "No COP overseen by a fossil fuel executive can be seen as legitimate. COP presidencies must be free and independent of fossil fuel influence. It's time for the UNFCCC to deliver the long overdue equitable phaseout of fossil fuels."
The letter comes days after Politicoreported that the U.N. is "querying the presidency of this year's COP28 climate talks over its ties" to ADNOC, the 12th-largest oil company in the world by production.
"The main COP28 team is using two stories of an 11-floor office building in Abu Dhabi also used by the Ministry of Industry and Advanced Technology located next to ADNOC's headquarters," Politico noted. "That prompted the secretariat of the United Nations Framework Convention on Climate Change to send a series of questions to the presidency of the climate talks enquiring about whether the presidency will be independent of the oil company."
According to the outlet, which cited an unnamed source with knowledge of the matter, the questions raised by the U.N. "include whether there is a firewall between the two institutions; whether ADNOC has access to COP28 meetings and strategic documents; if the staff working on the climate conference are relying on the oil giant's IT systems; if part of the work will be devoted to protecting ADNOC's interests; and whether the climate team is being paid by the oil company."
"Polluters have a role to play: Stop polluting. They cannot be placed on a leadership pedestal."
Rejecting pressure to rescind his appointment, the UAE has said Al Jaber will stay on as head of ADNOC as he presides over COP28, a striking conflict of interest given the oil giant's financial interest in limiting the scope of climate action.
John Kerry, the United States' special presidential envoy for climate, praised the selection of Al Jaber to oversee COP28, calling the oil company executive a "terrific environmentalist."
The UAE, one of the world's biggest oil producers, has ratified the Paris climate accord, but experts say its policies are way out of alignment with the agreement's critical 1.5°C warming limit.

Cansın Leylim Ilgaz, associate director of global campaigns at 350.org, said Thursday that "letting petrostates host the U.N. climate talks is bad enough, but appointing a petrol company executive as president of COP28 is an effrontery several orders of magnitude beyond anything that happened before in the history of the U.N. climate process."
"Attempts to sugarcoat this scandalous decision only serve to undermine the huge efforts of everyone working to limit global heating," Ilgaz added. "This brazen attempt of the dying fossil fuel industry to predetermine the outcome of COP28 will not stand."
But the Kick Big Polluters Out network stressed in its letter that the problem of fossil fuel influence on U.N. climate talks runs much deeper than Al Jaber.
"Fossil fuel interests overrun the UNFCCC and threaten its credibility," the network wrote. "At COP27 last November, more than 630 fossil fuel lobbyists registered to attend the climate negotiations. The UAE, now hosting COP28, had more fossil fuel lobbyists on its delegation than any other country. The grim reality is that this appointment represents a tipping point in which the UNFCCC is rapidly losing any legitimacy and credibility."
To succeed at delivering "the needed climate equity and action to end the era of fossil fuels, and to rapidly and justly transition to a new global system," the network said the UNFCCC must agree to four demands:
1. Big Polluters cannot write the rules. Big Polluters must not be allowed to unduly influence climate policymaking. This allows them to continue to weaken and undermine the global response to climate change, and it's why we are on the brink of extinction. The UNFCCC must urgently establish an Accountability Framework, including a regime-wide conflict-of-interest policy, that systematically ends this corporate capture.
2. No more Big Polluters bankrolling climate action. No Big Polluter partnership or sponsorships of climate talks or climate action. Not now. Not ever. Major polluters must not be allowed to greenwash themselves and literally buy their way out of culpability for a crisis they have caused. The UNFCCC will always fail to deliver so long as this is deemed acceptable.
3. Polluters out and People in. While civil society has always participated in the COP process, governments have made it more difficult each time for non-governmental organizations and climate justice movements to have their voices heard. We need
equitable, meaningful inclusion of civil society. Climate action must center the leadership and lived experience of the people, especially those on the frontlines of the climate crisis. With frontline communities in the lead, we must end the funding and validation of dangerous distractions and false solutions that promote Big Polluters' profits, enable their abuses, and guarantee decades more of fossil fuel use.
4. Reset the system to protect people and the planet, not Big Polluters. Big Polluters are destroying life as we know it. It's time to build a new way of living and collaborating that works for people, not polluters, and that restores, rather than destroys, nature. We
need real, just, accountable, gender-responsive, community-led, nature-restoring, and proven and transformative solutions to be implemented rapidly and justly. We need a total and equitable transition off of fossil fuels. We need real solutions that center the rights of Indigenous peoples, local communities, women, workers, and the protection of those speaking up for justice. We need an end to the impunity of corporate abuses
"Polluters have a role to play: Stop polluting," said Gadir Lavadenz of the global campaign to Demand Climate Justice. "They cannot be placed on a leadership pedestal and certainly not in a position to undermine and weaken policy. That is basically nonsense. The UNFCCC is not only reluctant to accept a straightforward conflict of interest policy, but it is undermining its already weak international trust year after year."
News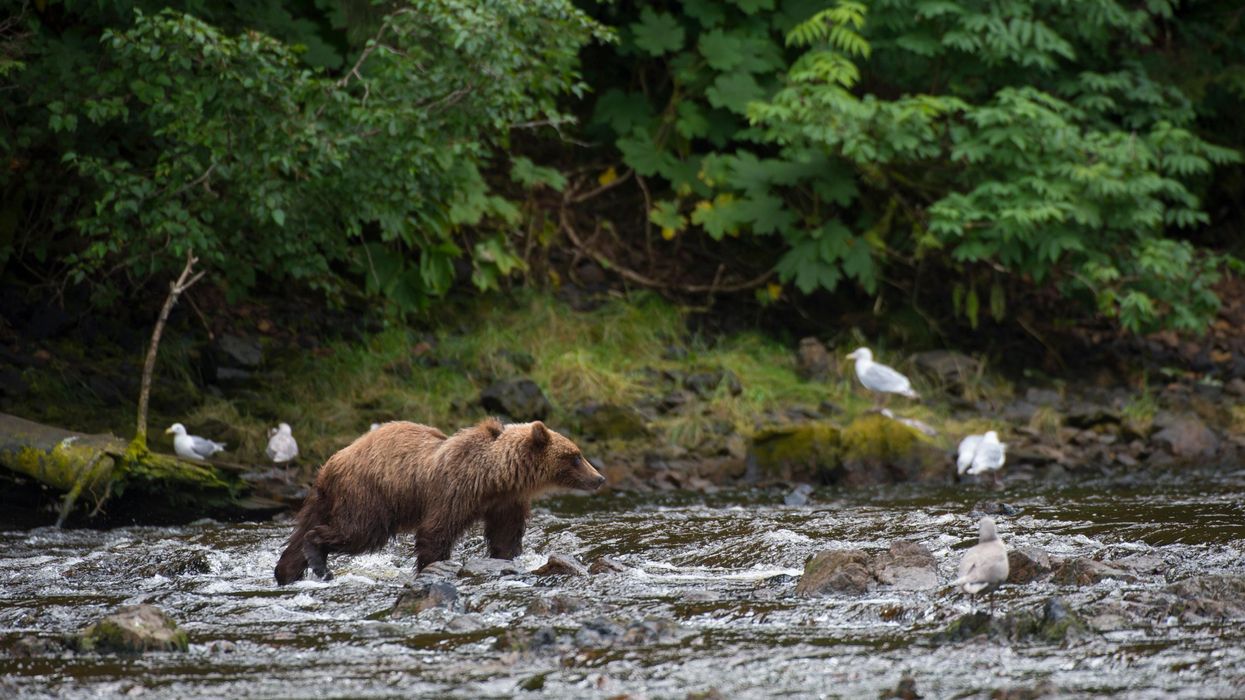 "This is great news for the forest, the salmon, the wildlife, and the people who depend on intact ecosystems to support their ways of life and livelihoods," said one advocate.
Indigenous and green groups on Wednesday applauded the Biden administration for reinstating protections for millions of acres of wilderness in Alaska's Tongass National Forest that were lifted during a Trump-era regulatory rollback spree.
The United States Department of Agriculture (USDA) announced Wednesday that it has finalized protections for the Tongass National Forest by restoring "longstanding roadless protections to 9.37 million acres of roadless areas that support the ecological, economic, and cultural values of Southeastern Alaska."
The Roadless Rule was established in 2001 to protect wilderness areas in U.S. national forests from roads and logging. The administration of former President Donald Trump rescinded the rule in 2020 amid a flurry of regulatory rollbacks, prompting a lawsuit from a coalition of Indigenous, conservation, and business organizations. The Biden administration subsequently committed to reviving the Roadless Rule in 2021.
"As our nation's largest national forest and the largest intact temperate rainforest in the world, the Tongass National Forest is key to conserving biodiversity and addressing the climate crisis," U.S. Agriculture Secretary Tom Vilsack said in a statement Wednesday. "Restoring roadless protections listens to the voices of tribal nations and the people of Southeast Alaska while recognizing the importance of fishing and tourism to the region's economy."
\u201cThe moment we\u2019ve been waiting for! \ud83c\udf32\ud83c\udf89 Roadless Rule protections have OFFICIALLY been reinstated in Tongass National Forest! This will restore federal protection to just over 9 million undeveloped acres in America\u2019s largest national forest.\u201d

— The Wilderness Society \ud83c\udf33 (@The Wilderness Society \ud83c\udf33) 1674680022
According to the advocacy group Defenders of Wildlife:
The Tongass contains rare expanses of pristine old-growth forest and as many as 17,000 miles of creeks, rivers, and lakes. These waters abound with all five species of Pacific salmon, which anchor the economy of Southeast Alaska. Approximately 1 million visitors come from all over the U.S. and internationally each year to see its glaciers, old-growth forests, and abundant wildlife.

The Tongass supports an incredible array of biodiversity and is home to the Alexander Archipelago wolf, brown bears, bald eagles, northern goshawks, and Pacific marten, among others. The Tongass is also one of the world's largest carbon reservoirs, storing the equivalent of about 8% of the carbon stored in all the U.S. forests combined. In addition, a broad coalition of tribal leaders, outdoor recreation businesses, and conservationists in Southeast Alaska have fought to preserve the region's remaining cedar, hemlock, and Sitka spruce trees.
"The restoration of National Roadless Rule protections for the Tongass National Forest is a great first step in honoring the voices of the many tribal governments and tribal citizens who spoke out in favor of Roadless Rule protections for the Tongass," said Naawéiyaa Tagaban, the environmental justice strategy lead at Native Movement. "We are grateful to the Biden administration for taking this first step toward long-term protections for the Tongass. We hope that going forward true long-term protections will be established that do not rely on a rule which can be changed at the whim of a presidential administration."
"The administration must look to tribal sovereignty and Indigenous stewardship as the true long-term solution for protections in the Tongass," Tagaban added. "Tlingit, Haida, and Tsimshian people have lived in and managed the Tongass national forest for generations; true protections will look like the restoration of lands into Indigenous ownership."
\u201cBREAKING: The Biden administration has finalized the Roadless Rule on the Tongass! This is thanks to years of hard work by Tribes, small businesses, conservation groups, and Tongass supporters like yourself! \n\nFor more information, see https://t.co/pORem4DCcM \n\n#ProtectTheTongass\u201d

— SEACC (@SEACC) 1674679664
Kate Glover, senior attorney at EarthJustice, said her group applauds the Forest Service "for making good on its commitment to tribes and to the climate by restoring the Roadless Rule across the Tongass. This is great news for the forest, the salmon, the wildlife, and the people who depend on intact ecosystems to support their ways of life and livelihoods."
Teague Whalen, who owns Tongass Teague, asserted that "there are two uncompromising realities for the survival of life on this planet: clean air and clean water."
"My hiking tours into the Tongass begin at the literal end of our road, where the Roadless Rule reinstatement will ensure that the Tongass can continue to be a lasting carbon sink," Whalen added.

News
SUPPORT OUR WORK.
We are independent, non-profit, advertising-free and 100%
reader supported.