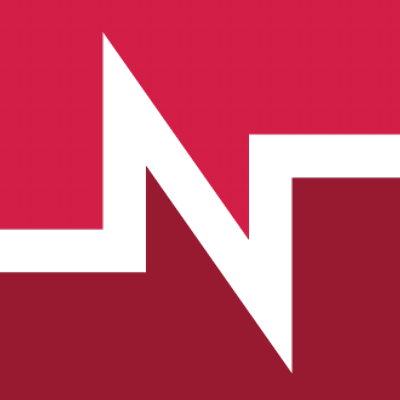 For Immediate Release
August, 23 2011, 05:09pm EDT
Contact:
Charles Idelson, (510)-273-2246 (NNU National)
Carl Ginsburg, (917) 405-1060 (NNU National)
Donna Smith, (773) 617-4493 (NNU National)
Jan Rabbers, 651-414-2861 (Minnesota)
John Nemo, 651.414.2863 (Minnesota)
Mary Holbrook, 517.349.5640 (Michigan)
David Schildmeier, 781-830-5717 (Massachusetts)
Nurses to Converge on 60 Congressional Offices in 21 States Sept. 1 - Call for Tax on Wall Street to Heal America
RNs to sponsor soup kitchens, food pantries, speak outs on the need for jobs, healthcare, education, housing – and outline the RN plan on how to pay for it
WASHINGTON
From Maine to California, nurses, joined by others fed up with the ongoing economic crisis, will call on Congress members in their local district offices September 1 to support a tax on Wall Street financial speculation, a revenue source fast becoming an international norm, to pay for healing the nation.
Events, from soup kitchens to help feed the hungry and homeless, to community speak outs to street theater are planned from major urban centers like Boston, Chicago, San Francisco, and Orlando, to smaller cities and towns, such as Corpus Christi, TX., Marquette, MI., Bakersfield, CA., Dayton, OH., and Worcester, MA. National Nurses United is sponsoring the actions.
Nurses will visit the home offices of Republicans and Democrats alike, with a common message. Everyday Americans are hurting, and they need jobs, healthcare, housing, quality education, nutrition, and a secure retirement, not more cuts, as has been the obsession of Congress.
See a preliminary list of actions at https://www.nationalnursesunited.org/pages/sept-1-event-list



The RNs will be calling on Congress members to sign a pledge to "support a Wall Street transaction tax that will raise sufficient revenue to make Wall Street pay for the devastation it has caused on Main Street." The visits follow a letter sent by certified mail to all 535 members of the House and Senate last week asking them to back the pledge and help "make the promise of the American dream... a reality."
A tax on Wall Street trading of stocks, bonds, derivatives, currencies, credit default swaps, and futures - the very financial speculative activity linked to the 2008 financial meltdown and resultant recession - could raise hundreds of billions of dollars to pay for the programs that . "are desperately needed to reduce the pain and suffering felt by so many families who feel abandoned in communities across this nation," says NNU Co-President Deborah Burger, RN.
A new NNU video depicts the Wall Street-made debacle, https://www.youtube.com/user/NationalNursesUnited
NNU, the nation's largest union and professional association of nurses, has convened numerous other protests in recent months joined by labor and community activists, including in Washington DC, outside the headquarters of the U.S. Chamber of Commerce, and in New York City, across from the Stock Exchange, to advance this campaign.
"America's nurses see every day the broad declines in health and living standards that are a direct result of patients and families struggling with lack of jobs, un-payable medical bills, hunger and homelessness. We know where to find the resources to bring them hope and real solutions," said NNU Co-president Karen Higgins, RN.
"It's time for Wall Street financiers, who created this crisis and continue to hold so much of the nation's wealth, to start contributing to rebuild this country, and for the American people to reclaim our future," says NNU Executive Director Rose Ann DeMoro.
That point was reinforced Monday by University of Massachusetts economics professor Nancy Folbre in a New York Timesblog, https://economix.blogs.nytimes.com/2011/08/22/a-sales-tax-on-wall-street-transactions/, in which she wrote:
"Purchases of stocks, bonds and other financial instruments in the United States go untaxed but for a tiny fee on stock trades that helps finance the Securities and Exchange Commission. In Britain, by contrast, a 0.5 percent tax on stock transactions raises about $40 billion a year. President Nicolas Sarkozy of France and Chancellor Angela Merkel of Germany recently announced plans to introduce a similar tax in the 27 nations of the European Community.
"Our current tax policies favor speculative investment in financial instruments over productive investments in human capabilities. This imbalance helps explain why nurses' unions in the United States (NNU) have been particularly outspoken advocates of a financial transactions tax. As they put it: "Heal America. Tax Wall Street."
National Nurses United, with close to 185,000 members in every state, is the largest union and professional association of registered nurses in US history.
(240) 235-2000
LATEST NEWS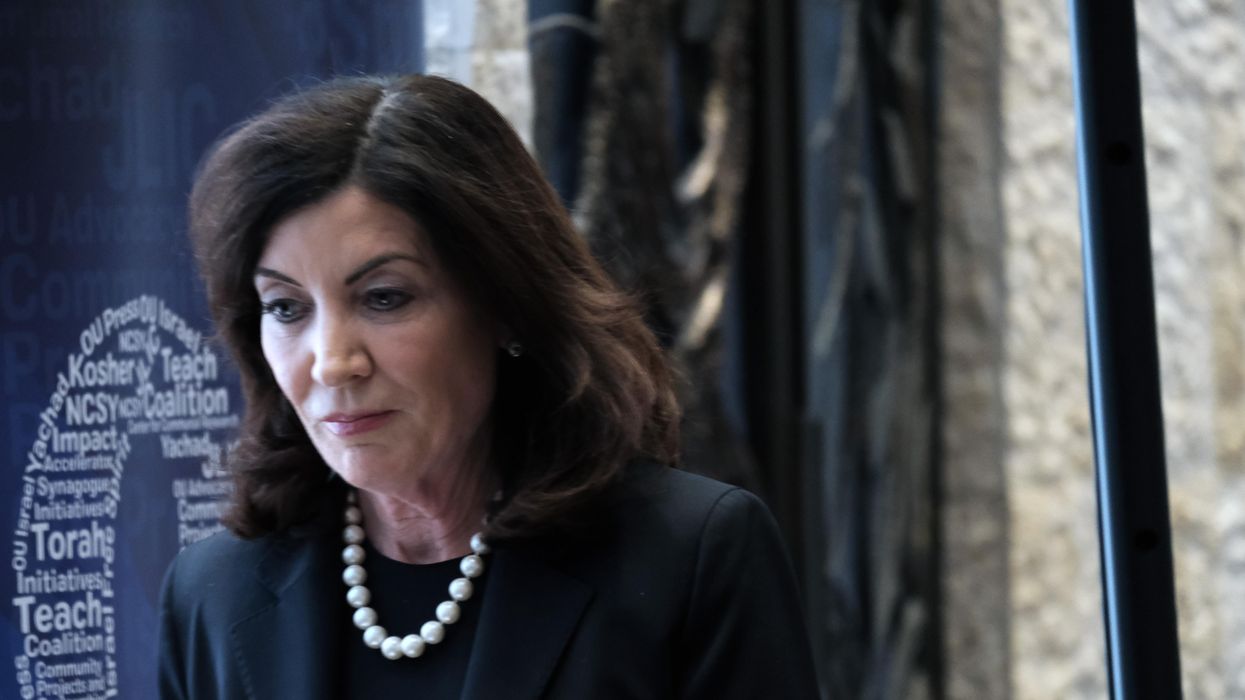 State Sen. Kristen Gonzalez credited "the work of activists and organizers on the ground who sounded the alarm early on LaSalle."
Progressive lawmakers and rights advocates in New York celebrated Wednesday after the state Senate Judiciary Committee voted against Democratic Gov. Kathy Hochul's nominee to serve as the state's top judge, Justice Hector LaSalle—whose rulings regarding abortion rights, labor, and criminal justice made his nomination "an absolute disaster," according to one critic.
The panel voted 10-9 against allowing LaSalle's nomination for chief judge of the state Court of Appeals to proceed to the state Senate floor.
The vote followed a lengthy hearing at which some of the Democrats questioned the judge about his past rulings including a 2015 decision in favor of Cablevision, which wanted to be able to sue union leaders for criticizing the company's response to Hurricane Sandy, and one which shielded an anti-choice "crisis pregnancy center" from a state investigation into whether it was practicing medicine without a license.
"Based on your record, I think that it's not unfair for people to project what some of your decisions might be," state Sen. John Liu (D-16), told LaSalle.
According to The New York Times, Hochul "has not ruled out taking legal action to force a vote of Justice LaSalle on the full Senate floor."
"Now all eyes turn to Hochul," Alex Sammon of Slate tweeted.

\u201cWow. LaSalle goes down in the judiciary committee with only two Democrats in support. Now all eyes turn to Hochul, who has threatened to sue the Senate Dem caucus over this result, and has already retained a lawyer to do so.\u201d

— Alex Sammon (@Alex Sammon) 1674071867
Hochul was joined by U.S. House Minority Leader Hakeem Jeffries (D-N.Y.) in pushing for LaSalle's confirmation, while progressives including Rep. Alexandria Ocasio-Cortez (D-N.Y.) rallied their supporters against the judge.
Progressive state lawmakers swiftly came out against the nomination when it was announced earlier this month, with state Sens. Jabari Brisport (D-25) and Kristen Gonzalez (D-59) making clear that they would not support LaSalle.
The Democratic supermajority in the state Senate "doesn't need to tolerate Gov. Hochul acting like a Republican," said Brisport Wednesday.
Gonzalez called the committee's vote "a victory for all New Yorkers who want a court that protects workers, immigrants, women, and civil liberties."
\u201cI am deeply grateful to my colleagues in the judiciary committee for voting not to move LaSalle\u2019s nomination through committee. This is a huge win for all New Yorkers and is thanks to the work of activists and organizers on the ground who sounded the alarm early on LaSalle.\u201d

— Kristen Gonzalez (@Kristen Gonzalez) 1674071939
The New York Working Families Party called on Hochul to nominate a judge "who has a strong record of defending the rights and freedoms of everyday New Yorkers," particularly in light of the far-right supermajority on the U.S. Supreme Court.
\u201c"With a far-right U.S. Supreme Court, and a New York Court of Appeals captured by conservative and corporate interests, New York\u2019s next Chief Judge must be ready to stand up for the rights and dignity of all New Yorkers."\u201d

— NY Working Families Party (@NY Working Families Party) 1674072373
The Center for Community Alternatives called on Hochul to nominate one of the judges the group put forward last month as being "outstanding candidates" with experience in civil rights and government: Corey Stoughton of the Legal Aid Society, Yale law professor Abbe Gluck, and Judge Edwina Richardson-Mendelson, the state's deputy chief administrative judge for justice alternatives.
"We thank the Senate for rejecting this nomination," said the group, "and we call on Gov. Hochul, as we have for months, to put forward a nominee for chief judge who will stand up for the rights of marginalized New Yorkers and lead the court New York deserves."

News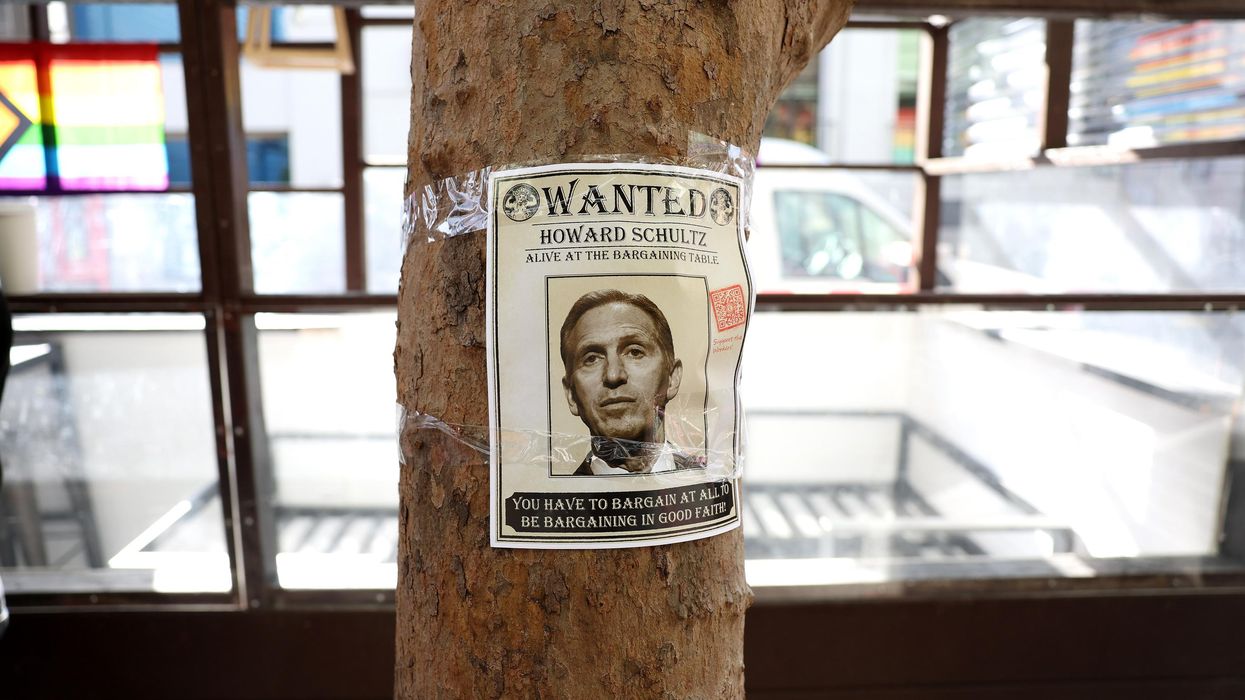 "Mr. Schultz, my request to you is simple: Obey the law," the Vermont senator wrote in a letter to Howard Schultz.
Sen. Bernie Sanders demanded in a letter to Starbucks CEO Howard Schultz on Wednesday that the company immediately end its "ruthless union-busting campaign" as the coffee giant's employees continue to face obstruction and retaliation while trying to organize—and win their first contract.
Sanders, the incoming chair of the Senate Health, Education, Labor, and Pensions (HELP) Committee, wrote that he has "serious concerns over Starbucks' concerted and relentless campaign against its workers' efforts to organize" and argued that the corporation's management has displayed a "flagrant disregard" for employee rights and federal law.
Since December 2021, workers at more than 270 Starbucks locations across the United States have voted to unionize—and the union has achieved a remarkable win rate of over 80% even amid aggressive backlash and illegal intimidation tactics from the company.

"There have been nearly 500 unfair labor practice cases filed against Starbucks and its affiliates," Sanders noted in his letter to Starbucks' billionaire chief executive, who is set to depart the company in April. "Further, the National Labor Relations Board (NLRB) has issued 69 complaints in response to those charges and has sought emergency preliminary injunctive relief in five additional cases in the federal courts. These allegations include claims that you personally threatened a worker by saying, 'If you hate Starbucks so much, why don't you work somewhere else?'"
"These violations include discriminatorily discharging more than a dozen union organizers, attempting to interfere with workers' right to distribute and wear union material, and refusing to bargain with the union," the Vermont senator continued. "Remarkably, Starbucks argued that a preliminary injunction reinstating seven employees allegedly discharged for unionizing their store in Memphis, Tennessee was unnecessary because the union had prevailed in the election anyway."
The new letter decrying Starbucks' anti-union conduct is the second Sanders has sent to Schultz in fewer than three months, but the latest comes as the senator is preparing to take charge of the Senate HELP Committee—a panel with investigative authorities, including subpoena power, that Sanders intends to use to spotlight corporate abuses.
"The American people know that workers have a constitutional right to form unions and that corporations that engage in illegal union-busting activities must be held accountable," Sanders said in a speech late Tuesday on the state of the U.S. working class.
In his letter on Wednesday, Sanders wrote, "Mr. Schultz, my request to you is simple: Obey the law. Sit down with your workers and bargain in good faith. Agree to a first contract that is fair and just. Stop shutting down pro-union shops and reinstate workers who have been fired for union organizing."
"Sit down with your workers and bargain in good faith. Agree to a first contract that is fair and just."
In November and December, unionized Starbucks workers across the country walked off the job in an attempt to highlight the company's rampant union-busting and pressure management to stop using well-worn stall tactics to sabotage contract negotiations.
Last month, the NLRB said Starbucks unlawfully refused to engage in contract negotiations at more than 20 unionized locations in Oregon and Washington state.
Starbucks workers also say the company is imposing sweeping hours cuts following the holiday season, leaving already-precarious workers struggling to afford basic necessities.
Erin Bray, a union supporter from Starbucks' University Way store in Seattle, said Wednesday that workers at the location are "contemplating applying for food stamps and partial unemployment (neither of which are guaranteed) just to keep roofs over our heads."
"Some baristas were given 'good-faith estimates' of 35 hours per week, and Starbucks is deliberately shorting those baristas by implementing new labor metrics," said Bray. "This just goes to show that our bosses' promises aren't worth a damn, which is precisely why we want fair scheduling policies written down in black and white as part of our collective bargaining agreement."
News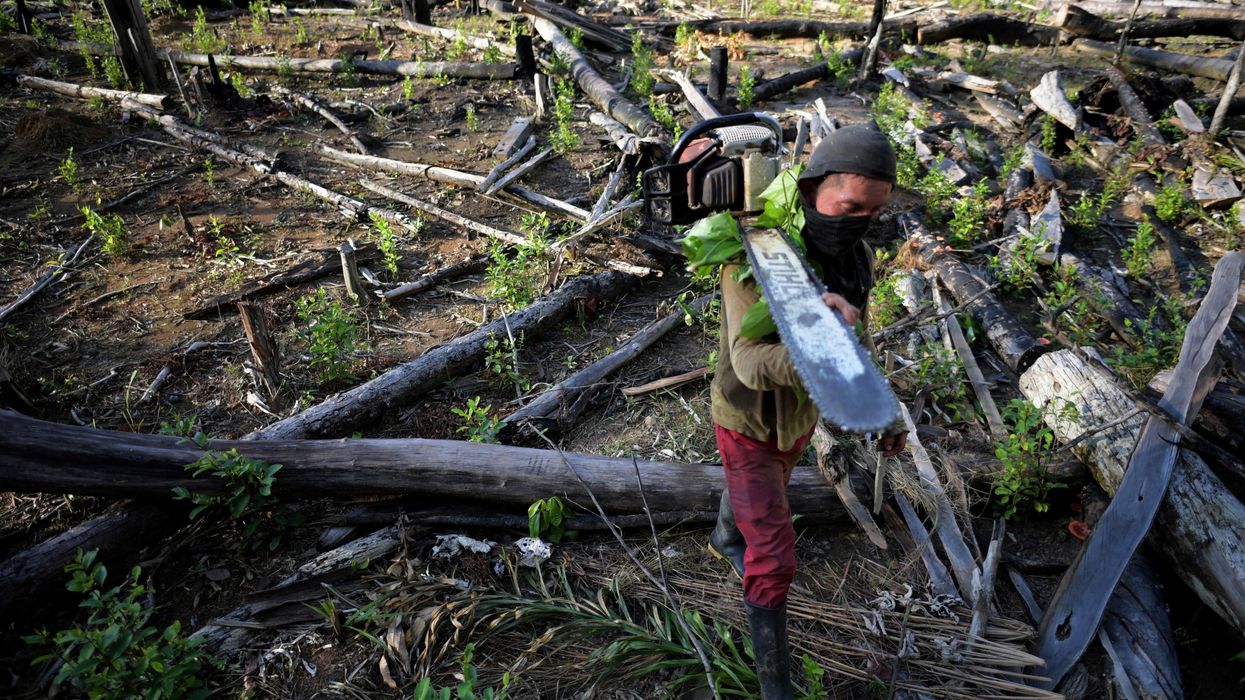 "Companies are making false claims and then they're convincing customers that they can fly guilt-free or buy carbon-neutral products when they aren't in any way carbon-neutral," one expert lamented.
Over 90% of the rainforest carbon offsets sold by the nonprofit organization that sets the world's leading sustainability standard "are largely worthless and could make global heating worse," an
investigation
published Wednesday by three media outlets confirmed.
For nine months, The Guardian, Die Zeit, and SourceMaterial analyzed scientific studies of Verra, "the world's leading carbon standard" in a voluntary global offset market worth $2 billion annually and growing. Verra's customers include major multinational corporations, and the analysis' findings cast doubts over the carbon offset credits the companies buy in order to label their products as "carbon neutral" or assure customers that they can consume their products or services without worsening the climate emergency.

"The implications of this analysis are huge," said Barbara Haya, head of the Carbon Trading Project at the University of California, Berkeley. "Companies are making false claims and then they're convincing customers that they can fly guilt-free or buy carbon-neutral products when they aren't in any way carbon-neutral."
\u201cNEW: Forest carbon offsets approved by the world\u2019s leading provider and used by Disney, Shell, Gucci and others are largely worthless and could make global heating worse, a new investigation finds.\n\nWith @hannahknuth , @herrfischer & @lukewbarratt \n\n\ud83d\udc47\ud83d\udc47\n\nhttps://t.co/KpKlXqzy0K\u201d

— Patrick Greenfield (@Patrick Greenfield) 1674050676
According to The Guardian, key findings of the analysis include:
Only a handful of Verra's rainforest projects showed evidence of deforestation reductions, according to two studies, with further analysis indicating that 94% of the credits had no benefit to the climate;
The threat to forests had been overstated by about 400% on average for Verra projects, according to analysis of a 2022 University of Cambridge study;
Gucci, Salesforce, BHP, Shell, easyJet, Leon, and the band Pearl Jam were among dozens of companies and organizations that have bought rainforest offsets approved by Verra for environmental claims; and
Human rights issues are a serious concern in at least one of the offsetting projects, which involved home destructions and forced evictions in Peru.
"I have worked as an auditor on these projects in the Brazilian Amazon and when I started this analysis, I wanted to know if we could trust their predictions about deforestation," Thales West, a lead author on the studies, told The Guardian. "The evidence from the analysis... suggests we cannot. I want this system to work to protect rainforests. For that to happen, we need to acknowledge the scale of problems with the current system."
Co-author Erin Sills said: "I'd like to find that conserving forests, which conserves biodiversity, and conserves local ecosystem services, also has a real effective impact on reducing climate change. If it doesn't, it's scary, because it's a little bit less hope for reducing climate change."

Verra responded to the outlets' analysis by saying the paper's claims are based on "methods that do not account for project-specific factors that cause deforestation."
"As a result, these studies massively miscalculate the impact of REDD+ projects," the organization added, referring to the United Nations Framework Convention on Climate Change (COP) framework "to guide activities in the forest sector that reduces emissions from deforestation and forest degradation."
\u201cThe blue lines show what happened in similar areas at the same time. Everybody is of course entitled to their own opinion. \n\nThe chart is from Thales West's study about carbon offset projects in Brazil, which we have used for further analysis https://t.co/daFSN9GgHr\u201d

— Tin Fischer (@Tin Fischer) 1674063927
Die Zeit's Tin Fischer posted a pair of tweets pushing back against Verra's comments with a chart from one of West's studies.
News
SUPPORT OUR WORK.
We are independent, non-profit, advertising-free and 100%
reader supported.