Historic Decision at the United Nations
Human Rights Council Passes First-Ever Resolution on Sexual Orientation and Gender Identity
GENEVA
In a groundbreaking achievement for upholding the principles of the Universal Declaration of Human Rights (UDHR), the United Nations Human Rights Council has passed a resolution on human rights violations based on sexual orientation and gender identity (L.9/Rev.1).
The resolution, presented by South Africa along with Brazil and 39 additional co-sponsors from all regions of the world, was passed by a vote of 23 in favor, 19 against, and 3 abstentions. A list of how States voted is attached. In its presentation to Council, South Africa recalled the UDHR noting that "everyone is entitled to all rights and freedoms without distinction of any kind" and Brazil called on the Council to "open the long closed doors of dialogue".
Today's resolution is the first UN resolution ever to bring specific focus to human rights violations based on sexual orientation and gender identity, and follows a joint statement on these issues delivered at the March session of the council. It affirms the universality of human rights, and notes concern about acts of violence and discrimination based on sexual orientation and gender identity. This commitment of the Human Rights Council sends an important signal of support to human rights defenders working on these issues, and recognizes the legitimacy of their work.
"The South African government has now offered progressive leadership, after years of troubling and inconsistent positions on the issue of sexual orientation and gender identity," said Dawn Cavanagh, Coalition of African Lesbians. "Simultaneously, the government has set a standard for themselves in international spaces. We look forward to contributing to and supporting sustained progressive leadership by this government and seeing the end of the violations we face daily."
The resolution requests the High Commissioner for Human Rights to prepare a study on violence and discrimination on the basis of sexual orientation and gender identity, and calls for a panel discussion to be held at the Human Rights Council to discuss the findings of the study in a constructive and transparent manner, and to consider appropriate follow-up.
"That we are celebrating the passage of a UN resolution about human rights violations on the basis of sexual orientation is remarkable, however the fact that gender identity is explicitly named truly makes this pivotal moment one to rejoice in," added Justus Eisfeld, Co-Director of Global Action for Trans* Equality. "The Human Rights Council has taken a step forward in history by acknowledging that both sexual and gender non-conformity make lesbian, gay, trans* and bi people among those most vulnerable and indicated decisively that states have an obligation to protect us from violence."
"As treaty bodies, UN special procedures, and national courts have repeatedly recognized, international human rights law prohibits discrimination on the grounds of sexual orientation and gender identity," said Alli Jernow, of the International Commission of Jurists.
The resolution is consistent with other regional and national jurisprudence, and just this week, the 2011 United Nations Political Declaration on HIV and AIDS recognised the need to address the human rights of men who have sex with men, and the Organization of American States adopted by consensus a resolution condemning violence and discrimination on the basis of sexual orientation and gender identity.
Earlier in this 17th session of the Human Rights Council, the UN Special Rapporteur on violence against women, its causes and consequences, Rashida Manjoo, reported to the Council that:
"[C]ontributory factors for risk of violence include individual aspects of women's bodily attributes such as race, skin colour, intellectual and physical abilities, age, language skills and fluency, ethnic identity and sexual orientation."
The report also detailed a number of violations committed against lesbian, bisexual and trans women, including cases of rape, attacks and murders. It is therefore regrettable that a reference to "women who face sexuality-related violence" was removed from the final version of another resolution focused on the elimination of violence against women during the same session.
"Despite this inconsistency, we trust the UN resolution on sexual orientation and gender identity will facilitate the integration of the full range of sexual rights throughout the work of the UN," said Meghan Doherty of Sexual Rights Initiative.
A powerful civil society statement was delivered at the end of the session, welcoming the resolution and affirming civil society's commitment to continuing to engage with the United Nations with a view to ensuring that all persons are treated as free and equal in dignity and rights, including on the grounds of sexual orientation and gender identity.
"Now, our work is just beginning", said Kim Vance of ARC International. "We look forward to the High Commissioner's report and the plenary panel next March, as well as to further dialogue with, and support from, those States which did not yet feel able to support the resolution, but which share the concern of the international community at these systemic human rights abuses."
ARC International
Amnesty International
Coalition of African Lesbians
COC Nederland
Council for Global Equality
Global Action for Trans* Equality
Heartland Alliance for Human Needs & Human Rights
Human Rights Watch
International Day Against Homophobia and Transphobia
International Gay and Lesbian Human Rights Commission
International Campaign Stop Trans Pathologization (STP 2012)
International Commission of Jurists
International Service for Human Rights
Sexual Rights Initiative
Thailand's Sexual Diversity Network
Transgender Europe

Attachment (Records of Vote and Co-Sponsorship)
States supporting the resolution: Argentina, Belgium, Brazil, Chile, Cuba, Ecuador, France, Guatemala, Hungary, Japan, Mauritius, Mexico, Norway, Poland, Republic of Korea, Slovakia, Spain, Switzerland, Ukraine, Thailand, UK, USA, Uruguay
States against the resolution: Angola, Bahrain, Bangladesh, Cameroon, Djibouti, Gabon, Ghana, Jordan, Malaysia, Maldives, Mauritania, Nigeria, Pakistan, Qatar, Moldova, Russian Federation, Saudi Arabia, Senegal, Uganda.
Abstentions: Burkina Faso, China, Zambia
Absent: Kyrgyzstan, Libya (suspended)
Co-Sponsors of the resolution: Albania, Argentina, Australia, Austria, Belgium, Bolivia, Brazil, Canada, Chile, Colombia, Croatia, Cyprus, Czech Republic, Denmark, Estonia, Finland, France, Germany, Greece, Honduras, Iceland, Ireland, Israel, Italy, Luxembourg, Netherlands, New Zealand, Norway, Poland, Portugal, Romania, Serbia, Slovenia, South Africa, Spain, Sweden, Switzerland, Timor-Leste, United Kingdom of Great Britain and Northern Ireland, United States of America, and Uruguay.
Human Rights Watch is one of the world's leading independent organizations dedicated to defending and protecting human rights. By focusing international attention where human rights are violated, we give voice to the oppressed and hold oppressors accountable for their crimes. Our rigorous, objective investigations and strategic, targeted advocacy build intense pressure for action and raise the cost of human rights abuse. For 30 years, Human Rights Watch has worked tenaciously to lay the legal and moral groundwork for deep-rooted change and has fought to bring greater justice and security to people around the world.
LATEST NEWS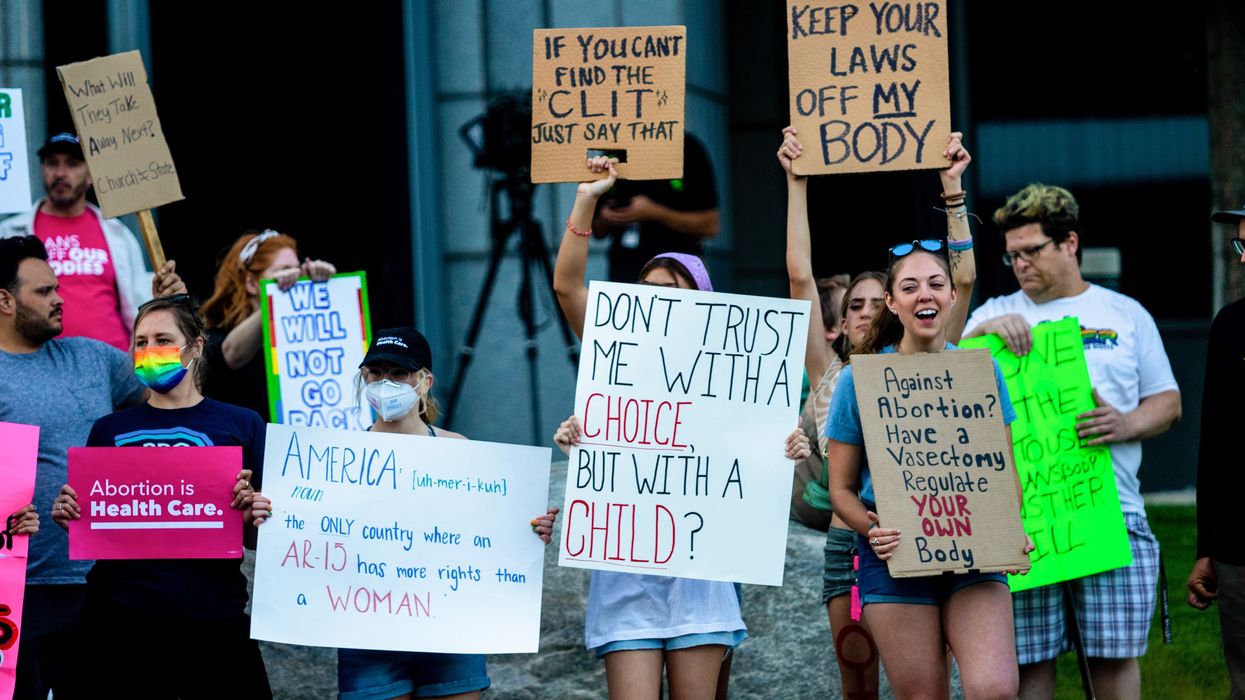 "Nevadans overwhelmingly support putting reproductive rights into our state constitution," said one abortion rights campaigner.
Abortion rights advocates said this week that they would appeal a decision by a Nevada judge to reject a 2024 ballot initiative to enshrine reproductive rights in the state constitution.
Carson City District Court Judge James Russell sided Tuesday with the Coalition for Parents and Children PAC, which last month filed a lawsuit claiming the ballot measure—which would guarantee the "fundamental right to reproductive freedom"—violates Nevada law by covering more than one subject. The petition mentions abortion, birth control, prenatal care, and post-partum care, which advocates note all fall under the umbrella of "reproductive freedom."
However, Russell said that "it is clear to me this is probably the clearest case I have seen that I think there is a violation of the single-subject rule."
"We are optimistic about the ballot initiative as a whole, and you know, we plan to appeal this."
Nevadans for Reproductive Freedom—a coalition including Planned Parenthood, NARAL Pro-Choice Nevada, and Indivisible Northern Nevada that filed the petition in September—disagreed with Russell's ruling and vowed to appeal to the Nevada Supreme Court.
"We are optimistic about the ballot initiative as a whole, and you know, we plan to appeal this," said Lindsey Harmon with Nevadans for Reproductive Freedom. "And we know that in fact, these are all a single subject."
"Nevadans overwhelmingly support putting reproductive rights into our state constitution, and voters should be aware that anti-abortion advocates still have plenty of state government allies who are willing to help them undermine reproductive freedom," Harmon asserted, adding that the coalition would not "let one judge's misguided ruling deter us."
Voters in seven states—most recently Ohio—have passed ballot measures protecting reproductive rights in the wake of the U.S. Supreme Court's cancellation of half a century of federal abortion rights in last year's Dobbs v. Jackson Women's Health Organization decision.
News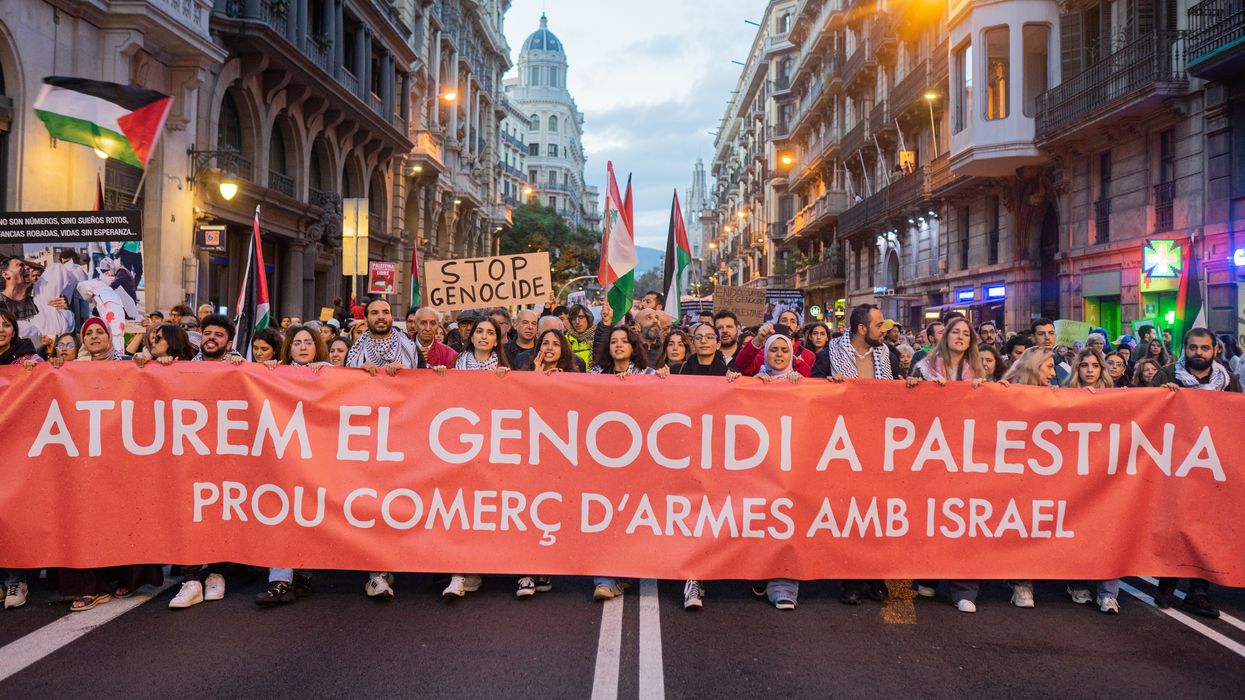 "It's not a war, it's a genocide," said Councilmember Ada Colau. "We not only need to denounce it, we must act and not stay on the sidelines."
The city council of Barcelona, Spain's second-largest city, voted Friday to suspend relations with Israel's far-right government over what the party behind the move called the "genocide" in Gaza.
Introduced by the leftist Barcelona en Comú party—which asserted that "no government can turn a blind eye to a genocide"—the resolution demands the municipal government discontinue "institutional relations with the current government of Israel until there is a definitive cease-fire, and respect for the basic rights of the Palestinian people and compliance with United Nations resolutions are guaranteed."
The resolution also calls for requiring public contracts to ensure that "no operator belongs to or carries out" activities "that go against international humanitarian law" and "rejects and condemns attacks against the population civilian, both Israeli and Palestinian, as well as any action constituting collective punishment, such as the forced displacement of population, the systematic destruction of homes and civilian infrastructure, or the blocking of the supply of energy, water, food, medical supplies and medicines to the population of the Gaza Strip."
Barcelona en Comú Councilmember Ada Colau said in a statement that "it's not a war, it's a genocide, and as [Spanish] President Pedro Sánchez has stated, it is unbearable, and if it is unbearable, we not only need to denounce it, we must act and not stay on the sidelines."
"Every 10 minutes, a child dies in the Gaza Strip under the bombs of one of the most powerful armies in the world," she added.
Colau, whose eight-year tenure as Barcelona's mayor ended in June, earlier this year announced her city was cutting ties with Israel and ending its symbolic 25-year-old "twin cities" relationship with Tel Aviv due to the Israeli government's "crime of apartheid against the Palestinian people."

Barcelona's current mayor, Jaume Collboni of the Socialists' Party of Catalonia, reversed Colau's move in September.
Earlier this month, Barcelona dockworkers also showed solidarity with Palestinians by refusing to load or unload military materials onto any ship bound for Israel or any conflict zone where they could be used against civilians.
The new Barcelona resolution urges Israel and Hamas to make permanent the temporary four-day ceasefire that began Friday morning, as well as an end to Israeli violence against Palestinian civilians in the illegally occupied West Bank and the unconditional and safe release of all hostages taken by Hamas.
On Friday, Hamas freed 24 captives—13 Israeli women and children, 10 Thai nationals, and one Filipino—as part of the cease-fire agreement. Israel released 39 Palestinian women and minors from behind bars to fulfill its end of the deal. Hamas has agreed to free 50 of its hostages in exchange for the release of 150 Palestinians imprisoned by Israel.
Israeli forces have arrested thousands of Palestinians on what critics claim are often dubious grounds meant to give Israel leverage and bargaining chips.
According to the Gaza Health Ministry, nearly 15,000 Palestinians, including more than 4,000 women and over 6,000 children, have been killed by Israeli bombs and bullets since the Hamas-led attacks on southern Israel that left around 1,200 people dead and 240 others kidnapped. The international humanitarian group Oxfam said Thursday that newborn babies are dying from preventable causes in Gaza's hospitals due to the Israeli siege.

More than 36,000 Palestinians have been wounded by Israeli attacks on Gaza, while around 7,000 others—including over 4,700 children—are missing and presumed dead. More than 1.7 million Gazans have been forcibly displaced and around half the homes in the besieged strip have been damaged or destroyed, according to United Nations agencies.
At least 255 Palestinians have also been killed by Israeli soldiers and settlers in the occupied West Bank and East Jerusalem.
In addition to the Barcelona councilmembers who voted Friday for the resolution, other Spanish officials have also called for cutting ties with Israel's government over its Gaza onslaught.
Last month, outgoing Social Rights Minister Ione Belarra, who also leads the leftist Podemos party, urged her country's coalition government to petition the International Criminal Court to open a war crimes investigation of Israeli Prime Minister Benjamin Netanyahu for Israel's indiscriminate bombardment of Gaza and for cutting off food, fuel, and electricity from the besieged strip's 2.3 million residents.
On Thursday, Belarra criticized Sánchez—a member of the Spanish Socialist Workers' Party—for visiting Israel this week, arguing that his trip "only serves to whitewash Netanyahu and to equate the state of Israel, an occupying power that perpetrates a genocide, with the victims of the Palestinian people."

"Such inaction," she added, "is absolutely unbearable."
News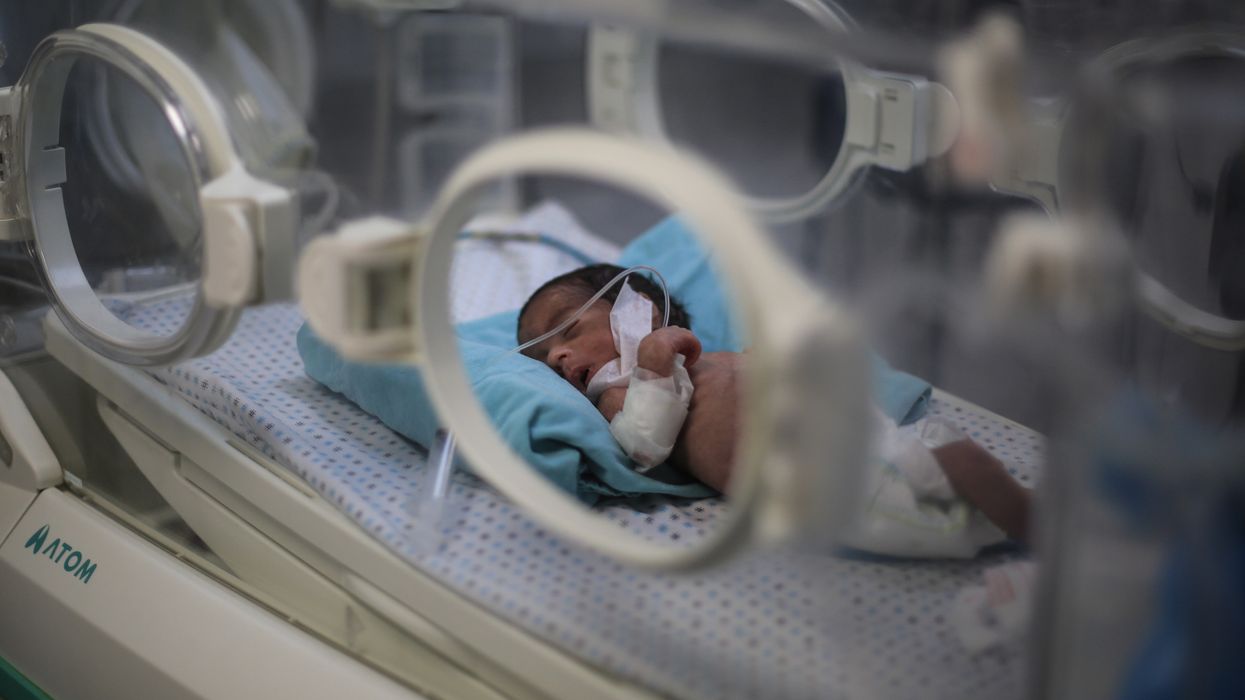 "Oxfam is urgently calling for a full cease-fire and unimpeded humanitarian access," said the group, explaining that a four-day pause in fighting is not sufficient.
Humanitarian workers in Gaza on Thursday said their daily experiences struggling to take care of pregnant people and babies demonstrate why a four-day pause in fighting is far from sufficient to save the lives of the blockaded enclave's most vulnerable residents, including newborns who have begun to die from preventable causes.
As Israel's blockade continues to keep Gaza authorities from providing clean water, food, sanitation, and heat to homes and hospitals, babies aged three months and younger "are dying of diarrhea, hypothermia, dehydration, and infection," said Oxfam International.
Juzoor, an organization partnering with Oxfam in northern Gaza, said premature births have increased by 25-30% since October 7 when Israel began its bombardment of Gaza in retaliation for an attack by Hamas.
The group has been supporting about 500 pregnant women in 13 shelters—where a total of 35,000 people are living—and many have gone into labor prematurely as they have the ongoing trauma of "walking long distances in search of safety, running away from bombs, and being crowded into shelters with squalid conditions."
Humanitarian workers are struggling to adequately care for thousands of people who have taken refuge in shelters, with waste piling up due to a lack of sanitation services and up to 600 people sharing one toilet.
Sally Abi Khalil, Middle East regional director for Oxfam, said the fact that the crisis has reached a stage where babies are dying of preventable illnesses is "abhorrent."

"Last month we lost at least one baby in every shelter, it's heartbreaking," said Umaiyeh Khammash, director of Juzoor. "Access to hospitals is extremely dangerous and virtually impossible, so many women are having to give birth with little or no maternity support in shelters."
As Common Dreams has reported, more than 50,000 Gaza residents are facing Israel's onslaught while pregnant, and more than 5,500 are expected to give birth within a month. Juzoor estimates that 30% of women will face pregnancy complications that require extra medical attention, putting their babies at greater risk—particularly in the first 28 days of life, when newborns are most vulnerable.

Khammash expressed fear that the group will soon be entirely out of food for residents.
"The absence of fuel has affected hospitals in the north and the shelters where we operate," he said. "There is no light, there is no heat. Now winter is coming and it's cold. It is really a disaster for everyone, but especially for expectant mothers."
Some women have given birth in recent weeks in repurposed classrooms surrounded by dozens of refugees, without qualified medical personnel present or any capacity for providing "basic hygiene," Khalil said.

"I don't think there is anyone anywhere in the world that would disagree that is simply inhumane," she added.

Oxfam is working to provide the Juzoor shelters with hygiene kits and food, while 60 health professionals have been mobilized to work with thousands of displaced people.

"But the ongoing violence, siege, and acute shortages of fuel and clean water severely hinder these efforts," said Oxfam as it called on officials to go further than negotiating only a four-day "humanitarian pause."

"Oxfam is urgently calling for a full cease-fire and unimpeded humanitarian access in order to restore vital services and provide desperately needed medical support particularly to pregnant women and newborn babies," said the group.
News