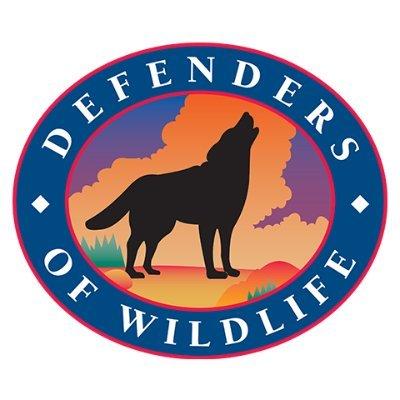 For Immediate Release
May, 04 2011, 03:43pm EDT
Contact:
John Motsinger, 202-772-0288
Interior Department Announces Wolf Delisting Rule
All eyes are on Montana and Idaho as states take over wolf management
WASHINGTON
The U.S. Department of the Interior announced today that it will be issuing a final rule to remove protections for gray wolves in the Northern Rockies. Prompted by a provision tacked on by Congress to the latest must-pass budget bill, the Interior Department will be publishing tomorrow the same 2009 delisting rule that was struck down by a federal court in August. The rule will return management authority over wolves to the states of Idaho, Montana, Oregon, Washington and Utah, while retaining federal control in Wyoming until an adequate state management plan is developed.
The following is a statement from Rodger Schlickeisen, president of Defenders of Wildlife:
"While today's announcement comes as no surprise, the action taken by Congress and the Obama administration last month to strip federal protections for wolves was unwarranted and extremely disappointing. It has undermined our nation's commitment to good stewardship and sets a terrible precedent for side-stepping America's bedrock environmental laws whenever it's politically convenient to do so.
"However, wolves can still have a bright future in the Northern Rockies if states manage them responsibly as they have promised in the past. The elected leaders of Montana and Idaho, in particular, continue to assert that their states know best how to manage wildlife. Now is their chance to prove it.
"While states resume primary management authority, it is also essential for the U.S. Fish and Wildlife Service to hold up its end of the bargain with rigorous monitoring of wolf populations. They must ensure that more than 15 years of hard work to restore the species is not undone by allowing states to drive populations down to unsustainable levels. Further, we call on the Interior Department to promptly convene a scientific advisory panel to evaluate current state management objectives and update them based on the best available science."
The following is a statement from Suzanne Stone, Northern Rockies representative for Defenders of Wildlife:
"We will be watching closely over the next several months as Idaho and Montana gear up to manage wolves once again. Even though the vast majority of Americans still continue to support wolf recovery, it will be up to dedicated conservationists and wildlife enthusiasts in Idaho and Montana to hold their elected officials accountable for how they manage wolves. We must stand up to the anti-wolf extremists who want to turn back the clock and eradicate wolves once again.
"In the meantime, Defenders will continue our efforts to find ways for wolves, people, livestock and other wildlife to coexist. Wolves are vital to maintaining healthy, balanced ecosystems and preserving some natural wildness in the West. If we work together, their recovery can continue to be one of the great American conservation success stories."
Defenders of Wildlife is the premier U.S.-based national conservation organization dedicated to the protection and restoration of imperiled species and their habitats in North America.
(202) 682-9400
LATEST NEWS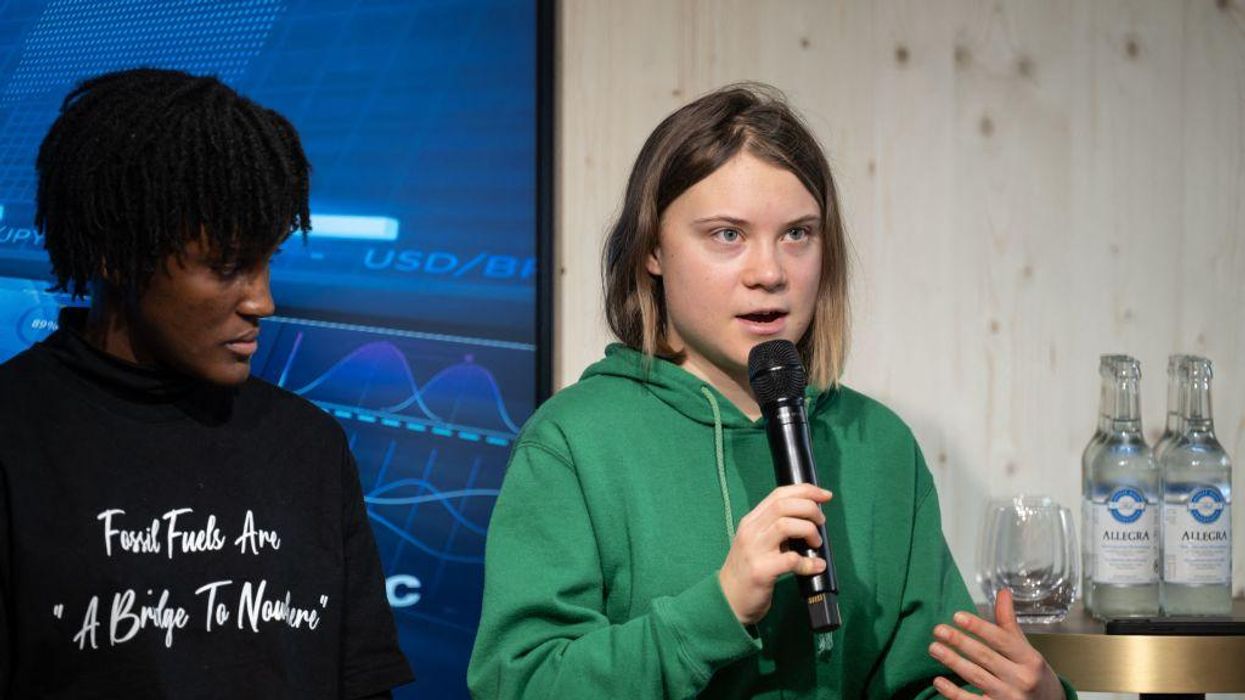 "As long as they can get away with it, they will continue to invest in fossil fuels," the Swedish climate activist warned. "We need to build and create a critical mass of people who demand change, who demand justice."
Swedish climate campaigner Greta Thunberg took aim at those profiting off of the climate emergency Thursday on the sidelines of the World Economic Forum's annual summit in Davos, Switzerland.
The Fridays for Future leader has previously attracted global attention for delivering impassioned speeches at earlier summits, urging the Davos elite to "act as if you loved your children above all else" and calling on policymakers to stop "basing your 'pledges' on the cheating tactics that got us into this mess in the first place" and start to "implement annual binding carbon budgets."
Early into a panel discussion Thursday with fellow climate activists and an international energy expert, Thunberg said that "we are right now in Davos, where basically the people are who are mostly fueling the destruction of the planet, the people who are at the very core of the climate crisis, the people who are investing in fossil fuels... somehow these are the people that we seem to rely on solving our problems when they have proven time and time again that they are prioritizing that."
"The changes that we need are not very likely to come from the inside, rather I believe they will come from the bottom up."

"They are prioritizing self greed, corporate greed, and short-term economic profits above people and above planet," she charged. "We seem to be listening to them rather than the people who are actually affected by the climate crisis, the people who are living on the frontlines, and that kind of tells us the situation, how absurd this is."
"The people who we really should be listening to are not here," she said of the yearly meeting that brings people from around the world to the Swiss resort town. "Instead, we are bombarded with messages from people who are basically the people who are causing this crisis."

After the moderator asked Thunberg—who was detained at a protest against coal mining in Germany earlier this week—why she is talking "outside" the summit rather than with high-profile figures "inside" as she has before, she said that "there are already activists doing that, and I think that if there should be activists inside speaking to these people, it should be those on the frontlines and not privileged people like me who are not experiencing the firsthand consequences of the climate crisis."
"I think that right now, the changes that we need are not very likely to come from the inside, rather I believe they will come from the bottom up," the 20-year-old added. "Without massive public pressure from the outside—at least, in my experience—these people are going to go as far as they possibly can."
"As long as they can get away with it, they will continue to invest in fossil fuels, they will continue to throw people under the bus for their own gain," she stressed. "We need to build and create a critical mass of people who demand change, who demand justice."
DAVOS LIVE: Greta Thunberg takes part in a WEF event with IEA's Fatih Birolwww.youtube.com
Thunberg—who twice has been nominated for the Nobel Peace Prize for climate activism that has included global school strikes—said that "we know that the changes we are advocating for are not going to happen overnight, and that is why we have to stay strong during a longer period of time" and grow the movement of people demanding an end to the fossil fuel era.
"The people standing up and raising their voices against all that is happening—that's the hope right now. The hope comes from the people," Thunberg concluded—a sentiment echoed by the other young climate activists on the panel, Vanessa Nakate of Uganda, Luisa Neubauer of Germany, and Helena Gualinga of an Indigenous community in Ecuador. They were joined by Fatih Birol, head of the International Energy Agency, which has also highlighted the need to keep fossil fuels in the ground.
Thunberg, Nakate, Neubauer, and Gualinga are also spearheading a "cease-and-desist" letter demanding that fossil fuel CEOs attending the summit in Davos "immediately stop opening any new oil, gas, or coal extraction sites, and stop blocking the clean energy transition we all so urgently need." As of press time, it had been signed by over 921,000 people.
The activists aren't the only ones taking aim at the fossil fuel industry and their corporate and political allies in Davos this week. As Common Dreamsreported, United Nations Secretary-General António Guterres also did so in a speech Wednesday.
"This insanity belongs in science fiction, yet we know the ecosystem meltdown is cold, hard scientific fact," he said of continuing to burn fossil fuels despite the catastrophic consequences. "We must act together to close the emissions gap. To phase out coal and supercharge the renewable revolution. To end the addiction to fossil fuels. And to stop our self-defeating war on nature."
News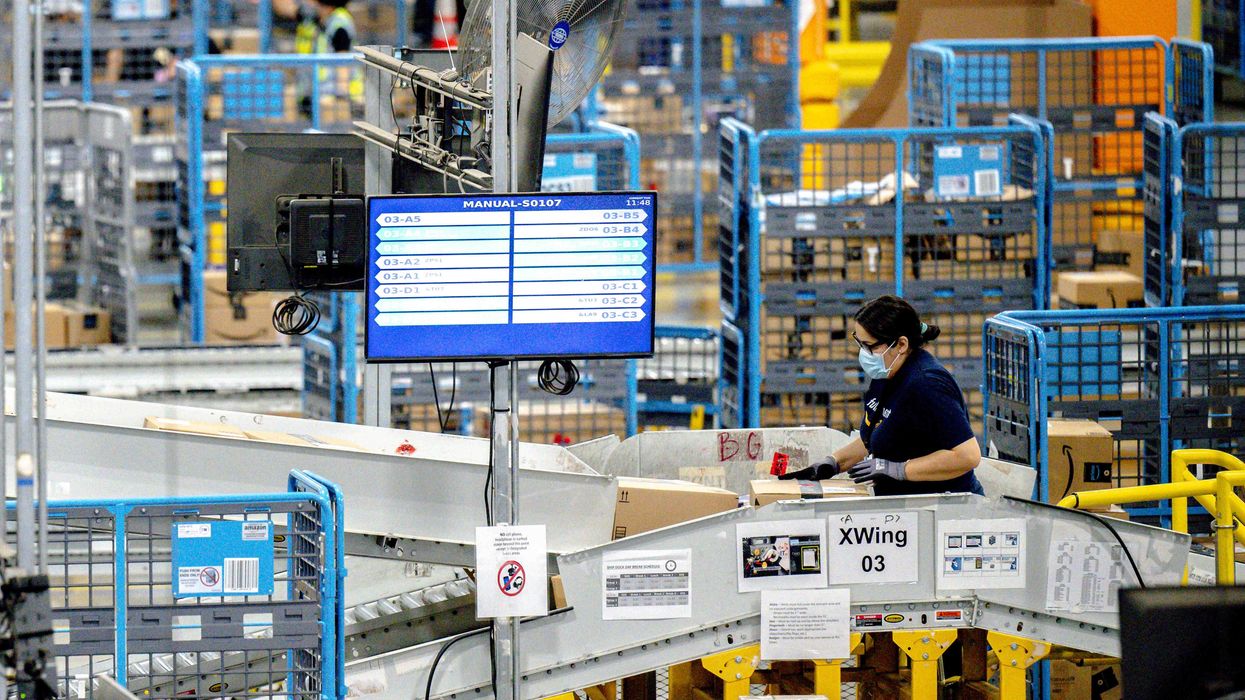 For serious injuries linked to the company's insistence that employees maintain a relentless pace of work, Amazon was fined $60,000—the amount it made "every four seconds in 2022."
A paltry $60,000 fine for failing to keep employees safe at one of the world's richest companies offered the latest evidence, according to one critic, that the system ostensibly meant to protect workers "is so broken."
That was the assessment of Paris Marx, host of the podcast "Tech Won't Save Us," after the Occupational Safety and Health Administration (OSHA) announced Wednesday it had issued a citation to Amazon for worker safety violations at three of its warehouses in Deltona, Florida; Waukegan, Illinois; and New Windsor, New York.
As part of an investigation that is still ongoing, OSHA found that Amazon warehouse employees experience "high rates of musculoskeletal disorders" and are at high risk for lower back injuries due to frequently being required to lift heavy packages for long hours.
A log of injuries sustained by workers at the warehouse in Waukegan showed one employee suffered a foot fracture while handling a 55-pound package, another person's face was "crushed/smashed" by a 61-pound piece of furniture, and another worker sprained their lower leg while handling a 148-pound item.
\u201cNEW: Dept of Labor is preparing to fine Amazon $60K for workplace safety hazards. \n\nRecent injuries at a warehouse in Waukegan, IL include:\n-a 61 lb piece of furniture smashing a worker's face\n-a 90 lb TV spraining a shoulder\n-a bed cutting a worker's nose\u201d

— Lauren Kaori Gurley (@Lauren Kaori Gurley) 1674060652
While many warehouse workers at a variety of companies lift heavy objects during their workdays, Amazon has been denounced by workers and labor rights groups for requiring employees to maintain a grueling pace in order to meet quotas and ensure deliveries are made rapidly.
As the Strategic Organizing Center (SOC) said in its report Primed for Pain: Amazon's Epidemic of Workplace Injuries in 2021, "the company's obsession with speed has come at a huge cost for Amazon's workforce," with workers suffering serious injuries at a rate 80% higher than warehouse employees at other companies.

"Each of these inspections found work processes that were designed for speed but not safety, and they resulted in serious worker injuries," said Doug Parker, assistant secretary for occupational safety and health at the U.S. Department of Labor.
Despite OSHA's findings, noted Mother Jones, the agency fined the e-commerce giant "roughly 0.000013% of its reported $469,822,000,000 2021 revenue," or as progressive journalist Timothy Burke put it, the amount the company made every four seconds last year.
\u201cAmazon made $60,000 every four seconds in 2022.\u201d

— Timothy Burke (@Timothy Burke) 1674059859
Amazon said Wednesday it plans to appeal OSHA's citation and appeared to reject the agency's findings, which represent the first time the Labor Department has accused a employer of maintaining an excessive work pace.

"The government's allegations don't reflect the reality of safety at our sites," Kelly Nantel, a spokesperson for Amazon, toldWired. "The vast majority of our employees tell us they feel our workplace is safe."
Eric Frumin, health and safety director at SOC, called on Amazon "to drop its relentless resistance to OSHA's orders to fix these hazards."
"Today's OSHA citations are the latest evidence that Amazon has company-wide, corporate-level policies and practices that create hazardous workplaces, and may result in medical mistreatment or denial of treatment for seriously injured workers," said Frumin. "Amazon treats its workers from the warehouse to the delivery route as disposable in its relentless drive for profit."
OSHA's investigation into the company is continuing at warehouses in Aurora, Colorado; Nampa, Idaho; and Castleton, New York.

News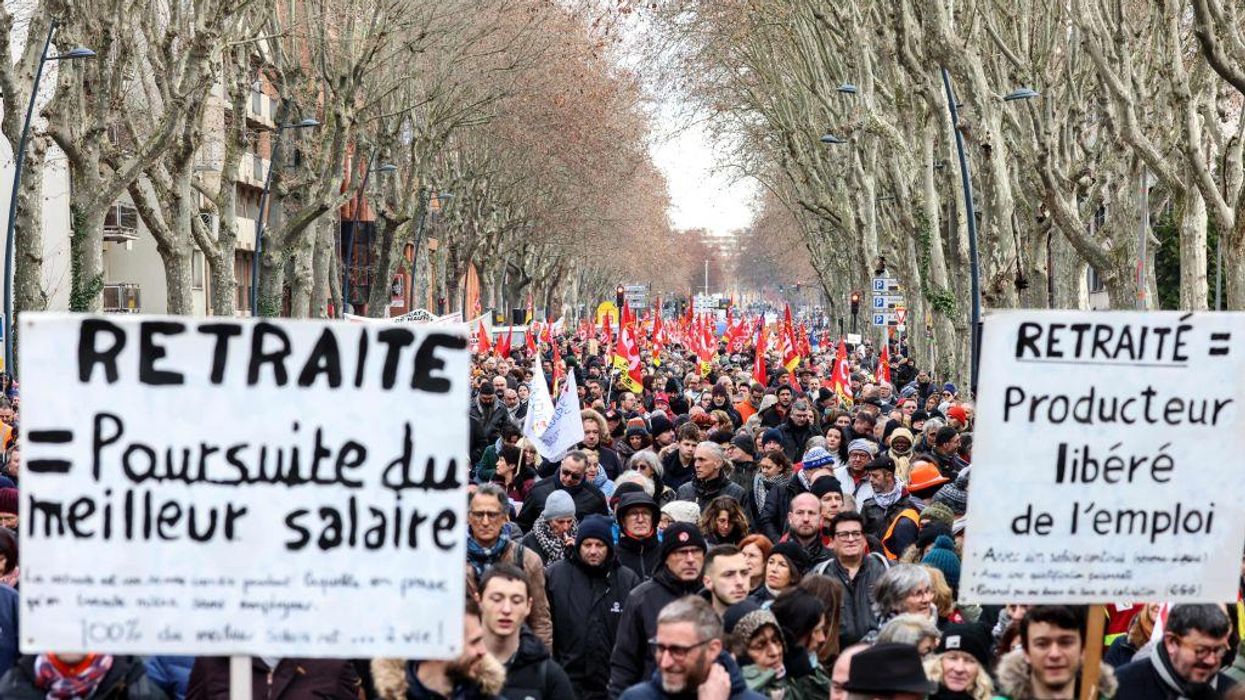 "If there is no positive response from the government, today is a first step, and there will be a second step," said one union leader.
The streets of France filled with outraged workers on Thursday as rail employees, teachers, and others walked off the job to protest President Emmanuel Macron's deeply unpopular plan to overhaul the nation's pension system by raising the official retirement age from 62 to 64.
The union-led demonstrations—which ground significant portions of the country, including many schools and transportation systems, to a halt—come as Macron is attempting to steamroll far-reaching opposition to his pension overhaul, declaring that "we must work longer."
Macron's government formally presented its draft law last week, the first step in the process of enacting a reform that would force French citizens to work longer to qualify for a full pension.

"Today Is a First Step"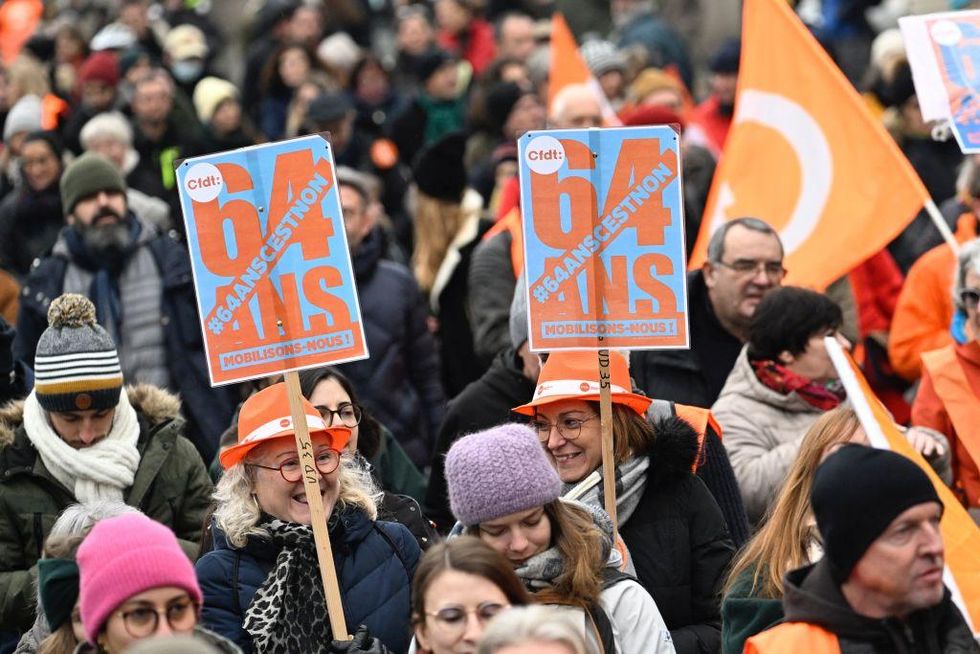 (Photo: Damien Meyer/AFP via Getty Images)
Philippe Martinez, the head of France's General Confederation of Labor union, told reporters that Thursday's strikes are just the beginning of widespread worker unrest if Macron doesn't abandon his attempt to hike the retirement age by 2030.
"If there is no positive response from the government, today is a first step, and there will be a second step," Martinez declared ahead of a march in Paris.
Eric Sellini, the union's coordinator for the French petroleum company TotalEnergies, echoed that sentiment.
"For the moment, we're sticking to our schedule," Sellini said. "Depending on how the situation in the country evolves, and if employees don't want to stop the strike, there could be an extension."
Reutersreported Thursday that the mass protests "led to a substantial fall in electricity output and halted deliveries from refineries operated by TotalEnergies and Esso."
"The CGT union expects that at least 70% of its refinery sector employees at TotalEnergies' four refining sites have joined the strike in opposition to the government plan to raise the retirement age," the outlet noted.
French unions also estimated that around 70% of the country's primary schoolteachers were on strike Thursday.

Broadly Unpopular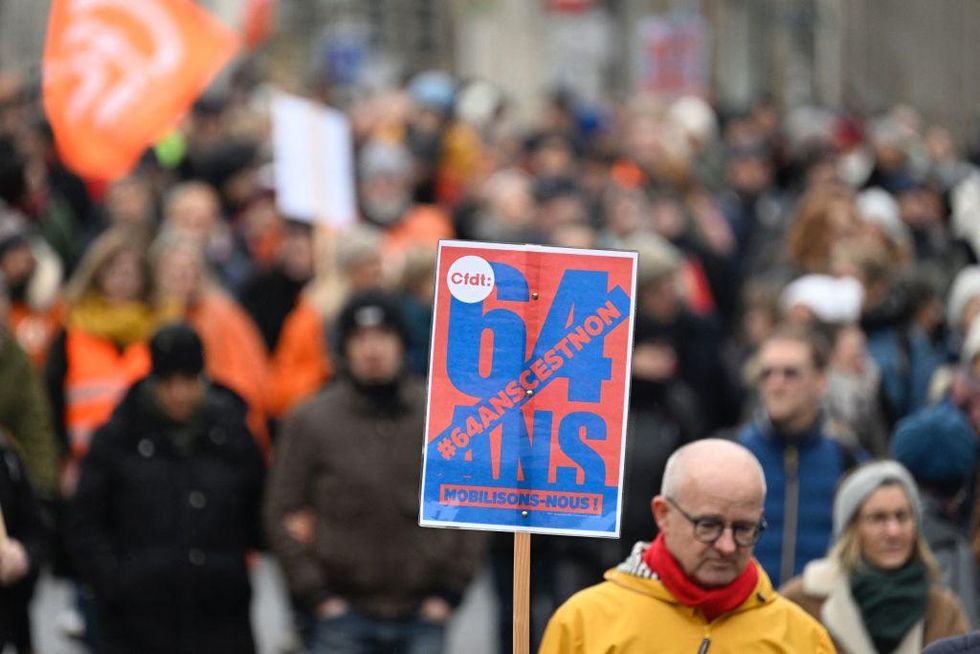 (Photo: Damien Meyer/AFP via Getty Images)
A survey conducted earlier this month by the polling firm Elabe found that roughly three-fifths of the French public opposes Macron's proposed pension overhaul, the latest iteration of a plan that the president has repeatedly put forth and subsequently delayed due to furious opposition.
"When he sought reelection last year amid an emboldened far right, Macron sent mixed messages on the issue," The Washington Postreported. "After first announcing that he wanted to raise the minimum retirement age even higher than planned, from 62 to 65, he later backtracked and said that '65 years is not a dogma.'"
"Time for Macron to Withdraw His Reform"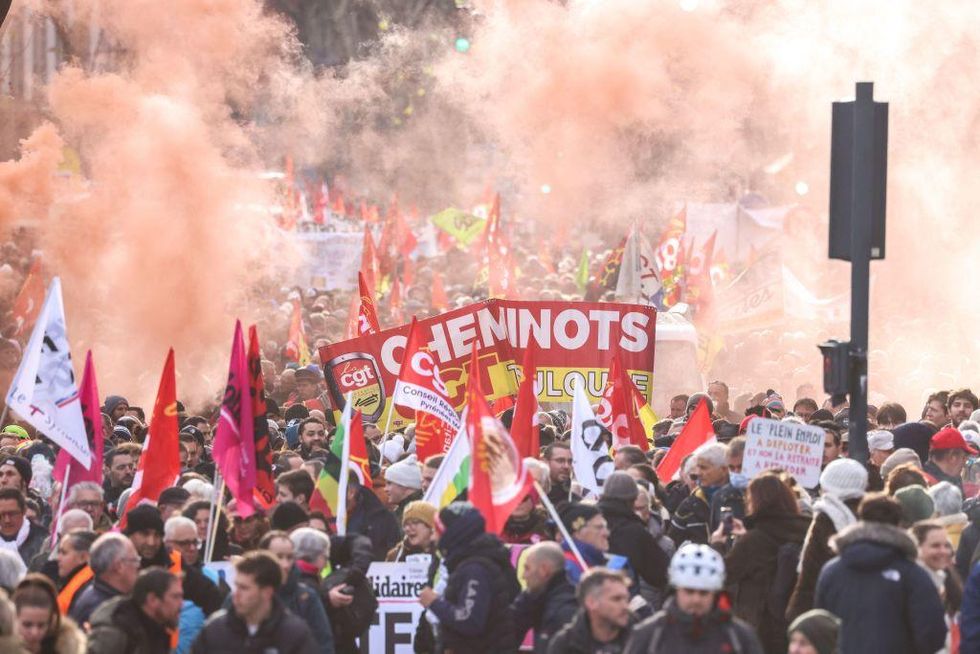 (Photo: Charly Triballeau/AFP via Getty Images)
Opponents of the pension attack—including the leftist leader of the France Unbowed party, Jean-Luc Mélenchon—are pushing Macron to drop the proposal for good as mass protests signal sustained opposition from workers.
"It is time for Macron to withdraw his reform," Mélenchon said Thursday.
News
SUPPORT OUR WORK.
We are independent, non-profit, advertising-free and 100%
reader supported.