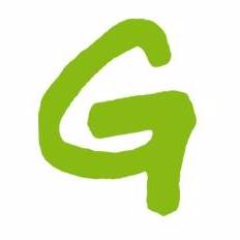 For Immediate Release
September, 28 2010, 01:57pm EDT
Greenpeace Activists Call For Federal Standards on Hazardous Coal Waste
Peaceful Protest Urges EPA to 'Protect People, Not Polluters'
LOUISVILLE, KY
Highlighting the need for federal standards to
protect public health from hazardous coal waste, Greenpeace activists
climbed the downtown Seelbach Hilton Hotel in Louisville this morning,
unfurling a 23 x 23-square-foot banner that read "EPA: PROTECT PEOPLE,
NOT POLLUTERS - QUIT COAL." The protest was held at the location of the
7th of eight public hearings conducted by the Environmental Protection
Agency (EPA) on two proposals for the regulation of coal ash disposal.
"EPA needs to establish federal standards for coal ash that will
protect people and not the polluters," said Greenpeace campaigner,
Robert Gardner. "Lax state regulations will continue to place
communities at risk from coal ash, which has been linked to cancer,
respiratory illness, neurological damage and other health issues."
The
EPA has been holding public hearings across the country on two vastly
different proposals to address the growing toxic waste stream --- one
would list it as hazardous waste and the other as non-hazardous.
Greenpeace is calling for a listing as hazardous, also referred to as a
'special waste designation under Subtitle C' of the Resource
Conservation and Recovery Act, based on EPA's own findings.
A
listing as hazardous would ensure that coal ash dumps and waste ponds
have all the protections currently required at waste landfills. This
would include solid waste permits and readily available technologies
such as liners and monitoring systems. Strong, federally enforceable
standards would ensure much greater compliance and thus a greater
likelihood that future spills and disasters--and the costs associated
with their cleanup--would be avoided. The number of known coal ash
contamination cases presently numbers 137 in 34 states.
"Like
Big Oil, Big Coal spends millions to avoid accountability. Already in
2010, the coal industry has contributed more than $13 million in
campaign contributions to candidates for federal office," said Gardner.
"It's not hard to see why government has failed to act yet, but they can
and must now."
Greenpeace has also expressed strong opposition
to any expansion of Louisville Gas and Electric's (LGE) Cane Run coal
ash impoundment, which is located within city limits. EPA has identified
Cane Run as one of the 49 highest-risk impoundments in the nation.
"Expansion
could leave LGE ratepayers holding the bag not once, but twice...once
to expand it and then to decommission this toxic dump. We stand with the
residents of Louisville in saying 'no' to a repeat of the Kingston
tragedy in Tennessee and 'no' to wasting ratepayer money."
Greenpeace is a global, independent campaigning organization that uses peaceful protest and creative communication to expose global environmental problems and promote solutions that are essential to a green and peaceful future.
+31 20 718 2000
LATEST NEWS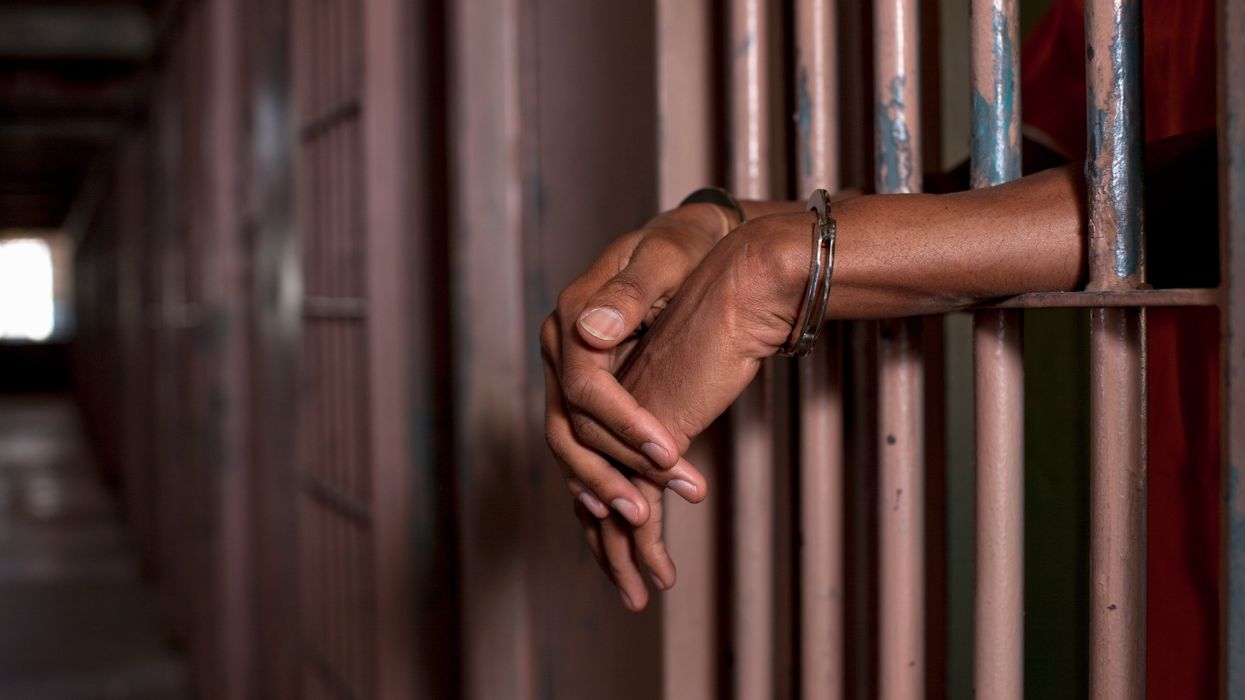 "Poverty or a prison sentence should not be a death sentence," asserted campaign co-chair Bishop William J. Barber II after relatives of inmates who died last year told their loved ones' stories.
Activists with the Poor People's Campaign and relatives of some of the 13 inmates who died at West Virginia's Southern Regional Jail last year held a press conference Thursday to implore the Biden administration to investigate conditions at the notorious lockup, as well as the deaths of more than 100 prisoners in the state during the last 10 years.
"We're doing this on behalf of the 13 people who have died senselessly, we believe, at the Southern Regional Jail... and on behalf of over 100 more who have died within West Virginia regional jails over the last decade," Bishop William J. Barber II, co-chair of the Poor People's Campaign: A National Call for Moral Revival, said at the online conference.
Speaking to Common Dreams by phone after the press conference, Barber said that "we need a full, independent investigation by the Justice Department. We're talking about basic civil rights and human dignity. Give us the truth. Give us justice."
"We need a full, independent investigation by the Justice Department. We're talking about basic civil rights and human dignity. Give us the truth. Give us justice."
"There are too many unanswered questions here," he added. "We're talking about people dying in jail."

In one case, a man jailed at Southern Regional Jail (SRJ) for littering and missing a court date died 81 days after his arrest. In another, a woman died after she was brutally beaten and literally torn apart by inmates looking for drugs in her private parts.

Latasha Williams, whose 37-year-old fiancée Quantez Burks died a day after he was locked up at SRJ for alleged wanton endangerment and obstruction, said she only found out her partner was dead when she called to inquire about posting bond the day after his arrest.
"The magistrate said, 'I hate to tell you this, but he passed away last night at 9:00 pm,'" Williams recounted. "I threw the phone and started crying... and I [said] they lying, it's somebody else, 'cause I just talked to him."
\u201cHelp us End Dangerous, Inhumane, and Unconstitutional Conditions in West Virginia Jails https://t.co/4TBpGzMexW\u201d

— Rev Dr Liz Theoharis (@Rev Dr Liz Theoharis) 1677171994
After state officials said the cause of Burks' death was "natural," his loved ones raised $5,000 for an independent autopsy by Pittsburgh forensic pathologist Cyril Wecht, a former president of the American Academy of Forensic Sciences.
"We just felt like there was probably some foul play in it, and that's really what made us decide to get that second autopsy," Burks explained.
"Findings were consistent with being handcuffed while being beaten," she said. "Both of his wrists were broken. He had an arm broken, nose broken, and a leg bone broken. He also had blunt force trauma to his whole body, including his head. He also had a heart attack, which they said was probably caused by the stress his body was put into."
Reacting to Burks' remarks, Barber asserted that "poverty or a prison sentence should not be a death sentence."
"We need an independent federal investigation. We need it now. We need the Justice Department to come in and meet with these families."
"Countless low-income West Virginians of all races... have died under the watch of the state prison and jail system," he continued. "We need an independent federal investigation. We need it now. We need the Justice Department to come in and meet with these families."
"The mothers and fathers and sisters and brothers and family members of those who have died at the hands of our jail system in West Virginia need and deserve answers," Barber added. "We cannot allow our elected leaders to continue to ignore what is unfolding right in front of them."
\u201cWhy did Alvis Shrewsbury die 19 days after turning himself in for DUI? Why was he complaining to his family about broken ribs & black eyes? And why is this the 5th person to have died while incarcerated at the Southern Regional Jail in WV? We NEED answers!https://t.co/LDDUnxJN7U\u201d

— Ben Crump (@Ben Crump) 1664410680
Barber urged U.S. Sen. Joe Manchin (D-W.Va.) and Republican Gov. Jim Justice to support an independent federal probe into the "dangerous, inhumane, and unconstitutional conditions in the Southern Regional Jail."
"You don't have video. You don't have body cameras," said Barber. "But you have real lives and real families and tremendous pain and death and people going in for... minor offenses and then family members finding out, sometimes in less than 24 hours, sometimes less than 24 days, that a loved one is dead, dead, dead. And all kinds of questions have gone unanswered."
While the U.S. Department of Homeland Security last year conducted an investigation of conditions at SRJ, critics including attorneys for inmates at the jail called the probe a "sham."
Barber told Common Dreams that "only a full federal investigation, with the DOJ and its power of the federal purse strings," would be sufficient to "give us the truth" and answer the questions of those whose loved ones died at SRJ.
"Systems that investigate themselves are not as thorough, and are prone to cover-ups," he added.

Thursday's press conference came as current and former prisoners filed a new class-action lawsuit this week over conditions at SRJ. The suit alleges that inmates are denied access to drinking water, that they face dangerous overcrowding, mold, human sewage, toilet water, rats, sexual assault, and other violence.
According toWVNS journalist Jessica Farrish, who has reported extensively on the jail:
The suit states that up to 16 mentally ill people are forced inside of an alleged "suicide cell" that measures 120 square feet, and that prison and medical staff allegedly leave them in the cell for days. Attorneys also say jail staff allegedly destroys legal mail sent to inmates, opens inmates' legal mail when they are not present, and photocopies legal mail sent to inmates.
A previous class-action lawsuit filed last year alleges abuse and mistreatment at SRJ.
\u201cHe didn\u2019t clean up the trash in his mother\u2019s yard on time. Eighty one days later, he died in a West Virginia jail.\nhttps://t.co/SknZsUgja5\u201d

— Mountain State Spotlight (@Mountain State Spotlight) 1666009680
"Hearing these stories, my heart is breaking," said Rev. Dr. Liz Theoris, co-chair of the Poor People's Campaign. "This drive to criminalize the poor is immoral and poverty and incarceration... should not be a death sentence."
"Enough is enough. This has to stop," she added. "We are calling... on our elected officials and on the DOJ to make a difference. We are calling on Sen. Manchin and Gov. Justice to hear the cries of the families seeking answers and to do what's right."

A state investigation into conditions at SRJ that concluded inmates were lying about abuse was widely dismissed as grossly inadequate.
As an October 2022 editorial in the Register-Herald, a Beckley, West Virginia-based paper, noted:
The state report on conditions at SRJ was produced lickety-split, in about 30 days, by West Virginia Homeland Security Secretary Jeff Sandy, who cooked the books to deny any problems whatsoever at the facility. A high school term paper would have been more revealing—and more credible. Sandy once served as chair of the Regional Jail Board from 2012 to 2016 and now serves in the governor's cabinet.

Yes, the governor directed an insider to conduct a fair and impartial investigation. Even a blind man could see that was never going to happen. As such, the problems at SRJ persist because they have not been meaningfully addressed—and inmates are dying because of it.
Kat Robles, an attorney at the advocacy group Forward Justice, specifically called on the U.S. Justice Department's Civil Rights Division to launch an investigation under the Civil Rights of Institutionalized Persons Act, which empowers the DOJ to probe abuse and neglect in prisons and jails, mental health facilities, and other institutions.
"This is an urgent crisis. This is an outrage," said Robles, who added that what's needed is "not just an investigation."
"We want them to meet with community leaders, to meet with families, and to remedy this urgent crisis," she said.

News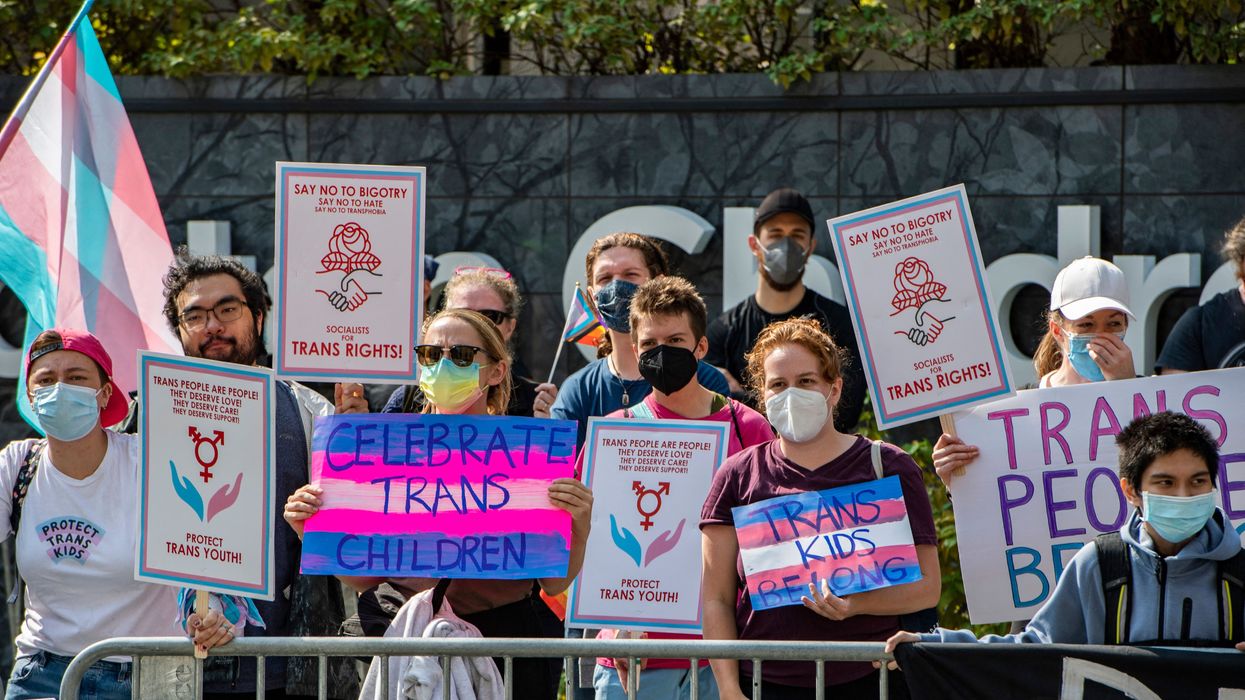 "Legislators are risking trans young people's health, well-being, and safety with this dangerous legislation," said an ACLU of Tennessee staff attorney, urging the governor to veto the bill.
In moves that alarmed advocates for transgender youth, the Tennessee and Mississippi GOP-dominated legislatures this week sent bills banning gender-affirming care for minors to their Republican governors' desks.
Even though organizations including the American Academy of Child and Adolescent Psychiatry, American Academy of Pediatrics, American Medical Association, and American Psychiatric Association support gender-affirming care for young people, GOP state lawmakers nationwide have recently introduced bills intended to restrict or outlaw it.
The Tennessee House of Representatives on Thursday voted 77-16 on House Bill 1, with three Democrats joining Republicans to pass the measure, which the state Senate passed 26-6 last week.
Under H.B. 1, doctors could not provide healthcare such as hormone therapies, puberty blockers, or surgical procedures to trans minors, with limited exceptions for care that began before the bill would take effect on July 1. Those who violate the pending law could face a state attorney general probe and a $25,000 fine.
As The Tennesseeanreported Thursday:
The bill will soon be sent to Gov. Bill Lee's desk, which kicks off a 10-day countdown, not including Sundays, for Lee to sign it into law. Even if Lee chooses not to sign, the bill becomes law without his signature unless he vetoes it.

Though he rarely takes an explicit position on pending bills, Lee on Friday signaled he is "supportive" of the bill's content.
ACLU of Tennessee staff attorney Lucas Cameron-Vaughn promised a court fight if the GOP governor does not veto the bill.
"We are deeply disturbed that state politicians have voted to interfere with the ability of families to make decisions, in consultation with medical professionals, to provide critical care for young people who are transgender," Cameron-Vaughn said. "All Tennesseans should have access to the healthcare they need to survive and thrive."

"Gender-affirming healthcare for trans youth is safe, necessary, effective, and often lifesaving," the lawyer stressed. "Legislators are risking trans young people's health, well-being, and safety with this dangerous legislation. We urge Gov. Lee to veto this overreaching, discriminatory bill, or we will see him in court."
"We urge Gov. Lee to veto this overreaching, discriminatory bill, or we will see him in court."
Cameron-Vaughn's colleague McKenna Raney-Gray, LGBTQ Justice Project staff attorney at the ACLU of Mississippi, delivered a similar message about House Bill 1125 to GOP Gov. Tate Reeves earlier this week.
After the Mississippi House of Representatives last month passed that bill 78-30, with four Democrats joining Republicans, the state Senate on Tuesday approved it 33-15, voting along party lines.
"This is a devastating development for transgender youth in Mississippi and heartbreaking for all of us who love and support them," said the ACLU's Raney-Gray. "This care was already too difficult to access across the state for transgender people of any age, but this law shuts the door on best-practice medical care and puts politics between parents, their children, and their doctors."
In a letter to Reeves, Raney-Gray wrote that "if enacted, this legislation will deny children lifesaving, medically necessary healthcare and violate the constitutional rights of Mississippians," and urged him to veto the ban.
However, Reeves vowed to sign the legislation, tweeting Tuesday that "sterilizing and castrating children in the name of new gender ideology is wrong. That plain truth is somehow controversial in today's world. I called for us to stop these sick experimental treatments, and I look forward to getting the bill."
\u201cMore than 360 anti-LGBTQ+ bills are moving through state legislatures right now.\n\nWe are officially tracking more bills targeting the transgender community than ever before. Over 90 of those anti-trans bills are attempting to ban affirming medical care.\u201d

— Human Rights Campaign (@Human Rights Campaign) 1677083483
Mickie Stratos, president of the Spectrum Center of Hattiesburg, emphasized that "Mississippi legislators are positioning H.B. 1125 as a measure to protect kids, when the reality is that this bill will do the exact opposite. Access to gender-affirming medical care is a top indicator of healthy and positive outcomes for trans people."
"To criminalize that care is a direct assault on the physical, emotional, and mental health of trans youth, and we will see negative outcomes for our trans youth and their families in [Mississippi] as a result," they warned. "Regardless of the outcome of this legislation, we will remain here in Mississippi to support, affirm, love, and care for the trans folks and their families impacted by this attack."
Ivy Hill, director of gender justice for the Campaign for Southern Equality, said that "this bill—and an overwhelming wave of similar legislation moving quickly in states across the country—is cruelly targeting transgender youth and their doctors. To every trans young person who feels attacked, marginalized, or fearful for the future: Please know that you are loved, you are supported, and there is queer community across the state and nationwide who care about you and are joining with you in solidarity."
As part of that wave, GOP Utah Gov. Spencer Cox signed into law a ban on gender-affirming care for youth last month, and Republican South Dakota Gov. Kristi Noem signed another last week.
While similar bills have advanced in Nebraska and Oklahoma, "a federal judge who blocked Arkansas' ban on gender-affirming care for minors is now considering whether to strike down the law as unconstitutional," The Associated Pressreported Thursday. "A similar ban in Alabama has also been temporarily blocked by a federal judge."
News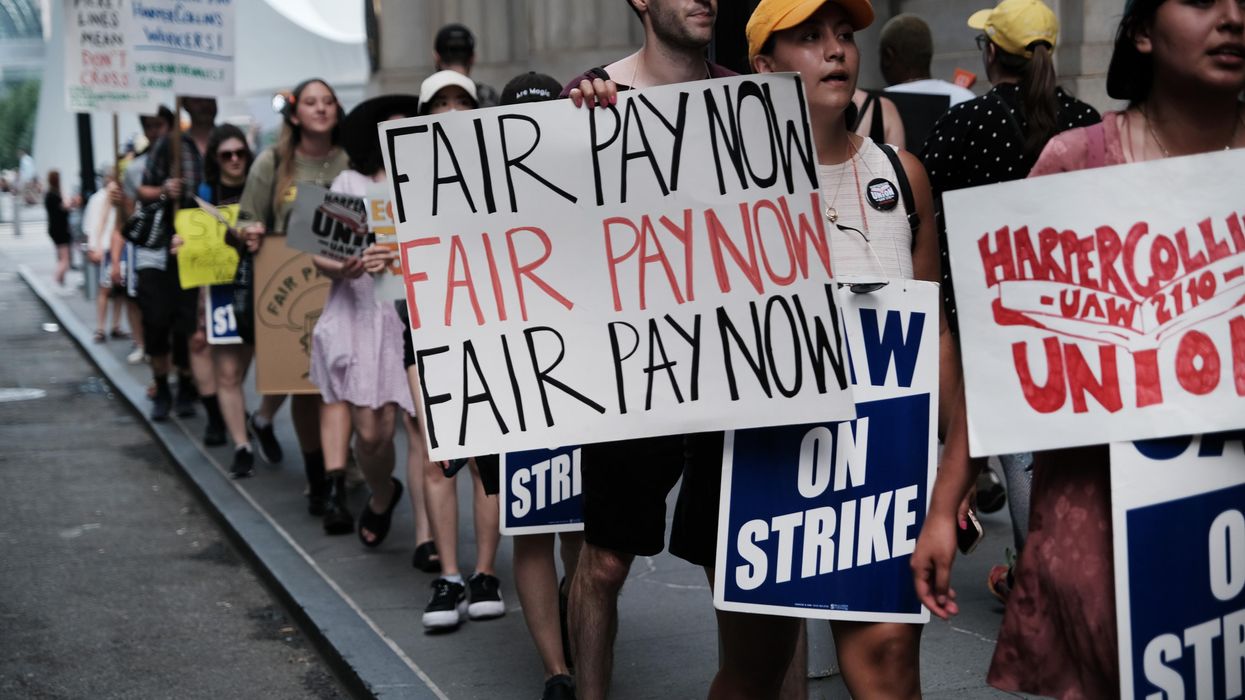 "The right to strike is a critical source of worker power, but that right could be under further threat from the Supreme Court," warned one expert.
The number of U.S. workers who staged work stoppages in a wide array of industries in 2022 surged by nearly 50% from the previous year, new federal data shows—but the resolve among employees demanding fair pay after years without a raise, better working conditions, and paid sick leave may be under threat as the U.S. Supreme Court weighs a key labor case.
An analysis by three Economic Policy Institute (EPI) experts—Margaret Poydock, Jennifer Sherer, and Celine McNicholas—of data released Wednesday by the Bureau of Labor Statistics (BLS) showed that at least 120,600 U.S. workers were involved in major strikes in 2022, up from 80,700 in 2021.
EPI noted that a number of significant strikes went uncounted by the bureau, as the federal government does not track strikes involving fewer than 1,000 people, such as the three-month work stoppage staged by 250 union members at HarperCollins Publishers recently, which successfully secured bonuses and raises.
Between 2021 and 2022, union membership grew by 200,000 people, with 16 million workers represented by collective bargaining units, EPI's report showed. More Americans expressed approval of unions last year than they have in more than 50 years.
"Workers are turning to strikes to fight for better wages and working conditions, as well as union recognition," said Poydock. "This strike activity is occurring despite our broken labor law failing to adequately protect workers' fundamental right to strike."
As EPI noted, the internationally recognized human right to go on strike is guaranteed to most private sector workers in the U.S. under the National Labor Relations Act, but the law does not cover employees in the railway or airline industries, the public sector, agriculture, or in domestic work including home health aides and childcare workers.

Last month the Supreme Court heard oral arguments in Glacier Northwest, Inc. v. International Brotherhood of Teamsters—a case that could further weaken American workers' right to stage work stoppages to demand fair treatment from employers.
"Workers will face potential liability for any damages the employer deems to be related to the work stoppage. This would greatly limit workers ability to strike and would be a gross misinterpretation of the NLRA."
The case involves concrete company Glacier Northwest, which filed a lawsuit for damages after its truck drivers in Washington state, who are represented by the International Brotherhood of Teamsters Local 174, went on strike. The company claimed the work stoppage caused concrete to harden in trucks before it could be delivered, leaving Glacier Northwest with lost sales.
"The case centers on the question of whether an employer's suit for damages related to a strike is preempted by the NLRA, which governs the right to strike," Poydock, Sherer, and McNicholas in the EPI report, referring to the National Labor Relations Act. "In the Glacier case, the employer is arguing that, in spite of workers' attempts to protect the employer's property, the union is liable for damages related to the strike. If the Supreme Court is persuaded by this argument, it will upend decades of precedent surrounding the right to strike and leave workers with a significantly diminished ability to strike."
"Workers will face potential liability for any damages the employer deems to be related to the work stoppage. This would greatly limit workers ability to strike and would be a gross misinterpretation of the NLRA," they continued.
\u201cGlacier Northwest v. Teamsters is the latest SCOTUS case that\u2019s flying under the radar \u2014 but you need to know about it.\n\nIf wealthy corporations get their way, companies would be able to sue striking workers for the cost of lost revenue, spoiled products, and more.\n\nBe warned.\u201d

— Robert Reich (@Robert Reich) 1673380580
EPI said the case offers the latest reason for Congress to ensure that the right to unionize and strike is protected by passing the Protecting the Right to Organize (PRO) Act. The legislation would prohibit employers from permanently replacing workers who go on strike, eliminate a ban on secondary strikes, and allow intermittent strikes.
The group also called for the passage of the Striking Workers Healthcare Protection Act to prevent companies from retaliating against striking workers by cutting off their health coverage, as well as a number of state-level reforms.
Recent proposals in Massachusetts and Maine would extend the right to strike to public workers, and in Connecticut and Pennsylvania lawmakers have proposed allowing workers to collect unemployment benefits while on the picket line—"promising signs of growing state-level interest in shoring up workers' right to strike," EPI said.

"The right to strike is a critical source of worker power, but that right could be under further threat from the Supreme Court," said Sherer. "We need Congress and state legislatures to step in and strengthen the right to strike by passing the PRO Act and other critical reforms."
News
SUPPORT OUR WORK.
We are independent, non-profit, advertising-free and 100%
reader supported.