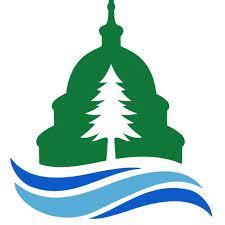 For Immediate Release
Contact:
Kirsten Stade (202) 265-7337
EPA-Industry Coalition Blunts Tougher State Coal Ash Rules
Coal Ash Industry Enlists EPA to Quash Tighter State Regulatory Proposals
WASHINGTON
The coal ash industry has been able to call upon the U.S.
Environmental Protection Agency and the U.S. Department of Energy to
respond to proposals from states for stricter regulation of coal
combustion wastes, according to EPA e-mails released today by Public
Employees for Environmental Responsibility (PEER). The messages
portray federal agencies enlisted as lobbying arms for industry.
EPA is now belatedly wrestling with whether to classify coal combustion
wastes, principally coal ash, as a hazardous waste following the
disastrous coal ash spill in eastern Tennessee in late 2008. In the
absence of federal regulation, states have struggled with how to handle
the more than 125 million tons of fly ash, bottom ash, boiler slag, and
flue gas desulfurization gypsum generated by coal-fired plants each
year.
In arguing against federal regulation, industry has maintained that
state regulation is best. Yet e-mails obtained by PEER under the
Freedom of Information Act indicate that industry worked in concert
with EPA to counter state proposals for stricter regulation, including -
Efforts in California to keep fly ash out of school construction in order to prevent mercury exposure of children;
Legislation
in Maryland to prohibit use of coal ash in agriculture or as land
reclamation. This 2008 bill generated an "URGENT' alert in which an
Energy Department official dismissed the legislation as a "knee-jerk
response to the contamination that has occurred" at a gravel mine; and
A
decision by the Puerto Rico Department of Natural Resources to treat
all coal ash as a waste, despite claims that "beneficial reuse" should
be exempt.
"Industry appears to have used
EPA as its pet pit bull to keep state regulators at bay," stated PEER
Executive Director Jeff Ruch, pointing to EPA's Coal Combustion
Products Partnership (C2P2), a formal promotional partnership between
EPA and industry to increase use of coal ash in consumer products,
agriculture and construction, that is still in effect. "Significantly,
EPA officials in these exchanges did not exhibit the slightest interest
in scientifically exploring any of the public health and environmental
uncertainties raised by their state partners."
One
particularly troublesome tactic involves EPA developing an
industry-approved "risk assessment" in hopes that it "will be
attractive to state agencies" (in the words of an industry lobbyist)
for state adoption in lieu of tougher regulation. One message on this
topic from a coal ash industry lobbyist reads:
"Personally, I can't thank OSW [EPA's Office of Solid Waste] staff
members enough for the efforts they have provided our industry...."
"EPA
should stop acting as an industry agent for marketing hazardous waste,"
added Ruch, noting that this coal ash industry partnership is under
investigation by the EPA Office of Inspector General and EPA
Administrator Lisa Jackson, through a spokesperson, has indicated that
the agency-industry pact is under review. "EPA should redirect its
resources to work with states in addressing legitimate and growing
public health concerns about spreading powerfully toxic ash throughout
our stream of commerce."
###
Read the detailed mercury warning from California
See the urgent alert about Maryland legislation

View the effort to deflect Puerto Rico coal ash ban
Look at the industry risk assessment suggestions

Examine coal ash industry influence over EPA papers and reports
Public Employees for Environmental Responsibility (PEER) is a national alliance of local state and federal resource professionals. PEER's environmental work is solely directed by the needs of its members. As a consequence, we have the distinct honor of serving resource professionals who daily cast profiles in courage in cubicles across the country.
LATEST NEWS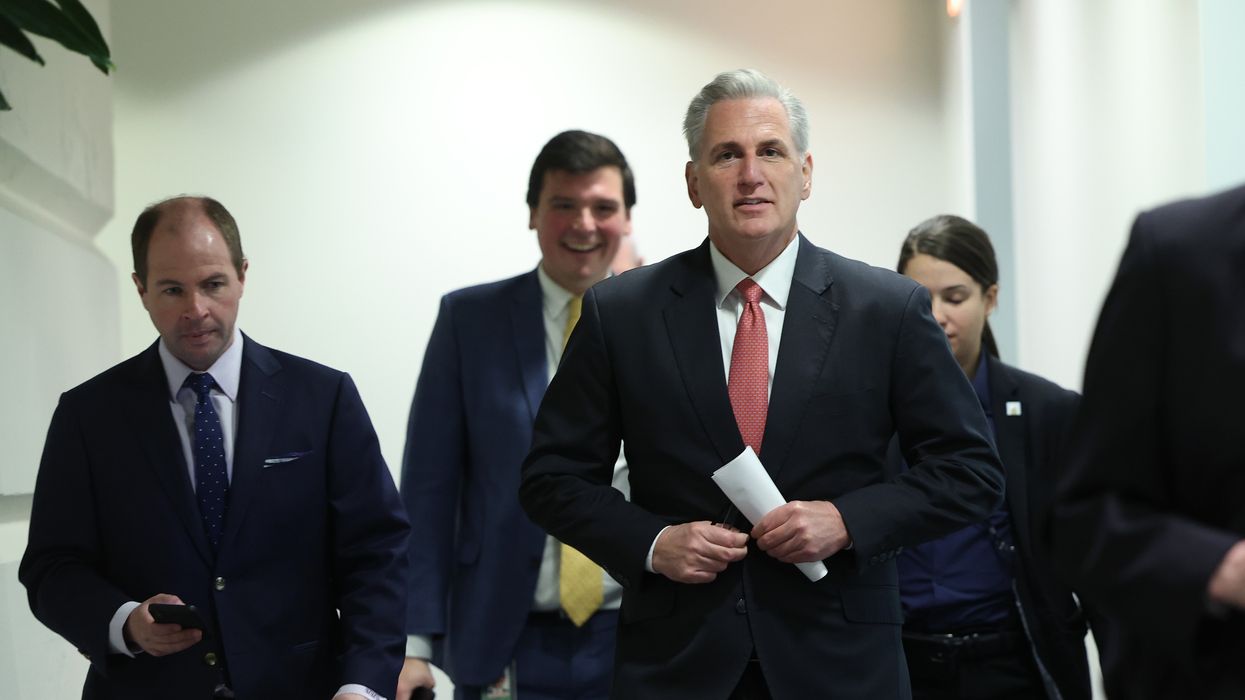 "Unsurprisingly, House Republicans want to make it harder for poor Americans to get food and medical care while making it easier for rich people to cheat on their taxes," said Sen. Ron Wyden.
Congressional Democrats reiterated their opposition to steep federal spending cuts on Tuesday after Republican House Speaker Kevin McCarthy issued a vague outline of his caucus' demands, which include more punitive work requirements for aid recipients and steep cuts to non-military spending.
The GOP leader laid out the broad demands in a Tuesday letter to President Joe Biden as progress toward an agreement to raise the debt ceiling and prevent a default remains nonexistent.
McCarthy (R-Calif.) called for another meeting with the president to discuss the debt ceiling standoff, which is a result of the House GOP majority's insistence on painful budget cuts as a necessary condition for any borrowing limit increase. The Congressional Budget Office has projected that the U.S. will default on its debt this summer unless Congress acts.
McCarthy wrote that House Republicans' demands include "but are not limited to" cuts to "excessive non-defense government spending" and stronger "work requirements for those without dependents who can work."
On the latter point, the California Republican favorably cited former President Bill Clinton's 1996 welfare reform law that doubled extreme poverty. Biden supported the law as a senator.
As president, Biden has demanded a debt ceiling increase without any accompanying spending cuts. In response to McCarthy's letter, Biden pushed House Republicans to release a detailed budget plan but stressed that spending talks "must be separate from prompt action on Congress' basic obligation to pay the nation's bills and avoid economic catastrophe."
Bloombergreported last week that House Republicans are in the process of "finalizing" a budget offer that's expected to propose capping spending "at 1% growth annually for a decade" and imposing more strict work requirements on food aid recipients. One recent analysis estimated that more than 10 million people could lose federal nutrition assistance if the GOP gets what it wants on work requirements.
Republicans are also pushing for legislation that would ease the permitting process for oil and gas projects.

In a Tuesday appearance on CNBC, McCarthy said he is prepared to recommend $4 trillion in total spending cuts—but he didn't provide specifics on which programs would be cut and by how much, drawing mockery from Democratic lawmakers.
"If he comes to the president's office with no specific plan, no specific details about what the Republicans want to cut, what are they going to talk about? The weather?" asked Senate Majority Leader Chuck Schumer (D-N.Y.).
Sen. Ron Wyden (D-Ore.), the chair of the Senate Finance Committee, tweeted in response to McCarthy's letter that "this scam is a non-starter in the Senate."

"Unsurprisingly, House Republicans want to make it harder for poor Americans to get food and medical care while making it easier for rich people to cheat on their taxes," Wyden wrote.
\u201cUnsurprisingly, House Republicans want to make it harder for poor Americans to get food and medical care while making it easier for rich people to cheat on their taxes. This scam is a non-starter in the Senate.\u201d

— Ron Wyden (@Ron Wyden) 1680030424
Last week, Rep. Rosa DeLauro (D-Conn.) released warnings from federal agencies that would likely be targeted by the GOP's austerity spree in an effort to highlight the far-reaching impacts of spending cuts the party has floated thus far.
"The draconian cuts would take away the opportunity for 80,000 people to attend college and impact all 6.6 million students who rely on Pell Grants," DeLauro said, citing agency estimates. "If implemented, 200,000 children will lose access to Head Start, and 100,000 children will lose access to childcare, undermining early education and parents' ability to go to work."
DeLauro wrote Tuesday that "Republican calls to cut government funding put everything from child care to opioid treatment and mental health services to nutrition assistance at risk for millions."

Sharon Parrott, president of the Center on Budget and Policy, echoed concerns about the potentially devastating effects of the House GOP's plans.
"The recent turmoil in the banking system pales in comparison to the chaos and harm that could ensue if House Rs force a debt-limit impasse and default: recession, lost jobs, and critical payments to seniors, veterans, businesses, families, and states unpaid," Parrott wrote Tuesday following the release of McCarthy's letter.
"A letter isn't a budget," Parrott continued, "so it conveniently allows House Rs to hide that these cuts—in basic food assistance, healthcare, and programs that fund child care, schools, and more—would go to cover some of the cost of more tax cuts for the wealthy rather than to reduce the deficit."
News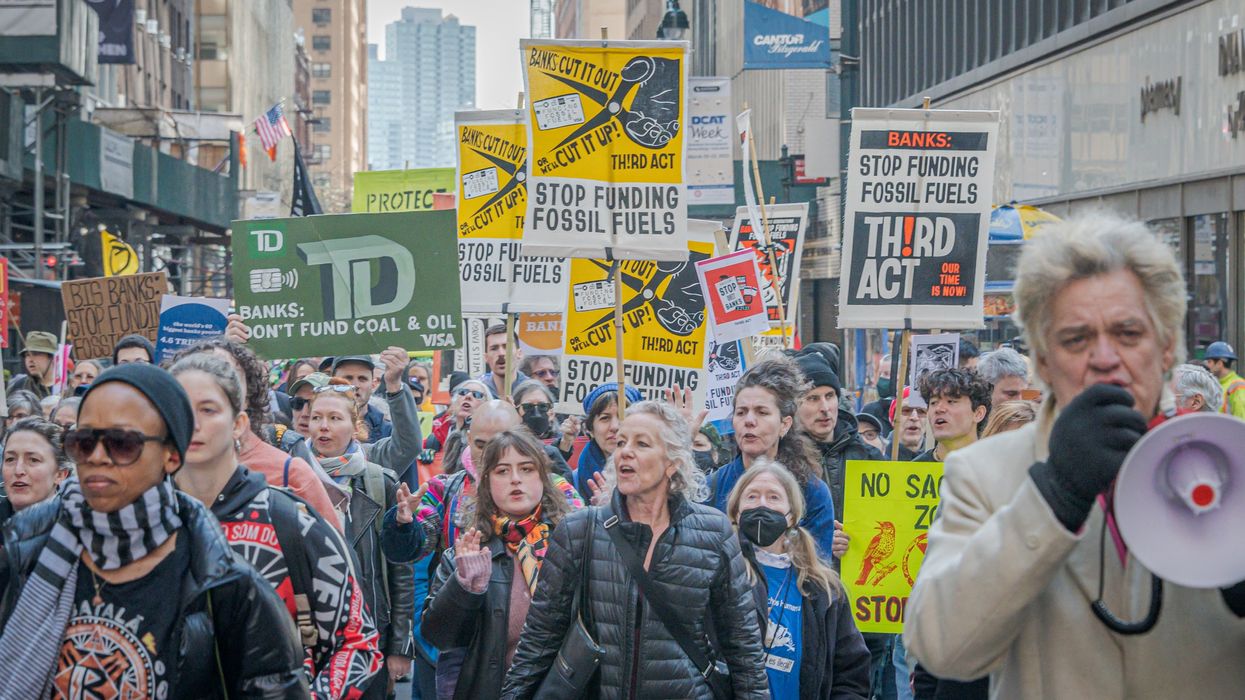 "If management at a wide swath of banks failed to properly address a well-understood risk, they cannot be trusted to independently address other complex emerging risks," argued 50 green groups.
In the wake of recent bank collapses and protests across the United States demanding financial institutions end fossil fuel financing, 50 climate, environmental justice, and Indigenous rights groups on Tuesday advocated for new regulations.
"We the undersigned strongly urge financial regulators and Congress to learn from the collapse and bailout of Silicon Valley Bank (SVB) and rapidly implement new regulations to mitigate against climate-related financial risk," the coalition wrote.
"Climate-related risks are moving us toward a financial crisis. But regulators have not taken adequate steps to actually mitigate those risks."
The groups' letter was sent to key leaders at the U.S. Treasury Department, Federal Reserve, Federal Deposit Insurance Corporation (FDIC), National Economic Council, and relevant U.S. House and Senate committees.
After explaining how the SVB collapse is partly the result of poor management enabled by regulatory rollbacks under the Trump administration, the letter states that "this is only the latest example of a bank being wholly unprepared for a large and obvious financial risk."
The letter continues:

It is a stark reminder of the chaos that can unfold when a financial institution has high exposure to a risky industry, and of the fact that the leaders of major financial institutions are frequently far more concerned with their short-term gains than with robust risk management measures that ensure their safety and the safety and soundness of the financial system. As a reminder of the latter, senior managers at SVB paid themselves millions in bonuses hours before their bank failed and the federal government financially backstopped it. Here again, stronger rules—including the Dodd-Frank executive compensation rules that remain unfinished—could have incentivized greater bank attention to risks.

To prevent any potential for a cascade of bank runs after SVB's collapse, federal regulators have now effectively set a precedent of guaranteeing all bank deposits in all banking institutions nationwide, to be backstopped by the Federal Deposit Insurance Fund and then taxpayer dollars. Moreover, the Federal Reserve has begun lending at extraordinarily generous terms to any other banks with assets whose real value has been curbed by interest rate hikes—in effect, the Fed is offering a first-of-its-kind, get-out-of-bank-failure-free card to any firms that made the same foreseeable mistake as SVB. Regulators justified this extraordinary shift in the structures of American finance by relying on emergency rules in place to prevent systemic risk to the financial system. In effect, regulators argued that SVB's inability to mitigate one of the most obvious forms of financial risk—the potential for rising interest rates amid high inflation—constituted a grave risk to the whole financial system, and, thereby, the whole economy.

"If management at a wide swath of banks failed to properly address a well-understood risk, they cannot be trusted to independently address other complex emerging risks," the groups argued. "Regulators must intervene to protect the financial system from risks associated with climate change and the ongoing transition to a green economy."
The letter notes recent remarks from Treasury Secretary Janet Yellen about the economic and financial impact of the climate emergency as well as how, as it worsens, "banks of all sizes holding mortgage-backed bonds will see their assets drop in value" while "banks invested in the fossil fuel industry will eventually be saddled with stranded assets."
"Climate-related risks are moving us toward a financial crisis. But regulators have not taken adequate steps to actually mitigate those risks," the coalition warned, calling on U.S. policymakers to:
Move with urgency and speed to implement proposed guidance for banks and financial institutions related to preparation for climate-related financial risks and to follow up with more detailed guidance;
Rapidly move forward on rigorous exams for banking institutions, including for medium-sized banks, regardless of industry pressure for light-touch supervision of climate-related risks; and
Please also see previous coalition letters recommending action on the Federal Reserve's and the Treasury Department's climate guidance.
"Banks cannot be trusted to independently evaluate and protect against the systemic risks of the climate crisis in real-time. They also cannot be trusted to avoid creating risks for other institutions and the financial system through their support for fossil assets and greenhouse gas emissions," the letter says. "This process requires regulators to set clear rules and ensure banks and financial institutions do not engage in unsafe behavior and do not create undue risks and costs for the financial system and the economy."
Signatories include Greenpeace USA, Lakota People's Law Project, Sierra Club, and Third Act—who came together earlier this month for a "Stop Dirty Banks" national day of action, the first elderly-led mass climate demonstration in U.S. history.
"Today is a major drive to take the cash out of carbon," declared Third Act's Bill McKibben. "We want JPMorgan Chase, Citi, Wells Fargo, and Bank of America to hear the voices of the older generation which has the money and structural power to face down their empty, weasel words on climate. We will not go to our graves quietly knowing that the financial institutions in our own communities continue to fund the climate crisis."

News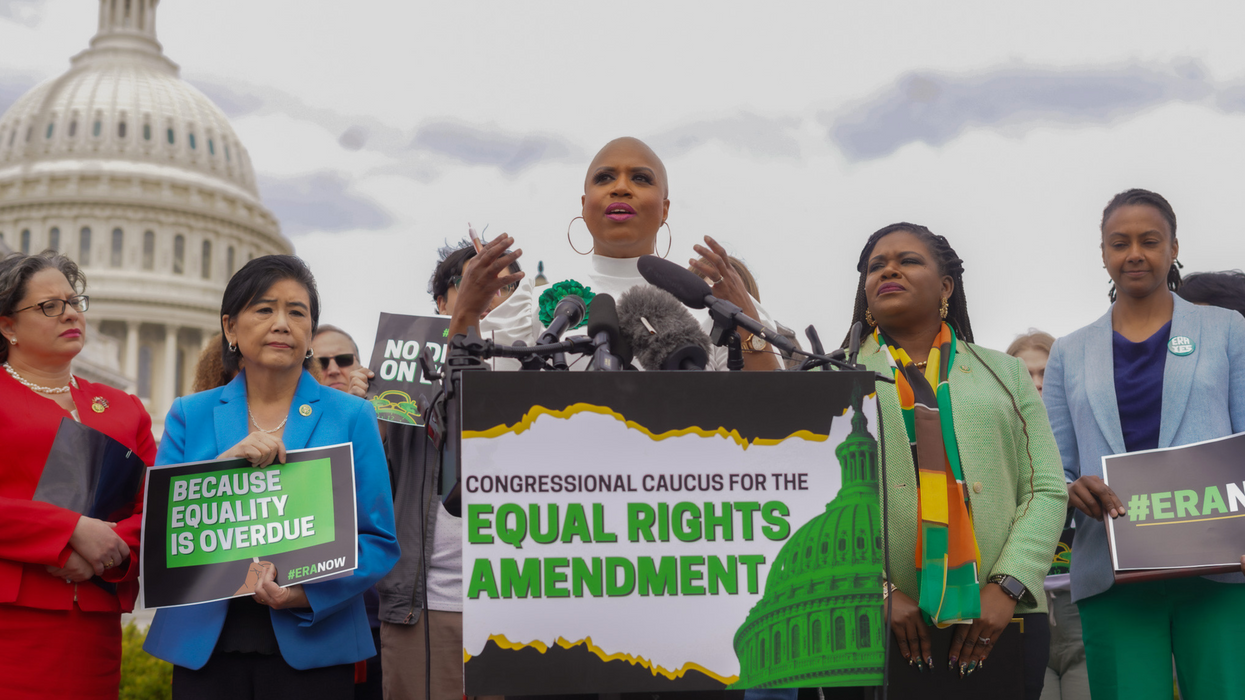 "It has been 100 years since the Equal Rights Amendment was first drafted and introduced in Congress," noted Rep. Cori Bush. "That is far too long... and we refuse to wait any longer."
A coalition of Democratic U.S. lawmakers led by Reps. Cori Bush and Ayanna Pressley on Tuesday announced the launch of a new caucus aimed at realizing the centurylong goal of adding an Equal Rights Amendment to the Constitution.
"It has been 100 years since the Equal Rights Amendment was first drafted and introduced in Congress, and more than a half century since both chambers passed it," Bush (D-Mo.) said in a statement announcing the founding of the Congressional Equal Rights Amendment Caucus. "That is far too long for women, Black and Brown folks, LGBTQ+ people, and other marginalized groups to wait for constitutional gender equality—and we refuse to wait any longer."
Pressley (D-Mass.) said: "I am proud to launch the ERA Caucus with my sister-in-service Congresswoman Bush to affirm the Equal Rights Amendment as the 28th Amendment to the Constitution, establish gender equality as a national priority, and center our most vulnerable and marginalized communities, who stand to benefit the most."
\u201cToday, @AyannaPressley and I are launching the ERA Caucus \u2014 100 years after the Equal Rights Amendment was first introduced in Congress.\n\nWe are joining forces to make sure that equality becomes enshrined in the supreme law of our land.\n\nEquality is overdue.\u201d

— Cori Bush (@Cori Bush) 1680030712
Caucus member Rep. Summer Lee (D-Penn.) said that "it's not shocking that when the Constitution was first drafted, women, Black, Brown, queer, and marginalized folks were intentionally written out. What is shocking is that in 2023, our Constitution still does not include equal rights regardless of sex—meaning our Constitution still does not reflect or protect all people."
"To the right-wing politicians and judges waging a full-on assault on the rights of women and queer youth, we're not afraid and we won't be silenced," Lee added. "We're organized and mobilized to make equal rights the law of the land."

After passing the House in 1971 and the Senate the following year, the ERA was submitted to the states for ratification. Congress set a March 1979 deadline for ratification; only 35 of the requisite 38 states approved the proposal by that time. Although the deadline was extended until 1982, no more states ratified the amendment and several state legislatures voted to rescind their ratifications.
\u201cThrilled to join @RepCori and @RepPressley today to found @ERACaucus and fight for gender equality. Women were deliberately left out of the Constitution, but with the #EqualRightsAmendment, we can guarantee equal rights for all people under the law.\u201d

— Judy Chu (@Judy Chu) 1680029701
A 21st-century effort to revive the ERA saw Nevada, Illinois, and Virginia approve the measure in recent years. Supporters say 38 states have now backed the ERA, although there is uncertainty over the expired deadlines and rescinded ratifications.

Pressley's office said that in addition to affirming the ERA, the new congressional caucus will "raise awareness in Congress to establish constitutional gender equality as a national priority; partner with an inclusive intergenerational, multiracial coalition of advocates, activists, scholars, organizers, and public figures; and center the people who stand to benefit the most from gender equality, including Black and Brown women, LGBTQ+ people, people seeking abortion care, and other marginalized groups."
\u201cA century after the #EqualRightsAmendment was introduced, we\u2019re still waiting. \n\nAs a Vice Chair on the @DemWomenCaucus, I applaud @RepCori and @RepPressley for launching the @ERACaucus. \n\nLet\u2019s get it done. #ERANow\u201d

— Rep. Teresa Leger Fern\u00e1ndez (@Rep. Teresa Leger Fern\u00e1ndez) 1680041462
In a Tuesday interview with The Hill, Pressley said she was "thinking a lot about my 14-year-old daughter, Cora, and how I do not want her to continue to live in a country in a world where we have so conflated and normalized the disparate treatment and outcomes and disparate access and the second-class status it is to be a woman in this society."
"I look forward to the day when calendars will say and on this day in history, the ERA caucus was established," she added, "but I really look forward to the day when our calendars will say on this day in history, the ERA was passed."
News
SUPPORT OUR WORK.
We are independent, non-profit, advertising-free and 100%
reader supported.