For Immediate Release
Contact:
Sam Husseini, (202) 347-0020; or David Zupan, (541) 484-9167
Former US Diplomat Got Stake in Iraqi Oil
WASHINGTON
The New York Times reports today: "Peter W. Galbraith, an influential former American ambassador, is a powerful voice on Iraq who helped shape the views of policy makers like Joseph R. Biden Jr. and John Kerry. In the summer of 2005, he was also an adviser to the Kurdish regional government as Iraq wrote its Constitution -- tough and sensitive talks not least because of issues like how Iraq would divide its vast oil wealth.
"Now Mr. Galbraith, 58, son of the renowned economist John Kenneth Galbraith, stands to earn perhaps a hundred million or more dollars as a result of his closeness to the Kurds, his relations with a Norwegian oil company and constitutional provisions he helped the Kurds extract."
REIDAR VISSER
The story broke in the Norwegian press a month ago. On Oct. 10 Visser wrote the piece "While He Was Influencing the Shape of the Iraqi Constitution, Peter Galbraith Held Stakes in an Oilfield in Dahuk."
Today Visser wrote the piece "Galbraith Was Paid by DNO When He Sat in on Sensitive Constitutional Drafting Sessions in 2005."
JAMES PAUL
Executive director of Global Policy Forum, Paul said today: "Galbraith, a former U.S. diplomat and Congressional staffer, was working from 2003 to 2004 to prevent a strong central government from emerging in Iraq, the kind of government that might prevent big foreign oil companies from returning to control the country's resources. Now we know that under the guise of sympathy for the Kurds, he had another very personal goal -- millions in personal profit from an oil deal that a Norwegian company struck with the Kurdish regional government." (Galbraith wrote a book titled The End of Iraq.)
Paul added: "This story is about one person's greed, but it's symbolic of the central and corrupting effect of oil on all Iraq policy. The smaller companies were getting the early contracts in the Kurdish area, but the big game was the major companies' efforts to control the supergiant fields in the south under very favorable terms.
"It's a fascinating window into the race to control the future world energy system, at a time when oil is clearly running out."
Paul has written several pieces about oil including "Oil in Iraq: The Heart of the Crisis," featured on the Global Policy Forum's "Oil in Iraq" webpage.
Also see, by Glenn Greenwald, "The Sleazy Advocacy of a Leading 'Liberal Hawk': Peter Galbraith's vast, undisclosed financial interests in the policies he spent years advocating as an 'expert.'"
A nationwide consortium, the Institute for Public Accuracy (IPA) represents an unprecedented effort to bring other voices to the mass-media table often dominated by a few major think tanks. IPA works to broaden public discourse in mainstream media, while building communication with alternative media outlets and grassroots activists.
LATEST NEWS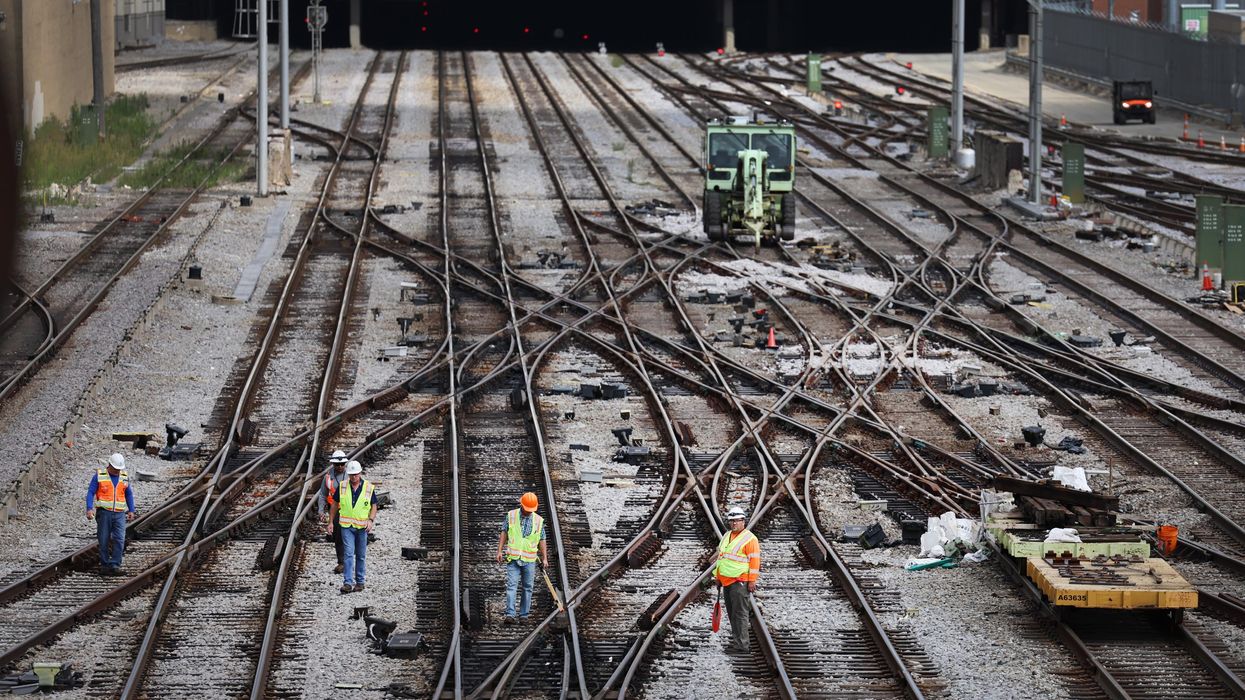 "You can't just replace the manpower with a machine when it's not always as effective," said one railroad worker.
With railroad operator Norfolk Southern involved in numerous significant train derailments and other accidents in recent weeks, the company on Monday unveiled a "six-point safety plan" that officials claimed would "immediately enhance the safety of its operations."
But critics including rail workers were quick to point out that one aspect of the plan could worsen the growing problem of reduced railroad crews, which they say has contributed to dangerous conditions on railroads.
The plan calls for a number of improvements to Norfolk Southern's systems to detect overheated wheel bearings, which the National Transportation Safety Board said in a preliminary report appeared to be the cause of the train derailment in East Palestine, Ohio on February 3.
In addition, Norfolk Southern said it aims to accelerate its "digital train inspection program" by partnering with Georgia Tech Research Institute to develop new safety inspection technology the company claims could "identify defects and needed repairs much more effectively than traditional human inspection."
The technology would use "machine vision and algorithms powered by artificial intelligence," the plan reads—offering what journalist Sam Sacks said is likely a thinly veiled proposal for "further reductions" in the company's workforce.
\u201cNorfolk Southern put forward a safety plan that likely includes further reductions in its workforce.\u201d

— Sam Sacks (@Sam Sacks) 1678116938
As Common Dreams reported last month, the national inter-union organization Railroad Workers United (RWU) has called for comprehensive legislation and robust action from regulators to keep rail workers and communities safe, warning that rail companies including Norfolk Southern have been lobbying for years for federal approval to reduce train crews and loosen safety protocols.
Rather than rail companies developing safety plans themselves, federal action is needed to guarantee "proper and adequate maintenance and inspection of rail cars and locomotives, track, signals, and other infrastructure, RWU co-chair Gabe Christenson said in a statement Monday.
Rail workers have "predicted stuff like" an increased reliance on automation, railroad worker and RWU steering committee member Matt Weaver told Common Dreams on Tuesday, as "the Precision Scheduled Railroading [PSR] business model" used by rail companies "calls for doing more with less."
Under PSR, rail companies attempt to maximize profits by running trains on strict schedules and cutting back on equipment and staff. Railroad unions have said the system and the resulting lax safety protocols are an underlying cause of recent train accidents including the East Palestine derailment, another derailment that took place in Michigan less than two weeks later, and a collision between a Norfolk Southern train and a dump truck on Tuesday in Ohio, in which conductor Louis Shuster was killed.
Weaver noted that RWU and his own union, the Brotherhood of Maintenance of Way Employes Division (BMWED), aren't opposed to the use of automation in inspections entirely.
"We used to have 12-man gangs that put all the ties in by hand and everything, and now we have lots of machines which do help us live longer and not have our backs or our hips, knees, shoulders [get injured]," he told Common Dreams. "But you can't just replace the manpower with a machine when it's not always as effective. Eyes on the rails and the tracks can catch some things the machines do not."
"We've accepted those as additional help," he added. "Not as a replacement."

Last year, as railroad companies including Norfolk Southern demanded that the Federal Railroad Administration (FRA) allow them to continue pilot programs testing automated safety inspections, BMWED noted that according to FRA data, the causes of 48 train accidents that took place between 2016 and 2021 could only be detected through visual inspections while just 14 could be detected through "enhanced track geometry inspection" done by machines.

"Over 50% of the accidents that happened from 2016 to 2021 do not even have the ability to be found by the technology that they're looking to use," Roy Morrison, director of safety for the union, toldFreight Waves last May.
In recent days rail unions have denounced an attempt by Norfolk Southern to use workers' demands for paid sick leave against them—offering BMWED members four days of sick leave in exchange for the union's support for its automated inspection program.
"Norfolk Southern's proposal was ultimately for the union to be complicit in Norfolk Southern's effort to reduce legally required minimum track safety standards through supporting their experimental track inspection program without a sensible fail-safe or safety precautions to help ensure trains would not derail," wrote Jonathon Long, general chairman of the American Rail System Federation of the BMWED, in a letter to Ohio Gov. Mike DeWine. "In other words, Norfolk Southern's proposal was to use your community's safety as their bargaining chip to further pursue their record profits under their cost-cutting business model."
Weaver argued that strong comprehensive railroad safety legislation is needed to compel railroad companies to keep workers and communities safe. RWU has expressed support for some aspects of the bipartisan Railway Safety Act of 2023, introduced last week, but warned that loopholes will allow companies to "avoid the scope of the law without violating the law" and ultimately use the legislation to reduce staff.
"That's kind of their ultimate goal," Weaver told Common Dreams. "And you can't trust a capitalist industry, a for-profit industry to self-regulate. We have to have government intervention. So it's time for the regulators to regulate and the public servants to serve the public."
News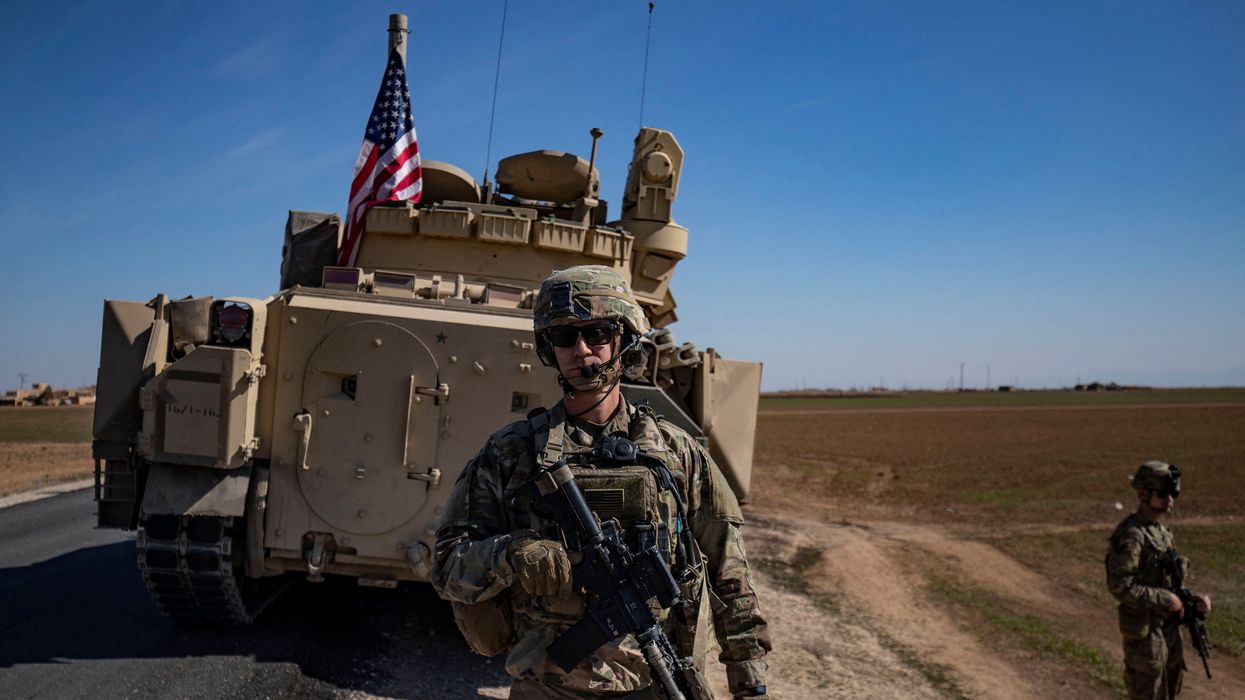 "We strongly urge all offices to vote 'yes' on the Syria War Powers Resolution in accordance with the Constitution," said the policy adviser for the watchdog group Demand Progress Action.
The leadership of the Congressional Progressive Caucus and outside advocacy groups are urging lawmakers to vote yes Wednesday on a war powers resolution aimed at ending the United States' yearslong troop presence in Syria.
Led by Republican Rep. Matt Gaetz of Florida, the resolution instructs the president to withdraw all remaining U.S. forces from Syria within 180 days of passage unless Congress debates and authorizes an extension of the occupation, which began in 2015 during the Obama administration.
More than 900 U.S. troops and hundreds of contractors are currently in Syria, and the Pentagon insists they are still needed in the country to prevent a resurgence of ISIS—a claim disputed by the official who served as the Obama administration's ambassador to Syria.
In a Tuesday note urging its more than 100 members to back the Gaetz resolution, the Congressional Progressive Caucus leadership wrote that "this measure to remove unauthorized deployment of U.S. Armed Forces in Syria unless a specific statutory authorization is enacted within six months is largely consistent with previous bipartisan efforts led by CPC members to terminate such unauthorized military presence within one year, for which 130 House Democrats voted yes last year."
Cavan Kharrazian, policy adviser for the watchdog group Demand Progress Action, said in a statement Wednesday that "while we are disappointed that Representative Gaetz did not consult the bipartisan group of organizations advocating for a Syria War Powers Resolution on the timing, language, and approach of this bill, and did not obtain an original cosponsor from across the aisle, we still fully support the policy outlined in H.Con.Res.21."
"Given that U.S. servicemembers remain in harm's way in Syria, triggering the need for a congressional vote under the War Powers Resolution, Congress owes it to them, their families, and the American people to have a serious, public debate and vote over our endless mission in Syria," said Kharrazian. "We strongly urge all offices to vote 'yes' on the Syria War Powers Resolution in accordance with the Constitution, the War Powers Resolution of 1973, and the broader bipartisan mission to reevaluate and end our endless wars overseas."
The advocacy group Just Foreign Policy echoed Kharrazian, noting that a similar measure led by Democratic Rep. Jamaal Bowman of New York last year garnered 155 House votes—not enough to pass the chamber.
"We're hopeful that Rep. Matt Gaetz's [war powers resolution] will spur more House Republicans to oppose endless war in Syria," the group wrote on Twitter.
A vote in the Republican-controlled House is expected Wednesday afternoon.
"Given that U.S. servicemembers remain in harm's way in Syria, triggering the need for a congressional vote under the War Powers Resolution, Congress owes it to them, their families, and the American people to have a serious, public debate and vote over our endless mission in Syria."
Also backing the resolution is Robert Ford, the Obama administration's Syria ambassador who previously supported U.S. intervention in the country.
In a letter to Congress obtained by The Intercept, Ford wrote that "after more than eight years of military operations in Syria there is no definition of what the 'enduring' defeat of ISIS would look like."
"We owe our soldiers serving there in harm's way a serious debate about whether their mission is, in fact, achievable," Ford added.
While President Joe Biden has not added to the U.S. troop presence in Syria, he has authorized special forces operations and several airstrikes in the country without congressional approval, drawing criticism from progressive lawmakers and foreign policy analysts who argued the actions lacked legal authority.
"This is not an ambiguous case," Rep. Ro Khanna(D-Calif.) said after the U.S. military carried out airstrikes in 2021. "The administration's actions are clearly illegal under the United States' law and under international law."
Khanna, a member of the CPC, wrote on Twitter late Tuesday that he is a yes on the Gaetz resolution.
The Intercept's Ryan Grim noted Tuesday that "in 2019, Gaetz and a handful of other Republicans backed President Donald Trump's push for an end to the U.S. presence there and were joined by [Rep. Ilhan] Omar and Rep. Alexandria Ocasio-Cortez(D-N.Y.), who bucked their party to back Trump's proposed withdrawal."
"Trump, while urging a withdrawal, also said he'd leave behind a force to 'keep the oil," Grim continued. "He suggested a major American firm like ExxonMobil would come in to exploit Syria's oil, but so far, no big American company has been involved, and the Kurds are exporting oil largely in collaboration with al-Assad's government."
Omar, the deputy chair of the CPC, told Grim that while she wishes "Gaetz worked more closely with the coalition of groups that have been working on this and the CPC," she plans to vote yes on the Syria war powers resolution.

News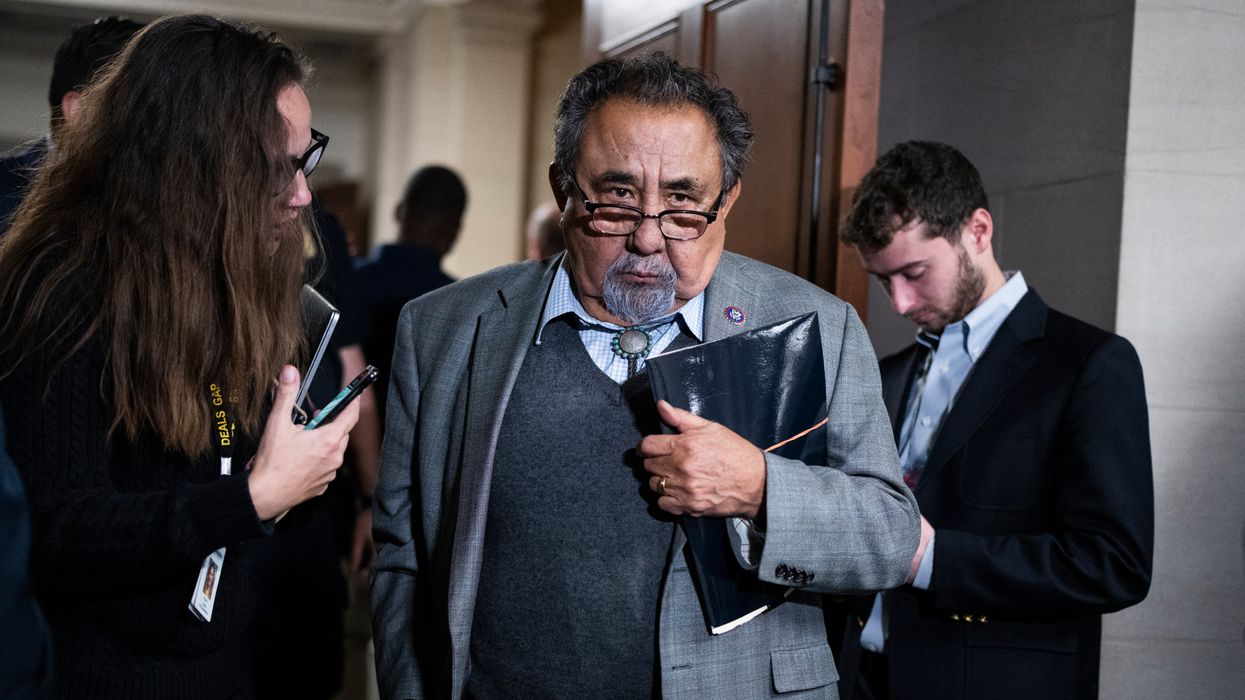 Rep. Raúl Grijalva said the practice "serves two purposes: lining the pockets of private prison companies and acting as a useless deterrent to prevent migrants from seeking their legal right to asylum."
Reports that the Biden administration is considering a plan to revive migrant family detentions drew outrage from members of the president's own party on Tuesday, with Democratic lawmakers imploring the White House to reject the cruel practice that it largely shut down in late 2021.
Rep. Raúl Grijalva (D-Ariz.), who condemned the use of family detention under the Obama and Trump administrations, said in a statement that the policy "serves two purposes: lining the pockets of private prison companies and acting as a useless deterrent to prevent migrants from seeking their legal right to asylum."
"This failed policy is callous and inhumane," Grijalva added. "I urge President Biden to instead focus on the root causes of migration, expanding our nation's asylum process to ensure that it is fair, humane, and orderly, and reunite the children forcibly separated under the previous administration."
On Tuesday evening, Reps. Pramila Jayapal(D-Wash.), Judy Chu (D-Calif.), and Nanette Barragán (D-Calif.)—respectively the chairs of the Congressional Progressive Caucus, the Congressional Asian Pacific American Caucus, and the Congressional Hispanic Caucus—issued a joint statement calling on the Biden administration to dismiss "this wrongheaded approach."
To bolster their case against family detention, the trio quoted Biden's Homeland Security Secretary Alejandro Mayorkas, who declared in March 2021 that "a detention center is not where a family belongs."

"We should not return to the failed policies of the past," the lawmakers said. "There is no safe or humane way to detain families and children, and such detention does not serve as a deterrent to migration. We strongly urge the administration to reject this wrongheaded approach."
The responses from Democratic lawmakers came as the White House refused to say whether family detention is under consideration as the administration prepares for the May lapse of Title 42, a Trump-era migrant expulsion policy that Biden has expanded despite claiming to oppose it.
\u201cPresident Joe Biden wants to bring back family detention.\n\nLet me remind you what family detention is. These are basically jails where the government locks up immigrant mothers with their children.\n\nSounds inhumane? They are.\ud83d\udc47\ud83c\udffeThis was the T. Don Hutto detention center.\u201d

— Erika Andiola (@Erika Andiola) 1678210780
Speaking to reporters on Tuesday, White House Press Secretary Karine Jean-Pierre dodged questions about family detention, calling reports on the administration's internal policy discussions "rumors."
"I'm not saying it's being considered," said Jean-Pierre, "and I'm not saying it is not. I'm saying that I'm not going to speak to rumors. There are rumors out there. Clearly, the Department of Homeland Security is working through ways on how to move forward once Title 42 is lifted. I'm just not going to get into speculations."
Citing an unnamed source "working closely with the White House migrant policy team," The New Republic's Pablo Manríquez reported Tuesday that White House domestic policy adviser Susan Rice—who previously served as national security adviser under the Obama administration—"has been pushing for a reinstatement of family detention."
Immigration and Customs Enforcement (ICE) facilities that previously held migrant families who crossed into the U.S. via the southern border are now used to detain individuals. The Biden administration's current policy allows families to enter the U.S. under surveillance as their cases proceed through the court system.

One unnamed official toldThe Guardian on Tuesday that if families are detained under new Biden administration policy, "they would be held for short periods of time, perhaps just a few days, and their cases expedited through immigration court."
That the Biden administration would even consider returning to family detention infuriated immigrant rights groups, some of which took legal action against previous administrations over the policy.
"This shameful and immoral practice, which President Biden has rightly condemned and discontinued, inflicts lasting harm on children and families," said Kica Matos, executive vice president of programs and strategy at the National Immigration Law Center. "It goes against the values we aspire to as a nation, while doing nothing to advance a humane and orderly immigration system."
"Reviving family detention sets us back and sends a misguided message that criminalizing those seeking refuge is the right solution," Matos argued. "It would be a grave error and a new low for an administration already down a backwards path of embracing failed deterrence policies at the border."
Anthony Romero, the ACLU's executive director, vowed that his organization will fight Biden "every step of the way" if he revives family detention.
"How we choose to respond to the children and families fleeing violence and persecution who come to our border seeking safety says a lot about who we are as a nation," said Romero. "Putting children and their parents behind barbed wire to deter them from seeking safety should shock the conscience of every American who believes in fairness, safety, and basic human dignity for all people."
News
SUPPORT OUR WORK.
We are independent, non-profit, advertising-free and 100%
reader supported.