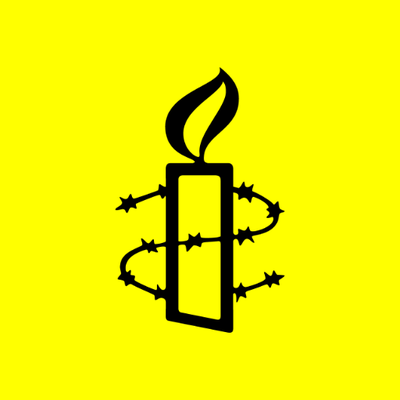 For Immediate Release
Contact:
AIUSA media office, 202-544-0200 x302
New Amnesty International Report Says No Justice Ten Years After Independence Vote in Timor-Leste
Human Rights Organization Calls for the U.N Security Council to Establish an International Criminal Tribunal for Justice Impunity in Timor-Leste
WASHINGTON
The U. N. Security Council should establish an International Criminal tribunal with jurisdiction over all grave human rights violations surrounding Timor-Leste's 1999 independence referendum and in the previous 24 years of Indonesian occupation, said Amnesty International in a report published today to mark the 10th anniversary of independence.
A decade after Timor-Leste voted for independence, a culture of impunity continues to haunt the country's people.
Based on a mission to Timor-Leste in June, Amnesty International's report 'We Cry for Justice, Impunity persists 10 years on in Timor-Leste', outlines how most perpetrators of crimes committed between 1975 and 1999, including those in command at the time, have yet to be prosecuted before a credible, independent and impartial tribunal, either in Indonesia or Timor-Leste.
"Despite national and internationally sponsored justice initiatives, the people of Timor-Leste continue to be denied justice and reparations. In 1999, anti-independence militias, supported by the Indonesian military, killed more than a thousand Timorese in front of the world but there has not been proper accountability for these atrocities," said Donna Guest, Amnesty International's Asia-Pacific deputy director.
"Disappointed Timorese victims provided testimonies time and time again to various mechanisms, but they have still not seen significant signs of accountability," said Guest.
While a number of low-level perpetrators have been convicted, most of those suspected of crimes against humanity are still at large in Indonesia.
The Timorese and Indonesian governments have chosen to avoid justice for the victims of the grave human rights violations in Timor-Leste by pursuing initiatives such as the joint Indonesia - Timor-Leste Truth and Friendship Commission in 2005, which does not provide for prosecutions of perpetrators.
"The path pursued by these two governments has weakened the rule of law in both countries," said Guest. "The victims need a clear commitment by the Indonesian and Timor-Leste governments and the United Nations to investigate all allegations and bring to justice those responsible for the grave human rights violations committed between 1975 and 1999."
The U.N. Security Council, which had previously been a vocal proponent of justice for victims of the 1999 violence, has failed in recent years to follow up on its commitments to the Timorese people. Amnesty International urges the U.N. Security Council to put in place a long-term comprehensive plan to end impunity for these crimes, including establishing an international criminal tribunal with jurisdiction over all crimes committed in Timor-Leste under Indonesian occupation, between 1975 and 1999.
Background
On August 30, 1999, the Timorese people voted overwhelmingly in favour of independence. At least 1,200 people died in the lead-up to the polls and its aftermath, which were marred by crimes against humanity, and other serious human rights violations at the hands of pro-Indonesian militias backed by the Indonesian military. They included unlawful killings, enforced disappearances, sexual violence, arbitrary arrests, threats and intimidation of Timorese people. These abuses have been well documented by human rights organizations and expert bodies, in particular the 2,800 page 'Chega!' report by the Commission for Reception, Truth and Reconciliation (CAVR).
Among the justice initiatives put in place since 1999 are the ad hoc Human Rights Court established by Indonesia and the U.N. Special Panels in Timor- Leste. All 18 defendants originally tried for crimes committed in Timor-Leste during 1999 by the ad hoc Human Rights Court have been acquitted in proceedings criticized as being fundamentally flawed. In Timor-Leste, only one person convicted by the U.N. Special Panels is still serving a prison sentence.
Amnesty International is a Nobel Peace Prize-winning grassroots activist organization with more than 2.2 million supporters, activists and volunteers in more than 150 countries campaigning for human rights worldwide. The organization investigates and exposes abuses, educates and mobilizes the public, and works to protect people wherever justice, freedom, truth and dignity are denied.
Amnesty International is a global movement of millions of people demanding human rights for all people - no matter who they are or where they are. We are the world's largest grassroots human rights organization.
(212) 807-8400
LATEST NEWS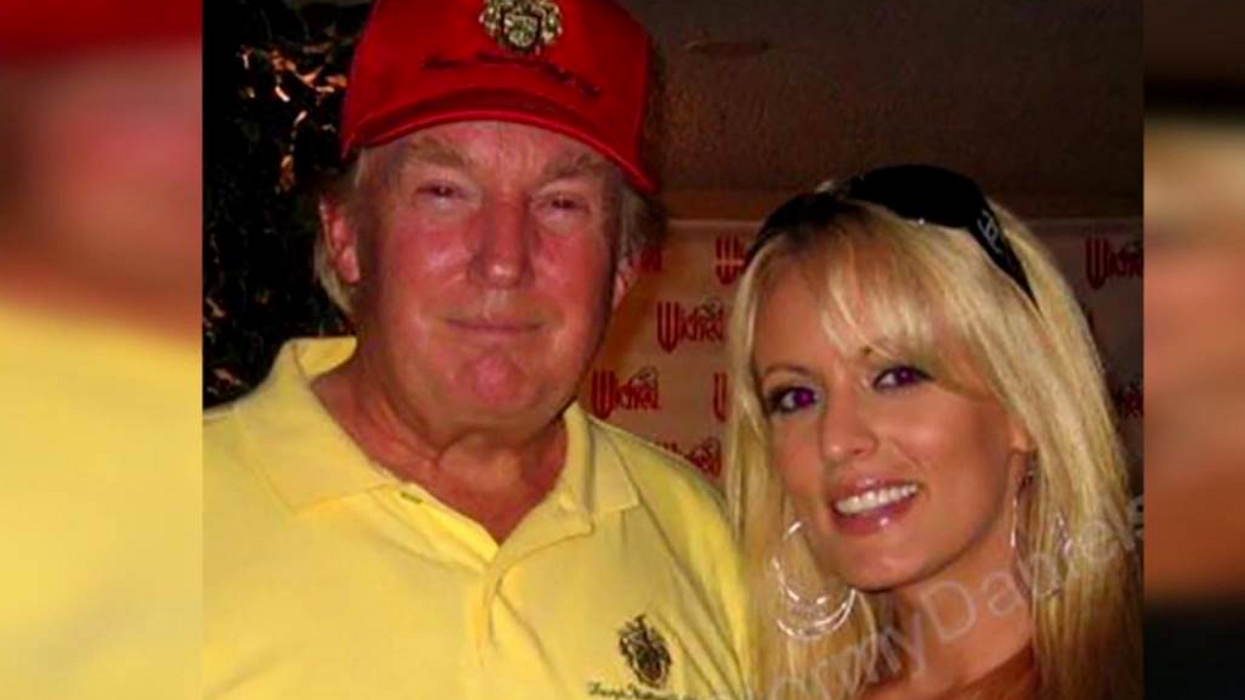 One legal expert called the report "huge news" indicating that an indictment of the former president is "imminent."
Former U.S. President Donald Trump may soon face criminal charges in connection with the payment of hush money to the adult entertainer Stormy Daniels, The New York Times reported Thursday, citing four unnamed "people with knowledge of the matter."
According to the Times, prosecutors with the Manhattan district attorney's office extended an offer for Trump to testify next week before a grand jury considering the evidence in the prospective case against the twice-impeached ex-president, who is seeking the Republican nomination for 2024.
As Times reporters William K. Rashbaum, Ben Protess, and Jonah E. Bromwich noted:
Such offers almost always indicate an indictment is close; it would be unusual for the district attorney, Alvin L. Bragg, to notify a potential defendant without ultimately seeking charges against him.

In New York, potential defendants have the right to answer questions in the grand jury before they are indicted, but they rarely testify, and Mr. Trump is likely to decline the offer. His lawyers could also meet privately with the prosecutors in hopes of fending off criminal charges.

Any case would mark the first indictment of a former American president, and could upend the 2024 presidential race. It would also elevate Mr. Bragg to the national stage, though not without risk.
At issue is a $130,000 payment made to Daniels—an adult film star who claims she had an affair with Trump—by former fixer Michael Cohen during the last days of the 2016 U.S. presidential election. Trump subsequently reimbursed Cohen for the payment. Cohen has not yet testified before the grand jury, but is expected to do so on an undetermined date.
"Trump has faced an array of criminal investigations and special counsel inquiries over the years but has never been charged with a crime, underscoring the gravity of Mr. Bragg's inquiry," the Times trio wrote.
The journalists further asserted that "Bragg could become the first prosecutor to charge Mr. Trump, but he might not be the last," noting that the Fulton County District Attorney's Office in Georgia is investigating whether the former president interfered in the 2020 election.
"And at the federal level, a special counsel is scrutinizing Mr. Trump's effort to overturn the election results, as well as his handling of classified documents," the reporters added.

Mark Pomerantz—one of two prosecutors involved with the Manhattan district attorney's investigation of the ex-president who resigned in protest last year—wrote in his new book, People vs. Donald Trump: An Inside Account, that "we developed evidence convincing us that Donald Trump had committed serious crimes" involving his finances and business practices.
"As we put the facts together, many of us came to believe that we had enough evidence to convict him, and we could present a solid case in court that would lead to a guilty verdict," Pomerantz related.
He continued:
I believe that Donald Trump is guilty of numerous felony violations of the penal law in connection with the preparation and use of his annual statements of financial condition. His financial statements were false, and he has a long history of fabricating information relating to his personal finances and lying about his assets to banks, the national media, counterparties, and many others, including the American people.
Asked in a recent CBS "60 Minutes" interview what he would advise Bragg in regard to Trump, Pomerantz replied: "This was a righteous case. You should bring it. It's important. And if you made the wrong decision, make a better decision."
Bragg retorted that "after closely reviewing all the evidence from Mr. Pomerantz's investigation, I came to the same conclusion as several senior prosecutors involved in the case, and also those I brought on: More work was needed. Put another way, Mr. Pomerantz's plane wasn't ready for takeoff."
Separately, a New York jury last December found two subsidiaries of the Trump Organization, Trump's company, guilty on all counts of criminal tax fraud. The former president's organization was subsequently ordered to pay a $1.6 million penalty for what a judge called "systemic, egregious fraud."
Also last December, the former congressional committee that investigated the January 6, 2021 attack on the U.S. Capitol by supporters of the Trump's "Big Lie" unanimously voted to recommend federal criminal charges against the former president and some of his associates in connection with the insurrection. Given Trump's 2024 presidential run, U.S. Attorney General Merrick Garland has appointed a special counsel.

News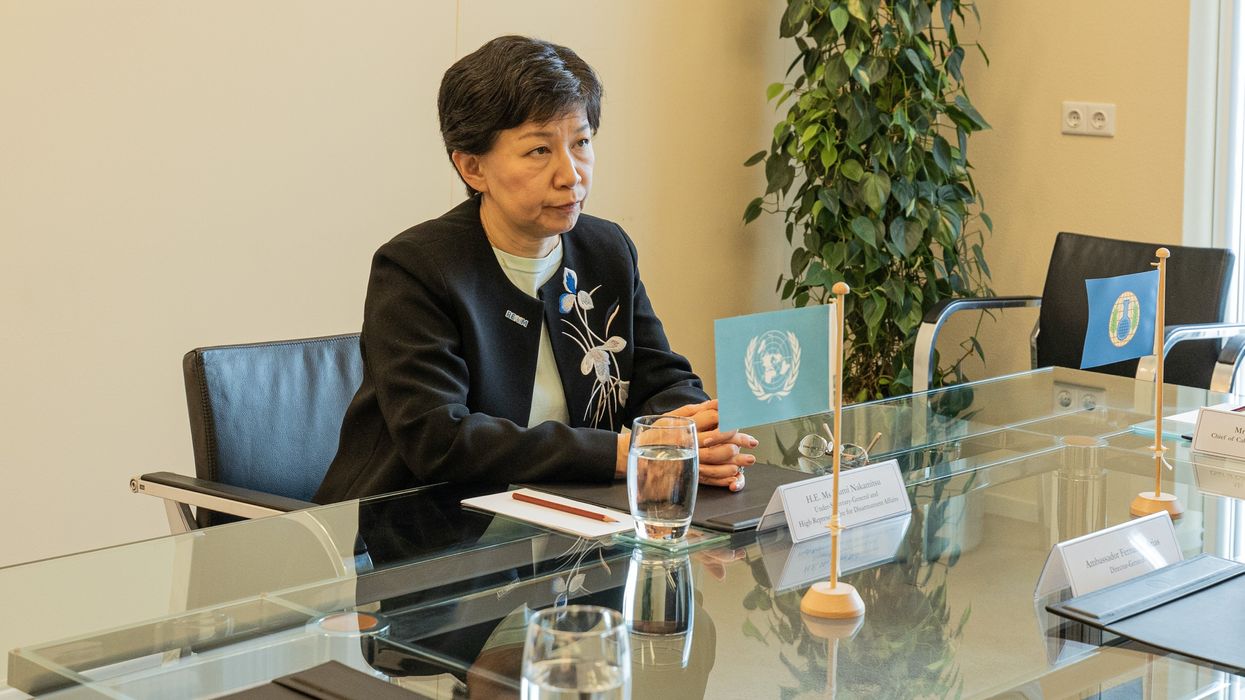 "Though we are living in a moment of increased confrontation and militarization, one fundamental truth remains unchanged: The only way to eliminate nuclear risk is to eliminate nuclear weapons."
The head of the United Nations disarmament division warned Thursday of the need for urgent global action to eliminate atomic weapons, especially during the current heightened tensions between the United States and Russia—the world's leading nuclear powers—over the latter's thermonuclear threats during its invasion of Ukraine.

Addressing attendees of the International Campaign to Abolish Nuclear Weapons' "ICAN Act On It" Forum in Oslo, Norway via a pre-recorded video message, United Nations High Representative for Disarmament Affairs Izumi Nakamitsu linked the concept of "humanitarian disarmament" with international agreements including the Convention on Cluster Munitions, the Anti-Personnel Landmine Ban Convention, and the Treaty for the Prohibition of Nuclear Weapons (TPNW).
"It is clear that a desire to avoid the unspeakable human suffering caused by the use of nuclear weapons is a driving force for nuclear disarmament efforts," Nakamitsu said. "Such efforts are needed now more than ever."
"Since the invasion of Ukraine by the Russian Federation just over one year ago, we have witnessed an increase in dangerous nuclear rhetoric," she noted. "There has been a further breakdown of trust among the two states with the world's largest nuclear arsenals. In the past weeks, we have seen the suspension of inspections under the last remaining treaty limiting the size of these arsenals."
"Nuclear risk is at the highest level since the depth of the Cold War," said Nakamitsu, who highlighted "five key measures that can be taken" to "reverse current dangerous trends":
State parties to the TPNW should make headway in implementing their treaty and continue to forcefully advocate for its principles;
States that have yet to sign or ratify the TPNW should make a serious study of the treaty that takes into account its articles, its normative value, and its operation to date;
States that choose to remain outside the TPNW should use the avenues available to them—including victim assistance, environmental remediation, nuclear disarmament verification, and further study of the humanitarian consequences of nuclear weapons—to make progress on nuclear disarmament;
States should condemn nuclear threats and blackmail and demand progress toward the total elimination of nuclear weapons—not in spite of, but precisely because of today's deteriorating security environment; and
Civil society must continue to hold states—and the United Nations—accountable for living up to their promises, and for making tangible progress toward our shared goal of a world free of nuclear weapons.
To date, 92 nations have signed the TPNW, while 68 countries are state parties to the agreement,
according to
the United Nations Office for Disarmament Affairs. None of the world's nine nuclear powers has signed the treaty.
"Though we are living in a moment of increased confrontation and militarization, one fundamental truth remains unchanged: The only way to eliminate nuclear risk is to eliminate nuclear weapons," Nakamitsu concluded. "This remains the highest disarmament priority of the United Nations and we will continue to work with all member states and all other stakeholders to that end."
News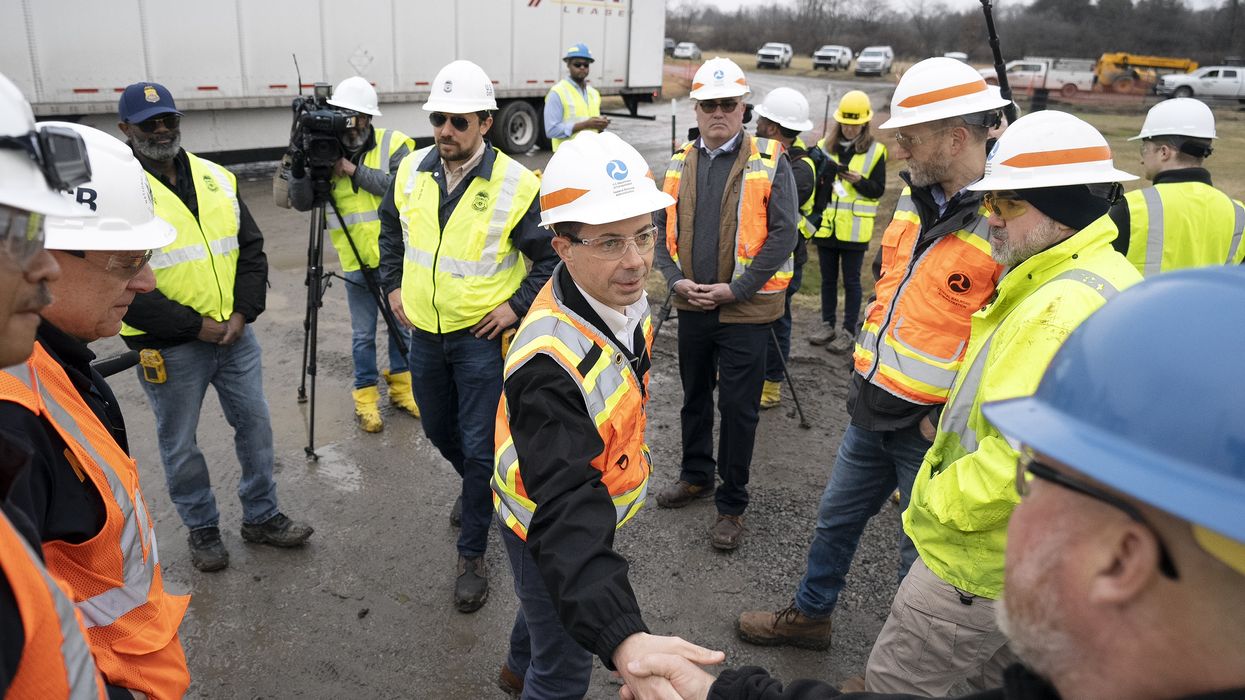 "While the serious health impacts of the derailment in East Palestine have only just begun to emerge, we know that toxic spills like these can be devastating to communities and families for decades," said one advocate.

As industry employees push for improvements to bipartisan railway safety legislation and reject efforts by rail companies to introduce new safety rules on their own, one public health advocacy group on Thursday called on the Biden administration to do everything in its power to make trains safer for workers and American communities.
Last month's train derailment in East Palestine, Ohio—which sent toxic chemicals into the environment as officials conducted a controlled release of the vinyl chloride that was carried by the train—was the result of successful lobbying by the rail industry against safety regulations, said Wenonah Hauter, executive director of Food & Water Watch.
U.S. Transportation Secretary Pete Buttigieg and President Joe Biden have the power to reinstate crucial Obama-era regulations that could prevent further accidents, said the group.
"Secretary Buttigieg and this administration must act immediately to reduce the risks of these horrific derailments by first reestablishing the commonsense rail freight safety standards implemented by [former President Barack] Obama and unconscionably rolled back by [former President Donald] Trump," said Hauter.
The Trump administration in 2018 rolled back regulations mandating the use of highly responsive electronic braking systems for trains carrying oil and other flammable materials.
A preliminary report by the National Transportation Safety Board (NTSB) found that an overheated wheel bearing rather than the brake system was likely behind the derailment of the Norfolk Southern train in East Palestine, but a number of other derailments in recent weeks have prompted calls for the regulations to be reinstated immediately.
On Thursday, just before the CEO of Norfolk Southern testified before the Senate Environment and Public Works Committee and apologized for the accident, another train owned by the company left the tracks in Alabama. CEO Alan Shaw was informed of the accident by Sen. Sheldon Whitehouse (D-R.I.), who said, "You may need to look into that."
On Wednesday, a train owned by freight company CSX derailed in Sandstone, West Virginia and released an "unknown" quantity of diesel fuel and oil into the New River.

"While the serious health impacts of the derailment in East Palestine have only just begun to emerge, we know that toxic spills like these can be devastating to communities and families for decades," said Hauter. "All trains carrying dangerous toxic chemicals should be classified as 'high-hazard flammable trains,' which would require more stringent safety requirements and notice to state and local officials of their contents."
"These are actions," she added, "that Secretary Buttigieg and the administration can and must make immediately."
News
SUPPORT OUR WORK.
We are independent, non-profit, advertising-free and 100%
reader supported.