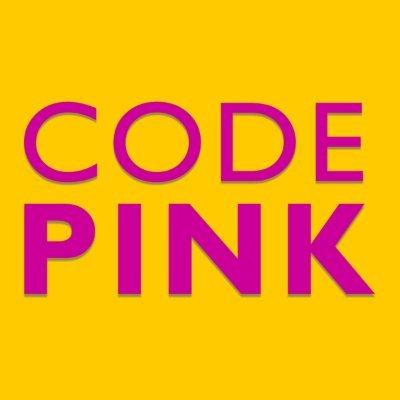 66-Member American Delegation to Attempt Entry into Gaza TOMORROW
Launches campaign urging Obama to visit Gaza next week
CAIRO
To increase international pressure for Pres. Obama to call on Israel
to end its blockade of war-torn Gaza, just days before Obama delivers
his first speech from the Arab world here, TOMORROW a 66-person,
largely American delegation will attempt to cross through the heavily policed, blockaded Egyptian city of Rafah into Gaza.
WHAT: Departure (press conference) of American delegation to Gaza, to pressure Obama, Israel to end blockade
WHEN: 9 a.m., Friday, May 29
WHERE: Outside the Saudi Arabian Airlines office, Qasr Nile St., Cairo
The delegation, which will bring toys and playground building
materials for Gazan children, will also collect signatures for an
international petition calling on Obama to visit Gaza during his
upcoming Middle East tour so he can witness the damage himself. The
delegation will deliver to the U.S. Embassy in Cairo by June 4 in time
for his historic speech.
"We think if President Obama is
serious about being even-handed and reversing our country's past
favoritism towards Israel then he should visit Gaza himself," said
Medea Benjamin, co-founder of the peace group CODEPINK and co-organizer
of the delegation. "We're sure that if he saw and heard about the
suffering personally, he would put the required pressure on the
governments of both Israel and Egypt to open the borders now."
The
international delegation, which will enter Gaza at the invitation of
the United Nations Relief & Works Agency (UNRWA), will visit with
social service agencies that care for children, deliver sports
equipment and toys to schools, and build three playgrounds.
CODEPINK,
a women-led peace group, has led several delegations to Gaza to
witness, firsthand, the devastation caused by the 22-day Israeli
military attack on the Gaza Strip that began last December. The group
is particularly concerned about the children of Gaza, who make up more
than half of the population. Approximately 400 children were killed
during the 22 day attack and an estimated 1,346 Gazan children were
left without one or both of their parents as a result of the recent
Israeli assault. The majority of the children in Gaza were traumatized
by the attack and invasion.
"If President Obama can, at the
last minute, add a visit to Saudi Arabia to have a private dinner with
the King, then he certainly can go to Gaza," said Col. Ann Wright,
co-leader of the delegation and a retired U.S. Army colonel and a
former U.S. diplomat who resigned in 2003 in opposition to the Iraq war.
CODEPINK is a women-led grassroots organization working to end U.S. wars and militarism, support peace and human rights initiatives, and redirect our tax dollars into healthcare, education, green jobs and other life-affirming programs.
(818) 275-7232
LATEST NEWS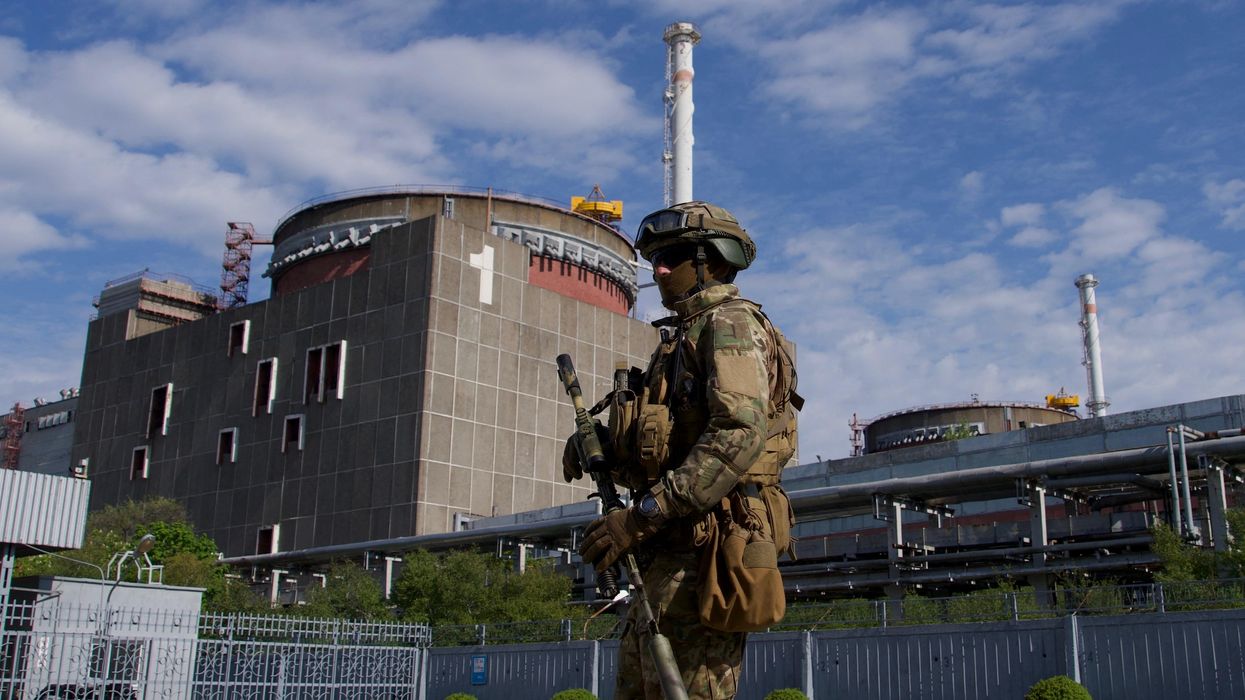 A new report found that Russian troops were likely "using the plant as a shield" in violation of the safety principles laid out by the International Atomic Energy Agency.
The Russian forces occupying Ukraine's Zaporizhzhia nuclear plant have been violating the safety principles established by the International Atomic Energy Agency, and the watchdog body has not been able to effectively monitor the situation.
That's the warning from a new Greenpeace report sent to Western leaders on Thursday, which argues that the IAEA needs to be more upfront about the reality of the situation.
"The IAEA reporting risks normalizing what remains a dangerous nuclear crisis, unprecedented in the history of nuclear power, while exaggerating its actual influence on events on the ground," wrote report authors Shaun Burnie, a senior nuclear specialist from Greenpeace East Asia, and Jan Vande Putte, a Greenpeace Belgium radiation and nuclear expert.
Russian forces seized the Zaporizhzhia plant on March 4, 2022, less than a month into the invasion.
"Since 2022 we have been deeply concerned by the multiple hazards and risks to the Zaporozhzhia nuclear plant posed by the Russian armed forces and the Russian state nuclear corporation, Rosatom," Burnie and Putte wrote.
To address these concerns, Greenpeace Germany commissioned former U.K. military specialists at McKenzie Intelligence Services to report on conditions at the plant.
"The Russian armed forces and Rosatom occupation pose a constant nuclear threat to Zaporozhzhia and must be condemned."
The result, Greenpeace said, "provides detailed evidence that the Zaporizhizhia nuclear plant is being used strategically and tactically by Russian armed forces in its illegal war against Ukraine."
For example, the report found that Russian troops were firing from positions between one and 18 kilometers (approximately 0.6 to 11 miles) from the plant, had constructed small defensive positions with sandbags on the roofs of some of the reactor halls, and are using a type of truck near the plant that is commonly used to transport weapons and combustible material.
It also concluded that both Russian forces and Rosatom are acting in violation of the five principles that IAEA Director General Rafael Mariano Grossi laid out in June to prevent a nuclear accident at the plant.
These principles are:
No launching attacks from or at the plant;
No storing weapons at the plant;
No threatening outside power sources;
Making sure all important structures are protected; and
No taking actions that go against these principles.
McKenzie found evidence that Russian forces have a firing pattern of settling in one location, attacking from another, and then moving again to avoid counterattacks. In this process, they appear to be "using the plant as a shield."
"All activity observed over the reporting period does suggest a precarious environment continues to exist at the plant," Burnie and Putte concluded.
The Greenpeace experts also reviewed the IAEA's monitoring in the context of McKenzie's findings, and argued that the agency could be more upfront about its limitations and Russia's violations.
IAEA only has four monitors for the largest nuclear plant on the continent, and they must conduct their investigation with restrictions placed on their movements and access, as well as the requirement that they make access requests a week in advance.
Despite all this, Burnie said in a statement, "the director general's reporting is incomplete and misleading, including the assessment of Russian noncompliance with safety and security principles."
"The Russian armed forces and Rosatom occupation pose a constant nuclear threat to Zaporozhzhia and must be condemned—but currently the IAEA is unable to fully report on the security and safety hazards they pose," Burnie continued. "That has to change."
The advocacy group prepared the report ahead of an IAEA discussion of the situation in Ukraine in Vienna Thursday, as well as the IAEA Board of Governors meeting October 2. On Wednesday night, Greenpeace sent copies to the board's member governments, The Guardian reported.
IAEA did not comment on the report directly. However, it told The Guardian that, without its inspectors stationed there since September 2022, "the world would have no independent source of information about Europe's largest nuclear power plant."
However, Greenpeace argued the agency could take steps to improve that information.
"Greenpeace is calling on the IAEA board member governments to review the scale and scope of the IAEA mission, and to work with member states, and in particular the government of Ukraine, to institute whatever measures that will bring maximum pressure to bear on the Russian armed forces and Rosatom at the plant and to bring about an early end to the current military occupation of the Zaporizhzhia nuclear plant," Burnie and Putte wrote.
These measures could include an improved analysis by the IAEA and sanctions against Rosatom, Greenpeace said.
News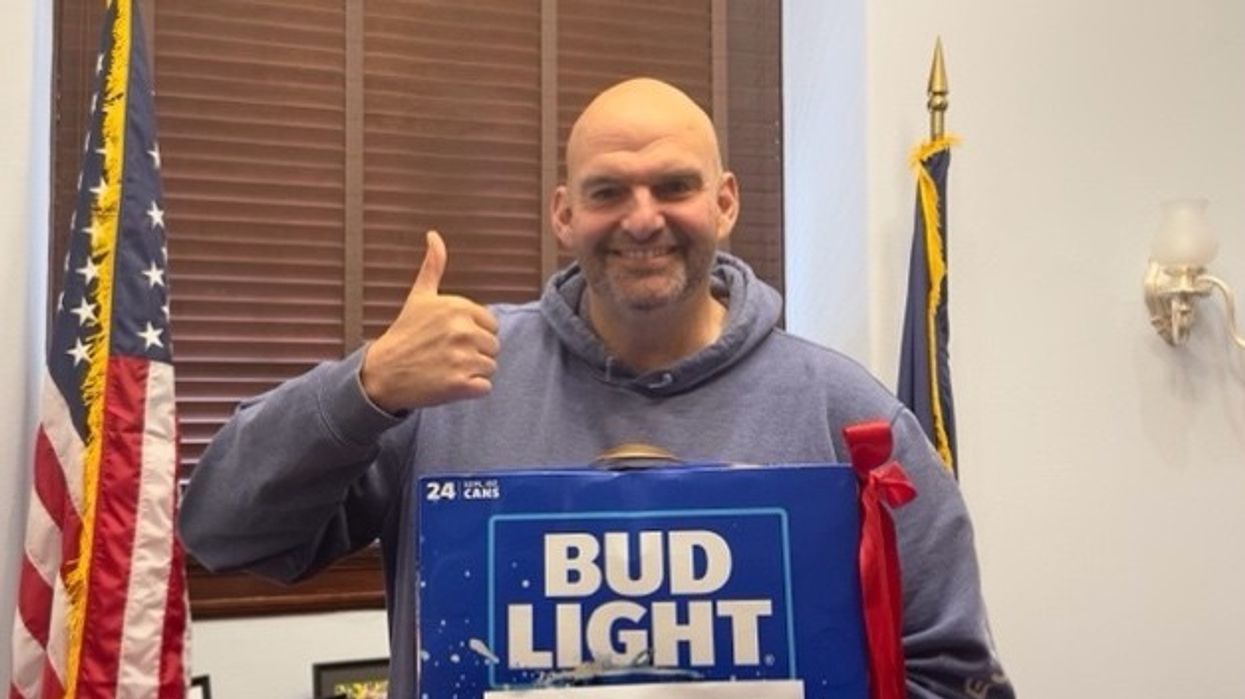 The Democrat "directed his staff to deliver a gift to the House Oversight Committee to congratulate and salute Rep. Comer and his Team America™ squad as they embark on their historic impeachment journey."
Democratic U.S. Sen. John Fetterman of Pennsylvania continued his trend of calling Republican lawmakers on "their bullshit" by delivering a case of Bud Light beer to the House Committee on Oversight and Accountability on Thursday, as the panel held its first hearing for the GOP's widely condemned impeachment inquiry into President Joe Biden.
Instead of trying to avert the looming government shutdown, House Speaker Kevin McCarthy (R-Calif.) caved to the far-right wing of his party earlier this month by announcing the impeachment probe—led by Oversight Chair James Comer (R-Ky.)—despite the lack of any evidence of wrongdoing by the Democratic president.

Fetterman's office said that the first-term senator "directed his staff to deliver a gift to the House Oversight Committee to congratulate and salute Rep. Comer and his Team America™ squad as they embark on their historic impeachment journey."
His stunt was lauded online as "top tier trolling," given that some right-wing political leaders and other transphobic figures behind attacks on LGBTQ+ people and rights have boycotted Bud Light this year because of its paid partnership with trans social media influencer Dylan Mulvaney.
Thursday was not the first time Fetterman has garnered attention for mocking the GOP's impeachment inquiry.
Asked by a journalist to comment on the probe just after McCarthy announced it, Fetterman sarcastically said in a video that quickly spread online, "Oh my gosh, you know, oh—it's devastating!"
After chuckling, he added: "OooOooo. Don't do it! Please, don't do it!"
News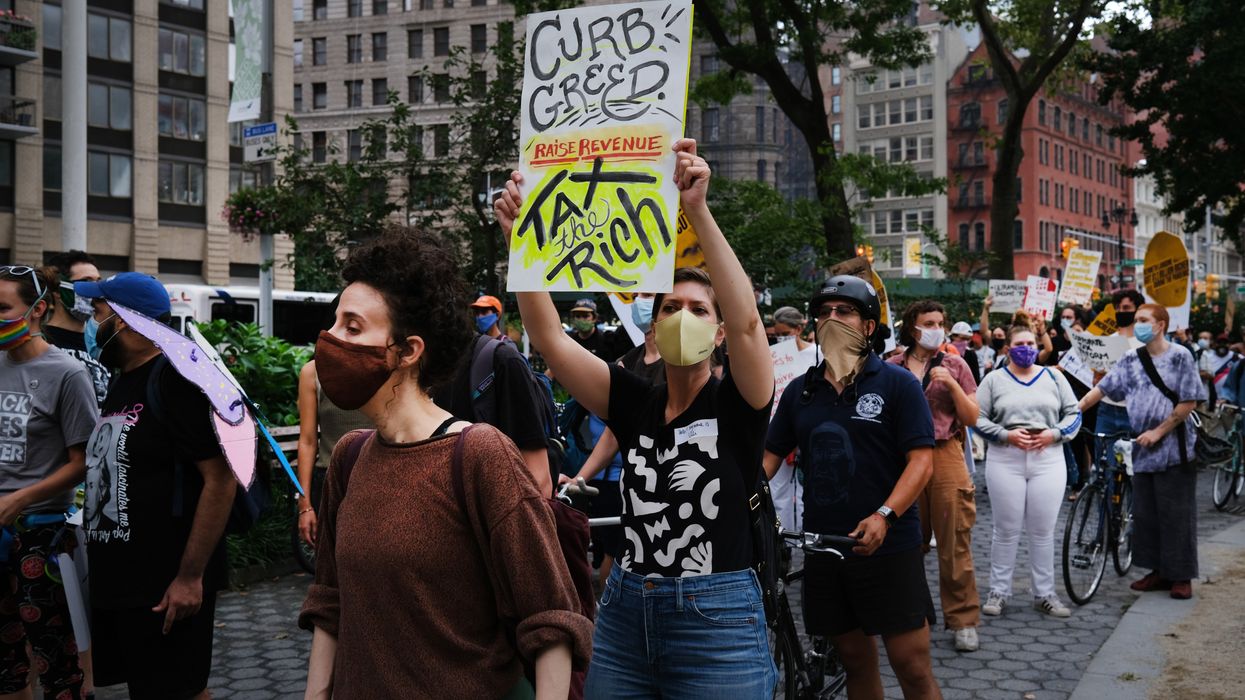 U.S. Sen. Ron Wyden called on the IRS to further strengthen tax dodging enforcement, including criminal prosecution referrals.
Citing "alarming" data provided by the federal government about the prevalence of tax evasion among the richest Americans, U.S. Sen. Ron Wyden on Thursday called on the Internal Revenue Service to crack down on "particularly brazen" high-income tax cheats and noted that Democratic initiatives have already helped to begin addressing the problem.
Writing to IRS Commissioner Danny Werfel, the Oregon Democrat and chair of the Senate Finance Committee cited data provided by the agency regarding taxes filed from 2017-20.
More than 1.4 million wealthy Americans have still not filed their taxes for those years, Wyden said, with the total amount owed to the federal government reaching "a whopping $65.7 billion"—almost enough to fund a universal childcare program for one year or a universal school lunch program for more than two years.
Nearly 1,000 people who earn $1 million per year or more have yet to file their tax returns, but Wyden wrote that the "most alarming" revelation in the data provided to his committee by the IRS "was the extraordinary amount of unpaid taxes owed by a small subset of ultra-wealthy non-filers," with the 2,000 highest-earning tax dodgers currently owing $923 million.
These high earners, said Wyden have "access to professional advisors and are well aware of their filing obligations with the IRS," but continue to withhold hundreds of millions of dollars that could support food aid, housing assistance, public health efforts, and other federal programs.
"These are people who essentially blow raspberries at the IRS," Wyden toldWashington Post columnist Greg Sargent on Thursday. "They're sophisticated people. They know this is wrong, wrong, wrong. And they do it anyway."
On social media, the senator noted that Republicans in Congress—and those running for president in 2024—aim to drain the IRS of its resources and "[make] it easier for the rich to cheat on their taxes," while Democrats included $80 billion in the Inflation Reduction Act to strengthen enforcement against tax evasion.
With the data provided to the Senate Finance Committee pertaining to 2017-20, wrote Sargent, it "underscores that when the IRS is underfunded, wealthy tax cheats benefit in a big way. An underfunded IRS is what Republicans are advocating for."
After being elected U.S. House Speaker in January, Rep. Kevin McCarthy's (R-Calif.) first action was to propose a repeal of the IRS enforcement funding. Republican presidential candidates including Florida Gov. Ron DeSantis and Sen. Tim Scott of South Carolina have also called for a repeal of the IRA provision, claiming it's an attack on working-class Americans.
But the GOP narrative about IRS enforcement contrasts with the reality, wrote Sargent.
"Unfortunately for Republicans, enforcement funded by [the IRA] has paid off—bringing in more than $38 million from 175 rich tax delinquents, the IRS announced in July," he wrote. "And this month, the agency announced plans to use the funding for still more efforts targeting wealthy tax avoiders."
With tax evasion from previous years still affecting federal coffers, Wyden told Werfel in his letter that the IRS should "initiate enforcement actions against every single millionaire non-filer as part of its ongoing effort to use Inflation Reduction Act funding to restore fairness in tax compliance."
"I also urge IRS to utilize the enforcement tools available to it for instances of willful millionaire non-filers," he added, "including referrals to DOJ for civil or criminal prosecution, liens, and levies."
News
Independent, nonprofit journalism needs your help.
Please Pitch In
Today!