For Immediate Release
Contact:
Tel: +1-212-216-1832,Email:,hrwpress@hrw.org
Governments Should Endorse Anti-Racism Declaration
UN Racism Conference Agrees Document Despite Eight-Nation Boycott
GENEVA
Governments that boycotted the UN racism conference should now demonstrate their commitment to fight racism by endorsing the conference declaration, Human Rights Watch said today. By so doing, they can ensure that the conference will be remembered for its commitment to victims of racism and not for an inflammatory speech by President Mahmoud Ahmadinejad of Iran.
The document affirms the right to freedom of expression while combating racism, and calls on governments to take action to eradicate multiple or aggravated forms of discrimination.
"Nations that attended this conference in good faith proved that it's possible to reaffirm the global commitment to fight racism, despite efforts to derail the process," said Juliette de Rivero, Geneva advocacy director at Human Rights Watch. "The adoption of this document by consensus only a day after Ahmadinejad's divisive speech is a clear message against intolerance."
The declaration takes stock of the fight against racism since the first UN racism conference in Durban in 2001, which was tainted by efforts to focus criticism on Israel. It lists some of the challenges affecting the struggle against racism, including the global rise in religious intolerance and the need to combat discrimination in the fight against terrorism.
Despite the efforts of some governments, including Iran, to single out specific situations for criticism, the document contains no reference to Israel or the Middle East and rejects the dangerous concept that religions, as opposed to individuals, could be defamed or have their rights violated. It also reaffirms the tragedy of the Holocaust and condemns anti-Semitism. In addition, it fully protects the right to freedom of expression as defined under international law, affirms and strengthens the call for the protection of migrants' rights, and acknowledges multiple and aggravated forms of discrimination.
The declaration recognizes the progress made in the codification of migrant rights, through the entry into force of the Migrant Workers' Convention and calls for its ratification. It also calls on states to better protect migrants' rights, including the rights of migrant domestic workers and migrant women. However, the declaration fails to adequately address the issue of caste discrimination, which affects more than 260 million people worldwide. Caste discrimination imposes enormous obstacles to the enjoyment of all rights and affects all areas of life. Although many states with a history of such social structures have adopted legislation to prevent discrimination on this basis, implementation is lacking, and prejudices remain socially embedded.
"States that boycotted the conference for fear it would foster hatred should be reassured by this declaration and should join the global consensus against racism," de Rivero said.
Human Rights Watch is one of the world's leading independent organizations dedicated to defending and protecting human rights. By focusing international attention where human rights are violated, we give voice to the oppressed and hold oppressors accountable for their crimes. Our rigorous, objective investigations and strategic, targeted advocacy build intense pressure for action and raise the cost of human rights abuse. For 30 years, Human Rights Watch has worked tenaciously to lay the legal and moral groundwork for deep-rooted change and has fought to bring greater justice and security to people around the world.
LATEST NEWS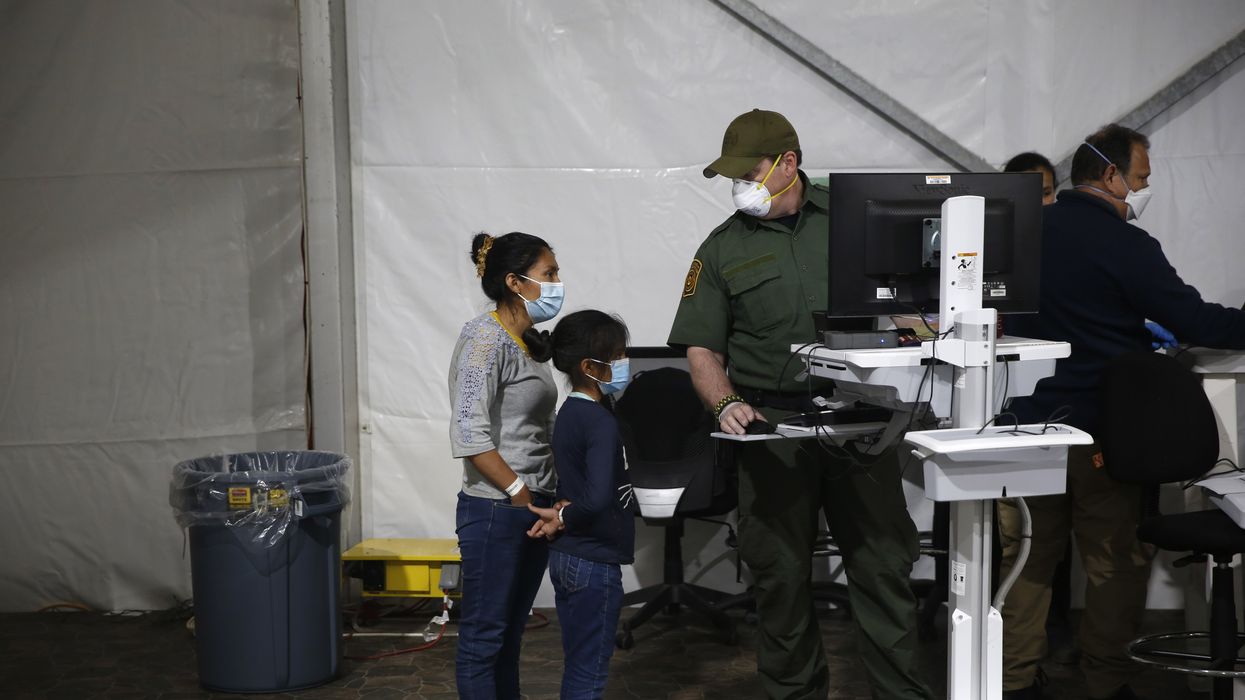 "No version of family detention, whether referred to as a detention facility, short-term processing center, emergency family staging center, or by any other name, is acceptable," the groups said.
Nearly 400 immigration justice and other advocacy groups on Wednesday added their voices to the call for President Joe Biden to reject family detention, amid reports that the White House is considering a revival of the practice that was used by the Trump and Obama administrations—despite the fact that it subjected thousands of families to numerous abuses and trauma.
The ACLU, Bend the Arc, and the National Immigration Law Center were among 383 groups that sent a letter to Biden Wednesday morning, calling on the president to keep the pledge he made when he took office in 2021 "to end family detention and to pursue just, compassionate, and humane immigration policies."
Despite that promise, as Common Dreamsreported last week, multiple media outlets have reported that the administration is considering once against detaining families in facilities that have been used under the Biden administration to detain single adults.
The groups warned that even short-term detention for families with children is "unacceptable."
"Reinstating a policy of detaining families in Immigration and Customs Enforcement (ICE) or Customs and Border Protection (CBP) custody, even for short periods of time, would be a horrifying reversal of your past policies and commitments," reads the letter. "No version of family detention, whether referred to as a detention facility, short-term processing center, emergency family staging center, or by any other name, is acceptable."
"Due process and access to counsel concerns will be magnified if the administration's recently promulgated asylum ban rule goes into effect, heightening the evidentiary standard for families to access the ability to seek protection."
The American Academy of Pediatrics (AAP) and the Department of Homeland Security's own medical experts have found that detention for any length of time, with or without parents or guardians, is harmful to children. The latter group, who served as whistleblowers when the Trump administration detained thousands of families and children, released a report in 2019 that detailed medical neglect which resulted in four deaths.
A 2017 report by AAP found that family detention centers provided "delayed medical care, inadequate education services, and limited mental health services," and that children who have been detained, even for short periods of time, "may experience developmental delay and poor psychological adjustment, potentially affecting functioning in school."
In 2016, the United Nations human rights office warned that the detention of children "can be devastating for a child and is not a legitimate response under international human rights law."
The letter sent Wednesday also noted that family detention robs families of due process, with "limited access to counsel at these facilities, making it nearly impossible to pursue protection claims under U.S. immigration law."
"These due process and access to counsel concerns will be magnified if the administration's recently promulgated asylum ban rule goes into effect, heightening the evidentiary standard for families to access the ability to seek protection," said the groups, referring to a proposed rule that would render certain undocumented immigrants ineligible for asylum.
"We urge you to reverse course on the proposed asylum ban rule, and are horrified that the punitive policy could be coupled with family detention," they continued. "This will essentially mean that these facilities will become deportation factories as families scramble to defend their asylum eligibility while trying to protect their children from the agony of detention."
The letter was sent as officials within the Biden administration are reportedly expressing concerns about the return of family detention. According to Greg Sargent at The Washington Post, ICE officials have "consistently" told the White House that "they don't want to get into the business of detaining children or families" again due to concerns about "safety, cost, and harm."
"We've seen family detentions before," a source from the agency told Sargent, "and it's been not pretty."
Biden appears motivated to introduce a crackdown on immigration to avoid criticism from the Republican Party, but as Sargent noted, "Republicans will attack him for creating no new consequences for border crossings even as we are seeing an escalation in them."
"But such attacks should be harder to mount if even ICE officials aren't on board with family detentions," he added. "And there's no reason for the administration to let fear of GOP attacks dictate anything. Instead, Biden should hew to the values that led him to criticize the practice in the first place and forcefully defend that decision."
News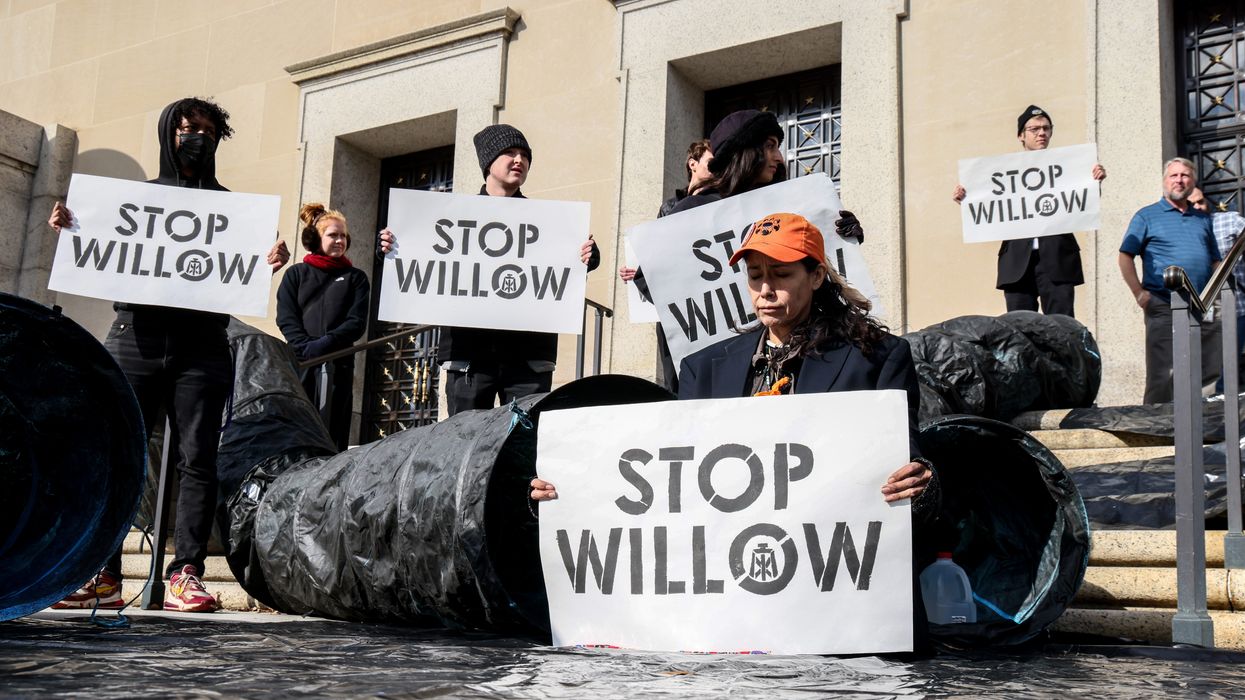 "Permitting Willow to go forward is greenlighting a carbon bomb," said one campaigner. "It would set back the climate fight and embolden an industry hell-bent on destroying the planet."
Environmental groups filed two separate lawsuits on Tuesday and Wednesday to fight the Biden administration's decision to approve a massive fossil fuel drilling project on Alaska's North Slope, a step that opened the door to hundreds of millions of tons of additional planet-warming carbon dioxide emissions.
The first lawsuit, filed by the public interest law firm Trustees for Alaska on behalf of six advocacy groups, accuses the Biden Interior Department and two of its agencies—the Bureau of Land Management and the Fish and Wildlife Service—of "violating their respective duties under the National Environmental Policy Act, the Alaska National Interest Lands Conservation Act, the Naval Petroleum Reserves Production Act, and the Endangered Species Act" by greenlighting ConocoPhillips' Willow Project.
The legal challenge specifically faults the federal agencies for "failing to consider alternatives that would further reduce impacts to subsistence users, preclude drilling in sensitive ecosystems, or reduce greenhouse gas emissions or climate impacts."
"It further charges agencies for not taking a hard look at direct, indirect, and cumulative impacts, as required by NEPA, including impacts on greenhouse gas emissions and climate change, air quality, polar bears, caribou, wetlands, and subsistence uses and resources," Trustees for Alaska said in a press release on Tuesday.

Siqiñiq Maupin, executive director of Sovereign Inupiat for a Living Arctic—an Alaska indigenous group involved in the suit—said in a statement that "once again, we find ourselves going to court to protect our lives, our communities, and our future."
"The Biden administration's approval of the ConocoPhillips Willow project makes no sense for the health of the Arctic or the planet and comes after numerous calls by local communities for tribal consultation and real recognition of the impacts to land, water, animals, and people," said Maupin. "ConocoPhillips has made record profits year after year and hopes to continue to do so at the cost of our communities and future generations."
"The science is clear. We cannot afford any new oil or gas projects if we are going to avoid climate catastrophe."
On Wednesday, the Biden administration faced an additional lawsuit filed by Earthjustice on behalf of an alliance of conservation groups including Defenders of Wildlife, the Center for Biological Diversity, the Natural Resources Defense Council (NRDC), and Greenpeace USA.
Both lawsuits were filed in the U.S. District Court for the District of Alaska.
"We're asking the court to halt this illegal project and ensure the public knows its true climate impacts," said Christy Goldfuss, chief policy impact officer for NRDC. "Permitting Willow to go forward is greenlighting a carbon bomb. It would set back the climate fight and embolden an industry hell-bent on destroying the planet."
The Wednesday lawsuit also charges the Biden administration with failing to fully examine alternatives to the project it formally approved earlier this week, ignoring months of protests from climate organizations.
Earthjustice noted that the options the administration considered "ranged only from allowing ConocoPhillips to develop 100% of the available oil to allowing it to develop 92% of the oil."
Natalie Mebane, the climate director for Greenpeace USA, said in a statement Wednesday that "approving what would be the largest oil extraction project on federal lands is incredibly hypocritical from President Biden, who in his State of the Union called the climate crisis an existential threat."
"The science is clear," said Mebane. "We cannot afford any new oil or gas projects if we are going to avoid climate catastrophe."
While the Biden Interior Department—headed by Deb Haaland, a former Willow opponent—has insisted that the version of the project it approved "subtantially reduces" the scope of ConocoPhillips' drilling operations, Earthjustice stressed Wednesday that the project "will still add about 260 million metric tons of carbon emissions into the atmosphere over the next 30 years, the equivalent of an extra two million cars on the road each year for thirty years."
"There is no question that the administration possessed the legal authority to stop Willow—yet it chose not to," said Erik Grafe, deputy managing attorney in Earthjustice's Alaska regional office. "It greenlit this carbon bomb without adequately assessing its climate impacts or weighing its options to limit the damage and say no."
"The climate crisis is one of the greatest challenges we face, and President Biden has promised to do all he can to meet the moment," Grafe added. "We're bringing today's lawsuit to ensure that the administration follows the law and ultimately makes good on this promise for future generations."
News
The legislation will end "the failed experiment of gutting Michigan workers' rights," said one lawmaker.
Just over a decade after union members and labor advocates from across the United States rallied at the Michigan State Capitol to protest state Republicans' passage of a so-called "right-to-work" law, many of the same people were present in Lansing on Tuesday as the Democratic-led state Senate voted to end what one lawmaker
called
"the failed experiment of gutting Michigan workers' rights."
Lawmakers voted along party lines, 20-17, in favor of a package of bills that will repeal the right-to-work law—which barred unions from requiring that all workers in unionized jobs pay dues—and restore a "prevailing wage" requirement that construction contractors pay union wages and and benefits on state-funded projects.
Democratic Gov. Gretchen Whitmer indicated on Monday that she intends to sign the bills, which will make Michigan the first state to roll back right-to-work laws in nearly six decades.
Since Republicans pushed the passage of the right-to-work law in December 2012, union membership in Michigan has fallen by about 40,000, according to the U.S. Bureau of Labor Statistics.
State Sen. Darrin Camilleri (D-4), the lead sponsor of the bills to repeal the right-to-work law, said on the Senate floor Tuesday that the 2012 law "systematically made it harder for unions to do their job" and "created an environment where unions were put at a disadvantage when it came to negotiating for better pay and benefits across the board."
"People came to Michigan because of the promise of a union," Camilleri tweeted after the bills passed. "My family included. Unions fought for good pay and benefits so that all workers get ahead. Today we restored that promise and said to all workers that Michigan has their back."
Camilleri added that lawmakers could hear union members and supporters "loud and clear" as they cheered the passage of the bills.
"This is what happens when we elect union members to halls of power," said Liz Shuler, president of the AFL-CIO, the largest federation of unions in the U.S. "We fight and we WIN for working people. Right to work, hit the curb!"

According toThe Detroit News, two of the three bills passed on Tuesday will have to go back to the state House for approval before reaching Whitmer's desk. The bills include $1 million in appropriations to "inform employers, employees, and labor organizations about changes to their rights and responsibilities."
The appropriations made the legislation referendum-proof, and opponents would need to gather enough support to propose a constitutional amendment restoring right-to-work on the ballot in 2024. Under state law, they would need to collect more than 446,000 signatures to propose the amendment.
According to the National Conference of State Legislatures, 26 other states have right-to-work policies in place.

"Michigan is now on its way to becoming the first state to repeal 'right-to-work' legislation in nearly 60 years," said former Kentucky state Rep. Charles Booker. "Let's make sure they aren't the last."
News
SUPPORT OUR WORK.
We are independent, non-profit, advertising-free and 100%
reader supported.