For Immediate Release
Contact:
Vaishalee Raja, Communications Director,PHONE: (916) 284-9187,EMAIL:,vaishalee@eqca.org
Legislative Committee Passes Equality California-Sponsored Measure Challenging Prop. 8
Diverse group of more than 700 supporters descend on Sacramento for EQCA Lobby Day
SACRAMENTO
The Assembly Judiciary Committee passed a resolution yesterday
in a 7 to 3 vote opposing Prop. 8 as an illegal revision to the
California Constitution. The hearing took place during Equality
California's Lobby Day at the state capitol where more than 700
volunteers from across the state met with legislators and staff urging
them to support companion resolutions, SR 7 (Leno) and HR 5 (Ammiano).
The resolutions are sponsored by Equality California and would put the
legislature on record as opposing Prop. 8 as an invalid revision to the
California Constitution.
The
hearing included powerful testimony from resolution proponents, Dolores
Huerta, co-founder of the United Farm Workers, Shannon Minter, legal
director for the National Center on Lesbian Rights and Geoff Kors,
executive director of Equality California. Lobby Day
participants also shared their personal stories in testimony before the
legislature, putting the real harm caused by discrimination into the
legislative record.
"This was one of the
most impactful lobby days of its kind I have seen in Sacramento," said
Senator Mark Leno, Chair of the Lesbian, Gay, Bisexual and Transgender
Caucus. "The determination that Lobby Day participants from all over
the state showed toward fighting Proposition 8 was moving and powerful.
In ever greater numbers, we continue to demonstrate the importance of
ensuring that the laws of our state treat all Californians equally."
"We
sponsored Lobby Day to help connect grassroots activists with elected
officials so that volunteers could engage with our legislators and help
them understand why supporting the invalidation of Prop. 8 is
absolutely crucial to preserve the equal protections guaranteed to all
Californians by the Constitution," said EQCA Executive Director Geoff
Kors. "We are honored that so many allies and supporters of equality
came together with a single purpose - to overturn Prop 8."
Lobby day brought together a diverse group of civil rights and faith leaders, community members and allies from across the state.
"As an African-American man of faith,
I believe it's my duty to speak out against the injustices of Prop. 8,
which threatens the fundamental purpose of our constitution - providing
equal protection for all people," said Lobby Day participant Rev. Art Cribbs, pastor of San Marino Congregational United Church of Christ.
"For the Constitution to have any meaning, core principles such as
equal protection simply can't be up for grabs in every election." Rev.
Cribbs also testified before legislators during the public comment
portion of the hearing on HR 5.
Lobby Day
followed a series of coordinated actions over President's Day weekend
focused on the effort to invalidate Prop. 8. EQCA also co-sponsored a
rally with Equality Action NOW, Marriage Equality USA, and California
Outreach at the Capitol.
"With the
resolutions opposing Prop. 8 moving forward this spring, we need to
make sure the necessary votes are secured to pass them in both houses,"
said EQCA Director of Government Affairs Alice Kessler. "And we are
absolutely thrilled with the tremendous outpouring of interest from
allies who took the time to talk to their elected officials about why
this issue is important not only to them but for all Californians."
Equality California is a nonprofit, nonpartisan, grassroots-based, statewide advocacy organization whose mission is to achieve equality and civil rights for all lesbian, gay, bisexual and transgender (LGBT) Californians.
LATEST NEWS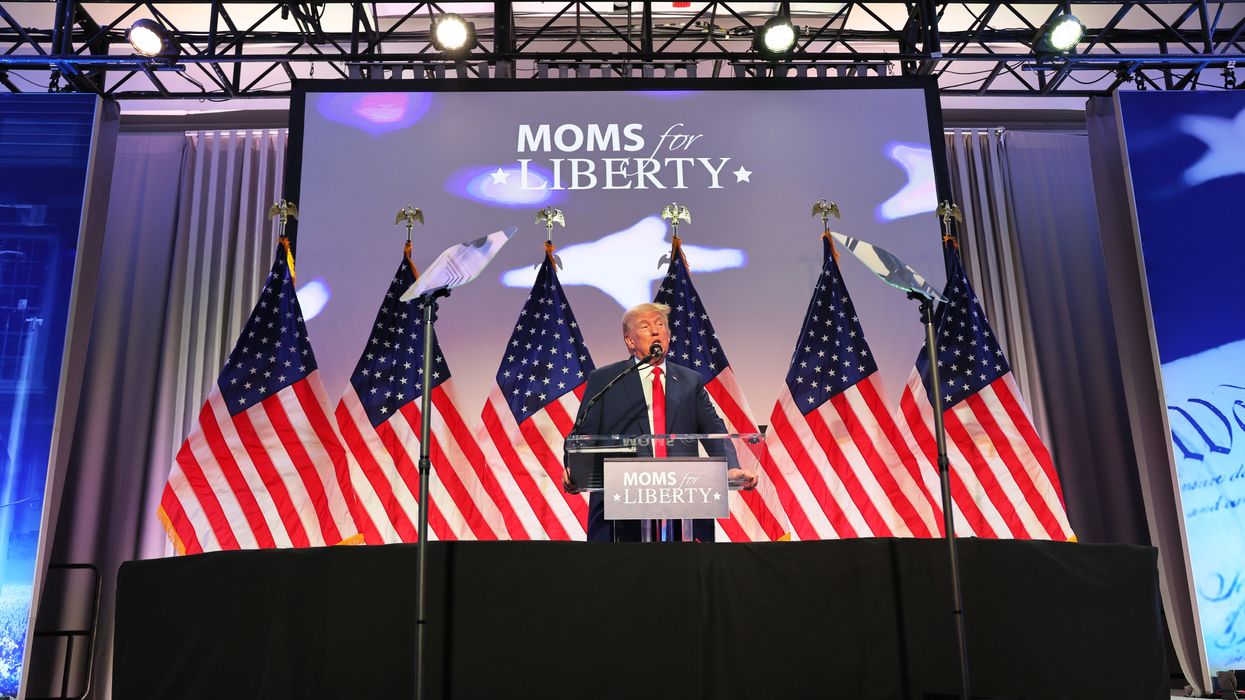 "Our plea to political leaders and to the media is to accurately describe Project 2025 as a dangerous and unconstitutional attempt to move us towards an authoritarianism guided by Christian nationalism."
As former Republican U.S. President Donald Trump campaigns with openly fascist rhetoric, a research and advocacy group on Monday published an exposé of the Heritage Foundation-led 2025 Presidential Transition Project.
Project 2025, as it is also known, builds on Heritage's latest Mandate for Leadership, a series which since the Reagan administration has served as the right-wing think tank's to-do list for the next Republican president.
The Global Project Against Hate and Extremism (GPAHE) put out a detailed analysis of Project 2025, which the group described as a "far-right playbook for American authoritarianism" and "a threat to a multiracial, diverse democracy."
"Project 2025 is an authoritarian roadmap to dismantling a thriving, inclusive democracy for all."

Across 13 sections, the GPAHE report introduces the project, explains the role of Christian nationalism, and details efforts to gut the civil service, reverse progress on racial equality, eviscerate LGBTQ+ rights, restrict reproductive freedom, impose hardline immigration rules, roll back climate action, end "woke" military policies, overhaul public education, and curb human rights.
The analysis also features a full list of organizational supporters and profiles of key backers, including the Family Research Council, Heartland Institute, Moms for Liberty, and Turning Point USA.
"The path to authoritarianism usually first involves democratic backsliding, propelled by political figures and parties with authoritarian instincts who employ specific tactics," the report states. "These factors are evident in Project 2025, which explicitly advocates politicizing independent institutions by replacing the federal bureaucracy with conservative activists and removing independence for many agencies."
"The entire project is devoted to aggrandizing executive power by centralizing authority in the presidency, and a key aspect of democratic backsliding is viewing opposition elements as attempting to destroy the 'real' community, an essential aspect to quashing dissent," the document continues. "Project 2025 paints progressives and liberals as outside acceptable politics, and not just ideological opponents, but inherently anti-American and 'replacing American values.' Targeting vulnerable communities is a core tenet of Project 2025."
"Project 2025 is very clearly on a path to Christian nationalism as well as authoritarianism. It rejects the constitutional separation of church and state, rather privileging religious beliefs over civil laws. Religious freedom is referenced throughout the plan and is seen to trump all other civil rights which should be subsumed to an individual's religious rights," the report adds. "The message that America must remain Christian, that Christianity should enjoy a privileged place in society, and that the government must take steps to ensure this is clear in every section of the plan, as is the idea that American identity cannot be separated from Christianity."
The document also stresses the role of Trump in degrading U.S. democracy and promoting the policies that the project aims to advance. Trump is facing four criminal cases—two of which relate to his efforts to flip the 2020 election—and lawsuits arguing that he is constitutionally disqualified from holding office again after inciting the January 6, 2021 insurrection at the U.S. Capitol. Still, he is the GOP front-runner.
During a Saturday campaign rally, Trump pledged to "root out the communist, Marxist, fascist, and the radical left thugs that live like vermin within the confines of our country," claiming that "the threat from outside forces is far less sinister, dangerous, and grave than the threat from within." The comments fueled demands for more serious media coverage of his fascist threats.
Even before Trump's latest comments, GPAHE co-founder Heidi Beirich argued to Salon last week that given his chances of winning the White House next year, "the public needs to know about policy plans, such as the program being designed for the next conservative president by the Heritage Foundation, called Project 2025."

Beirich said in a statement Monday that the project "does not reflect the values of the American people, and our plea to political leaders and to the media is to accurately describe Project 2025 as a dangerous and unconstitutional attempt to move us towards an authoritarianism guided by Christian nationalism."
GPAHE co-founder Wendy Via—who, like Beirich, is an alumna of the Southern Poverty Law Center—similalry said that "voters, political figures, and the media must be on alert that Project 2025 is an authoritarian roadmap to dismantling a thriving, inclusive democracy for all."
The GPAHE report was released as Axiosreported Monday that Trump's inner circle plans to purge from government "anyone viewed as hostile to the hard-edged, authoritarian-sounding plans he calls 'Agenda47'" and his allies "are spending tens of millions of dollars to install a pre-vetted, pro-Trump army of up to 54,000 loyalists" in "legal, judicial, defense, regulatory, and domestic policy jobs."
"The government-in-waiting is being orchestrated by the Heritage Foundation's well-funded Project 2025, which already has published a 920-page policy book from 400+ contributors," the outlet explained. "Heritage president Kevin Roberts tells us his apparatus is 'orders of magnitude' bigger than anything ever assembled for a party out of power."
Trump's 2024 campaign claimed Monday that his Agenda47 "is the only official comprehensive and detailed look at what President Trump will do when he returns to the White House," and "while the campaign is appreciative of any effort to provide suggestions about a second term, the campaign is not collaborating with them."
News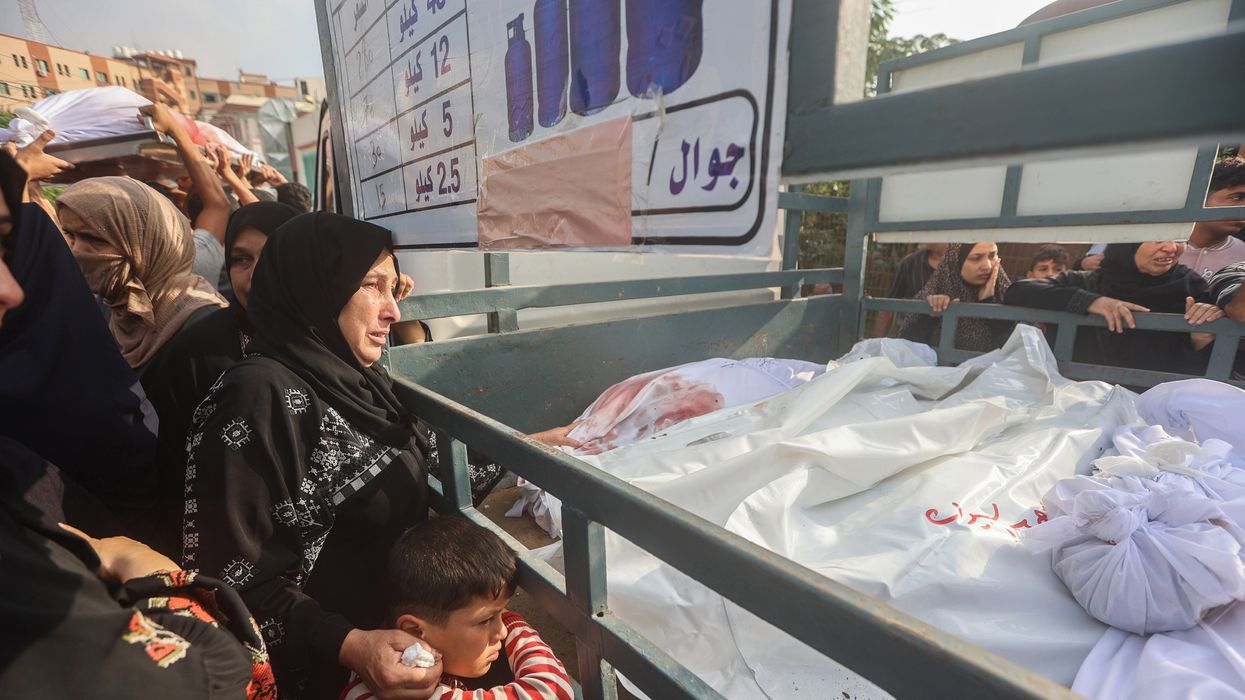 "The United States has a clear and binding obligation to prevent, not further, genocide," said a senior attorney at the Center for Constitutional Rights.
In an effort backed by some of the world's leading genocide and Holocaust experts, a progressive legal advocacy group on Monday sued U.S. President Joe Biden, Secretary of State Antony Blinken, and Defense Secretary Lloyd Austin for "failure to prevent genocide" by Israeli forces in Gaza and sought an emergency court order to stop American military and diplomatic support for Israel.
Arguing that U.S. leaders "have a legal duty to prevent, and not further," genocide, the Center for Constitutional Rights (CCR) filed a federal lawsuit on behalf of Palestinians in Gaza and the United States aiming to enjoin the Biden administration from "providing further arms, money, and diplomatic support to Israel" as it wages a war on Gaza in which more than 40,000 Palestinians have been killed, wounded, or gone missing, with 70% of the besieged strip's 2.3 million people forcibly displaced and half of its homes destroyed.
"Biden, Blinken, and Austin, as outlined in the complaint, are sued in their official capacity for failing to prevent an unfolding genocide where they have influence over the state of Israel to do so, and directly abetting its development with weapons, funds, and diplomatic cover, in breach of duties enshrined in the Genocide Convention and customary international law," CCR said in a statement.
CCR explained:
The complaint, which seeks declaratory and injunctive relief, cites the U.S. government's unconditional support for Israel as it bombs the people of Gaza and deprives them of food, water, and other necessities. The complaint states that even the crimes committed by the military wing of Hamas on October 7th that killed an estimated 1,200 Israeli people, including many civilians, and kidnapped 240, cannot legally justify the forms of targeting an entire population and collective punishment meted out by the Israeli government, let alone genocide... Israel has killed over 11,000 Palestinians in the Gaza Strip—mostly civilians, including more than 4,600 children—and displaced 1.5 million. Thousands of Palestinians remain missing, and Israel's destruction of hospitals, schools, and most infrastructure in Gaza—as well as intentional deprivation of access to food, water, electricity, and medicine—has rendered life in Gaza impossible.
"To be honest, it's difficult to revisit all the scenes of the past weeks. They open a door to hell when I recall them," said Dr. Omar Al-Najjar, a 24-year-old intern physician at Nasser Medical Complex in Khan Yunis and a plaintiff in the case.
"I've lost five relatives, treated too many children who are the sole survivors of their families, received the bodies of my fellow medical students and their families, and seen the hospital turn into a shelter for tens of thousands of people as we all run out of fuel, electricity, food, and water," Al-Najjar added. "The U.S. has to stop this genocide. Everyone in the world has to stop this."
CCR's filing contains an expert declaration from William Schabas—a Jewish Canadian academic called "the world expert on the law of genocide"—who wrote that "there is a serious risk of genocide committed against the Palestinian population of Gaza and that the United States of America is in breach of its obligation, under both the 1948 Genocide Convention to which it is a party as well as customary international law, to use its position of influence with the government of Israel and to take the best measures within its power to prevent the crime taking place."
A separate declaration by genocide and Holocaust scholars John Cox, Victoria Sanford, and Barry Trachtenberg explains how "the genocidal intentions and actions of Israeli leadership resemble other genocides in recent history."
Genocide is defined under the 1948 convention as killing or causing serious physical or psychological harm to members of a group, "deliberately inflicting on the group conditions of life calculated to bring about its physical destruction in whole or in part, imposing measures intended to prevent births within the group," or "forcibly transferring children of the group to another group."
CCR noted:
The United States has a duty under Article 1 of the Genocide Convention to prevent and punish acts of genocide, an obligation the U.S. Congress made law in 1988 when it ratified the Convention and passed the Genocide Convention Implementation Act (18 USC § 1091). The duty to prevent is heightened given the United States' considerable influence on Israel. The Biden administration, plaintiffs say, is not merely failing to prevent Israel's genocide of Palestinians, it is actively abetting it. From the start of the bombing, Biden has repeatedly reaffirmed, through word and deed, "unwavering" U.S. support.
Biden has also been accused of "genocide denial" for rejecting casualty figures provided by Palestinian health officials, even though his administration has cited reports from their agencies as recently as last year.
The Biden administration has also sought an additional armed aid package for Israel worth over $14 billion—that's atop the nearly $4 billion in annual U.S. military assistance—and has vetoed a Brazil-led United Nations Security Council resolution condemning violence against civilians in Israel and Gaza and calling for "humanitarian pauses" to allow aid to enter the besieged Palestinian enclave.
"For the last five weeks, President Biden and Secretaries Blinken and Austin have stood shoulder-to-shoulder with an Israeli government that has made clear its intention to destroy the Palestinian population in Gaza," said Katherine Gallagher, a senior CCR attorney and one of the lawyers who brought the case. "They have continued to provide both military and political support for Israel's unfolding genocidal campaign while imposing no red lines."
"The United States has a clear and binding obligation to prevent, not further, genocide," Gallagher added. "They have failed in meeting their legal and moral duty to use their considerable power to end this horror. They must do so."
More than 800 international legal scholars of international law and genocide have signed a public statement arguing that the Israeli military may be committing genocidal acts in Gaza.
Last week, three Palestinian human rights groups filed a lawsuit in the International Criminal Court (ICC), urging the tribunal to investigate Israel for "genocide" and issue arrest warrants for Israeli Prime Minister Benjamin Netanyahu, Defense Minister Yoav Gallant, and President Isaac Herzog.
News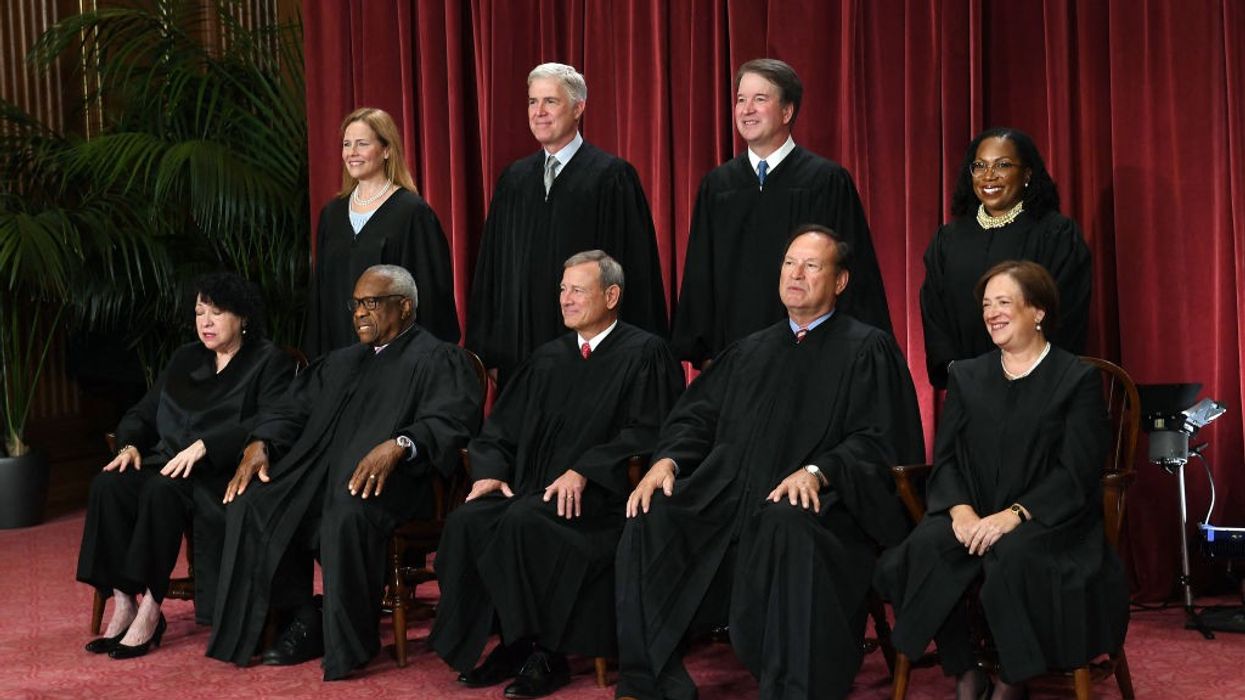 "This unenforceable public relations document serves absolutely no purpose other than to permit the media to revert to pretending that our unaccountable and unethical Supreme Court retains legitimacy," one advocate said.
In the wake of a series of high-profile scandals surrounding the relationship between right-wing justices and billionaires, the U.S. Supreme Court announced on Monday that it had formally adopted a new Code of Conduct.
The 14-page code is based on requirements for lower court judges, and most of the rules it outlines are not new, the court said. Watchdog groups have been widely critical of the new document, which does not stipulate how the conduct it promotes will be enforced, with the Revolving Door Project labeling it a "toothless PR stunt."
"This unenforceable public relations document serves absolutely no purpose other than to permit the media to revert to pretending that our unaccountable and unethical Supreme Court retains legitimacy," the project's executive director Jeff Hauser said in a statement.
Pressure on the Supreme Court to reform its ethics rules has mounted since ProPublica revealed in April that Justice Clarence Thomas had failed to disclose more than two decades worth of trips he had taken that had been paid for by billionaire Harlan Crow. Additional reporting in June uncovered the fact that Justice Samuel Alito had also taken undisclosed trips financed by hedge fund billionaire Paul Singer, who had appealed to the court to side with him in business disputes.
In response to these and other revelations of financial gifts to justices from wealthy and influential individuals, Democrats on the Senate Judiciary Committee advanced legislation in July that would require the court to follow stricter disclosure rules, adhere to an enforceable ethics code, and explain any recusal decisions to the American people. It would also enable investigations of any suspected breaches of the ethics code. Sen. Sheldon Whitehouse (D-R.I.), who led the push for the law, said that the Supreme Court's newly announced code was not an effective substitution.
"This is a long-overdue step by the justices, but a code of ethics is not binding unless there is a mechanism to investigate possible violations and enforce the rules," Whitehouse said in a statement. "The honor system has not worked for members of the Roberts Court. My ethics bill would create a transparent process for complaints and allow a panel of chief judges from the lower courts to investigate and make recommendations based on those complaints."
In the newly published code, the justices promised to "uphold the integrity and independence of the judiciary" and "avoid impropriety and the appearance of impropriety," among other key points. It stipulated that "a justice should not allow family, social, political, financial, or other relationships to influence official conduct or judgment," or "knowingly convey or permit others to convey the impression that they are in a special position to influence the justice."
However, the code begins with a statement that the court had "largely" already adhered to the tenets of the document, saying that the lack of an official code had "led in recent years to the misunderstanding that the justices of this court, unlike all other jurists in this country, regard themselves as unrestricted by any ethics rules." It says the primary purpose of the new code was "to dispel this misunderstanding."
"This document reeks of a cover-up for, among others, Justice Clarence Thomas," Hauser said in response to the preamble. "The list of weak ethics-adjacent aphori[s]ms is prefaced by a statement from the justices that they have 'largely' been complying with the loose norms they set forth today. Yet Thomas' conduct, in particular, has long been at odds with any pretense to any remotely serious standard of ethics."
"Will a risible PR stunt succeed in relieving pressure off a Supreme Court that is rightly widely deemed to be in crisis?"
Stand Up America managing director for policy and political affairs Brett Edkins said the document was "clearly" a response to public outrage over the ProPublica revelations.
"The court is attempting to halt momentum for transparency and real reform," Edkins said in a statement. "Congress must use its authority as a co-equal branch of government to pass a code of ethics with real enforcement mechanisms, and the Senate Judiciary Committee should move forward with subpoenas of Harlan Crow and Leonard Leo. The American people deserve to know the full scope of this court's corruption."

A committee vote on the committee on whether or not to issue such subpoenas was postponed last week, as NBC News reported.
Take Back the Court Action Fund president Sarah Lipton-Lubet also saw the code as a response to public pressure.
"With 53 uses of the word 'should' and only six of the word 'must,' the court's new 'code of ethics' reads a lot more like a friendly suggestion than a binding, enforceable guideline," Lipton-Lubet said in a statement.
Lipton-Lubet added that the document's lack of enforcement was more evidence that the court "cannot police itself."
"We've all seen what happens when it is left to do so, and the result is public confidence in the illegitimate Supreme Court has reached an all-time low," Lipton-Lubet continued. "Now is not the time to let up. Congress should move forward with actual ethics rules as soon as possible."
Trevor Potter, president of Campaign Legal Center and a former Republican chairman of the Federal Election Commission, said the code "may seem like a step in the right direction" but was "little more than an effort to assuage public outrage without assuming any actual accountability."
"Every other branch of government has a dedicated body responsible for enforcing its ethics code, yet the court does not even attempt to create one for itself here," Potter continued. "This 'code' changes nothing about the existing system of ethics self-policing in the Supreme Court. In fact, buried at the end of the document, the Court says they may rely on a variety of sources in interpreting the requirements of the ethics code—business as usual."
Senate Majority Leader Chuck Schumer (D-N.Y.) said the code was an "important first step," but added that "the lack of any way to enforce the code of conduct should any justice decide to ignore it is a glaring omission."
Ultimately, Hauser said the code was a "big test" for media and legal elites.
"Will a risible PR stunt succeed in relieving pressure off a Supreme Court that is rightly widely deemed to be in crisis?" Hauser asked. "People who care about the rule of law must hope those who lead our national coverage about the Supreme Court are not readily co-opted by lawyering that, truth be told, is not even especially slick or sophisticated."
News