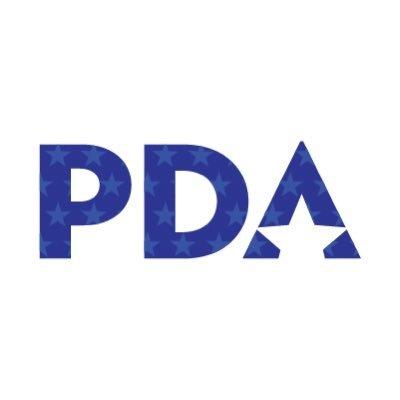 For Immediate Release
December, 01 2008, 09:28am EDT
PDA Working for Early Passage of Guaranteed Healthcare in New Congress
WASHINGTON
Progressive Democrats of America is moving on several fronts to ensure quick passage of guaranteed healthcare legislation by the new Congress that will convene in January.

Continuing the "inside/outside" strategy that has always been its hallmark, PDA is working with congressional Democrats and with national healthcare groups and activists to galvanize broad support for the United States National Health Insurance Act sponsored by Rep. John Conyers (D-MI). Known as H.R. 676 in the last Congress, the legislation will be introduced again by Conyers at the beginning of the new Congress.

Tomorrow, Dec. 2, PDA Executive Director Tim Carpenter will attend the third meeting since the election convened by Conyers in Washington to bring together key legislators and activists around the legislation.

From there, Carpenter will head to North Carolina for a Progressive Summit of that state's progressive Democrats and activists, where he will deliver a keynote address on Saturday, Dec. 6.

Meanwhile, also on Dec. 6, PDA board member and Healthcare NOT Warfare campaign co-chair Norman Solomon will be the keynote speaker at Healthcare for All Pennsylvania's "Call to Action - Single Payer" convention in Harrisburg.

"We are very encouraged that the momentum continues to build from our successful effort to include a commitment to guaranteed healthcare for all in the Democratic Party platform in Denver, through the Healthcare NOT Warfare campaign and the November election, to the upcoming new Congress and Obama administration," said Carpenter. "We consider that we're helping with the president-elect's transition by continuing to build a broad and powerful coalition around guaranteed healthcare for all."

In it's efforts, PDA is working closely with groups such as Physicians for a National Health Plan, California Nurses Association/National Nurses Organizing Committee, Healthcare-NOW!, the AFL-CIO, All Unions Committee for Single-Payer and the American Medical Students Association.
Progressive Democrats of America was founded in 2004 to transform the Democratic Party and U.S. politics by working inside and outside of the party by working to elect empowered progressives and by building the progressive movement in solidarity with with peace, justice, civil rights, environmental, and other reform efforts. For more information about PDA, please see PDAmerica.org.
LATEST NEWS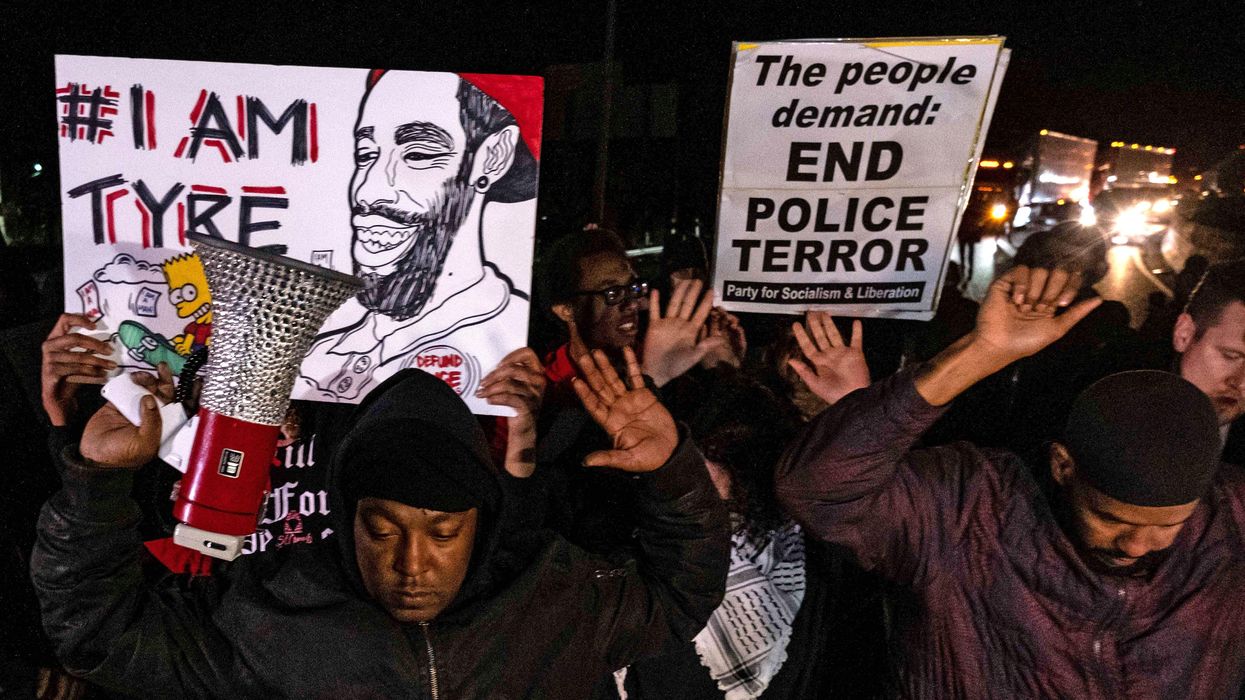 "These killer cops have got to go," chanted demonstrators in Chicago who carried signs that read, "Justice for Tyre Nichols" and "End police terror."
This is a developing story… Please check back for possible updates...
People took to the streets across the United States Friday night after the city of Memphis, Tennessee released videos of a January 7 traffic stop that led to five police officers being fired and charged with the murder of 29-year-old Black motorist Tyre Nichols.
MEMPHIS, TENNESSEE

The Memphis-based Commercial Appealreported that protesters advocating for police reform shut down the Interstate 55 bridge that connects Tennessee and Arkansas:
As of 8:30 pm, more than 100 people remained on the Harahan Bridge with protest leaders saying they wanted to talk with Memphis Mayor Jim Strickland and Memphis Police Department Chief Cerelyn "C.J." Davis before disbanding. MPD officers closed off roads leading to the bridge―and several others downtown―but had not directly confronted protesters.

Protesters started moving off of the bridge around 9:00 pm. As they marched eastbound on E.H. Crump Boulevard towards police, they locked arms and chanted "we ready, we ready, we ready for y'all." Protestors then turned north, toward central downtown. As they passed by residences, some people came out on their balconies to cheer.
Surrounded by protestors on I-55, NBC News' Priscilla Thompson said that "they are chanting, they are calling the name of Tyre Nichols. They are calling for change."
Demonstrators and the Nichols family have called for disbanding the MPD Street Crimes Operation to Restore Peace in Our Neighborhoods (SCORPION) team that launched in 2021 and was involved in the traffic stop. The Memphis mayor said Friday afternoon that the unit has been inactive since Nichols' January 10 death.
The footage shows that after police brutally beat Nichols—pushing him to the ground; using pepper spray; punching and kicking him; and striking him with a baton—it took 22 minutes from when officers said he was in custody for an ambulance to arrive and take him to the hospital, where he later died from cardiac arrest and kidney failure.
ATLANTA, GEORGIA

In Georgia, though Republican Gov. Brian Kemp earlier this week signed an executive order enabling him to deploy 1,000 National Guard troops "as necessary" following protests in Atlanta over law enforcement killing 26-year-old forest defender Manuel "Tortuguita" Teran, those who gathered after the video release Friday night "expressed outrage but did so peacefully."
That's according toThe Atlanta Journal-Constitution, which detailed that "a small but spirited crowd" of roughly 50 people formed in downtown Atlanta.
"We want to make one thing very clear, no executive order and no National Guard is going to stop the people for fighting for justice," Zara Azad said at the corner of Marietta Street and Centennial Olympic Park Drive. "We do not fear them because we are for justice."
BOSTON, MASSACHUSETTS
Just before the footage was released Friday, a vigil was held at "The Embrace" statue installed on Boston Common to honor Rev. Dr. Rev. Martin Luther King Jr. and his wife Coretta Scott King.
The Boston Globereported that Imari Paris Jeffries, executive director of King Boston, which installed the monument, highlighted that the civil rights icon was assassinated while visiting Memphis in 1968 to advocate for sanitation workers whose slogan was "Am I a man?"
"Today we are thinking about Memphis and Brother Tyre, and the slogan of today is still, 'Am I a man?'" Jeffries said. "Seeing the humanity in each of us is the cornerstone of true change. Experiencing another heinous display reminds us that no family should feel this pain, ever. And there's still work to do."
"This is a problem that confronts us all," he added. "This is a problem that we need to defeat together, as a family, as a community."
CHICAGO, ILLINOIS
"From Memphis to Chicago, these killer cops have got to go," chanted about a dozen people who gathered near a police precinct in the Illinois city despite freezing temperatures, according toUSA TODAY. Their signs read, "Justice for Tyre Nichols" and "End police terror."
Kamran Sidiqi, a 27-year-old who helped organize the protest—one of the multiple peaceful gatherings held throughout the city—told the newspaper that "it's tough to imagine what justice is here because Tyre is never coming back."
"That's someone's son, someone's friend lost forever. That's a human being's life that is gone," he said. "But a modicum of justice would be putting these killer cops in jail. A modicum of justice would be building a whole new system so that this can't happen again."
Fve former MPD cops, Tadarrius Bean, Demetrius Haley, Justin Smith, Emmitt Martin III, and Desmond Mills Jr.—who are all Black—were charged Thursday with second-degree murder and other crimes.
After the videos were released Friday, Shelby County Sheriff Floyd Bonner Jr. announced that two deputies "who appeared on the scene following the physical confrontation between police and Tyre Nichols" have been relieved of duty pending the outcome of an internal investigation.

News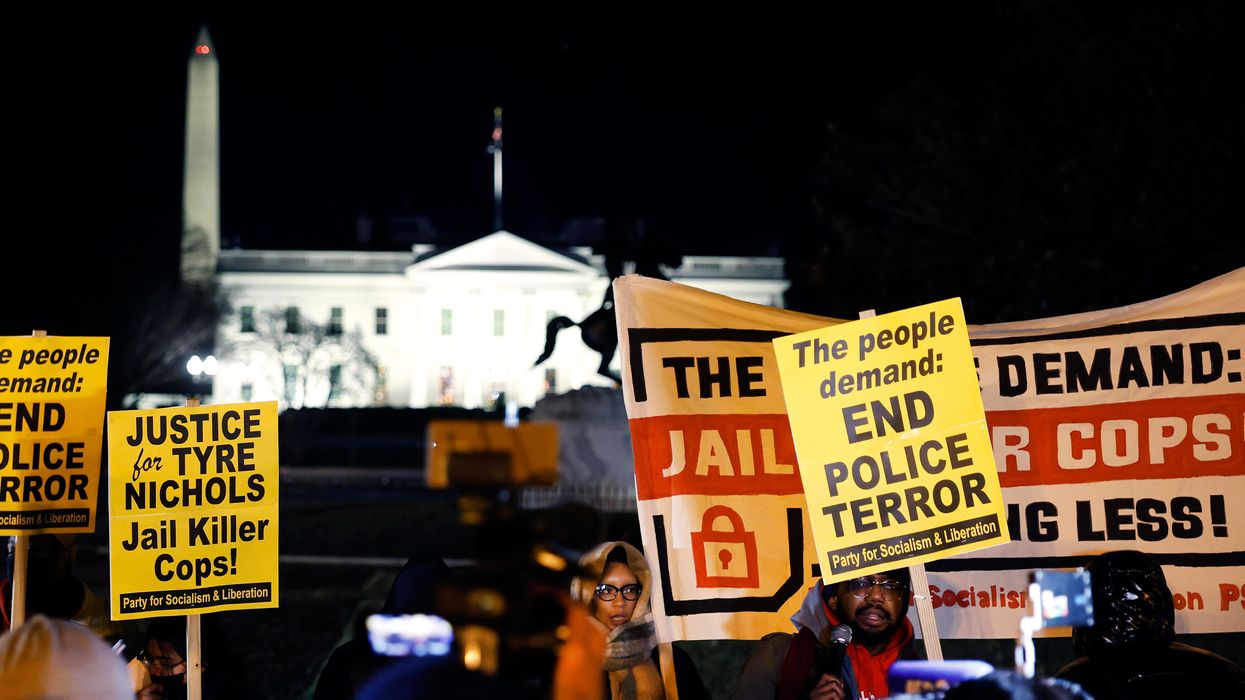 "Charging or jailing the killers is not enough," said the national director of the Working Families Party. "Justice is changing the conditions so no one dies during a traffic stop."
Editor's note: The videos at the end of this article contain graphic and violent content.
The city of Memphis, Tennessee on Friday night released four videos of the January 7 arrest of Tyre Nichols, a 29-year-old Black motorist who died after being beaten by five officers who were subsequently fired and charged with murder.
The footage was privately seen by Nichols' family on Monday. Three of the videos are from body-worn cameras issued by the Memphis Police Department (MPD). Another is from a camera mounted on a pole and contains no audio.
Before the videos were released, MPD Chief Cerelyn "C.J." Davis warned that they show "acts that defy humanity."
Nichols was pulled over by Memphis officers for alleged reckless driving that Davis has since said her department has been "unable to substantiate." After three days in the hospital, he died on January 10 from cardiac arrest and kidney failure.
"I am disturbed and disgusted by the sheer brutality and lack of humanity on display in the footage released today," said NAACP president and CEO Derrick Johnson in a statement Friday night. "No person should ever be subjected to such violence, to have to call for their mother as they are being brutalized by police."
"This video is a stark reminder that in America, on any day of the week, a Black person can be brutally beaten to death less than a hundred feet from his home by those who are supposedly here to 'serve and protect' our communities," he continued. "Let me be clear—a traffic stop should not result in the brutal death of an unarmed man—period."
Turning his attention to federal lawmakers, Johnson added: "As you leave the halls of Congress today and return to your comfortable homes, take a moment to think about the pleas for mercy that Tyre cried as he begged for his mother, and ask yourself the question: What if this was your child? Your continued failure to act has left Tyre's blood, and the blood of the countless Black lives claimed by police violence, on your hands. Get up and do something. We are done dying."
As Common Dreamsreported Thursday, former MPD cops Tadarrius Bean, Demetrius Haley, Justin Smith, Emmitt Martin III, and Desmond Mills Jr.—who are all Black—were charged with second-degree murder and various other crimes.
In a series of tweets responding to the charges, ColorOfChange president Rashad Robinson said Friday, "Let's be clear, while the mass movement of people demanding some level of accountability has succeeded in this one instance, convictions aren't the goal."
"WE WANT AN END TO POLICE MURDERS OF BLACK PEOPLE. So, this moment isn't about Black vs. white, it's about blue vs. Black. Diversity cannot and does not solve systemic problems," he continued. "If we don't change the structure of policing and safety in our country, Black people will continue to be killed, by police of all races. The evidence is clear—investing in communities will keep us safe, not the police."
Damon Hewitt, president and executive director of the Lawyers' Committee for Civil Rights Under Law, said Friday evening that "Tyre's death is a bitter reminder of the Black lives that we've lost due to police brutality. Thirty years ago, we were horrified by the footage of police beating Rodney King. And yet, despite our decades of protest, we're still fighting the same battle."
"The only difference now is more of the horrific incidents are being captured on video, whether it be bodycams or bystanders," he added. "Tinkering at the margins of a violent police state is not enough. It never was. This death must amount to more than just another viral moment or hashtag. It must spark a serious reconsideration and shifting of priorities, deployment, and resources."

Before the footage was released, major cities across the United States were preparing for potential Friday evening protests.
According toThe Associated Press:
As a precaution, Memphis-area schools canceled all after-class activities and postponed an event scheduled for Saturday morning. Other early closures included the city power company's community offices and the University of Memphis.

Nichols' mother, RowVaughn Wells, warned supporters of the "horrific" nature of the video but pleaded for peace.

"I don't want us burning up our city, tearing up the streets, because that's not what my son stood for," she said Thursday. "If you guys are here for me and Tyre, then you will protest peacefully."
Noting that "there's been a lot of focus on the perceived threat of violence,"MLK50: Justice Through Journalism, a nonprofit Memphis newsroom, on Friday published a collection of stories and columns "to add context to this tragedy" for those who may be unfamiliar with "the antagonistic relationship police have cultivated with the community, dating back decades."
The coalition Decarerate Memphis shared on Twitter demands from Nichols' family and the community, including reforms to reduce the chances of similar future events.
The Movement for Black Lives tweeted advice on "how to limit viewing sensitive content" on social media platforms, for those who do not want to be traumatized by the footage.
"We grieve with Tyre's family, friends, and the entire Memphis community," the movement said in a statement. "Had those officers not pulled Tyre over, he would be here right now with his four-year-old son, taking photos of sunsets and skateboarding. Yet, even as we try to grieve and stand in solidarity with Tyre's family, we know the police are ramping up to criminalize our actions—meeting our calls for justice and accountability with more state violence and suppression."

Editor's note: The videos below contain graphic and violent content.

News
"These lobbyists are not getting hired to advocate for American energy consumers—they will push an agenda that benefits the new majority's donors no matter what it costs taxpayers."
An analysis published Friday by the nonpartisan watchdog Accountable.US revealed that numerous former fossil fuel lobbyists are being hired to work for the Republican-controlled 118th Congress, including in high-level positions on the House Natural Resources Committee.
"As the Republicans majority begins the new Congress, former oil industry lobbyists will have new and growing influence as top staffers for congressmen on key committees," the analysis states.
Accountable.US detailed the close ties between Nancy Peele—chief of staff to House Natural Resources Committee Chair Bruce Westerman (R-Ark.)—and fossil fuel interests.
"It's no surprise that Big Oil is infiltrating the halls of Congress after spending millions to elect some of the most extreme legislators in American history."
Peele's history includes:

The publication continues:
Majority Leader Steve Scalise's [R-La.] Chief of Staff Megan Bel Miller came to Scalise's office straight out of working as an oil and gas lobbyist... Miller lobbied Congress on behalf of National Oceans Industry Association, a group representing the offshore oil and gas industry. Bel Miller advocated for polluting industry interests on numerous conservation issues, including the Endangered Species Act, National Environmental Policy Act, and offshore leasing. Majority Whip Tom Emmer's [R-Minn.] new Policy Director Ian Foley is an energy and mining lobbyist. In 2022, Foley lobbied Congress on behalf of the uranium mining industry and public utilities with oil and gas portfolios.
These are but a handful of the many examples of the revolving door between Big Oil and Congress highlighted in the analysis.
"It's no surprise that Big Oil is infiltrating the halls of Congress after spending millions to elect some of the most extreme legislators in American history," Accountable.US energy and environment director Jordan Schreiber said in a statement. "These lobbyists are not getting hired to advocate for American energy consumers—they will push an agenda that benefits the new majority's donors no matter what it costs taxpayers."
Underscoring the analysis' findings, the U.S. House of Representatives on Friday passed legislation that would require the federal government to lease a portion of public lands and waters for fossil fuel extraction for each non-emergency drawdown of the U.S. Strategic Petroleum Reserve. The bill was introduced by Rep. Cathy McMorris Rodgers (R-Wash.), who chairs the House Energy and Commerce Committee and was the top recipient of oil and gas PAC money in the House Republican caucus during the last election cycle.

\u201cNEW: MAGA Republicans in Congress just passed a bill that would obstruct one of @POTUS\u2019 only powers to protect consumers from Big Oil\u2019s price gouging\u2014letting oil companies get rich at Americans\u2019 expense. https://t.co/pcwPGdVkIs\u201d

— Accountable.US (@Accountable.US) 1674844979
"American consumers pay more for energy so Big Oil can get richer under [House Speaker] Kevin McCarthy's [R-Calif.] plan," Schreiber said in another
statement
. "Big Oil CEOs have given the MAGA majority big bucks while the rest of us simply pay our taxes so it's no surprise they come out ahead."
News
SUPPORT OUR WORK.
We are independent, non-profit, advertising-free and 100%
reader supported.