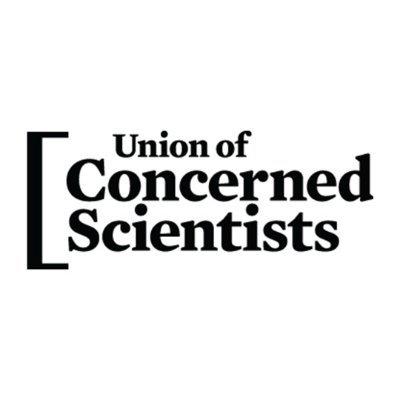 For Immediate Release
Contact:
Aaron Huertas
Press Secretary Landline: 202-331-5458
Cell: 202-236-8495
www.ucsusa.org
At RNC, Clear Channel OKs Pro-Coal Ad, Removes UCS's
Northwest Airlines and Clear Channel Selectively Apply Advertising Policy
MINNEAPOLIS
Last
week Northwest Airlines and Clear Channel Outdoor took down the Union
of Concerned Scientists' (UCS) anti-nuclear-weapons billboards in the Minneapolis and Denver
airports ostensibly because they did not meet airport advertisement
policies. But given that both the airline and Clear Channel have not
objected to a pro-coal billboard on the same concourse in the Minneapolis
airport where UCS's billboard appeared, it is apparent that both the
airline and Clear Channel apply their no-politics policies
selectively. (UCS can provide pictures of both advertisements.)
NORTHWEST REJECTS UCS AD, BUT SAYS NOTHING ABOUT COAL INDUSTRY AD
When
asked why Northwest Airlines objected to the Union of Concerned
Scientists' anti-nuclear billboard in the Minneapolis airport,
Northwest spokesperson Tammy Lee told reporters that the airline does
not "allow controversial or political advertising in our concourse, and
this one [UCS's billboard] was both." She added that Clear Channel's
contract with the airport authority states: "Under no circumstances
shall displays embody controversial, social, moral, political or
ethical issues." (In one story she also characterized UCS's billboards
as political "attack ads," even though both presidential candidates
largely agree with UCS's position on ridding the world of nuclear
weapons.)
So why isn't the airline objecting to a coal industry billboard that is now posted in the same Minneapolis airport concourse where ours was located? (See attached photo below.)
We
found out about this coal billboard, which is located between gates G13
and G14, from emails between Northwest officials and Clear Channel
regarding our billboard. Northwest's director of customer service and
airport operations, Rick Feltner, complained in the email exchange that
someone had placed a sticker with "an opposing point of view" on the
billboard. Note that he was not objecting to the billboard itself.
The
coal billboard touts "clean coal." Clean coal is an oxymoron. It's akin
to saying "safe cigarette." Coal is not clean. Coal-fired power plants
in the United States produce one-third of America's carbon dioxide
emissions -- about the same amount as all our cars, SUVs, trucks,
buses, ships and planes combined (for more about coal, see UCS's 2006
report, "Gambling with Coal," at www.ucsusa.org/assets/documents/clean_energy/gambling_with_coal_final_report_sept_06.pdf).
The
coal billboard violates Clear Channel's contract with the airport
authority as well as Northwest's policy. It is clearly controversial.
And given that there is a raging policy debate over the future of coal,
any ad promoting coal is political. Why hasn't Northwest asked Clear
Channel to take down this billboard?
The email exchange is reproduced below:
-----Original Message----- From: Nelson, Kathleen J (Reg Director)
Sent: Monday, August 18, 2008 2:44 PM To: HARDIE, PEGGY Subject: Re: www.reducethethreat.org
I just took a look and I can see how this would be offensive/scary to some (the concept of our city in the crosshairs of a nuclear bomb) and the strong anti-McCain message. Can we remove it?
The coal ad with the sticker is between G13 and G14 along the moving walkway.
Thanks!
------------------- -----Original Message----- From: Nelson, Kathleen J (Reg Director)
Sent: Monday, August 18, 2008 1:17 PM To: HARDIE, PEGGY Subject: www.reducethethreat.org
Peggy - we've had several complaints about an ad near G16-G17 by this group and the fact that it is political and evidently has a picture of Mpls in crosshairs and talks about nuclear bombs and is anti-McCain. I'll go down and look at it in a bit, but wondered what you knew. Also see note below re: another ad.
------------------- Sent from my BlackBerry
----- Original Message ----- From: Feltner, Rick To: Nelson, Kathleen J (Reg Director) Sent: Mon Aug 18 13:12:33 2008 Subject: Re: VM
Ok. On your way down take a look at the coal ad as well. Looks like someone put a sticker on it with an opposing point of view.
Rick Feltner
----- Original Message ----- From: Nelson, Kathleen J (Reg Director) To: Feltner, Rick Sent: Mon Aug 18 13:07:40 2008 Subject: VM
Got your voicemail. I am actually over here in a MAC mtg and will take a look at it and talk to clear channel.
I'll get back to you later.
------------------- Sent from my BlackBerry
Based
on this email exchange, it is clear that Northwest officials object to
ads that do not reflect their political views but apparently have no
problem with ads that advance views they support.
It
also is clear from the email exchange that Northwest's objections to
our billboard were because, according to Northwest Regional Director
Kathleen J. Nelson, it could be seen as "offensive/scary" and because
of its "very strong anti-McCain message." Note that the airline told
reporters that its objection to the billboard was not motivated by
partisan considerations.
It
also should be noted that Northwest is the official airline of the
Republican National Convention. Northwest Airlines' CEO, Doug
Steenland, is on the Republican National Convention host committee
board (see https://www.msp2008.com/committee).
Was
Northwest's request to Clear Channel to remove UCS's billboard
politically motivated? We think so - even though, as we have previously
pointed out, Sen. McCain largely agrees with our goal of ridding the
world of nuclear weapons (see Sen. McCain's official campaign site: www.johnmccain.com/involving/petition.aspx?guid=46fc9952-ebb3-49ea-bdc7-6537fee1399f).
CLEAR CHANNEL ALSO APPLIES ITS NO-POLITICS POLICY SELECTIVELY
Clear
Channel apparently has a history of rejecting political advertisements
that do not reflect its corporate views while accepting other political
advertisements that do. (For more information on Clear Channel's track
record of rejecting advertising, go to: https://wweek.com/editorial/3440/11375/ and https://www.commondreams.org/headlines04/0712-01.htm. For an overview of Clear Channel from Sourcewatch, go to https://www.sourcewatch.org/index.php?title=Clear_Channel.)
In our case, Clear Channel accepted our billboards and posted them. The Minneapolis billboard went up on August 13 and the Denver billboard went up on August 15. It wasn't until the following week that the company decided to take them down.
WHY DID CLEAR CHANNEL REMOVE THE DENVER AD WHEN NOBODY COMPLAINED?
Clear Channel caved to Northwest's request to take down the Minneapolis
airport billboard ostensibly because the airline has the right to
reject advertisements on its concourses. But why did Clear Channel
remove the version of the billboard in Denver addressing Sen. Obama? Chuck Cannon, director of public affairs at the Denver International Airport,
told reporters that the airport had no problem with the ad. As reported
in Advertising Age, Cannon said, "While no one has complained yet, my
first response would not be to take it down."
UCS BILLBOARDS A PART OF A LARGER CAMPAIGN
The
billboards are a part of a larger UCS media campaign that includes
smaller versions in bars and restaurants around the convention sites.
The group also bought Web ads on Minnesota and Colorado political blog sites. (For more on UCS's ad campaign, go to www.reducethethreat.org.)
The
UCS campaign builds on the organization's multiyear effort promoting a
fundamental reassessment of the role, purpose and future of U.S. nuclear weapons. Earlier this year, UCS released "Toward True Security: Ten Steps the Next President Should Take to Transform U.S. Nuclear Weapons Policy" and a scientists statement on nuclear weapons signed by 21 Nobel laureates. In December 2007, the organization conducted a public opinion poll in South Carolina that found more than two-thirds of likely Republican and Democratic primary voters in that state want the United States
to spearhead an international effort to reduce the number of nuclear
weapons globally and believe that those reductions would make the United States safer.
The Union of Concerned Scientists is the leading science-based nonprofit working for a healthy environment and a safer world. UCS combines independent scientific research and citizen action to develop innovative, practical solutions and to secure responsible changes in government policy, corporate practices, and consumer choices.
LATEST NEWS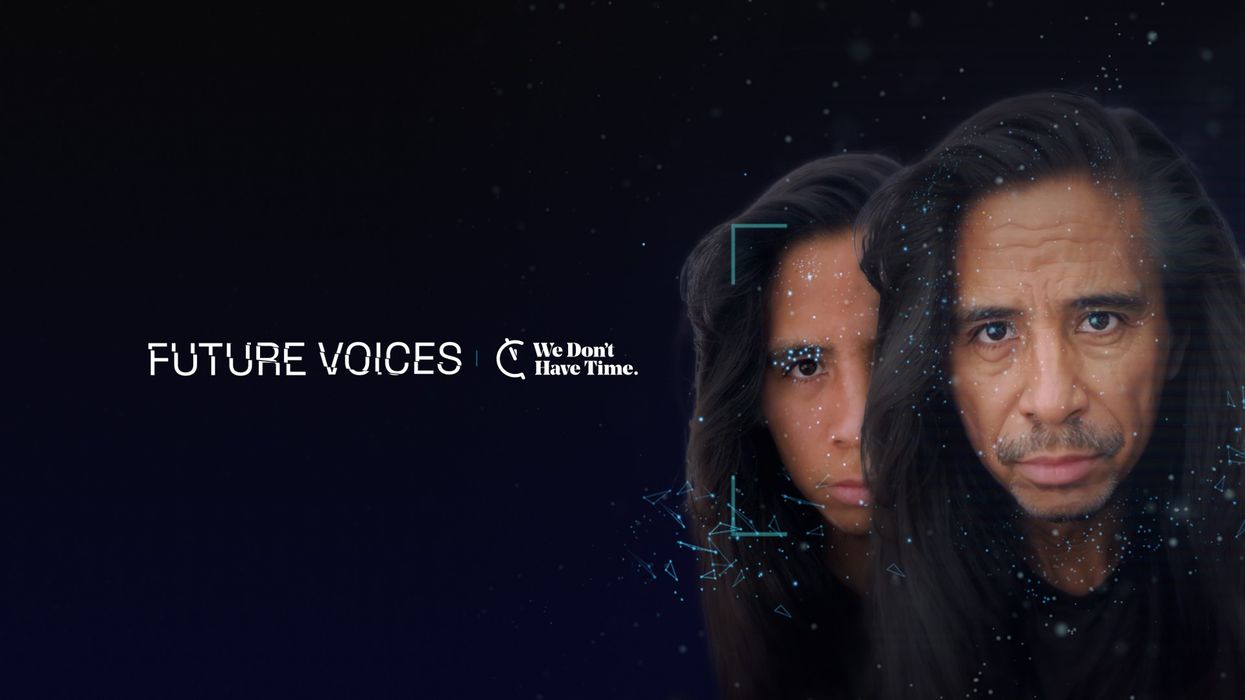 "World leaders are not listening to the younger generation, so what if we turn young climate advocates into older versions of themselves—into their future voices?"

With help from generative artificial intelligence, We Don't Have Time turned over a dozen young climate campaigners into future versions of themselves to stress to world leaders the necessity of bolder action to tackle the climate emergency.
We Don't Have Time, the world's largest social network for climate solutions, launched the "Future Voices" initiative on Thursday, as the United Nations Climate Change Conference (COP28) began in the United Arab Emirates and scientists warned that after months of devastating heat and extreme weather events, 2023 is "virtually certain" to be the warmest year on record.
"World leaders are not listening to the younger generation, so what if we turn young climate advocates into older versions of themselves—into their future voices?" said David Olsson of We Don't Have Time. "Then the demand for ending fossils and accelerating solutions can't be ignored. We encourage everyone to support this message."
The Future Voices website highlights that current children and young adults will suffer the consequences of the fossil fuel-driven climate emergency "to a much higher degree than previous generations," and already, youth worldwide are enduring the impacts of heating the planet and reporting that the crisis is taking a toll on their mental health.
The website features an interactive globe through which users can view video testimonies from campaigners around the world (also included below). One of them stars Swedish Fridays for Future and Climate Live campaigner Andreas Magnusson, who said in a statement that "in the fight against the climate crisis, including and listening to young people is crucial."
Speaking from Sweden in 2050, the AI-aged Magnusson says in his video that "in my hometown, Mockfjärd, I've seen landslide after landslide hit, caused by the heavy raining. And yet, I am not the one who suffers most. I come from a great place of privilege. I come from a part of the world that is not affected by nature's fury like other parts of the world are."
Activists from other parts of the world, in their own video messages from 2050, speak of "vast droughts causing water shortage," more frequent hurricanes, rising sea levels, and "floods and plagues."

Near the end of Magnusson's video, the 2023 version of him warns: "Time is running out. The choices world leaders make today will determine the kind of world we will live in tomorrow. The future is now."

In addition to the AI videos, the Future Voices initiative includes an online hub to help young activists who can't make it to Dubai still participate in COP28. Organizers are planning daily broadcasts with climate leaders and decision-makers.
"We are very proud and happy to be able to offer this opportunity for young people to get access to the most important climate negotiations of the year and deliver their messages to world leaders," said Olsson. "It would not have been possible without our incredible community of youth climate advocates."
Magnusson said that "Future Voices and the youth hub make the discussions at COP28 more inclusive."
"World leaders hold not only our future in their hands, they also hold our present, because we are already today affected by the climate crisis," the campaigner added. "And, frankly, it is youth who most of the time bring bold ideas and the unfiltered truth to the discussions about the future of humanity. Discussions that for 30 years haven't been able to even mention 'oil' in their agreements."
Watch more of the Future Voices videos below:

Nikka Gerona of the Philippines is co-chair of the United Nations Children's Fund (UNICEF) Regional Young People's Action Team in East Asia and the Pacific.
Isaias Hernandez of the United States is an environmental justice educator and public speaker who created QueerBrownVegan.
Valeria Horton of Mexico founded Green Reconnection and was the Mexican lead negotiator for loss and damage at COP27.
Sophia Mathur of Canada is a climate advocate with Fridays for Future and recipient of the 2021 Action for Nature International Award.
Agustín Ocaña of Ecuador is the founder and chairperson of the Global Youth Coalition.
Anita Soina of Kenya is a climate advocate, politician, and global youth champion for the U.N.-hosted partnership Sanitation and Water for All.
Other featured activists include Farzana Faruk Jhumu of Bangladesh, an advocate with Fridays for Future and Feminist Action Coalition for Climate Justice; Denzel James of Australia, a UNICEF young ambassador; and Madina Kimaro of Tanzania, a UNICEF youth advocate and climate advocacy champion for the Tanzania Girl Guides Association.
There are also videos from Emma Kroese of the Netherlands, a climate advocate with Fridays for Future; Ashley Lashley of Barbados, a UNICEF youth advocate and CARICOM youth ambassador; Geoffrey Mboya of Kenya, a humanitarian, sustainability advocate, and youth adviser of the WeDontHaveTime Foundation; and Joaquín Salinas Atenas of Chile, a socioenvironmental artivist and UNICEF COP26 youth delegate.
News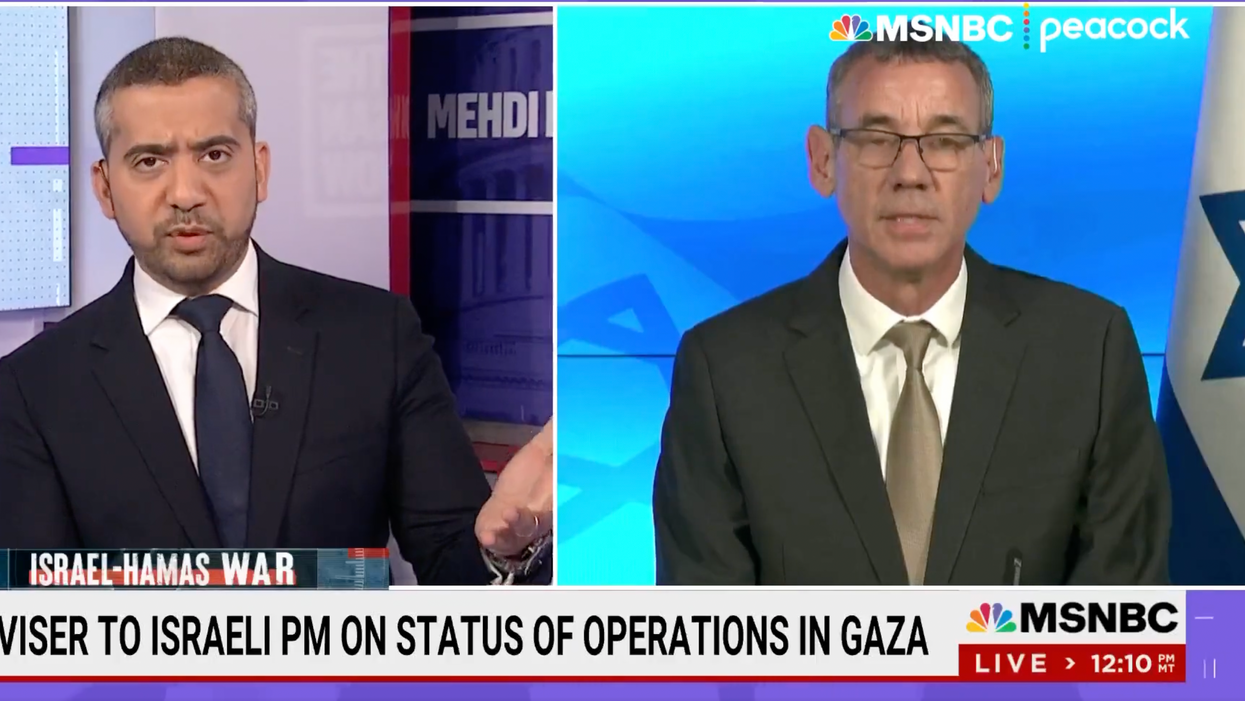 "Mehdi Hasan's program has felt like an oasis on air and more needed than ever," said one Palestinian American advocate of the journalist's Gaza coverage.
Progressives on Thursday said the American public was losing a vital voice that for nearly two months has offered rare critical coverage of the U.S.-backed Israeli assault on civilians in Gaza, as MSNBC announced it was canceling "The Mehdi Hasan Show."
The show began on the streaming service Peacock in 2020 and Hasan has hosted the weekend program on the network since 2021. He has gained recognition in the past for his incisive interviews of former Blackwater CEO Erik Prince and GOP presidential candidate Vivek Ramaswamy.
More recently he has provided viewers with commentary on the war in Gaza, in which more than 15,000 Palestinians have been killed so far, while also condemning Hamas' attack against civilians in southern Israel on October 7 as "undeniably, a vicious act of terror."
"How many more innocent people are going to die, and what will be achieved?" asked Hasan in one segment last month. "Does killing innocent Palestinians in Gaza, and not just members of Hamas, killing a Palestinian child every 15 minutes since October 7... Does that help defeat Hamas?"
Guardian columnist Owen Jones said there is "no better interviewer than Mehdi Hasan: forensic, razor-sharp, an encyclopedic knowledge."

"So MSNBC has now canceled his show," Jones said. "The few mainstream voices who challenge Israel's mass slaughter of Gaza are under attack."
As the cancellation of Hasan's show was announced, Palestinian American human rights lawyer Noura Erakat pointed to his recent interview with Mark Regev, an adviser to Israeli Prime Minister Benjamin Netanyahu, as "a whole class on journalistic method."
In the interview, Hasan implored Regev to admit Israel's onslaught has led to a high death toll of Palestinians, pushed back against his claim that Israel has targeted Hamas members, and demanded he address misinformation from his own government about the war.
"They canceled Mehdi Hasan for interviews like this—evidence-based and willing to challenge power," said author Sarah Kendzior of the Regev segment, "and it is doubtful he will be the only journalist pushed out for daring to practice journalism."
The Progressive Change Campaign Committee (PCCC) pointed out that on Wednesday evening Hasan appeared on "The Daily Show" to promote his program.
"To be clear, there was no instigating outrage. No shocking new thing," said the group. "He was acceptable (and cool) enough for 'The Daily Show,' and MSNBC let him go out and promote the network, and then they blindside one of their best hosts?"
"It's a huge programming mistake to kick voices like Mehdi Hasan off the air instead of asking: Why are they resonating with the public as they challenge power and question conventional wisdom?" the PCCC added.
MSNBC president Rashida Jones reportedly told staffers that the network was reshuffling its weekend programming—cutting Hasan's show and adding a program with hosts including Democratic strategist Symone Sanders-Townsend and former Republican National Committee Chair Michael Steele—"to better position ourselves as we head into the presidential election."
In canceling Hasan's show, noted journalist David Sirota, MSNBC is eliminating not only one of its most vocal critics of Israel, but also "one of the only people in cable TV news who has been willing to report critically on both parties."

"Canceling him," said Sirota, "is another step in the deliberate homogenization of news content into pure red-vs-blue infotainment" ahead of the election.
News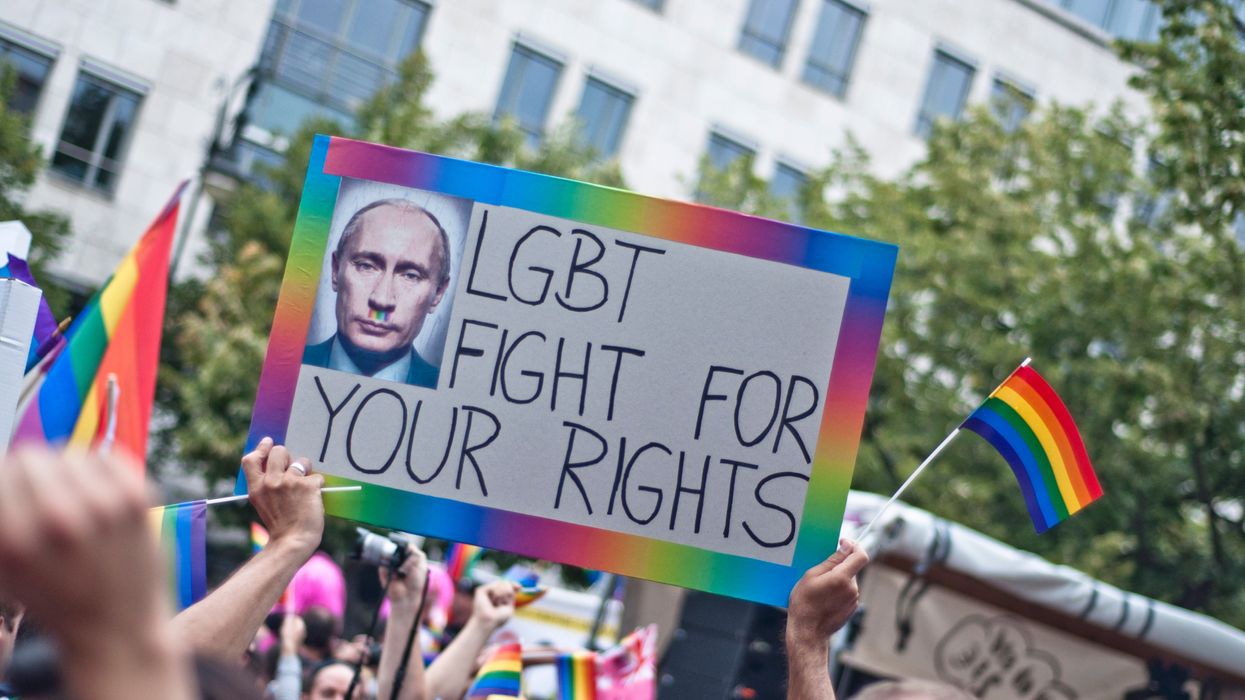 "This is real repression. There is panic in Russia's LGBT community," said one gay official in St. Petersburg. "People are emigrating urgently."
In a decision that Amnesty International decried as "shameful and absurd," Russia's Supreme Court on Thursday banned the "international LGBT movement"—which critics noted doesn't actually exist—as an "extremist organization," a move human rights groups said will subject the country's already oppressed queer community to further repression.
During a closed hearing, Russia's highest court sided with the country's Justice Ministry, which earlier this month filed a lawsuit accusing the "LGBT movement" of fomenting social and religious discord.
LGBTQ+ advocates said the ruling will effectively silence queer activism in a country that banned so-called "gay propaganda" a decade ago, one of numerous legal attacks on gay rights including a law signed in July by Russian President Vladimir Putin prohibiting gender-affirming healthcare and stripping transgender people of marriage and parental rights.
"Russian authorities should immediately end this perverse persecution of LGBT people and concerned countries should support LGBT people and their advocates facing extreme risks and persecution in Russia," Human Rights Watch (HRW) said in a statement.
According to HRW:
Under Russian criminal law, participating in or financing an extremist organization is punishable by up to 12 years in prison. A person found guilty of displaying such groups' symbols faces up to 15 days in detention for the first offense and up to four years in prison for a repeat offense. The authorities may include individuals suspected of involvement with an extremist organization in the countrywide "list of extremists" and freeze their bank accounts. People deemed to be involved with an extremist organization are barred from running for public office.
Tanya Lokshina, HRW's associate Europe and Central Asia director, asserted that the court's move "apparently serves a dual purpose."
"It is meant to increase the scapegoating of LGBT people to appeal to the Kremlin's conservative supporters before the March 2024 presidential vote and to paralyze the work of rights groups countering discrimination and supporting LGBT people," she said.
Sergei Troshin, a municipal deputy in St. Petersburg who came out as gay last year, told the BBC that he thinks the court's ruling "will mean that anyone whom the state considers an LGBT activist could receive a long prison sentence for 'participating in an extremist organization.'"
"For the organizer of such a group, the prison term will be even longer," he added. "This is real repression. There is panic in Russia's LGBT community. People are emigrating urgently. The actual word we're using is evacuation. We're having to evacuate from our own country. It's terrible."
Since Russia invaded Ukraine last year, the Kremlin has increasingly touted "traditional values" as a bulwark against "degrading" Western cultural influences. An expanded version of the 2013 "gay propaganda" law is currently advancing in Russia's State Duma, the lower house of the country's Federal Assembly.
The advocacy group Rainbow Europe this year ranked Russia the third-worst European nation for LGBTQ+ rights, ahead of only Turkey and Azerbaijan.
Yan Dvorkin, an exiled Russian transgender activist who heads the advocacy group Center T, toldAl Jazeera that the court's ruling marks a "new low point of insanity."
Dvorkin said that since Russia is "losing the war" in Ukraine, many Russians are "very frustrated and dissatisfied with the government."
"It's very easy to take that anger out on LGBTQ people," he added.
Vitaly Milonov, a notoriously homophobic member of the State Duma from the ruling United Russia party, told the BBC that the Supreme Court ruling is "not about sexual minorities or the private life of individuals."
"It's more about the political agenda proclaimed by this LGBT international movement," he said.
"And I'm looking forward to the next step: banning the six-color rainbow flag," Milonov added. "We don't need this flag. It's a symbol of the fight with the traditional family. I hope that no one can show this flag in Russia."
News