Our work is licensed under Creative Commons (CC BY-NC-ND 3.0). Feel free to republish and share widely.
Andrea Germanos
Andrea Germanos is a senior editor and staff writer at Common Dreams.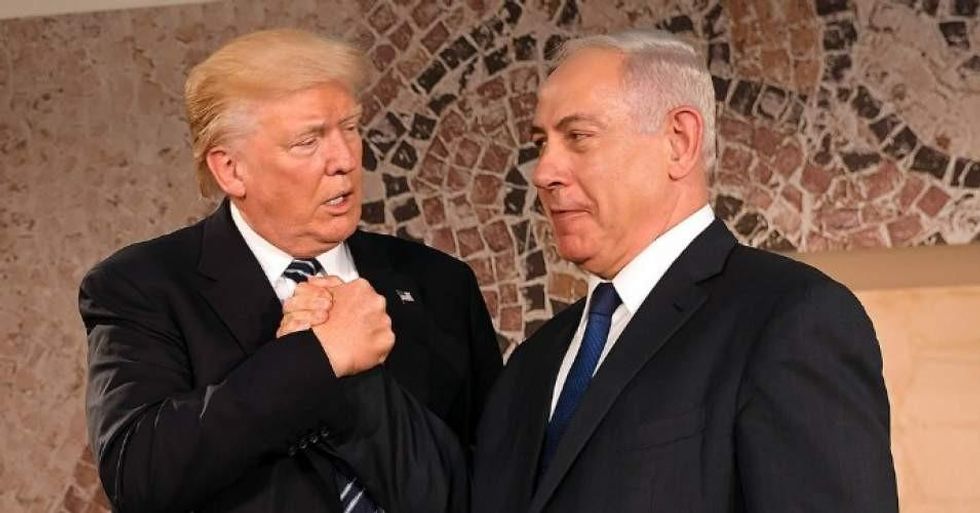 With his usual braggadocio and familiar hypocrisy, President Donald Trump claimed on Wednesday that his official announcement for the U.S. to recognize unified Jerusalem as Israel's capital and to move its embassy there was a gesture of a "peace," while critics at home and across the world decried the move as a destructive and unjust decision that will unleash more violence.
The announcement, said Raed Jarrar, Amnesty International USA's Middle East advocacy director, is both "reckless and provocative." Trump's decision, he said, shows "yet again his blatant disregard for international law" and "further undermines the human rights of the Palestinian people and is likely to inflame tensions across the region."
\u201cTrump announces Jerusalem the capital of Israel while saying he is committed to helping achieve peace. These are completely incompatible\u201d

— CODEPINK (@CODEPINK) 1512584772
"No country in the world recognizes Israel's annexation of East Jerusalem, making the decision to confer U.S. recognition deeply troubling" Jarrar added.
International law sees East Jerusalem as occupied Palestinian territory, and no other country has an embassy in Jerusalem. United Nations Secretary-General Antonio Guterres stressed that having Jerusalem as the capital of Israel and Palestine was necessary to secure a two-state solution.
\u201cTrump latest announcement exposes dangerous foreign policy. #Jerusalem is a city under hostile military occupation. NOT Israel\u2019s capital. We stand with the Palestinians of Jerusalem who will never give up their rights to live in peace and with dignity in their beautiful city.\u201d

— War on Want (@War on Want) 1512584258
\u201cWe are appalled but unsurprised about Trump's announcement about Jerusalem. He is calling for "peace" while charging dangerously towards the opposite.\u201d

— Jewish Voice for Peace (@Jewish Voice for Peace) 1512584843
In his afternoon address from the White House, Trump said the recognition is "nothing more, or less, than a recognition of reality."
According to Middle East expert Phyllis Bennis, "It should be noted that it has been U.S. policy itself--support for Israel, billions of U.S. tax dollars sent to the Israeli military every year, acceptance of Jewish settlements in occupied Arab Jerusalem, protection of Israel in the United Nations--that is largely responsible for that reality."
While Trump argued the change was necessary to "the pursuit of peace between Israel and the Palestinians," anti-occupation group IfNotNow said it "only entrenches Israel's military occupation of Palestinian land and drives Israelis and Palestinians farther away from the lasting 'peace' he so callously talked about."
While it serves to placate Trump's Christian Zionist base and pro-Israel donors, it follows decades of U.S. approval of illegal acts by Israel, Bennis writes, though the new decision poses "the risk of violent responses across the world" and "the risk of further violation of Palestinian rights."
"The Trump Administration is kicking a hornet's nest by asserting Jerusalem as Israel's capital." Echoing Bennis, Rebecca Vilkomerson, executive director of Jewish Voice for Peace, said, "For seventy years, the U.S. has given Israel tacit approval to steal Palestinian land, build illegal Jewish settlements, and deny Palestinians in East Jerusalem and elsewhere their rights. The Trump-Netanyahu alliance takes these ongoing policies to the next level and is reckless, irresponsible, and endangers the lives of Palestinians and Israelis."
Also seeing the development as taking wrong policies to the next level is Chung-Wha Hong, executive director of Grassroots International. "The United States has stood alone in its unconditional endorsement of Israel, regardless of illegal settlements, occupation, and documented human rights abuses," Hong said. "Now the Trump Administration is kicking a hornet's nest by asserting Jerusalem as Israel's capital."
In a televised address, Palestinian President Mahmoud Abbas said the decision "would lead us into wars that will never end which we have warned about and always urged to fight against."
Palestinian faction Hamas, meanwhile, said the decision "opens the gates of hell," and called for "The youth and the Palestinian resistance in the West Bank need to respond with all means available to the U.S. decision that harms our Jerusalem," including a "day of rage" on Dec. 8.
Other world leaders had no praise for the decision, with French President Emmanuel Macron saying it is "regrettable" and Turkish Foreign Minister Mevlut Cavusoglu calling it "irresponsible."
U.K. Labour leader Jeremy Corbyn said it was "a reckless threat to peace" and called on his government to condemn it.
\u201cTrump's recognition of Jerusalem as Israel's capital, including occupied Palestinian territory, is a reckless threat to peace. The British Government must condemn this dangerous act and work for a just and viable settlement of the conflict.\u201d

— Jeremy Corbyn (@Jeremy Corbyn) 1512586835
One leader offering praise for the decision was Israeli Prime Minister Benjamin Netanyahu, who said , "The Jewish people and the Jewish state will be forever grateful."
The Trump administration's peace effort between Israel and Palestine is being led by Jared Kushner, Trump's senior adviser and son-in-law, who as Bennis notes, "has been a supporter of illegal Israeli settlements for years."
We've had enough. The 1% own and operate the corporate media. They are doing everything they can to defend the status quo, squash dissent and protect the wealthy and the powerful. The Common Dreams media model is different. We cover the news that matters to the 99%. Our mission? To inform. To inspire. To ignite change for the common good. How? Nonprofit. Independent. Reader-supported. Free to read. Free to republish. Free to share. With no advertising. No paywalls. No selling of your data. Thousands of small donations fund our newsroom and allow us to continue publishing. Can you chip in? We can't do it without you. Thank you.