Matt Rothschild
Matt Rothschild is the executive director of the Wisconsin Democracy Campaign. Prior to joining the Democracy Campaign at the start of 2015, Matt worked at The Progressive Magazine for 32 years. For most of those, he was the editor and publisher of The Progressive.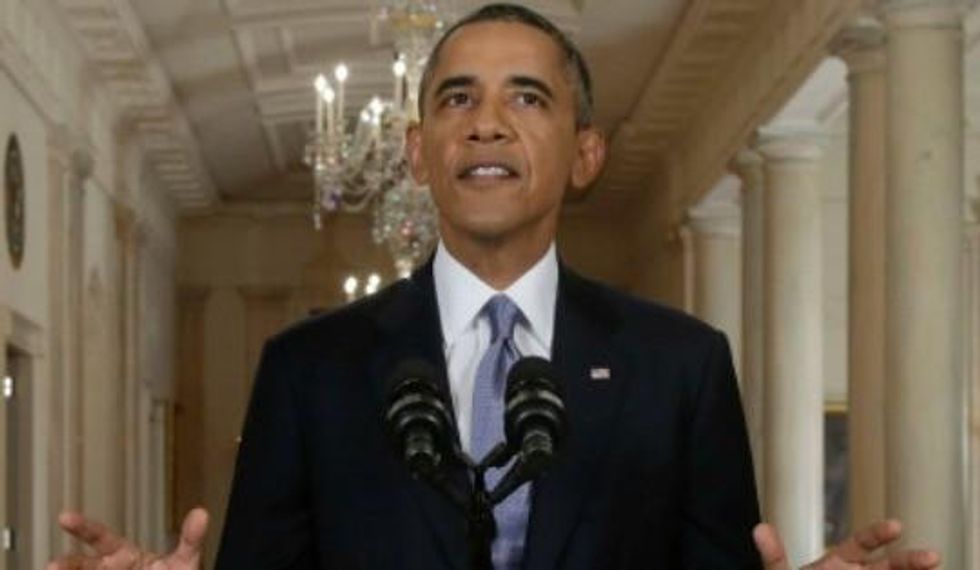 1. "I possess the authority to order military strikes."
No you don't, Mr. President. Only Congress has the authority to declare war, and ordering military strikes would be a clear act of war, thus violating the Constitution. It would also violate the War Powers Act, which says that the President can't engage in hostilities without a declaration of war or specific Congressional authorization unless there is "a national emergency created by attack upon the United States, its territories or possessions, or its armed forces." And Syria has done no such thing.
2. Syria's use of chemical weapons is "a danger to our security."
Note that four paragraphs later, he said it wasn't "a direct or imminent threat to our security." So what kind of a threat is it? Well, a rather tenuous one. "Other tyrants will have no reason to think twice about acquiring poison gas and using them. Over time, our troops would again face the prospect of chemical warfare on the battlefield." Really? It is very unlikely that some dictator would do this because he would know that if he did, the U.S. would drop a nuke on his head. That was the warning that Saddam Hussein got from the U.S. in January of 1991, and he didn't use his chemical weapons even as the U.S. was destroying most of his army. If that threat was enough to stop Saddam, it's likely good enough to stop other dictators.
Obama also acknowledged that "the Assad regime does not have the ability to seriously threaten our military."
3. "If fighting spills beyond Syria's borders, these weapons could threaten allies like Turkey, Jordan, and Israel."
Let's just look at Israel. Obama contradicted himself just a few minutes later when he said, "Neither Assad nor his allies have any interest in escalation that would lead to his demise, and our ally, Israel, can defend itself with overwhelming force, as well as the unshakable support of the United States of America."
4. "It's true that some of Assad's opponents are extremists. But Al Qaeda will only draw strength in a more chaotic Syria if people there see the world doing nothing to prevent innocent civilians from being gassed."
Only?
If U.S. missile strikes seriously degrade Assad's military, they would certainly help the extremists who are allied with Al Qaeda in Syria.
5. "For nearly seven decades, the United States has been the anchor of global security. This has meant doing more than forging international agreements; it has meant enforcing them. The burdens of leadership are often heavy, but the world's a better place because we have borne them."
Was the U.S. an anchor of global security and an enforcer of international agreements when it overthrew the Mossadegh government in Iran in 1953, or the Arbenz government in Guatemala in 1954?
Is the world a better place because the U.S. helped overthrow Salvador Allende's democratically elected government in Chile almost exactly 40 years ago?
Is the world a better place because the United States killed 3 million people in Vietnam, Laos, and Cambodia and because we dropped 20 million gallons of napalm (waging our own version of chemical warfare) on those countries?
Is the world a better place because the United States supported brutal governments in El Salvador and Guatemala in the 1980s, which killed tens of thousands of their own people?
Is the world a better place because George Bush waged an illegal war against Iraq and killed between 100,000 and a million civilians?
And what international agreements was the United States enforcing when it tortured people after 9/11?
We've had enough. The 1% own and operate the corporate media. They are doing everything they can to defend the status quo, squash dissent and protect the wealthy and the powerful. The Common Dreams media model is different. We cover the news that matters to the 99%. Our mission? To inform. To inspire. To ignite change for the common good. How? Nonprofit. Independent. Reader-supported. Free to read. Free to republish. Free to share. With no advertising. No paywalls. No selling of your data. Thousands of small donations fund our newsroom and allow us to continue publishing. Can you chip in? We can't do it without you. Thank you.