© 2021 Food & Water Watch
Alison Grass
Alison Grass is a researcher for the water program at Food & Water Watch. She is an experienced watchdog/public interest researcher whose work focuses on energy issues, hydraulic fracturing and the corporate control of water resources (as it relates to bottled water). She also has experience doing research on campaign finance and money in politics.
John Wu
John Wu is a Food & Water Watch summer water research and policy intern and a junior at The College of Wooster.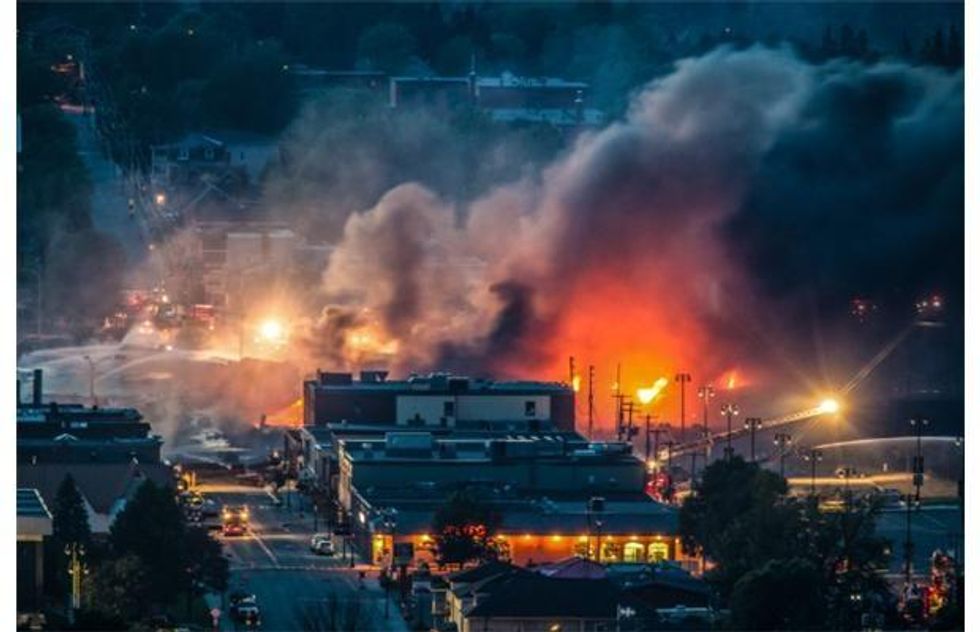 Earlier this month, fire and a series of horrific explosions swept through Lac-Megantic, a small town in Quebec just miles from the Maine border, after an unmanned 72-car train derailed. The train was transporting
27,000 gallons
of crude oil from the Bakken Shale in North Dakota to a refinery in New Brunswick on the Montreal, Maine and Atlantic Railway (MMA). The death toll has climbed to more than 50 people. This is but one of the latest tragedies resulting from the rapid expansion of risky oil and gas drilling and fracking across North America.
Oil produced by the boom in North America from tar sands in Alberta and the Bakken Shale Formation under North Dakota, Montana, Saskatchewan and Manitoba requires transport. With pipelines already pumping at capacity, companies are turning to rails and ships to move their dirty products. Because most refineries in East Canada are not able to process heavy tar sand crudes, they are switching from distilling imported foreign light crudes to the cheaper Bakken light crudes.
After this ill-fated train left North Dakota, it passed through Minneapolis, Chicago, Detroit, Toronto and Montreal. It would have run through central Maine before eventually offloading in St. John, in New Brunswick, Canada. According to the North Dakota Pipeline Authority, 675,000 barrels of Bakken oil leave daily, 75 percent by train, with that number projected to hit over a million barrels by the end of the year. Canada's railway system has been deregulated since the 1990s. Based on figures provided in a Wall Street Journal article, between 2003 and 2011, the privatized freight line MMA had a rate of reportable train accidents and incidents more than double the national average.
The accident prompted officials in Maine to conduct a safety review of freight rails. But this isn't Maine's first encounter with dirty oil. Environmentalists and citizens in New England and Quebec have, over the years, united to protest oil and gas companies laying the foundation for providing dirty Alberta tar sands access to the East Coast. Last December, an oil tanker carrying 11.7 million gallons of Bakken crude ran aground while travelling along the Hudson River from Albany, New York to New Brunswick, Canada. Although the tanker was double hulled, this was but one bullet dodged.
Grave mishaps are not limited to the rail and ship network. In fact, rapid pipeline development would further endanger countless lives by literally webbing a pipeline of risks throughout North America. Just look at the travesty that unfolded when Enbridge Inc., Canada's largest pipeline transporter of crude oil, made history with one of the worst oil spills in the Midwestern United States. In July 2010, one of the company's pipelines ruptured near Talmadge Creek, a tributary of Michigan's Kalamazoo River, spilling as much as 1 million gallons of tar sands crude. This oil spill is the most expensive inland clean-up operation in U.S. history - costing almost a billion dollars. In spite of these events, the oil and gas industry seems primed to position North America as a region for oil exports.
The lives lost in Lac-Megantic are an unfortunate display of what happens as we push for increased dirty fossil fuel production through President Obama's "All of the Above" energy plan. Instead, we should be weaning ourselves off fossil fuel consumption and making the policy decisions that will lead us to a sustainable, clean energy future.
We've had enough. The 1% own and operate the corporate media. They are doing everything they can to defend the status quo, squash dissent and protect the wealthy and the powerful. The Common Dreams media model is different. We cover the news that matters to the 99%. Our mission? To inform. To inspire. To ignite change for the common good. How? Nonprofit. Independent. Reader-supported. Free to read. Free to republish. Free to share. With no advertising. No paywalls. No selling of your data. Thousands of small donations fund our newsroom and allow us to continue publishing. Can you chip in? We can't do it without you. Thank you.