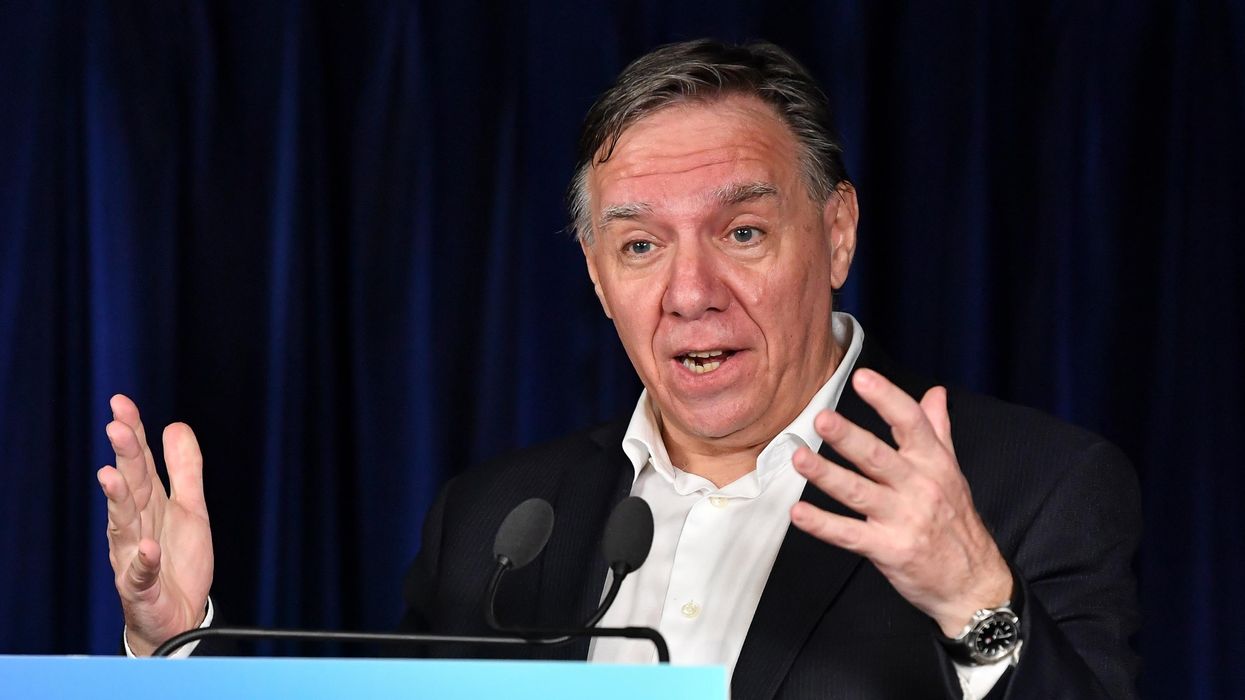 "We heavily tax cigarettes and alcohol," said one Canadian doctor. "So makes sense."
As the Omicron-driven surge in coronavirus infections strains their nation's healthcare resources, Canadian progressives are balancing urgent public health concerns with respect for civil liberties after the province of Quebec said Tuesday that it would begin levying fines on residents who refuse Covid-19 vaccinations.
"I think the government has still not exhausted other alternatives that are more equitable and more fair."
CBCreports Quebec Premier Francois Legault announced that "adults who refuse to be vaccinated for non-medical reasons" will be hit with a "health contribution" of an indeterminate but significant amount--believed to be more than $50-$100--after the policy is set "in the coming weeks."
"These people, they put a very important burden on our health-care network," Legault said of the unvaccinated. "I think it's reasonable a majority of the population is asking that there be consequences."
The Canadian Medical Association responded to Legault's announcement by tweeting"the measures announced today in Quebec demonstrate how precarious the situation is. Get the vaccine. It is still the best tool we have in our arsenal."
Around 90% of Quebecers have received at least one dose of coronavirus vaccination.
\u201cWe heavily tax cigarettes and alcohol... So makes sense... https://t.co/7SbTNmjlIM\u201d

— James Heilman, MD \ud83c\uddfa\ud83c\udde6 (@James Heilman, MD \ud83c\uddfa\ud83c\udde6) 1641960096
There is, however, pushback against the punitive policy among civil libertarians in terms of the way such a penalty could impact divergent segments of those choosing to remain unvaccinated.
Universite de Montreal bioethics professor Vardit Ravitsky noted that a flat penalty--a regressive tax, in other words--"that targets all these groups the same... has a harder time respecting the principle of equity and justice compared to other measures the government could choose."
Unlike other parts of the world, like the 27-nation European Union, "we still have not implemented vaccine passports for all non-essential services," she told CBC.
\u201c.@VarditRavitsky says equity is an ethical concern when it comes to a tax on the unvaccinated: \u201cIt's not that I have issues with increasing the pressure on those who are not vaccinated ... but I think the government still has not exhausted other alternatives.\u201d\u201d

— Power & Politics (@Power & Politics) 1641947290
Ravitsky addressed the equity issue during a Tuesday interview on CBC's "Politics & Power" program.
She said that "$100, $500, may not be a terrible price to pay for you or I, but for some families, it's a huge amount of money."
"It's not that I have issues with increasing the pressure on those who are not vaccinated by choice to go get the vaccine," Ravitsky clarified. " But I think the government has still not exhausted other alternatives that are more equitable and more fair."
Cara Zwibel, director of the fundamental freedoms program at the Canadian Civil Liberties Association--which opposes the tax--says the Canadian Charter of Rights and Freedoms protects individual bodily and medical autonomy.
"Allowing the government to levy fines on those who do not agree with the government's recommended medical treatment is a deeply troubling proposition," she told CBC, calling the tax "divisive and constitutionally vulnerable."
\u201cNEW: Statement from the CCLA on the @GouvQc's proposed health tax \ud83d\udc47\ud83d\udc47\n\n(via @CaraZwibel) \n\n#cdnpoli #AssNat\u201d

— Canadian Civil Liberties Association (@Canadian Civil Liberties Association) 1641953962
The new policy comes as coronavirus infections have thinned the ranks of Quebec's public health personnel, with CBC reporting some hospitals have canceled up to 80% of non-urgent and semi-urgent surgeries so that staff can care for Covid-19 patients.
Julius Grey, a Montreal-based constitutional and human rights attorney, toldGlobal News that the proposed penalty could be contested in court.
"Discriminatory taxes can be challenged but I'm not sure that's what this is," he said. "What Premier Francois Legault is trying to do is make vaccination obligatory."
On one hand, the government could argue that the benefits of fighting the Covid-19 pandemic--which is threatening to overwhelm the healthcare system--outweigh concerns over the erosion of individual liberty.
"On the other hand," said Grey, "people would say this is very serious violation of the Charter. It touches your personal integrity, physical integrity, by doing things to people they are not willing to have done."
Some European nations levy fines on people who refuse to submit to Covid-19 vaccination.
Austria currently imposes the most severe penalties--up to EUR3,600, or about $4,115--for unvaccinated people over age 14.
Greece has enacted a EUR100 ($115) monthly fine for unvaccinated people older than 60.
In Italy, people age 50 and older face fines as high as EUR1,600 ($1,830) if they enter their workplace while unvaccinated.
These measures come as the highly contagious Omicron variant of the SARS-CoV-2 virus is driving an unprecedented surge in Covid-19 cases in many nations.
According to Johns Hopkins University's Coronavirus Resource Center, there were more than 17.1 million new reported infections worldwide on January 9, a nearly 300% increase from about a month ago. Over that same period, daily reported deaths around the world have declined by about 20%.
News