Many carried placards proclaiming "Strong Schools, Strong Neighbourhoods" and "Protect Our Children" while chanting "Whose Schools, Our Schools" and calling for mayor Rahm Emmanuel's resignation.
"We're signalling that there is going to be a large and determined movement that will use the tactics of civil disobedience and direct action in order to keep these schools open," said Chicago Teachers Union vice-president Jesse Sharkey, who was arrested outside City Hall, one of 131 detained by police. "We see this event as kicking off an extended campaign this spring and we think it was a great success."
The city last week announced plans to close 54 schools affecting more than 30,000 students, primarily in low-income black and Latino areas. The proposals - which had already sparked huge, rowdy protests at hearings throughout the city prior to the announcement - mark Emmanuel's second major confrontation over education in less than six months following the teachers' strike in late August.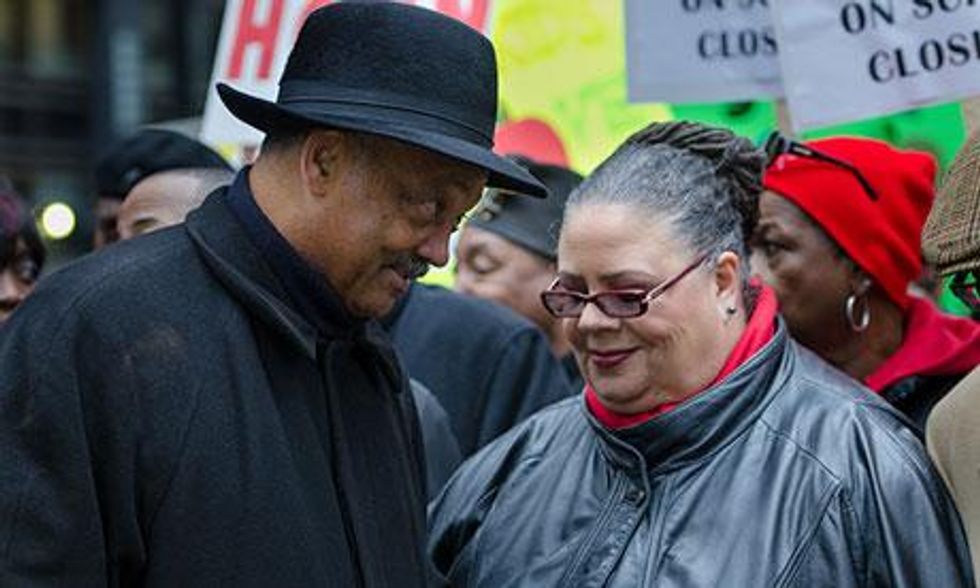 "People have a right to the neighbourhoods in which they live," said CTU leader Karen Lewis at the rally. "Children have the right to a safe, nurturing, loving environment."
Chicago Public Schools claims the closings are necessary to plug a $1bn deficit in the third-largest school district in the city and that consolidating under-utilised and under-performing schools will save $560m over 10 years by reducing investment in shuttered buildings. The district insists the savings will go to improving classroom resources including air conditioning, libraries and iPads for all students in grades 3-8.
Roughly 100 schools in Chicago - the third-largest school district in the country and with 87% of students from low-income families - have already been closed since 2001. Eighty eight per cent of the students affected in those closings were black, even though black students comprise just over 40% of the city's student body as a whole.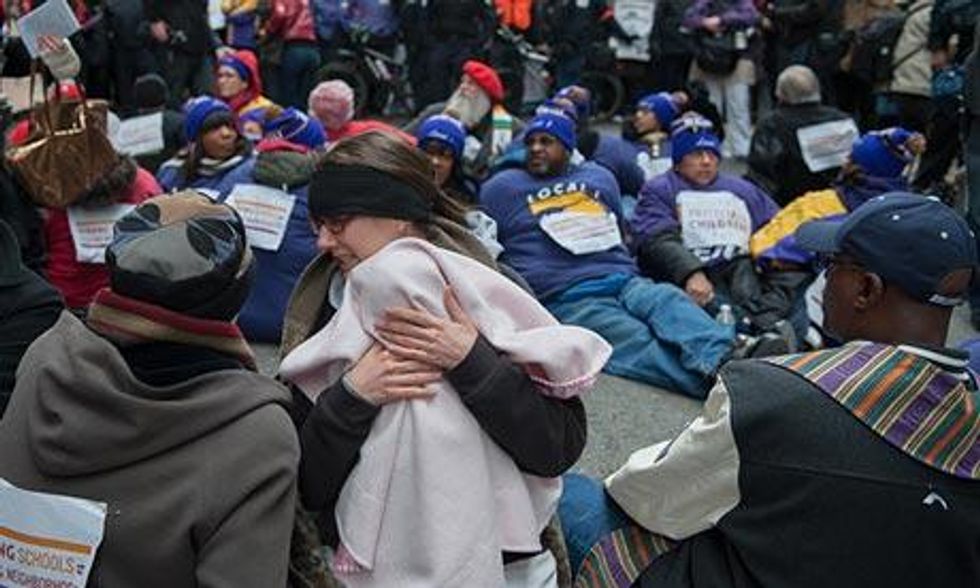 Community groups, unions and many parents argue that the closings will devastate already struggling areas, raise student-teacher ratios, put children in danger by forcing them to cross gang lines to go to new schools and are based on flawed calculations and savings.
"For too long children in certain parts of Chicago have been cheated out of the resources they need to succeed because they are in underutilised, under-resourced schools," said Barbara Byrd-Bennett, the CPS chief executive, explaining the announcement. "The district must consolidate ... to get students into higher-performing schools."
Opponents point out that there is little evidence that school closings achieve that aim and claim the closings mark an acceleration of the city's bid to "privatise" education by forcing students into charter schools.
"In the same time these school closings have been taking place over the past decade, the city has opened about 100 charter schools in the very neighbourhoods where they're now closing schools through under-utilisation," said Sharkey. "Meanwhile supports of charter schools have been very open ideologically about making school competition part of the larger picture.
"We have not yet won the argument with the people of Chicago that this is a critical moment to be active. But this was a good start. Four or five thousand people and lots of different schools represented today. The argument can and will be won."
A study by the University of Chicago's Consortium on Chicago School Research revealed that from the 38 schools closed between 2001 and 2006 only 6% of students who were moved went to high-performing schools.
"Our research found that school districts tended to save under $1m per school [closed]," Emily Dowdall, a senior associate at the Pew Charitable Trusts told the New York Times. "So in some ways that's not a game-changing amount."
Sharkey further argues that the city rarely follows through on its promises on savings. "In the past there's been investment for the first one or two years. But the money dries up once the attention is gone."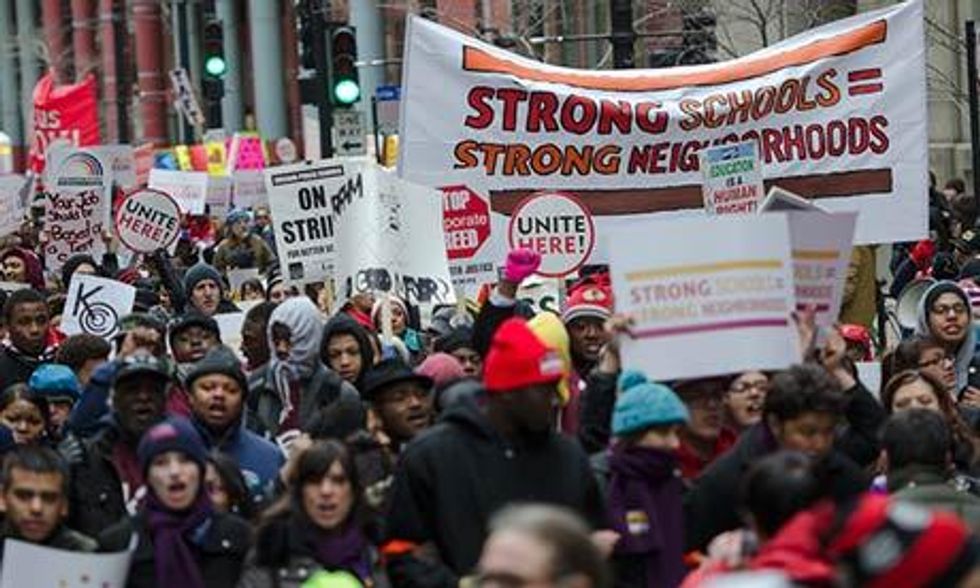 Emmanuel, who was absent on a skiing vacation on the day the closings were announced, which many here interpret as a bid to disassociate himself from the move, has since joined the fray. "If we don't make these changes we haven't lived up to our responsibility as adults to the children of the city of Chicago," he said. "And I did not run for office to shirk my responsibility."
The CTU emerged with considerable public support after it blunted Emmanuel's attempts to tie teachers' pay to test scores last year. It has pledged to continue the campaign of non-violent disobedience. "People who work in the schools and rely on public schools will oppose the mass closings by any and all peaceful means," Sharkey has told union members. "[School closings] are not something we are prepared to accept without a fight ... We're going to take this fight as far as we have to, to defend our community schools."