© 2023 Al-Jazeera English
Max Blumenthal
Max Blumenthal is the author of the bestselling book "Republican Gomorrah: Inside the Movement That Shattered the Party" (2010) and "Goliath: Life and Loathing in Greater Israel" (2014). He is a writing fellow at the Nation Institute and a senior writer for the Daily Beast. Visit his website, MaxBlumenthal.com.
Few congressional candidates have excited the progressive base of the Democratic party as much as consumer advocate Elizabeth Warren has. With her tenacious advocacy for a consumer protection agency to fight unfair lending practices and her consistent framing of economic issues in terms of structural inequality has earned her enthusiastic promotion from major progressive figures from Markos Moulitsas to Rachel Maddow to Michael Moore.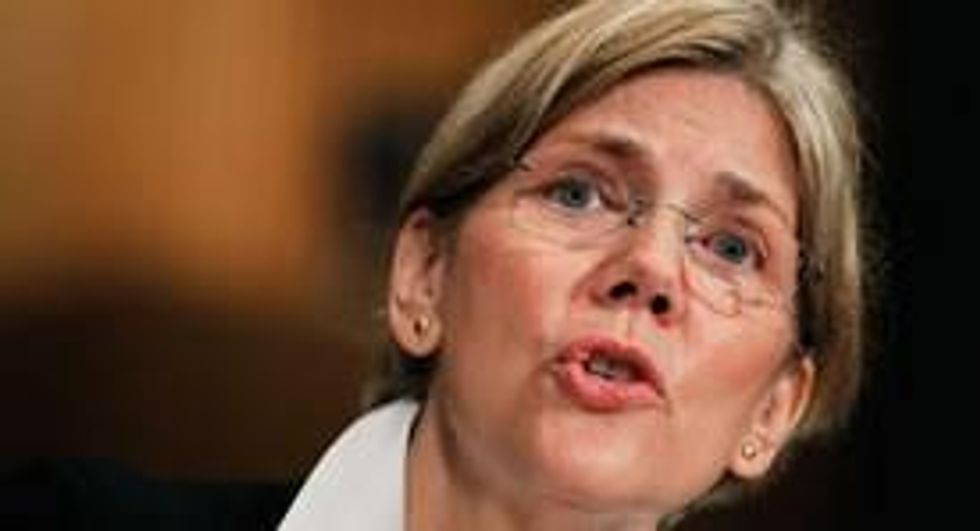 Warren has focused her race against incumbent Republican Senator Scott Brown almost entirely around issues of economic justice, placing her quixotic battle for the Consumer Financial Protection Bureau at the center of her campaign narrative. During an appearance on MSNBC's "Morning Joe," Warren boasted that she succeeded in creating the bureau despite opposition from "the toughest lobbying force ever assembled on the face of the earth."
While progressives celebrate Warren for her fight against the big banks and the financial industry's lobbying arm, they have kept silent over the fact that she has enlisted with another powerful lobby that is willing to sabotage America's economic recovery in order to advance its narrow interests. It is AIPAC, the key arm of the Israel lobby; a group that is openly pushing for a US war on Iran that would likely trigger a global recession, as the renowned economist Nouriel Roubini recently warned. The national security/foreign policy position page on Warren's campaign website reads as though it was cobbled together from AIPAC memos and the website of the Israeli Foreign Ministry by the Democratic Party hacks who are advising her. It is pure boilerplate that suggests she knows about as much about the Middle East as Herman "Uzbeki-beki-stan-stan" Cain, and that she doesn't care.
Warren's statement on Israel consumes far more space than any other foreign policy issue on the page (she makes no mention of China, Latin America, or Africa). To justify what she calls the "unbreakable bond" between the US and Israel, Warren repeats the thoughtless cant about "a natural partnership resting on our mutual commitment to democracy and freedom and on our shared values." She then declares that the United States must reject any Palestinian plans to pursue statehood outside of negotiations with Israel. While the US can preach to the Palestinians about how and when to demand the end of their 45-year-long military occupation, Warren says the US "cannot dictate the terms" to Israel.
Warren goes on to describe Iran as "a significant threat to the United States," echoing a key talking point of fear-mongering pro-war forces. She calls for "strong sanctions" and declares that the "United States must take the necessary steps to prevent Iran from acquiring a nuclear weapon" -- a veiled endorsement of a military strike if Iran crosses the constantly shifting American "red lines." Perhaps the only option Warren does not endorse or implicitly support is diplomacy. Her foreign policy views are hardly distinguishable from those of her Republican rival, who also marches in lockstep with AIPAC.
The same progressives who refused to vet Barack Obama's views on foreign policy when he ran for president in 2008, and who now feel betrayed that he is not the liberal savior they imagined him to be, are repeating their mistake with Warren. With AIPAC leading the push for war at the height of an election campaign, there is no better time to demand accountability from candidates like Warren. Who does she serve? The liberal grassroots forces that made her into a populist hero or the lobby seeking to drag the US into a dubious, potentially catastrophic war? It is far better for progressives to grill her on her foreign policy positions before the campaign is over than after the next war begins.
We've had enough. The 1% own and operate the corporate media. They are doing everything they can to defend the status quo, squash dissent and protect the wealthy and the powerful. The Common Dreams media model is different. We cover the news that matters to the 99%. Our mission? To inform. To inspire. To ignite change for the common good. How? Nonprofit. Independent. Reader-supported. Free to read. Free to republish. Free to share. With no advertising. No paywalls. No selling of your data. Thousands of small donations fund our newsroom and allow us to continue publishing. Can you chip in? We can't do it without you. Thank you.