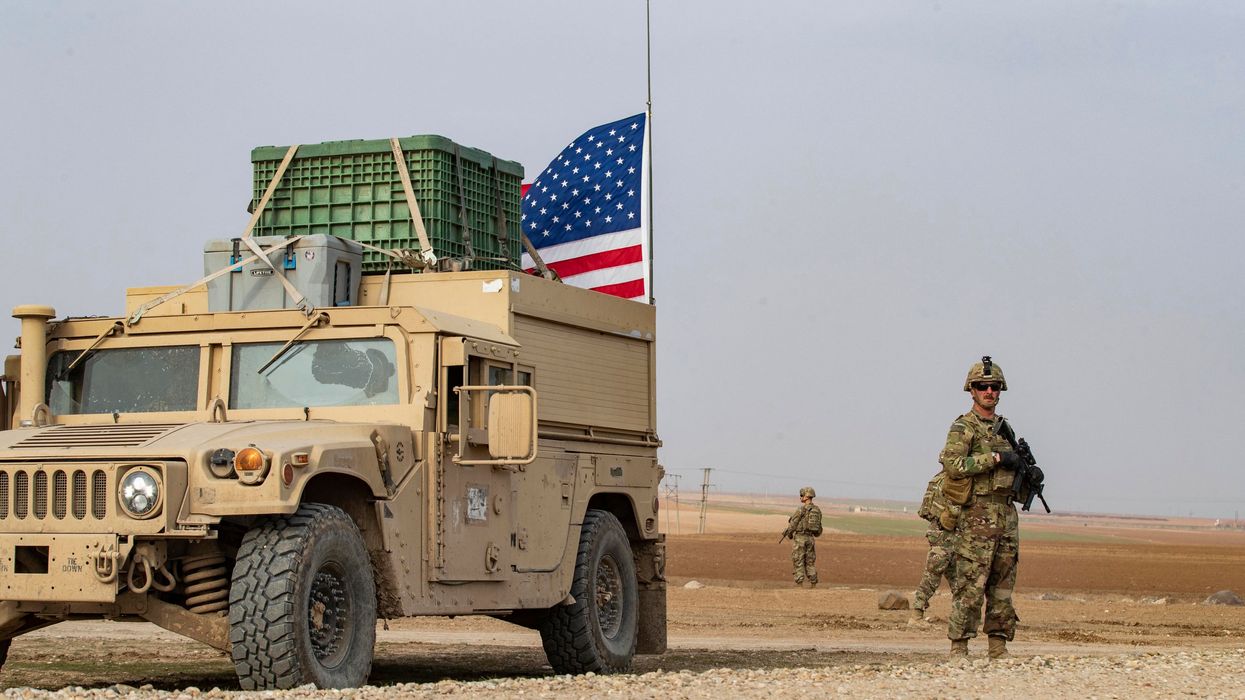 "We are at war in Syria, but American lawmakers haven't debated it and the public barely knows," said one foreign policy writer.
The U.S. launched airstrikes in Syria on Thursday after one American contractor was killed and five service members were injured in an attack by a drone that the Pentagon claims was of "Iranian origin."
The drone attack on a maintenance facility in northeast Syria and the U.S. response came two weeks after the House of Representatives voted down a bipartisan resolution that would have required President Joe Biden to withdraw all American troops from Syria within 180 days.
Around 900 U.S. troops and hundreds of contractors are currently stationed in Syria under a legal rationale that experts say is highly dubious at best.
Biden has approved a number of airstrikes in Syria without congressional authorization since taking office in 2021. According toAirwars, the U.S. carried out at least 20 airstrikes in Syria in 2022.
In a statement, U.S. Defense Secretary Lloyd Austin said that "at the direction of President Biden," the Pentagon "authorized U.S. Central Command forces to conduct precision airstrikes tonight in eastern Syria against facilities used by groups affiliated with Iran's Islamic Revolutionary Guards Corps (IRGC)."
"The airstrikes were conducted in response to today's attack as well as a series of recent attacks against coalition forces in Syria by groups affiliated with the IRGC," Austin added.
The strikes, which reportedly killed at least eight people described as "pro-Iran fighters," spurred another flurry of questions about the legal authority that the Biden administration is using to maintain the presence of U.S. troops and carry out military operations in Syria.
While Austin did not specifically invoke any legal authority in his statement, he did say the U.S. airstrikes were "intended to protect and defend U.S. personnel"—an apparent reference to Article II of the Constitution.
"We are at war in Syria, but American lawmakers haven't debated it and the public barely knows," Vox foreign policy writer Jonathan Guyer tweeted late Thursday. "One of the most significant and least discussed legacies of George W. Bush's 20-year-old invasion of Iraq is the way it's led to unauthorized forever wars we scarcely discuss."

Members of Congress have previously voiced alarm over the Biden administration's reliance on Article II to carry out military operations without congressional approval, something that was also done by previous administrations.
In 2021, following two rounds of U.S. airstrikes in Syria, more than 30 House lawmakers led by Reps. Peter Defazio (D-Ore.), Nancy Mace (R-S.C.), and Jamaal Bowman (D-N.Y.) sent a letter criticizing the Biden administration's "dangerous claim that Article II of the Constitution permits you to bypass congressional authorization to perform strikes inside Syria."
The lawmakers also rebuked the administration's insistence that "the wide range of activities" it has "undertaken as part of the ongoing U.S. occupation of a large swath of Syrian territory is justified by the Authorization for Use of Military Force (AUMF) of 2001," the measure Congress passed in the wake of the September 11 attacks.
That AUMF has been used by several administrations to justify military operations in Afghanistan, Iraq, Libya, Yemen, Somalia, Syria, and other countries. Opponents of the war powers resolution aimed at withdrawing U.S. forces from Syria invoked the 2001 AUMF to justify the continued occupation.
Congress has never specifically authorized the U.S. military to combat "Iran-backed forces" in Syria.

Earlier this week, as Congress moved to repeal the separate 2002 Iraq War AUMF, Sen. Lindsey Graham (R-S.C.) attempted to pass an amendment to change the language of the authorization to greenlight operations "against Iranian-backed militias operating in Iraq."
The Graham amendment was soundly defeated, with 60 senators voting no.
This story has been updated to include data from Airwars.

News