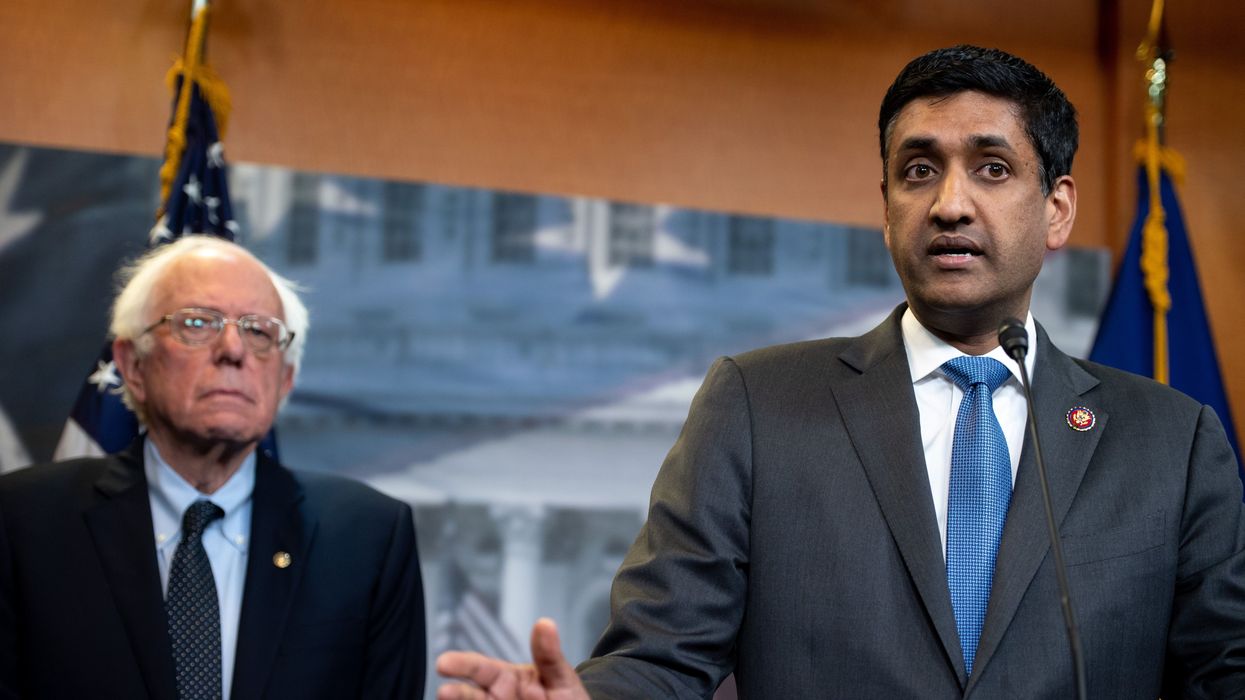 The new push is led by Our Revolution along with Rep. Ro Khanna and Sen. Bernie Sanders, Medicare for All supporters who are working on legislation to tackle medical debt.
"I'm 72 and now live with my daughter after losing everything because of medical bills. I had $250K saved up for retirement and then disaster hit—several bouts of cancer and a stroke in 2009."
That's the story of Arizonan D'Anne MacNeil, a patient advocate and member of Our Revolution—which is working with U.S. Rep. Ro Khanna (D-Calif.), Sen. Bernie Sanders (I-Vt.), the National Consumer Law Center, and Tzedek D.C. on a new campaign.
The "Freedom From Medical Debt" initiative launches Monday with a virtual town hall at 8:30 pm ET.
\u201cAmericans hold $195 billion in medical debt. It should be 0. \nDon\u2019t miss our LIVE Town Hall to End Medical Debt with US Rep. @RoKhanna and Our Revolution patient advocates, hosted by me, LIVE this Monday, 5/8, 8:30 pm ET!\nhttps://t.co/iiAJf2AuF6\u201d

— Joseph Geevarghese (@Joseph Geevarghese) 1683209883
"I wouldn't owe anything if hospitals didn't gouge patients," said Mary Willis of Texas. "The cost of an MRI in the hospital was eight times the cost of an outpatient MRI and 80 times outsourced MRIs. I owe over $8,000."
The virtual town hall is set to feature similar stories—including that of Washingtonian Kristin Noreen, who "barely survived" being hit by a vehicle while on her bicycle in 2010. After enduring a brain injury and having her hand amputated and reattached, Noreen is still paying off medical bills and for pain treatments not covered by insurance.
Fellow patient advocate and Our Revolution member Elizabeth McLaughlin of Indiana, who received a $20,000 bill for an emergency visit in 2015, also plans to join the town hall, along with Khanna.
"We need to strategize for legislation Bernie Sanders and I are doing and figure out how we finally end medical debt in this country," Khanna said in a Monday video promoting the event. The lawmakers have worked together for years; Khanna co-chaired Sanders' 2020 presidential campaign and both support Medicare for All, for which the senator has long led the fight on Capitol Hill.
In a Saturday email about the town hall, Our Revolution—which came out of Sanders' 2016 presidential run—said that as the senator and Rep. Pramila Jayapal (D-Wash.) "prepare to reintroduce Medicare for All in Congress, we are organizing people struggling with medical debt to speak up and fight for healthcare justice."
\u201cNo one should go bankrupt because they can\u2019t pay their doctor bills. Yet medical debt is the number #1 cause of bankruptcy in the US and nearly 100,000,000 people carry medical debt.\u201d

— Ro Khanna (@Ro Khanna) 1683580725
The Hill, which first reported on the town hall, noted that in addition to backing Khanna and Sanders' forthcoming bill, patient advocates are hoping to pressure President Joe Biden "to use executive action to help stop price gouging for vulnerable patients, end a variety of predatory debt collection tactics, and ensure that people seeking medical assistance have financial aid and free or reduced-price care available."
Highlighting that "medical debt is the number one reason for personal bankruptcies in the United States," Our Revolution executive director Joseph Geevarghese told the outlet, "We can stop that and the president has the power."
As part of the campaign "calling for Congress and the president to deliver systemic solutions to this massive healthcare injustice," organizers have launched a website to collect medical debt stories and hope to get at least one from every congressional district.
News