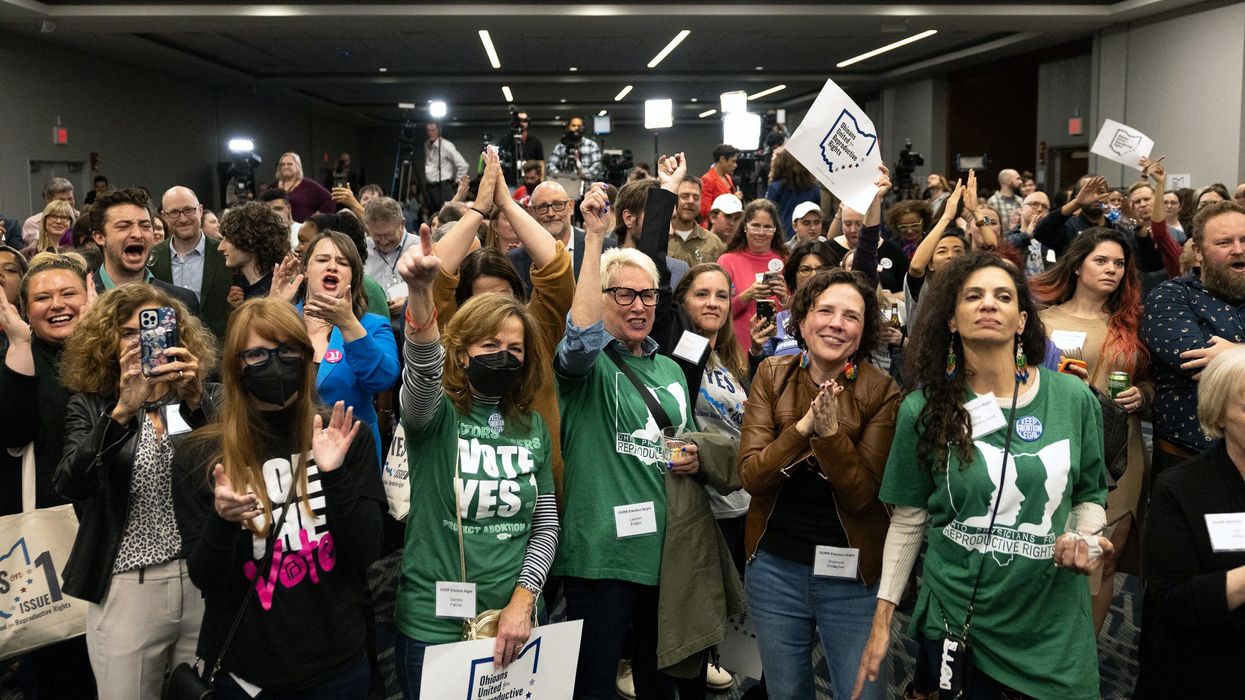 "This victory should serve as a clear warning to other extremists who want to pass dangerous abortion bans across the country," said Ohioans United for Reproductive Rights.
Ohio voters on Tuesday delivered a resounding win for reproductive freedom by approving a citizen-sponsored measure to enshrine abortion rights in the state's constitution, overcoming Republican-led efforts to derail the initiative with misinformation and undemocratic procedural changes.
Ohioans approved Issue 1 by a decisive 56.6% to 43.4% margin, creating the constitutional right to "make and carry out one's own reproductive decisions," including contraception, abortion, fertility treatment, and miscarriage care.
The measure states that while "abortion may be prohibited after fetal viability," it establishes that "in no case may such an abortion be prohibited if in the professional judgment of the pregnant patient's treating physician it is necessary to protect the pregnant patient's life or health."

The passage of the constitutional amendment likely spells an end to the prolonged legal fight over a six-week abortion ban that Ohio's GOP-controlled Legislature approved in 2019. The ban was blocked in court, but Ohio's Republican attorney general moved to revive the law after the U.S. Supreme Court overturned Roe v. Wade last year.

While the case is currently before the Ohio Supreme Court, the passage of Issue 1 means the draconian six-week ban would violate the state's constitution.
"Today, the people of Ohio voted to restore their reproductive rights and reclaim their freedom to make their most personal decisions. They rejected the disinformation and fear and voted instead to ensure that every Ohioan will have access to the health care they need," Ohioans United for Reproductive Rights said in response to Tuesday's vote.
"We know Ohioans overwhelmingly support reproductive freedom and abortion rights—and we know the majority of Americans support it, too. This victory should serve as a clear warning to other extremists who want to pass dangerous abortion bans across the country," the coalition added. "Tonight is a historic night for Ohio. We voted to secure our constitutional right to control our private healthcare decisions and make sure that all Ohioans have access to abortion care—no matter who is in public office."

Issue 1's passage was one of several election night victories for abortion rights advocates.

In the red state of Kentucky, voters reelected Democratic Gov. Andy Beshear, defeating a Republican challenger who backed the state's near-total abortion ban.

Virginia voters, meanwhile, kept Democrats in control of the state Senate and ended GOP control of the House after a campaign focused heavily on abortion rights. The state's Republicans, led by Gov. Glenn Youngkin, have proposed banning abortion after 15 weeks of pregnancy.

Nancy Northup, president of the Center for Reproductive Rights, said in a statement that "voters across the U.S. are stepping up to protect the rights the Supreme Court dismantled."
"Since the Supreme Court's reversal of Roe v. Wade, every time voters have been able to weigh in, they've voted in favor of protection of abortion rights," said Northup. "This victory in Ohio could not have happened without the grassroots organizers on the ground, who fought tirelessly against the anti-abortion movement's misinformation campaign."

News