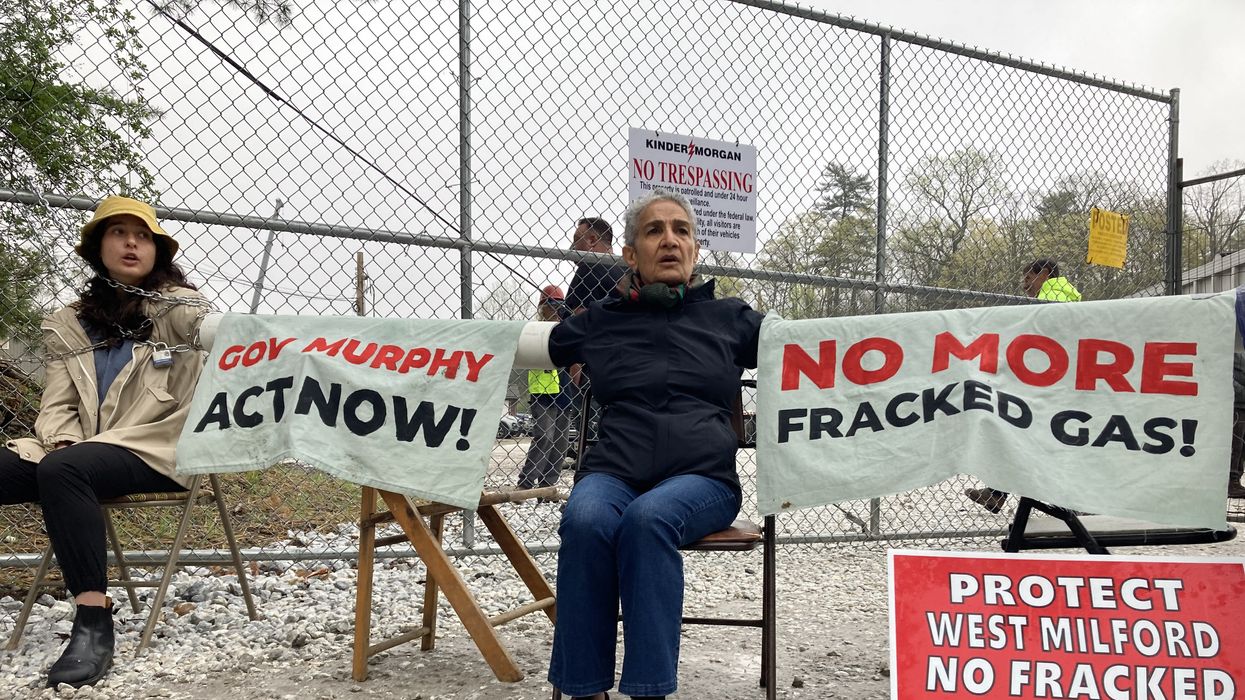 "My grandchild and all grandchildren deserve a future. So I'm out here today, risking arrest, to demand that Gov. Murphy stop fossil fuel buildout across N.J. which will only dig us deeper into the climate crisis!"
On the heels of a weekend rally, opponents of a fracked gas expansion project risked arrest Monday by blocking a construction site for a compressor station in New Jersey with signs calling on Democratic Gov. Phil Murphy to "protect West Milford."
"My grandchild and all grandchildren deserve a future," declared Ted Glick, president of 350 NJ-Rockland. "So I'm out here today, risking arrest, to demand that Gov. Murphy stop fossil fuel buildout across N.J. which will only dig us deeper into the climate crisis!"
"We need bold action NOW if we want to avoid the most disastrous impacts of the climate crisis, and that needs to start with the political courage to halt the buildout of the same dirty industries that got us here!" Glick added. "If Gov. Murphy means what he says about addressing the climate emergency, then he MUST act now to prevent this dangerous and completely unnecessary pipeline expansion project from moving forward."
\u201cYou can tell @GovMurphy to oppose the expansion of fracked gas compressors by signing here: https://t.co/cIl56ZfrqB\u201d

— Food & Water Watch (@Food & Water Watch) 1681765268
The new compressor station is part of the East 300 Upgrade Project, which would increase the capacity of Kinder Morgan's Tennessee Gas Pipeline (TGP) system, parts of which are 65 years old. The project, which also involves modifying a pair of existing compressor stations in New Jersey and Pennsylvania, was initiated to send gas to Con Edison in New York.
"Who is this development even for? As New Yorkers, we reject the claim that any new dirty energy is 'needed' in our state, where gas from this pipeline is destined. There is literally no demand for more fracked gas in New York," said Reclaim Our Tomorrow organizer Teddy Ogbor.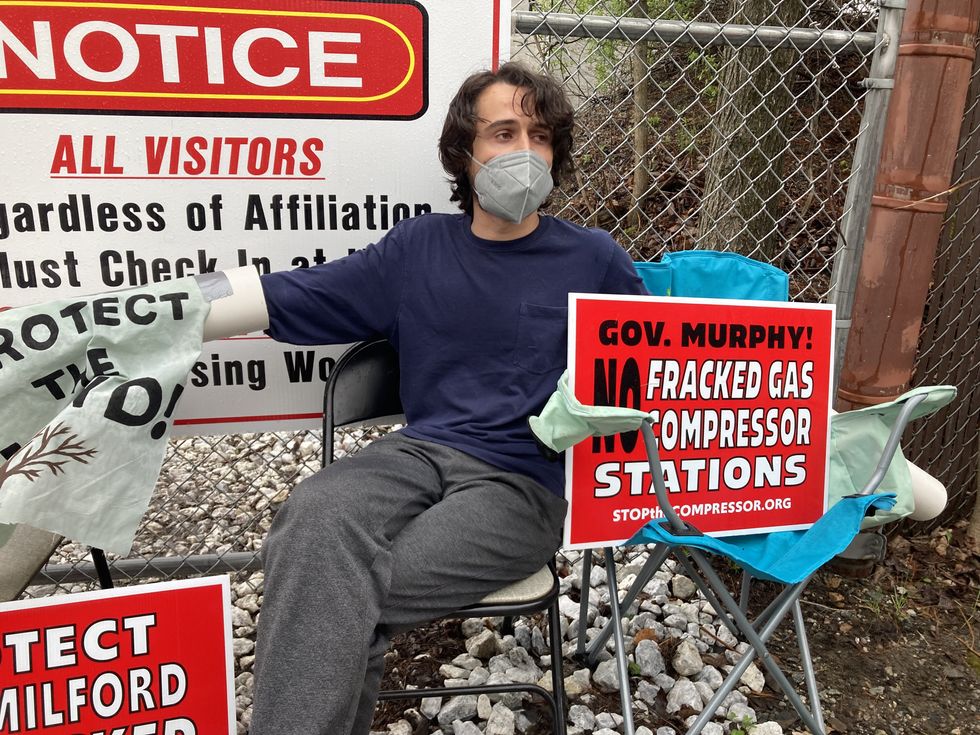 "The only purpose of any new fossil fuel infrastructure is the same as it always has been: To line the pockets of billionaires who are selling our future for profit," Obgor argued. "Gov. Murphy has got to stop taking such massive steps backwards while our planet burns."
Scientists continue to stress that humanity must stop extracting and burning fossil fuels to prevent global climate catastrophe—including in the most recent Intergovernmental Panel on Climate Change report, which warned last month that without dramatic cuts to planet-heating emissions, the world could hit the Paris agreement's 1.5°C threshold by the first half of the 2030s.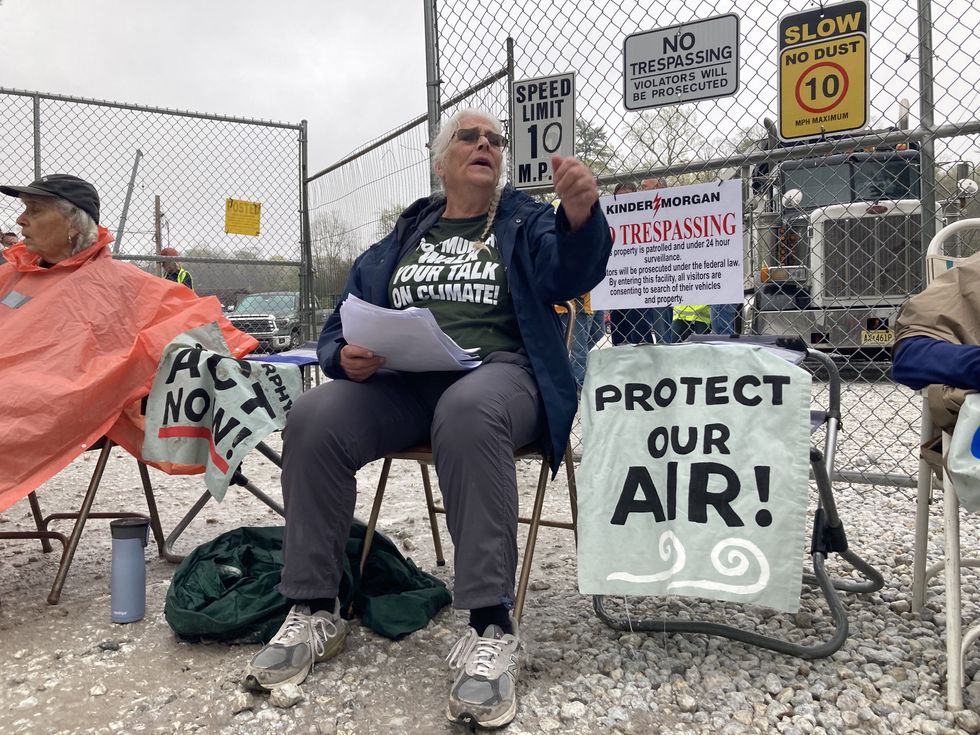 "Gov. Murphy can't seriously claim to be a climate leader if he keeps approving dirty energy expansion projects like this one," Food & Water Watch organizer Sam DiFalco said Monday. "We are in court challenging two of the permits for East 300, but Gov. Murphy could put a stop to this project himself."
Noting that the governor "regularly issues lofty rhetoric about the urgent need to address the climate crisis" and yet, with this project, his administration "has approved permit after permit," DiFalco and Brian D. Scanlan, a former mayor and council member from Wyckoff, also called him out in a November opinion piece for NorthJersey.com:
Murphy can still live up to his environmental commitments and stop this project. In his first term, he championed his Energy Master Plan to address what he called our state's "century-old addiction to fossil fuels," setting a goal of 100% clean energy by 2040. More recently, the governor signed an executive order calling for a 50% reduction in emissions by 2030, and a requirement for builders to consider climate change impacts if they want their projects approved. New Jersey is already not on track to meet these goals, and things could get worse if Murphy continues to approve dirty energy expansion schemes. There are seven major new fossil fuels projects proposed in our state, which could create a substantial increase in climate pollution.

With his promises to ramp up offshore wind, along with introducing the country's first climate curriculum for public schools and signing the strongest environmental justice law in the country, Murphy can leave a strong legacy as a climate champion. But he can't have it both ways. If Murphy allows TGP to proceed with this pipeline expansion, he will be sacrificing the health and safety of his constituents and our shared responsibility to rapidly confront the climate crisis.
"Climate change is a threat to New Jersey. We are seeing it in real time," said Renee Allessio, a 45-year resident of West Milford and co-chair of the Franciscan Response to Fossil Fuels. "This has been one of the driest winters on record, and this week we saw the biggest forest fire in over a decade right here in West Milford."
The blaze burned nearly 1,000 acres but was fully contained as of early Saturday, according to the New Jersey Forest Fire Service. The cause of the fire is under investigation.
\u201cWILDFIRE UPDATE: West Milford Twp. \u2013 Kanouse Wildfire\n\nAt 10 a.m. Saturday, April 15, the New Jersey Forest Fire Service achieved 100 percent containment of a 972-acre wildfire in West Milford Township on Newark Watershed property.\u201d

— New Jersey Forest Fire Service (@New Jersey Forest Fire Service) 1681569737
Allessio said that "this fire underscores the major risk to the densely wooded highlands brought by piping higher volumes of flammable and toxic fracked gas through this pipeline system well beyond its useful life running through our region."
"Our firefighters who heroically fought last week's blaze will be at greater risk because of this project," she continued. "A leak or explosion could be the spark that devastates our region. In fact, last summer a fire caused by this very same pipeline in Pennsylvania caused a fire that burned through five acres before it could be contained. If Gov. Murphy wants to build a state resilient to the impacts of climate change, then he must stop this reckless pipeline expansion."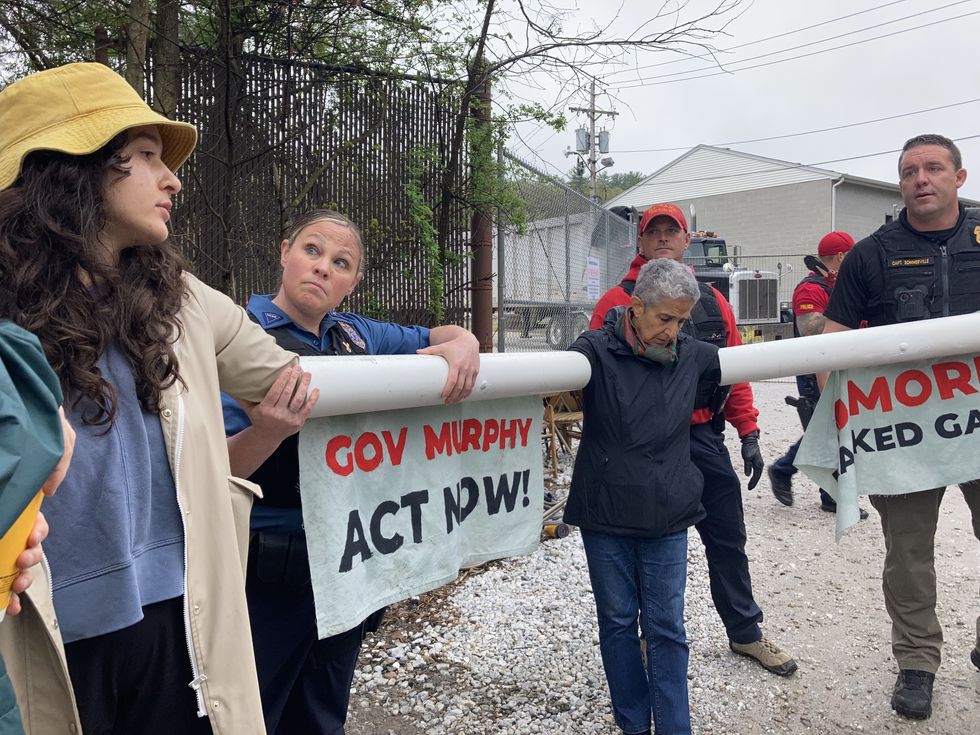 Paula Rogovin, a grandmother and longtime activist who risked arrest Monday, noted that the project also endangers local waters.
"If completed, this compressor station will sit less than 1,200 feet from the Monksville Reservoir, part of a system that provides clean drinking water to millions of N.J. residents," Rogovin said. "A leak or accident involving one of the chemicals stored on-site could be disastrous to our water supply!"
"The N.J. Highlands Act was passed to protect this region from development to protect the critical water resources here," she added. "That this toxic project is allowed to be built here is shameful! Gov. Murphy must STOP this project now!"
News