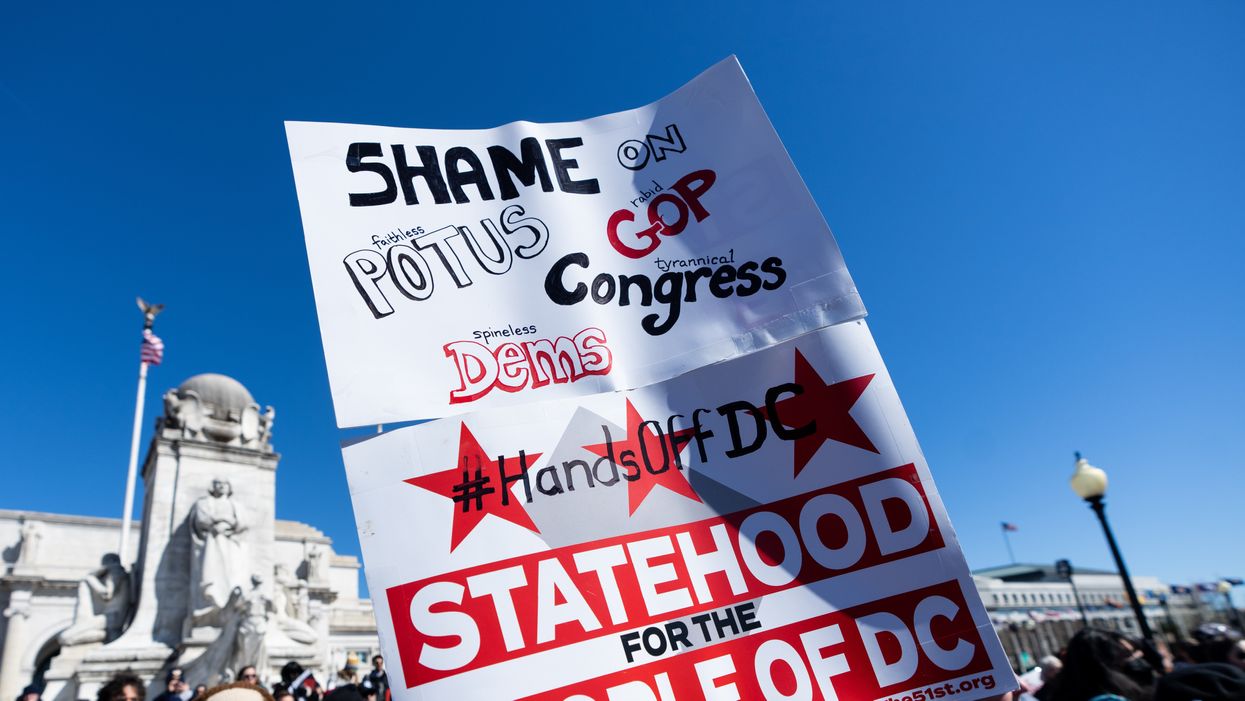 "History will not look kindly on this," said one critic.
Progressives on Thursday lambasted dozens of U.S. Senate Democrats for dealing "a huge blow to commonsense criminal justice reform efforts" by siding with the Republican Party on a resolution to block a criminal code passed by the Council of the District of Columbia—a move that one civil rights lawyer said was transparently made in response to GOP "fear-mongering" about crime, and not in the interest of keeping residents safe.
Thirty-one Democrats and two Independents joined the Republicans in passing a resolution—authored by Republican Sen. Bill Hagerty of Tennessee—to block the Revised Criminal Code Act (RCCA), which was enacted in January and included an elimination of nearly all mandatory minimum sentences and changes to maximum sentences for a number of crimes, making some higher and some lower.
Along with Independent Sens. Kyrsten Sinema of Arizona and Angus King of Maine, the 31 Democrats who joined the Republicans were Sens. Tammy Baldwin of Wisconsin, Michael Bennet of Colorado, Richard Blumenthal of Connecticut, Sherrod Brown of Ohio, Maria Cantwell of Washington, Bob Casey of Pennsylvania, Chris Coons of Delaware, Catherine Cortez Masto of Nevada, Kirsten Gillibrand of New York, Maggie Hassan of New Hampshire, Martin Heinrich of New Mexico, John Hickenlooper of Colorado, Tim Kaine of Virginia, Mark Kelly of Arizona, Amy Klobuchar of Minnesota, Ben Ray Lujan of New Mexico, Joe Manchin of West Virginia, Bob Menendez of New Jersey, Patty Murray of Washington, Jon Ossoff of Georgia, Alex Padilla of California, Gary Peters of Michigan, Jacky Rosen of Nevada, Brian Schatz of Hawaii, Chuck Schumer of New York, Jeanne Shaheen of New Hampshire, Tina Smith of Minnesota, Debbie Stabenow of Michigan, Jon Tester of Montana, Mark Warner of Virginia, and Ron Wyden of Oregon.
Sens. Bernie Sanders of Vermont, Elizabeth Warren of Massachusetts, Cory Booker of New Jersey, and Ed Markey of Massachusetts were among those who opposed the resolution.

Sen. Raphael Warnock of Georgia voted "present" and Sens. John Fetterman of Pennsylvania, Dianne Feinstein of California, and Tom Carper of Delaware were not present for the vote.
President Joe Biden said after the bill was passed by the D.C. Council that he opposed Republican efforts to block the measure, but reversed course last week, telling Democrats that he would not veto Hagerty's resolution if it arrived at his desk.
"The victims of these political fights have been millions of people. More will now suffer."
Since the passage of the RCCA, Republicans have used the law to portray the nation's capital as crime-ridden and Democrats as weak on criminal justice, despite the fact that the updated criminal code increased sentences for gun crimes and sexual assault and created a new felony offense for shooting a firearm in public.
The issue of carjacking took center stage as the new code reduced sentences for the crime. The law would have applied a 24-year maximum sentence for carjacking, reduced from 40 years—the same amount that's applied to second-degree murder, according to the code's author, defense attorney Patrice Sulton.
Civil rights lawyer Udi Ofer demanded to know how a criminal code that still includes harsher penalties for armed carjacking than more than a dozen states qualifies as "soft on crime."
"This vote goes well beyond D.C.," said Ofer. "Mass incarceration was not a product of mass crime. It was a product of mass fear-mongering and fights between party elites on who can be 'tougher.' The victims of these political fights have been millions of people. More will now suffer."

Despite Hagerty's claim that the resolution was necessary to end "the crime spree that is happening in our major cities," carjackings in D.C. this year have been reported at roughly the same level as they were by this point last year. Violent crime is down by 8% in the district compared to March 2022.

"We know that these votes were driven by politics, not by data," said Ofer. "Democrats are terrified that Republicans will portray them as soft on crime, and the Republican Congressional Committee has already announced that it will run ads against House Democrats who voted for [the] D.C. bill."
Soon after the resolution was passed, Republicans promptly released attack ads targeting 14 Democrats who opposed it in the House.
In the U.S. House, progressives and proponents of statehood and self-determination for Washington, D.C.—which Biden has claimed to support—denounced the Senate's first vote in three decades that blocked a law passed by local lawmakers in the district.
"Supporting statehood in words is not sufficient," said Rep. Alexandria Ocasio-Cortez of New York. "We need to support statehood in our governance and in our actions."
Rep. Eleanor Holmes Norton (D-D.C.) said she would work to "convince President Biden that his intention to sign the disapproval resolution is incompatible with his Statement of Administration Policy."

"Even if President Biden signs the resolution and denies D.C. residents the very self-governance that he has claimed to support, this chapter of D.C.'s continuing fight for autonomy is, in itself, a powerful argument for the full rights that can only be provided by D.C. statehood,"
said
Holmes Norton. "I will not stop until the job is done."
News