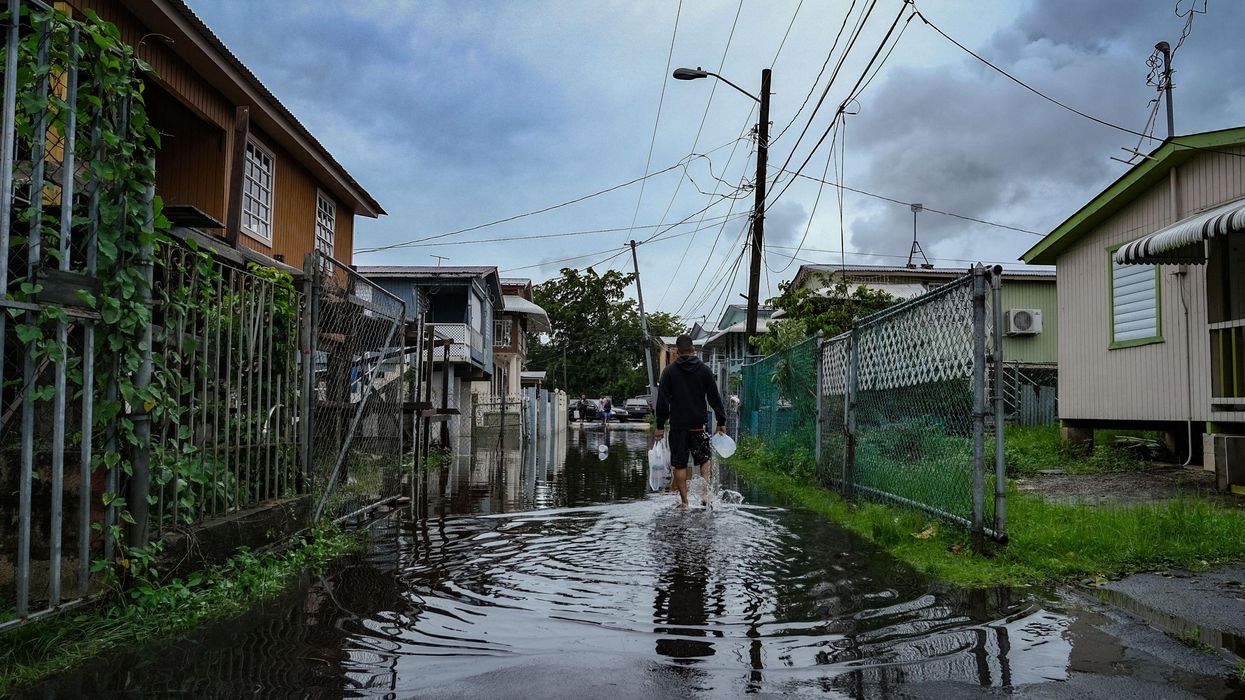 While pushing for a shift to green energy, the Sunrise Movement also said that "the catastrophic flooding and loss of power are the result of colonial policies that put profit over the people of PR."
Progressive U.S. lawmakers and green groups on Monday pointed to the damage and blackout Hurricane Fiona caused across Puerto Rico to demand immediate climate action along with relief efforts that center the needs of the U.S. territory's people.
"The climate crisis is urgent and here. We will continue to fight for policies that can protect our planet and people."
Fiona dumped 30 inches of rain on parts of the Caribbean island almost exactly five years after the devastation of Hurricane Maria, which struck during the recovery from another storm, killing thousands of Puerto Ricans and triggering months of power problems.
In the wake of Maria, as Common Dreamsreported Sunday, Puerto Rico's electricity system was controversially privatized. It is now under the control of LUMA Energy, a joint venture by the Canadian company ATCO and Houston-based Quanta Services.
Highlighting the island-wide blackout, Food & Water Watch declared on Twitter Monday that "this is a climate emergency, and it is unacceptable."
LUMA public safety manager Abner Gomez provided an update in a statement Monday.
"We want our customers to know that LUMA has been and will continue to work around the clock to restore power to Puerto Rico following the island-wide outage that began early Sunday afternoon," Gomez said. "While power restoration has now occurred for more than 100,000 customers, LUMA crews continue to work to stabilize the grid."
"We will continue to work nonstop until every customer is restored and the entire grid is reenergized," Gomez added. "While these efforts continue over the coming days, we strongly encourage customers to continue to exercise caution and stay away from any downed power lines."
San Juan-based Democracy Now! correspondent Juan Carlos Davila explained that "we know that we cannot rely on the national electric grid that is now privatized," so post-Maria, some wealthier people have been able to install solar panels and disconnect from the grid.
AccuWeather founder and CEO Joel N. Myers estimated Monday the total damage and economic loss from Fiona at around $10 billion, compared to the $90 billion from Maria.
"There has already been catastrophic flooding in some areas, particularly in the mountains," he said. "Additionally, since Sunday afternoon there has been a major failure of the electrical grid resulting in an outage of power to the entire island impacting more than 1.4 million customers or 3.2 million people, and only 100,000 customers, less than 10%, apparently have restored power currently."
"In addition, water service is not available to over 750,000 customers or more than two million people and there is no estimated time for restored power and water service for the rest of the people of Puerto Rico. All major airports in Puerto Rico have been closed since Saturday night," Myers added--before flight departures from San Juan resumed Monday.
Given that Puerto Rico's gross domestic product is about $103 billion per year, "an economic impact of around $10 billion is slightly less than 10% of the GDP, but, significantly, it is equivalent to a severe recession," Myers explained. "Our estimate largely accounts for damage to homes, businesses, medical facilities, roadways, and vehicles as well as power outages, which results in food spoilage and interruption to medical care."
Advocacy groups and members of Congress highlighted both the recent and longer history of the island, a colony of Spain and then the United States. Puerto Rico is now considered a U.S. territory, though there are movements for statehood and independence.
"Solidarity with the people of Puerto Rico as they begin to recover from Hurricane Fiona," tweeted the Sunrise Movement. "Our leaders must mobilize every resource to help rebuild. As the climate crisis intensifies, the people of PR must be given the resources and agency to build a livable future on their terms."
"The catastrophic flooding and loss of power are the result of colonial policies that put profit over the people of PR," the youth-led group added. "Puerto Rico deserves Green New Deal-style policies that will build a *public* green energy grid, and invest millions into social services."
U.S. Rep. Ilhan Omar (D-Minn.) on Monday called for bold U.S. relief efforts in Puerto Rico, noting that the island "has been through so much--from centuries of colonialism to a debt crisis to Hurricane Maria and now Fiona."
U.S. President Joe Biden on Sunday approved an emergency declaration for Puerto Rico, which authorizes the Federal Emergency Management Agency (FEMA) to " identify, mobilize, and provide at its discretion, equipment, and resources necessary to alleviate the impacts" of the current crisis.
During a call Monday, Biden assured Puerto Rico Gov. Pedro Pierluisi that the federal team--which already includes 300 personnel and is set to grow in the days ahead--"remains on the job to get it done," especially considering the ongoing recovery from Maria.
That's according to the White House account of the call, which also said that "Gov. Pierluisi expressed his appreciation for the partnership and support that he is receiving already from the Biden administration."
Appearing on Democracy Now!, Carmen Yulin Cruz, who was mayor of San Juan when Maria hit, urged the Biden administration to deliver aid directly to municipalities and community centers.
Other U.S. political figures used the disaster to issue a broad demand for climate action.
"Yesterday, Hurricane Fiona wiped out the power, infrastructure, and more in Puerto Rico. It's devastating. Fiona made landfall today in the Dominican Republic," Rep. Jamaal Bowman (D-N.Y.) said Monday. "The climate crisis is urgent and here. We will continue to fight for policies that can protect our planet and people."
Rep. Cori Bush (D-Mo.) similarly said that "my heart goes out to the people impacted by Hurricane Fiona in Puerto Rico and the Dominican Republic. The climate crisis continues to devastate vulnerable communities worldwide. To mitigate the disastrous effects, we need immediate climate action."
Also appearing on Democracy Now!, climate scientist Michael Mann--whose research has connected fossil fuel-driven global heating to more destructive Atlantic hurricanes--explained that "we are witnessing the devastating consequences of climate change now."
Along with destructive extreme weather, research continues to illustrate the need to swiftly transition away from fossil fuels. A database published Monday showed that burning all of the planet's coal, gas, and oil reserves would exceed the world's "carbon budget" seven times over.
News