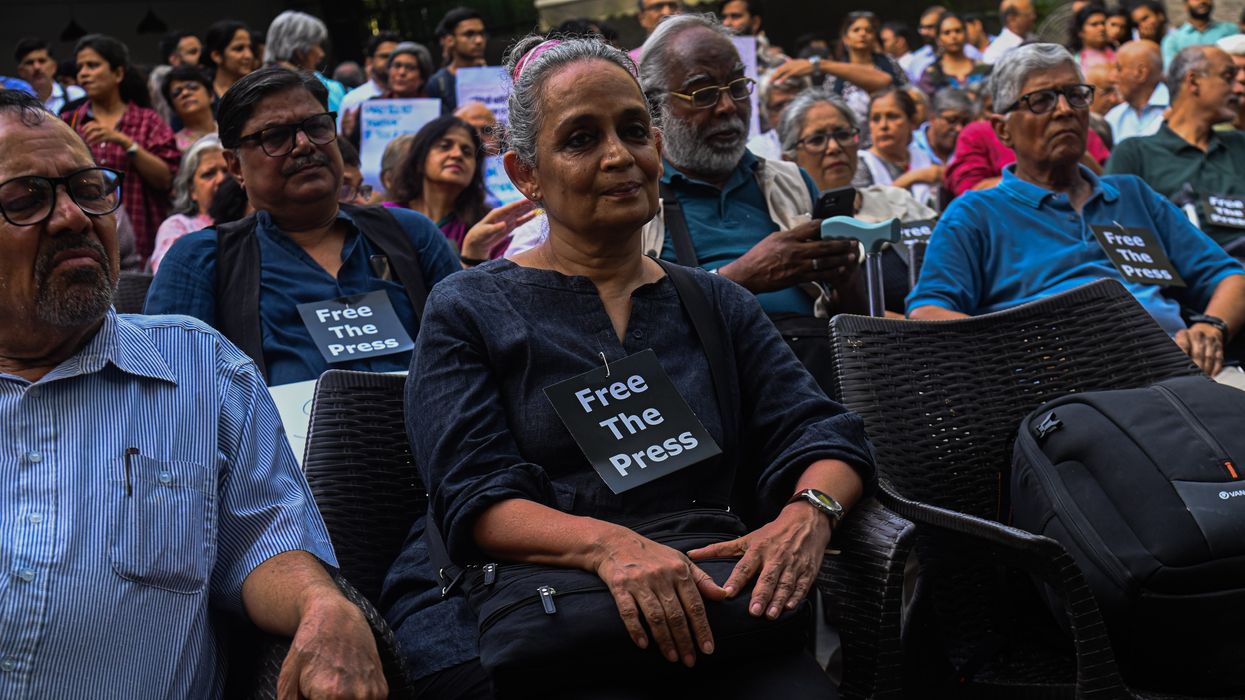 "You have no idea what you will unleash if you pursue this political prosecution aimed at silencing your most eloquent critic," Canadian author Naomi Klein warned Indian Prime Minister Narendra Modi.
Progressive writers and advocates around the world on Tuesday rallied behind acclaimed Indian author and activist Arundhati Roy after a top New Delhi official reportedly approved her prosecution for allegedly advocating for the secession of the disputed and brutally occupied Kashmir region during a "provocative" 2010 speech.
Indian media reported that Delhi Lt. Gov. V.K. Saxena breathed new life into a 2010 criminal complaint accusing Roy—winner of the 1997 Booker Prize for her debut novel The God of Small Things—of sedition for asserting that Kashmir "has never been an integral part of India."
Sources toldThe Hindu that a first information report (FIR)—a document prepared by law enforcement officials when they receive actionable information regarding alleged serious offenses—was registered in New Delhi's Court of Metropolitan Magistrate under various sections of the Indian Penal Code. Two co-defendants in the case have since died.
Roy, who is 61 years old, has been an outspoken critic of what she calls India's "descent... into full-blown fascism" under the ruling right-wing Bhartiya Janata Party (BJP) of Prime Minister Narendra Modi and its "Hindu supremacism."
Earlier this month, Roy spoke at a Delhi protest following coordinated police raids on the homes of prominent reporters, condemning what she and other human rights activists called government abuse of anti-terrorism laws to oppress critical writers, journalists, and activists.
"The timing of this is not coincidence. The Modi regime is finally set to prosecute Arundhati Roy," wrote Arjun Sethi, an activist, lawyer, and adjunct professor at Georgetown University Law Center in Washington, D.C.
The Modi government has closely aligned itself with Israel and its illegal occupation of Palestine. Sethi warned that far-right Israeli Prime Minister Benjamin Netanyahu's "brutal war" on the Palestinian territory Gaza, "with the approval of global powers, will embolden authoritarians across the world."
Meenakshi Ganguly, deputy Asia director at Human Rights Watch, wrote on social media that it is "interesting what Indian authorities consider 'provocative speech.'"
"They protect government supporters that incite violence and hate, and appear keen to prosecute peaceful critics," she added.
Former Greek Finance Minister and leader of the pan-European leftist political party DiEM25 Yanis Varoufakis posted a message to Modi: "Hands off Arundhati Roy, India's, and perhaps the world's, finest author."
The international advocacy group Reporters Without Borders ranks India 161st out of 180 nations in press freedom, noting in its 2023 country report that "violence against journalists, the politically partisan media, and the concentration of media ownership all demonstrate that press freedom is in crisis in 'the world's largest democracy.'"

News