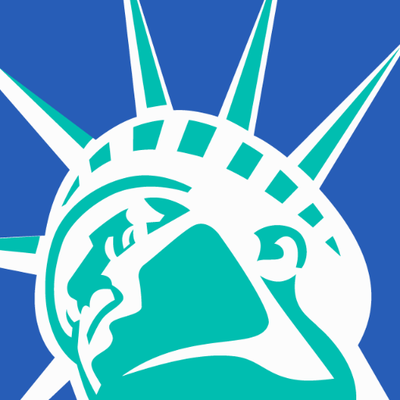 For Immediate Release
Contact:
Phone: (202) 588-1000
FDA Can Curtail Antibiotic Crisis by Ending Misuse in Livestock Animals, Say Health Advocate Groups in New Lawsuit
To protect the safety of consumers, meat processing workers and farming communities, a coalition of public health advocacy groups have filed a lawsuit against the U.S. Food & Drug Administration (FDA) and its Center for Veterinary Medicine (CVM), challenging their refusal to phase out unnecessary uses of antibiotics in animal agriculture.
Approximately two-thirds of medically important antibiotics sold in the U.S. are for use in food-producing animals, and are often administered to healthy animals en masse to compensate for the higher risk of infections typically caused by cramped, unsanitary or stressful conditions. The misuse of these medicines has contributed to the rise and spread of antibiotic-resistant bacteria–a growing public health crisis responsible for 35,000 deaths and over 2.8 million cases of illness each year in the United States.
In 2016, NRDC, Earthjustice, FACT, Public Citizen, and several other public health and consumer groups petitioned FDA to ban the use of medically important antibiotics for disease prevention in livestock and poultry in the absence of illness. Five years later, FDA denied the petition despite the agency "generally agree[ing]" that the use of antibiotics "can contribute to the development and proliferation of antimicrobial resistant bacteria." FDA's denial failed to address the petition's core concern that use of medically important antibiotics for so-called disease prevention purposes in livestock and poultry poses a significant threat to human health. The lawsuit filed today explains that FDA failed to adequately consider the evidence and ignored the central problem presented in the 2016 petition.
Plaintiffs in the case include Alliance of Nurses for Healthy Environments, Food Animal Concerns Trust (FACT), NRDC (Natural Resources Defense Council), and Public Citizen; Earthjustice will serve as co-counsel.
Statements from Plaintiffs in the Case:
"Nurses are on the frontlines caring for people made sicker by antibiotic resistant infections. Antibiotic resistant infections can lead to longer hospital stays, more costly treatment, and more pain and suffering. A crucial part of reducing antibiotic resistance is to only use them when an infection is identified. Health professionals are doing our part to combat antibiotic resistance in healthcare. Yet, the non therapeutic use of antibiotics in livestock is threatening the progress being made. The FDA needs to do their job and end the use of antibiotics for disease prevention in livestock. This is critical so that we have antibiotics at our disposal for many years to come." – Katie Huffling, Executive Director, Alliance of Nurses for Healthy Environments
"Since the 1970s, the FDA has recognized that the overuse of antibiotics in healthy livestock fuels the antibiotic resistance crisis and compromises the effectiveness of life-saving drugs for everyday people. It is shocking how little the FDA has done to safeguard public health from these risks in the last fifty years. The longer FDA waits to take action, the more people this crisis will harm." – David Wallinga, MD, Senior Health Officer, NRDC
"Antibiotics are crucial treatments for a wide range of bacterial infections—including pneumonia, strep throat, and urinary tract infections. And effective antibiotics are life-saving for immunosuppressed patients, including those who have received organ transplants or chemotherapy for cancer. The FDA must do more to combat increased antibiotic resistance." – Dr. Michael Carome, Director, Health Research Group, Public Citizen
"The FDA has allowed giant meat companies to habitually overuse antibiotics putting everyone's health at risk. This is absolutely unnecessary as animals raised under healthy conditions do not need routine antibiotics. FDA needs to stop deferring to the interests of the giant drug and meat industries and fulfill its mission to protect human health." – Steven Roach, Safe and Healthy Food Program Director, Food Animal Concerns Trust
"Hasn't the Covid-19 pandemic taught us anything? Uncontrollable diseases wreak havoc on the world economy and kill millions of people. Wasting precious antibiotics simply to compensate for unsanitary conditions at animal factories risks the faster spread of antibiotic resistant disease that are hard or impossible to cure. It's time the FDA followed the law and put an end to this unconscionable practice." – Carrie Apfel, Senior Attorney, Sustainable Food and Farming Program, Earthjustice
Additional Resources:
###
The Alliance of Nurses for Healthy Environments is the only national nursing organization focused solely on the intersection of health and the environment. The mission of the Alliance is to promote healthy people and healthy environments by educating and leading the nursing profession, advancing research, incorporating evidence-based practice, and influencing policy.
NRDC (Natural Resources Defense Council) is an international nonprofit environmental organization with more than 3 million members and online activists. Since 1970, our lawyers, scientists, and other environmental specialists have worked to protect the world's natural resources, public health, and the environment. NRDC has offices in New York City, Washington, D.C., Los Angeles, San Francisco, Chicago, Bozeman, and Beijing. Visit us at www.nrdc.organd follow us on Twitter @NRDC.
Food Animal Concerns Trust (FACT) believes that all food-producing animals should be raised in a humane and healthy manner, and that everyone should have access to safe and humanely produced food. Since 1982, FACT has been leading the charge to make that vision a reality. We provide critical resources to help farmers adopt humane practices, advocate for food safety, and guide consumers in making healthy food choices.

Public Citizen is a nonprofit consumer advocacy organization that champions the public interest in the halls of power. We defend democracy, resist corporate power and work to ensure that government works for the people - not for big corporations. Founded in 1971, we now have 500,000 members and supporters throughout the country.
(202) 588-1000
LATEST NEWS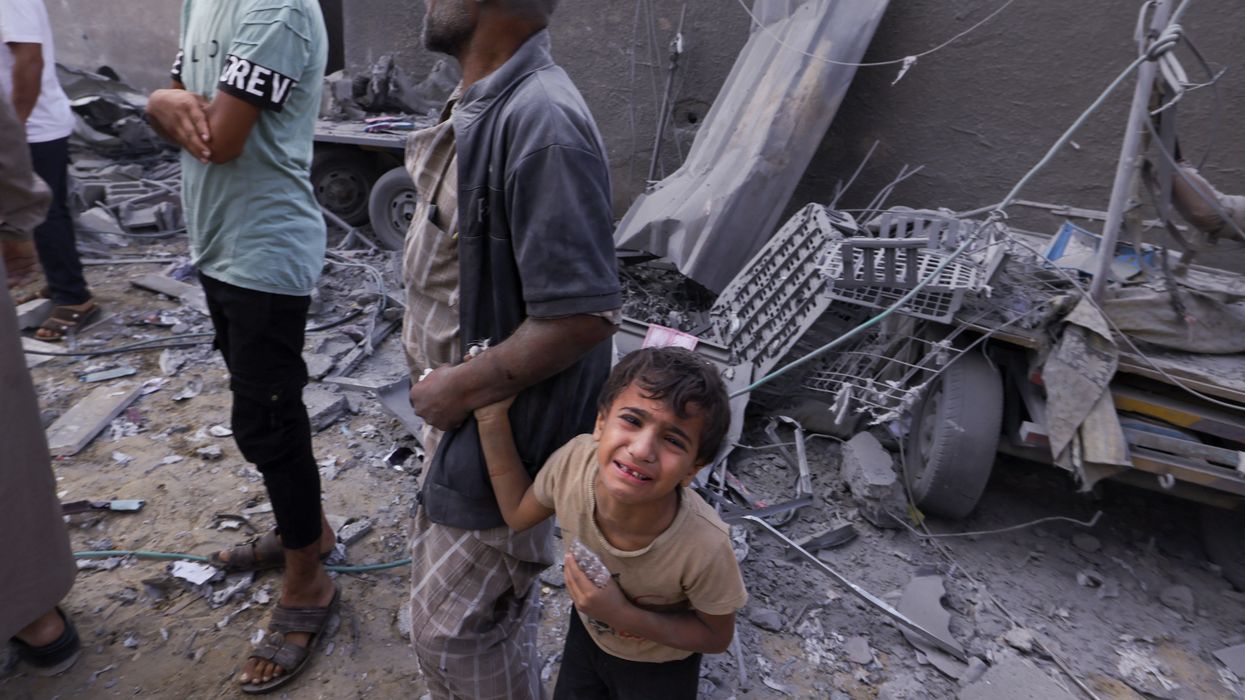 "The Security Council was again prevented from rising to this moment to uphold its clear responsibilities in the face of this grave crisis threatening human lives and threatening regional and international peace and security," said the Palestinian envoy to the United Nations.
As the United Nations humanitarian chief warned that aid workers in Gaza are "hanging on by our fingertips" as they try to mitigate an "untenable" disaster, and with Americans' support for Israel's U.S-backed bombardment of the enclave eroding, the United States on Friday vetoed a resolution demanding an immediate humanitarian cease-fire at the U.N. Security Council.
U.S. Envoy to the U.N. Robert Wood told members of the council that a cease-fire would "only plant the seeds for the next war."
Thirteen member-countries voted in favor of the cease-fire resolution, which was introduced after U.N. Secretary-General António Guterres took the rare step of invoking Article 99 of the U.N. Charter, warning that Israel's slaughter of at least 17,487 Palestinians in just two months "may threaten the maintenance of international peace and security."
The U.K. abstained from voting on the resolution, saying it did not take into account that Hamas committed acts of terrorism when it attacked Israel on October 7.
Riyad Mansour, the Palestinian U.N. envoy, called the veto "disastrous."

"The Security Council was again prevented from rising to this moment to uphold its clear responsibilities in the face of this grave crisis threatening human lives and threatening regional and international peace and security," said Mansour. "Instead of allowing this council to uphold its mandate by finally making a clear call after two months of massacres that the atrocities must end, the war criminals are given more time to perpetuate them. How can this be justified?"
Nicolas de Rivière, France's permanent representative to the Security Council, who voted in favor of the cease-fire, argued that there is no "contradiction in the fight against terrorism and the protection of civilians, in strict respect of international humanitarian law."

"Unfortunately once again, this council has failed. With a lack of unity and by refusing to genuinely commit to negotiations in doing this, the crisis in Gaza is getting worse and it runs the risk of extending," said de Rivière.
The U.S. has now vetoed U.N. resolutions to hold Israel accountable for its policies in Palestine 45 times, human rights lawyer Noura Erakat said.
Former U.N. human rights official Craig Mokhiber—who resigned in October over the U.N.'s response to the war in Gaza—noted that U.S. blocked the resolution on the eve of the 75th anniversary of the U.N. Genocide Convention.
"Thousands have died since [the United States'] last veto and more will die now," said Mokhiber.

News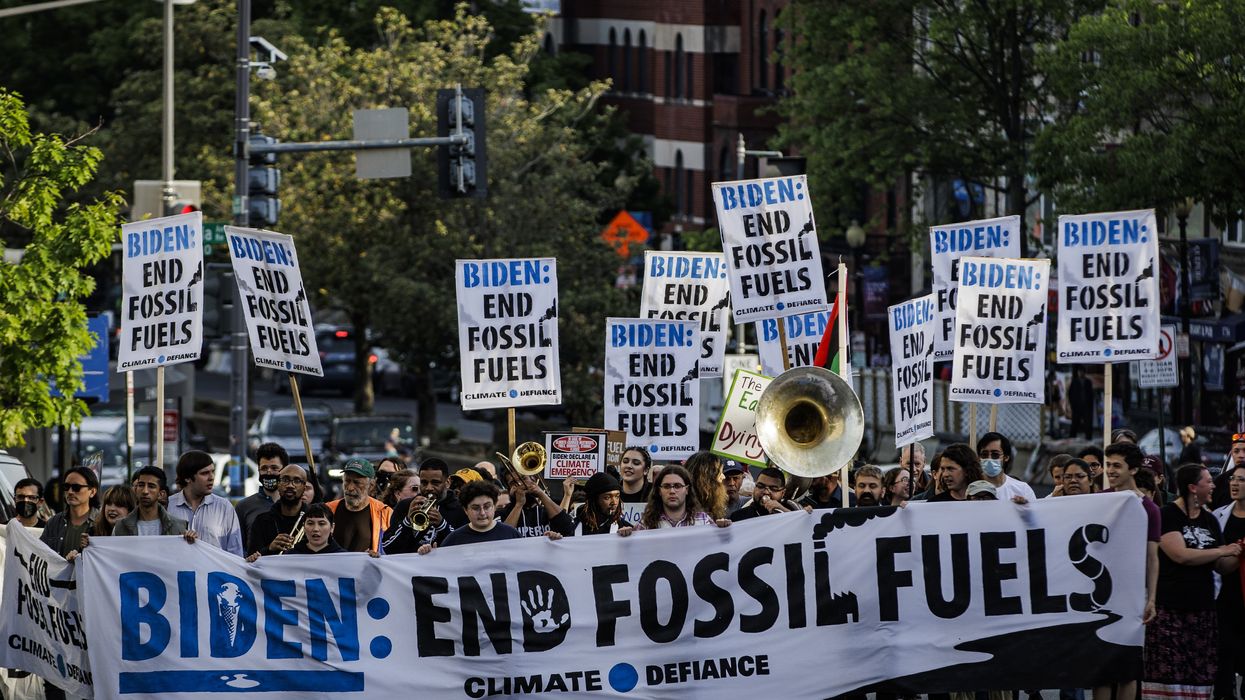 One expert expressed hope that Democrats "realize that strong positions on abortion and climate change are no longer 'partisan' or 'divisive'—religious freedom, bodily privacy, and saving the world are BIG TENT, winning issues."
Polling results released Friday by CNN show that 73% of U.S. voters across the political spectrum believe the government should design policies to meet its commitment to cut planet-heating emissions in half by the end of this decade.
End Climate Science founding director Genevieve Guenther noted on social media that the overall figure includes 95% of Democrats, 76% of Independents, and even 50% of Republicans.

She expressed hope that the Democratic Party will now "realize that strong positions on abortion and climate change are no longer 'partisan' or 'divisive'—religious freedom, bodily privacy, and saving the world are BIG TENT, winning issues."

The survey was conducted by SSRS last month and the results were revealed during the United Nations Climate Change Conference (COP28) set to run through Tuesday—which U.S. President Joe Biden has been criticized for blowing off.
As CNNdetailed:

Americans give Biden a 43% approval rating for his handling of environmental policy, which is several points above his overall approval rating and well above his numbers for handling the economy. But few Americans, only 2%, see climate change as the most important issue facing the country, giving higher priority to the economy and cost of living.

But climate change and clean energy are increasingly intertwined with the economy. Climate change-fueled disasters don't just impact commerce, they also strike at the heart of the American dream: homeownership.
The approval and disapproval responses strongly correlate to political party, with far more Democrats backing Biden's environmental policy.

Most Americans disapprove of President Biden's handling of environmental policy

(Graphic: Matt Stiles/CNN)
Pollsters found that 58% of voters worry about the effects of extreme weather, 68% worry about the risks of climate change, and 79% think that climate change contributed to extreme weather in their area.
Large majorities of voters from the partisan spectrum agreed that humanity as a whole, the energy and automobile industries, and the U.S. and Chinese governments have some or even a great deal of responsibility to try to reduce climate change. Slightly smaller majorites said that those entities are doing "too little" to address the emergency.
Two-thirds of voters said that "requiring that all electricity in the U.S. be produced using renewable sources like solar and wind by the year 2035" as well as "offering federal tax credits for purchasing and installing home solar panels should be important, or even top priorities.
Even more (71%) noted the importance of "offering federal tax credits for purchasing and installing ultra-efficient home heating and cooling systems" along with "prioritizing investments in clean energy sources over energy from fossil fuels." A slim majority (54%) prioritized "offering federal tax credits for purchasing an electric vehicle."
While Biden—who is seeking reelection next year—campaigned on the promise of being a "climate president," during his first term so far he has faced criticism from campaigners and frontline communities for declining to declare a national climate emergency, supporting the Willow oil project and Mountain Valley Pipeline, backing the expansion of liquefied natural gas exports, and continuing fossil fuel lease sales for public lands and waters.
The president has also had to contend with Republicans and right-wing Democrats in Congress who want to kill or water down climate policies. For example, this week, the House GOP has voted to block a proposed Biden administration rule meant to accelerate the transition to electric vehicles and advance various fossil fuel industry-friendly bills, including one that would saddle taxpayers with the cost of cleaning up oil and gas wells on federal lands.

News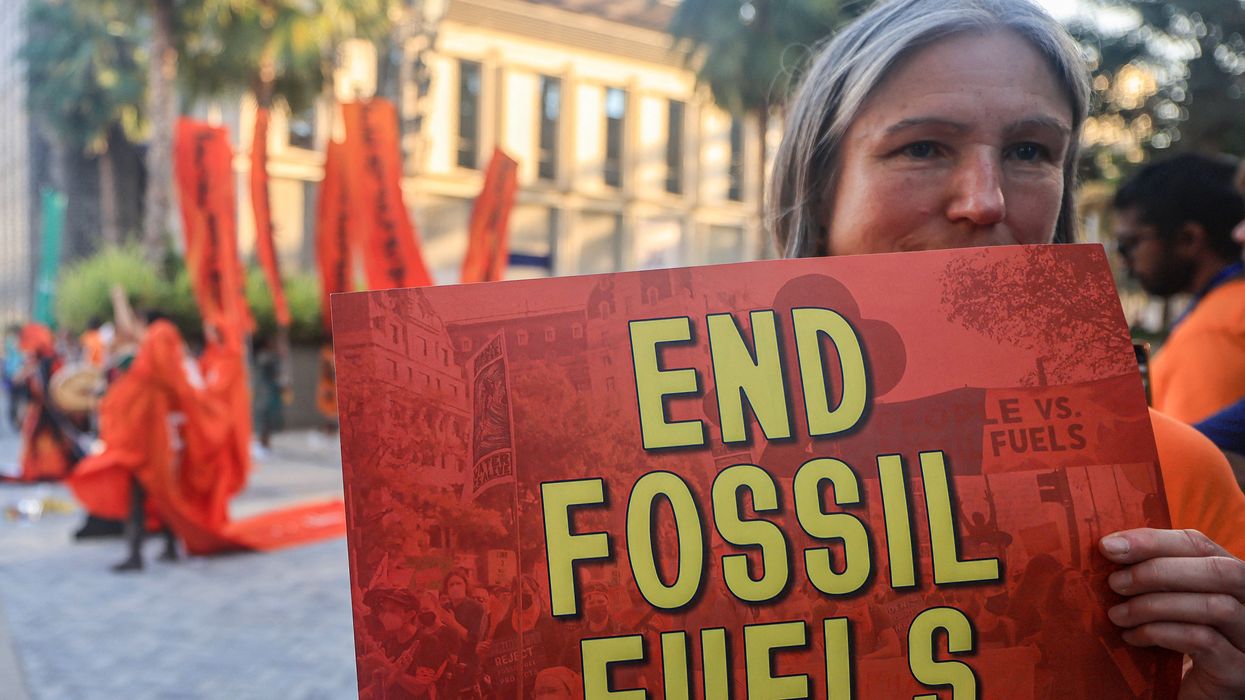 As the newest Global Stocktake draft was released, an OPEC letter showed oil-producing companies are fearful that the world is getting closer to phasing out fossil fuels.
Reviewing the latest draft of the Global Stocktake regarding the climate emergency out of the 28th United Nations Climate Change Conference, campaigners on Friday noted that negotiators left in numerous loopholes that would allow the fossil fuel industry to continue polluting, while eliminating one option for a clause that appeared to call for a just transition toward renewable energy.
The new draft is the result of three more days of negotiations since the last version of the Global Stocktake (GST) was released on Tuesday, when advocates warned policymakers appeared insistent on including a call for "abatement" of fossil fuel emissions—meaning further development of carbon capture and storage (CCS) technologies, which have so far failed to deliver the emissions-reduction results promised by proponents.

The latest version of the document includes four options for a paragraph that would address the future of fossil fuel use in the remaining years of this decade.
The options that remain in the draft are:
A phaseout of fossil fuels in line with best available science;
A phasing out of fossil fuels in line with best available science, the Intergovernmental Panel on Climate Change's 1.5°C pathways and the principles and provisions of the Paris agreement;
A phaseout of unabated fossil fuels recognizing the need for a peak in their consumption in this decade and underlining the importance for the energy sector to be predominantly free of fossil fuels well ahead of 2050; and
No text regarding changes to fossil fuel use.
Negotiators crossed out an option that would call for "an orderly and just phaseout of fossil fuels."
"There is some good stuff in there, but still too many dangerous distractions," said 350.org on social media. "We must agree [to] a fair and fast phaseout of fossil fuels and to triple renewable energies by 2030!"

The draft suggested that many policymakers remain committed to calling for a phaseout of "unabated" fossil fuel emissions—those that are not "captured" and stored underground or under the seabed before they hit they atmosphere.

As Common Dreamsreported Friday, more than 470 lobbyists representing carbon capture and storage interests and companies are in attendance at COP28—along with more than 2,400 lobbyists for the fossil fuel industry, which has openly supported CCS as a solution that would allow oil, gas, and coal giants to continue operating.

Rachel Cleetus, policy director and lead economist for the Union of Concerned Scientists' Climate and Energy Program, said world leaders must take their "historic opportunity to secure a global agreement to phase out fossil fuels in line with what the science shows is necessary to meet critical climate goals."

"It's crunch time at COP28," Cleetus told Common Dreams. "The latest draft of the Global Stocktake text includes several potential options, with varying degrees of ambition. Now, it's time to reach consensus on a final outcome that is true to the science, includes near- and long-term benchmarks, has no loopholes, and has an equitable provision of finance to drive a clean energy transition. Countries must take bold action and rise above narrow self-interest and zero-sum political games, as well as the influence of fossil fuel companies, to deliver what people around the world urgently need as climate impacts rapidly worsen."

"The time is now, and the place is Dubai, to finally address the root cause of this global crisis: fossil fuels," said Cleetus.

Oil Change International global policy manager Romain Ioualalen said the latest draft left him hopeful that the world has "never been closer to an agreement on a fossil fuel phaseout."

"What that transition will look like will be a fierce battle over the next few days," said Ioualalen. "We are alarmed about some of the options in this text that seem to carve out large loopholes for the fossil fuel industry. These will need to be opposed. The draft is also missing a clear recognition that developed countries will need to phase out faster and provide their fair share of finance, as well as a recognition that the decline of fossil fuel production must start immediately, not in the distant future."

Ghiwa Nakat, executive director of Greenpeace MENA, said the latest draft and "everything so far" at COP28 "has been just a prelude to what we really want to hear—commitment to a just and equitable phaseout of all fossil fuels by mid-century, coupled with key milestones for this critical decade."

While "alternative formulations on fossil fuel phaseout" have never "made it this far into a draft text," said Greenpeace International, "there are still no guarantees on a decision on fossil fuels, so all is in play."

Shortly after the draft was made public, letters from the Organization of the Petroleum Exporting Countries (OPEC) were leaked to multiple news outlets and made it even more clear that campaigners' fight for a strong final Global Stocktake is not over—but that major fossil fuel producers are growing concerned that COP28 could be a turning point for the industry.

The letters, dated December 6 and signed by OPEC secretary-general and Kuwaiti oil executive Haitham al-Ghais, were sent to members countries including Saudi Arabia, Iran, and Nigeria.

Al-Ghais urged the countries to "proactively reject any text or formula that targets energy, i.e. fossil fuels, rather than emissions."
"These letters show that fossil fuel interests are starting to realize that the writing is on the wall for dirty energy," Mohamed Adow, director of Power Shift Africa, toldThe Guardian. "Climate change is killing poor people around the globe and these petrostates don't want COP28 to phase out fossil fuels because it will hurt their short-term profits. It's shameful."
While the draft text "offers hope with several options for a phaseout of fossil fuels," said Cansın Leylim, associate director of global campaigns for 350.org, fossil fuel lobbyists are still "trying to block progress" at COP28.
"OPEC needs to get with the program or move out of the way of our just transition to a 100% renewable energy powered future," said Leylim. "The spotlight is now on the COP28's presidency and if they will broker a deal for a just transition or instead align themselves with the oil industry."

News