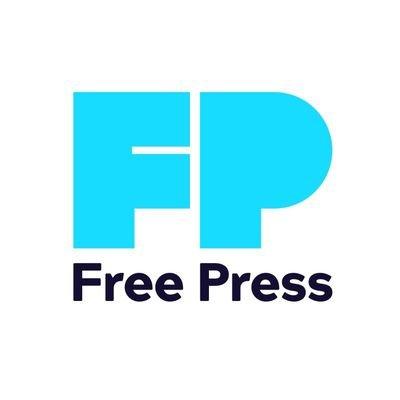 For Immediate Release
Contact:
Timothy Karr, 201-533-8838
Musk's Takeover Is a Huge Step Backward for Twitter
According to press reports on Monday, Twitter's board of directors unanimously accepted the terms of Elon Musk's $44-billion bid to buy out the company's shareholders and take the platform private.
WASHINGTON
According to press reports on Monday, Twitter's board of directors unanimously accepted the terms of Elon Musk's $44-billion bid to buy out the company's shareholders and take the platform private.
Prior to finalizing his offer, Musk had tweeted and discussed his plans to "transform" the social network and make "significant improvements" to the ways it manages content. A self-described free-speech absolutist, Musk has a troubling history of using the social-media network to intimidate and disparage others, including journalists, elected officials, owners of competing businesses and anyone else who might challenge his views.
Last week, Free Press and its allies in the Change the Terms coalition launched the "Fix the Feed" campaign. The initiative plans to convene high-level meetings with executives at Meta, TikTok, Twitter and YouTube, urging them to adopt core recommendations to curb the amplification of hateful, violent, misleading and false content across their platforms. Change the Terms is calling on the networks to immediately make these essential changes in all languages and enforce them in the runup to the 2022 midterms and beyond.
Free Press Co-CEO Jessica J. Gonzalez said:
"Musk hasn't just purchased another expensive play toy, but a global online community that includes about 330 million regular users. With control of such a massive platform comes great responsibility -- and Musk hasn't shown he has the capacity to be accountable to this diverse online community.
"For one, he hasn't demonstrated that he's able or interested in protecting other Twitter users or respecting their free-speech rights. Rather, he's used the platform to attack people, often launching childish broadsides against anyone he doesn't like or agree with. And he's regularly rallied a Twitter mob of loyal fans to follow his lead with more vicious threats and bullying.
"For years, Free Press and the Change the Terms coalition have pressured Twitter to be more accountable about its moderation methods. This work includes fixing Twitter algorithms and other systems that promote the most misleading and hateful content, protecting its users equally regardless of where they live and what language they speak, and being more transparent about the social network's amplification and moderation practices.
"Protecting everyone's ability to participate and speak on online platforms requires careful moderation. Musk taking the company private will likely threaten this notion and make the platform even more toxic to its users and the public.
"With or without Musk at the helm, Twitter must take a series of actions outlined by the Fix the Feed campaign to correct known failures at the company and do right by Twitter users. The platform must continue efforts to stop amplifying bigotry and conspiracy theories that pollute public discourse, threaten the health and safety of users and undermine democracy.
"The success of any mass-market network requires making sure that users feel safe on the platform and don't feel threatened by others. The leader of any social-media platform must take action against things like glorification and incitement of violence; the spread of disinformation, sexual harassment and abuse; and other hateful activities. These protections are essential for all platform users and not just a few prominent and powerful influencers like Musk.
"This deal has to be about more than making shareholders happy. It should be about protecting civil and human rights, public health and safety and our democracy. We will fight to ensure that Musk prioritizes these vital principles."
Free Press was created to give people a voice in the crucial decisions that shape our media. We believe that positive social change, racial justice and meaningful engagement in public life require equitable access to technology, diverse and independent ownership of media platforms, and journalism that holds leaders accountable and tells people what's actually happening in their communities.
(202) 265-1490
LATEST NEWS
"A true tally will probably never be known of everyone who died so Kissinger could be national security adviser," wrote journalist Spencer Ackerman.
Henry Kissinger, the former diplomat whose efforts to prolong and expand the U.S. war on Southeast Asia and undermine democracy in Latin America and elsewhere took millions of lives, died Wednesday at 100 years old.
Treated like royalty in elite U.S. political circles until his death at his home in Connecticut, Kissinger—who served as secretary of state and national security adviser under Nixon and Ford—never faced justice for the secretive carpet bombing of Cambodia that he helped orchestrate, the overthrow of Chile's democratically elected president, or the murderous "dirty war" in Argentina that killed tens of thousands.
The scope of his crimes was so vast that he had to watch where he traveled, lest he be detained to face questioning for his role in assassinations, massacres, and violent military coups whose reverberations are still felt in the present.
"The covert justifications for illegally bombing Cambodia became the framework for the justifications of drone strikes and forever war. It's a perfect expression of American militarism's unbroken circle," historian Greg Grandin, author of "Kissinger's Shadow," toldThe Intercept earlier this year. Grandin has estimated that Kissinger was responsible for at least 3 million deaths.
Observers of Kissinger's impact have said it's difficult to convey the true extent of the destruction he inflicted across the globe.
In his obituary of Kissinger for Rolling Stone, journalist Spencer Ackerman wrote that "measuring purely by confirmed kills, the worst mass murderer ever executed by the United States was the white-supremacist terrorist Timothy McVeigh."
"McVeigh, who in his own psychotic way thought he was saving America, never remotely killed on the scale of Kissinger, the most revered American grand strategist of the second half of the 20th century," Ackerman continued. "Every single person who died in Vietnam between autumn 1968 and the Fall of Saigon—and all who died in Laos and Cambodia, where Nixon and Kissinger secretly expanded the war within months of taking office, as well as all who died in the aftermath, like the Cambodian genocide their destabilization set into motion—died because of Henry Kissinger."
"We will never know what might have been, the question Kissinger's apologists, and those in the U.S. foreign policy elite who imagine themselves standing in Kissinger's shoes, insist upon when explaining away his crimes," he added. "We can only know what actually happened. What actually happened was that Kissinger materially sabotaged the only chance for an end to the war in 1968 as a hedged bet to ensure he would achieve power in Nixon's administration or Humphrey's. A true tally will probably never be known of everyone who died so Kissinger could be national security adviser."
News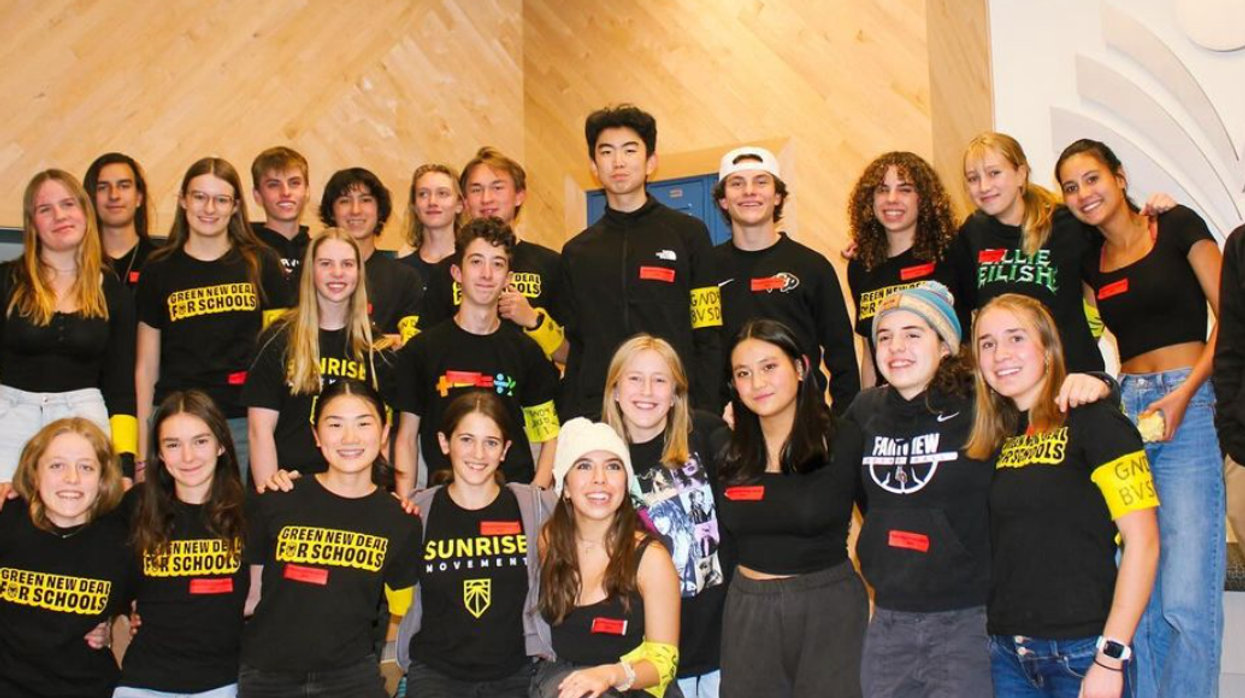 "This is a project of our generation, and we're not gonna stop until every school across the country has a Green New Deal and the kind of schools we deserve," said a 16-year-old student.
Youth advocates with the Green New Deal for Schools campaign notched up their first victory on Tuesday when Colorado's Boulder Valley School District Board of Trustees unanimously approved a resolution drafted by students at Fairview High School.
"This is a project of our generation, and we're not gonna stop until every school across the country has a Green New Deal and the kind of schools we deserve," said 16-year-old Emma Weber, a student leader in the district. "The Green New Deal for Schools is the kind of action and urgency that we need in order to address the climate crisis and prepare students to live with the realities of it."
The Daily Camerareported that the board's president, Kathy Gebhardt, "urged the students to take their advocacy beyond Boulder Valley to local governments and the state Legislature, saying most school districts in the state are struggling to pay teachers and don't have the resources to add solar panels or buy electric buses."

Colorado Public Radio on Tuesday laid out the long history of such policies in the district, which serves over 30,000 students:
Resolutions on the environment go back to 1978. In 2009, BVSD created a sustainability action plan, with updates in later years with a long-term goal of reducing greenhouse gases by 80% and also committed to a goal of zero net energy by 2050. It was one of the first school districts in the nation to make such a commitment.

As a part of its efforts to track carbon and lower emissions, the district has increased the number of buildings with renewable energy, purchased 19 electric buses, reduced greenhouse gas emissions by a quarter, reduced water consumption by 11% in three years, and hit a target of diverting 50% of waste from landfills. BVSD has already become a leader in providing locally sourced lunch to students.
"The students' resolution asks the district to continue and amplify efforts toward reducing carbon emissions, asking for all school buildings and buses to run on renewable energy," CPR added. "By 2026, they want a comprehensive curriculum for all students in all grades to develop sustainability knowledge and behaviors, including information on how climate change affects communities differently."
The Sunrise Movement—which is behind the national Green New Deal for Schools campaign—said on social media that the resolution also commits the district to "pathways to green union jobs for students, and increased collaboration with local, state, and federal agencies to strengthen responses to climate disasters."

With the resolution, the board is also asking U.S. President Joe Biden—who plans to skip COP28, the United Nations climate summit beginning this week—and Congress "to support the Green New Deal for Public Schools Act, reinforcing the call for a nationwide commitment to an education that prepares our generation to navigate the realities of the climate crisis," according to Sunrise.

Spearheaded by U.S. Sen. Ed Markey (D-Mass.) and Rep. Jamaal Bowman (D-N.Y.), a former educator and principal, the legislation would invest $1.6 trillion to transform the country's education system while "creating 1.3 million jobs and eliminating 78 million metric tons of carbon emissions" over a decade.

While the win in Colorado was a first for the campaign, Sunrise and students across the United States are pushing for more. The group noted Wednesday that young people in dozens of districts—from Bozeman, Montana to Philadelphia, Pennsylvania—have recently testified at school board meetings and attended daylong trainings in cities including Chicago, Illinois; Detroit, Michigan; and Washington D.C.
"Shoutout to the incredible students and their tireless advocacy that led to the Green New Deal for Schools resolution, which passed the Boulder Valley school board this week!" Bowman said Wednesday on social media. "Thank you for your incredible work. Now let's make this happen everywhere!"
News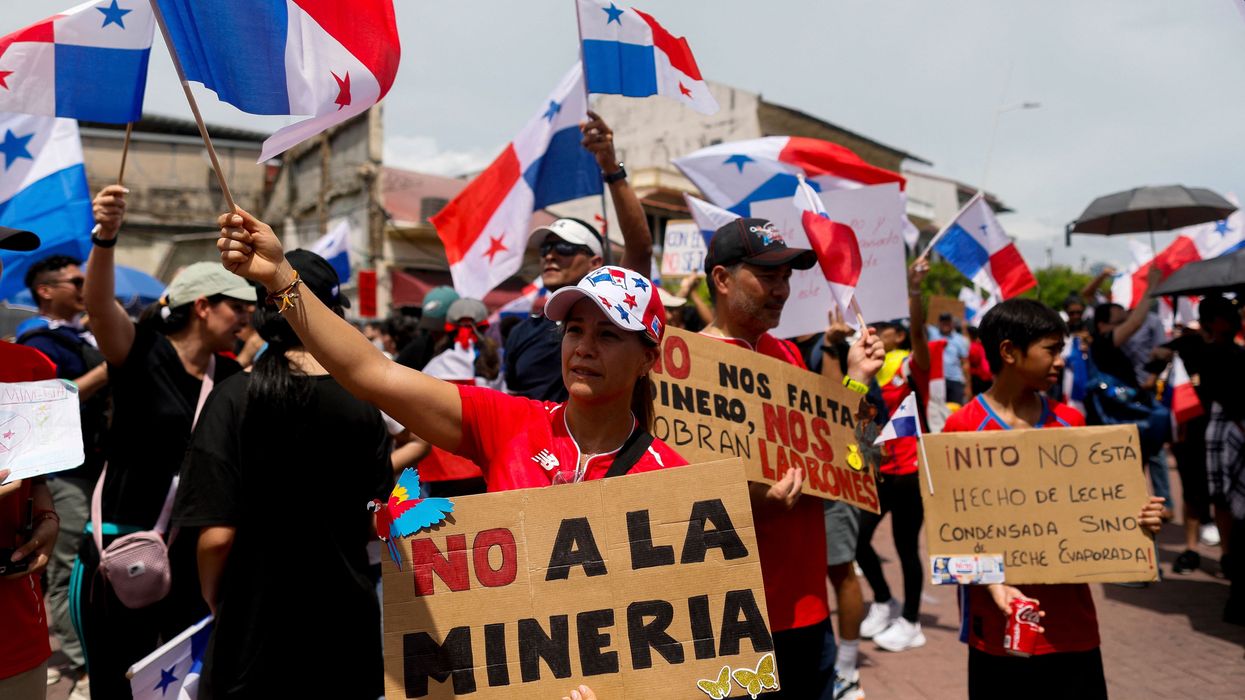 "The people have spoken and expressed that they don't want more mines, that they want sustainable economic development, and have no intention of destroying the country for profit," said one campaigner.
Indigenous and environmental campaigners this week hailed a landmark win for the Rights of Nature movement, the Panamanian Supreme Court's unanimous ruling that the contract for the Cobré mineral mine—one of the world's largest—is unconstitutional and must be shut down.
The November 24 ruling against Minera Panamá, a subsidiary of the Canadian company First Quantum Minerals, followed weeks of nationwide protests against the open-pit mine, which began operations in 2019 and where mainly copper, but also gold, silver, and molybdenum, are extracted. Opponents say the mine threatens area water supplies. A gunman shot and killed two people at a protest against the mine earlier this month.
Last year, the Cobré mine produced over 86,000 tons of copper, approximately 1% of the world's total production, 5% of Panama's gross domestic product, and 75% of the Central American country's export revenue. More than 2% of Panama's workforce is employed at the mine.
Cobré—which is located in a biodiverse area on Panama's Caribbean coast—will now shut down as a result of the ruling.

"The Panamanian people have spoken," Kherson Ruiz, executive director of the London-based Sustainable Development Foundation, toldMongabay. "The people have spoken and expressed that they don't want more mines, that they want sustainable economic development and have no intention of destroying the country for profit."
Referring to his introduction of Panama's Rights of Nature law, Juan Diego Vásquez Gutiérrez, an independent—and, at age 27, the youngest—member of Panama's National Assembly, said Wednesday that "I am very happy to have been part of a fundamental legal instrument to end the metal mining industry in the country."
"This is one of many tangible effects that we must repeat in defense of the environment thanks to legislation like this," Vásquez added.

Rengifo Navas Revilla, secretary of the National Coordinator of Indigenous Peoples of Panama, said in a statement that "when all this nature is contaminated, we all die."
"Even the planet itself, even Mother Earth herself, dies," he added. "This is the principle that has been instilled in us and that is why we continue to fight."
Since Ecuador became the first country to constitutionally enshrine the Rights of Nature in 2008, more than 30 nations have taken similar actions to protect their environment.
The advocacy groups Leatherback Project and Earth Law Center noted Wednesday that the Panamanian ruling "comes after a similar blocking of a copper mine earlier this year in Ecuador, where a provincial court ruled a mining project violated the constitutional Rights of Nature in the Intag Valley of the tropical Andes."
Constanza Prieto Figelist, Latin America legal director at Earth Law Center—which provided input and expertise on the Rights of Nature as the law was being drafted—said of the Panama ruling that "this case demonstrates that under a Rights of Nature framework, governments must give stronger consideration to the health and intrinsic value of nature when overseeing mining and other activities, elevating the interests of species and ecosystems to a higher status alongside human interests."
"The case also shows that the Rights of Nature can be an effective tool to protect the environment where traditional laws might fall short," she added. "We hope this will inspire other governments to give nature a formal voice and rights in the legal system, as Panama did."
News