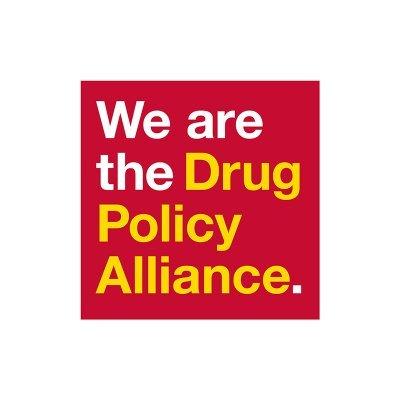 Drug Policy Alliance Statement on the Release of Biden-Harris Administration's 2022 National Drug Control Strategy
First Time Ever Strategy Has Supported Access and Funding for Harm Reduction Services and Reducing Barriers for Life-Saving Medications
WASHINGTON
In response to the Biden-Harris Administration today releasing the 2022 National Drug Control Strategy to Congress, which--for the first time in history--included support for access and funding of harm reduction services and reducing barriers for life-saving medications, Grant Smith, Deputy Director of the Office of National Affairs at the Drug Policy Alliance, released the following statement:
"We applaud the Biden-Harris Administration for taking the historic step - to support access and funding for harm reduction services and reduce barriers to life-saving medications. Despite over one million lives lost to drug overdose over the last 20-plus years, this is the first time an administration has included harm reduction in the National Drug Control Strategy.
"The Administration should continue to focus on its promise of equity by decreasing racial disparities in drug policy and the overdose crisis. From 2020 until now, Black people have experienced a 48.8% increase in overdose mortality, Hispanic or Latino people experienced a 40.1% increase, and American Indians and Alaska Natives experienced the highest increase in overdose mortality of all ethnic groups. This cannot continue. Criminalization approaches only saddle mostly Black, Hispanic and Indigenous people with criminal legal records and often incarceration, which increases their risk for infectious diseases, overdose and death.
"Prioritizing federal spending on public health rather than enforcement and interdiction is the best path forward. With over 105,000 of our friends, family and neighbors' lives being lost to drug overdose during the past year-and that number continuing to increase-and the overdose crisis now costing the U.S. economy over $1 trillion annually, we must embrace the evidence-based public health approaches we know work and save lives. But it must be done outside of the harmful apparatus of the drug war to be effective and provide the kind of racial equity this administration has long promised."
The Drug Policy Alliance is the nation's leading organization promoting drug policies grounded in science, compassion, health and human rights.
(212) 613-8020
LATEST NEWS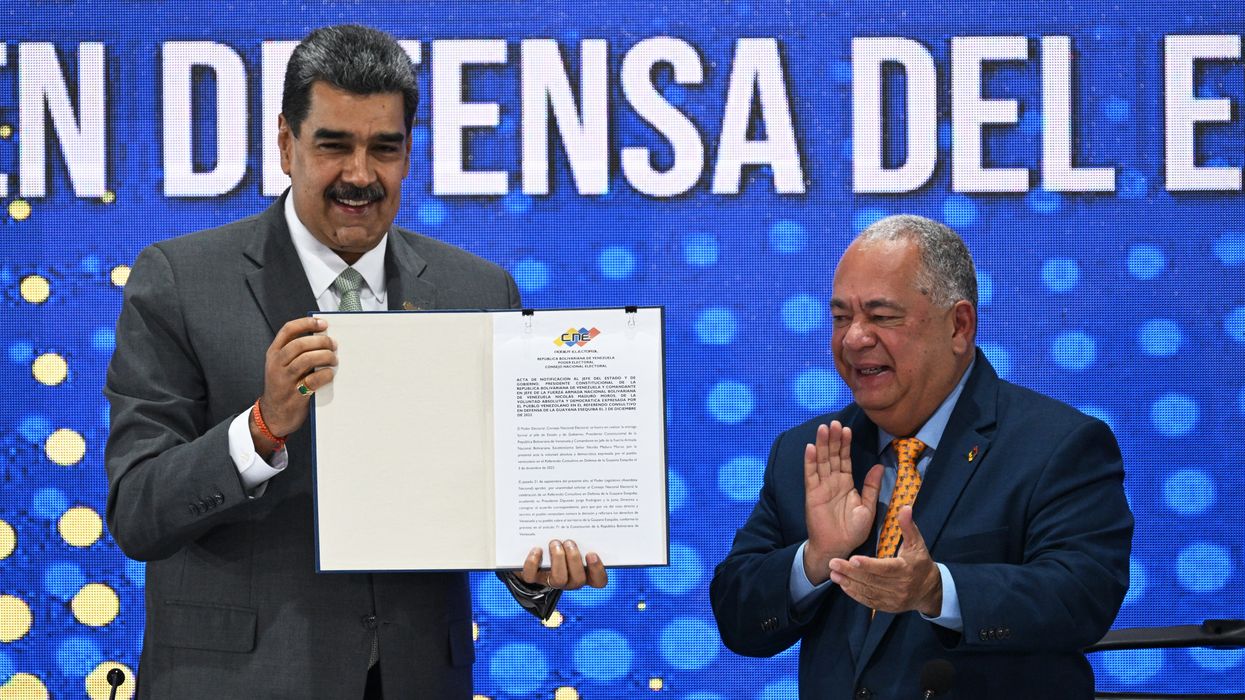 Brazilian President Luiz Inácio Lula da Silva offered to help forge a diplomatic solution, saying, "If there's one thing we don't want here in South America, it's war."
U.S. forces held joint military drills within Guyanese airspace on Thursday as a longstanding and intensifying territorial dispute between Venezuela and Guyana sparked fears of war in South America.
At the center of the dispute is Essequibo, an oil-rich region that Guyana has controlled for more than a century. Venezuela has claimed sovereignty over Essequibo for decades, and the two nations agreed in 1966 to resolve the controversy in a way that's "satisfactory" for both sides.
On Sunday, 95% of Venezuelan voters approved a referendum in support of declaring ownership over the disputed territory, and President Nicolás Maduro swiftly "ordered the state oil company to issue licenses for extracting crude in the region," AFPreported.
"The president also gave an ultimatum to oil companies working under concessions issued by Guyana to halt operations within three months," the outlet added.
Irfaan Ali, Guyana's president, called Maduro's moves a "direct threat" and said his country's military forces are on alert.
"Our first line of defense is diplomacy," Ali said in an interview with CBS News on Wednesday. "But we are also preparing for the worst-case scenario... We are preparing with our allies, with our friends, to ensure that we are in a position to defend what is ours."
The United Nations Security Council was scheduled to hold an emergency closed-door meeting on the dispute on Friday at Guyana's request.

"Washington does not have the appetite to deepen its conflict with Venezuela. But ExxonMobil does."
The primary target of Maduro's ultimatum to companies was ExxonMobil, a U.S.-based fossil fuel giant that has made major new oil discoveries in the disputed territory this year. Exxon announced its first oil discovery in Guyana in 2015, and the country's government gave the oil behemoth a green light to drill in disputed waters.
Citing an industry analyst, The Houston Chroniclereported earlier this week that "the roughly 380,000 barrels per day that Exxon produces in Guyana account for roughly 10% of its 4 million barrels per day globally."
"The company plans to expand its production there to more than 1 million barrels per day by the end of the decade," the Chronicle noted.
Escalating tensions over Essequibo have sparked warnings of a possible military conflict in the region. Brazilian President Luiz Inácio Lula da Silva said Thursday that "if there's one thing we don't want here in South America, it's war."
"We have been following the development of the Essequibo issue with growing concern," Lula said, expressing his nation's willingness to assist in negotiations for a diplomatic resolution. "We don't need conflict. We need to build peace."
Brazil shares a border with both Venezuela and Guyana. The BBCreported that Brazil deployed troops to its border with Venezuela following Sunday's referendum vote.

On the same day as Lula's remarks, American forces held joint military drills with Guyana that the U.S. Southern Command (SOUTHCOM) said were part of "routine engagement" aimed at enhancing the two nations' "security partnership."
"The U.S. will continue its commitment as Guyana's trusted security partner and promoting regional cooperation and interoperability," SOUTHCOM added.

Vladimir Padrino Lopez, Venezuela's defense minister, called the drills an "unfortunate provocation" aimed at protecting the interests of ExxonMobil.
"We warn that we will not be diverted from our future actions for the recovery of the Essequibo," Lopez wrote on social media.
Historian Vijay Prashad argued earlier this week that "war does not seem to be on the horizon," given that the U.S. has recently "withdrawn part of its blockade on Venezuela's oil industry, allowing Chevron to restart several oil projects in the Orinoco Belt and in Lake Maracaibo."
"Washington does not have the appetite to deepen its conflict with Venezuela. But ExxonMobil does," Prashad wrote. "Neither the Venezuelan nor the Guyanese people will benefit from ExxonMobil's political intervention in the region. That is why so many Venezuelans who came to cast their vote on December 3 saw this less as a conflict between Venezuela and Guyana and more as a conflict between ExxonMobil and the people of these two South American countries."
News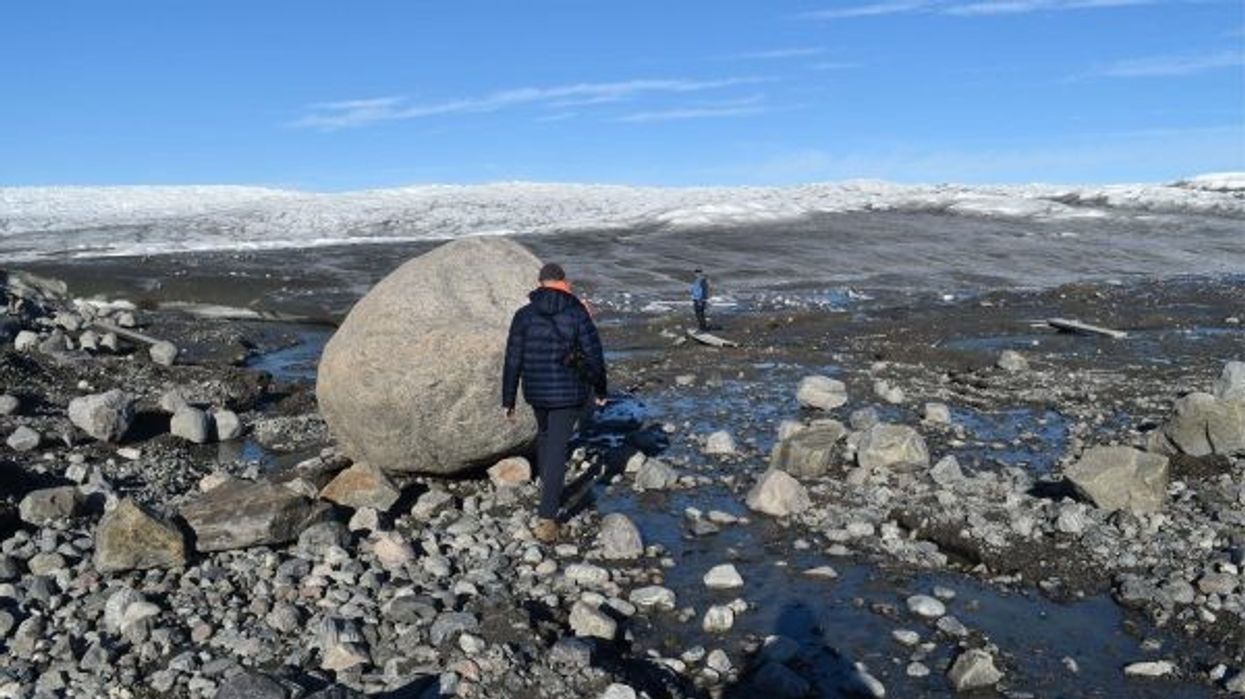 "It really brings it home to us that what we are doing is very, very unusual in Earth's history," the lead author of a new study said.
The last time that levels of atmospheric carbon dioxide were as high as they are today, Greenland was free of ice and the savanna and grassland ecosystems where humans evolved didn't exist yet.
That's the conclusion of a study published in Science Friday, which researchers say compiles "the most reliable data available to date" on atmospheric carbon dioxide levels over the last 66 million years.
"It really brings it home to us that what we are doing is very, very unusual in Earth's history," lead author Baerbel Hoenisch of the Columbia Climate School's Lamont-Doherty Earth Observatory toldAgence France-Presse.
"We've already pushed the atmosphere way beyond anything we've seen as a species."
By burning fossil fuels and clearing natural carbon sinks like forests, industrial capitalism has raised global carbon dioxide levels to 419 parts per million (ppm) today from around 280 ppm at the beginning of the industrial revolution.
"Rising atmospheric CO2 is the most obvious and startling expressions of our impact on the global environment," study corresponding author and University of Utah geologist Gabe Bowen wrote on social media. "The concentration has risen by ~50% in the past 100 years. Every year is now marked by the highest CO2 levels *ever observed* by humans!"
To understand how such a spike in carbon dioxide might impact Earth's climate and ecosystems, it's helpful to look at the past. This presents challenges, however, because the most reliable record of past carbon dioxide concentrations—gas bubbles preserved in ice cores—only goes back to around 800,000 years ago, when atmospheric concentrations of carbon dioxide were still at around preindustrial levels.
"Once you lose the ice cores, you lose direct evidence. You no longer have samples of atmospheric gas that you can analyze," Bowen said in a University of Utah press release. "So you have to rely on indirect evidence, what we call proxies. And those proxies are tough to work with because they are indirect."
Proxies are evidence in the geologic record that can stand in for carbon dioxide levels, such as mineral isotopes or the shape of fossilized leaves. Scientists have looked at these proxies before, but the current study represents the most comprehensive effort to date. A team of around 90 researchers from 16 countries spent seven years synthesizing and reviewing previous work under the banner of the Cenozoic CO2 Proxy Integration Project, according to the University of Utah and AFP.
The new study represents the scientific consensus on the carbon dioxide record, and it concludes that the last time carbon dioxide levels were around 419 ppm was 14 million years ago. That's much earlier than previous estimates of 3 to 5 million years ago.
However, the record goes back further than that to the Cenozoic Era, when the dinosaurs died and mammals began to emerge.
That record revealed a very clear pattern, Bowen tweeted: "CO2 goes up, the world warms. CO2 down, and things get icy."
The record enabled the scientists to predict the consequences of current and projected carbon dioxide levels.
"This is an incredibly important synthesis and has implications for future climate change as well, particularly the key processes and components of the Earth system that we need to understand to project the speed and magnitude of climate change," University of Utah biology professor William Anderegg said in the press release.
One of the report's messages, Bowen tweeted is that "the future is now."
"We've already pushed the atmosphere way beyond anything we've seen as a species," Bowen continued, "and if it stays this way we're in for big changes in the environment we live in."
If policy-makers don't restrict the burning of fossil fuels, atmospheric carbon dioxide could reach 600 to 800 ppm by 2100, AFP reported. According to the record, the last time levels were this high was 30 to 40 million years ago, when Antarctica was also ice-free and the Earth was home to giant insects.
Even today's concentrations are bound to have lasting consequences. For example, when carbon dioxide levels rapidly increased around 56 million years ago, it significantly altered ecosystems and took around 150,000 years to decrease again.
"We are in this for a very long time," Hoenisch told AFP, "unless we sequester carbon dioxide, take it out of the atmosphere, and we stop our emissions sometime soon."

However, the that doesn't mean the most extreme changes are locked-in. Instead, Bowen tweeted that the report was a "call to action."
"The geological changes we studied lasted for thousands and millions of years," Bowen said, "and if human-induced CO2 change is short-lived it won't have as big an impact on the climate."
News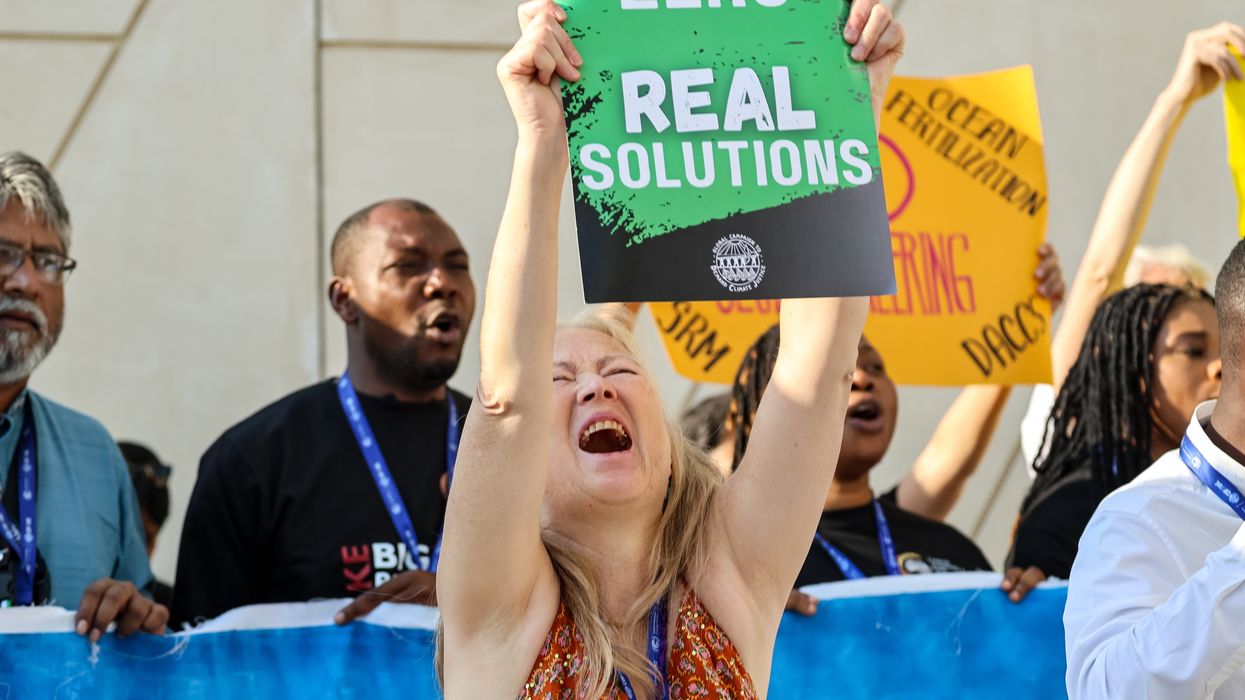 "The force with which the fossil fuel industry and their allies are coming to Dubai to sell the idea that we can 'capture' or 'manage' their carbon pollution is a sign of their desperation," said one advocate.

Leaders at the 28th United Nations Climate Change Conference in Dubai have claimed over the past week that the summit is centering issues that impact the Global South, but an analysis released Friday helped illustrate how difficult it's been for advocates from some of the most climate-impacted countries to make their case for far-reaching action—as the carbon capture and storage sector has far more representation at COP28 than many vulnerable nations.

The Center for International Environmental Law (CIEL) reported to The Guardian that at least 475 lobbyists representing carbon capture and storage (CCS) interests are attending COP28.
Many of the lobbyists represent companies that have developed CCS projects against the advice of climate and energy experts who say a phase-out of all fossil fuel emissions is needed to limit planetary heating to 1.5°C, or as close to it as possible.
More than 2,400 fossil fuel industry representatives are at the meeting, which is scheduled to end December 12. CCS has some of the most prominent representation at COP28, according to The Guardian.

"Thousands of fossil fuel lobbyists are roaming these halls alongside their peers, advancing dangerous distractions like carbon capture and storage... while communities enduring the greatest impacts from the climate crisis are having our voices silenced."

Representation for countries that are already facing climate catastrophes including prolonged drought, famine, and sea level rise has been dwarfed in comparison, with 366 people attending on behalf of Somalia, 79 representing Tonga, 56 representing the Solomon Islands, and just seven in attendance for Eritrea.
The CCS bloc also outnumbers Indigenous representatives by 50%, reported The Guardian.
"Thousands of fossil fuel lobbyists are roaming these halls alongside their peers, advancing dangerous distractions like carbon capture and storage, trying to block a fast, fair, forever fossil fuel phase-out—while communities enduring the greatest impacts from the climate crisis are having our voices silenced and our lives treated as a worthy sacrifice for profit," Blessed Chidhoni of the Global Campaign to Demand Climate Justice told the outlet.
Lili Fuhr, director of CIEL's fossil economy program, said COP28 has invited more than 470 lobbyists to speak out in favor of "the fossil fuel industry's lifeline and... their latest excuse and delay tactic."
As Common Dreams reported this week, a recent draft of the Global Stocktake that delegates are working to finalize showed how powerful fossil fuel-producing countries are pushing for an agreement that would allow "abated" emissions—those that are "captured" by CCS technology and stored underground or beneath the seabed or "utilized" to make fertilizers and other products.
"The force with which the fossil fuel industry and their allies are coming to Dubai to sell the idea that we can 'capture' or 'manage' their carbon pollution is a sign of their desperation," said Fuhr. "We must not let an army of carbon capture lobbyists blow a gigantic loophole into the energy package here at COP28."
As Common Dreamsreported in May, energy-intensive carbon capture technology would increase energy consumption at fossil fuel-fired plants by 20% while also worsening environmental injustice by subjecting people in the surrounding area to increased levels of smog, benzene, and formaldehyde pollution.

Critics say CCS is far from a solution to the fossil-fueled planetary heating crisis, as policymakers at COP28 have proposed setting up infrastructure capable of capturing just 1.2 gigatonnes of carbon emissions—only 3% of global emissions in 2022.
"CCS is an unproven technology and a dangerous distraction, which enables big polluters to keep destroying communities and the environment," said Climate Action Network International.

In an analysis last month, CIEL noted that the U.S. "is the epicenter of the global push for CCS, with a long history of using captured carbon dioxide for enhanced oil recovery and extraordinary subsidies for carbon capture."

"The accelerating efforts to build ever more dangerous, unnecessary, and expensive infrastructure offshore should be abandoned, and subsidies for CCS should be eliminated," said Steven Feit, CIEL's senior attorney and legal and research manager.

One major U.S. CCS project, Petra Nova, shut down in 2020 after capturing 3.8 million tons of carbon dioxide emissions in its first three years. Developers had projected it would capture 4.6 million tons.

Another project in Western Australia—the largest carbon capture and utilization/storage endeavor in the world, missed its capture targets by about 50% in the first five years, and The Guardianreported this year that emissions have now risen by 50%.
"CCS's track record is riddled with failures and warning signs about the technology's feasibility and safety," said Nikki Reisch climate and energy program director for CIEL. "CCS is a false promise that only helps to keep fossil fuel facilities running and oil and gas fields pumping."

News