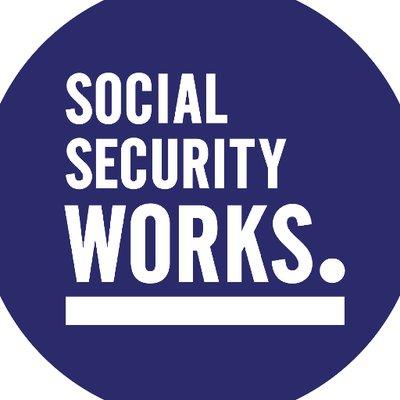 Progressives Target Rep. Kathleen Rice with Mobile Billboard For Blocking Plans to Lower Drug Prices
WASHINGTON
Today, Social Security Works and Organize for Justice (the c4 arm of Justice Democrats) launched a billboard campaign calling out Rep. Kathleen Rice (D-NY) for siding with pharmaceutical corporations instead of her constituents.
On Wednesday, Rice cast a pivotal vote in the House Energy and Commerce Committee against letting Medicare negotiate lower prices on prescription drugs. Rice received $84,259 in campaign contributions from the pharmaceutical and health industries.
A truck displaying the billboard will travel across New York's 4th Congressional District this week and next. The billboard will visit Rice's district office, as well as senior centers and nursing homes throughout the district, to make sure seniors know that Rice is voting to keep their drug prices high.
Ninety percent of voters in NY-04 support Medicare drug price negotiation.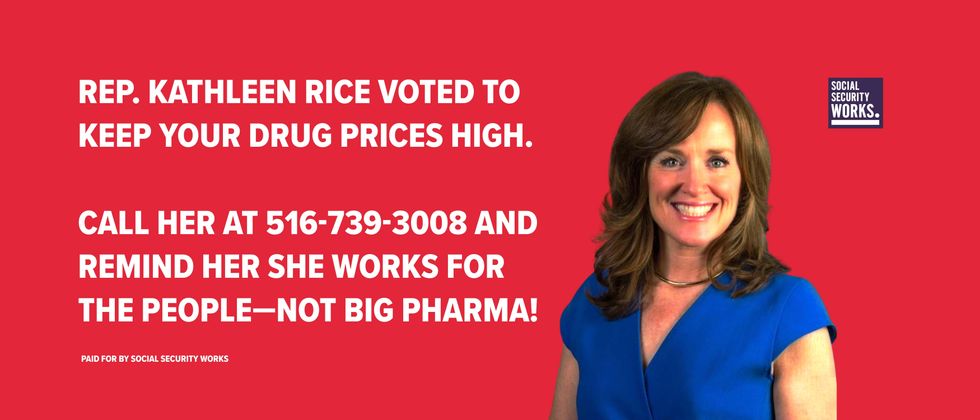 "Rep. Kathleen Rice betrayed Long Island voters. She ran on a promise to take on big pharma's greed, and instead she is doing their bidding. We are going to make sure that everyone in her district knows that she is bought and paid for by Big Pharma," said Alex Lawson, Executive Director of Social Security Works.
"Rep. Kathleen Rice is a perfect example of everything that is wrong with status quo corporate politicians. For years, Rep. Rice has deceived her constituents by claiming to support the lowering of prescription drugs but when she had the chance to represent the 90 percent of her constituents who support giving Medicare the power to negotiate lower drug prices, she voted against her constituents and stood with Big Pharma instead," said Alexandra Rojas, Executive Director of Justice Democrats and Board President of Organize for Justice.
Social Security Works' mission is to: Protect and improve the economic security of disadvantaged and at-risk populations; Safeguard the economic security of those dependent, now or in the future, on Social Security; and Maintain Social Security as a vehicle of social justice.
LATEST NEWS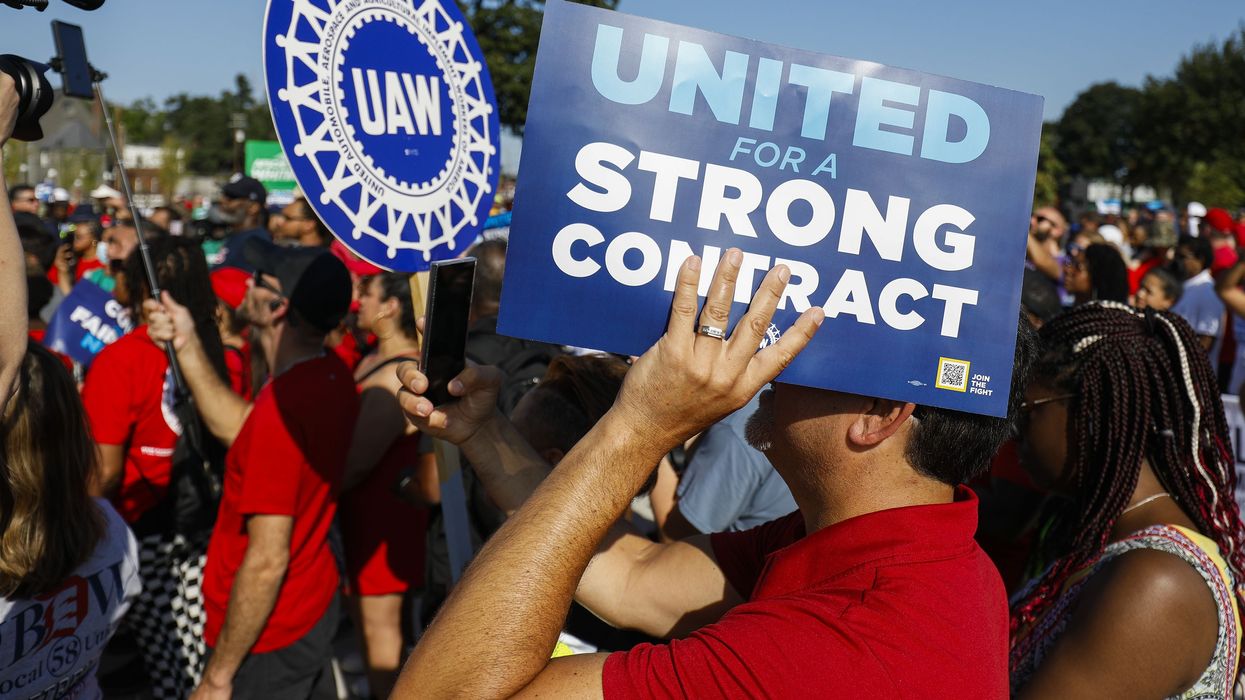 "The Big Three can afford to immediately give us our fair share," said United Auto Workers president Shawn Fain. "If they choose not to, then they're choosing to strike themselves, and we are not afraid to take action."
United Auto Workers president Shawn Fain criticized the Big Three car manufacturers' latest contract offers as woefully inadequate late Wednesday and made clear that, with existing labor agreements set to expire in a matter of hours, a historic strike is now likely.
In a negotiation update streamed on social media, Fain said union negotiators are "seeing movement from the companies" but not nearly enough.
Ford, General Motors, and Stellantis have respectively proposed wage increases of 20%, 18%, and 17.5% over the course of a four-year contract—well below the UAW's demand for a 36% wage increase to make up for years of falling autoworker pay amid rising corporate profits and surging executive compensation.
Since 2003, autoworkers have seen their average hourly wage decline by 30%. Meanwhile, over the past decade, the Big Three automakers have raked in more than $250 billion in profits and rewarded shareholders with tens of billions of dollars in stock buybacks and dividend payouts.
"They could double our raises and not raise car prices—and still make billions of dollars in profit," Fain said Wednesday. "They spent more money enriching shareholders in a year than they spent on us in the entirety of the last contract cycle."
The UAW leader also said the companies have rejected the union's demand for an increase in retiree pay, restoration of pensions and retiree health benefits that workers gave up during the industry's crisis more than a decade ago, and an end to compensation tiers that harm newer employees.
"The Big Three can afford to immediately give us our fair share," Fain said. "If they choose not to, then they're choosing to strike themselves, and we are not afraid to take action."
Fain, the first UAW president elected directly by rank-and-file members, slammed the automakers and corporate media outlets for fearmongering over the potential economic impacts of a strike and not putting workers' demands in the context of surging company profits and executive pay.
"They want to scare the American people into thinking that autoworkers are the problem," Fain said. "Corporate greed is the problem. Come tomorrow night, if they force us, we're about to make it the Big Three's problem."
The UAW's current contracts with the Big Three automakers expire just before midnight on Thursday. With no agreement on the table, the UAW is planning to launch what it is calling a " Stand-Up Strike," which it describes as "our generation's answer to the movement that built our union, the Sit-Down Strikes of 1937."
"Instead of striking all plants all at once, select locals will be called on to 'Stand Up' and walk out on strike," the UAW explains on its website. "As time goes on, more locals may be called on to 'Stand Up' and join the strike. This gives us maximum leverage and maximum flexibility in our fight to win a fair contract at each of the Big Three automakers."
The union emphasized that a strike at every Big Three facility is "still on the table." Last month, 97% of participating UAW members voted to authorize strikes at the Big Three if adequate contract deals aren't in place by late Thursday.
Such strikes would mark the first time UAW members have simultaneously walked off the job at all three major automakers.

"We are preparing to strike these companies in a way they've never seen before," Fain said during Wednesday's livestream. "The Stand-Up Strike will keep the companies guessing. It's going to rely on discipline, organization, and creativity."
"I'm at peace with the decision to strike if we have to because I know that we're on the right side in this battle," said Fain. "It's a battle of the working class against the rich, the haves versus the have-nots, the billionaire class against everybody else."
News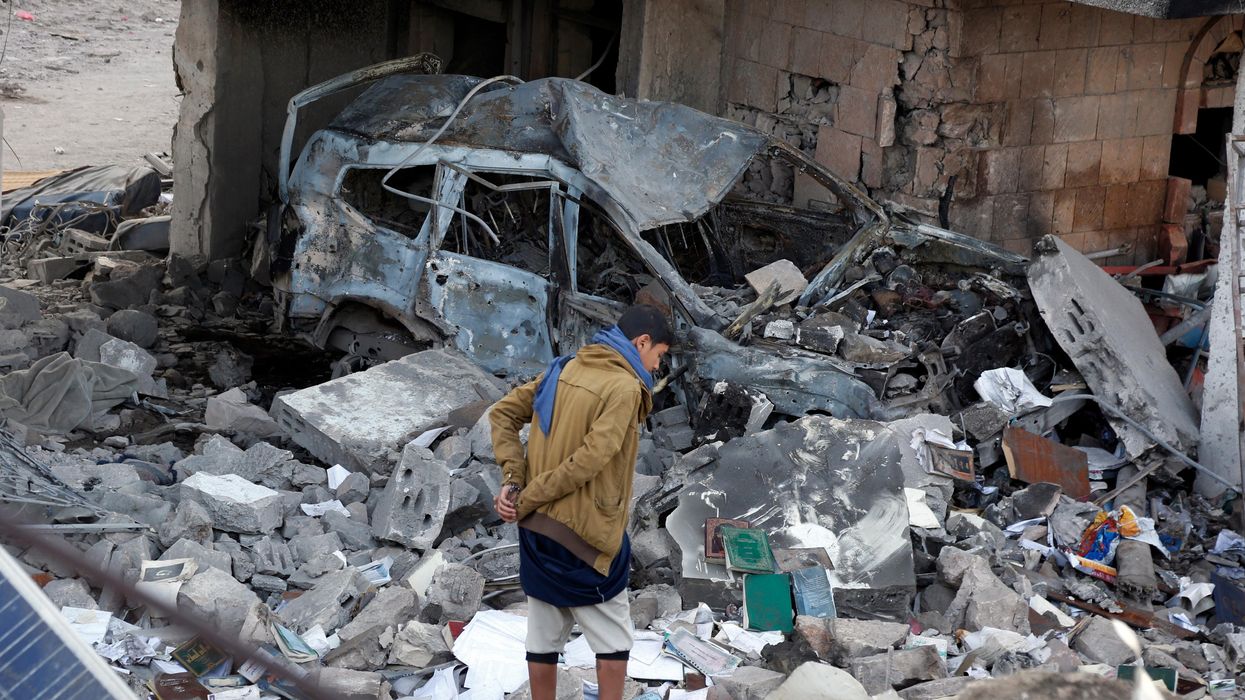 "Of course, its impact will come down to the details of implementation," said one expert.
Human rights advocates and some congressional Democrats on Wednesday cautiously welcomed Washington Postreporting that the Biden administration has created a program to track and investigate allegations of foreign forces harming or killing civilians with weapons provided by the United States.
"The United States clearly has a vested interest in knowing what harm its weapons sales and security assistance cause to civilians," Human Rights Watch (HRW) deputy Washington director Nicole Widdersheim told the newspaper. "Let's see if the Biden administration puts political will behind this good idea."
Annie Shiel, U.S. advocacy director at the Center for Civilians in Conflict (CIVIC), called the initiative "an important step" but added that "of course, its impact will come down to the details of implementation."
The Quaker group Friends Committee on National Legislation noted Shiel's remarks on X—formerly Twitter—while celebrating the "positive news... on accountability for harm caused by U.S.-supplied weapons."
"What will actually happen when U.S. officials find U.S. arms have been used in war crime or human rights violation? Will there be meaningful accountability, or will perpetrators just get a slap on the wrist?"

The U.S. State Department, which is leading the program with the help of "personnel from the Pentagon, intelligence community, and other agencies," announced the Civilian Harm Incident Response Guidance (CHIRG) in an August 23 cable to American embassies and consulates, according to the Post.
A State Department spokesperson told the Middle East Eye on Wednesday that "CHIRG establishes a process to respond to new incidents of civilian harm and prevent them from recurring, and to drive partners to conduct military operations in accordance with international law," but declined to say whether the probes will be made public.

The new initiative resembles a Defense Department effort launched last year that focuses on injuries and deaths of noncombatants caused by American forces—one which Shiel said at the time "offers opportunities to address long-standing structural flaws in U.S. policy and practice, prevent future harm, and provide civilians harmed by U.S. operations with the recognition and response they deserve."
U.S. Senate Foreign Relations Committee Chairman Bob Menendez (D-N.J.) said on social media that he was "pleased to see" the State Department adopting an element of the Safeguarding Human Rights in Arms Exports Act, which he introduced with House Foreign Affairs Committee Ranking Member Gregory Meeks (D-N.Y.).
Passing such legislation, the Post pointed out, "would ensure that the new procedures can't be abolished by a future administration, along with establishing other steps to prioritize rights concerns in arms sales."
U.S. Sen. Elizabeth Warren (D-Mass.) on Wednesday also welcomed the new program while highlighting her related efforts on Capitol Hill. Over the past year, she has joined Sens. Bernie Sanders (I-Vt.) and Mike Lee (R-Utah) in sending letters to the departments of Defense and State about the United States' complicity in civilian harm in Yemen.
CIVIC advocacy and legal fellow John Ramming Chappell stressed on X that the program "comes after years of congressional pressure" and "would not have been developed without demand from the Hill."
"Questions remain, of course," he noted. "What will actually happen when U.S. officials find U.S. arms have been used in war crime or human rights violation? Will there be meaningful accountability, or will perpetrators just get a slap on the wrist? Will close partners get special treatment?"
Former longtime HRW executive director Kenneth Roth also raised a question: "But what about forces armed by the U.S. that use other arms to kill civilians? That's wrong, too."
Brian Finucane, a former State Department lawyer who is now a Crisis Group senior adviser, wrote on social media that the program is "a notable step" in monitoring civilian deaths and injuries but also warned observers to "be wary of relying on U.S. embassies, given 'clientitis.'"
Finucane added that such monitoring "is more likely to be effective" if it is "statutory-mandated" versus administrative policy, is "as independent as possible to insulate from those in bureaucracy with interests in selling arms," and incorporates information from all sources.
News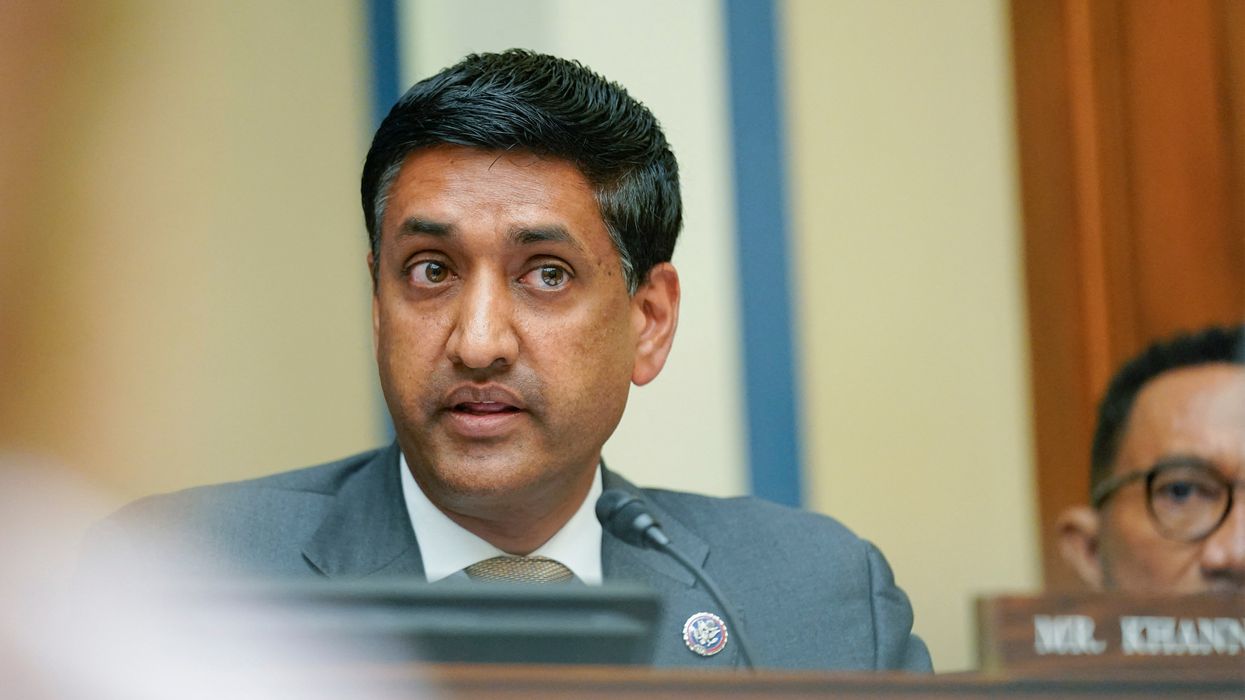 The California Democrat accused Johnson & Johnson—makers of the $160,000-per-year leukemia drug Imbruvica—of floating a "flimsy legal theory" in a "desperate attempt to protect profits."
U.S. Rep. Ro Khanna on Wednesday ripped a senior Johnson & Johnson attorney after she repeatedly dodged questions regarding the legal justification for the pharmaceutical giant's lawsuit alleging government efforts to negotiate lower drug prices are "unjust taking."
At a House Oversight Committee hearing, Khanna (D-Calif.) grilled J&J assistant general counsel Aviva Weis over the company's federal lawsuit, which argues that Medicare drug price negotiations—an overwhelmingly popular provision of the Inflation Reduction Act (IRA)—violate the First and Fifth amendments of the U.S. Constitution.
The J&J suit—and litigation separately initiated by Merck, Bristol Myers Squibb, Astellas, the U.S. Chamber of Commerce, and the industry lobby Pharmaceutical Research and Manufacturers of America (PhRMA)—alleges in part that the IRA mandate runs afoul of the takings clause, which states, "Nor shall private property be taken for public use, without just compensation."

Referring to Imbruvica—one of the first 10 drugs tapped by the Biden administration for Medicare price negotiations—Khanna told Weis that "you've got a pill for leukemia patients, you sell it for $484 per capsule, that's $160,000 a year, you make $22 billion over that over the last 10 years, and you're making $65 billion in profit."
"Now, we have passed, as a Congress, and the president has signed a bill, saying: 'You know what? Let Medicare negotiate to try to bring that price down,'" the congressman continued. "And you, in your department—'cause you're assistant general counsel—have filed a lawsuit saying that negotiation would be an 'unjust taking.'"
When Weis tried to avoid saying whether she believes that federal agencies negotiating drug prices with pharmaceutical companies constitutes "taking," Khanna said:
I guess I don't understand how, being the assistant general counsel, you can come before the United States Congress when you're suing the United States government, saying that we are taking your property. Now, that's a very serious charge... and you don't know whether it's a taking?
Khanna asserted that it's necessary for federal agencies to negotiate drug prices so that pharmaceutical firms "don't make $65 billion in profits every year and so leukemia patients don't pay $160,000" for a year's supply of Imbruvica.
"I think it is shameful what you and the pharmaceutical companies have done in suing the United States government to protect those profits," he added, "and you are totally unprepared to answer a single question about what the takings clause is and the justification for that lawsuit."

News
Independent, nonprofit journalism needs your help.
Please Pitch In
Today!