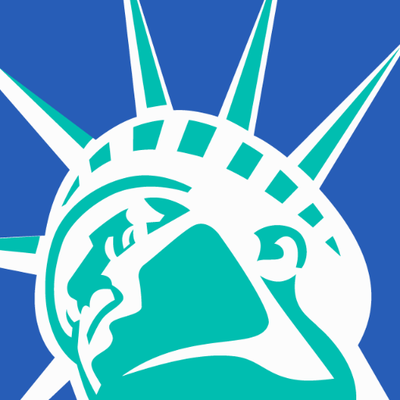 Buy American Order A Good First Step: Enacting EO's Goals Requires President Biden to End 60 Nations' Trade-Pact Buy American Waivers
Today, President Joe Biden signed an executive order to start the process of strengthening Buy American policies. Lori Wallach director of Public Citizen's Global Trade Watch issued the following statement.
"Today's order is a good first step that can help rebuild our nation's economic and health resilience, promote innovation and create American jobs if it leads to the many Buy American loopholes and waivers actually being eliminated and domestic content rules actually being strengthened.
WASHINGTON
Today, President Joe Biden signed an executive order to start the process of strengthening Buy American policies. Lori Wallach director of Public Citizen's Global Trade Watch issued the following statement.
"Today's order is a good first step that can help rebuild our nation's economic and health resilience, promote innovation and create American jobs if it leads to the many Buy American loopholes and waivers actually being eliminated and domestic content rules actually being strengthened.
"Thanks to past presidents granting a trade-pact waiver to Buy American, today billions in U.S. tax dollars leak offshore every year because the goods and companies from 60 other countries are treated like they are American for government procurement purposes.
"If the Biden administration's planned stimulus funds are to be reinvested in the U.S. to rebuild our resilience and create jobs, then the massive trade-pact loophole to Buy American needs to be closed immediately. Otherwise billions will leak out in offshored government procurement contracts. The Biden campaign platform plans to change regulations and trade agreements to make sure that the U.S. and our allies can use domestic taxpayer dollars to spur investment at home was visionary with respect to this problem.
Today's executive order identifies what needs fixing. To deliver on the order's goals, cross-agency standards must be implemented so that agencies are not waiving Buy American rules because an import is slightly cheaper or allowing goods with low U.S.-made value to qualify for domestic procurement preferences. As well, the administration needs to create new ways to recruit small and medium sized manufacturers to produce the goods the government needs, rather than regularly declaring that no domestic goods are available and waiving Buy American rules.
BACKGROUND:
More details are available in this briefing paper, which explains:
Firms and products from 60 nations with which the United States has trade pacts have been given the same access to U.S. government contracts as domestic firms and goods for all but the lowest-value government contracts. This Buy American waiver is enacted by regulation. Congress delegated authority to the president to change the waiver list at any time. (19 U.S.C. 2511)
The current trade-pact waiver policy offshores our tax dollars rather than investing them to create jobs and innovation at home. These Buy American waiver applies to subsidiaries of firms based in countries that have not signed agreements, such as China, and have not provided reciprocal access as long as a subsidiary is operating in a country that has a signed a U.S. trade pact. These limits on procurement policy apply to most U.S. federal purchases, with limits for U.S. defense agencies and some specific products listed in each trade deal.
Today, products from and firms in these 60 countries get treated as if they were American under trade-pact Buy American waivers: Armenia, Aruba, Australia, Austria, Bahrain, Belgium, Bulgaria, Canada, Chile, Colombia, Costa Rica, Croatia, Cyprus, Czech Republic, Denmark, Dominican Republic, El Salvador, Estonia, Finland, France, Germany, Greece, Guatemala, Honduras, Hong Kong, Hungary, Iceland, Ireland, Israel, Italy, Japan, Latvia, Liechtenstein, Lithuania, Luxemburg, Mexico, Moldova, Malta, Montenegro, Morocco, Netherlands, New Zealand, Nicaragua, Norway, Oman, Panama, Peru, Poland, Portugal, Romania, Singapore, Slovak Republic, Slovenia, South Korea, Spain, Sweden, Switzerland, Taiwan, Ukraine, UK.
Even if the underlying notion of offshoring our tax dollars in exchange for providing opportunities for individual U.S. firms to obtain contracts from other governments was a good one, the way it is done in trade pacts is a losing proposition for the United States. A recent GAO report found that the United States opened twice as much procurement to foreign firms as the next five largest WTO GPA signatories combined (European Union, Japan, South Korea, Norway and Canada). In exchange for some U.S. firms getting some opportunities to bid on equal terms with domestic firms on contracts in other nations (most of which have much smaller amounts of procurement), almost all U.S. government contracts are made available on terms equal to U.S. firms for all firms operating in 60 other countries.
These constraints are

enacted through a waiver of Buy American and other domestic procurement preference policies

through regulation, not by statute. The Trade Agreements Act gives the president discretionary authority to waive domestic procurement preferences, but does not require a waiver. This waiver authority has been delegated to the U.S. Trade Representative (USTR). USTR's practice is to add new trade agreement countries

or countries joining the WTO procurement agreement

to a list found at 48 CFR 25.400.
Setting limits on how our democratically elected federal and state governments can spend our tax dollars on procurement was not a traditional focus of trade agreements. U.S. firms that offshored production did not want to be excluded from lucrative U.S. government contracts. They pushed for trade pacts to include rules that required companies operating in trade partner countries to be treated like U.S. firms - and foreign-made goods to be treated as if they were made in America.
The Procurement Act of 1949 gives a U.S. president broad powers to enact "policies and directives" for federal contracting. President Lyndon Johnson used this authority to issue an executive order in 1965 to prohibit contractors from discriminating against any of their employees - not just those performing federal work - on grounds of race or gender. President Barack Obama used this authority to set minimum wage and sick leave entitlements for federal contract employees.
The U.S. government has a long tradition of using its contract spending, which was more than $600 billion in 2019, to promote national policy goals. For instance, a share of federal government contracts must be awarded to small businesses and women- and minority-owned firms; to qualify for government construction projects, firms must agree to pay workers prevailing wages; and the Buy American Act in effect since the Roosevelt administration requires preferences for purchase of American-made products. Indeed, the president has the authority under the Trade Agreements Act of 1979 to ban altogether government purchase of goods from countries such as China that have not signed trade pact procurement agreements.
Public Citizen is a nonprofit consumer advocacy organization that champions the public interest in the halls of power. We defend democracy, resist corporate power and work to ensure that government works for the people - not for big corporations. Founded in 1971, we now have 500,000 members and supporters throughout the country.
(202) 588-1000
LATEST NEWS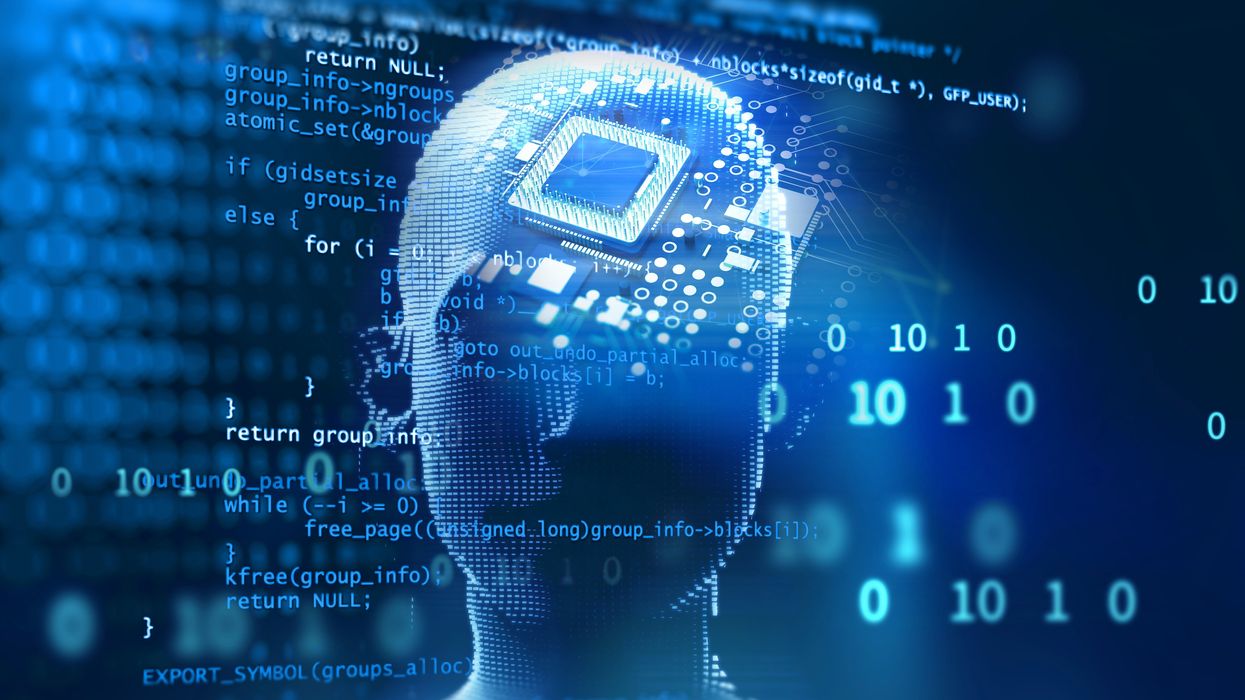 The agreement "is a step in the right direction for security," said one observer, "but that's not the only area where AI can cause harm."
Like an executive order introduced by U.S. President Joe Biden last month, a global agreement on artificial intelligence released Sunday was seen by experts as a positive step forward—but one that would require more action from policymakers to ensure AI isn't harmful to workers, democratic systems, and the privacy of people around the world.
The 20-page agreement, first reported Monday, was reached by 18 countries including the U.S., U.K., Germany, Israel, and Nigeria, and was billed as a deal that would push companies to keep AI systems "secure by design."
The agreement is nonbinding and deals with four main areas: secure design, development, deployment, and operation and maintenance.
Policymakers including the director of the U.S. Cybersecurity and Infrastructure Security Agency, Jen Easterly, forged the agreement with a heavy focus on keeping AI technology safe from hackers and security breaches.
The document includes recommendations such as implementing standard cybersecurity best practices, monitoring the security of an AI supply chain across the system's life cycle, and releasing models "only after subjecting them to appropriate and effective security evaluation."
"This is the first time that we have seen an affirmation that these capabilities should not just be about cool features and how quickly we can get them to market or how we can compete to drive down costs," Easterly toldReuters. The document, she said, represents an "agreement that the most important thing that needs to be done at the design phase is security."
Norm Eisen, senior fellow at the think tank Brookings Institution, said the deal "is a step in the right direction for security" in a field that U.K. experts recently warned is vulnerable to hackers who could launch "prompt injection" attacks, causing an AI model to behave in a way that the designer didn't intend or reveal private information.

"But that's not the only area where AI can cause harm," Eisen said on social media.

Eisen pointed to a recent Brrokings analysis about how AI could "weaken" democracy in the U.S. and other countries, worsening the "flood of misinformation" with deepfakes and other AI-generated images.
"Advocacy groups or individuals looking to misrepresent public opinion may find an ally in AI," wrote Eisen, along with Nicol Turner Lee, Colby Galliher, and Jonathan Katz last week. "AI-fueled programs, like ChatGPT, can fabricate letters to elected officials, public comments, and other written endorsements of specific bills or positions that are often difficult to distinguish from those written by actual constituents... Much worse, voice and image replicas harnessed from generative AI tools can also mimic candidates and elected officials. These tactics could give rise to voter confusion and degrade confidence in the electoral process if voters become aware of such scams."
At AppleInsider, tech writer Malcolm Owen denounced Sunday's agreement as "toothless and weak," considering it does not require policymakers or companies to adhere to the guidelines.
Owen noted that tech firms including Google, Amazon, and Palantir consulted with global government agencies in developing the guidelines.
"These are all guidelines, not rules that must be obeyed," wrote Owen. "There are no penalties for not following what is outlined, and no introduction of laws. The document is just a wish list of things that governments want AI makers to really think about... And, it's not clear when or if legislation will arrive mandating what's in the document."
European Union member countries passed a draft of what the European Parliament called "the world's first comprehensive AI law" earlier this year with the AI Act. The law would require AI systems makers to publish summaries of the training material they use and prove that they will not generate illegal content. It would also bar companies from scraping biometric data from social media, which a U.S. AI company was found to be doing last year.
"AI tools are evolving rapidly," said Eisen on Monday, "and policymakers need to keep up."

News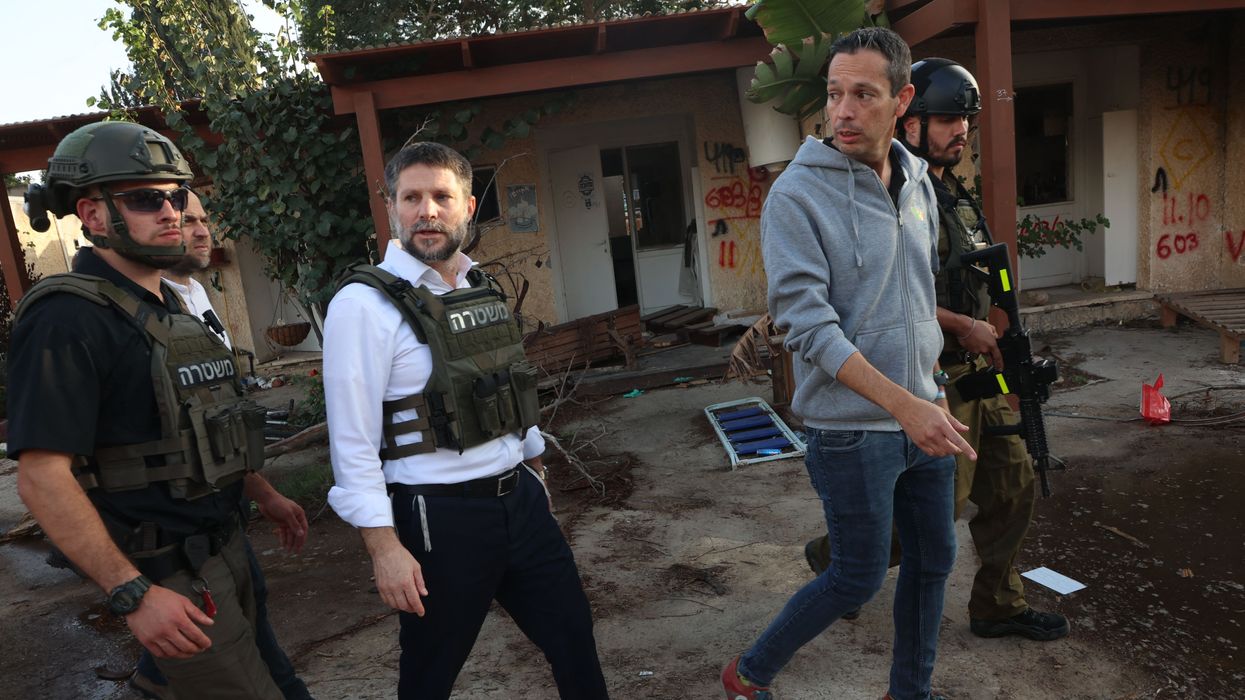 "This is not self-defense and will not make Israel safer," wrote Josep Borrell, the European Union's foreign affairs chief.

The European Union's foreign affairs chief on Monday said he was "appalled to learn" that Israel's wartime government is preparing to vote on a budget plan that includes money for illegal settlements in the occupied West Bank, where settler violence against Palestinians has grown in recent weeks amid Israel's assault on Gaza.
"In the middle of a war, the Israeli gov is poised to commit new funds to build more illegal settlements," Josep Borrell, the E.U.'s high representative for foreign affairs and security policy, wrote on social media. "This is not self-defense and will not make Israel safer. The settlements are a grave [international humanitarian law] breach, and they are Israel's greatest security liability."
Borrell was referring to settlement funding included in an end-of-year budget proposal that Israel's war cabinet is expected to approve on Monday. Under the proposed budget, funding would be allocated to West Bank settlement construction as well as to arming "civilian guard squads," according to a summary highlighted by Itay Epshtain of the Norwegian Refugee Council.
"Funds allocated to settlement local and regional councils allow for the purchase of off-road vehicles, body armor, camera-quipped UAVs, and other electronic surveillance equipment, and the employment of 'reconnaissance personnel,'" Epshtain wrote. "This is a militia of Israeli settlers mandated to obstruct humanitarian aid to Palestinians made vulnerable by the establishment and expansions of these very settlements."
BREAKING: these are the special budget allocation #Israel's government will vote on at 1800 hrs, confirming the following (for 2023 alone, with 5 weeks left to implement):
* 94.3 million ILS for settlement construction
* 39 million ILS for "search and destroy" of @eu_echo… pic.twitter.com/468VbR7eaE
— Itay Epshtain (@EpshtainItay) November 27, 2023
Israeli Finance Minister Bezalel Smotrich, a far-right supporter of settlement expansion, defended the budget proposal and denied that any of the money would go toward constructing new settlements.
"There is funding for security needs" in the West Bank, Smotrich toldThe Times of Israel, describing Palestinians in the territory as "Nazis."

The budget proposal sparked backlash from inside the Israeli government, with Knesset member and former opposition leader Benny Gantz demanding the removal of all "political payouts," including settlement funding, Reutersreported Monday.
"Under the coalition agreement Netanyahu struck with Smotrich and the heads of other religious and far-right parties after last year's election," the outlet noted, "billions of dollars are due to be set aside for ultra-Orthodox and far-right-wing pro-settler parties."
Middle East Eyereported Monday that leaked details of the budget "revealed an increase in funding for yeshivas by $133 million, as well as allocating $107 million to the National Missions Ministry, which is run by Smotrich's far-right party."
The budget fight comes amid growing alarm over deadly settler violence in the West Bank. Since last month, Israeli forces and settlers have killed more than 130 Palestinians in the West Bank.
"During the first eight months of 2023, settler violence soared to its highest level since the U.N. began recording this data in 2006; three incidents per day on average, up from two in 2022 and one in 2021," Omar Shakir, Israel and Palestine director at Human Rights Watch, wrote last week. "That rate has almost doubled since October 7."
"These abuses are a part of Israeli authorities' crimes against humanity of apartheid and persecution, as documented by Human Rights Watch and other Israeli, Palestinian, and international human rights organizations," wrote Shakir. "The roots of the violence in Israel-Palestine are multiple and run deep; ending the violence requires dismantling the systems of oppression that feed it, including in the West Bank."
Agnes Callamard, secretary-general of Amnesty International, echoed that message on Monday in response to the Israeli government's budget proposal.

"The settlements in the West Bank," she wrote on social media, "are part and parcel of the system of apartheid against Palestinian people, along with unlawful detention, torture, arbitrary killings, forced displacement, etc."
News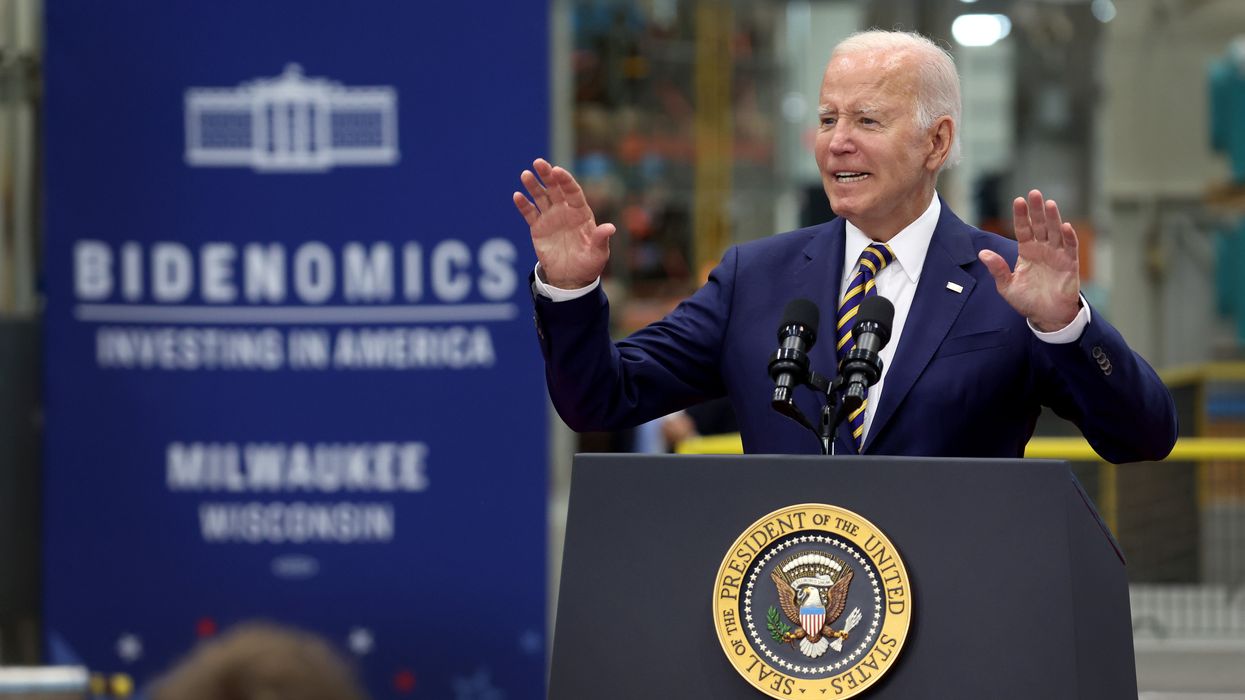 "Approving more fossil fuels not only torches our climate future, but it also harms people's health, degrades ecosystems, and threatens wildlife," said the lead author of a new report.
As the United States is set to break its all-time fossil fuel production record in a year that's likely to be the hottest ever recorded, an analysis published Monday by the Center for Biological Diversity warns that planet-heating oil and gas projects approved by the Biden administration "threaten to erase the climate emissions progress from the Inflation Reduction Act."
According to the CBD report, "The potential carbon emissions from 17 massive fossil fuel projects approved by the Biden administration are larger than the projected emissions reductions from the IRA and other climate policies."
Those 17 projects have the potential to release emissions totaling 1,642 million metric tons of CO2 equivalent per year, or the same as the annual emissions of 440 coal-fired power plants.
The IRA—which was signed by U.S. President Joe Biden in August 2022—"lowers economy-wide CO2 emissions, which includes electricity generation and use, by 35% to 43% below 2005 levels in 2030," according to the U.S. Environmental Protection Agency.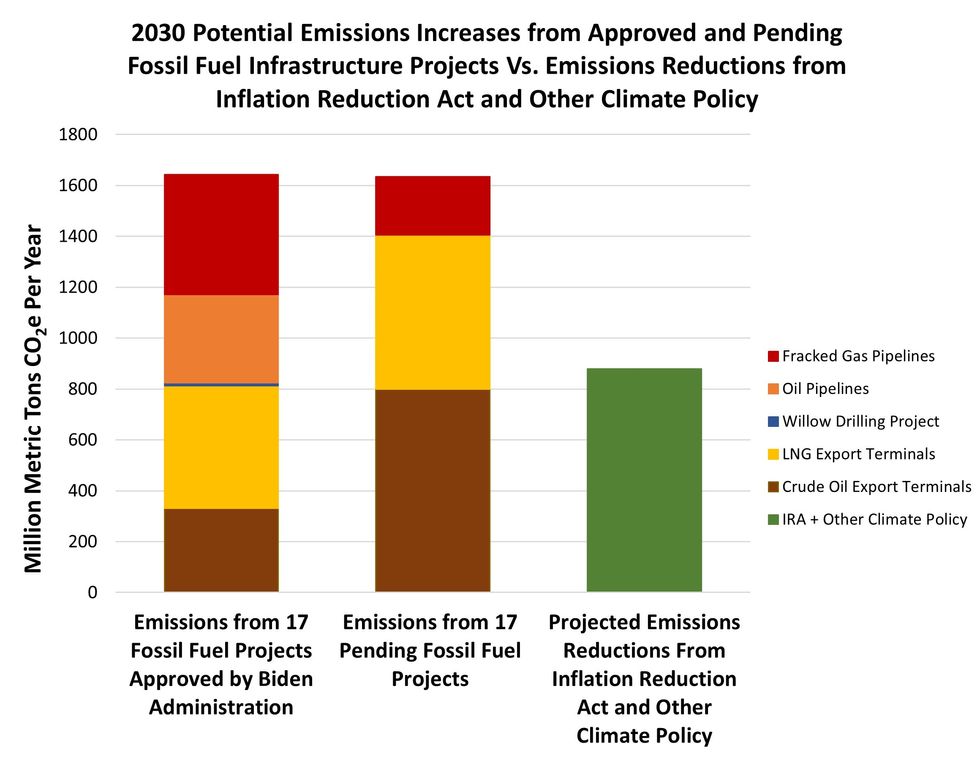 (Image: Center for Biological Diversity)
As CBD noted:
Under the Biden administration, the United States is the world's largest oil and gas producer. Last year it became the world's biggest exporter of liquefied gas, with exports set to nearly double by 2035. The United States is also leading the world's largest planned expansion of oil and gas through 2050, at the exact moment we need to be moving in the opposite direction.
"The report shows in stark detail how the Biden administration is canceling out its own climate progress by greenlighting major oil and gas projects," CBD climate science director Shaye Wolf, the report's lead author, said in a statement. "This report also shows how President Biden can truly build on the IRA's progress. He can save lives and wildlife by halting the approval of new fossil fuel projects and phasing out drilling on our public lands and waters."
The analysis lists "essential actions" the Biden administration can take:
Stop approvals of new fossil fuel projects like the massive CP2 liquefied natural gas export terminal slated for the Gulf Coast;
Revoke permits for the Willow oil drilling project, Mountain Valley Pipeline, and other projects;
Revise the offshore oil leasing five-year plan to include no new leases;
Phase out oil and gas production on public lands and waters by instituting a managed phase-down policy; and
Declare a national climate emergency.
Climate campaigners have pressed Biden to declare a climate emergency, a move the president has resisted even as he claims that he's "practically" declared one. Activists have also expressed anger and disappointment that Biden approved more permits for oil and gas drilling on public lands during his first two years in office than the Trump administration did in 2017 and 2018.
"Approving more fossil fuels not only torches our climate future, but it also harms people's health, degrades ecosystems, and threatens wildlife," said Wolf. "Many of these projects concentrate more on polluting fossil fuel infrastructure in overburdened communities of color and low-income communities, worsening environmental injustice."
The new CBD analysis comes ahead of Thursday's start of the United Nations Climate Change Conference, or COP28, in Dubai. Biden is reportedly not attending the conference.
News