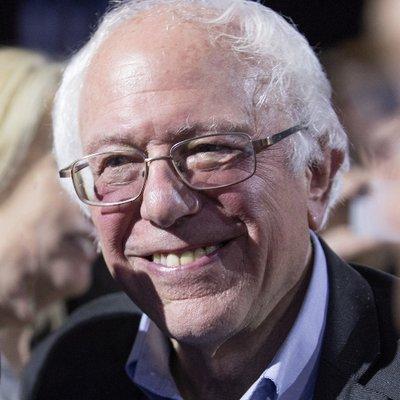 GAO: Medicare Part D Pays Twice as Much for Same Drugs as VA
WASHINGTON
The federal government pays twice as much for the same prescription drugs when reimbursing private-sector middlemen in Medicare Part D as it does when buying the drugs directly through the Department of Veterans Affairs (VA) single-payer drug plan, according to a report released today by the Government Accountability Office (GAO).
The report, "Department of Veterans Affairs Paid About Half as Much as Medicare Part D for Selected Drugs in 2017," commissioned by Sen. Bernie Sanders (I-Vt.), found that in 2017, on average, the VA paid 54 percent less per unit for a sample of 399 brand name and generic prescription drugs in 2017 than Medicare Part D.
Of the 399 drugs, 233 were at least 50 percent cheaper when purchased by the VA rather than Medicare Part D, and 106 were at least 75 percent cheaper. Moreover, according to GAO, VA generally uses less-expensive alternatives. For generic drugs, VA paid, on average, 48 percent less than did Medicare for the same drugs. For brand name drugs, VA paid 49 percent less.
"There is absolutely no reason, other than greed, for Medicare to pay twice as much for the same exact prescription drugs as the VA. If the VA can negotiate with the pharmaceutical companies to substantially reduce the price of prescription drugs we must empower Medicare to do so as well," said Sanders. "We can no longer allow the pharmaceutical industry to rip-off the more than 40 million people who receive prescription drug coverage through Medicare Part D and fleece U.S. taxpayers. It is time for Congress to require Medicare to negotiate lower drug prices and take on the greed pharmaceutical industry."
In 2017, Medicare Part D covered 42.5 million individuals and had an estimated $93.9 billion in expenditures, while the much-smaller VA provided prescription drug coverage for approximately 9 million enrolled veterans and spent about $4.8 billion for prescription drugs in outpatient care.
The report identified several reasons for the large price disparity. Among them:
VA is a single health system with a unified list of covered drugs, whereas Medicare beneficiaries are covered by many different Part D plans, each of which separately negotiates with manufacturers. In December 2017, the largest plan had approximately 5.6 million enrollees, while most were much smaller; meanwhile, VA's single, unified plan represented 9 million individuals. This led GAO to conclude, "VA's large purchasing volume may strengthen its bargaining position when negotiating."
VA has access to statutory discounts on its drug purchases, which are not available to Part D plans. These include additional discounts if drug prices rise faster than general inflation, as is often the case. In contrast, the law establishing Medicare Part D explicitly prohibits the Department of Health and Human Services from negotiating drug prices on behalf of Part D plans.
In the last Congress, Sen. Sanders sponsored S.99, the Medicare Drug Price Negotiation Act, which directs the Secretary of Health and Human Services to negotiate drug prices on behalf of Medicare Part D plans.
Read the report here.
LATEST NEWS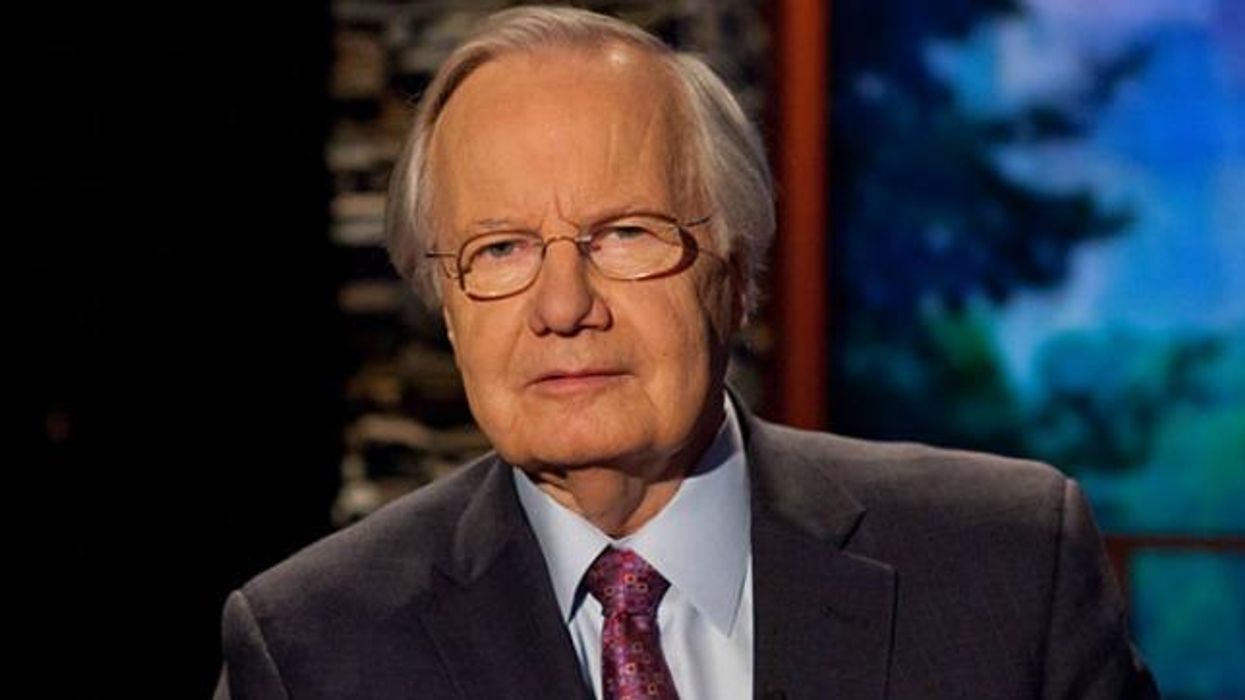 "To have our decades of work preserved in such a way—where anyone can come online and visit so many hours of programming—is an unexpected honor," said the renowned broadcaster.
Legandary U.S. broadcaster Bill Moyers is set to join fellow journalist Judy Woodruff Thursday evening for a conversation and screening at the Library of Congress' Thomas Jefferson Building in Washington, D.C. to celebrate a collection of his work spanning half a century.
"They will discuss changes in the media and journalism over more than five decades, their experience covering America and foreign affairs, the Civil Rights Movement, race, and the clash of ideologies, including challenges to democracy from capital, extremism, and growing conflicts over the freedom of democracy," according to the Library of Congress.
Woodruff chairs the executive advisory council of the American Archive of Public Broadcasting—a collaboration between the Library of Congress and Boston's GBH that pulled together more than 1,000 television programs for its recently unveiled Bill Moyers Collection, most of which is available online at AmericanArchive.org.
"The Bill Moyers Collection offers a wealth of engaging and probing conversations with leading thinkers, authors, artists, and political figures of our times, along with penetrating investigative reports covering many conflicts and issues that have animated the past 50 years and beyond," said Alan Gevinson, the Library of Congress' project director for the archive. "We are deeply honored to host this remarkable collection."
"The Bill Moyers Collection offers a wealth of engaging and probing conversations with leading thinkers, authors, artists, and political figures of our times, along with penetrating investigative reports."
Throughout his decades in journalism, Moyers has interviewed numerous high-profile figures, including Maya Angelou, Margaret Atwood, Harry Bridges, Bill Gates, Salman Rushdie, Desmond Tutu, Elie Wiesel, and multiple U.S. Supreme Court justices and presidents.
"To have our decades of work preserved in such a way—where anyone can come online and visit so many hours of programming—is an unexpected honor," said Moyers, a longtime Common Dreamscontributor and Television Hall of Fame member who has won multiple Emmy Awards, Alfred I. duPont-Columbia University Awards, Peabody Awards, and George Polk Awards.
"That the American Archive of Public Broadcasting is making this possible," he added, "will allow viewers for generations to come to see what mattered to us over the years—and how we covered our times through the stories of contemporary democracy and its struggle to survive and thrive as well as the perceptions of many of our society's foremost thinkers and creators."
As the journalist's website—which is in archive mode—details:
Moyers began his journalism career at age 16 as a cub reporter for his hometown daily newspaper in Marshall, Texas. He was a founding organizer and deputy director of the Peace Corps and special assistant to President Lyndon B. Johnson. Moyers served as Johnson's press secretary from 1965 to 1967.

As publisher of Newsday from 1967 to 1970, Moyers brought aboard writers including Pete Hamill, Daniel Patrick Moynihan, and Saul Bellow, and led the paper to two Pulitzer Prizes. In 1976, he was the senior correspondent for the distinguished documentary series "CBS Reports" and later a senior news analyst for the "CBS Evening News."
In 1986, Moyers and Joan Konner founded Public Affairs Television—which, as the Library of Congress noted, "was widely acclaimed for its innovative and courageous exploration of subjects including politics, the environment, the role of the media in democracy, and the world of ideas." His wife and creative partner Judith Davidson Moyers soon joined the independent production company, which operated until 2015.
"Not content just to diagnose and document corporate and political malpractice, Moyers has regularly taken his cameras and microphones to cities and towns where unions, community organizations, environmental groups, tenants rights activists, and others were waging grassroots campaigns for change," Peter Dreier wrote for Common Dreams in 2015. "Moyers has given them a voice. He has used TV as a tool to expose political and corporate wrongdoing and to tell stories about ordinary people working together for justice."
Near the end of the final episode of his weekly show "Moyers & Company" in 2015, the veteran broadcaster told viewers that "democracy is a public trust—a reciprocal agreement between generations to keep it in good repair and pass it along."
"Our great progressive struggles have been waged to make sure ordinary citizens, and not just the rich and privileged, share in the benefits of a free society," he continued. "So to this new generation, I say: Over to you, welcome to the fight."
News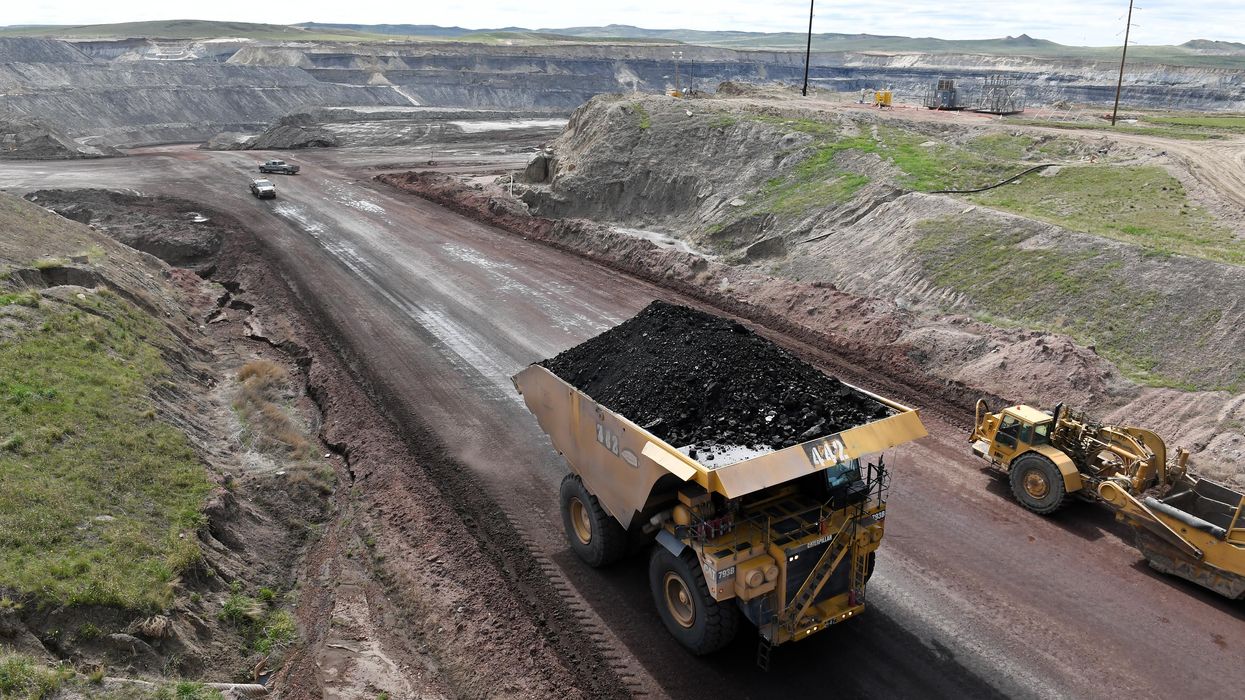 "The choices of these companies reflect a clear double standard in who is expected to pay the price for climate change," said one advocate.
Reports have mounted in recent months about U.S. insurers announcing plans to end new insurance policies for homeowners in certain parts of the country, including California, where residential areas are increasingly vulnerable to wildfires, and Florida, where residents face the threat of hurricane and flood damage.
But a new report by consumer watchdog Public Citizen and advocacy group Insure Our Future shows that insurance companies' newfound awareness of the climate emergency hasn't stopped them from continuing to underwrite the top source of the carbon dioxide emissions that are heating the planet, causing sea levels to rise, and fueling extreme weather events.

Insurance companies including Liberty Mutual, Swiss Re, American International Group (AIG), Lloyd's of London, and Zurich are among 16 firms that are still underwriting the top 25 coal mines in the United States.
The companies' support has allowed the pollution-causing industry to produce 60% of the country's current coal output, according to Public Citizen.
Last year, the top five insurers listed above issued coverage for the production of more than 245 million tons of coal, representing at least 41% of the coal produced.
AIG was the worst offender last year, underwriting at least 28% of coal production, and companies including Swiss Re and Liberty Mutual blatantly violated their own stated policies on coal.
"The hypocrisy is staggering," said Public Citizen.
The companies' continued support for coal—combined with their abandonment of homeowners—amounts to "greenwashing," said Carly Fabian, an insurance policy advocate for Public Citizen.
"While insurance companies claim to have seen the light on climate change when they abandon homeowners, that same concern appears to be nowhere in sight when they chose to insure coal mines," said Fabian. "Insurance providers seem to be greenwashing their images by claiming to restrict coal, while undermining their policyholders and their own stated policies to continue underwriting one of the dirtiest forms of energy."
Public Citizen's analysis found that Liberty Mutual has violated its own coal policy, which states that it will "no longer accept underwriting risk for companies where more than 25% of their exposure arises from the extraction and/or production of energy from thermal coal" and that it will phase out coverage for companies with such exposure by 2023.
Liberty Mutual underwrote Signal Peak Energy's Bull Mountain Mine No. 1 in 2022; while the company's policy does not define "exposure," the project likely violates the insurer's stated threshold because 90% of Signal Peak's revenue is derived from coal.
While it continues to underwrite coal production, Liberty Mutual announced in July that it would stop issuing business owners policies in California.
Swiss Re also violated its own policy, by underwriting a coal mine operated by Buckskin Mining Company, which generates 90% of its revenue from the coal business and produces nearly 10 million metric tons of coal each year.
The insurer has stated that it will phase out thermal coal production coverage by 2030 in Organization for Economic Cooperation and Development (OECD) countries and by 2040 worldwide, and that until then it will "exclude re/insurance support to companies or projects that have more than 30% of exposure to thermal coal."
Fabian said that "the choices of these companies reflect a clear double standard in who is expected to pay the price for climate change. The insurance industry needs to muster the courage to cut their coverage for fossil fuels before it becomes too risky to insure the rest of us."x

Zurich's coal policy contains a loophole, said Public Citizen, that has allowed the company to insure thermal coal mines even though in 2019 it said it would "no longer underwrite or invest in companies that generate more than 30% of their revenue from mining thermal coal or produce more than 20 million tons of thermal coal per year."

The group said open records requests for insurance certificates showed that:
From 2020 until November 2022, Zurich insured two subsidiaries of Alpha Metallurgical Resources—Alpha Coal West and the third-largest U.S. coal producer, Alpha Natural Resources—for operation of the Eagle Butte and Belle Ayr mines. While the mines are among the top producers of U.S. thermal coal, Zurich is not violating its coal policy because it applies only to companies involved in the thermal coal business and in this case, the companies involved appear to conduct most of their business in metallurgical coal, not thermal coal. This underscores the need for Zurich, and all insurers, to explicitly address metallurgical coal in underwriting restrictions, since metallurgical coal, which is currently the basis for making steel, is a significant source of carbon emissions and low-carbon alternatives exist.
"We expected some companies to be underwriting coal projects, but the data underscore the loopholes in their policies and disregard for public commitments across the insurance industry," said Fabian.
Meanwhile, Zurich's affiliate, Farmers Insurance Group, is among the companies that have pulled out of Florida due to climate risks.
Clara Vondrich, senior policy counsel at Public Citizen, said U.S. insurers are "double-dipping in the worst way."
The report called on all insurance firms to:
Immediately cease insuring new and expanded coal mines or coal power infrastructure projects;
Immediately stop insuring any new clients from the coal sector which are not aligned with a credible 1.5ºC pathway, and stop offering any insurance services which support the expansion of coal production with existing clients;
Phase out all insurance services for existing coal sector clients which are not aligned with a credible 1.5°C pathway by the end of 2024; and
Immediately divest all assets, including assets managed for third parties, from coal companies that are not aligned with a credible 1.5ºC pathway.
The report was released days before Insure Our Future and other groups are set to rally at the Insurance Leadership Forum in Colorado Springs, where advocates will demand companies "insure our communities instead of oil, gas, and coal."
"On October 1, insurance executives will be gathering in Colorado Springs to play golf, drink cocktails, and discuss 'insurance leadership,'" said Rainforest Action Network. "Join us as we rally to demand real climate leadership!"
News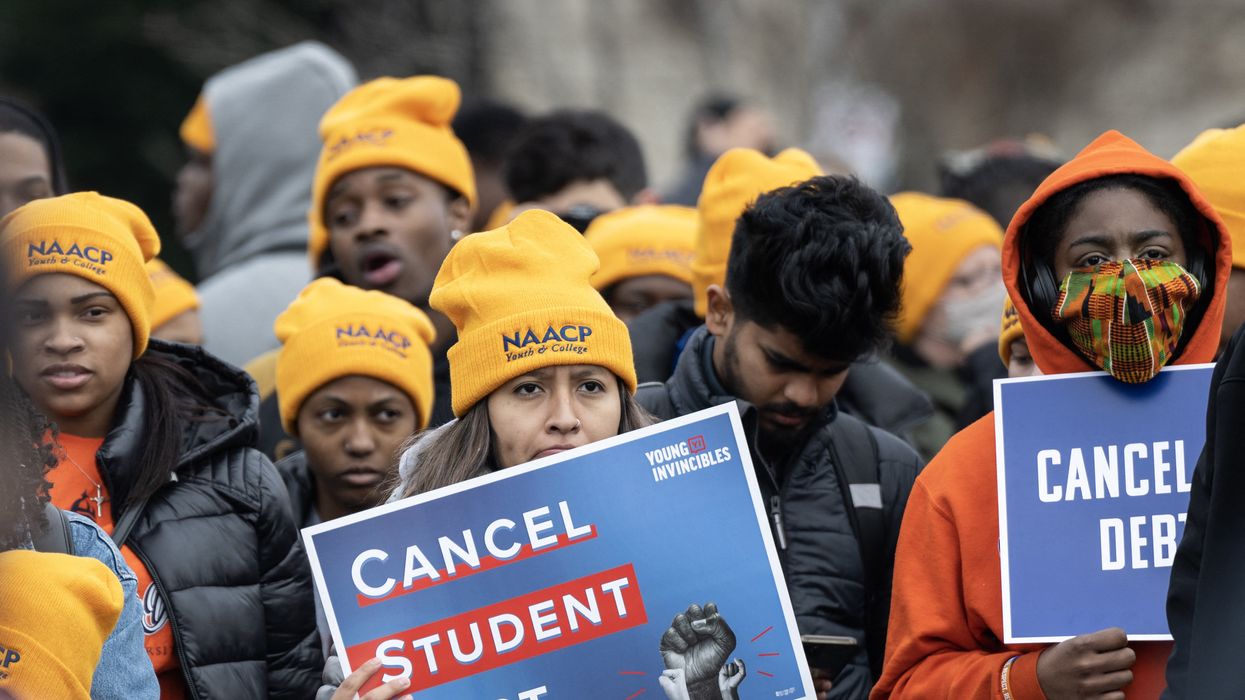 "Forty million people are being thrown to the wolves," warned one advocacy group.
Despite advocates' pleas for the Biden administration to slam on the brakes, the U.S. Education Department confirmed Thursday that student loan payments will resume for the first time in three-and-a-half years on October 1—even if the federal government shuts down.
An unnamed Education Department spokesperson toldPolitico that payments will be due starting in October "even if Republicans needlessly shut down the government." Student loan debt began accruing interest again earlier this month after the coronavirus pandemic-related pause.
The official's comment came hours after the Student Borrower Protection Center (SBPC) issued a statement imploring the Biden administration to halt the planned restart of student loan payments.
"If House Republicans shut down the federal government, the Biden administration must shut down the student loan system too," said SBPC executive director Mike Pierce. "As it stands, the administration plans to keep paying the student loan companies botching this effort to restart payments while furloughing the federal employees who are supposed to help borrowers when things don't go according to plan."
"This will result in more borrowers receiving inaccurate and incorrect information with less oversight and fewer resources to fix problems," Pierce added. "Forty million people are being thrown to the wolves. It will be a catastrophe."
"To throw borrowers back into repayment with bad-faith loan servicers and an understaffed Department of Education is a recipe for disaster."
Rep. Ayanna Pressley (D-Mass.), a longtime champion of student debt cancellation, also urged the Biden administration to keep the repayment pause in place if the government shuts down this coming Sunday.
"The student loan payment pause has been a lifeline for borrowers across the nation," said Pressley. "As we stare down an impending Republican government shutdown, it is abundantly clear that student loan payments should not resume October 1."
Pressley continued:

To throw borrowers back into repayment with bad-faith loan servicers and an understaffed Department of Education is a recipe for disaster and would deeply undermine the progress we have made to advance economic justice for student loan borrowers. While the administration works diligently to push back on the corrupt Supreme Court's obstruction of President [Joe] Biden's historic cancellation plan, we should take immediate steps to prevent borrowers from entering into repayment at a time when the infrastructure is not there and bad actors will seize on the lack of government capacity caused by Republican dysfunction.

This Republican government shutdown stands to harm families across the nation, many who were just regaining their financial footing for the first time since the Covid-19 crisis. The administration should absolutely pause student loan payments and interest accrual in light of these stark realities.

The Education Department said earlier this year that it would lift the student loan repayment pause shortly after the Supreme Court's ruling on Biden's debt cancellation plan. That timeline was cemented by a debt ceiling agreement that the White House negotiated with House Republicans.

Advocates have been warning for months that a resumption of payments without broad-based relief for borrowers would be both unjust and unwise. The Consumer Financial Protection Bureau estimated in June that millions of borrowers "have risk factors that suggest they could struggle when scheduled payments resume," including "pre-pandemic payment assistance on student loans" and "delinquencies on other credit products since the start of the pandemic."
Additionally, analysts believe resuming student loan payments will yank $70 billion out of the U.S. economy each year.

In an effort to mitigate some of the looming financial pain, the Education Department has implemented a three-month grace period for missed payments once the pause is lifted in October and launched a new income-driven repayment plan known as SAVE, which is aimed at lowering borrowers' monthly payments.
But advocates and borrowers have already reported significant chaos in the weeks leading up to the end of the freeze, a signal that the resumption of payments in the coming days is likely to be nightmarish.
The American Prospect's David Dayen reported in late August that the "transfers of millions of student loan accounts to new private loan servicers, which have slashed staff and need to ramp up quickly, have led to what some borrowers believe are miscalculations and mistakes."
"One borrower, Melanie Neff, a pediatric palliative care social worker, said her payment under SAVE more than tripled, from $300 to $1,000 a month, even though her income hasn't significantly increased since 2019," Dayen wrote. "Some servicers even sent borrowers statements saying their debts were paid off in full based on the Biden administration's debt cancellation program, only to have to revoke that when the Supreme Court struck it down. Since that program was stopped almost immediately by court injunction, there's no way that servicers should have sent out payoff statements, which just added to the confusion."
The Debt Collective noted in a social media post on Thursday that "the Biden administration is already attempting to do the administratively impossible—resume a 45 million person portfolio of student debt payments after a three-year pause with broken servicers."
"Doing it during a government shutdown will only exacerbate problems," the group wrote. "This is bad bad bad."
The Biden administration is currently pursuing an alternative student debt cancellation plan using the Higher Education Act of 1965, but it has chosen to undergo a time-consuming rulemaking process instead of wiping out debt immediately—which advocates and experts say he has the authority to do.

News
Independent, nonprofit journalism needs your help.
Please Pitch In
Today!