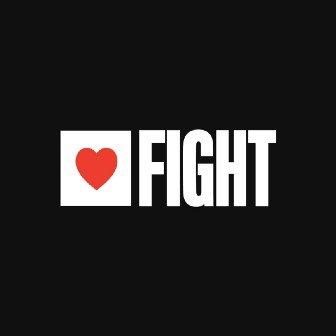 For Immediate Release
Contact:
Email:,press@fightforthefuture.org
New Scorecard Shows Which Colleges are Using Facial Recognition, and Which Say They Won't.
Fight for the Future & Students for Sensible Drug Policy launched a scorecard that shows whether universities have clarified their plans to use biometric surveillance that will destroy student privacy, campus safety, and academic liberty.
WASHINGTON
In response to Fight for the Future & Students for Sensible Drug Policy's nationwide campaign to ban facial recognition from university campuses, dozens of institutions of higher learning have responded to clarify whether or not they use, or plan to use this technology that threatens the liberty of their students and staff.
See the scorecard here: https://www.banfacialrecognition.com/campus
A new scorecard provides information about facial recognition use for nearly 100 top university campuses in the United States--whether they currently use facial recognition, don't use (and don't plan to use), or refused to say. 45 schools have given statements clarifying that they are not using and have no plans to use. More than 30 schools have not responded or refused to comment, and two campuses have been reported by CNET to be actively using facial recognition--Stanford, and the University of Southern California. Both did not return requests for clarification, though we have heard from reporters that Stanford claims they are no longer using the tech on campus. A facial recognition vendor claims that small number of colleges have restaurants on campus with facial recognition payment options. At least some of those schools say they no longer use the system, and we were not able to verify that others were actually on the campuses they claimed to be on.
Additionally, three schools issued ominously vague statements that implied they may have plans to use facial recognition in the future. George Washington University's assistant director of media relations Crystal L Nosal stated that they are not currently using facial recognition technology, but also said "there is no way to predict the future and it would be disingenuous to give a position on something other than what we are doing right now." Duke University's executive director of news and communications Keith Lawrence, when asked about future plans to install facial recognition technology, declined to "comment further." An American University spokesperson refused to give any information about the institution's plans, providing the following statement: "As a private university, AU reserves the right to implement security measures to mitigate risk and protect our community from threats to their safety and security. To that end, security enhancements are undertaken only after a thorough review to ensure they meet the standards of general community acceptance which balance security with expectations of privacy."
Campuses that have stated they have no intention of using facial recognition include Boston College, Brown University, Columbia University, Colorado State University, Cornell University, Dartmouth College, DePaul University, MIT, Michigan State University, Georgia Tech, NYU, Hampshire College, Kent State University, Rice University, University of Florida, Oregon State University, UPenn, and John Hopkins University. University of San Francisco clarified that it abandoned its controversial facial recognition program in 2016. Activists made multiple attempts to contact every institution on the scorecard. More than 30 schools did not respond after multiple attempts, including Harvard, Yale, Oberlin, Howard University, Ohio State, Reed, Sarah Lawrence College, and UCLA.
"As this campaign continues, we're ready to up the pressure on campuses that haven't shared their facial recognition policies," said Erica Darragh, board member at Students for Sensible Drug Policy (pronouns: she/her). "Students deserve to know whether they are being experimented on with what was characterized as 'Black Mirror-like technology'" (language used by Representative Ocasio-Cortez in a house oversight hearing this month). "The idea that your campus could spy on you, that this technology could automate racial prejudice, and that the whole system could be exposed so all your inalterable personal details are stolen lead us to conclude that the technology is a huge threat to students and to society. If a university's facial recognition system gets hacked, students can't just change our faces and our lives like a credit card number."
Thousands of students, faculty, alumni, and community members are signing petitions on the campaign homepage, calling for a complete ban on the non-personal use of facial recognition on their campus. Student groups across the country are circulating an open letter demanding that facial recognition be banned from their campuses, and organizing to introduce student government resolutions using a toolkit created by Students for Sensible Drug Policy.
"College students should not be used as lab rats. Everyone, including faculty, staff, and community members have a right to know if administrations are using or planning to experiment with dangerous facial recognition technology on campus," said Evan Greer, Deputy Director of Fight for the Future (pronouns: she/her). "Whether it's used for Big Brother style monitoring of student behavior or for more mundane purposes like accessing meal plans or dorms, biometric surveillance technology on campus puts students' physical safety at risk and violates their most basic rights. This technology is unsafe, discriminatory, and politically toxic. We are known for our ruthless campaigning. There's nowhere to hide. College administrators need to get on the right side of history by committing to not use facial recognition on campus -- or prepare for battle."
While there have been several reports indicating that elementary and grade schools are experimenting with facial recognition, the technology is not widely used at US colleges and universities. This campaign aims to ensure it stays that way.
This effort is part of Fight for the Future's broader BanFacialRecognition.com campaign, which has been endorsed by more than 30 major grassroots civil rights organizations including Greenpeace, Color of Change, Daily Kos, United We Dream, Council on American Islamic Relations, MoveOn, and Free Press. The groups are calling for local, state, and federal lawmakers to ban government and law enforcement use of facial recognition. Several cities have already banned the controversial technology outright, including San Francisco, Somerville, MA, Berkeley, CA, and Oakland, CA, and there is growing bipartisan support in Congress to address the issue at the federal level.
Fight for the Future is a group of artists, engineers, activists, and technologists who have been behind the largest online protests in human history, channeling Internet outrage into political power to win public interest victories previously thought to be impossible. We fight for a future where technology liberates -- not oppresses -- us.
(508) 368-3026
LATEST NEWS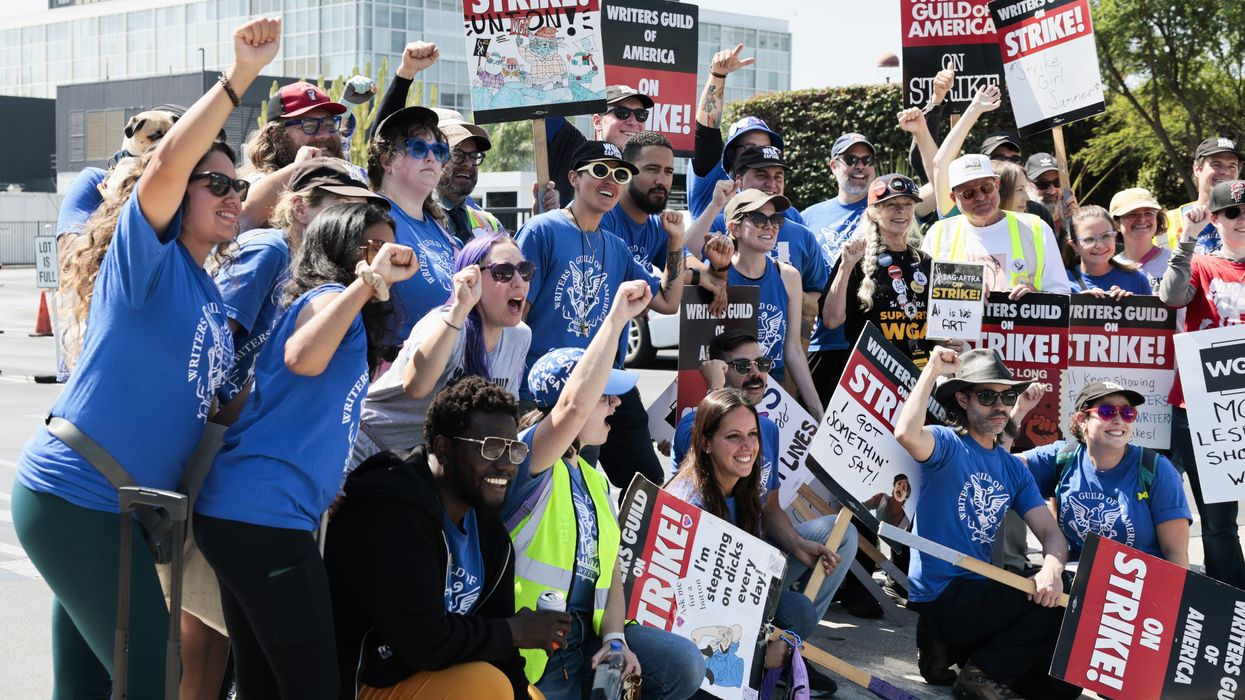 "It is the leverage generated by your strike, in concert with the extraordinary support of our union siblings, that finally brought the companies back to the table to make a deal."
After nearly 150 days on strike, the Writers Guild of America reached a tentative contract deal Sunday night with Hollywood studios that reportedly contains significant victories for screenwriters, including compensation boosts for streamed content and rules restricting the use of artificial intelligence.
In a letter to members late Sunday, the WGA's negotiating committee stressed that the deal still must be converted into final contract language and that while picketing will be suspended, no one will return to work and the strike will continue until key steps are taken toward member ratification of the agreement.
"Though we are eager to share the details of what has been achieved with you, we cannot do that until the last 'i' is dotted," the letter states. "To do so would complicate our ability to finish the job. So, as you have been patient with us before, we ask you to be patient again—one last time."
Without offering specifics, the letter calls the deal "exceptional" with "meaningful gains and protections for writers in every sector of the membership." The WGA represents more than 11,000 screenwriters.
"What we have won in this contract—most particularly, everything we have gained since May 2nd—is due to the willingness of this membership to exercise its power, to demonstrate its solidarity, to walk side-by-side, to endure the pain and uncertainty of the past 146 days," the letter reads. "It is the leverage generated by your strike, in concert with the extraordinary support of our union siblings, that finally brought the companies back to the table to make a deal."
The New York Timesreported that the tentative three-year contract agreement includes "increases in compensation for streaming content, concessions from studios on minimum staffing for television shows, and guarantees that artificial intelligence technology will not encroach on writers' credits and compensation."
The Alliance of Motion Picture and Television Producers (AMPTP), which represents the studios, did not offer much comment in response to the deal.
"The WGA and AMPTP have reached a tentative agreement," AMPTP said in a joint statement with the WGA.
SAG-AFTRA, the actors' union that joined the WGA on strike in July, congratulated the writers late Sunday for showing "incredible strength, resiliency, and solidarity on the picket lines."
"Since the day the WGA strike began, SAG-AFTRA members have stood alongside the writers on the picket lines," the actors' union said. "We remain on strike in our TV/Theatrical contract and continue to urge the studio and streamer CEOs and the AMPTP to return to the table and make the fair deal that our members deserve and demand."

News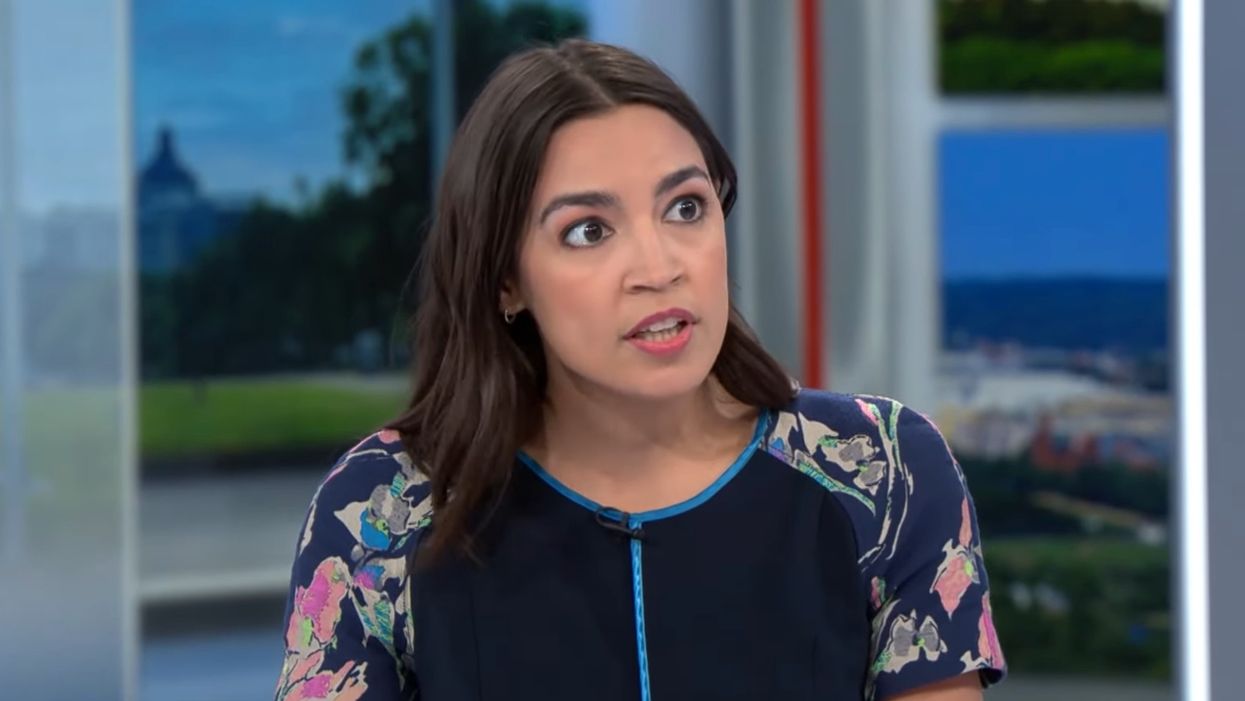 "Consistency matters. It shouldn't matter if it's a Republican or a Democrat," Ocasio-Cortez asserted.
New York Congresswoman Alexandria Ocasio-Cortez on Sunday became the first progressive House Democrat to call on Sen. Bob Menendez to resign following the former Senate Foreign Relations Committee chair's indictment last week on federal bribery charges.
Menendez (D-N.J.) and his wife, Nadine Menendez, were charged Friday with accepting hundreds of thousands of dollars in bribes—including gold bars, cash, home mortgage payments, and a Mercedes-Benz—from businessmen in exchange for influence. The indictment also accuses Menendez of giving "sensitive U.S. government information" to Egypt's dictatorship.

Appearing on CBS' "Face the Nation," Ocasio-Cortez said that "the situation is quite unfortunate, but I do believe that it is in the best interest for Sen. Menendez to resign in this moment."
"Consistency matters. It shouldn't matter whether it's a Republican or a Democrat. The details in this indictment are extremely serious. They involve the nature of not just his, but all of our seats in Congress," added Ocasio-Cortez, who is the vice-ranking member of the House Oversight Committee.
Asked for her reaction to Menendez's assertion that some of his congressional colleagues "are rushing to judge a Latino and push him out of his seat," Ocasio-Cortez said: "As a Latina, there are absolutely ways in which there is systemic bias, but I think what is here in this indictment is quite clear. And I believe it is in the best interest to maintain the integrity of the seat."
Ocasio-Cortez joins a growing list of Democrats including Sen. John Fetterman (Pa.) and Reps. Jeff Jackson (N.C.), Dean Phillips (Minn.), Josh Gottheimer (N.J.), Tom Malinowski (N.J.), Frank Pallone (N.J.), Mikie Sherill (N.J.), Bill Pascrell (N.J.), and Andy Kim (N.J.) who are urging Menendez to resign.
On Saturday, Kim said he would run for Menendez's Senate seat amid the senator's refusal to resign.
"I feel compelled to run against him. Not something I expected to do, but N.J. deserves better," Kim wrote in a fundraising pitch on social media. "We cannot jeopardize the Senate or compromise our integrity."
While defiantly declaring that he is "not going anywhere," Menendez did step down from his chairmanship of the Senate Foreign Relations Committee, a position he had held since 2021.

Following her "Face the Nation" appearance, Ocasio-Cortez flew to Missouri to stand in solidarity with striking United Auto Workers members. The congresswoman said the nation is facing "a crisis of inequality," while hailing President Joe Biden's planned trip to join Michigan UAW workers on the picket line Tuesday as "a historic event."
"We have never seen in modern history a president show up to a picket line like this," she said.
News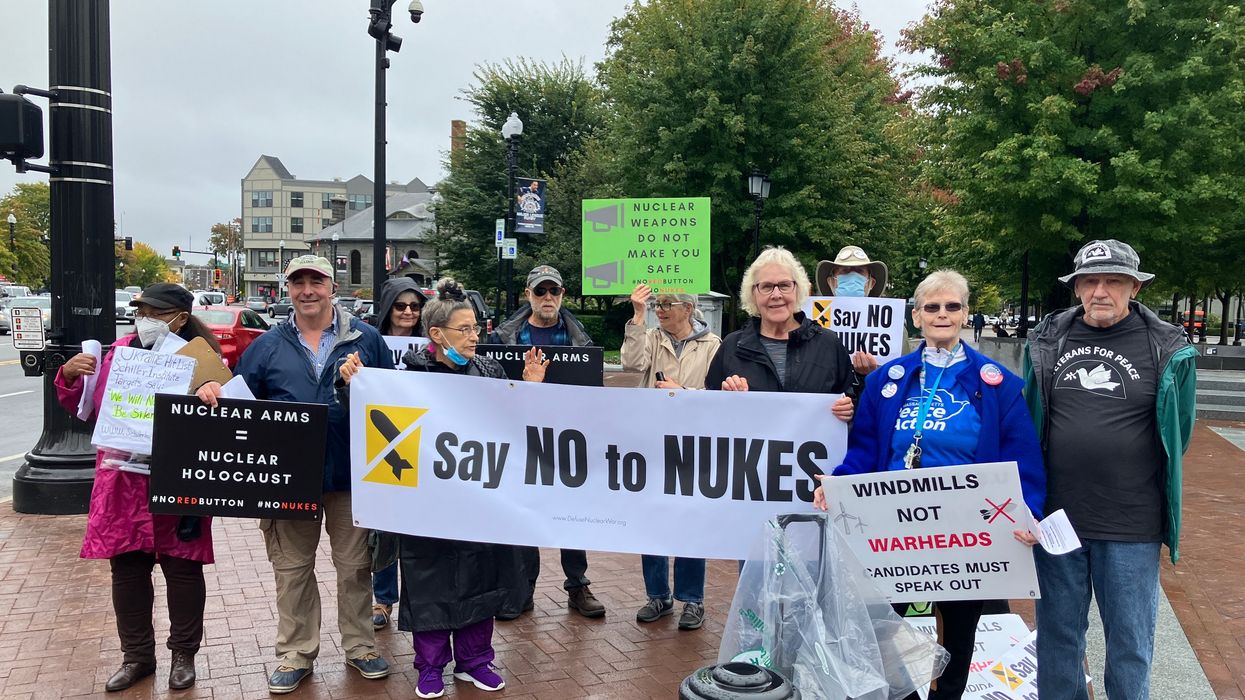 "The need for action to curtail the possibility of nuclear conflict could not be more urgent," said the campaign's organizer.
Activists from the Defuse Nuclear War coalition on Sunday launched a week of action to demand the U.S. government take steps to reduce the existential threat of thermonuclear annihilation, including by reinstating arms control treaties, shutting down hair-trigger missiles, and engaging in "genuine diplomatic efforts to end the war in Ukraine."
Defuse Nuclear War is organizing around 40 events across the United States. Demonstrations are planned in Baltimore, Boston, Philadelphia, Tucson, Fresno, and Salt Lake City, pickets are scheduled across Washington state, vigils are set to take place in Hawaii and California, activists plan to unfurl a banner at a Lockheed Martin facility in Pennsylvania, and an interfaith gathering will be held outside United Nations headquarters in New York.
"Our coalition of activists is demanding that the Biden administration seriously consider the consequences of their inaction in addressing this threat."
"The U.S. has allowed far too many weapons treaties to lapse in recent years, and the Ukraine War threatens daily to plunge the world into nuclear war," Defuse Nuclear War national campaign organizer Ryan Black said in a statement. "Our coalition of activists is demanding that the Biden administration seriously consider the consequences of their inaction in addressing this threat."
Chris Nelson of the California group Chico Peace Alliance—which is planning a Monday march through the Chico State University campus and the city's downtown—said:
The annual obscene "Defense" Authorization Act maintains and grows constant war infrastructure that can only be curtailed by the action of civilians. The revolving door in Congress for the arms contractors now makes representative government ineffective for arms control. Nuclear weapons are illegal under the International Treaty for the Prohibition of Nuclear Weapons. It is up to us to make that normative and create effective pressure to get interim treaties reestablished.
The landmark treaty—which was signed in 2017 and went into effect in 2021—has been signed by 97 nations.

Sean Arent of Physicians for Social Responsibility and Washington Against Nuclear Weapons—which is holding 12 demonstrations around the Evergreen State later this month—said that "Washington state is at the center of the atomic world, with more deployed nuclear weapons than anywhere else in the United States based out of the Kitsap-Bangor Trident nuclear submarine base."
"The plutonium for some of the very first bombs were made at the ongoing disaster site known as Hanford, still radioactive to this day," Arent continued. "It is past time that our members of Congress recognize this legacy and lead our country away from nuclear weapons."
"We're asking our members of Congress to support justice for communities impacted by these weapons like the Marshallese, support diplomatic negotiations towards arm reductions, and to fight tooth and nail to phase out—not enhance—our nuclear weapons arsenal in the impending National Defense Authorization Act," Arent added. "The world is at stake."

This year, the Bulletin of Atomic Scientisits' Doomsday Clock—which tracks the world's proximity to a possible nuclear war—was set to 90 seconds to midnight, the closest it has been to thermonuclear armageddon since it was created in 1947.
News
Independent, nonprofit journalism needs your help.
Please Pitch In
Today!