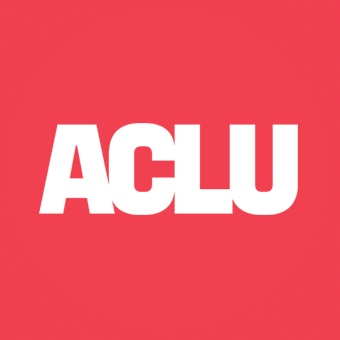 For Immediate Release
September, 18 2018, 12:00am EDT
ACLU and Workers Take On Facebook for Gender Discrimination in Job Ads
Class action bias charges target Facebook and 10 employers for excluding women from receiving job ads on Facebook
WASHINGTON
The ACLU, Outten & Golden LLP, and the Communications Workers of America filed charges with the Equal Employment Opportunity Commission against Facebook and 10 other employers for unlawfully discriminating on the basis of gender by targeting their job ads on Facebook to male Facebook users only, excluding all women and non-binary users from receiving the ads.
The charges were filed on behalf of three female workers, CWA and the hundreds of thousands of female workers CWA represents, and a class of millions of women allegedly denied information on job opportunities due to their gender. As the charges allege, most of the employers' male-targeted ads highlighted jobs in male-dominated fields.
"I've heard stories about when people looked for jobs in the classified ads and big bold letters read 'help wanted-male' or 'help wanted-female.' I was shocked to find that this discrimination is still happening, just online instead of in newspapers," said Bobbi Spees, a job-seeker and lead complainant in the case. "I shouldn't be shut out of the chance to hear about a job opportunity just because I am a woman."
Facebook has come under heavy scrutiny regarding its paid advertising platform, and whether it allows and encourages advertisers to engage in prohibited discrimination based on protected categories like race, national origin, age, and now gender.
The charges filed today allege that Facebook delivers job ads selectively based on age and sex categories that employers expressly choose, and that Facebook earns revenue from placing job ads that exclude women and older workers from receiving the ads. Targeting job ads by sex is unlawful under federal, state, and local civil rights laws, including Title VII of the Civil Rights Act of 1964.
"Sex segregated job advertising has historically been used to shut women out of well-paying jobs and economic opportunities," said Galen Sherwin, Senior Staff Attorney at the ACLU Women's Rights Project. "We can't let gender-based ad targeting online give new life to a form of discrimination that should have been eradicated long ago."
"The internet did not erase our civil rights laws. It violates the law if an employer uses Facebook to deny job ads to women," said Peter Romer-Friedman, an attorney at Outten & Golden, a workers' rights law firm. "The last time I checked, you don't have to be a man to be a truck driver or a police officer. But Facebook and employers are acting like it's the 1950s, before federal employment law banned sex discrimination."
"Our members have been on the frontlines ensuring that women have opportunities to apply to and be hired for any job they're qualified to do," said Sara Steffens, Secretary-Treasurer of the Communications Workers of America. "Despite the progress we have made, stereotypes and biases clearly still influence corporate hiring strategies. Shame on these employers for targeting ads based on gender, and shame on Facebook for facilitating this practice."
Although online platforms are generally not liable for publishing content created by others, the charges assert that Facebook can be held legally responsible for: (1) creating and operating the system that allows and encourages employers to select the gender and age of the people who get their job ads, including providing employers with data on users' gender and age for targeting purposes; (2) delivering the gender- and age-based ads based on employers' preferences; and (3) acting as a recruiter connecting employers with prospective employees.
In the EEOC charges filed today, the ACLU and Outten & Golden represent Bobbi Spees of McKean County, Pennsylvania, Linda Bradley of Franklin County, Ohio, Renia Hudson of Chicago, Illinois, the Communications Workers of America, an international union that represents over 700,000 workers, and a Class of millions of women who were denied job ads by Facebook and employers.
The employer and employment agency advertisers named in the EEOC charges are:
Abas USA, a global software developer
Defenders, a leading installer of home security systems
Nebraska Furniture Mart, a major retailer of home furniture
City of Greensboro, NC Police Department
Need Work Today, an employment agency that procures workers for farm, construction, trucking and aviation employers
Renewal by Andersen LLC, one of the largest window replacement and installation companies in America
Rice Tire, a tire retailer and provider of auto repair services with locations throughout Maryland and Virginia
JK Moving Services, the largest independent moving company in America
Enhanced Roofing & Modeling, a roofing and remodeling company based in the Washington, D.C. metro area;
Xenith, an athletics equipment manufacturer and retailer
The charges are online here: https://www.aclu.org/cases/facebook-eeoc-complaint
The American Civil Liberties Union was founded in 1920 and is our nation's guardian of liberty. The ACLU works in the courts, legislatures and communities to defend and preserve the individual rights and liberties guaranteed to all people in this country by the Constitution and laws of the United States.
(212) 549-2666
LATEST NEWS
The Biden White House adamantly denied the veteran investigative journalist's reporting, calling it "complete fiction."
Pulitzer Prize-winning investigative journalist Seymour Hersh published a story Wednesday alleging that the United States was behind the sabotage of the Nord Stream pipeline system last year, citing a single unnamed source "with direct knowledge of the operational planning."
According to Hersh, who published the story on his new Substack, the September attack on the Russia-to-Germany gas pipelines was carried out by the U.S. Navy "under the cover of a widely publicized mid-summer NATO exercise known as BALTOPS 22" and with the help of the Norwegian navy and secret service.
Last June, with the authorization of President Joe Biden, U.S. Navy divers planted "remotely triggered explosives that, three months later, destroyed three of the four Nord Stream pipelines," Hersh reported.
Adrienne Watson, a White House National Security Council spokesperson, told the Russian state-owned outlet TASS that Hersh's reporting is "false and complete fiction." The White House gave the same statement to Reuters and to Hersh himself, who over the course of his decades-long career has famously exposed U.S. forces' massacre of hundreds of Vietnamese civilians and shined light on the torture of detainees at the U.S-run Abu Ghraib prison in Iraq.
In recent years, Hersh has drawn growing backlash from mainstream media outlets and the federal government for casting doubts on the official U.S. narrative surrounding the killing of Osama bin Laden and questioning whether bin Laden really masterminded the September 11 attacks. Hersh has also drawn criticism for relying too heavily on anonymous sources.
In his Wednesday piece, Hersh reported that "Biden's decision to sabotage the pipelines came after more than nine months of highly secret back and forth debate inside Washington's national security community about how to best achieve that goal."
"This is not kiddie stuff," the anonymous source told Hersh, calling the pipeline attack "an act of war" that would be seen as such if it was traced back to the U.S.
According to Hersh, who provided a detailed account of the closed-door deliberations that preceded the pipeline attack, "there was a vital bureaucratic reason" for the Biden administration's decision to rely on graduates of the U.S. Navy's Diving and Salvage Center to carry out the operation.
"The divers were Navy only, and not members of America's Special Operations Command, whose covert operations must be reported to Congress and briefed in advance to the Senate and House leadership," he continued. "The Biden administration was doing everything possible to avoid leaks as the planning took place late in 2021 and into the first months of 2022."
As for why the U.S. would be compelled to sabotage the Nord Stream system, Hersh wrote:
From its earliest days, Nord Stream 1 was seen by Washington and its anti-Russian NATO partners as a threat to western dominance. The holding company behind it, Nord Stream AG, was incorporated in Switzerland in 2005 in partnership with Gazprom, a publicly traded Russian company producing enormous profits for shareholders which is dominated by oligarchs known to be in the thrall of Putin. Gazprom controlled 51% of the company, with four European energy firms—one in France, one in the Netherlands and two in Germany—sharing the remaining 49% of stock, and having the right to control downstream sales of the inexpensive natural gas to local distributors in Germany and Western Europe. Gazprom's profits were shared with the Russian government, and state gas and oil revenues were estimated in some years to amount to as much as 45% of Russia's annual budget.

America's political fears were real: Putin would now have an additional and much-needed major source of income, and Germany and the rest of Western Europe would become addicted to low-cost natural gas supplied by Russia—while diminishing European reliance on America. In fact, that's exactly what happened...

Nord Stream 1 was dangerous enough, in the view of NATO and Washington, but Nord Stream 2, whose construction was completed in September of 2021, would, if approved by German regulators, double the amount of cheap gas that would be available to Germany and Western Europe.
The Biden administration wasn't quiet about its opposition to Nord Stream 2, which never became operational after Germany put the process on hold just days before Russian forces invaded Ukraine in late February of last year.
"If Russia invades—that means tanks or troops crossing the border of Ukraine—then there will be no longer a Nord Stream 2," Biden said during a press conference on February 7. "We will bring an end to it."
"I promise you, we will be able to do it," the U.S. president added.
Citing his unnamed source, Hersh reported that "several of those involved in planning the pipeline mission were dismayed by what they viewed as indirect references to the attack" by Biden and other U.S. officials.
"The plan was for the options to be executed post-invasion and not advertised publicly," Hersh wrote. "Biden simply didn't get it or ignored it."
Hersh reported that a number of options were considered to sabotage the pipelines.
"The Navy proposed using a newly commissioned submarine to assault the pipeline directly," the journalist wrote. "The Air Force discussed dropping bombs with delayed fuses that could be set off remotely. The CIA argued that whatever was done, it would have to be covert. Everyone involved understood the stakes."
The CIA denied Hersh's reporting, calling it "completely and utterly false."

Ultimately, according to Hersh, Norwegian officials proposed that the June NATO exercise in the Baltic Sea—sponsored annually by the United States Sixth Fleet naval unit—"would be the ideal cover to plant the mines" on the pipelines.
According to the reporting:

The Americans provided one vital element: they convinced the Sixth Fleet planners to add a research and development exercise to the program. The exercise, as made public by the Navy, involved the Sixth Fleet in collaboration with the Navy's "research and warfare centers." The at-sea event would be held off the coast of Bornholm Island and involve NATO teams of divers planting mines, with competing teams using the latest underwater technology to find and destroy them.
"It was both a useful exercise and ingenious cover," Hersh wrote. "The C4 explosives would be in place by the end of BALTOPS22, with a 48-hour timer attached. All of the Americans and Norwegians would be long gone by the first explosion."
The White House later had second thoughts about the proposed two-day detonation window, according to Hersh, and opted for a plan by which "the C4 attached to the pipelines would be triggered by a sonar buoy dropped by a plane on short notice."

"On September 26, 2022, a Norwegian Navy P8 surveillance plane made a seemingly routine flight and dropped a sonar buoy," Hersh wrote. "The signal spread underwater, initially to Nord Stream 2 and then on to Nord Stream 1. A few hours later, the high-powered C4 explosives were triggered and three of the four pipelines were put out of commission."
After conducting separate investigations into the pipeline explosions, which unleashed a large sum of planet-warming methane into the atmosphere, both Sweden and Denmark concluded that the blasts were a result of deliberate sabotage, pointing to traces of explosives found at the scene.
Neither country has publicly assigned blame.
In the days following the attack, speculation and baseless allegations circulated rapidly, with some European officials pointing to Russia while Moscow suggested that the U.S. or the U.K. may have been responsible.
While it remains impossible to verify Hersh's account without access to his source or other corroborating evidence, Wednesday's story put the international whodunit back up for serious consideration and generated a fresh round of questions about the possible U.S. role.
\u201cIf Seymour Hersh's reporting is correct that US blew up the Nord Stream pipeline, it's a major act of international terrorism (and would be labeled as such if Russia did it to us). His account is very specific, down to exactly how it was done:\nhttps://t.co/Jj8r8yJard\u201d

— Nathan J Robinson (@Nathan J Robinson) 1675877148
Ishaan Tharoor, a foreign affairs columnist for The Washington Post, wrote on Twitter that while he is "not going to wade into debates over the sourcing and reporting" in Hersh's story, "it is without a doubt a bit odd how this whole story quietly went away once it became clear it didn't make any sense as an act of Russian sabotage."
"And of course, when the explosion actually happened, some folks in the transatlantic, anti-Kremlin space cheered it happily as a successful act of anti-Russian sabotage," Tharoor added, an apparent reference to a European member of Parliament's since-deleted tweet thanking the U.S. for the Nord Stream explosions.
News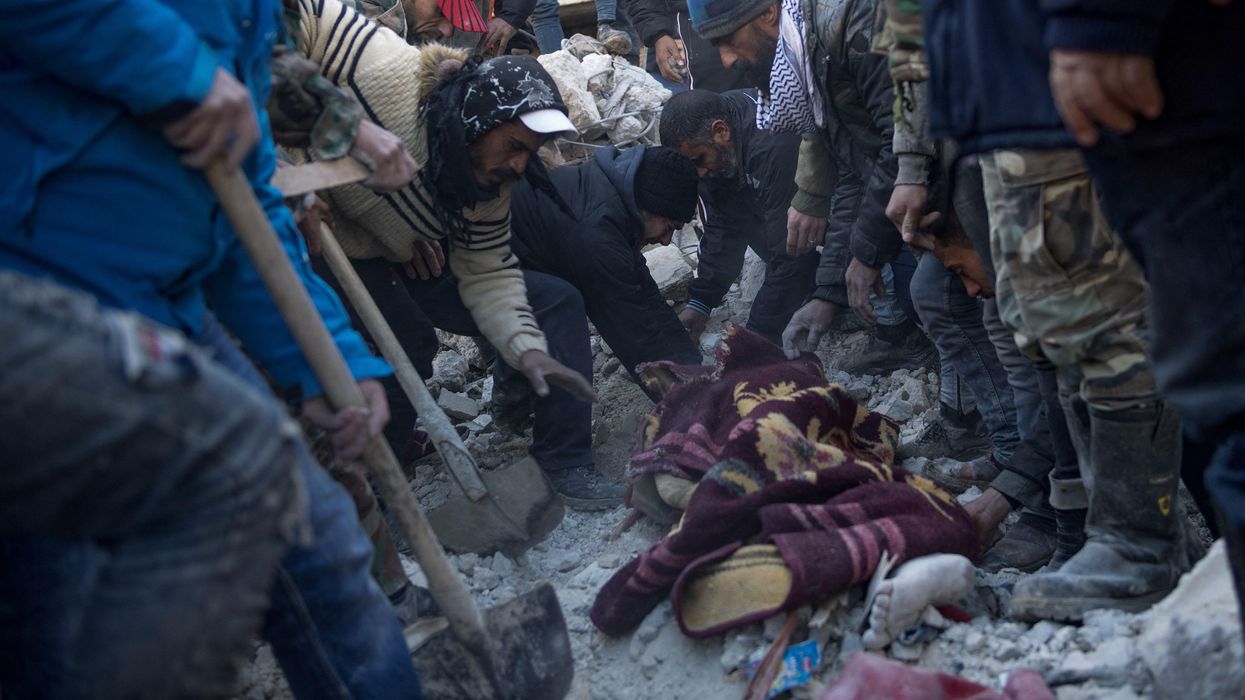 "We need heavy equipment, ambulances, and firefighting vehicles to continue to rescue and remove the rubble, and this entails lifting sanctions on Syria as soon as possible," said the head of a leading humanitarian group.
A disaster response expert has implored the United States to lift its economic sanctions against Syria, warning that the restrictions are hampering rescue and relief operations in the earthquake-ravaged country.
"We need heavy equipment, ambulances, and firefighting vehicles to continue to rescue and remove the rubble, and this entails lifting sanctions on Syria as soon as possible," Khaled Hboubati, president of the Syrian Arab Red Crescent, said Tuesday at a press conference.
"The number of victims is likely to rise, and a number of buildings are still at risk of collapsing. The results of the earthquake are disastrous, and our volunteers are ready, but we lack equipment," said Hboubati. "We call on donor countries to cooperate to lift the blockade."
A 7.8 magnitude earthquake and at least 54 powerful aftershocks, including a 7.5 magnitude earthquake, struck southeastern Turkey and northern Syria on Monday, causing massive damage to both countries. At least 9,057 people in Turkey and 2,530 people in Syria have died so far and tens of thousands are injured. The United Nations emphasizes that the full scale of the disaster is still coming into view as thousands remain trapped under rubble.
An estimated 10.9 million people, many of whom are refugees already displaced by armed conflicts, have been affected by the earthquake catastrophe in the northern Syrian provinces of Hama, Latakia, Idlib, Aleppo, and Tartus. Roughly 100,000 people are now believed to be homeless in Aleppo alone, according to the U.N., which says that just 30,000 have found shelter in schools and mosques, leaving 70,000 vulnerable to newly arrived snow.
"Lift the economic sanctions imposed on Syria and the Syrian people. Open the way for us. We are ready to provide assistance."
While "several countries including the U.S. and its allies have extended their support to Turkey in its relief and rescue work, they have refused to extend similar assistance to Syria," Peoples Dispatchreported Tuesday. "The U.S. State Department made it clear on Monday that it was only willing to support some work carried out in Syria by NGOs, but that it would have no dealings with the Bashar al-Assad government."
As Al Jazeerareported, State Department spokesperson Ned Price told reporters on Monday that "it would be quite ironic—if not even counterproductive—for us to reach out to a government that has brutalized its people over the course of a dozen years now."
"Instead, we have humanitarian partners on the ground who can provide the type of assistance in the aftermath of these tragic earthquakes," said Price.
But experts have pointed out that leaving sanctions intact impedes the ability of NGOs to swiftly deliver aid to devastated populations in Syria.
As the American-Arab Anti-Discrimination Committee (ADC) explained Monday: "Currently any U.S.-based aid and relief efforts are required to ensure that they follow the Department of Treasury's Office of Foreign Asset Control (OFAC) guidance, or risk prosecution. This adds unnecessary and inhumane delays to organizations and individuals looking to support those in immediate need."
"We commend and are thankful to existing organizations on the ground providing immediate humanitarian aid and relief to those in Syria, Turkey, and across the region," said ADC director Abed Ayoub director. "The reality is more aid and relief is needed, and time is of the essence. Lifting of the sanctions will open the doors for additional and supplemental aid that will provide immediate relief to those in need."
\u201cCurrent U.S. sanctions severely restrict aid assistance to millions of Syrians. Existing sanctions impose obstacles that make it difficult for aid and disaster relief to reach many of those directly impacted.\u201d

— ADC National (@ADC National) 1675712592
Syrian Foreign Minister Faisal Mekdad toldAl-Mayadeen on Monday that the government is willing "to provide all the required facilities to international organizations so they can give Syrians humanitarian aid."
Price, however, indicated that Washington has no plans to soften its stance toward the government of Syrian President Bashar al-Assad, which it deems illegitimate due to accusations of war crimes and human rights violations committed during an ongoing civil war that erupted after Assad brutally repressed pro-democracy protests in 2011.
"This is a regime that has never shown any inclination to put the welfare, the well-being, the interests of its people first," the U.S. diplomat said Monday. "Now that its people are suffering even more, we're going to continue doing what has proven effective over the course of the past dozen years or so—providing significant amounts of humanitarian assistance to partners on the ground."
Meanwhile, humanitarian groups on the ground continue to question the effectiveness of Washington's approach.
"Lift the economic sanctions imposed on Syria and the Syrian people," Hboubati said Tuesday. "Open the way for us. We are ready to provide assistance. We are ready to provide aid through the crossline and to send aid convoys to Idlib."
Hboubati stressed that the Syrian Arab Red Crescent does "not differentiate between any of the Syrian people" and called on the U.N., the European Union, and the U.S. Agency for International Development to support its mission.
\u201cEng. Khaled Hboubati, President of the @SYRedCrescent, appeal for the lifting of the economic embargo on #Syria to avert its catastrophic consequences \n\nMore \ud83d\udc47\ud83c\udffd\nhttps://t.co/gDTb8808Ru\n\n#syriaearthquake #earthquake \n #Lattakia #Aleppo #Tartous #Hama\u201d

— Syrian Red Crescent (@Syrian Red Crescent) 1675802294
Since the Caesar Act, passed by the U.S. Congress and signed into law by former President Donald Trump, went into effect in 2020, "any group or company doing business with the Syrian government faces sanctions," Peoples Dispatch reported. "The act extends the scope of the previously existing sanctions on Syria, imposed by the U.S. and its European allies since the beginning of the war in the country in 2011."
"The impact of sanctions on Syria's health and other social sectors and its overall economic recovery has been criticized by the U.N. on several occasions in the past," the outlet noted. "The U.N. has also demanded that all unilateral punitive measures against Syria be lifted."
War & Peace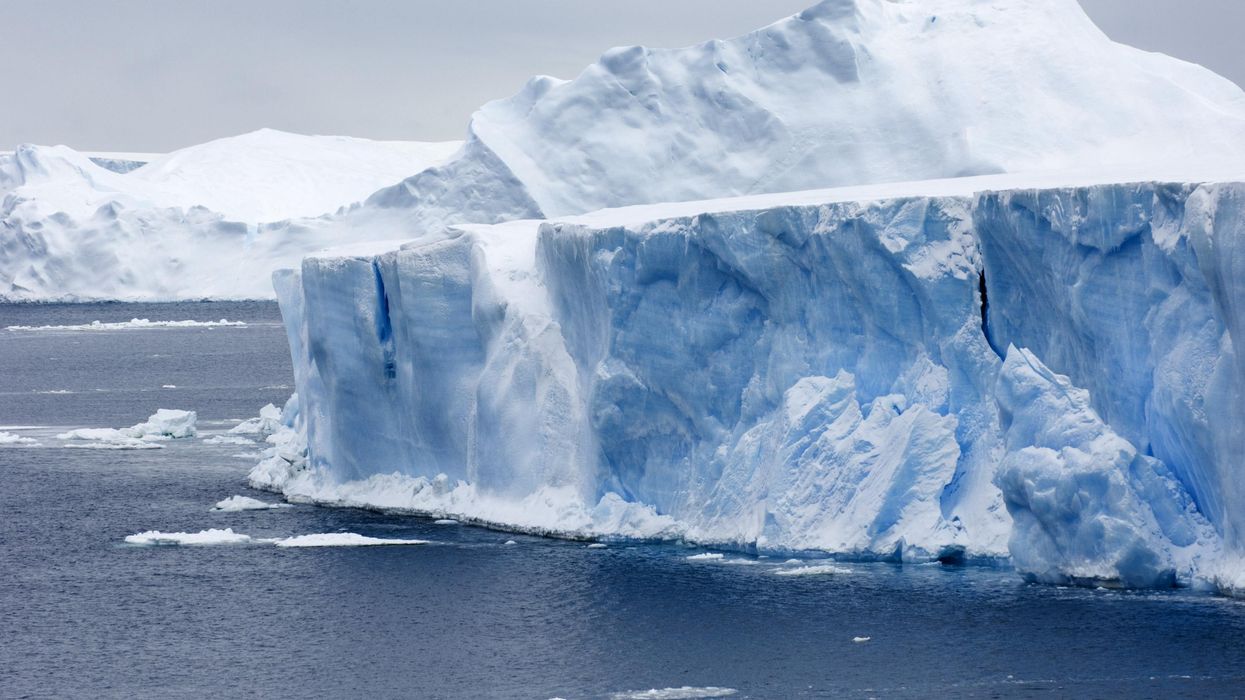 "These extreme temperatures remain a tangible indication of the effects of a changing climate for many regions," said one European climate official.
Less of the Antarctic Sea was covered by ice last month than in any January ever recorded, scientists said Wednesday while warning that melting sea ice is accelerating global heating.
The European Union's Copernicus Climate Change Service (C3S) said analysis of satellite imagery showed Antarctic sea ice coverage was 31% below average last month, significantly lower than the previous January low mark set in 2017.
At the opposite end of the Earth, Arctic ice coverage was 4% below average and the third-lowest January level observed, the agency reported.
C3S also said last month was the third-warmest January ever recorded in Europe, with above-average air temperatures—including the Balkans and Eastern Europe—prevailing throughout much of the continent.
\u201cEurope saw 3rd warmest January on record.\n\nAntarctic sea ice extent reached its lowest for January.\n\nNew Year's Day saw record temperatures in Europe with 0.6\u00b0C higher than any previous daily January value in the full #ERA5 data record back to 1940.\n\nMore: https://t.co/Tue7z0qSas\u201d

— Copernicus ECMWF (@Copernicus ECMWF) 1675865141
"While January 2023 is exceptional, these extreme temperatures remain a tangible indication of the effects of a changing climate for many regions and can be understood as an additional warning of future extreme events," C3S deputy director Samantha Burgess said in a statement. "It is imperative for global and regional stakeholders to take swift action to mitigate the rise in global temperatures."
Last month, a 600-square-mile iceberg—nearly the size of Greater London—broke off Antarctica's Brunt Ice Shelf, although scientists said the event was unrelated to climate change. January is summer in the Southern Hemisphere.
\u201cThe Arctic is warming 4 to 7 times more than the rest of the world. The Antarctic ice shelf melt rates are 20% to 40% higher than predicted. We need more climate ambition, not less.\n\nThere is no time to waste. #ActOnClimate\n\n#climate #energy #renewables #GreenNewDeal\u201d

— Mike Hudema (@Mike Hudema) 1675862524
Still, "while the decline in Antarctic sea ice extent is always steep at this time of year, it has been unusually rapid this year," scientists at the U.S. National Snow and Ice Data Center reported last month, "and at the end of December, Antarctic sea ice extent stood at the lowest in the 45-year satellite record."

News
SUPPORT OUR WORK.
We are independent, non-profit, advertising-free and 100%
reader supported.