For Immediate Release
Contact:
Dylan Voorhees 207.462.3221,,dylan@nrcm.org
Mainers Celebrate 45th Anniversary of Clean Water Act
Describe Enormous Progress and Serious Threats to Clean Water in Maine.
Lewiston, ME
Today on the banks of the Androscoggin, once labeled the most polluted river in America, a diverse group of Mainers described the importance of the Clean Water Act. The Act became law on October 18, 1972, when Congress voted to override President Nixon's veto of the bill. This landmark law was a crowning accomplishment for Maine U.S. Senator Edmund Muskie, who grew up in Rumford and was riled into action because our rivers were being treated as open sewers. His determination to act resulted in one of the nation's most important environmental laws.
"Senator Muskie's leadership put the nation on a path that brought life back to dead waterways, protected human health, increased recreation opportunities, expanded economic opportunities in riverside communities, improved real-estate property values, and contributed to the quality of life of millions of Americans nationwide. For that, we are enormously grateful," said NRCM Executive Director Lisa Pohlmann.
Before the Clean Water Act, Maine had no sewage treatment plants. The stench along our polluted waterways depressed real estate values and left retail stores in communities near polluted waters deserted in the summer months. The sulfite-laden air blackened silver products in jewelry stores. The toxic fumes peeled paint off buildings, while the odors, which were noticed 20 miles from the river, sickened people. And when the weather was hot, dissolved oxygen in the river plummeted, killing essentially all fish and wildlife in the Androscoggin, as well as the Kennebec and Penobscot.
"We have come an enormous way since the Clean Water Act became law. Today is a day for celebrating that progress, acknowledging the vital role that Senator Muskie and the state of Maine played in passing the Clean Water Act, and focusing on the threats to clean water that require continued leadership from Maine's elected officials," added Pohlmann.
Bates College Chemistry Professor Walter Lawrence played a significant role in helping Senator Muskie and state leaders understand how polluted our rivers had become. Lawrence produced detailed reports based on daily water samples from hundreds of sampling stations along the Androscoggin. Through the 1960s, Maine's industrial rivers were classified as Class D, described in state regulations as: "primarily for use in transportation of wastes."
Although the U.S. House and Senate voted nearly unanimously in 1972 for the Clean Water Act, President Nixon vetoed the bill on October 17, 1972. Veto override votes by the Senate and House occurred on October 17 and 18, 1972, respectively. The Senate voted 52-12 to override, with 36 Senators not voting. The House voted 247-23 to override, and the bill became law.
The Androscoggin and other Maine rivers and lakes are cleaner today than they were 40 years ago thanks to the Clean Water Act, which gave the Environmental Protection Agency (EPA) the authority to force polluting industries and towns to treat waste and sewage before discharging it.
Now, these basic safeguards and other federal laws that protect Maine waters are under attack. Here are a few examples; see attached document for more:
Trump's EPA budget proposed the elimination of non-point source pollution grants, which states like Maine depend on to reduce polluted runoff that includes pesticides, fertilizers, and other nutrients. This type of runoff represents the largest pollution threat to Maine's lakes. Trump's EPA budget also proposed deep cuts to state grants for water monitoring, assessment, and management.
Scott Pruitt's EPA is leading an attack on the Clean Water Rule, which extends Clean Water Act protections to smaller waterways, tributaries, and wetlands. One-third of Mainers get their drinking water from sources that rely on small streams protected by this rule.
Pruitt is also delaying multiple rules that reduce airborne mercury and other air pollution from power plants. Mercury is a neurotoxin found in Maine's lakes, rivers, fish, and wildlife, primarily due to power plant pollution from other states. Maine depends on strong federal laws and the EPA to limit pollution coming from other states.
"We urge Senators Collins and King to continue to support strong federal clean water protections, including full funding of the Environmental Protection Agency," said Pohlmann. "Clean, healthy waterways are vital to our day-to-day lives in Maine. They help ensure safe drinking water, suitable habitat for fish and other wildlife, and recreational opportunities that make Maine a special place in which to live, work, play, and visit."
For more information about the threats facing Maine's clean water, see the attached document.
Dick Anderson, a young fisheries biologist for the Maine Department of Inland Fisheries and Wildlife in the 1960s, today recalls how polluted the Androscoggin had become. "We paddled the Androscoggin from the New Hampshire border to Brunswick, and it was a revolting task. Every bit of waste and sewage was dumped into the river. At least seven paper mills were dumping untreated waste into the river, as were tanneries and towns. We traveled through this disgusting mess, and look at it now! We can feel proud today on the 45th anniversary of the Clean Water Act, written and championed by our great Maine Senator, Edmund Muskie."
Rebecca Swanson Conrad, President and CEO of the Lewiston-Auburn Metro Chamber of Commerce, today described how important the revitalized, cleaner Androscoggin River is for both Lewiston and Auburn. "I marvel at how far we have come over the past 50 years. Look at the investments we've made in the Bates Mill, Auburn Riverwalk, and the businesses, hotels, and homes along this majestic river. In the 1960s, we were not considering the environmental impact of the river on our future economy. The Androscoggin was dead, but it has come back to life in no small part because of Senator Muskie and the Clean Water Act. And with that recovery, Lewiston and Auburn have made the river central to our economic future. We are so thankful for the many people, organizations, and elected leaders who helped deliver the great progress that we have seen. It stands as a testament to how important a clean environment is to a healthy economy."
Lynne Lewis, Elmer W. Campbell Professor of Economics at Bates College, today spoke about the economic benefits that clean water provides to Maine. "The Clean Water Act provides billions of dollars in economic benefits annually, by protecting water that we drink, live near, and fish and play in. For a state like Maine that is literally filled with rivers, lakes, streams, and coastline, clean water provides enormous economic value to our state in the form of reduced health care costs, improved recreational opportunities and tourism, property values, and tax revenues to the state. From my research and that of others, it is clear that clean water significantly increases waterfront property values for both homeowners and businesses. Thriving businesses and community events take place along rivers such as this. These revenue sources did not exist before the Clean Water Act. The Clean Water Act has resulted in a rebounding of river herring and other sea-run fish, contributing to the health of our Gulf of Maine fisheries. Our lakes contribute an estimated $3.5 billion to Maine's economy annually, supporting 52,000 jobs, and clean coastal waters support the thousands of lobstering and fishing jobs that deliver landings of more than $700 million annually."
Natalie Lounsbury, who grew up in Auburn, recalls attending meetings with her mother, Bonnie, where the discussions focused on "color, odor, and foam." Natalie and Bonnie now have a farm along the Androscoggin in Turner and Natalie is also a PhD student in natural resources at the University of New Hampshire. Today Natalie said, "Nearly all water that reaches rivers passes through or over soil. As we celebrate the 45th anniversary of the Clean Water Act, and as we continue our efforts to protect Maine's waters, it's important to support land managers and farmers in implementing practices like cover crops and riparian buffers that help keep our waters clean."
The Natural Resources Council of Maine is the leading nonprofit membership organization working statewide for clean air and water; healthy people, wildlife and forests; and clean energy solutions. NRCM harnesses the power of science, the law, and the voices of more than 12,000 supporters to protect the nature of Maine. Visit NRCM online at www.nrcm.org.
LATEST NEWS
"The U.S. bears responsibility for pushing these migrants back into Mexico to face unsafe conditions," argued one immigrant rights advocate.
At least 39 migrants were declared dead Tuesday after a fire was started overnight at a detention facility in Ciudad Juárez, close to the U.S.-Mexico border.
Mexico's National Institute of Migration said in a statement that the detention center held 68 men from Central and South America.
"The National Institute of Migration strongly rejects the acts that led to this tragedy," the agency said, without elaborating.
In an address on Tuesday, Mexican President Andrés Manuel López Obrador said the fire was sparked by migrants in protest of their looming deportation.
"They never imagined that this would cause this terrible misfortune," said López Obrador, who noted that most of those killed in the fire were from Central America and some were from Venezuela.
Photos taken at the detention center in the wake of the deadly fire showed emergency workers on the scene and numerous bodies covered by sheets. Dozens who were injured in the fire are reportedly in serious condition.
The disaster is likely to intensify criticism of the immigration policies of the U.S. and Mexico, both of which have been accused of systematically violating the rights of asylum seekers.
The Associated Press noted that "in recent years, as Mexico has stepped up efforts to stem the flow migration to the U.S. border under pressure from the American government, its National Immigration Institute has struggled with overcrowding in its facilities."
Kerri Talbot, deputy director at the Immigration Hub, argued Tuesday that "the U.S. bears responsibility for pushing these migrants back into Mexico to face unsafe conditions"—a reference to the Trump-era "Remain in Mexico" policy.
In December, a Trump-appointed federal judge blocked President Joe Biden's attempt to end the policy, which rights groups say is illegal.
Meanwhile, Biden has been under heavy criticism from advocates for his asylum proposals.
On Monday, the United Nations High Commissioner for Refugees urged the Biden administration to rescind its proposed anti-asylum rule, which critics have compared Trump's "transit ban" that denied asylum to anyone who had traveled to the United States through a third country.
Key portions of the Biden proposal, said the agency, "are incompatible with principles of international refugee law."
This piece has been updated with new information from the Mexican government.

News
"The bailout really did protect billionaires from taking a modest haircut," one observer wrote in response to the FDIC chief.
In prepared testimony for a Senate Banking Committee hearing slated for Tuesday morning, the chair of the Federal Deposit Insurance Corporation reveals that the 10 largest deposit accounts at Silicon Valley Bank held a combined $13.3 billion, a detail that's likely to intensify criticism of federal regulators' intervention in the firm's recent collapse.
When SVB was spiraling earlier this month, the FDIC, Treasury Department, and Federal Reserve rushed in to backstop the financial system and make all depositors at the California bank whole, including those with accounts over $250,000—the total amount typically covered by FDIC insurance.
"At SVB, the depositors protected by the guarantee of uninsured depositors included not only small and mid-size business customers but also customers with very large account balances," FDIC chief Martin Gruenberg writes in his prepared testimony. "The ten largest deposit accounts at SVB held $13.3 billion, in the aggregate."
Gruenberg goes on to estimate that the FDIC's $125 billion Deposit Insurance Fund (DIF)—which is financed primarily by assessments on insured banks and "backed by the full faith and credit of the United States government"—took a $20 billion hit as a result of the SVB intervention.
According to Gruenberg, nearly 90%—$18 billion—of the DIF loss stemming from SVB is "attributable to the cost of covering uninsured deposits." He added that the DIF absorbed a roughly $1.6 billion cost to cover uninsured deposits at Signature Bank, which failed shortly after SVB.
The FDIC chair's testimony comes as federal regulators continue to face scrutiny for glaring oversight failures in the lead-up to the collapse and backlash over the emergency response, which many have characterized as a bailout for the wealthy and well-connected given SVB's role as a major lender to venture capital and tech startups.
Billionaire Peter Thiel, whose firm was accused of helping spark a bank run by advising clients to pull their money from SVB, told the Financial Times that he had $50 million in a personal account at the bank when it failed earlier this month.
"The bailout really did protect billionaires from taking a modest haircut," Matt Stoller of the American Economic Liberties Project tweeted in response to Gruenberg's testimony.
Writing for The American Prospect on Monday, Revolving Door Project researcher Dylan Gyauch-Lewis called the federal government's swift action in the wake of SVB's failure "a good illustration of the enormous class bias in American policymaking."
"As soon as corporations and the wealthy run into trouble, elites trip over themselves, discarding both law and precedent, to rescue them," Gyauch-Lewis wrote, noting that federal regulators had to classify SVB's collapse as a "systemic risk" to the financial system—a disputed characterization—in order to legally guarantee deposits over $250,000.
For contrast, Gyauch-Lewis added, "consider student loan forgiveness. The legal justification is clear as day, and the authority itself is used regularly. According to the Higher Education Relief Opportunities for Students Act of 2003, the Education Department can forgive student loans as it sees fit in a national emergency."
"At bottom, the core reason SVB's depositors got bailed out had little to do with morals or even financial risk," Gyauch-Lewis argued. "It happened because they had rich and powerful friends with the ear of the president's chief of staff. Broke students don't. The students have to organize and campaign for decades to get something far worse than what they wanted, and for that to hang in the balance at the Supreme Court. The SVB depositors just had to whine on Twitter and make a few calls."
News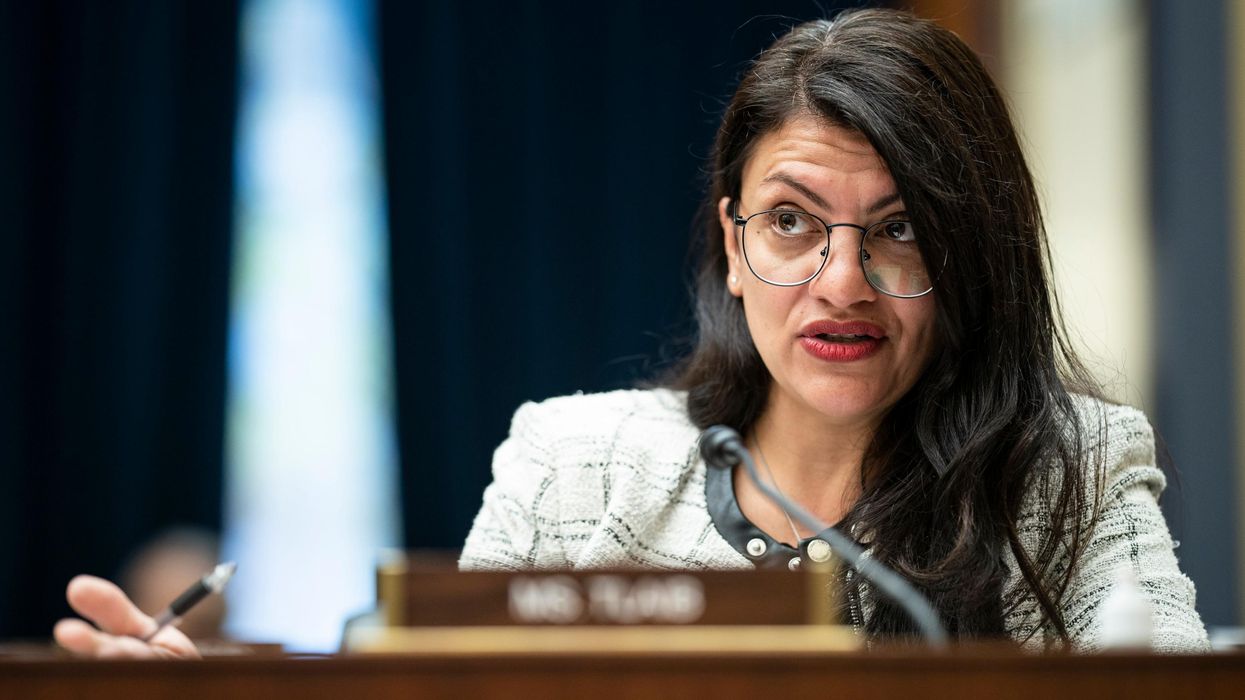 "Without a significant increase in American assistance... we fear that 2023 will be a heartbreakingly deadly year for everyday Yemenis," Tlaib and 23 other House Democrats wrote.
U.S. Rep. Rashida Tlaib on Monday led two dozen House Democrats in urging Congress to allocate at least $1.2 billion in humanitarian aid for Yemen—whose people have suffered eight years of U.S.-backed Saudi war—in next year's budget.

"As we approach the 8th anniversary of the Yemen war, the country remains stuck in a devastating cycle of conflict and humanitarian crisis that has claimed hundreds of thousands of lives," Tlaib (D-Mich.) and 23 other lawmakers wrote in a letter to House Subcommittee on State and Foreign Relations Chair Mario Díaz-Balart (R-Fla.) and Ranking Member Barbara Lee (D-Calif.).
"Yemen has the grim title of the world's worst humanitarian crisis, with over 4 million Yemenis displaced and an estimated 80% of the country's 30 million people reliant upon some form of assistance for their survival," the letter, which was first sent last week, asserts.
The letter's authors lament that "international appeals for assistance for Yemen have consistently [fallen] short of their goals by large margins" and that "the continuous reduction in funding has greatly exacerbated the humanitarian suffering."
The United Nations "has had to close over 75% of its lifesaving programs, and the World Food Program has been forced to cut or reduce food distribution to 8 million people, increasing the number of areas at risk of famine," the letter notes.
"Without a significant increase in American assistance (which we believe would incentivize foreign nations to increase their support in turn), we fear that 2023 will be a heartbreakingly deadly year for everyday Yemenis," the signers assert.
The lawmakers urge Congress to include at least $1.2 billion "for humanitarian relief and reconstruction efforts in Yemen" in the budget for fiscal year 2024. They also ask the State Department and the United States Agency for International Development "to develop programming that directly invests in sustainably developing long-term economic opportunities for Yemenis."
Tlaib is one of four dozen bipartisan House lawmakers who last June introduced a War Powers Resolution to end "unauthorized" United States military involvement in the Saudi-led intervention in Yemen's civil war.
Sen. Bernie Sanders (I-Vt.), along with Sens. Patrick Leahy (D-Vt.) and Elizabeth Warren (D-Mass.), introduced a similar measure in the Senate. Last December, Sanders withdrew the resolution just before it was slated for a floor vote, while vowing to work with the Biden administration on ending U.S. involvement in the war.

News
SUPPORT OUR WORK.
We are independent, non-profit, advertising-free and 100%
reader supported.