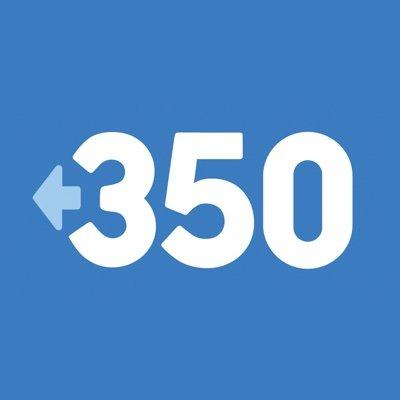 American Museum of Natural History Slashes Fossil Fuel Holdings as Global Divestment Commitments Hit $5 trillion in Assets
Top US museum responds to scientist calls, will prioritize climate risk and solutions
NEW YORK
The American Museum of Natural History has responded to a campaign driven by scientists, museum colleagues, and allies by communicating it has reduced fossil fuel exposure to its $650 million endowment. As the country's oldest, largest and one of the most popular museums with approximately five million visitors each year, this will reverberate across the sector and around the world.
In March 2015, more than 150 of the world's top scientists sent an unprecedented letter calling on museums of science and natural history to cut ties with fossil fuel interests. Since then, at least seven museums have responded by divesting from fossil fuels, dropping oil, gas or coal companies as sponsors, or implementing new funding policies.
"As anti-science forces have gained unprecedented power in the White House and Congress, the role of our most trusted institutions of science is more important than ever," said Beka Economopoulos of The Natural History Museum, a mobile and pop-up museum that champions bold climate action. "We applaud the American Museum of Natural History for slashing investments in the very companies that have spread climate science disinformation for decades. We hope this encourages other science museums to stand up for science and cut ties to fossil fuels."
The fossil fuel divestment movement is the fastest growing divestment movement in history, according to Oxford University. The urgent call for institutions to cut ties with fossil fuels has has spread beyond usual advocates. We now see scientists and museum professionals organizing within their sectors, urging their institutions to lead the way.
Today, the Divest-Invest network unveiled the third annual Arabella report revealing that fossil fuel divestment movement has doubled since September 2015, with commitments reaching 688 institutions spanning 76 countries, and representing more than $5 trillion in assets under management.
"Museums are among the most trusted institutions in society. They educate the public and shape culture. A $21 billion dollar industry, the museum sector sees more visitors annually than sporting events and theme parks combined", says Elizabeth Wylie from the American Alliance of Museums' sustainability professional association. "Museums that divest from industries that harm the environment and threaten our collective future are using their bully pulpit well."
James Powell, a geologist and former Director and President of the Los Angeles County Natural History Museum and former President of the Franklin Science Institute said "the news from the American Museum of Natural History is a welcome outcome of advocacy from scientists, museum professionals and allies. It's difficult to reconcile the missions of museums focused on science and ecology with the practice of investing in fossil fuels."
In August 2015, activists joined scientists in urging the nation's museums of science and natural history specifically to divest. More than 50,000 people took part in the campaign. In a move that escalated the call, The Natural History Museum and 350.org sent a letter to the American Museum of Natural History pointing out its unique responsibility to act as a leader on climate.
The fossil free culture movement has taken hold across North America, Europe and Australia. Notable institutions, such as the California Academy of Sciences, Phipps Conservatory and Botanical Gardens, Field Museum in Chicago and the Australian Academy of Science, have announced their commitments to cut ties with fossil fuels.
In the face of the anti-climate-science Trump administration, it is more critical than ever that the world's most trusted institutions step up to take meaningful action on climate change. Scientists and their allies will continue to call on our institutions to #StandUpForScience and for our future.
"In the face of climate catastrophe, our cultural institutions have a unique responsibility to do more than observe and curate history -- they must stand up to help make it," said Katie McChesney, 350.org US Divestment Campaign Manager. "As we enter the final weeks of the hottest year in history, with a regressive and corrupt incoming administration, it is not enough for museums to accept the scientific consensus on human-caused climate change. We need museums of science and natural history to take a stand."
350 is building a future that's just, prosperous, equitable and safe from the effects of the climate crisis. We're an international movement of ordinary people working to end the age of fossil fuels and build a world of community-led renewable energy for all.
LATEST NEWS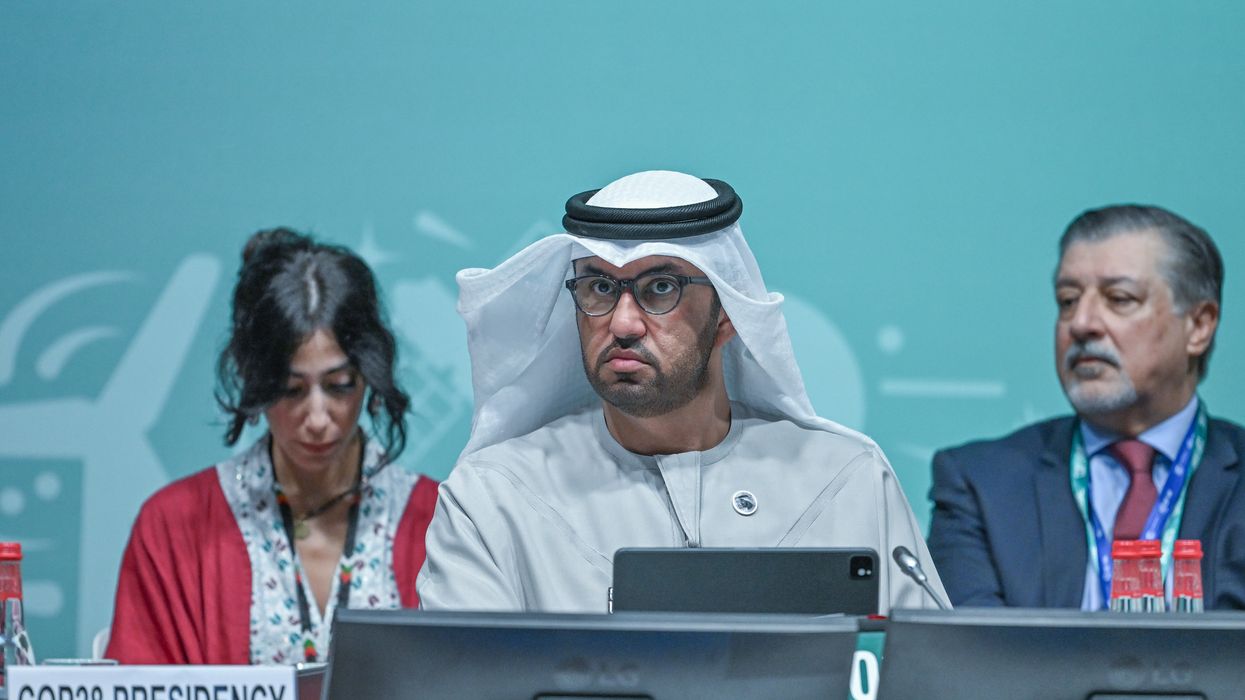 "The sheer number of fossil fuel lobbyists at climate talks that could determine our future is beyond justification," said one campaigner.
A record number of fossil fuel lobbyists have inundated the COP28 climate summit in the United Arab Emirates, with new research released Tuesday showing that more than 2,400 industry influence-peddlers were granted access to the critical U.N. talks—a 400% increase over last year.
The Kick Big Polluters Out (KBPO) coalition tallied 2,456 fossil fuel lobbyists on the provisional list of COP28 participants, a likely undercount as the estimate doesn't include those who are attending the talks under a different professional title. A new U.N. rule approved earlier this year requires lobbyists at COP28 to declare their affiliation.
Representatives from ExxonMobil, TotalEnergies, and other oil and gas firms outnumber the delegations of nearly every single country at the summit except Brazil and the UAE, according to the new analysis. KBPO said that more fossil fuel lobbyists received attendance passes than all of the delegates from the 10 most climate-vulnerable nations combined.
"You don't bring arsonists to a firefighting convention—or the climate talks, for that matter—but that's precisely what is happening here at COP28."
"The sheer number of fossil fuel lobbyists at climate talks that could determine our future is beyond justification," said Joseph Sikulu, pacific managing director at 350.org. "Their increasing presence at COP undermines the integrity of the process as a whole. We come here to fight for our survival and what chance do we have if our voices are suffocated by the influence of Big Polluters? This poisoning of the process needs to end, we will not let oil and gas influence the future of the Pacific this heavily."
Climate Action Network International added that "you don't bring arsonists to a firefighting convention—or the climate talks, for that matter—but that's precisely what is happening here at COP28."
"Big Polluter interference in climate negotiations is costing millions of people their homes, livelihoods, and lives," the group wrote on social media.
Many of the lobbyists were granted access to #COP28 via fossil fuel trade groups.

👎 Nine out of 10 the largest hail from the Global North; notably the Geneva-based @IETA, which brought 116 people, including representatives from Shell and TotalEnergies. #KickBigPollutersOut
— Climate Action Network International (CAN) (@CANIntl) December 5, 2023
Ahead of COP28, KBPO estimated that fossil fuel lobbyists from some of the world's top oil and gas firms attended past U.N. climate summits more than 7,000 times.

Advocates said the sharp increase in lobbyist attendance at COP28 underscores the industry's commitment to preventing substantive climate action as greenhouse gas emissions continue to rise, imperiling hopes of preventing catastrophic warming.
"Their agenda is crystal clear: safeguarding their profits at the expense of a livable future for all of us," Kathy Mulvey, accountability campaign director at the Union of Concerned Scientists, said in a statement. "The urgency of phasing out fossil fuels demands a unified, unwavering commitment from global leaders, unencumbered by the fossil fuel industry's self-serving agenda."
Industry influence could help explain the inadequacy of climate commitments that have emerged from the summit this far. The Oil and Gas Decarbonization Charter, spearheaded by the UAE and Saudi Arabia—two leading petrostates—has been called a "dangerous distraction" from efforts to phase out fossil fuels, and a new agreement on a global loss and damage fund has been criticized as badly inadequate to meet the needs of frontline nations.
COP28 president Sultan Ahmed Al Jaber—who is also CEO of the Abu Dhabi National Oil Company—has dismissed calls to phase out fossil fuels as his company plots a massive expansion that could make it the second-largest oil producer on the planet. Al Jaber has also used his role as the head of the summit to pursue new oil and gas deals.
"Oil and gas companies and their enablers—the climate arsonists fueling climate chaos—cannot be trusted to help put out the fire or deliver what we need: a full, fast, fair, and funded fossil fuel phaseout," said David Tong, global industry campaign manager at Oil Change International.
KBPO noted in its new analysis that lobbying at COP28 is hardly limited to the fossil fuel industry, pointing to the presence of finance, agribusiness, and transportation representatives.
"To share seats with the Big Polluters in climate change conversations is to dine with the devil," Ogunlade Olamide Martins, program manager at Corporate Accountability and Public Participation Africa, said in a statement. "This unholy matrimony will only endorse 'conflict of interest' and further facilitate the silence of honest agitation. COP's conclusions must be independent of industries' parasitic influences and must only address the concerns of the vulnerable masses."

News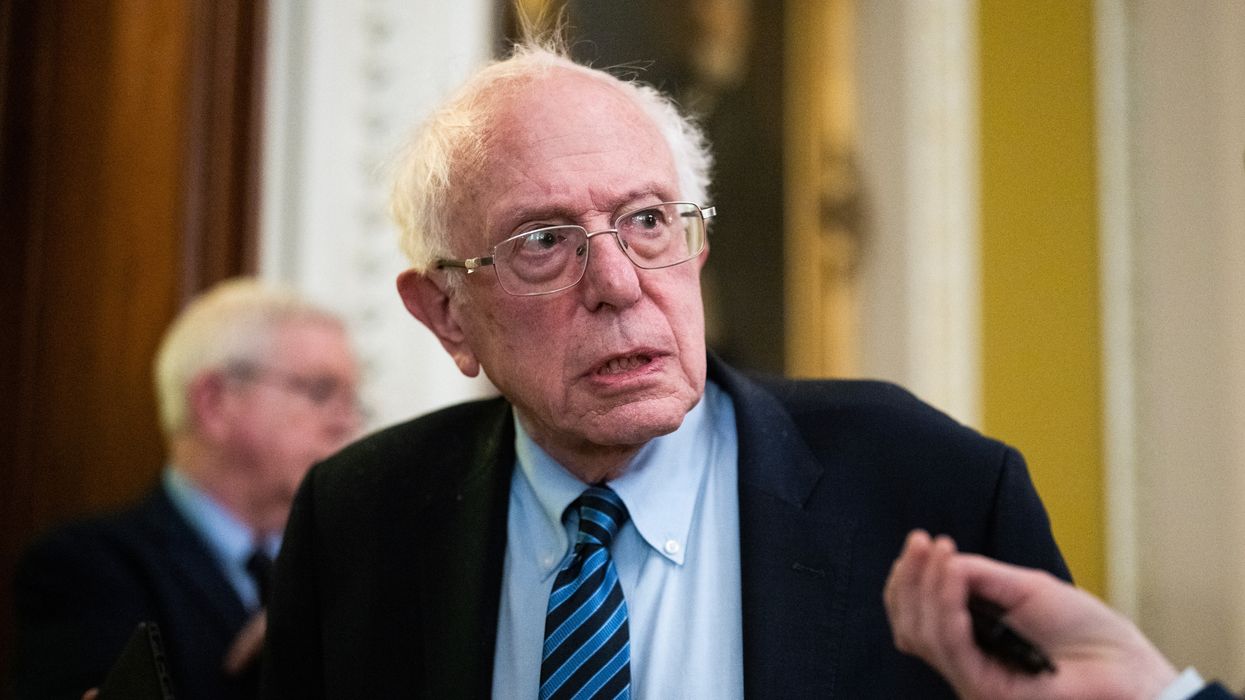 "Israel's indiscriminate approach is, in my view, offensive to most Americans, it is in violation of U.S. and international law, and it undermines the prospects for lasting peace and security."
U.S. Sen. Bernie Sanders said Monday that he opposes sending billions of dollars in additional military assistance to the Israeli government as it continues to wage a catastrophic war on the Gaza Strip, an assault that the Vermont senator described as unlawful and "immoral."

"I do not believe we should be appropriating over $10 billion for the right-wing, extremist Netanyahu government to continue its current military approach," Sanders, who has faced backlash from progressives and some of his former campaign staffers for refusing to support a permanent cease-fire, said in remarks on the Senate floor.
Sanders' speech came as Senate Majority Leader Chuck Schumer (D-N.Y.) set the stage for a procedural vote on a $106 billion supplemental package that includes military assistance for Israel and Ukraine. The vote is expected to fail as Republicans push for the inclusion of asylum restrictions that progressive Democrats have condemned as draconian.

The Vermont senator, for his part, decried the lack of attention to domestic emergencies in the bill, from childcare to primary healthcare to housing.
"I am deeply concerned that this legislation has no investments to address the needs of working families in the United States—60% of whom are living paycheck to paycheck," Sanders said, noting that the supplemental bill includes "tens of billions" in military spending that should be dedicated to "some of the enormous domestic crises we face."
Sanders went on to slam the proposed $10.1 billion in no-strings-attached military aid that would "allow the Netanyahu government to continue its current offensive military approach" in which the U.S. is complicit, having supplied the Israeli military with around 15,000 bombs and tens of thousands of artillery shells.
The senator said he would support "defense systems" to protect Israeli citizens from rocket attacks fired by the groups involved in the deadly October 7 attack. But "Israel's indiscriminate approach is, in my view, offensive to most Americans, it is in violation of U.S. and international law, and it undermines the prospects for lasting peace and security," said Sanders.
"Israel must dramatically change its approach to minimize civilian harm and lay out a wider political process that can secure lasting peace," he added.
That process, Sanders said, must include "a guarantee that displaced Palestinians will have the absolute right to return to their homes as Gaza rebuilds; it will include no long-term occupation or blockade of Gaza; an end to the killings of Palestinians in the West Bank and a freeze on new settlements there; and, perhaps most importantly, a commitment to broad peace talks to advance a new two-state solution in the wake of this war."

Sanders delivered his speech as Israel expanded its ground offensive to southern Gaza, threatening to worsen the territory's horrific humanitarian crisis by attacking the region to which many fled as Israel assailed the northern part of the strip. Around 80% of Gaza's population has been displaced in less than two months.
Doctors Without Borders warned Monday that hospitals in the south are "at a breaking point" due to Israel's bombardment and ongoing siege, which have prevented the delivery of critical supplies including fuel and anesthetics.

In an open letter on Monday, Doctors Without Borders executive director Avril Benoît implored U.S. President Joe Biden to "call for an immediate and sustained cease-fire in Gaza," saying his group has rarely "encountered such a catastrophic combination of escalating humanitarian and medical needs, ravaged infrastructure, and intentionally limited humanitarian access."
"Our teams throughout Gaza recount scenes of horror in the hospitals: dead bodies everywhere, people with crushed limbs rescued from collapsed buildings, and orphaned children with severe burns covering most of their tiny bodies. They describe patients screaming in pain because there's not enough anesthesia," Benoît wrote. "And every day, they go to work for their patients."
"They can't go on like this," she added. "No one in Gaza can go on like this. We need a sustained cease-fire now."
News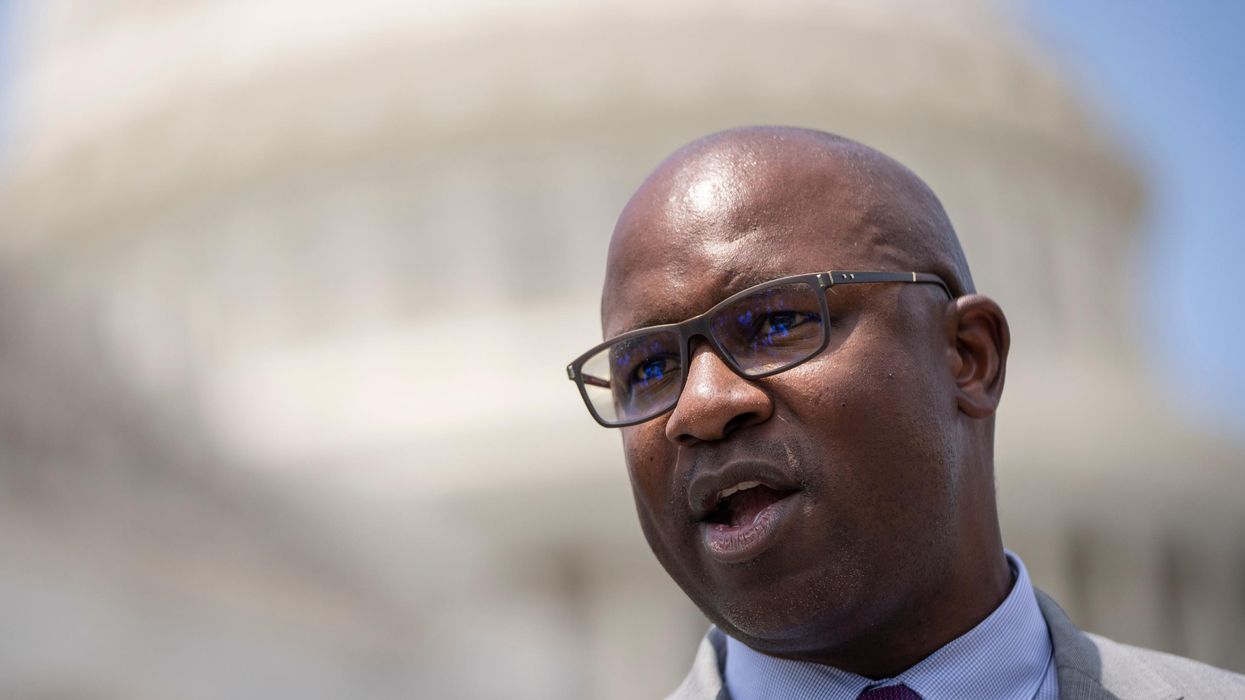 While Latimer has said Israel will be a "big issue" but "not the whole issue," one observer predicted that the contest "is going to be the ugliest Democratic proxy war of the 2024 cycle."
After visiting Israel last week, Westchester County Executive George Latimer on Monday filed paperwork to launch a primary challenge against Democratic New York Congressman Jamaal Bowman, a critic of the Israeli government and its devastating war on the Gaza Strip.
The 70-year-old county executive, who previously served in the New York State Senate and Assembly, has been openly considering a run for the 16th Congressional District—which Bowman has represented since 2021, after successfully primarying former Democratic Rep. Eliot Engel.
Latimer suggested toThe Washington Post early last month that if he ran against Bowman, "it might be that this becomes a proxy argument" between "the left and the far left." He later toldPolitico that Israel would be a "big issue" but "not the whole issue," and his campaign would focus on his record as "the most progressive" county official in the state.
Bowman is the fourth "Squad" member to face a serious primary challenger for 2024, joining Reps. Cori Bush (D-Mo.), Summer Lee (D-Pa.), and Ilhan Omar (D-Minn.). They are all among the eight progressives who in October voted against a bipartisan House resolution expressing unconditional support for Israel's government as it waged war on Gaza.
The four of them also support a resolution demanding a cease-fire in Gaza. While the number of House members calling for a cease-fire has grown to more than four dozen as Israeli forces have killed thousands of Palestinians over the past two months, as The Intercepthighlighted last week, "a closer look at some lawmakers' statements raises questions about whether they are truly pushing for an end to the violence."
Latimer does not support a cease-fire. As Politico reported on his trip:
The county executive and former state lawmaker said that his time with Israelis, such as meeting with President Isaac Herzog, taught him that there is "no animosity directed toward the Palestinian people."

"There's people that are protesting that they're pro-Palestine, as if the Israeli position is anti-Palestinian," he said in an interview while waiting to board his return flight at Ben Gurion Airport.

"There wasn't a 'let's go get those bastards' kind of mindset," he said. "The anger and fear is directed at Hamas as the terrorist organization that runs the country and that's a differentiation you don't often pick up."
Since declaring war in retaliation for a Hamas-led attack on October 7, Israel has killed nearly 15,900 Palestinians in Gaza and wounded another 42,000 in airstrikes and raids, according to health officials in the besieged enclave. At least hundreds of those killings have come after the seven-day pause in fighting that ended late last week.
Responding to Latimer's filing on Monday, Slate's Alex Sammon said, "There it is: after weeks of unnecessary hemming and hawing (during which he stockpiled an extra helping of cash from the Israel lobby), George Latimer is challenging Jamaal Bowman, aiming to [replace] one of the party's rising stars as a 70-year-old white freshman congressman."

It was Sammon who reported in mid-November that the lobby group American Israel Public Affairs Committee (AIPAC) is set to "spend at least $100 million in 2024 Democratic primaries, largely trained on eliminating incumbent Squad members" including Bowman, Bush, Omar, Lee, and Reps. Alexandria Ocasio-Cortez (D-N.Y.) and Rashida Tlaib (D-Mich.), who had a U.S. Senate candidate reject an offer of $20 million if he instead primaried her, the only Palestinian American in Congress.

Ocasio-Cortez's 2024 campaign said in a Monday email that "AIPAC's top recruit to challenge Jamaal Bowman officially filed his candidacy" and asked supporters to "please chip in right now to help us defend Jamaal and our progressive values."

Along with stressing his support for a cease-fire in Gaza, her campaign pointed out that Bowman is "his district's first Black representative" and "one of the only members of Congress with actual experience working in public education."

Westchester's News 12reported Monday that while Latimer "is preparing a video announcement over the next 24 hours and will formally launch his campaign by Wednesday," he is not Bowman's only challenger—Democratic "Dobbs Ferry investment banker Martin Dolan also plans to run."

While the contest is considered a test of whether politicians can survive criticizing Israel, some observers noted Monday that in March 2021, as many elected officials—including Bowman and Ocasio-Cortez—called on then-Democratic New York Gov. Andrew Cuomo to resign over outrage about his Covid-19 pandemic response and sexual misconduct allegations, Latimer said the claims should be taken seriously but also drew a comparison to Emmett Till, which he later retracted.

Who wins the next primary for New York's solidly Democratic 16th District could depend on an effort to replace the GOP-friendly map drawn by a court-appointed expert for the 2022 election cycle. City & Statereported last month that a new order could mean "the Independent Redistricting Commission—which is led by Latimer's deputy, Ken Jenkins—will have the opportunity to change the boundaries."

"The district currently includes much of Westchester and a sliver of the northern Bronx and is home to many Jewish voters who have turned against Bowman," the outlet explained. "Should the district lines change, it will change the dynamics of the race."

News