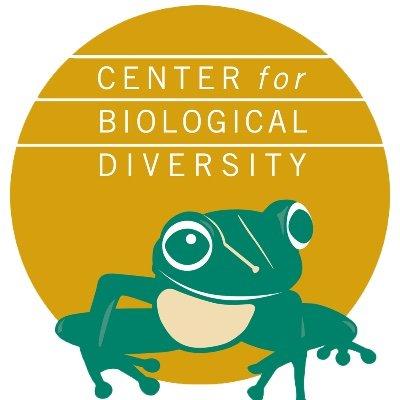 EPA Misses Key Deadlines for Analyzing Pesticides' Risks to People, Wildlife
PORTLAND, Ore.
The Environmental Protection Agency missed its own deadlines for completing risk assessments in 2015 for atrazine, glyphosate and imidacloprid, three highly controversial, toxic and commonly used pesticides. The assessments are crucial to understanding the threats the pesticides pose to animals, people and the environment.
"These risk assessments aren't just bureaucratic boxes to be checked," said Lori Ann Burd, environmental health director at the Center for Biological Diversity. "Every day that the EPA delays completing these much-needed reviews is a day that people and wildlife in the United States remain at risk from some of the most toxic chemicals in use today."
Imidacloprid is one of the most widely used insecticides in the world; seeds treated with this neonicotinoid are planted on millions of acres each year. It is highly toxic to bees and widely implicated in their mass die-offs. Under pressure from the White House to address dramatic bee declines, the EPA committed to completing a pollinator risk assessment for the potent insecticide in 2015, but has not released any such assessment. Imidacloprid and other neonicotinoids are banned in the European Union and across the 150-million-acre national wildlife refuge system. The U.S. Geological Survey has found imidacloprid, which is also highly toxic to birds and aquatic invertebrates, in nearly a quarter of all streams tested in a survey of seven midwestern states.
The EPA also committed to release, but failed to release, risk assessments for glyphosate in 2015. With more than 300 million pounds saturating the U.S. landscape each year, glyphosate is the most commonly used pesticide in the nation. In July the agency announced that it would be releasing ecological and human health risk assessments for glyphosate, recently declared a probable carcinogen by the World Health Organization and a leading cause of dramatic monarch butterfly declines. But despite promises of a summer release, the agency has not released any new risk assessments.
The EPA also promised to issue a risk assessment for atrazine in early 2015. Atrazine, which is famous for chemically castrating frogs even in tiny doses, is an endocrine disruptor, and likely causes birth defects in people. Up to 80 million pounds are used annually in the United States. Despite the substantial threats atrazine poses to people and wildlife, the EPA has missed its own deadline for evaluating the risk of this highly toxic pesticide.
"The EPA is dragging its feet in analyzing and telling the public about the full dangers of these pesticides," Burd said. "The public has a right to know, and the longer we're left in the dark, the greater the danger becomes."
In addition to failing to complete these three risk assessments, the agency is continuing to fail to comply with the law and consider the effects of pesticides under the Endangered Species Act. Under a landmark settlement reached between the EPA and the Center for Biological Diversity in June, the agency will analyze the impacts of atrazine and glyphosate on 1,500 endangered plants and animals.
At the Center for Biological Diversity, we believe that the welfare of human beings is deeply linked to nature — to the existence in our world of a vast diversity of wild animals and plants. Because diversity has intrinsic value, and because its loss impoverishes society, we work to secure a future for all species, great and small, hovering on the brink of extinction. We do so through science, law and creative media, with a focus on protecting the lands, waters and climate that species need to survive.
(520) 623-5252
LATEST NEWS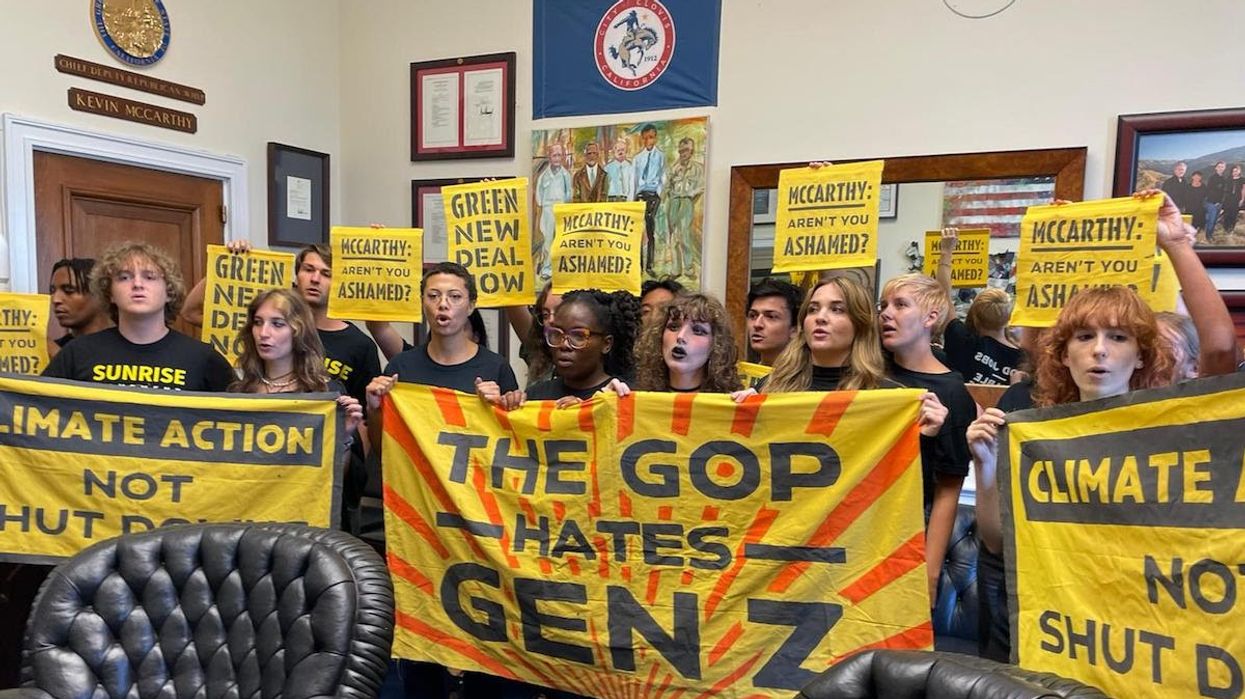 "Young people are here because Kevin McCarthy and other Republicans are playing political games with our lives. We're over this bullshit."
A group of youth climate activists occupied House Speaker Kevin McCarthy's office in Washington, D.C. on Thursday to condemn the Republican leader and his caucus for pushing the U.S. government to the brink of a destructive shutdown as they demand draconian cuts to food aid, housing assistance, and environmental programs.
"We are fed up and we won't take it anymore," said Adah Crandall a 17-year-old Sunrise Movement organizer who joined a number of other climate activists inside McCarthy's (R-Calif.) office. "As storms rage stronger, fires grow hotter, and heatwaves grow more deadly, Kevin McCarthy is playing political games with our futures. We're facing a climate emergency and McCarthy can't even do his job."
The Sunrise Movement said around 150 students from across the nation traveled to Capitol Hill Thursday to take part in the protest, which comes just two days before the federal government is set to shut down.
Eighteen youth activists were arrested outside of McCarthy's office during the demonstration, according to the climate group.
Earlier Thursday, the Biden administration began notifying government employees that they could soon be temporarily furloughed after McCarthy rejected a bipartisan short-term funding proposal put forth in the U.S. Senate this week.
"Speaker McCarthy is a coward," Shiva Rajbhandari, a 19-year-old Sunrise Movement organizer. "McCarthy and Republicans can either do their jobs, act on the climate crisis, and fund our schools, or they can risk our economy to appease a few extremists. Our generation is watching and we will hold them accountable for their actions."
The impacts of a shutdown on critical government functions and programs—and the overall U.S. economy—could be massive.
"With each passing day, Washington would further deplete federal safety net programs that carry over their unused money from past years," The Washington Post's Tony Romm reported earlier this week. "Eventually, the government might not be able to provide some poor families with childcare, nutrition assistance, housing vouchers, or college financial aid. The longer a shutdown persists, the greater the blow it could ultimately deliver to an economy that has teetered for more than a year on the precipice of recession."
Food & Water Action warned Thursday that "in the event of a shutdown, serious and specific threats to food and water safety could immediately arise," noting that Environmental Protection Agency (EPA) regulators "could be forced to suspend critical safety inspections at drinking water sources, hazardous Superfund waste sites, and chemical facilities."
Additionally, the group noted, the EPA "would be forced to shut down the $15 billion project to replace dangerous lead water pipes throughout the country, putting impacted families at continued risk."
"By driving this country to the brink of a shutdown, congressional Republicans are proving once again, in stark relief, that they simply don't care about the health and well-being of the American people," said Mitch Jones, deputy director of Food & Water Action. "Nowhere is this more obvious than in their willingness to shut down critical food and water safety inspections that occur every day across the country."
"Rather than working with Democrats to responsibly fund the government, Speaker McCarthy and his slim majority are catering to the most extreme right-wing members in an already extreme caucus," Jones added. "House Republicans should be thoroughly ashamed of themselves, and they must be shown the door in 2024."
News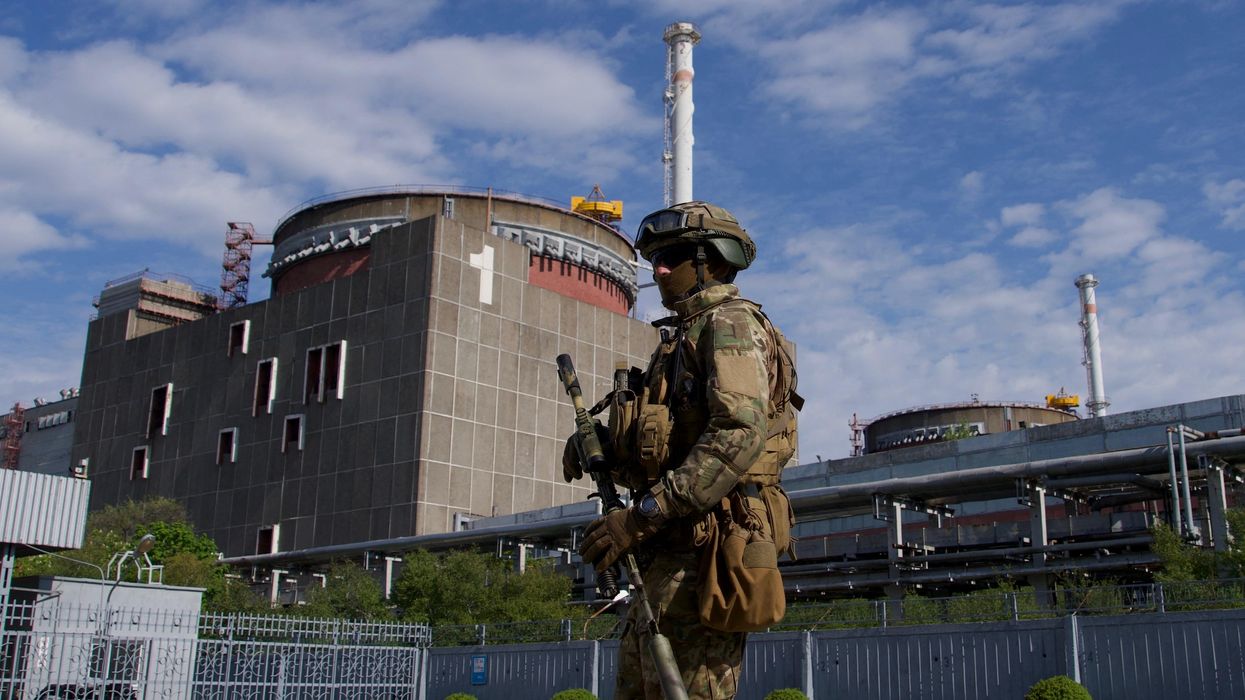 A new report found that Russian troops were likely "using the plant as a shield" in violation of the safety principles laid out by the International Atomic Energy Agency.
The Russian forces occupying Ukraine's Zaporizhzhia nuclear plant have been violating the safety principles established by the International Atomic Energy Agency, and the watchdog body has not been able to effectively monitor the situation.
That's the warning from a new Greenpeace report sent to Western leaders on Thursday, which argues that the IAEA needs to be more upfront about the reality of the situation.
"The IAEA reporting risks normalizing what remains a dangerous nuclear crisis, unprecedented in the history of nuclear power, while exaggerating its actual influence on events on the ground," wrote report authors Shaun Burnie, a senior nuclear specialist from Greenpeace East Asia, and Jan Vande Putte, a Greenpeace Belgium radiation and nuclear expert.
Russian forces seized the Zaporizhzhia plant on March 4, 2022, less than a month into the invasion.
"Since 2022 we have been deeply concerned by the multiple hazards and risks to the Zaporozhzhia nuclear plant posed by the Russian armed forces and the Russian state nuclear corporation, Rosatom," Burnie and Putte wrote.
To address these concerns, Greenpeace Germany commissioned former U.K. military specialists at McKenzie Intelligence Services to report on conditions at the plant.
"The Russian armed forces and Rosatom occupation pose a constant nuclear threat to Zaporozhzhia and must be condemned."
The result, Greenpeace said, "provides detailed evidence that the Zaporizhizhia nuclear plant is being used strategically and tactically by Russian armed forces in its illegal war against Ukraine."
For example, the report found that Russian troops were firing from positions between one and 18 kilometers (approximately 0.6 to 11 miles) from the plant, had constructed small defensive positions with sandbags on the roofs of some of the reactor halls, and are using a type of truck near the plant that is commonly used to transport weapons and combustible material.
It also concluded that both Russian forces and Rosatom are acting in violation of the five principles that IAEA Director General Rafael Mariano Grossi laid out in June to prevent a nuclear accident at the plant.
These principles are:
No launching attacks from or at the plant;
No storing weapons at the plant;
No threatening outside power sources;
Making sure all important structures are protected; and
No taking actions that go against these principles.
McKenzie found evidence that Russian forces have a firing pattern of settling in one location, attacking from another, and then moving again to avoid counterattacks. In this process, they appear to be "using the plant as a shield."
"All activity observed over the reporting period does suggest a precarious environment continues to exist at the plant," Burnie and Putte concluded.
The Greenpeace experts also reviewed the IAEA's monitoring in the context of McKenzie's findings, and argued that the agency could be more upfront about its limitations and Russia's violations.
IAEA only has four monitors for the largest nuclear plant on the continent, and they must conduct their investigation with restrictions placed on their movements and access, as well as the requirement that they make access requests a week in advance.
Despite all this, Burnie said in a statement, "the director general's reporting is incomplete and misleading, including the assessment of Russian noncompliance with safety and security principles."
"The Russian armed forces and Rosatom occupation pose a constant nuclear threat to Zaporozhzhia and must be condemned—but currently the IAEA is unable to fully report on the security and safety hazards they pose," Burnie continued. "That has to change."
The advocacy group prepared the report ahead of an IAEA discussion of the situation in Ukraine in Vienna Thursday, as well as the IAEA Board of Governors meeting October 2. On Wednesday night, Greenpeace sent copies to the board's member governments, The Guardian reported.
IAEA did not comment on the report directly. However, it told The Guardian that, without its inspectors stationed there since September 2022, "the world would have no independent source of information about Europe's largest nuclear power plant."
However, Greenpeace argued the agency could take steps to improve that information.
"Greenpeace is calling on the IAEA board member governments to review the scale and scope of the IAEA mission, and to work with member states, and in particular the government of Ukraine, to institute whatever measures that will bring maximum pressure to bear on the Russian armed forces and Rosatom at the plant and to bring about an early end to the current military occupation of the Zaporizhzhia nuclear plant," Burnie and Putte wrote.
These measures could include an improved analysis by the IAEA and sanctions against Rosatom, Greenpeace said.
News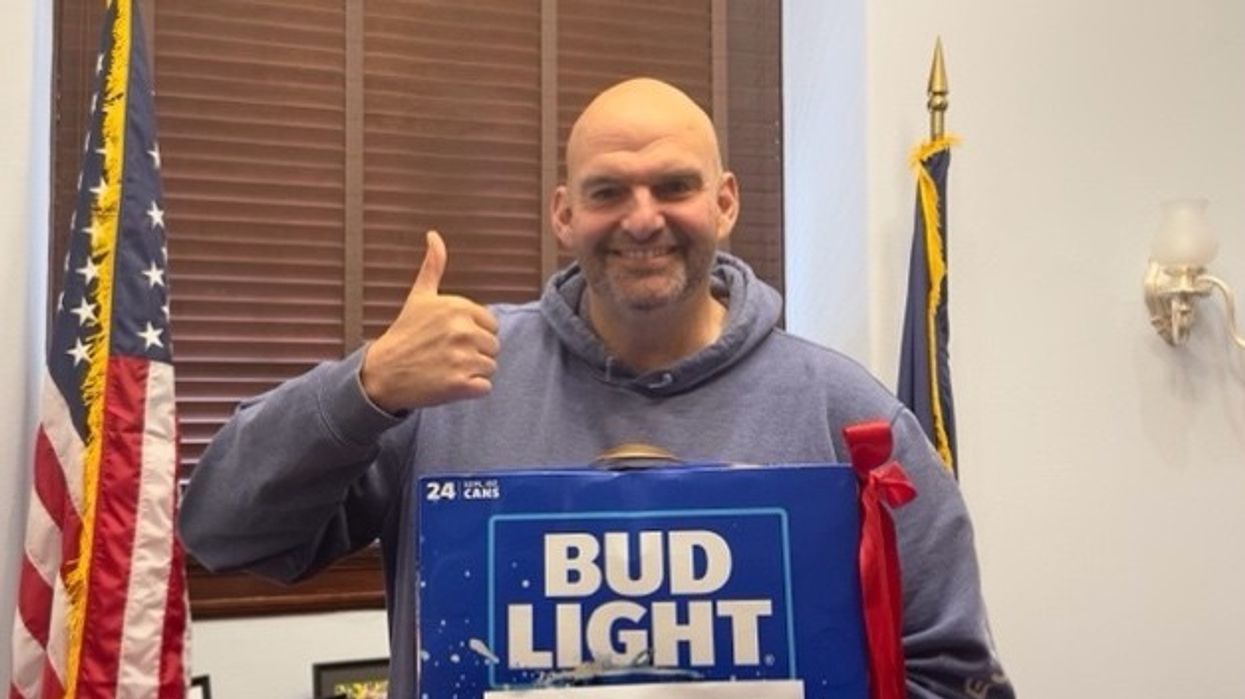 The Democrat "directed his staff to deliver a gift to the House Oversight Committee to congratulate and salute Rep. Comer and his Team America™ squad as they embark on their historic impeachment journey."
Democratic U.S. Sen. John Fetterman of Pennsylvania continued his trend of calling Republican lawmakers on "their bullshit" by delivering a case of Bud Light beer to the House Committee on Oversight and Accountability on Thursday, as the panel held its first hearing for the GOP's widely condemned impeachment inquiry into President Joe Biden.
Instead of trying to avert the looming government shutdown, House Speaker Kevin McCarthy (R-Calif.) caved to the far-right wing of his party earlier this month by announcing the impeachment probe—led by Oversight Chair James Comer (R-Ky.)—despite the lack of any evidence of wrongdoing by the Democratic president.

Fetterman's office said that the first-term senator "directed his staff to deliver a gift to the House Oversight Committee to congratulate and salute Rep. Comer and his Team America™ squad as they embark on their historic impeachment journey."
His stunt was lauded online as "top tier trolling," given that some right-wing political leaders and other transphobic figures behind attacks on LGBTQ+ people and rights have boycotted Bud Light this year because of its paid partnership with trans social media influencer Dylan Mulvaney.
Thursday was not the first time Fetterman has garnered attention for mocking the GOP's impeachment inquiry.
Asked by a journalist to comment on the probe just after McCarthy announced it, Fetterman sarcastically said in a video that quickly spread online, "Oh my gosh, you know, oh—it's devastating!"
After chuckling, he added: "OooOooo. Don't do it! Please, don't do it!"
News
Independent, nonprofit journalism needs your help.
Please Pitch In
Today!