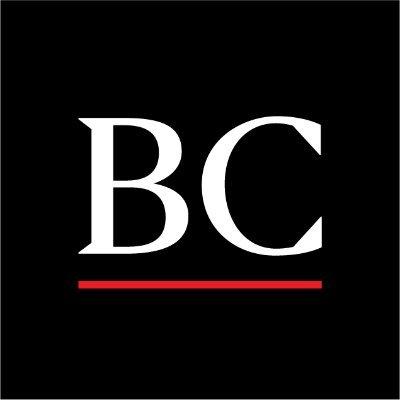 For Immediate Release
June, 29 2015, 11:45am EDT
Supreme Court's Arizona Redistricting Ruling a Major Victory for Voters
WASHINGTON
In a 5-4 ruling today, the U.S. Supreme Court, in Arizona State Legislature v. Arizona Independent Redistricting Commission upheld an Arizona ballot initiative, adopted by voters in 2000, which took redistricting power away from elected politicians and gave it to a nonpartisan commission.
The Court's ruling allows redistricting commissions to remain in place across the country. The decision also leaves intact dozens of other election laws enacted by ballot initiative, legislative referendum, or constitutional amendment. See the Brennan Center's interactive map detailing the kind of measures that were at risk.
"This decision reaffirms the people's authority to rein in self-dealing legislators," said Wendy Weiser, director of the Democracy Program at the Brennan Center for Justice at NYU School of Law, which submitted an amicus brief in the case. "The Constitution is not a barrier to states who want to address the problem of partisan gerrymandering."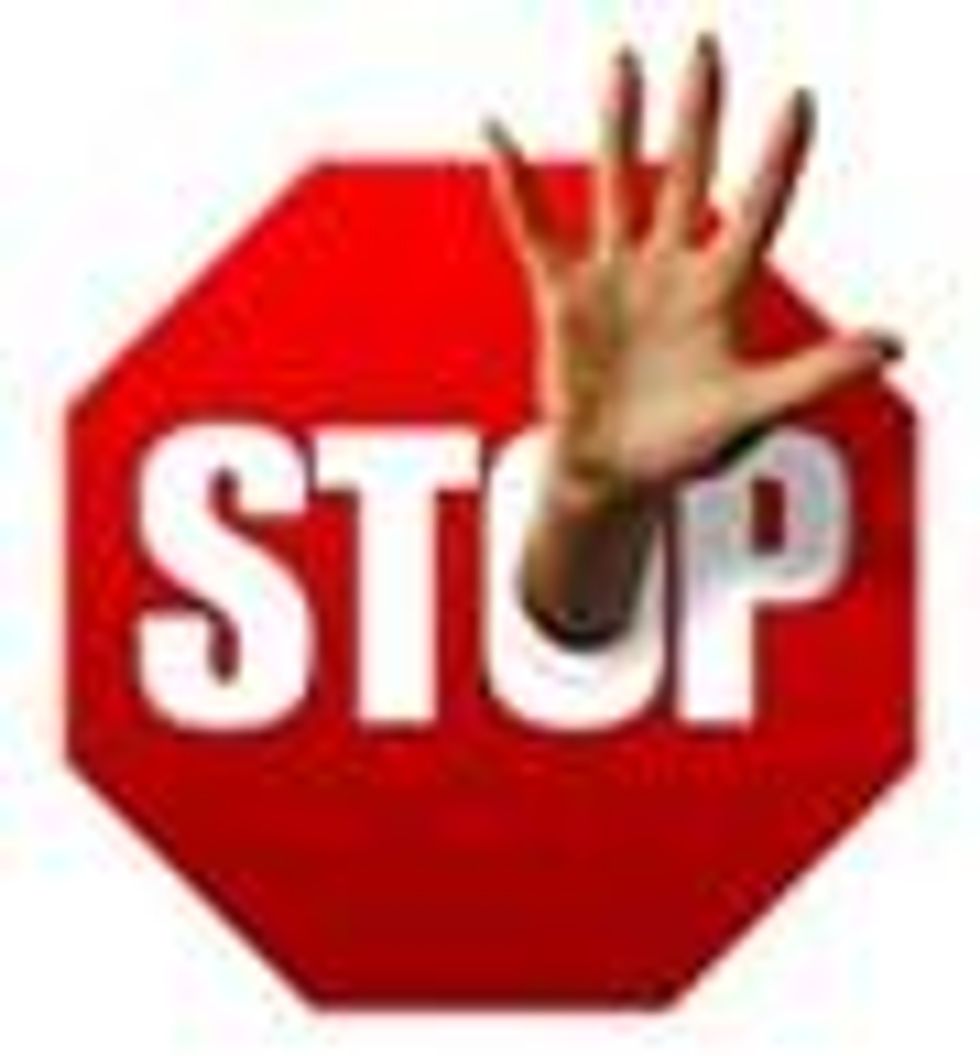 We Interrupt This Article with an Urgent Message!
Common Dreams is a not-for-profit news service. All of our content is free to you - no subscriptions; no ads. We are funded by donations from our readers.

Our critical Mid-Year fundraiser is going very slowly - only 1,334 readers have contributed so far. We must meet our goal before we can end this fundraising campaign and get back to focusing on what we do best.
If you support Common Dreams and you want us to survive, we need you now.
Please make a tax-deductible gift to our Mid-Year Fundraiser now!
"Today's ruling is a big win for voters because it validates the power of citizens to use the ballot box to combat dysfunction," said Michael Li, counsel at the Center. "By leaving in place important redistricting reforms in Arizona and California, the Supreme Court reaffirmed the principle that voters have the freedom under the Constitution to experiment with ways to make their democracy work better."
Li will join Seth Waxman from Wilmer Hale, Jessica Ring Amunson from Jenner & Block, and Kathay Feng from Common Cause, on a phone briefing at 1 p.m. ET today to discuss the decision's legal contours and what it means for state redistricting commissions. Dial: (857) 232-0158, Code: 603329.
Case Background:
The case, Arizona State Legislature v. Arizona Independent Redistricting Commission, challenged a state constitutional amendment adopted in 2000 by Arizona voters, which created a politically neutral commission drawing new boundaries for the state's congressional districts every 10 years. Before the amendment, the state legislature, as in many states, had been responsible for setting and adjusting district lines.
The Commission drew district boundaries in 2001 and again in 2011. After the 2011 redistricting, however, the Republican-controlled state legislature sued the Commission, arguing that use of the Commission to draw maps violated the U.S. Constitution's Elections Clause. At issue was a portion of the Elections Clause that provides that the "times, places and manner of holding elections for Senators and Representatives, shall be prescribed in each state by the legislature thereof." Because redistricting traditionally has been construed to fall within the ambit of "manner" of holding elections, Arizona argued the strict language of the clause means congressional districts can be drawn only by state legislatures.
A three-judge federal panel rejected the challenge in 2014 in a 2-1 decision, holding that the use of the term "legislature" in the Elections Clause should be read to refer to the entirety of a state's legislative process, including ballot initiatives passed by the voters.
See the Brennan Center's amicus brief here. See a summary of the other briefs here.
***Legal Experts Will Hold Media Briefing at 1 p.m. ET, Dial: (857) 232-0158, Code: 603329
The Brennan Center for Justice is a nonpartisan law and policy institute. We strive to uphold the values of democracy. We stand for equal justice and the rule of law. We work to craft and advance reforms that will make American democracy work, for all.
(646) 292-8310
LATEST NEWS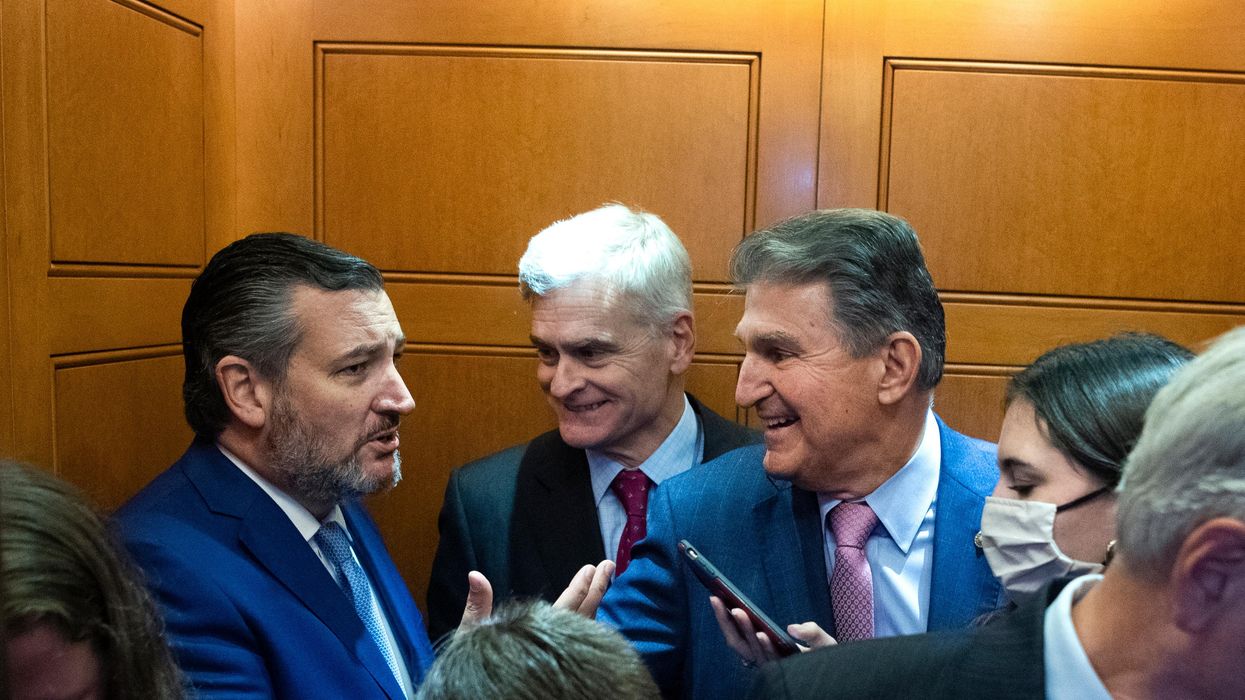 One critic said the right-wing Democrat intends "to inhibit climate action and undermine agencies charged with protecting public health and safety—all in the interest of propping up his fossil fuel funders."
Republican Sen. Ted Cruz of Texas and right-wing Democratic Sen. Joe Manchin of West Virginia on Thursday introduced legislation that would prevent a federal agency from banning gas stoves.
Cruz and Manchin's bill to preempt the U.S. Consumer Product Safety Commission (CPSC) from banning gas stoves—titled the Gas Stove Protection and Freedom Act and described by progressive advocacy group Food & Water Watch as "absurd"—comes even though the agency says it has no plans to implement such a prohibition.
Climate and public health advocates celebrated last month after CPSC Commissioner Richard Trumka Jr. told Bloomberg News that gas stoves are "a hidden hazard" and suggested that new ones should be banned.
However, as Reutersreported Thursday, Trumka "walked back those comments after conservatives and energy industry groups seized on them as a way to criticize the Biden administration for allegedly overreaching with its climate and environmental policy agenda."
Food & Water Watch observed that while "there is currently no plan" to ban gas stoves, "there is substantial research documenting the hazards associated with the air pollution" the methane-powered appliances create.
A widely shared recent study found that 12.7% of childhood asthma cases in the U.S. can be tied to indoor air pollution caused by gas stoves. The findings bolstered calls from environmental justice advocates and public health experts to prohibit the sale of new gas stoves and expedite the switch to cleaner and safer electric ones, but the CPSC has yet to propose regulatory action.
"Manchin is doing his part to fuel the ridiculous right-wing panic over a nonexistent war on gas stoves," Food & Water Watch policy director Jim Walsh said Thursday. "But his intent behind this legislation is serious: to inhibit climate action and undermine agencies charged with protecting public health and safety—all in the interest of propping up his fossil fuel funders."
"As state and local governments are increasingly looking to turn away from gas in new construction—moves that will improve air quality and public health, and reduce climate pollution—Sen. Manchin continues looking backward," said Walsh.
\u201ctwo of Congress's biggest beneficiaries of fossil fuel $ are here to defend gas stoves from a non-existent ban\n\nfabulous stuff\n\noil/gas contributions over career: \nCruz: $4,242,269\nManchin: $1,261,766 (incl. $757,059 in 2022 cycle)\u201d

— Chris D'Angelo (@Chris D'Angelo) 1675358153
Manchin is the top congressional recipient of cash from the fossil fuel industry, which has fought aggressively against increasingly popular campaigns to outlaw gas stoves at the state and local levels.
However, the coal baron who leads the Senate Energy and Natural Resources Committee is far from alone in his defense of planet-heating and illness-inducing gas stoves.
As The Washington Postreported Thursday, Natural Allies for a Clean Energy Future—a nonprofit group founded by a half-dozen gas companies—"has enlisted prominent Democratic politicians and pollsters to help enhance gas' reputation among liberal voters."
Former Sens. Mary Landrieu (D-La.) and Heidi Heitkamp (D-N.D.) and former Rep. Tim Ryan (D-Ohio) are among those going to bat for the fracking and gas utility industries.
"Natural Allies is backed by TC Energy, the Canadianpipeline giant behind the controversial Keystone XL project, and Southern Company, one of the biggest U.S. utilities," the Post reported. "Launched shortly before the 2020 election, the group is led by Susan Waller, a former executive at the pipeline firm Enbridge."
News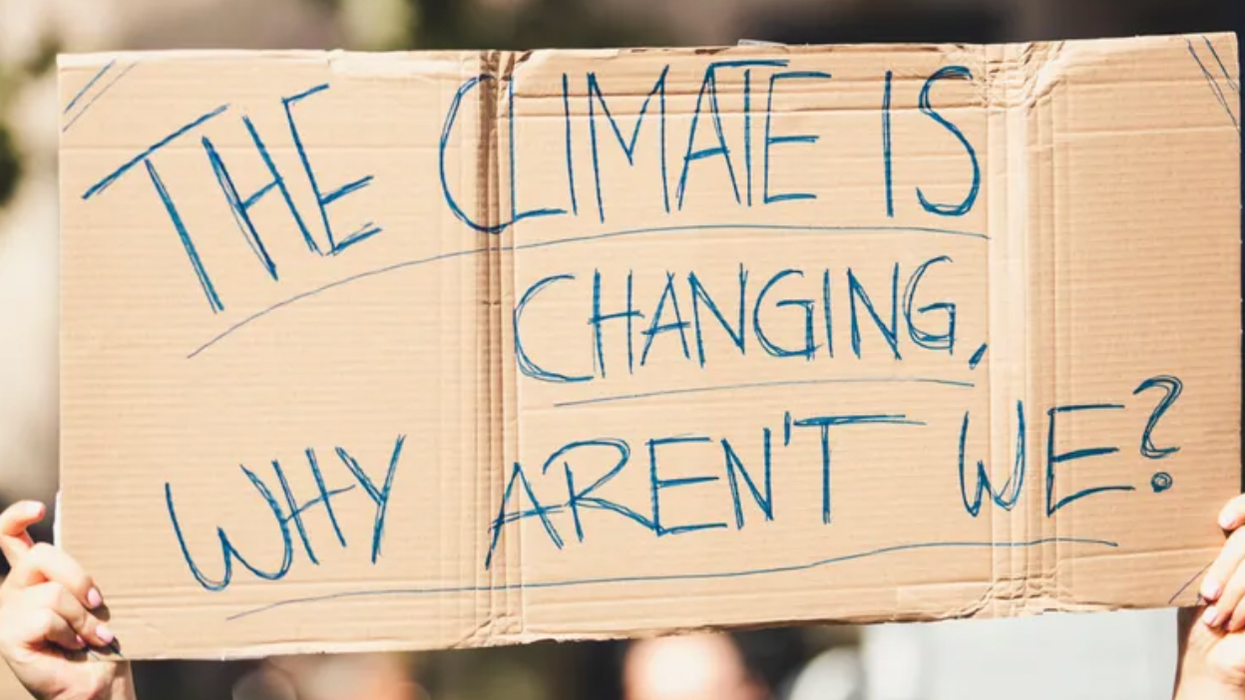 "In order to be equipped for a warmer world, we have to anticipate changes, get the affected parties on board, and take advantage of local knowledge," said one researcher.
Scientists at the University of Hamburg in Germany argued Wednesday that meeting the 2015 Paris climate agreement's goal of limiting planetary heating to 1.5°C is "currently not plausible"—but warned that despairing over climate "tipping points" risks taking attention away from "the best hope for shaping a positive climate future... the ability of society to make fundamental changes."
The Hamburg Climate Futures Outlook assessed the planetary impacts of several "physical processes that are frequently discussed as tipping points." These include the melting of sea ice in the Arctic and glaciers at the North and South Poles; the weakening of the Atlantic Meridional Overturning Circulation (AMOC), the system of ocean currents that carries warm water upward into the North Atlantic; and "dieback" in the Amazon rainforest, in which rising temperatures would dry out trees and eventually change the forest landscape into a savanna, releasing billions of tons of stored carbon.
Those scenarios "are serious developments," said researchers at the university, but the melting of ice "will have very little influence on the global temperature until 2050." The weakening of AMOC and Amazon dieback will have a "moderately" greater influence on global temperatures.
"Human agency has a large potential to shape the way climate futures will evolve."
"By extrapolating current trends," reads the study, "permafrost thaw and Amazon Forest dieback are expected to release somewhat more than one year's worth of today's anthropogenic CO2 emissions between now and 2050. Thus, the contributions of these two processes to the remaining carbon budget are small. Since both will only moderately affect the global surface temperature, we deduce that they also only moderately inhibit the plausibility of attaining the Paris agreement temperature goals."
Such tipping points "could drastically change the conditions for life on Earth," but for experts, progressive politicians, and campaigners who share the goal of limiting planetary warming to 1.5°C—or as close to that as possible—"they're largely irrelevant," said Jochem Marotzke, a study co-author and professor at the university's Cluster of Excellence "Climate, Climatic Change, and Society" (CLICCS).
In other words, The Hillexplained, "Keeping global warming below 1.5°C—the goal set in the Paris agreement—is implausible for social reasons, not technical ones."
The researchers also examined 10 "drivers of social change" including media, United Nations climate policies, transnational initiatives, climate regulations, climate litigation, knowledge production, consumption patterns, corporate responses, fossil fuel divestment, and climate and social movements like the global Fridays for Future movement and Extinction Rebellion.
\u201cTo analyze the scenario, we assess 10 social drivers and 6 physical processes using our integrated CLICCS Plausibility Assessment Framework.\u201d

— CEN Uni Hamburg (@CEN Uni Hamburg) 1675248518
With fossil fuel companies continuing to make long-term investments in oil and gas extraction even as they announce pledges to reach net-zero carbon emissions, and rampant consumption of carbon-intensive goods showing no sign of slowing down, the study says, corporate responses and consumption patterns "continue to undermine the pathways to decarbonization, let alone deep decarbonization."
A number of social drivers including social movements, climate regulations, and fossil fuel divestment were found to currently "support decarbonization, but not deep decarbonization by 2050," which is needed to attain the 1.5°C goal.
"There are promising reforms underway, especially at the E.U. level," reads the report, adding that "general and ongoing public interest in and focus on climate policies" is an "enabling condition" that could help strengthen global movements and ramp up pressure on policymakers.
The researchers' assessment of the 10 social drivers demonstrates "that human agency has a large potential to shape the way climate futures will evolve," tweeted CLICCS. "However, human agency is strongly shaped by injustices and social inequalities, which inhibit social dynamics toward deep decarbonization by 2050."
The study identified how human actions can help shift the current trajectory "toward deep decarbonization," including:
The election of governments committed to climate action in countries including Australia, Brazil, Chile, Germany, and the U.S.;
More engagement and influence of individuals and organizations with strong and independent climate science journalism, to help support societal mobilization for climate action; and
Proactive communication from everyone interested in a more productive public debate on climate action based on social consensus.
"In order to be equipped for a warmer world, we have to anticipate changes, get the affected parties on board, and take advantage of local knowledge," said Anita Engels of the Center for Earth System Research and Sustainability at University of Hamburg. "Instead of just reacting, we need to begin an active transformation here and now."
News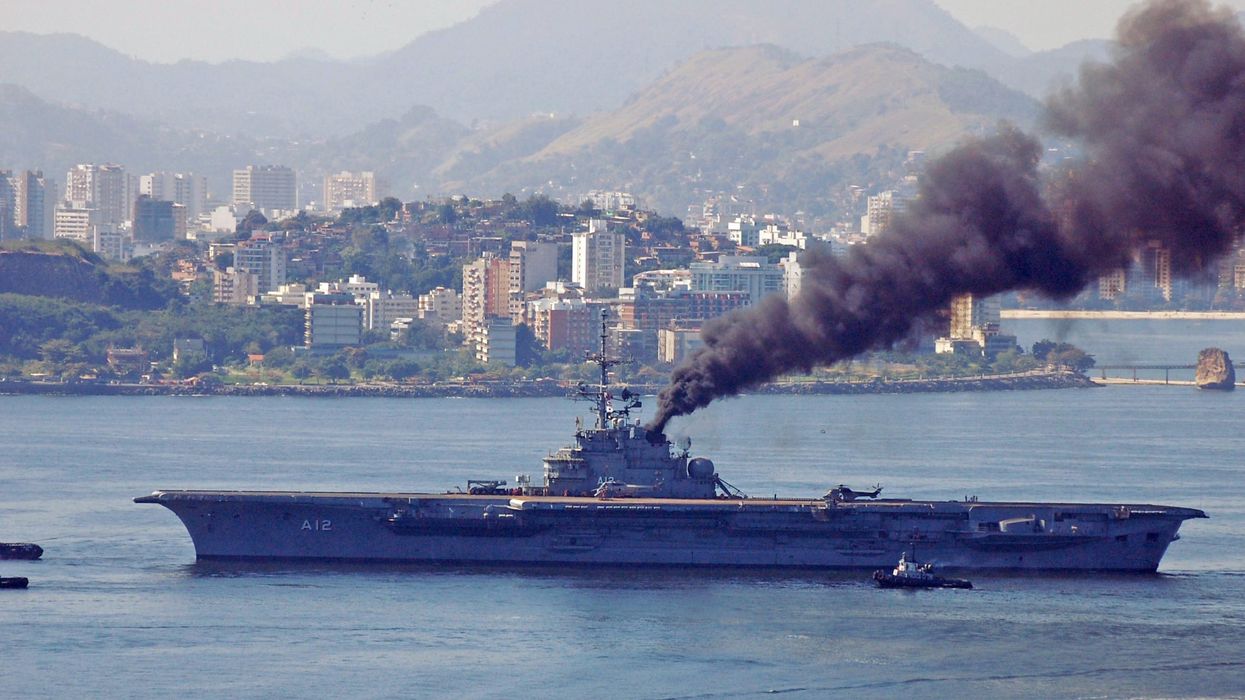 Intentionally sinking the vessel "would equate to a state-sponsored environmental crime," said one shipbreaking expert.
The former flagship of Brazil's navy—an ex-French aircraft carrier built in the late 1950s that environmentalists estimate contains hundreds of tons of highly carcinogenic chemicals—will be scuttled at sea after being denied permission to be scrapped in Turkey, Brazilian naval officials said on Wednesday.
The NAe São Paulo (A-12), an 870-foot Clemenceau-class carrier first commissioned by the French navy in 1963 as the Foch, will be sunk using explosives about 217 miles off Brazil's coast in the country's exclusive economic zone at a depth of around 16,000 feet, Brazilian Environmental Minister Marina Silva said after a federal judge denied a government request to stop the sinking on environmental grounds.
"Given its deteriorating floating condition and the inevitability of uncontrolled sinking, there is no other option but to jettison the hull and sink it in a planned way," Brazil's navy said of the ship in a statement, according to Reuters.
Silva, and many environmentalists, did not want to sink the vessel, which contains an unknown quantity of toxic substances. French authorities said they believed there were 45 tons of asbestos—a common fire retardant at the time of the carrier's construction—onboard, although experts said the figure is likely higher.
"We're talking about a ship containing both hazardous materials and valuable materials—it's supposed to be brought into the territory of Brazil and managed in an environmentally sound way."
Basel Action Network (BAN), a Seattle-based NGO that works to stop the export of toxic waste to developing nations, estimates the São Paulo contains around 300 tons of highly carcinogenic polychlorinated biphenyls (PCBs).
Under pressure from environmental groups including BAN, Turkish authorities last September rescinded permission for the São Paulo to be towed to Turkey for scrapping after Brazilian officials could not provide a satisfactory list of toxic substances aboard the carrier.

BAN executive director Jim Puckett said that abandoning the São Paulo at sea would be an act of "gross negligence," as well as a violation of three international environmental conventions.
"We're talking about a ship containing both hazardous materials and valuable materials—it's supposed to be brought into the territory of Brazil and managed in an environmentally sound way," Puckett toldTime. "You can't just sink it."
Nancy Wallace, director of the U.S. National Oceanic and Atmospheric Administration's marine debris program, concurred.
"Anytime there's a vessel that's left at sea, the first thing to think about is toxic chemicals, which can be very impactful to wildlife," Wallace said.
In a statement last month, Ingvild Jenssen, founder and executive director of NGO Shipbreaking Platform, asserted that "intentionally sinking this toxic aircraft carrier would equate to a state-sponsored environmental crime."

Brazil purchased the vessel from France for $12 million in 2000, and the São Paulo served as the Brazilian navy's flagship until it was decommissioned in 2018.
In a late twist, earlier this week a Saudi business group offered the equivalent of $6 million for the São Paulo's hull—three times the offer made by the Turkish shipyard that had tried to acquire the ship.

Puckett argued the vessel is simply too valuable to be scuttled.
"It's got millions of dollars worth of steel to be recycled, which far outweighs the cost of managing those hazardous materials," he contended. "I've never seen such a valuable ship being deliberately sunk."
News
SUPPORT OUR WORK.
We are independent, non-profit, advertising-free and 100%
reader supported.