VPC Statement on Signing of New Domestic Violence Law in South Carolina
WASHINGTON
Today, South Carolina Governor Nikki Haley signed a bill into law that strengthens penalties for domestic abusers and sets new restrictions on gun possession for domestic violence offenders, including a lifetime gun ban for the most severe crimes. A major impetus for the legislation was the annual study by the Violence Policy Center (VPC), which has consistently ranked South Carolina in the top 10 states for the rate of women murdered by men.
"This new law is a victory for South Carolina's domestic violence prevention advocates who work tirelessly to protect women and families from domestic violence and prevent domestic abusers from having guns," states VPC Legislative Director Kristen Rand. "South Carolina's governor and legislators have taken an important step forward to help stop lethal violence against women, and it is our hope that other states will be encouraged to follow South Carolina's lead."
The VPC's annual study, When Men Murder Women, is released in advance of Domestic Violence Awareness Month each October. The most recent study, released in 2014, ranked South Carolina second in the nation for the rate of women murdered by men. The state has ranked in the top 10 states for the rate of women murdered by men for each of the past 17 years.
This year, the Post and Courier newspaper won the Pulitzer Prize for Public Service for the paper's 2014 investigative series on domestic violence, "Till Death Do Us Part," which was spurred by South Carolina's high ranking for the rate of women murdered by men.
The Violence Policy Center (VPC) works to stop gun death and injury through research, education, advocacy, and collaboration. Founded in 1988 by Executive Director Josh Sugarmann, a native of Newtown, Connecticut, the VPC informs the public about the impact of gun violence on their daily lives, exposes the profit-driven marketing and lobbying activities of the firearms industry and gun lobby, offers unique technical expertise to policymakers, organizations, and advocates on the federal, state, and local levels, and works for policy changes that save lives. The VPC has a long and proven record of policy successes on the federal, state, and local levels, leading the National Rifle Association to acknowledge us as "the most effective ... anti-gun rabble-rouser in Washington."
LATEST NEWS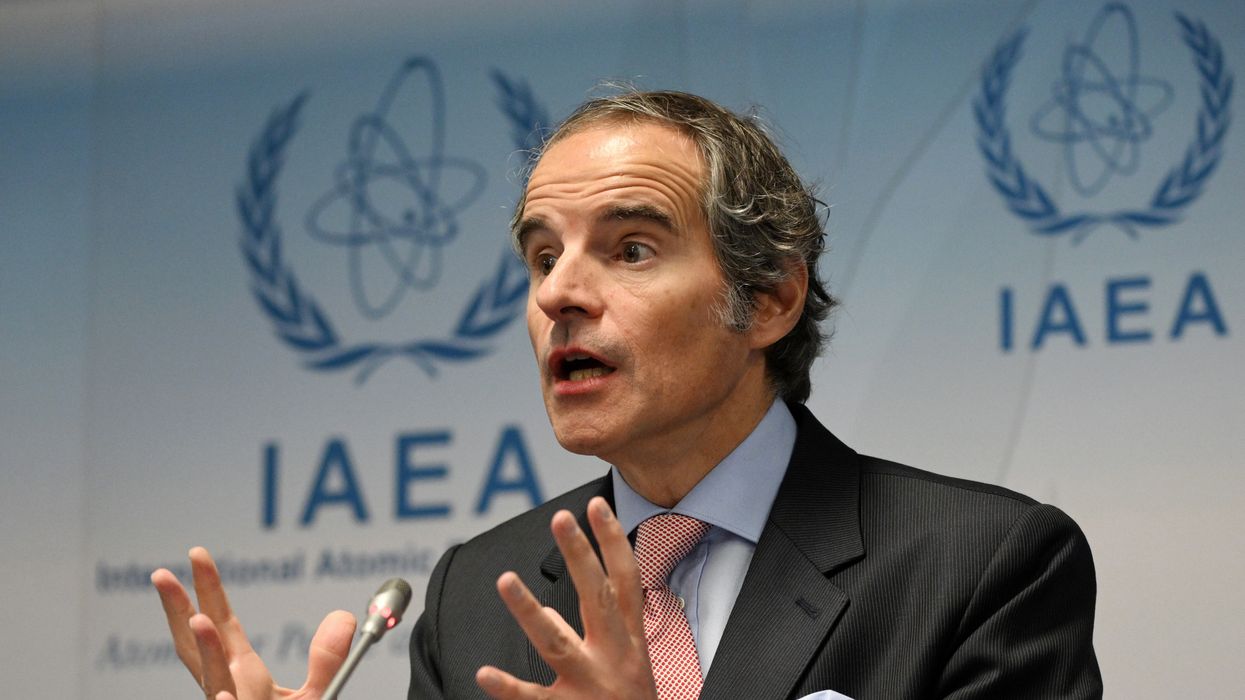 "What are we doing? How can we sit here in this room this morning and allow this to happen? This cannot go on," International Atomic Energy Agency chief Rafael Grossi said following a massive Russian attack on Ukraine.
The largest nuclear energy plant in Europe, located in southern Ukraine, lost all off-site power for the sixth time in a year as Russian forces carried out a massive missile attack on Thursday, once again raising fears of a nuclear catastrophe with continent-wide implications.
Rafael Grossi, director-general of the International Atomic Energy Agency, expressed dismay over the repeated near-misses at the Zaporizhzhia nuclear plant and said he is "astonished by the complacency" in the face of such a threat.
"What are we doing? How can we sit here in this room this morning and allow this to happen? This cannot go on," Grossi said in a statement to the IAEA Board of Governors. "Each time we are rolling a dice. And if we allow this to continue time after time then one day our luck will run out. I call on everyone in this room today and elsewhere—we must commit to protect the safety and security of the plant. And we need to commit now."
Grossi noted that Thursday marked the first time since November that the nuclear plant has lost all off-site power, sparking the activation of emergency diesel generators. The IAEA chief said there is enough diesel at the facility to power it for just over two weeks.
A constant supply of power to the plant is necessary to prevent a nuclear meltdown.

"This is the sixth time—let me say it again, this is the sixth time—that the Zaporizhzhia nuclear power plant has lost all off-site power and has had to operate in this emergency mode," Grossi said. "Let me remind you—this is the largest nuclear power station in Europe."
Russian forces currently control the nuclear facility, which IAEA inspectors visited in September following months of grave safety concerns.
In the wake of the trip, the United Nations agency issued a report warning that "any further escalation affecting the six-reactor plant could lead to a severe nuclear accident with potentially grave radiological consequences for human health and the environment in Ukraine and elsewhere."
Last March, Greenpeace released an analysis similarly cautioning that a Zaporizhzhia disaster could "render vast areas of the European continent, including Russia, uninhabitable for decades."
Energoatom, Ukraine's state nuclear energy operator, told the Associated Press on Thursday that the power supply to Zaporizhzhia can be restored "within a day or two" and that emergency fixes to a disconnected power line are underway.
Energoatom has accused the Russian forces occupying the plant of compromising its physical integrity. Citing the nuclear energy firm, The New York Timesreported earlier this week that "Russian soldiers have recently set up machine guns on the grounds of the plant, placed military equipment in engine rooms, covered windows with sandbags, and even carried out indoor welding work that has set off fire alarms."
"Those actions come on top of damage from shelling last summer, including to an area where spent nuclear fuel is stored; disruptions to the plant's management in power struggles with Russian occupiers; and the shutdown of the complex's six reactors," the Times noted.
During Thursday's barrage, Russia reportedly launched more than 80 missiles in the direction of Ukrainian cities—dozens of which were intercepted, according to Ukrainian officials.
AP reported that "the Russian Defense Ministry said the strikes were in retaliation for a recent incursion into the Bryansk region of western Russia by what Moscow claimed were Ukrainian saboteurs. Ukraine denied the claim and warned that Moscow could use the allegations to justify stepping up its own assaults."
The bombardment came as the prospect of a diplomatic resolution to the war in the near future appeared virtually nonexistent after more than a year of deadly fighting, with Russia continuing its assault on Ukraine while western governments—principally the United States—continue to pump weapons into the war zone.
"Let there be no doubt: Putin should immediately stop this insanity in Ukraine," The Intercept's Jeremy Scahill wrote in a column last week. "This is a gruesome and murderous campaign he's engaged in, and the death toll is shocking. The Biden administration should do what we are constantly told is untenable, unrealistic, or characterized as appeasement: make a negotiated end to the war the top priority."
"It's a reasonable position for people watching this bloodbath to want to do everything possible to help Ukrainians defend themselves, and supporting weapons transfers to Ukraine does not make you a pawn of the U.S. imperial state," Scahill continued. "But the argument over whether the U.S. and NATO should be giving military aid is a trap because it's presented as a binary choice. What has our government done to seek alternative paths? Has it exhausted all diplomatic efforts?"
News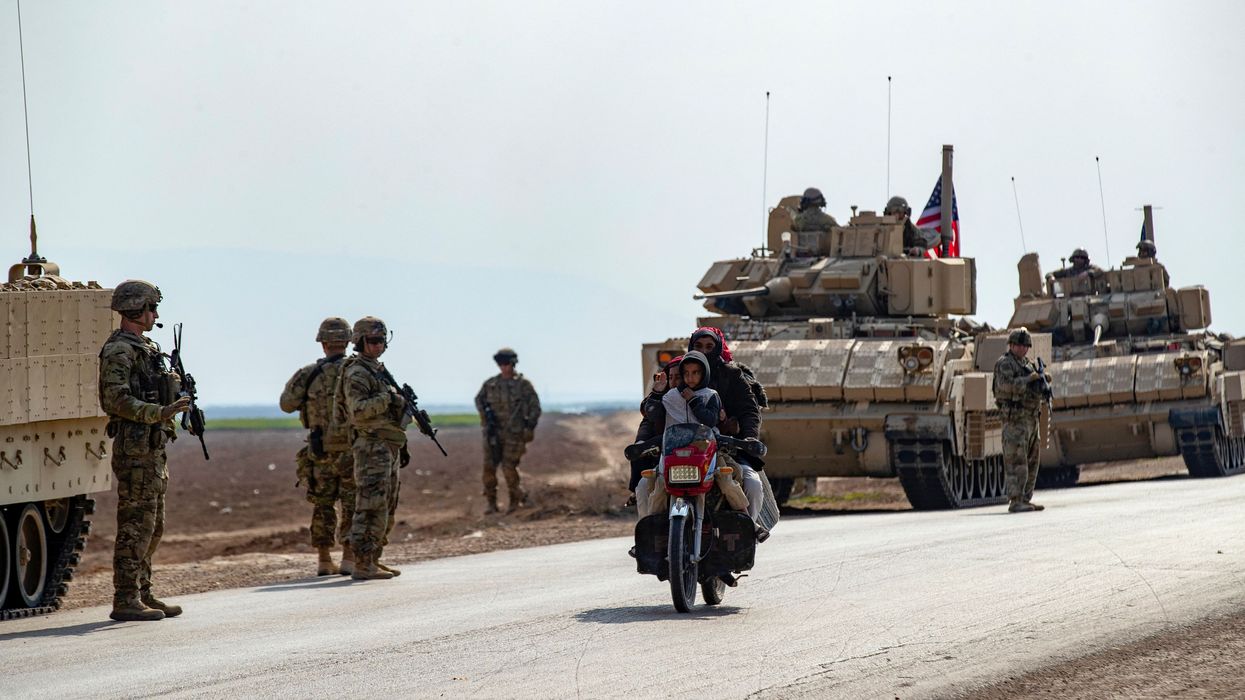 House Minority Leader Hakeem Jeffries and Speaker Kevin McCarthy were among the no votes on the resolution led by Rep. Matt Gaetz and backed by progressives.

More than 170 House Republicans and 150 Democrats teamed up Wednesday to defeat a resolution aimed at withdrawing all remaining U.S. troops from Syria, a proposal led by right-wing Rep. Matt Gaetz and supported by members of the Congressional Progressive Caucus.
The measure, just the latest House push to bring the nation's yearslong military presence in Syria to an end, failed by a vote of 103 to 321, with Democratic House Minority Leader Hakeem Jeffries of New York and Republican Speaker Kevin McCarthy of California among the no votes.
The resolution would have required the president to remove 900-plus U.S. troops from Syria within 180 days of passage, barring congressional action to authorize their continued presence.
Opponents of the resolution who support prolonging the occupation echoed the Pentagon claim that U.S. forces are needed in Syria to prevent a resurgence of ISIS and to ensure "stability" in the region.
"Either we fight 'em in Syria, or we'll fight 'em here," said Republican Rep. Ryan Zinke of Montana.

While lamenting the proposal's defeat, peace advocates noted that it garnered more Republican support than any previous war powers resolution, with 47 GOP yes votes. Fifty-six House Democrats—including Reps. Ilhan Omar of Minnesota, Ro Khanna of California, Alexandria Ocasio-Cortez of New York, and Cori Bush of Missouri—voted for the resolution.
"There is a new generation of thinking on two central issues," Khanna toldThe Intercept following Wednesday's vote. "A concern about wars and entanglements over the last 20 years that have not made us safer, and a concern over the offshoring of our domestic production over bad trade deals that have left the working class and middle class poorer."
"I believe that this new generation of political leaders can help fix those two mistakes that the country has made, and that there is an emerging consensus that we should not have our troops fighting overseas without congressional authorization," Khanna added. "If the president wants to make the case for a certain presence that is required for America to protect the Kurds, then he should come to Congress and work with us to make that case."
As The Intercept's Ryan Grim and Daniel Boguslaw noted, "the legal rationale for U.S. occupation" of Syria is "dubious at best."
Opponents of the Syria war powers resolution, including Zinke, pointed to the 2001 Authorization for Use of Military Force (AUMF)—a law that U.S. presidents have cited to give legal cover for airstrikes and ground operations in Afghanistan, Iraq, Yemen, Somalia, and elsewhere.
"With ISIS suppressed," Grim and Boguslaw wrote, the Biden administration "has suggested the purpose of the occupation is to act as a bulwark against Iran."
Pointing to U.S. officials' claim that the presence of American troops prevents Iranian forces from establishing a "land bridge" to shuttle weapons to allies in Lebanon, Grim and Boguslaw observed that Iran "already has a direct 'land bridge' through eastern Syria to Lebanon; the U.S. occupation merely adds some time to the Iranian truckers' journey."
Critics of the U.S. troop presence in Syria have stressed that Congress did not specifically authorize a military operation to confront "Iran-backed militias" in Syria.

News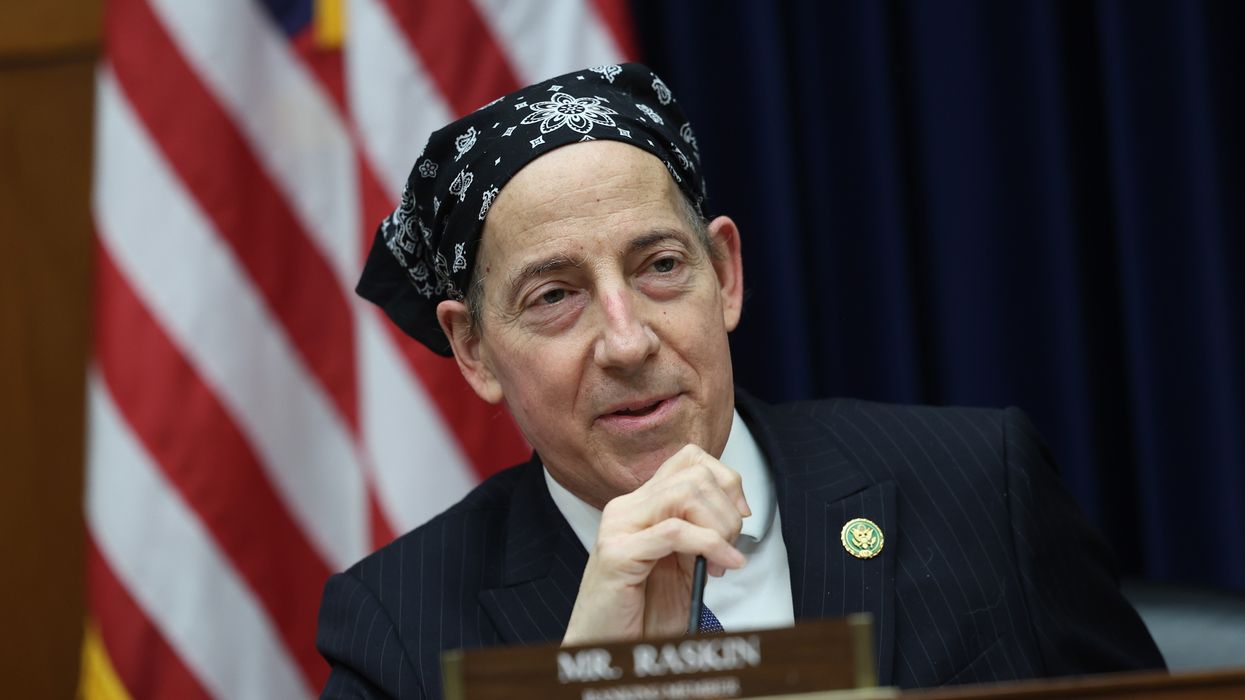 "America, we cannot let McCarthy and Carlson become the Orwellian editors of our past or the authoritarian authors of our future," exhorted the Maryland Democrat.
As right-wing politicians and pundits continue to peddle lies and conspiracies related to the January 6, 2021 attack on the U.S. Capitol by supporters of then-President Donald Trump, Democratic Maryland Congressman Jamie Raskin on Wednesday delivered a passionate rebuttal of Republicans' "nonsense."
Speaking on the House floor, Raskin asserted that "it all starts" with "Donald Trump's 'Big Lie'" that the 2020 presidential election was stolen.
He continued: "They say, 'Who knows, maybe he won, maybe he didn't. You say Joe Biden's president, we say Donald Trump's president.' Nonsense!"
"Sixty federal and state courts rejected every claim of electoral fraud and corruption that they put forward. Sixty," Raskin—who was the lead manager for Trump's historic second impeachment—reminded listeners. "They don't have a single court that ever ruled in their favor. Donald Trump lost that election by more than seven million votes, 306-232 in the Electoral College."

"So then... their Big Lie has to stretch all the way over January 6," Raskin said. "We have to disbelieve the evidence of our own eyes and our own ears. We saw them come and descend upon this chamber, this Congress, wounding and injuring 150 of our police officers, breaking people's noses, breaking people's fingers, putting people in the hospital, and already they're back on the news with big lies saying, 'No, no, no, it was a tourist visit.'"
Referring to the Fox News opinion host and the Republican House speaker, Raskin tweeted Wednesday that "Tucker Carlson's assault on the truth about January 6 is unconscionable, but more scandalous yet is Kevin McCarthy's central role in its design. America, we cannot let McCarthy and Carlson become the Orwellian editors of our past or the authoritarian authors of our future.
On Monday evening, Carlson—who according to legal documents said he "passionately hates" Trump even as he publicly amplified the ex-president's lies—dubiously dismissed the Capitol attack as "mostly peaceful chaos."
Carlson's characterization was roundly rejected even by numerous Republican senators including Thom Tillis of North Carolina, who called the false narrative "bullshit."

News
SUPPORT OUR WORK.
We are independent, non-profit, advertising-free and 100%
reader supported.