For Immediate Release
Contact:
Katherine Paul
Organic Consumers Association
207.653.3090
Organic Consumers Condemns EPA Approval of Dow Enlist Duo Herbicide
The U.S. Environmental Protection Agency (EPA) issued final approval today, over the objections of more than a half-million citizens, of Dow AgroSciences Enlist Duo, an herbicide made from a combination of 2,4-D- (one of the active ingredients in Agent Orange) and glyphosate (the key ingredient in Monsanto's Roundup herbicide). The herbicide is approved for use on the Dow Enlist-brand genetically engineered corn and soy crops, recently approved by the U.S. Department of Agriculture (USDA).
The Organic Consumers Association (OCA) issued the following statement:
FINLAND, Minn.
The U.S. Environmental Protection Agency (EPA) issued final approval today, over the objections of more than a half-million citizens, of Dow AgroSciences Enlist Duo, an herbicide made from a combination of 2,4-D- (one of the active ingredients in Agent Orange) and glyphosate (the key ingredient in Monsanto's Roundup herbicide). The herbicide is approved for use on the Dow Enlist-brand genetically engineered corn and soy crops, recently approved by the U.S. Department of Agriculture (USDA).
The Organic Consumers Association (OCA) issued the following statement:
"The EPA's approval of this highly toxic herbicide flies in the face of scientific evidence that not only are these chemicals toxic to humans and the environment, but that the escalation of their use will only lead to the evolution of a whole new crop of herbicide-resistant superweeds," said Ronnie Cummins,international director of the Organic Consumers Association and its Mexico affiliate, Via Organica.
"The EPA has failed in its mission to protect the environment, just as the biotech industry's toxic, chemical-intensive industrial agriculture has failed to deliver on its promises of higher yields and higher profits for farmers, and fewer poisons for the environment.
"Absent any promise of real protection, much less common-sense governing policies by government agencies like the EPA and USDA, it's now clearly up to consumers to shut down this treadmill of higher doses of increasingly toxic poisons. OCA will ramp up our campaigns to pass mandatory GMO labeling laws, and our campaigns to connect the dots between GMO crops, like Dow's Enlist corn and soy, and meat, egg and dairy products produced on factory farms which are huge consumers of GMO crops.
"We will also continue to push for farm bill policies that promote organic, regenerative agriculture over an industrial model that is destroying our health, polluting our environment, and has been identified as one of the leading causes of global warming."
The Organic Consumers Association (OCA) is an online and grassroots 501(c)3 nonprofit public interest organization, and the only organization in the U.S. focused exclusively on promoting the views and interests of the nation's estimated 50 million consumers of organically and socially responsibly produced food and other products. OCA educates and advocates on behalf of organic consumers, engages consumers in marketplace pressure campaigns, and works to advance sound food and farming policy through grassroots lobbying. We address crucial issues around food safety, industrial agriculture, genetic engineering, children's health, corporate accountability, Fair Trade, environmental sustainability, including pesticide use, and other food- and agriculture-related topics.
LATEST NEWS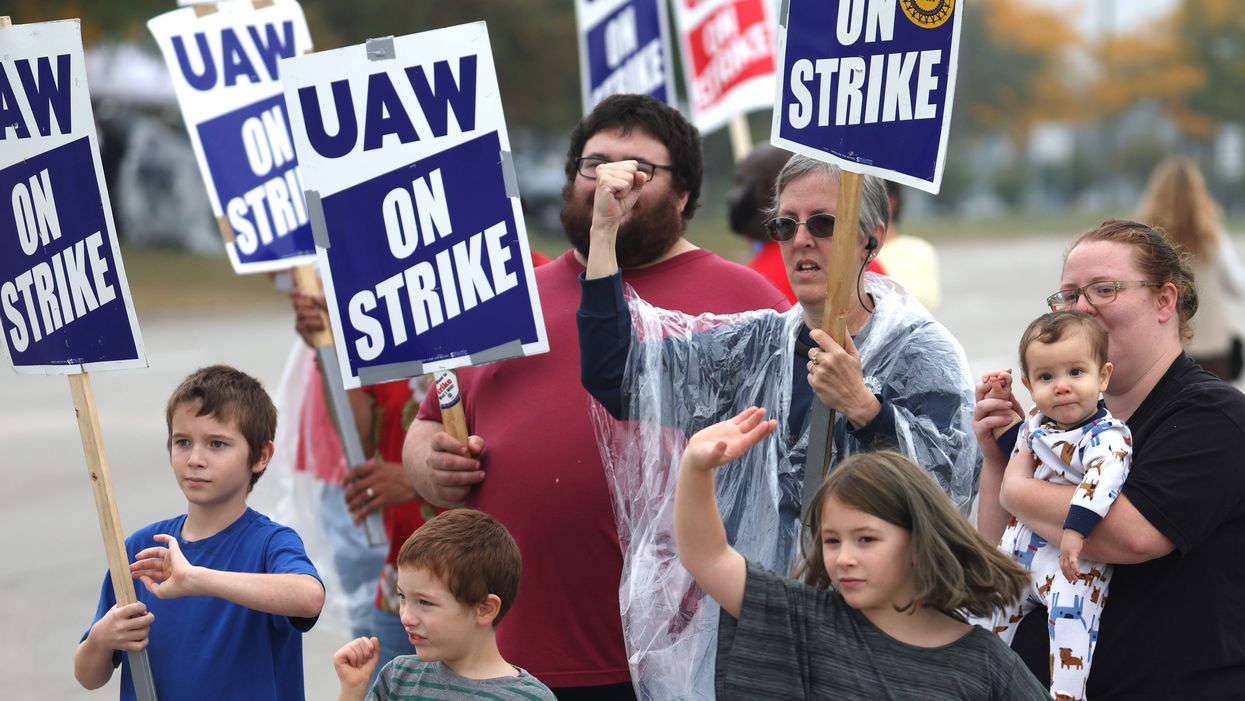 With the power of organized labor surging, two guys went to Detroit this week to apprise striking autoworkers what they think of their righteous labor. Joe Biden historically walked the picket line and told union workers, "You've earned a hell of a lot more than you're getting paid." A stable, genius, "billionaire charlatan" who long ripped off workers and ran a fraudulent empire built on lies told non-union workers China, trucks, environmental lunatics, selling you out, yuge jobs, vote for me. Tough choice.
In a newly expanded strike of over 18,000 autoworkers against 38 GM, Ford, and Chrysler parent Stellantis plants in 20 states, the UAW is pushing the so-called Big Three automakers for significant pay and benefit upgrades: A 40% wage increase, a 32-hour work week paid as full-time, an end to lower pay tier forced on new workers as part of the 2008 bailout. Justifiably disgruntled workers cite the industry's surging profits - $250 billion over the past decade - and obscene payouts to CEOs - all over $20 million, sometimes thanks to raises of up to 40%, representing a nearly 400-to-1 ratio of executive pay to that of the average worker, presumably without breaking a sweat. In contrast, the real wages of many workers have declined or inched up by a mere 6% since their 2019 contract; across the country, many workers haven't seen a rise in the $7.25 minimum wage for over 14 years, and largely feel "we're on our own." At the start of the strike, mirroring pay at the top, UAW President Shawn Fain was demanding a 40% wage increase over four years along with the return of pensions and cost of living increases; he's now gone down to 36%, but nobody else has budged.
Given those grossly inequitable numbers, the fact over 60% of Americans live paycheck-to-paycheck, and the propensity of America's Fattest Cats to act like the entitled assholes they are - Jeff Bezos gives away just 1% of his billions and spent over double that to be weightless in space for four minutes - the strike has garnered broad support. Today, between 62% and 75% of Americans support the union, with that number rising. It thus made political and moral sense for Joe Biden, touted as one of the most pro-labor presidents in US history, to go Tuesday "where no president has gone before" and become the first sitting president to join striking workers on a picket line - a move historians called historic and long overdue. For a gleeful Michael Moore imagining "our 756 billionaires" as they "choke on whatever they were eating (and make a) frantic effort to find a baby aspirin in their vest pocket," it was also "The Day the Filthy Rich Were Sure Would Never Come" - the moment when "the man they thought they bought and paid for, their old friend from Delaware, yeah, that guy Joe, spoke up in "Scrantonese: You fuck with these good people, you're fucking with me."

Outside a G.M. plant in Belleville, MI, Biden reminded workers they sacrificed to save the auto industry in 2008 when they were hurting, "now they're doing incredibly well (and) you should be doing incredibly well, too...The middle class built the country, and unions built the middle class." Fain thanked him for "being a part of this fight" and "not falling victim to both-sides-ism." He later argued, "We can't keep electing (clueless) billionaires to solve the problems of the working class," aptly referencing all those you-strike-you're fired GOP masters of cognitive dissonance who implausibly claim to be pro-working class while maligning unions. Among what Eisenhower in 1952called these "unreconstructed reactionaries," surely the most egregious bullshitter of them all is the twice-impeached, multi-indicted, silver-spoon-in-toxic-mouth, tax-cuts-for-the-rich, Labor-Relations-Board-gutting crook and liar who for decades trashed unions, used mostly non-union labor, stiffed, stonewalled, endangered or underpaid workers and contractors, and otherwise schemed to out-Pinkerton the Pinkertons to steal from the little guy however he could in the odious name of enriching himself.
That tawdry history goes back decades. A report by the International Brotherhood of Electrical Workers (IBEW) found that, outside New York, Trump mostly used non-union crews in "right-to-work" states; faced over 60 lawsuits from tradespeople he didn't pay or shorted on overtime and over 200 mechanics' liens for nonpayment; was sued by underpaid and unpaid Polish laborers working 12-hour shifts 7 days a week building Trump Tower in "choking clouds of asbestos dust"; was repeatedly cited for labor violations at multiple projects; imposed a "Trump discount" - often 75% of what was owed - at time of payment; paid contractors pennies on the dollar during bankruptcy filings; was sued for non-payment by multiple lawyers who represented him in lawsuits for non-payment. As president, he shaped an anti-worker SCOTUS, chose anti-worker hacks to make anti-worker decisions, bad-mouthed union leaders, wildly inflated awful job figures; and in Lordstown, Ohio promised jobs were "all coming back" right before the GM plant closed: "He flat-out lied to everybody." Said a union leader this week, "He would be a disaster for the American working families. He was a disaster."
He was also, it's now definitively established, a disaster at business. Ruling Tuesday in a civil lawsuit brought by A.G. Letitia James', Justice Arthur Engoron found Trump engaged in "persistent fraud" by wildly inflating his own wealth - the shoddy golf courses and office buildings, gaudy Trump Tower apartment he said was three times its actual size, alleged $10 billion net worth that was maybe $1 billion. In a stunning move one sage deemed "New York's corporate death penalty," the judge also cancelled the Trump Organization's business licenses, effectively dissolving the whole rotten empire - "Spirit Halloween moving into Trump Tower" - sending it into receivership at fire-sale prices, leaving the wannabe tycoon possibly bankrupt and stripping him of his brassy, pathetic persona: "Like everything else about him, it was all a lie, built on rampant fraud." Engoron's scathing, 35-page opinion blasted Trump's legal team for "obstreperous behavior" an d "pure sophistry," dissed their defenses as fantasy "without basis in law or fact" while likening them to both Groundhog Day and Duck Soup, slapped sanctions on them, suggested Trump was also guilty of influence peddling, and left his chance of winning an appeal at "between zero and nothing." Karma rules.
Still, there he was, in Detroit at the incongruously non-unionauto parts supplier Drake Enterprises, greeted by UAW workers chanting "Hey hey ho ho Donald Trump has got to go" and a circling airplane proclaiming "TRUMP SOLD US OUT" but determinedly distracting from his cowardly refusal to attend another GOP debate by telling a carefully curated crowd that Biden will "murder the U.S. auto industry and kill countless union autoworker jobs forever," he's "selling you out to China (and) environmental extremists," "you've seen your lives wrecked and your families destroyed," thanks to electric cars "in two years you're all going to be out of business," but you'll have more (short-on-specifics) jobs you've ever seen before if you "just get your union guys (to) endorse me" even though he was at a non-union shop and union leaders tend to support Democrats, and "Barack Hussein Obama." Also, on the "transition to hell" that is evil electric cars: They'll sell for "peanuts" and "go for like one-fifth," not like one of the "good brands" of current gas-powered trucks, like "you take a Powerbuilt," except Powerbuilt is a brand of tools, not trucks. The UAW's Shawn Fain: "I don't think he gets it."
"They pit the lifers against the new boy, the young against the old, the black against the white. Everything they do is to keep us in our place." - Yaphet Kotto as Smokey in Paul Schrader's Blue Collar, a dark movie in which "the bad guys far outnumber the good guys because the bad guys are power incarnate and the good guys merely work for it."

Which Side Are You On? - Pete Seegerwww.youtube.com
News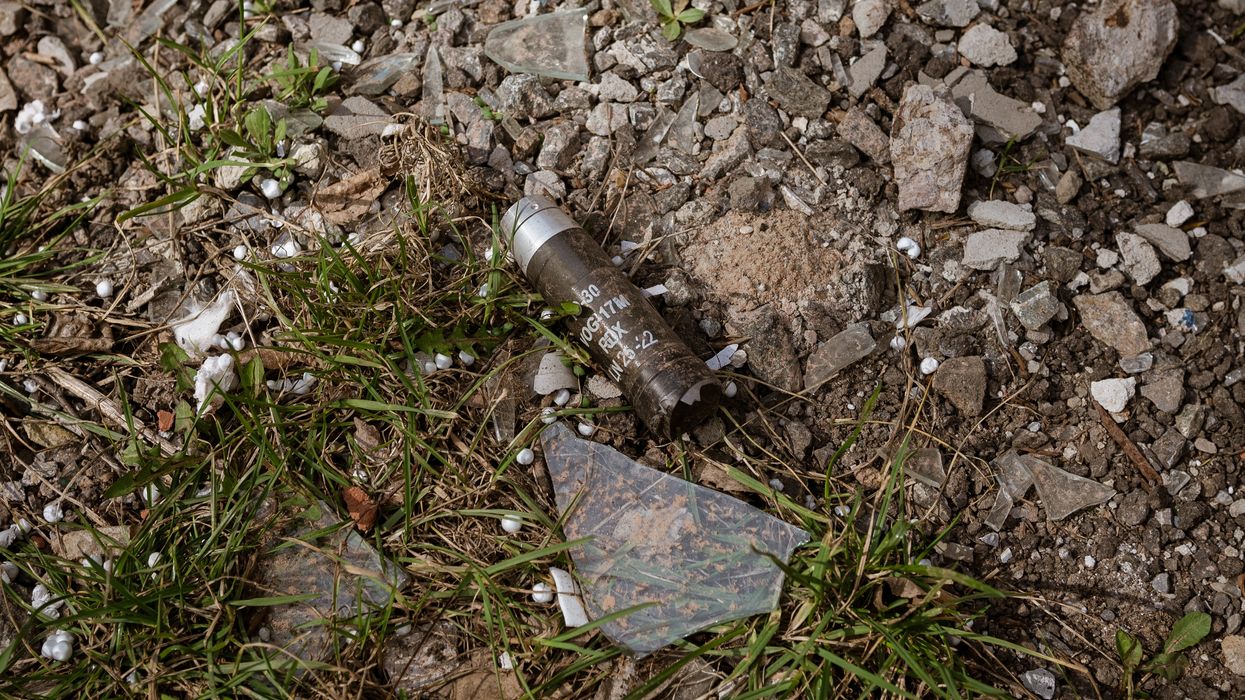 "The legacy of cluster bombs is misery, death, and expensive cleanup after generations of use," said Rep. Betty McCollum. "These weapons should be eliminated from our stockpiles."
The U.S. House of Representatives on Wednesday rejected a bipartisan amendment to the 2024 military spending bill that would have prohibited the transfer of cluster munitions—which are banned under a treaty ratified by more than 100 nations but not the United States—to any country.
The House voted 160-269 on the amendment to next year's National Defense Authorization Act co-sponsored by Reps. Sarah Jacobs (D-Calif.), Matt Gaetz (R-Fl.), Ilhan Omar (D-Minn.), Pramila Jayapal (D-Wash.), and Jim McGovern (D-Mass.). Seventy-five Democrats voted for the measure, while 137 voted "no"; 85 GOP lawmakers approved the amendment while 132 opposed it.
The vote took place less than a week after U.S. President Joe Biden said the United States would send more cluster munitions to Ukraine.
"Many of us have this idea of American exceptionalism, that America is set apart from the rest of the world. Well, that's certainly true when it comes to cluster munitions and not in the way that we want," Jacobs said on the House floor before Wednesday's vote.
"America is an outlier. We are one of the few countries that hasn't become party to the Convention on Cluster Munitions, and that is a grave mistake," she asserted, referring to a landmark 2008 treaty, to which 112 nations are parties.
Jacobs continued:

These weapons maim and kill indiscriminately. In 2021, the Landmine and Cluster Munition Monitor found that over 97% of casualties from cluster bomb remnants were civilians, and two-thirds of those were children. That's because these bomblets are small, colorful, and interesting shapes, so to children they look like toys. So when kids find these unexploded bomblets stuck in trees, or in the water, or simply on the ground and try to pick them up and play with them, they could lose a limb or their life in the blink of an eye.... These weapons are unpredictable, and the human cost is far too high to justify.
Since the end of the Vietnam War half a century ago, unexploded cluster munitions have killed approximately 20,000 civilians in Laos, where the U.S. dropped more bombs than all sides in World War II combined. The U.S. rained as many as 270 million cluster bombs on Laos, and less than 1% of the unexploded bomblets have been cleared since. They are still killing civilians today.
"These cluster bombs are indiscriminate," Gaetz said on the House floor Wednesday. "They've killed tens of thousands of people... and when this is all done, we'll be right back here on the floor appropriating money to de-mine the cluster bombs that we're now sending, which seems ludicrous to me."
"These cluster bombs are indiscriminate. They've killed tens of thousands of people."
Since Vietnam, the U.S. has used cluster bombs in wars including the 1999 NATO air campaign against Yugoslavia; the 1991 Desert Storm war in Iraq and Kuwait; and in Afghanistan, Iraq, and Yemen during the so-called War on Terror. U.S. cluster munitions have been linked to birth defects, miscarriages, cancers, and other ailments.
Earlier this year, the U.S. began sending artillery-fired cluster munitions to Ukraine. Russian invaders and Ukrainian homeland defenders have both killed and wounded soldiers and civilians with cluster bombs during the war.
"The decision by the Biden administration to transfer cluster munitions to Ukraine in my opinion was unnecessary and a sad mistake," McCollum told her House colleagues Wednesday. "The legacy of U.S. cluster munitions... undermines our moral authority and places the U.S. in a position that directly contradicts 23 of our NATO allies who have joined the Convention on Cluster Munitions."
"The legacy of cluster bombs is misery, death, and expensive cleanup after generations of use," McCollum added. "These weapons should be eliminated from our stockpiles."
"Sending these weapons anywhere makes us complicit in unavoidable civilian harm and creates blowback that undermines our national security."
Last week, Biden informed Ukrainian President Volodymyr Zelenskyy that the United States will provide Kyiv with long-range missiles with cluster munition warheads.
"Let's be clear," Jacobs added. "This isn't about one country, this is not about Ukraine. This is about protecting civilian lives and ensuring our national security all over the world. Because sending these weapons anywhere makes us complicit in unavoidable civilian harm and creates blowback that undermines our national security."
Multiple efforts by lawmakers to ban the export of U.S. cluster munitions have failed to advance. Earlier this year, the GOP-controlled House Rules Committee voted down a resolution proposed by Omar and Jacobs (D-Calif.), while backing another led by Rep. Marjorie Taylor Greene (R-Ga.)—whose controversial sponsorship doomed the proposal.
News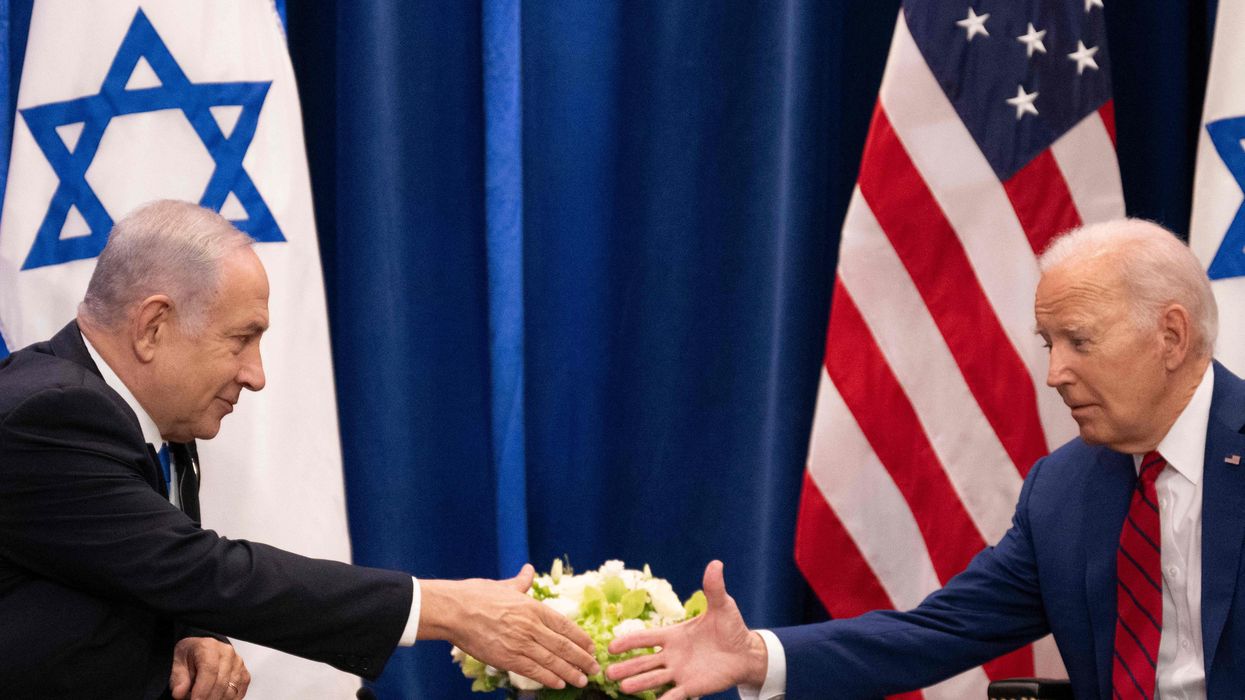 One critic called it "an outrageous endorsement of the Israeli government's systematic discrimination against Palestinian Americans and a reward to the most extremist, racist government in Israel's history."
Human rights advocates on Wednesday forcefully denounced the Biden administration's move to let Israelis apply to travel to the United States without visas, and vice versa, despite charges that Israel's treatment of Palestinian Americans violates the program's legal requirements.
The U.S. departments of Homeland Security and State confirmed that by November 30, "the Electronic System for Travel Authorization (ESTA) will be updated to allow citizens and nationals of Israel to apply to travel to the United States for tourism or business purposes for up to 90 days without first obtaining a U.S. visa."
U.S. Secretary of Homeland Security Alejandro Mayorkas said that the designation of Israel into the Visa Waiver Program (VWP) "represents over a decade of work and coordination," and "is an important recognition of our shared security interests and the close cooperation between our two countries."
While U.S. Secretary of State Antony Blinken added that "this important achievement will enhance freedom of movement for U.S. citizens, including those living in the Palestinian territories or traveling to and from them," rights groups and some American lawmakers have been pushing back against such claims.
U.S. Sens. Chris Van Hollen (D-Md.) and Brian Schatz (D-Hawaii), joined by over a dozen colleagues, wrote in a letter to Blinken earlier this month that according to a memorandum of understanding (MOU) signed in this summer, "Israel is not expected to fully implement one system that all U.S. citizen travelers can use for purposes of visa waiver travel until May 1, 2024, well beyond the September 30, 2023 deadline for meeting program requirements."
"The MOU states that Israel will employ 'an interim process for a U.S. citizen who is a resident of the West Bank.' Such a two-tiered system of entry inherently violates the administration's own standard for reciprocity that 'blue is blue'—meaning 'equal treatment and freedom of travel for all U.S. citizens regardless of national origin, religion, or ethnicity," the senators noted. "We have already learned of a number of U.S. citizen families who flew to Israel to take advantage of visa waiver travel under the new MOU who were denied entry for having Gaza IDs."
Van Hollen and Schatz, along with Sens. Jeff Merkley (D-Ore.), and Peter Welch (D-Vt.), reiterated their concerns in a joint statement Wednesday, saying that "to date, Israel has failed to meet the 'blue is blue' requirement. Adherence to this important American tenet of reciprocity and equal treatment of all U.S. citizens is critical to the integrity of the Visa Waiver Program, and we are deeply concerned with the administration's decision to move forward in violation of that principle."
The Biden administration's highly anticipated announcement follows a related lawsuit filed Tuesday by the American-Arab Anti-Discrimination Committee (ADC), whose director, Abed Ayoub, said Wednesday that "by endorsing a tiered system for U.S. citizens, our government has given its tacit approval to Israel's prejudiced policies and apartheid actions."
Especially faced with what is widely considered Israel's most far-right government in the nation's history—reaffirmed by stunts like Israeli Prime Minister Benjamin Netanyahu presenting a map of "The New Middle East" without Palestine during a speech to the United Nations General Assembly last week—a growing number of rights groups have accused Israel of apartheid.
Adalah Justice Project executive director Sandra Tamari declared Wednesday that "apartheid is not only Israeli policy, it is U.S. policy too."
"Israel's discrimination is especially egregious against Palestinian Americans with ties to Gaza," Tamari stressed, "making reunification of families torn apart by Israel's siege and blockade of Gaza near impossible."
Leaders from Americans for Justice in Palestine Action, American Muslims for Palestine, Council on American Islamic Relations, Jewish Voice for Peace Action (JVP Action), Muslim Public Affairs Council, the Jerusalem Fund for Education and Community Development, and the U.S. Campaign for Palestinian Rights also denounced the Biden administration's designation.
JVP Action executive director Stefanie Fox called it "an outrageous endorsement of the Israeli government's systematic discrimination against Palestinian Americans and a reward to the most extremist, racist government in Israel's history."
"Once again, the U.S. is singling out Israel for special and exceptionalized treatment at the expense of the rights of Palestinian Americans," she added. "Jewish Voice for Peace Action calls for the immediate reversal of this decision."
James Zogby, president of the Arab American Institute, suggested that "by choosing to make this reckless move ahead of the September 30, 2023 end of the federal fiscal year, it is also clear the issue of reciprocity was not the only barrier to Israel's eligibility to enter the VWP."
"Moving to admit them now so that an application would not have to restart under potentially different (and post-Covid) visa refusal rates—an additional requirement of the law—is another sign of the prioritization of politics over our rights," he continued. "With this move, Israel has extended its discriminatory apartheid laws to American citizens with our own government's enthusiastic support."
Democracy in the Arab World Now (DAWN) director of advocacy for Israel/Palestine Adam Shapiro, a plaintiff in ADC's lawsuit, said Wednesday that "the U.S. should halt implementation of the visa waiver for Israel at least until a judge reviews what we believe to be the government's arbitrary and capricious actions that enshrine Israeli apartheid in a U.S. program."
"Separate can never be equal, as was determined decades ago in the fight for civil rights in this country," Shapiro added. "Forty countries participate in the VWP, and none have formal arrangements to discriminate against American citizens; only Israel has demanded and been granted this unconscionable favor by the U.S. government."
News
Independent, nonprofit journalism needs your help.
Please Pitch In
Today!