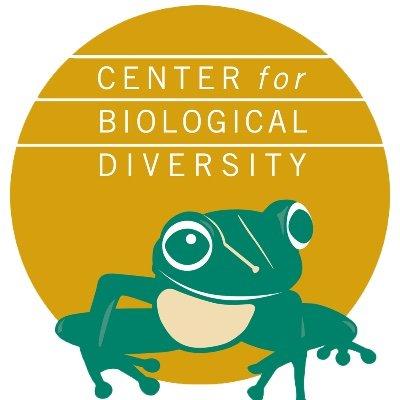 For Immediate Release
Contact:
Brett Hartl, (202) 817-8121
Conservation Group Will Challenge in Court
Final Policy Nullifies Key Provision of Endangered Species Act
WASHINGTON
The Center for Biological Diversity will file a legal challenge to an Obama administration policy, finalized today, that severely limits when a species qualifies for protection under the Endangered Species Act -- a change that ignores both broad legal precedent and congressional intent. Under the Act a species qualifies for protection when it is "in danger of extinction in all or a significant of portion of its range."
Both Congress and the courts have explained that the "significant portion of range" provision is vital for important conservation because it allows federal wildlife agencies to protect species before they are at risk of going extinct globally. But the newly finalized policy sharply restricts the use of this part of the Act, defining "significant" to mean that only when the loss of a part of a species' range threatens the survival of the whole species would wildlife agencies protect that species under the Act.
The policy also restricts "range" to mean "current range" -- ignoring the reality that most endangered species in the United States have suffered massive losses over the past and now cling to survival in only a small remnant of their historical home. As such the final policy defines "significant portion of its range" to make it superfluous: Only species at risk of extinction everywhere will now be protected.
"The policy finalized today eviscerates the key requirement that species need not be at risk of extinction everywhere before they can be protected," said Brett Hartl, the Center's endangered species policy director. "The policy absolutely undermines the spirit of the Endangered Species Act and will allow massive decline of our native wildlife along with the destruction of wildlife habitat."
The approach outlined in the policy finalized today has already been rejected by multiple courts, including the 9th Circuit Court of Appeals, which concluded: "If, however, the effect of extinction throughout 'a significant portion of its range' is the threat of extinction everywhere, then the threat of extinction throughout 'a significant portion of its range' is equivalent to the threat of extinction throughout all its range. Because the statute already defines 'endangered species' as those that are 'in danger of extinction throughout all ... of [their] range,' the Secretary's interpretation of 'a significant portion of its range' has the effect of rendering the phrase superfluous. Such a redundant reading of a significant statutory phrase is unacceptable."
"The Fish and Wildlife Service has long been criticized for only protecting species on the very brink of extinction, which makes recovery a difficult uphill slog," said Hartl. "This policy would actually codify that approach, essentially saying: Let's only protect these creatures when they're in as desperate a state as possible."
The idea that loss of historic range need not be considered when determining if a species is endangered in a significant portion of its range has been extensively criticized by scientists as a "shifting baseline," whereby the history of species is ignored. A study published by the Center in the international journal Conservation Biology cited the Colorado River cutthroat trout as a case in point: The trout was denied protection even though Fish and Wildlife acknowledged it had been lost in 87 percent of its historic range, including the biggest and best streams, and continued to face many threats. A number of other species have similarly already been denied protection under the policy, including gray wolves and cactus ferruginous pygmy owls.
"This policy egregiously undermines both the precautionary nature of the Endangered Species Act and its mandate to protect the ecosystems endangered species depend on," said Hartl. "There's a real need to protect species before they're in danger of going extinct everywhere, and this policy will make that nearly impossible."
At the Center for Biological Diversity, we believe that the welfare of human beings is deeply linked to nature — to the existence in our world of a vast diversity of wild animals and plants. Because diversity has intrinsic value, and because its loss impoverishes society, we work to secure a future for all species, great and small, hovering on the brink of extinction. We do so through science, law and creative media, with a focus on protecting the lands, waters and climate that species need to survive.
(520) 623-5252
LATEST NEWS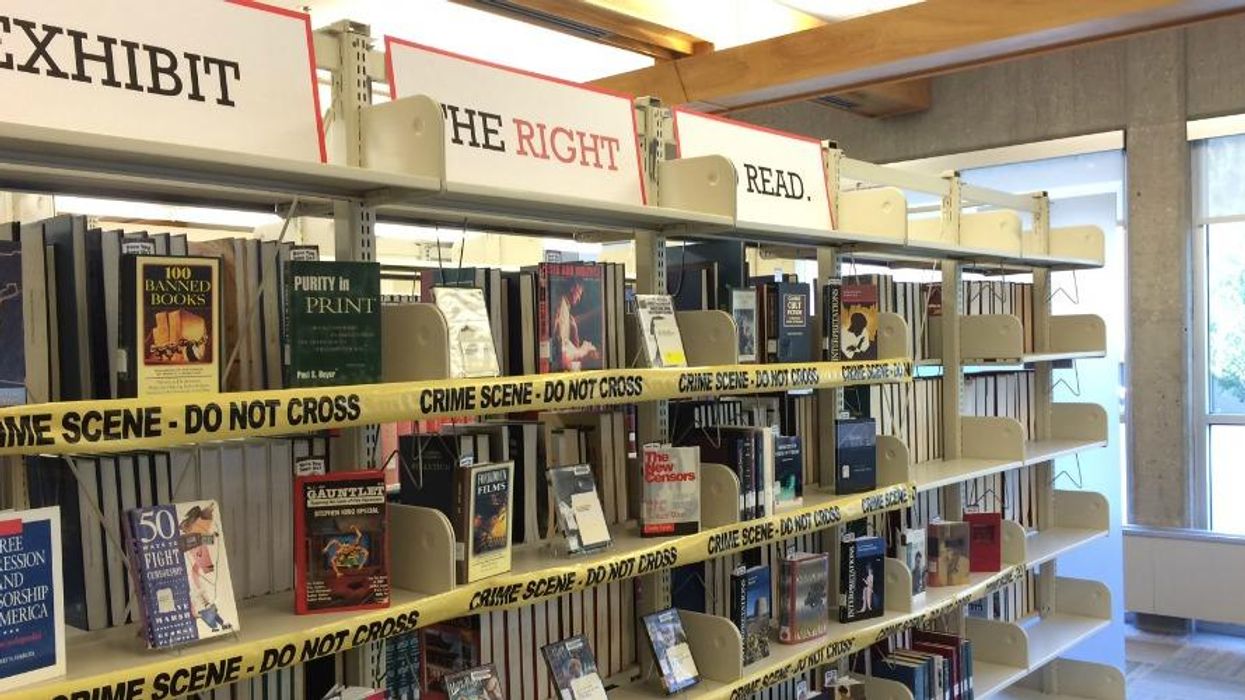 The data reflects a growing right-wing movement to restrict the topics taught in public schools and the media that children have access to.
A record number of library books were challenged during the first eight months of 2023, the American Library Association revealed Tuesday.
The ALA's Office for Intellectual Freedom (OIF) documented 695 attempts to remove a total of 1,915 library titles as of August 31. That's up from the 681 challenges to 1,651 distinct titles for the same period in 2022, and last year as a whole broke the overall record for book challenges since data collecting began more than two decades ago.
"These attacks on our freedom to read should trouble every person who values liberty and our constitutional rights," ALA OIF director Deborah Caldwell-Stone said in a statement. "To allow a group of people or any individual, no matter how powerful or loud, to become the decision-maker about what books we can read or whether libraries exist, is to place all of our rights and liberties in jeopardy."

The data reflects a growing right-wing movement to restrict the topics taught in public schools and the media that children have access to. In 2019, the ALA only counted 377 challenges to 566 titles, The Associated Press reported. In 2020, the number fell even further as libraries were closed because of Covid-19 lockdowns. Then, in 2021, it surged with a then-record 729 challenges targeting 1,597 books, the ALA said. In 2022, that record was broken again with a total of 1,269 challenges to 2,571 titles, 32% more than the previous year's record, ALA executive director Tracie D. Hall pointed out in an opinion piece for Time.
"This attempt to weaponize the right to read, and by extension the libraries that steward and protect that right, should be especially distressing to all of us as recent nationwide polling indicates that the vast majority of adults in this country, regardless of political party, oppose banning books," Hall wrote.
One sign that this is a censorship wave pushed by far-right groups like Moms for Liberty is the fact that the number of challenges targeting multiple books is rising. So far in 2023, 11 states reported challenges to 100 or more books, up from six states in 2022 and none in 2021, the ALA said. In 2022, 9 out of 10 challenges named more than one book.
"This places politics over the well-being and education of young people and everyone's right to access and use the public library."
This is leading to situations in which parents sign on to challenges backed by extreme groups despite never having read the books in question.
"If we have come to a time in this country when parents can be successfully swayed into restricting access to books they haven't read, what does that mean for our future as a nation?" Hall asked.
Another alarming trend is that challenges increasingly target books in public as well as school libraries, at 49% in 2023 versus 16% in the first eight months of 2022, according to ALA figures.
"The irony is that you had some censors who said that those who didn't want books pulled from schools could just go to the public libraries," Caldwell-Stone told AP.
In a separate statement, she said that public libraries were the "very embodiment of the First Amendment in our society."
"This places politics over the well-being and education of young people and everyone's right to access and use the public library," she said of the mounting challenges.
Finally, the challenges target the growing diversity of U.S. society, as the majority of them focused on books about or penned by members of the LGBTQIA+ community or people of color. The three most challenged books of 2022 were Maia Kobabe's Gender Queer, George Johnson's All Boys Aren't Blue, and Toni Morrison's The Bluest Eye.
"What this data set does not reveal are the people who want books that speak to their lived experience and librarians who want to make books accessible to people who find them relevant," ALA president Emily Drabinski said in a statement. "Both are under attack."
News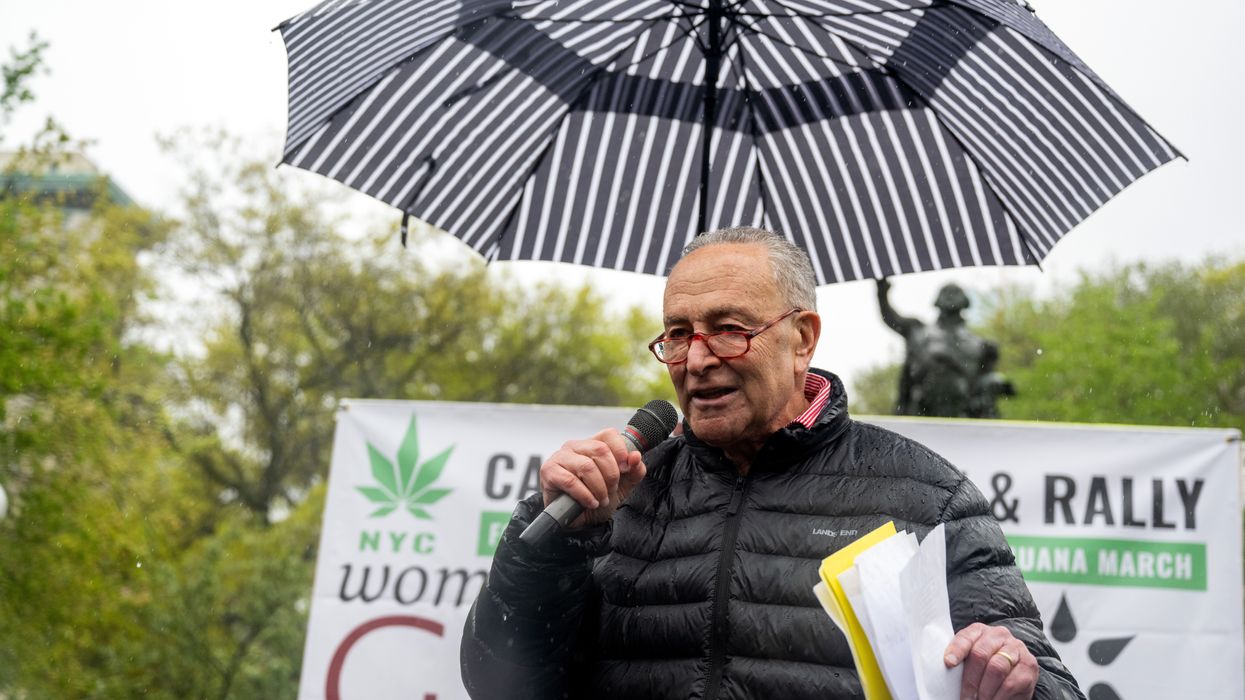 Co-sponsors said it "will help make our communities and small businesses safer by giving legal cannabis businesses access to traditional financial institutions, including bank accounts and small business loans."
A bipartisan group of senators, including Senate Majority Leader Chuck Schumer, on Wednesday unveiled a revised bill that aims to "ensure that all businesses—including state-sanctioned cannabis businesses—have access to deposit accounts, insurance, and other financial services."
The bill is now called the Secure and Fair Enforcement Regulation (SAFER) Banking Act, as a few journalists revealed late Tuesday.
In addition to Schumer (D-N.Y.), the legislation is led by Sens. Jeff Merkley (D-Ore), Steve Daines (R-Mt.), Kyrsten Sinema (I-Ariz.), Cynthia Lummis (R-Wy.), Kevin Cramer (R-N.D.), Cory Booker (D-N.J.), Dan Sullivan (R-Alaska), and Bob Menendez (D-N.J.). Merkley and Daines put out a previous version of the bill earlier this year.
"This legislation will help make our communities and small businesses safer by giving legal cannabis businesses access to traditional financial institutions, including bank accounts and small business loans," some of the co-sponsors said in a statement. "It also prevents federal bank regulators from ordering a bank or credit union to close an account based on reputational risk. We look forward to the markup of this bill in the Senate Committee on Banking, Housing, and Urban Affairs on September 27th."
Separately, Schumer, a supporter of legalization, said that "for too long, the federal government has continued to punish marijuana users and business owners—even when doing so is actively harmful to our country. This 'war on drugs' has turned into a war on people and communities—specifically people and communities of color—and a war on business."
"This agreement allows cannabis businesses that have traditionally operated in cash to finally have the opportunity to accept credit and debit cards, allowing them to grow their businesses, pay their employees, protect their customers, and ensure public safety," he continued. "I intend to bring the SAFER Banking Act to the Senate floor with all due speed."
The majority leader added that he is "committed to including" the Harnessing Opportunities by Pursuing Expungement (HOPE) Act and Gun Rights and Marijuana (GRAM) Act. The former would provide federal grants to help states with expunging cannabis offenses while the latter would end the ban of gun sales to cannabis users in states that allow medical or recreational use.
Marijuana Momentreported that "the newly released bill reveals the types of compromises senators made over recent weeks. Most of the new provisions are described under Section 10—a component of the reform that Republicans have strongly favored and certain Democrats opposed over concerns it could undermine broader banking regulations."
The legislation's introduction answers demands for federal action by drug policy reform groups and unions as well as banking, cannabis, and insurance trade associations. One joint letter sent to Congress on Tuesday argued that "it is a moral imperative" to pass some version of the bill this year, "in order to progress our country toward a safe environment for the workers, owners, customers, and other visitors of state-legal cannabis retail stores."
Medicinal use of marijuana is permitted by 38 states, three U.S. territories, and the District of Columbia, and recreational adult use is allowed in 23 states, two territories, and D.C., according to the National Conference of State Legislatures.
Cannabis not only remains illegal at the federal level but is a Schedule I drug, the most restricted category under the Controlled Substance Act. However, following a review requested by President Joe Biden, a Department of Health and Human Services official last month urged the Drug Enforcement Administration chief to reclassifying it as Schedule III.
While welcoming "the historic nature" of that move, Cat Packer at the Drug Policy Alliance stressed at the time that "rescheduling falls woefully short of President Biden's promise and the relief our communities need," and urged the administration to "actively work with Congress to pass comprehensive legislation such as the Cannabis Administration and Opportunity Act," which would federally decriminalize marijuana and begin to address decades of harm caused by criminalization.
The new Senate proposal was introduced as the Republican-controlled U.S. House Oversight and Accountability Committee on Wednesday voted 30-14 in favor of the bipartisan Cannabis Users' Restoration of Eligibility (CURE) Act, which would allow past marijuana users to serve as federal employees and qualify for security clearances.
NORML political director Morgan Fox said in a statement that "while it is disappointing that the committee did not see fit to stop federal agencies from discriminating against responsible adults and patients who are current consumers of cannabis, this legislation will nonetheless open up new opportunities to millions of Americans, increase the talent pool available to federal employers, and ultimately make our country safer."
News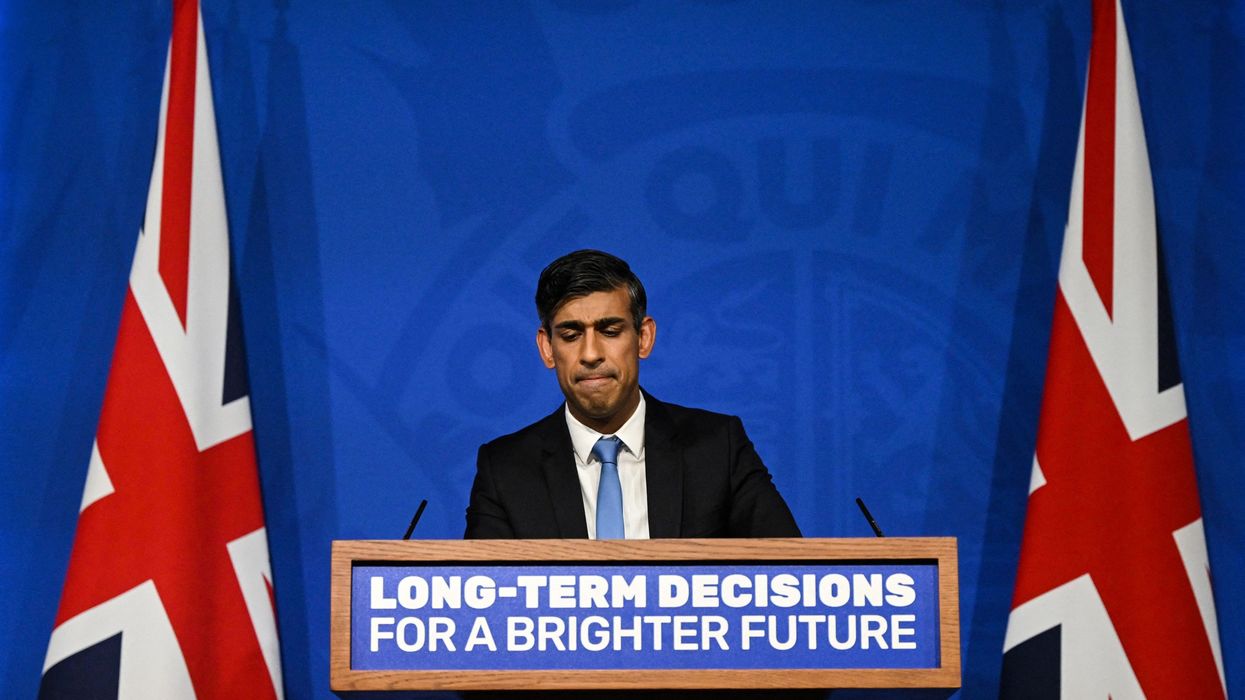 "Sunak's U-turn today will be devastating for the people of the U.K. and for the planet we call home," warned one Scottish Green. "It's nothing short of evil."
Critics across the political spectrum—from Conservative members of Parliament and corporations to Greens and climate campaigners—reacted with anger and resolve Wednesday following the announcement by U.K. Prime Minister Rishi Sunak that his Tory government would retreat from some of its key net-zero commitments.
Speaking Wednesday at the Downing Street Press Briefing Room in London, Sunak said his government is still committed to reaching net-zero by 2050, but in a "more proportionate way" that would bring a "greener planet and a more prosperous future."
The rollback will reportedly include delaying a ban on the sale of petrol- and diesel-powered vehicles from 2030 to 2035, pushing back the phaseout of gas boilers, scrapping energy efficiency targets for some homes, dropping recycling plans, and canceling a planned air travel tax.
"This is a U-turn that will leave the Tories facing in the opposite direction of almost everyone, and finally end their hopes of reelection."
"No one can deny climate change is happening," Sunak said, adding that the county needs "sensible green leadership" instead of false choices that "never go beyond a slogan."
However, Conservative peer Lord Zac Goldsmith—who resigned his ministerial post earlier this summer due to what he called Sunak's climate "apathy"—called the prime minister's reversal "a moment of shame."
"His short stint as PM will be remembered as the moment the U.K. turned its back on the world and on future generations," he added.
Shadow Climate Secretary Ed Miliband led Labour condemnation of the reversal, which he called "a complete farce from a Tory government that literally does not know what they are doing day to day."

Brighton Pavilion Green MP Caroline Lucas slammed what she called Sunak's "coordinated, calculated, and catastrophic rollback."
"What this all reveals is that Sunak really doesn't seem to care about the climate in the slightest—it's little more than an afterthought," Lucas wrote in a Guardian opinion piece published Wednesday.
Sunak must call a general election by January 2025, and his Tories are trailing the opposition Labour Party in opinion polls amid persistently high inflation, slow economic growth, and rising inequality.
"If Sunak mistakenly thinks the climate is merely a political device to draw dividing lines between his party and Labour, he will fail on his own terms," wrote Lucas. "All it will do is draw an ever-greater divide between him and the people he seeks to govern."
Climate campaigners roundly condemned Sunak's decision.
"The government needs to double down now, not U-turn," Kennedy Walker, a U.K. organizer with the climate action group 350.org, said in a statement. "We have the opportunity to show what a transition to a greener economy that works for people and the planet can look like; we need to hold leadership to account to make sure it happens and they follow through on their own promises."
Riffing on the government's "long-term decisions for a brighter future" slogan, Extinction Rebellion U.K. wrote on the social media site X: "Short-term decisions for a shitter future. Remember, this government took £3.5 million in donations from Big Oil and other industries before licensing new gas and oil."
Many companies including automaker Ford and energy giant E.ON joined in criticism of the rollback.
"Our business needs three things from the U.K. government: ambition, commitment, and consistency. A relaxation of 2030 would undermine all three," Ford U.K. chair Lisa Brankin said Wednesday. "We need the policy focus trained on bolstering the EV market in the short term and supporting consumers while headwinds are strong: infrastructure remains immature, tariffs loom, and cost-of-living is high."
Some critics noted that Sunak's announcement came on the same day the leaders of many nations—but not Britain or the world's two top carbon polluters, China and the United States—gathered in New York for the United Nations Climate Ambition Summit.
"We're in a climate emergency. The deadly impacts of climate change are here now and we have to act urgently," Labour London Mayor Sadiq Khan—the only U.K. speaker at the summit—toldThe Guardian Wednesday. "We have seen record high temperatures in London earlier this month and the hottest ever July. Over the last two years, we have experienced unprecedented wildfires and flash floods, destroying homes and livelihoods."
"This government's response flies in the face of common sense and shows they are climate delayers," Khan added. "It beggars belief that not only are they watering down vital commitments, but they are also passing up the opportunity to create green jobs, wealth, and lower energy bills—as well as failing to give investors the certainty they need to boost the green economy."
Sunak's reversal also infuriated many people in Scotland.

"Rishi Sunak has blood on his hands," National Union of Students Scotland president and Scottish Young Greens co-convener Ellie Gomersall toldThe National. "His excuse? It's too costly. Well then all the more kudos to the Scottish government who are still moving forward with net-zero policies like low-emission zones, phasing out gas boilers, cheaper public transport, all the while on a budget severely restrained by the confines of devolution."
"And of course when the Scottish government does try to implement simple yet effective measures like a deposit return scheme, Westminster comes along and blocks it," she added. "Sunak's U-turn today will be devastating for the people of the U.K. and for the planet we call home. It's nothing short of evil."
Alistair Heather, a Scottish writer and TV presenter, told The National that he was "almost pleased" by Sunak's announcement.
"This is a U-turn that will leave the Tories facing in the opposite direction of almost everyone, and finally end their hopes of reelection," he explained. "For mainstream voters, who understand that a clear, urgent movement of travel towards a green future is the best chance we have of mitigating the worst effects of the climate collapse, the Tories have made themselves completely unelectable. Good... Fuck the Tories. Mon the independence."
"With the Left AWOL, our species is being quick-marched to extinction."
The outrage was felt far beyond U.K. shores.
"At a time when the U.K. should be providing global leadership in transitioning off fossil fuels, especially in recognition of the impact its historical emissions have had in bringing about the climate crisis, the U.K. government is considering backtracking on already insufficient commitments," 350.org Europe regional director Nicolò Wojewoda said in a statement.
Yanis Varoufakis, a former Greek finance minister who heads the left-wing MeRA25 party, wrote on X that "Sunak's U-turn is a reflection of the total Europe-wide collapse of the market-based, neoliberal consensus on how to tackle the climate crisis. It marks the center‐right's new path."
"And with the Left AWOL," he added, "our species is being quick-marched to extinction."
News
Independent, nonprofit journalism needs your help.
Please Pitch In
Today!