Activists Launch Picket at Federal Energy Commission, Demanding Halt to Rubber-Stamping of Fracked Gas Exports
Picketers say agency is illegally ignoring global warming and safety harm of fracked gas export projects at Cove Point and nationwide
WASHINGTON
Marching and chanting with signs like "Gas exports: Worse than Coal" and "FERC: My safety matters," dozens of protesters launched a week-long picket outside the Federal Energy Regulatory Commission's headquarters in Washington, D.C. today to challenge the agency's handling of controversial liquefied natural gas (LNG) export proposals. The picketers are demanding that FERC place a moratorium on its approval of gas export permits until the commission has accounted for alarming new federal data showing that such exports to Asia could be worse for the climate in coming decades than if overseas countries burned coal.
"FERC has provoked this unprecedented picket line by willfully ignoring the unprecedented harm fracked gas exports pose to our climate and to our communities," said Mike Tidwell, director of the Chesapeake Climate Action Network. "In response to mounting evidence that exporting fracked gas from Cove Point and other sites nationwide will help cook the planet, our nation's energy commissioners are in effect covering their ears and closing their eyes, while giving a giant thumbs up to the gas industry. Simply put, this must stop."
Last month, a Department of Energy study revealed that--even when using conservative estimates of planet-heating methane emissions--exports of U.S. fracked gas to Asia provide no climate benefits for decades, if ever, and would almost certainly be worse for the climate over the next critical 20 years than if Asian countries burned coal.
In recent weeks, as opponents of the Cove Point liquefied natural gas export facility proposed in Maryland generated 150,000 comments nationwide against the project, FERC continued to defy health and environmental leaders--and, groups allege, the law--by refusing to conduct a standard Environmental Impact Statement. It also defied U.S. Senators and a U.S. EPA official by refusing to extend the 30-day public comment period for the project. Environmental and clean water groups are poised to sue FERC for illegally dismissing the climate change, fracking and human safety impacts of the proposal in its draft environmental review, which also drew criticism from the EPA.
"Residents living next door to Dominion's proposed Cove Point facility are coming to FERC this week because we refuse to let this agency sacrifice our safety to the gas industry," said Tracey Eno, a founding member of Calvert Citizens for a Healthy Community. "FERC has failed to conduct a transparent, quantitative risk assessment that considers the very real threat of explosions compromising our safety in our own homes due to Dominion's proposed addition of extremely hazardous liquefaction equipment at Cove Point. It's clear it will take a citizen uprising to change the status quo at FERC, which is why we're picketing this week."
Each day this week groups of picketers from across the region will converge on FERC's Washington, DC headquarters at lunchtime, highlighting the accumulating evidence that FERC is a secretive and dysfunctional regulatory agency in need of significant reform. Delegations of residents from southern Maryland and Myersville, Maryland will lead the picket Tuesday and Wednesday respectively, drawing attention to the ways FERC has sidelined their voices in reviewing the Cove Point plan and a related gas compressor station in central Maryland.
"From Lusby to Myersville to Minisink and beyond, mothers like me see FERC repeatedly failing to protect the health and safety of our children," said Ann Nau, vice president of Myersville Citizens for a Rural Community. "With a FERC rubber-stamp in hand, Dominion sued my small town to force a toxin-spewing compressor station on us, defying community and local government opposition. We are here to shine a bright spotlight on FERC's practices, and to demand a change in course before more communities see hazardous pipelines or polluting compressors in their backyards."
FERC is facing growing public backlash because of its role in green-lighting the massive expansion of gas pipeline and other infrastructure triggered by the surge of fracking in recent years. In early June, a federal appeals court ruled that FERC had illegally "segmented" its approval of a major East Coast gas pipeline project, and thereby ignored its potential cumulative environmental impacts. This court victory should set precedent for similar legal challenges to FERC's rubber-stamping of gas industry projects.
"Maryland's religious communities are heartbroken by the harm climate change is already causing to our neighbors, close to home and around the world," says Joelle Novey, Director of Interfaith Power & Light (DC.MD.NoVA). "We're not going to let a Goliath corporation stomp into Maryland and make a mockery of our good work to protect our air, our water, and our climate. We're picketing outside FERC because we're trying to faithfully do what David did: we're giving this our best shot."
In all, FERC is currently reviewing 14 fracked gas export proposals. The $3.8 billion Cove Point facility, proposed by Virginia-based Dominion Resources just 50 miles south of the White House in southern Maryland, would take gas from fracking wells across Appalachia, liquefy it, and ship it to customers in Japan and India. A CCAN analysis found that, from fracking wells to final smokestacks, the Cove Point project could alone trigger more greenhouse gas pollution than all seven of Maryland's existing coal-fired power plants combined. The Cove Point project would be the first fracked gas export facility on the East Coast and the first ever built in a densely populated residential area.
View photos of the picket launch at: https://www.flickr.com/photos/chesapeakeclimate/sets/72157644914012429.
The Chesapeake Climate Action Network (CCAN) is the first grassroots, nonprofit organization dedicated exclusively to fighting global warming in Maryland, Virginia, and Washington, D.C. Our mission is to build and mobilize a powerful grassroots movement in this unique region that surrounds our nation's capital to call for state, national and international policies that will put us on a path to climate stability. - See more at: http://www.chesapeakeclimate.org/index.php?option=com_k2&view;=itemlist&...
LATEST NEWS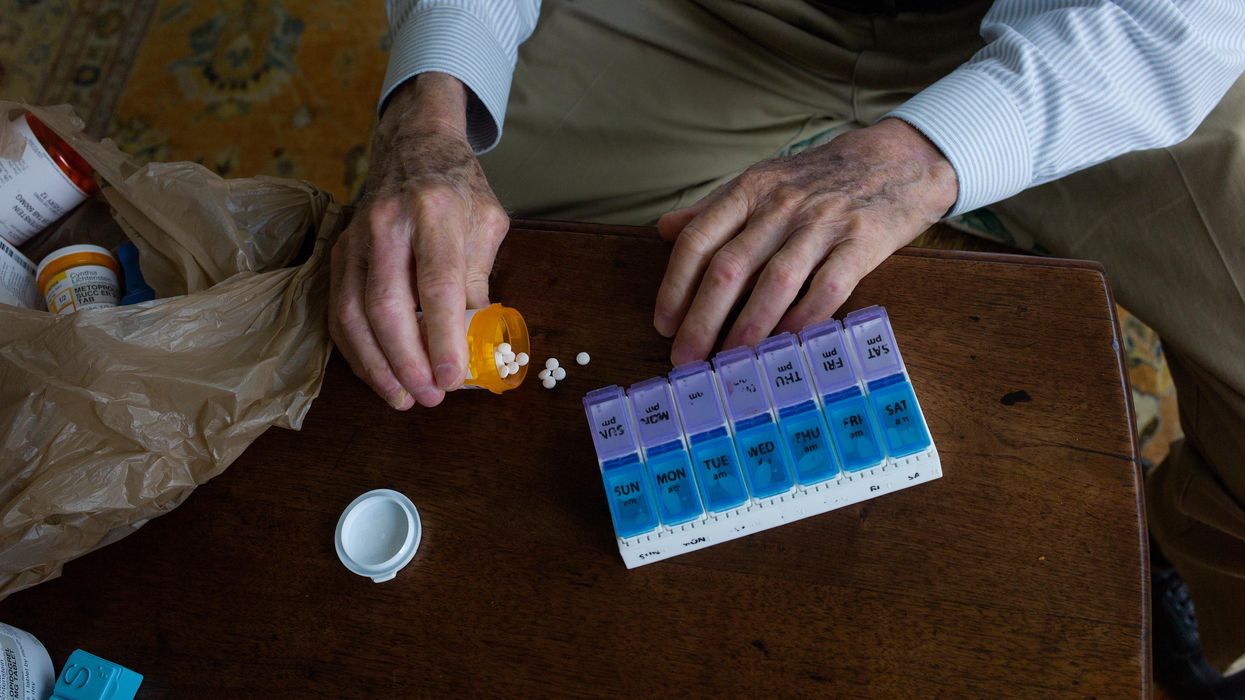 "Elected officials who align themselves with this unpopular and greedy industry, against the will of voters, do so at their own political risk," said one patient advocate.
Republican lawmakers who support Big Pharma's efforts to block Medicare from negotiating for lower drug prices do so at their own peril, said an advocacy group Tuesday as it released polling data that shows the U.S. public overwhelmingly opposes drug companies' scheme.
Along with Hart Research Associates and GS Strategy Group, Patients for Affordable Drugs Now (P4ADNOW) polled 1,000 likely voters from August 23-27 and found that respondents opposed the numerous lawsuits the pharmaceutical industry has filed to block implementation of the Inflation Reduction Act's provision allowing Medicare to negotiate.
Seventy-two percent of voters said the law should be implemented, and 77% said they didn't believe the industry's claim that it's suing because of concerns about the provision's constitutionality—saying they think companies are only concerned it will reduce their profits, which reached a combined $110 billion last year for the eight largest pharma firms.
"The American people understand the lawsuits to block lower drug prices through Medicare negotiation are not about looking after the best interests of patients and consumers, but about the industry seeking to restore its unilateral power to dictate prices of brand name drugs without limits in the United States," said David Mitchell, founder of P4ADNOW. "The lawsuits are a naked assault against the will of the American people, and we stand with the people."
Ninety percent of respondents said lowering drug prices should be an important or a top priority for Congress, and 53% said they had an unfavorable view of drug companies after learning of the lawsuits they have filed against the Biden administration. Eighty-four percent supported allowing Medicare to negotiate directly with drug companies to lower costs for patients.
The poll was released less than a month after the Biden administration announced the first 10 prescriptions that will be subject to the negotiations, drawing applause from Democratic lawmakers and patient advocates.
Republicans such as Sens. Marsha Blackburn of Tennessee and Mike Crapo of Idaho—who received a combined $468,900 in campaign donations from pharma companies and their political action committees from 2017-22—have joined the industry in attacking the law, claiming it will "stunt the development of lifesaving treatments and cures," as Blackburn said last month.

Only 18% of voters included in the poll agreed that the law will harm research and development in the industry, while 67% believed drug companies will still be able to make huge profits and find new treatments and cures for diseases.
"Efforts in Congress to undermine implementation of the Inflation Reduction Act fly in the face of the wishes of the overwhelming majority of voters—84% of whom support the law, including 93% of Democrats, 78% of independents and 80% of Republicans," said Mitchell. "Elected officials who align themselves with this unpopular and greedy industry, against the will of voters, do so at their own political risk."
Merith Basey, executive director of P4ADNOW, noted that pharmaceutical companies draw huge profits in other high-income countries, despite the fact that they negotiate drug prices with federal agencies working on behalf of patients.

"Those nations have better health outcomes, longer life expectancy, and for lower cost," said Basey. "It's in the United States that the drug industry seeks to fleece patients with unlimited pricing power."

News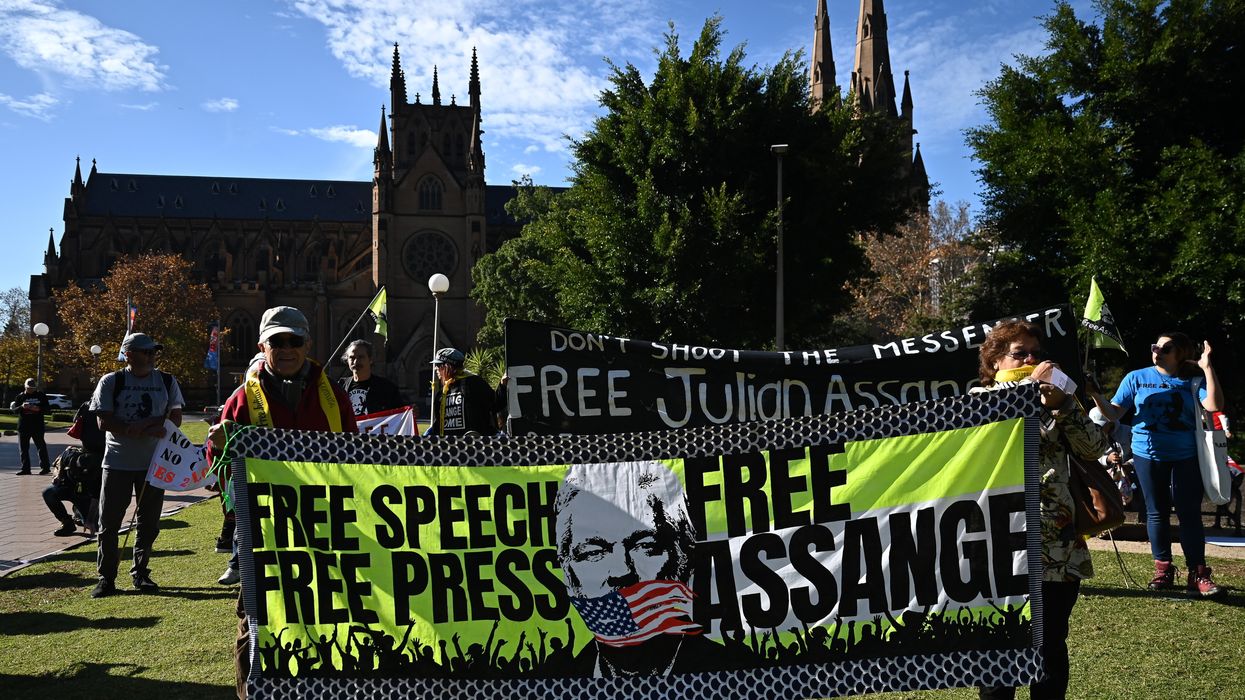 "We believe the right and best course of action would be for the United States' Department of Justice to cease its pursuit and prosecution of Julian Assange."
As a cross-party delegation of Australian politicians headed to Washington, D.C. on Tuesday to pressure the U.S. government to end its yearslong pursuit of jailed WikiLeaks founder Julian Assange, dozens of parliamentarians from Down Under expressed support for the diplomatic trip.
"We are resolutely of the view that the prosecution and incarceration of the Australian citizen Julian Assange must end," states a letter signed by 64 Australian senators and members of Parliament, which was shared with journalists last week and published on Tuesday as a full-page advertisement in The Washington Post.
"We agree entirely with the position expressed by the Australian Prime Minister Anthony Albanese," they wrote, pointing out that the Australian Labor Party leader—who is set to visit D.C. next month—said in May that "enough is enough when it comes to the ongoing incarceration of Julian Assange and that nothing is served from the ongoing incarceration of Julian Assange."
Assange lived at the Ecuadorian Embassy in London from 2012 until 2019, when Ecuador withdrew his asylum protections and he was arrested by British authorities. He remains imprisoned in the United Kingdom while fighting extradition to the United States, where he faces Espionage Act charges for obtaining and publishing leaked material from American whistleblower Chelsea Manning.
"Let there be no doubt that if Julian Assange is removed from the United Kingdom to the United States there will a sharp and sustained outcry in Australia," warns the letter, which also applauds the U.S. academics, civil society groups, human rights advocates, journalists, and lawmakers who have demanded freedom for the 52-year-old.
"We believe the right and best course of action would be for the United States' Department of Justice to cease its pursuit and prosecution of Julian Assange," the letter says. "Alternatively, a decision to simply abandon the extradition proceedings would have the sensible, just, and compassionate effect of allowing Mr Assange to go free from a prolonged and harsh period of high-security detention. It is well and truly time for this matter to end, and for Julian Assange to return home."

The letter was led by co-convenors of the Bring Julian Assange Home Parliamentary Group: Liberal MP Bridget Archer, Independent MP Andrew Wilkie, Labor MP Josh Wilson, and Greens Sen. David Shoebridge. Joining Shoebridge for the U.S. trip are Liberal Sen. Alex Antic, Nationals MP Barnaby Joyce, Independent MP Monique Ryan, Greens Sen. Peter Whish-Wilson, and Labor MP Tony Zappia.
"Members of the delegation have different reasons for wanting the U.S. to drop the charges against Assange, from characterizing him as a brave truth-teller to the broader fear, stressed by Joyce, that allowing the extradition of someone who hasn't been accused of wrongdoing in their country of citizenship would set a precedent that China, among other countries, might exploit," Jon Allsop noted last week in the Columbia Journalism Review. "Even Joyce, however, has echoed the argument of press freedom groups that the charges against Assange would effectively criminalize information-gathering and publishing practices that news organizations routinely engage in."
Gabriel Shipton—the WikiLeaks founder's brother and chair of the Assange Campaign, which raised money for the delegation's trip—told Allsop that the visit "will be pivotal" in creating "the political space" for Albanese to pressure U.S. President Joe Biden to let Assange return home when the prime minister travels to the United States in late October.
"The time to act to save Julian is now," Shipton said in a statement. "We have faith that the group's message will be heard in Washington, D.C.and officials will abandon attempts to extradite Julian to the United States in relation to unprecedented allegations of espionage."
"Julian's physical and mental health continue to deteriorate each minute he spends in prison," his brother added.
Shoebridge said last week that "the reason we are going is that Julian Assange is facing an unprecedented situation," and "the core crime he faces is the crime of being a journalist."
"We are hopeful that [in] the partisan world of Washington politics, such a broad cross-party visiting group will have some political cut through," the senator added. "We are at a critical point. In a matter of weeks Julian Assange could be put on a plane, in shackles, and sent to the U.S."
News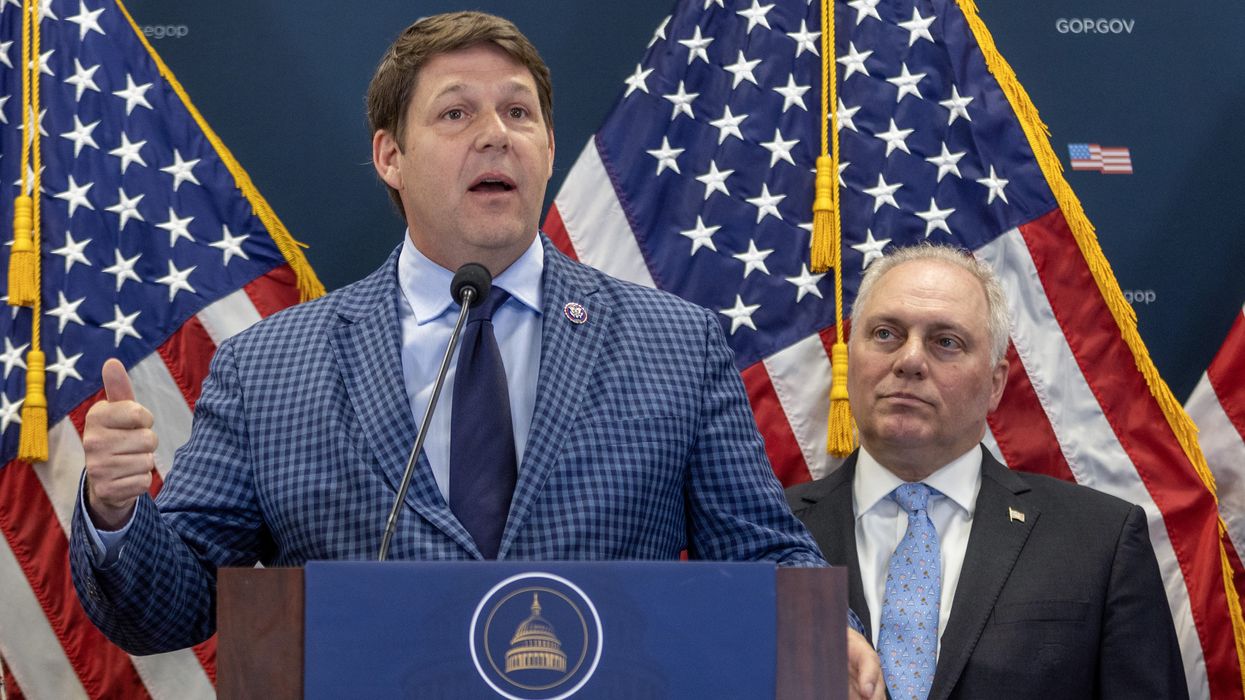 The new proposal underscores the Republican Party's "thirst for cruel budget cuts," said Democratic Rep. Brendan Boyle.
House Republicans unveiled a budget blueprint on Tuesday that proposes trillions of dollars in federal spending reductions over the next decade, specifically targeting Medicaid and federal nutrition assistance for steep cuts.
House Budget Committee Republicans' new resolution also calls for the establishment of a "bipartisan debt commission" to examine and propose changes to "the drivers of U.S. debt... such as Social Security and Medicare." (Social Security does not, in fact, contribute to long-term federal deficits.)
"MAGA Republicans are driving our nation towards a costly government shutdown because they want to make cruel cuts to everything from healthcare to education, and this MAGA Budget doubles down on their extreme cuts," Rep. Brendan Boyle (D-Pa.), the top Democrat on the House Budget Committee, said in response to the new proposal.

"Make no mistake: America is barreling towards a government shutdown because Republicans reneged on the bipartisan budget agreement in their thirst for cruel budget cuts—cuts which will raise the cost of living when it's already too high," Boyle added.
The Republican proposal, which has no chance of becoming law given Democratic control of the Senate, would cut federal discretionary spending by nearly $5 trillion over the next decade, Roll Callreported Tuesday. The plan would cut mandatory spending—a category that includes Social Security, Medicare, Medicaid, and the Supplemental Nutrition Assistance Program (SNAP)—by nearly $9 trillion over a 10-year period.
The proposal would gash federal Medicaid spending by close to $2 trillion and SNAP by $800 billion. The resolution also calls for punitive new work requirements for the two programs.
"While it is critical families have access to food," the GOP resolution states, "it is equally critical work-capable households are encouraged to make more responsible choices."
The budget blueprint comes a day after House Republicans put forth a short-term government funding plan that would impose steep cuts to nondefense discretionary spending. With a government shutdown less than two weeks away, House Speaker Kevin McCarthy (R-Calif.) "punted plans to tee up a vote" on the widely criticized government funding proposal, Politicoreported Tuesday.

As for the new budget blueprint, it is largely in line with past Republican proposals.
In an analysis on Monday, the Center on Budget and Policy Priorities (CBPP) noted that GOP budget plans over the past decade have "proposed large and damaging program cuts across a broad swath of nondefense areas."
"The proposed cuts disproportionately fell in programs for households with low and moderate incomes," CBPP observed, "but they were also broad-based and included deep cuts in the part of the budget that funds public services whose funding is provided annually, such as education, medical research, environmental protection, and the administration of the Social Security Administration."

News
Independent, nonprofit journalism needs your help.
Please Pitch In
Today!