For Immediate Release
Contact:
own@onewisconsinnow.org
Another Supporter for the Higher Ed, Lower Debt Act
Greendale Village President John Hermes Announces Support for Groundbreaking State Student Loan Debt Legislation
MADISON, WI
Greendale Village President and Assembly candidate John Hermes has added his name to the growing list of supporters of the Higher Ed, Lower Debt Act -- groundbreaking legislation in Wisconsin to help combat the $1.2 trillion student loan debt crisis. Over 750,000 Wisconsinites have federal student loan debt alone, and nearly 40 million Americans have debt. According to One Wisconsin Now Executive Director Scot Ross, the exponential growth of student loan debt in recent years and its threat to our economy means policymakers need to get serious about solutions.
Ross commented, "The $1.2 trillion student loan debt crisis is a clear and present danger to our state economy, burdening families and slowing economic growth in every community in Wisconsin. Elected officials who are serious about the prosperity of their communities need to get serious about taking on this issue."
Earlier original research by One Wisconsin Institute found that student loan debt is directly responsible for over $200 million in lost new vehicle sales on an annual basis and student loan borrowers with solid middle class incomes are two-thirds more likely to rent versus own their home.
Unless reforms are enacted, Ross noted that families and students will continue to face a system that increasingly squeezes them between skyrocketing tuition, cutbacks in public funding for universities and technical colleges and profiteering by big banks and even the federal government.
The Higher Ed, Lower Debt Act (Senate Bill 376 and Assembly Bill 498) would help with common sense state-based solutions like:
Creating a state authority to help borrowers refinance their student loans, just like you can a home mortgage;
Allowing borrowers to deduct their student loan payments on their state income taxes, just like you can with home mortgage interest;
Requiring borrowers be given detailed information before entering into loan agreements, offer counseling to students and parents on the implications of student loans and require the state to collect and disseminate information about private lenders and maintain a ranking system; and
Tracking information about student loan debt in the state to help policy makers better understand the depth and breadth of the debt crisis in Wisconsin.
Ross concluded, "Borrowers have done the right thing, working hard and taking on the personal responsibility to get job training or a higher education. Elected officials can do right by them, and by our economy, by supporting measures like the Higher Ed, Lower Debt Act to make sure the system treats them fairly and they get their shot at the middle class."
One Wisconsin Now is a statewide communications network specializing in effective earned media and online organizing to advance progressive leadership and values.
LATEST NEWS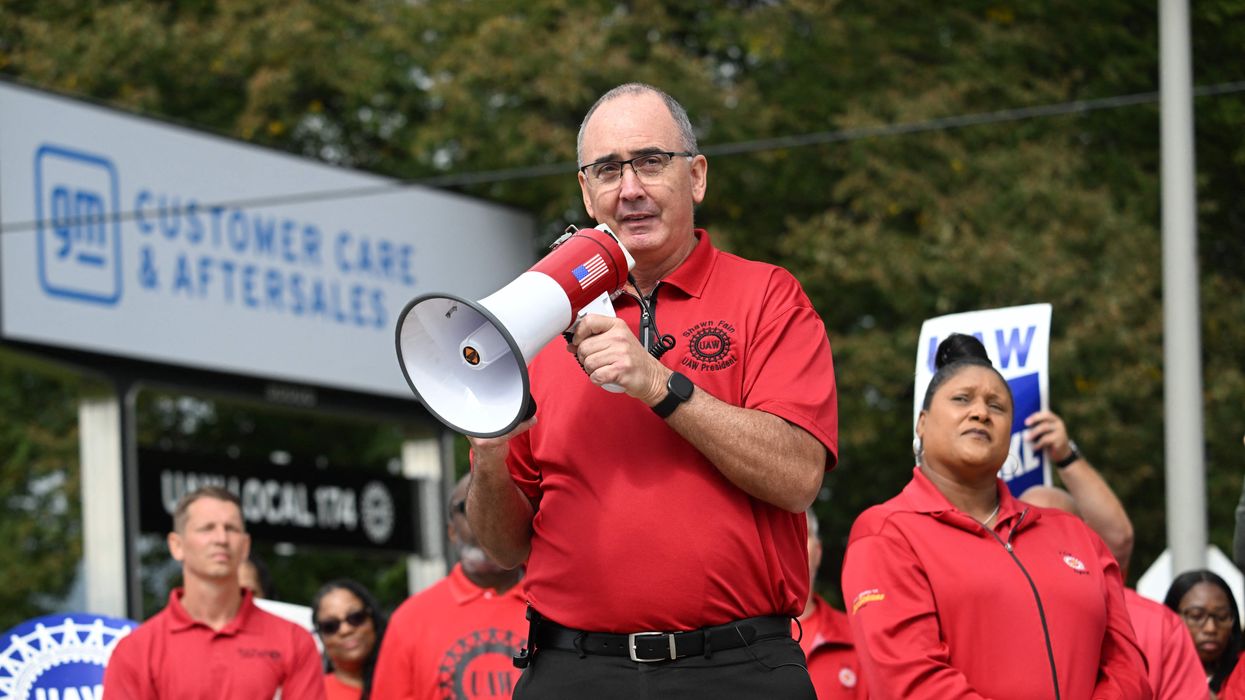 "All you have to do is look at his track record," said United Auto Workers president Shawn Fain. "His track record speaks for itself."
United Auto Workers president Shawn Fain said Tuesday that he will not be meeting with Donald Trump when the former president visits Michigan, pointing to his long history of anti-worker rhetoric and policies.
"I see no point in meeting with him because I don't think the man has any bit of care about what our workers stand for, what the working class stands for," Fain said in a CNN appearance. "He serves the billionaire class, and that's what's wrong with this country."
Fain's remarks came hours before Trump's scheduled address Wednesday night at Drake Enterprises, a nonunion auto parts manufacturer in Clinton Township, Michigan. A national UAW spokesperson toldHuffPost that the union—which is nearly two weeks into its strikes against the Big Three U.S. automakers—doesn't represent any workers at Drake Enterprises, but the facility "could be home to other unions."
In his CNN interview, Fain said he finds it a "pathetic irony" that Trump—who has repeatedly bashed the UAW's leadership—is holding a purportedly pro-worker event at a nonunion business.
"All you have to do is look at his track record," said Fain. "His track record speaks for itself. In 2008 during the Great Recession, he blamed UAW members. He blamed our contracts for everything that was wrong with these companies. That's a complete lie. In 2015 when he was running for president, he talked about doing a rotation, taking all these good-paying jobs in the Midwest and moving them somewhere in the South where people work for less money, and then to make people beg for their jobs back at lower wages."
"And the ultimate show of how much he cares about our workers was in 2019 when he was the president of the United States," Fain continued. "Where was he then? GM—our workers at GM were on strike for 60 days. For two months, they were out there on the picket lines. I didn't see him hold a rally. I didn't see him stand up at the picket line. And I sure as hell didn't hear him comment about it. He's missing in action."
Earlier Tuesday, President Joe Biden joined Fain and striking autoworkers on the picket line outside of a General Motors plant in Belleville, Michigan. Labor historians say Biden is the first sitting U.S. president to walk a picket line with striking workers.
The UAW has not endorsed a candidate in the 2024 presidential race, and Fain told CNN that his comments on Trump were "not an endorsement for anyone."
"It's just flat-out how I view the former president," he said.

News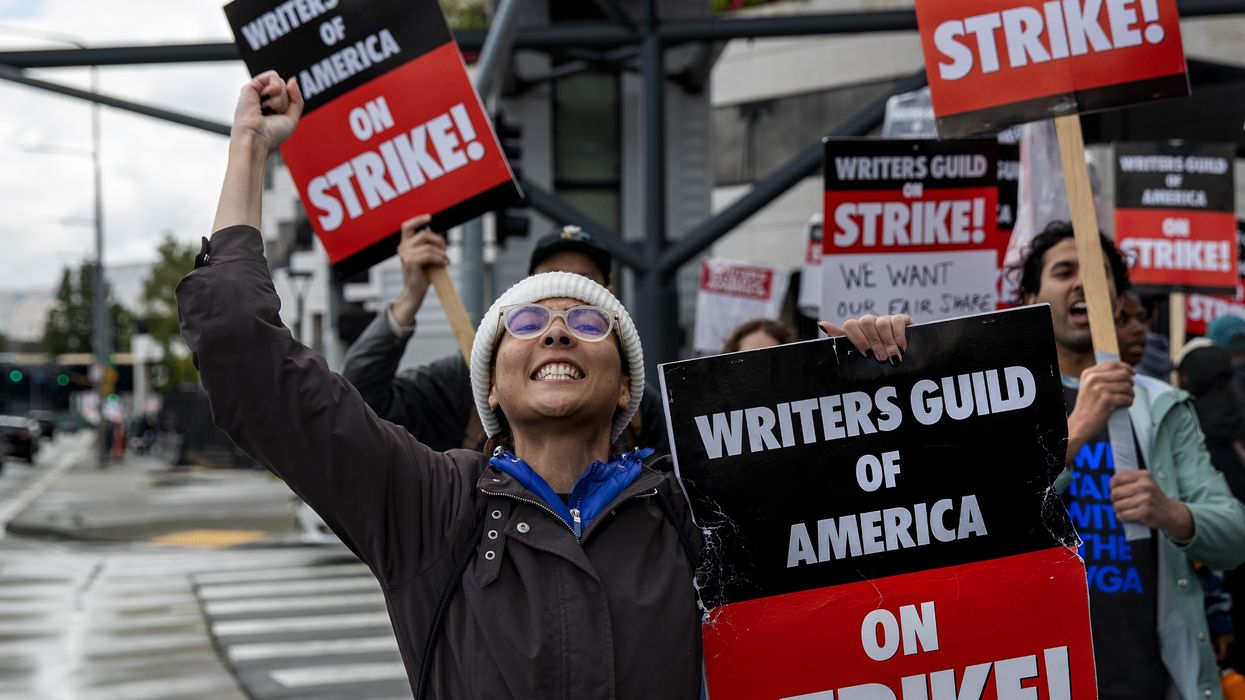 "The WGA appears to have won more than analysts initially believed possible."
Hollywood screenwriters' monthslong strike ended Wednesday after the Writers Guild of America leadership voted unanimously to recommend the tentative three-year contract agreement that the union reached with major studios over the weekend.
WGA members will now vote on whether to ratify the deal, which includes higher pay than the studios were originally willing to offer, improved healthcare benefits, viewership-based streaming residuals, minimum staffing requirements for television writers' rooms, and regulations constraining studios' use of artificial intelligence.
In a statement late Tuesday, the WGA negotiating committee said that union members "will be able to vote from October 2nd through October 9th, and will receive ballot and ratification materials when the vote opens."
"The WGAW Board and WGAE Council also voted to lift the restraining order and end the strike as of 12:01 am PT/3:01 am ET on Wednesday, September 27th," the committee added. "This allows writers to return to work during the ratification process, but does not affect the membership's right to make a final determination on contract approval."
The WGA committee called the tentative agreement an "exceptional deal, with gains and protections for members in every sector of the business."
"The WGA appears to have won more than analysts initially believed possible," The New York Timesreported Tuesday. "Studios suggested early on that they wouldn't bend on issues like residuals or staffing, citing changes streaming has made to their industry. But the strike—coupled with the SAG-AFTRA walkout—has crippled Hollywood, with studio owners like Warner Bros. Discovery predicting big hits to their earnings. Analysts have estimated that studios could lose as much as $1.6 billion in global ticket sales because of movie delays."
According to survey data, the writers' strike was broadly popular with the U.S. public. A Data for Progress poll conducted last month found that 67% of all likely voters backed the strike, while a Gallup survey showed that the public sympathized with screenwriters over Hollywood studios by a margin of 72% to 19%.
SAG-AFTRA actors who joined writers on the picket lines will remain on strike, and the union said Wednesday that it currently has no scheduled dates to meet with the Alliance of Motion Picture and Television Producers, which represents the major studios.
News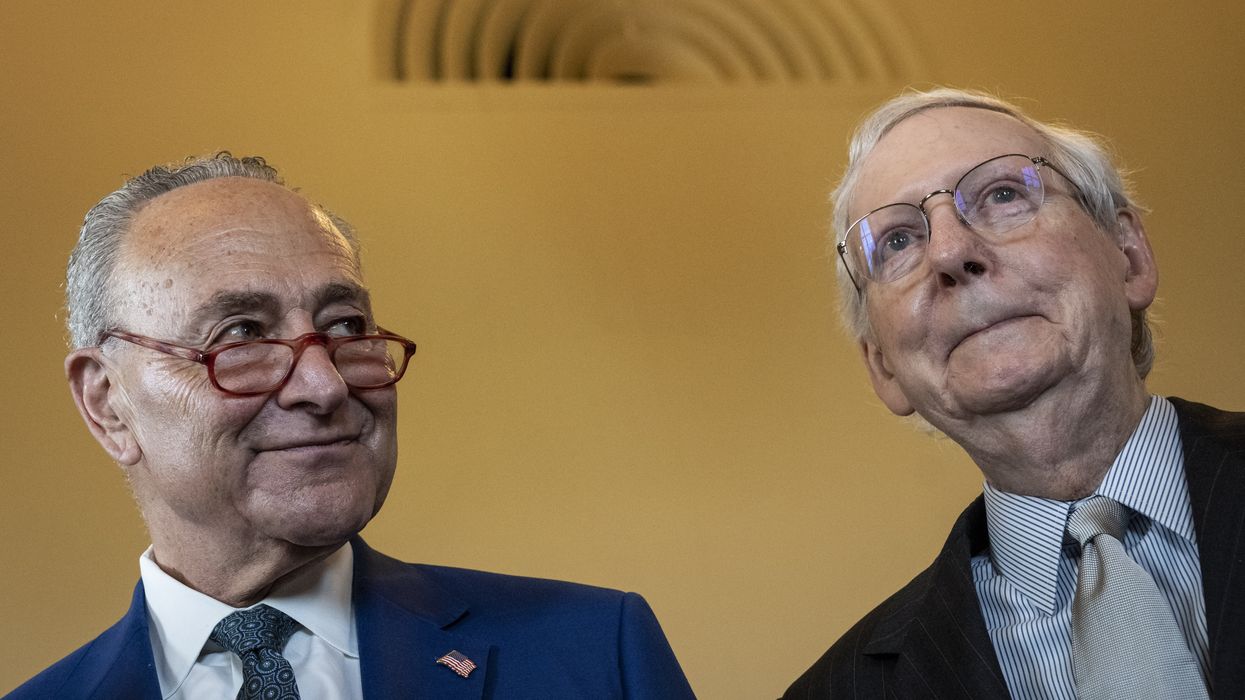 "Once passed, the House must swiftly take up the bill and send it to the president's desk to avoid a shutdown—giving Americans the help and resources they deserve," said Senate Majority Leader Chuck Schumer.
Faced with a fractured and chaos-causing Republican majority in the U.S. House of Representatives, the Senate took action on Tuesday to avert the looming government shutdown, voting 77-19 to advance a bipartisan short-term funding bill.
The procedural vote sets up the Senate to approve a continuing resolution (CR) that would fund the government through mid-November later this week. Both chambers must pass some type of funding measure to prevent a shutdown on October 1.
Senate Majority Leader Chuck Schumer (D-N.Y.) took to the chamber floor on Tuesday to discuss the effort and call out embattled House Speaker Kevin McCarthy (R-Calif.).
"We are now right at the precipice," Schumer said. "Yet all last week, Speaker McCarthy, instead of focusing on bipartisanship, catered to the hard right, and has nothing, to show for it. And now, the speaker will put on the floor hard-right appropriations bills that have nothing to do with avoiding a shutdown. So this week, the Senate will move forward first."
After the text of the CR was released, Schumer thanked Senate Minority Leader Mitch McConnell (R-Ky.) and noted that "all through the weekend—night and day—Senate Democrats and Republicans worked in good faith to reach an agreement on a continuing resolution that will keep the government funded and avert a shutdown."
"This bipartisan CR is a temporary solution, a bridge that will spare families the pain of a shutdown while allowing Congress to keep working to fully fund the federal government," he stressed. "Once passed, the House must swiftly take up the bill and send it to the president's desk to avoid a shutdown—giving Americans the help and resources they deserve."
According to the office of Senate Appropriations Committee Chair Patty Murray (D-Wash.), the resolution:
Extends government funding through November 17;
Extends funding to help communities struck by disaster and continues support for Ukraine at a pivotal moment;
Prevents critical health statutes from lapsing to ensure funding for community health centers and teaching health centers does not expire;
Extends the Federal Aviation Administration's (FAA) authorities through the end of the calendar year;
Ensures federal wildland firefighters will not see a pay cut; and
Ensures the Special Supplemental Nutrition Program for Women, Infants, and Children (WIC) will continue to be able to serve the nearly 7 million women and children who rely on it.
"A shutdown would be nothing short of a catastrophe for American families, our national security, and our economy. It is critical that we avoid one, and that's exactly what this bipartisan legislation will do," said Murray, noting that senators continue to work on annual appropriations bills for fiscal year 2024. "We have much more to do, but we should pass this legislation immediately—there is no time to waste."
House Appropriations Committee Ranking Member Rosa DeLauro (D-Conn.) agreed that "the bipartisan continuing resolution introduced by the Senate is a reasonable approach to keeping the government open while we finish our work on final 2024 funding bills."
"It is not perfect, but it prevents a catastrophic and avoidable shutdown, includes critical funding to help communities recover from natural disasters, and protects national security with continued support for Ukraine in the face of Russia's continued attacks," she said. "If House Republicans are serious about finishing final full-year bills, they need to vote for this bipartisan continuing resolution so we can get to work right away."
Meanwhile, The Hillreported that McCarthy on Tuesday "floated the possibility of meeting" with President Joe Biden to work out a compromise, telling journalists that "the president could keep government open by doing something on the border."
The now-dead CR that House Republicans unveiled last week even though they knew it was "doomed to fail" notably included border polices widely opposed by Democratic lawmakers and funding cuts that betrayed McCarthy and Biden's debt limit deal.
Some Republicans suggested the Senate CR "ain't gonna pass the House," as Rep. Mike Simpson (R-Idaho) put it. According toPolitico, Rep. Greg Murphy (R-N.C.) concurred, pointing to Ukraine aid and saying: "It's not gonna happen over here. It's not gonna happen on the Republican side."

House Republicans on Tuesday night advanced four full-year spending bills, though that won't prevent a shutdown.
This post has been updated with House Republicans' comments and Tuesday night vote.

News
Independent, nonprofit journalism needs your help.
Please Pitch In
Today!